The sight of England trooping off the field after Alessandro Diamanti's penalty sent Joe Hart the wrong way to clinch a place in the Euro 2012 semi finals was a depressingly familiar sight. England penalty misses have been a curse that players representing the country have struggled with over the past three decades.
It seems to grip whichever England squad manages to get through to a knockout stage. While England can at least claim to have overachieved in reaching the quarters at the Euros, questions remain over whether they can take risks and, more importantly, hold onto the ball in future tournaments.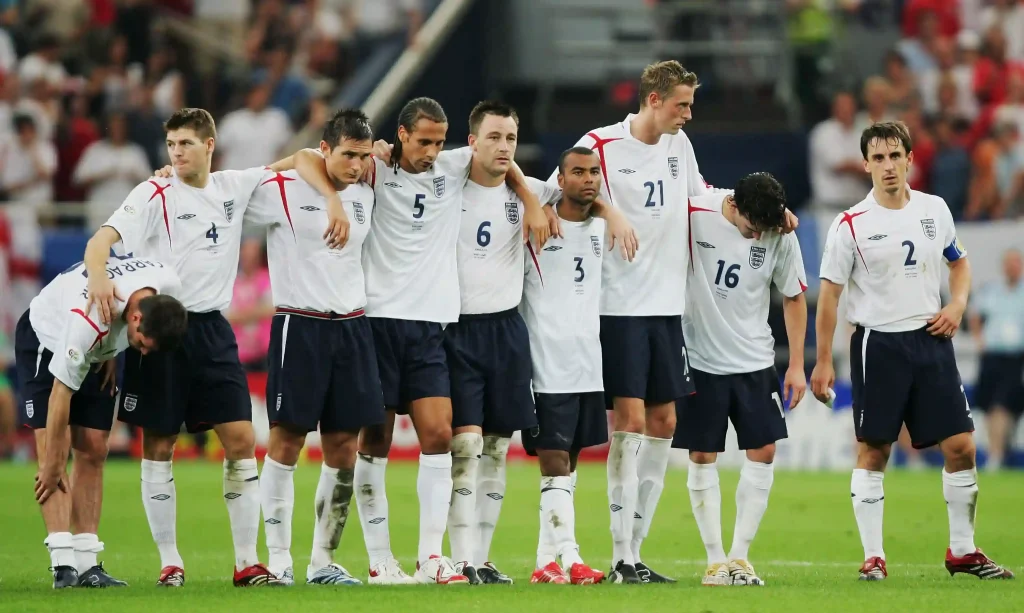 Brought to you in collaboration with mybettingsites.com, the best place to compare World Cup betting offers.
Although they overcame their losing streak of England penalty misses in the 2018 World Cup over Colombia (England won 4-3 on penalties), they felt the demons come rushing back after Jordan Henderson missed the third penalty after Colombia had scored their first three penalties.
After a night of noise, color, and hostility in Moscow, England survived a test of nerves that will prove invaluable as they progress in future tournaments.
Looking back over England's ignominious history of penalty shootouts, perhaps the only praise that the team can receive in going out to a spot kick is that they're usually consistent.
And if not, failing to qualify for major tournaments, getting out of the group stage, and being beaten by Brazil in 2002 or Germany in 2010 means that penalties show England's resilience to get to them. From Italia '90 to Euro 2008, some of England's worst penalty misses have included: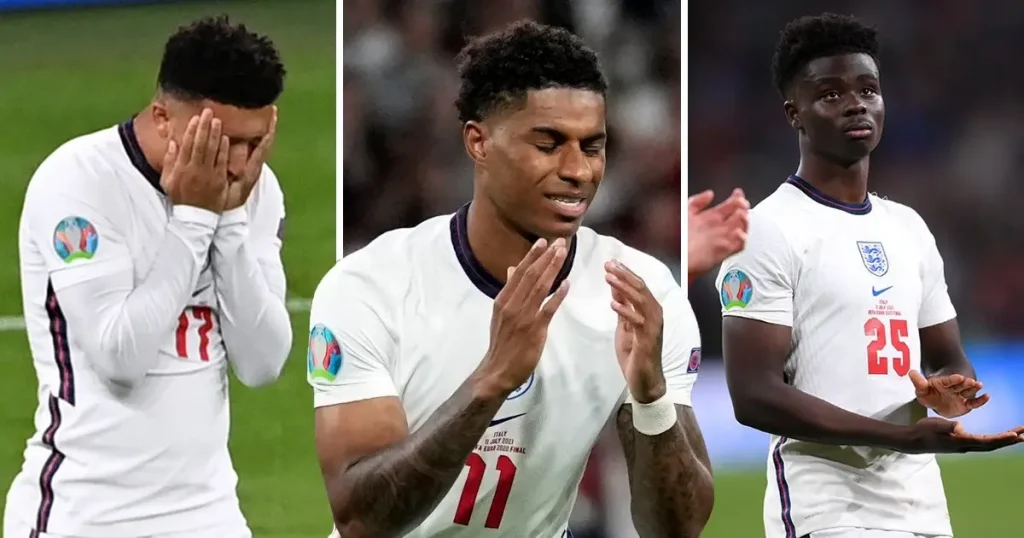 England Penalty Misses No.7 – 2022 World Cup, Qatar
It is Harry Kane's reputation as a reliable penalty taker, particularly in an England shirt, that makes him stand out.
Earlier in the game, he equalized from 12 yards. Despite huge pressure, he missed his second spot kick high over the bar with six minutes to play. His expression was one of devastation. The final whistle left him inconsolable, and there was no way he could turn back. 
The reigning World Cup champions France went on to defeat England 2-1 in the quarterfinals of the 2022 World Cup. Once again, England's World Cup heartbreak was caused by a penalty kick.
England Penalty Misses No.6 – 2006 World Cup, Portugal
The 2006 World Cup in Germany was supposed to be the breakthrough for Sven Goran Eriksson's nearly men, or the 'Golden Generation' of Premier League players, including David Beckham, Steven Gerrard, and Michael Owen.
Instead, England navigated their group and the second round to set up a quarter final clash with Portugal, who had knocked them out of the European Championship finals in 2004.
After a goalless draw, Frank Lampard, Steven Gerrard, and Jamie Carragher missed penalty kicks, leaving Cristiano Ronaldo to deliver the final blow to England's World Cup hopes.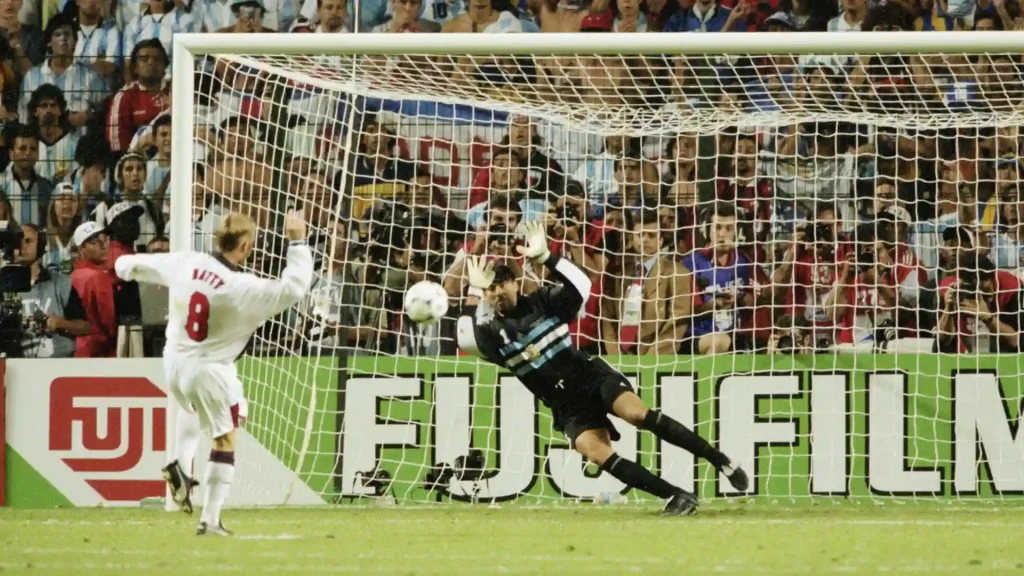 No.5 – 1998 World Cup, Argentina
For a brief period between Euro 96 and Euro 2000, England was moderately more of an exciting team than their current version. However, under Terry Venables, Glenn Hoddle, and Kevin Keegan, they at least had the advantage of a side containing a young Beckham and a teenage Michael Owen.
Moreover, they looked like one of the most promising strike forces in the world.
In the France World Cup of 1998, Hoddle's England reached the second round with no real dangers, only to be drawn into a bruising encounter with Argentina. Michael Owen scored a brilliant goal from a supercharged run, and David Beckham was sent off for a petulant kick.
Paul Ince and David Batty missed their spot kicks to pile on the misery in the shootout. Batty admitted after the match that it was the first time he had ever taken a penalty.
England Penalty Misses No.4 – Euro 2004, Portugal
Portugal joined Germany and Argentina as England's regular nemeses in the 2000s, and in 2004 Portugal, hosting the tournament, edged out the English in the quarter finals.
Despite the presence of a young Wayne Rooney, the England squad couldn't find the goal to push past Portugal in extra time. Darius Vassell's miss decided a tense penalty shootout to send England out.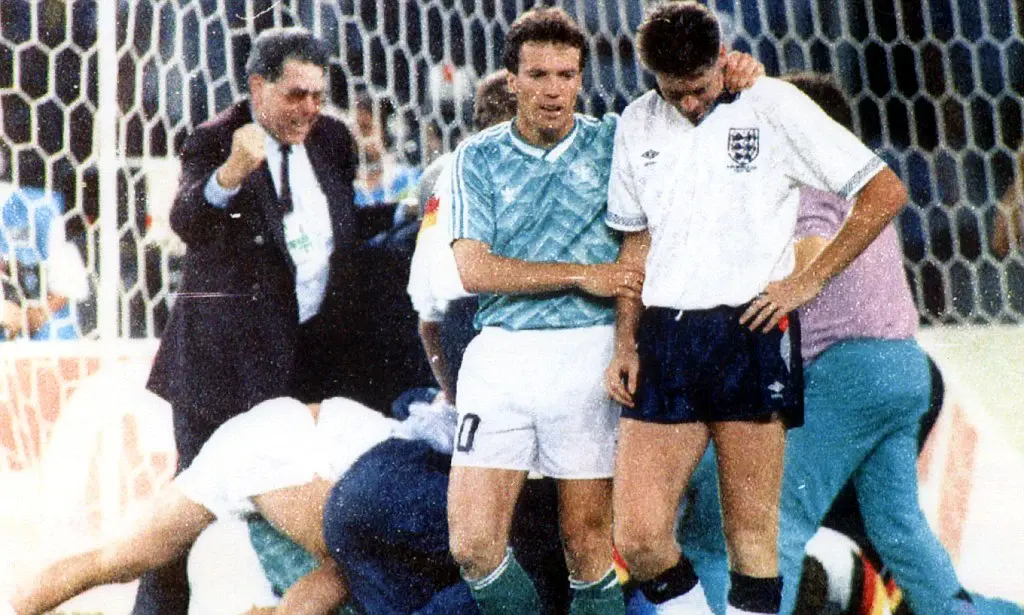 No.3 – 1990 World Cup, West Germany
The World Cup finals of 1990 was memorable for England, a tournament where, for a few short games, the side looked to have edged their way into an improbable final. But, having built up momentum during an edgy tournament, England scrapped their way through a tense encounter with West Germany.
Gary Lineker, Peter Beardsley, and David Platt scored in the shootout, only Germany to hold their nerve and Stuart Pearce and Chris Waddle to miss. Pearce was quoted saying "The walk back to the center circle was a nightmare as the first onrush of tears pricked at my eyes."
The tournament that defined England's poor relationship with missed penalties and the closest England had been to the World Cup final since 1966.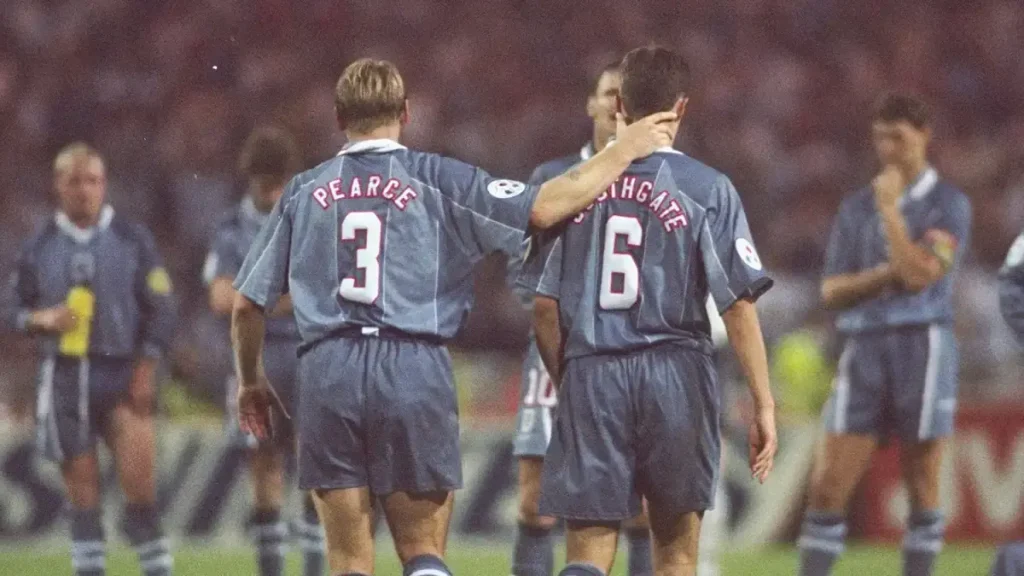 No.2 – Euro 96, Germany
1996 was a particularly painful exit for Terry Venables' England. Hosting the tournament, England produced perhaps their best overall performance since 1966, including the demolition of Holland and a penalty win over Spain in the quarter finals.
England missed a host of narrow chances against old foes Germany in the semi final and faced walking up to the penalty spot once again at Wembley stadium to determine the outcome of the match.
David Seaman saved, but Germany held on for Gareth Southgate to miss and put the Germans through to a Euro final against the Czech Republic, which they duly won.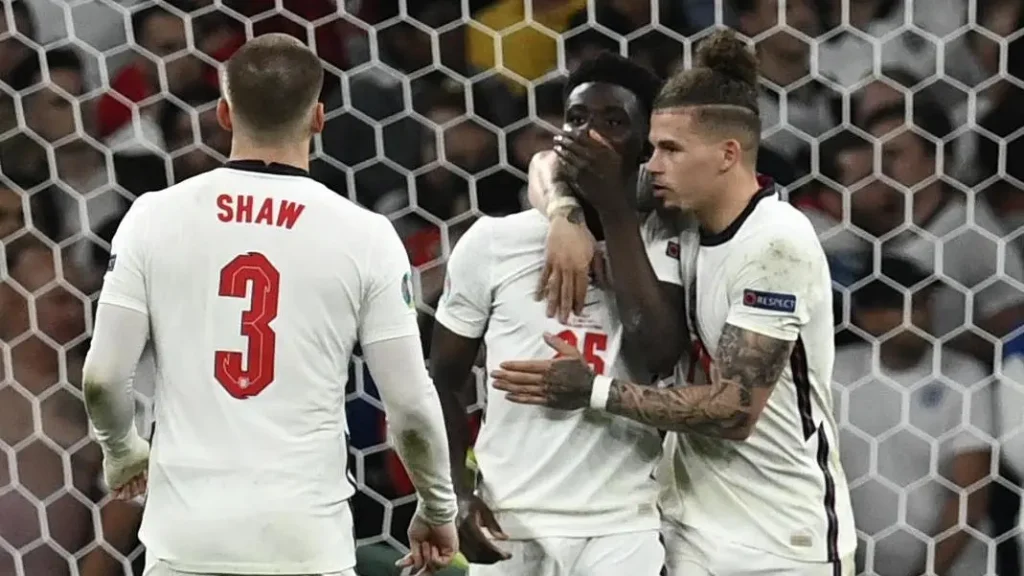 England Penalty Misses No.1 – Euro 2020, Italy
The most notable England penalty mishap was against Italy in the European Championship 2020 final. Three of England's five penalty takers missed penalty kicks, with Manchester United forward Marcus Rashford hitting a post and Gianluigi Donnarumma denying Jadon Sancho.
However, Bukayo Saka, at 19 years old and one of the youngest players in the England squad, saw the giant Italy goalkeeper save it.
England was bidding for their first major trophy since they lifted the World Cup at Wembley in 1966. The nation's quest ended in the agony of defeat in a penalty shootout as Italy claimed the Euro 2020 title at Wembley.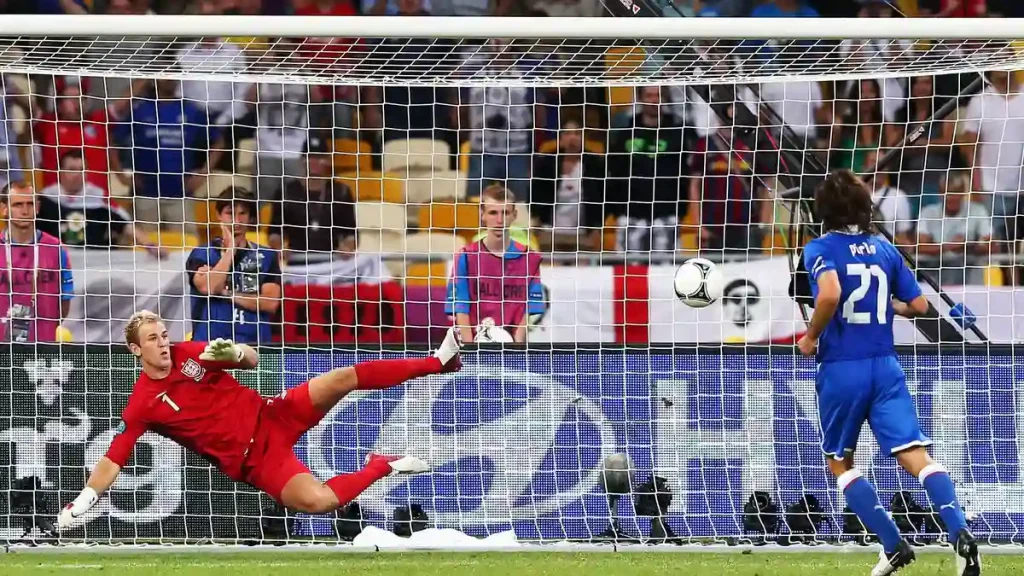 Have England Ever Won A Penalty Shootout
The percentage of times England had won a significant tournament penalty shootout (World Cup/Euros/Nations League) is 30% (three of ten penalty shootouts), the lowest of any European nation with three or more penalty kick encounters.
Their victories have come against Spain in the quarter finals of Euro 96, Colombia in the 2018 World Cup, and Switzerland in the Nations League third-place playoff in 2019.
What Is England's Penalty Shootout Record At The European Championships
England has won only one penalty shootout in the European Championship. Italy defeated them in the quarter-final match of Euro 2012, Portugal defeated them in the quarter-final match of Euro 2004, and Germany defeated them in the semi final of Euro 96. In the Euro 2020 final, they lost to Italy again.
The only time they won a penalty shootout at a European Championship was against Spain in Euro 96.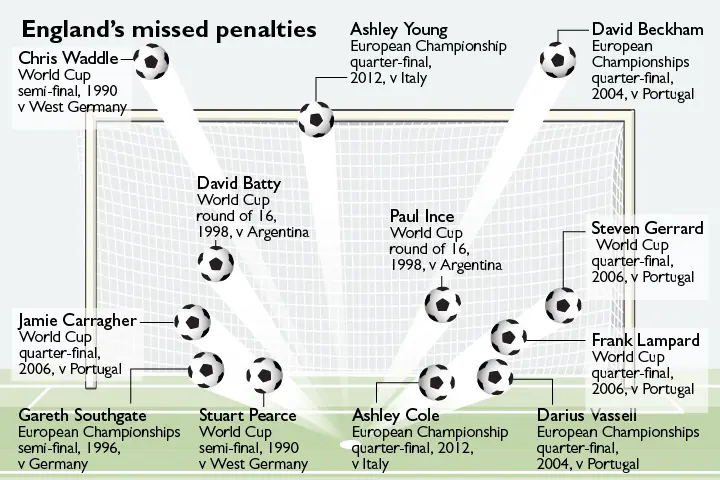 What Is England's Penalty Record At The World Cup
At four World Cups, the England squad has competed in penalty shootouts: 1990, 1998, 2006, and 2018. They have played in 15 World Cup tournaments.
English had lost all of their World Cup penalty shootouts until they beat Colombia in Russia in 2018. They had failed to West Germany in 1990, Argentina in 1998, and Portugal in 2006.
How Many Penalties In Total Have England Players Missed
As of the end of 2022, there have been 38 England penalty misses. The biggest culprit is Harry Kane who has missed 4 spot-kicks. He has scored the most penalties for England scoring 16 times. (currently has a 16% chance of missing). Harry Kane scored 3 penalties at the 2018 World Cup.
The current England penalty taker most important miss was against Denmark in the semi final of the 2020 European Championships. Kaspar Schmeichel brilliantly saved his shot. Harry Kane later in the semi final did score the winning goal that sent England to the final.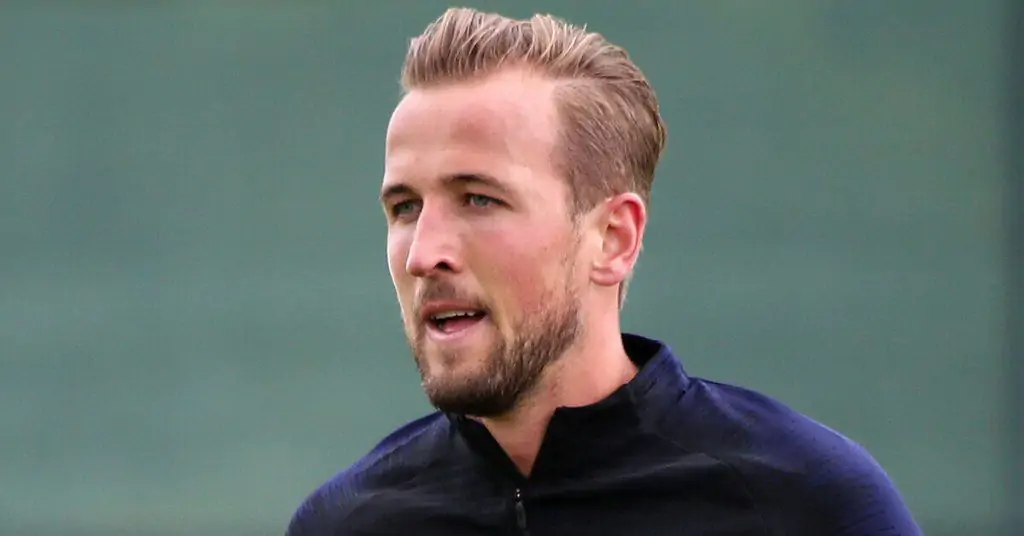 There are five England penalty takers who have missed two penalties. They are David Beckham (2 from 7 penalties), Frank Lampard (2 from 11 penalties), Franny Lee (missed 2 from 2), Roger Bryne (missed 2 from 2), and Ernest Needham (2 from 3 penalties).
Most of England's missed penalty kicks did not affect the team's overall score. The most successful penalty taker in England's history is Wayne Rooney, who scored from all seven attempts.
England Penalty Misses Other Notable Mentions
Although these are not penalty kicks, some of England's most famous players have missed penalty kicks during games.
For example, in 1955, Tom Finney had his timid penalty kick saved by Spain goalkeeper Carmelo. Manchester United player, Sir Bobby Charlton missed a vital penalty later in the match against Scotland in 1960. The game ended 1-1. The scorer of this match was Bobby Charlton, who had earlier scored from the penalty spot in the same game.
Kevin Keegan missed a vital penalty against Switzerland in 1975 as Goalkeeper Burgener dived to his right to push Keegan's shot away. Gary Lineker missed a penalty against Brazil in 1992. It was the first time he failed to score during his England career, and the match ended 1-1.
Alan Shearer's only penalty miss was against Poland in 1997. The ball hit the upright post and bounced away. He finished his international career scoring six penalties for his soccer mad country.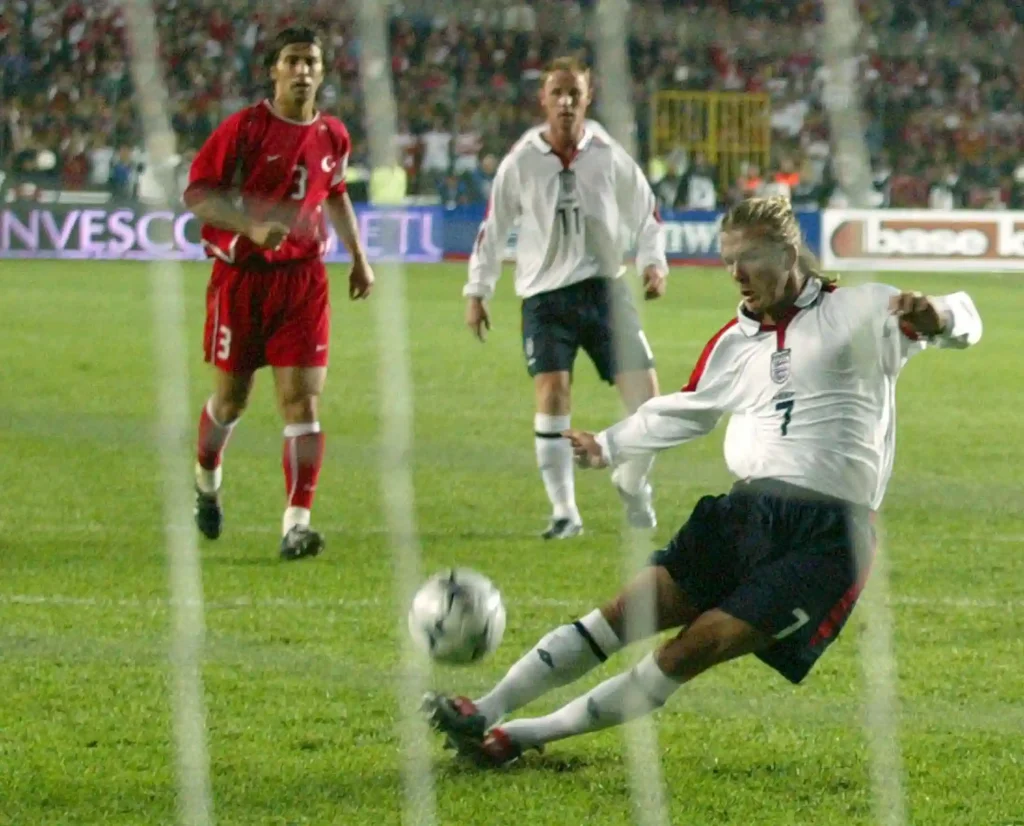 David Beckham has a dreadful 2004 Euros. In qualification, he missed a penalty against Turkey. Then, in the first game of the European Championship finals, he missed a penalty in the opening game versus France.
Against Portugal in the knockout stage, Beckham was the first penalty taker. He slipped in his approach to the ball and skied the shot.
Penalties Taken Against England Goalkeepers
The England senior national team has been awarded 138 penalties and conceded 90. Of those ninety, 29 have been saved or missed.
Peter Shilton faced fifteen penalties in his England career and was scored against 13 times. He saved one penalty from Germany's Andreas Brehme and the other penalty hit the post.
The most successful England penalty stopper was David Seaman, who only conceded 2 goals from 5 attempts. His most famous penalty stop was at the 1996 European Championships when facing Scotland's Gary McAllister. England fans almost took the roof off Wembley stadium with the noise they made when Seaman made this save.
Back in the 1930s, Harry Hibbs never conceded from 3 penalty kicks. He saved one of these penalties, one hit the crossbar, and the other went wide.
How Does England Get Over Penalty Disappointments?
It's relatively simple, they continue to qualify for the next World Cup, and they follow it up by qualifying for the European Championships every four years. Although it is heart-wrenching to lose on penalties, England continues to make it to the knockout stages of major tournaments.
The 1994 World Cup was the last time England did not qualify for a major tournament.
As you've probably gathered, the knockout stages of major tournaments are when things get deadly serious. England fans want their teams to progress. England penalty misses have haunted their loyal fans, who spend thousands of dollars following their soccer-mad country around the globe.
Let's keep our fingers crossed that England coach Gareth Southgate and the Three Lions fans have more success and do not end up in penalty kicks in the 2022 World Cup finals starting in November this year.