England's second all-time top goalscorer and one of the most popular players to ever wear the Three Lions, Manchester United legend Sir Bobby Charlton selects his best English football team for the ultimate all-time England line-up.
Few people in world soccer, let alone the English game, carry the amount of respect Sir Bobby Charlton does. Having survived the Munich Air Crash, Charlton helped inspire Manchester United to the European Cup and England to the World Cup.
Along the way, records tumbled – he played for Manchester United for 606 appearances and scored 49 goals for England. Crucially, he was loved for his gentlemanly conduct on the pitch – not to mention his ferocious shot and comb-over hairstyle.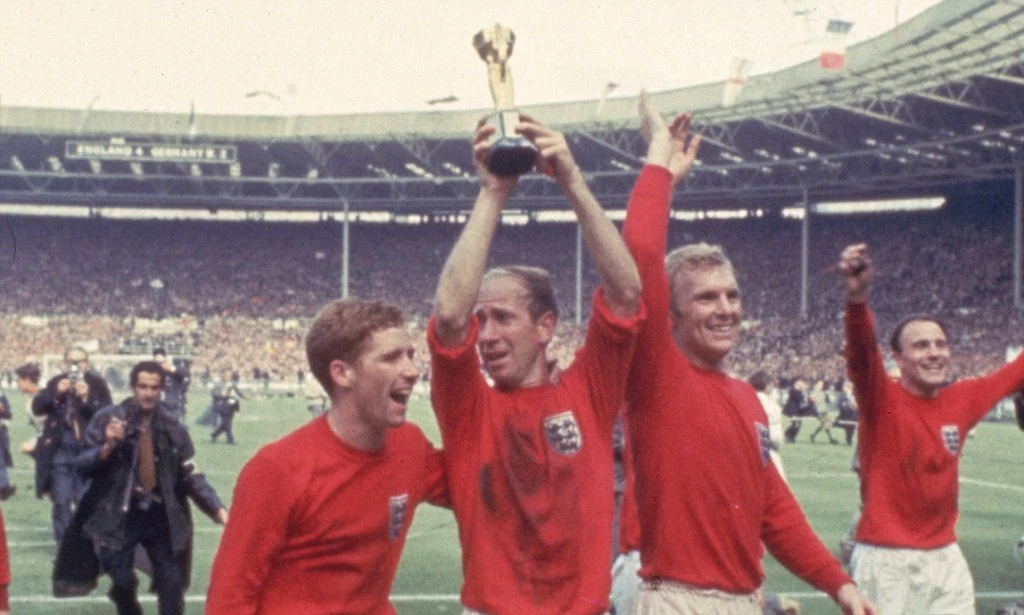 Although Sir Bobby shared in the glory of 1966 and named five players from Sir Alf Ramsey's World Cup squad – Banks, Wilson, Moore, Armfield, and Greaves – in his best English football team, there is also room in the team for a recently modern superstar.
"Michael Owen was a tremendous player, and I would have been delighted to play alongside him," says Sir Bobby. Besides being a gifted player, he was a level-headed person who handles the fame and pressure very well."
"He was named European Player of the Year, and few Englishmen have achieved that. I first saw him play as a 16-year-old, and it was obvious then he was a great talent. He has gone on to prove it."
Among Sir Bobby's team, Duncan Edwards may be the most poignant pick, as he perished in the Munich air crash at age 21.
"It's hard for me to describe just how extraordinary he was, "Sir Bobby says. "In the history of English football and Manchester United , his death was the biggest tragedy. In my eyes, I could compete with any player – except Duncan. He was such an exceptional player that I always felt inferior to him. His game was flawless."
Sir Bobby Charlton's Best English Football Team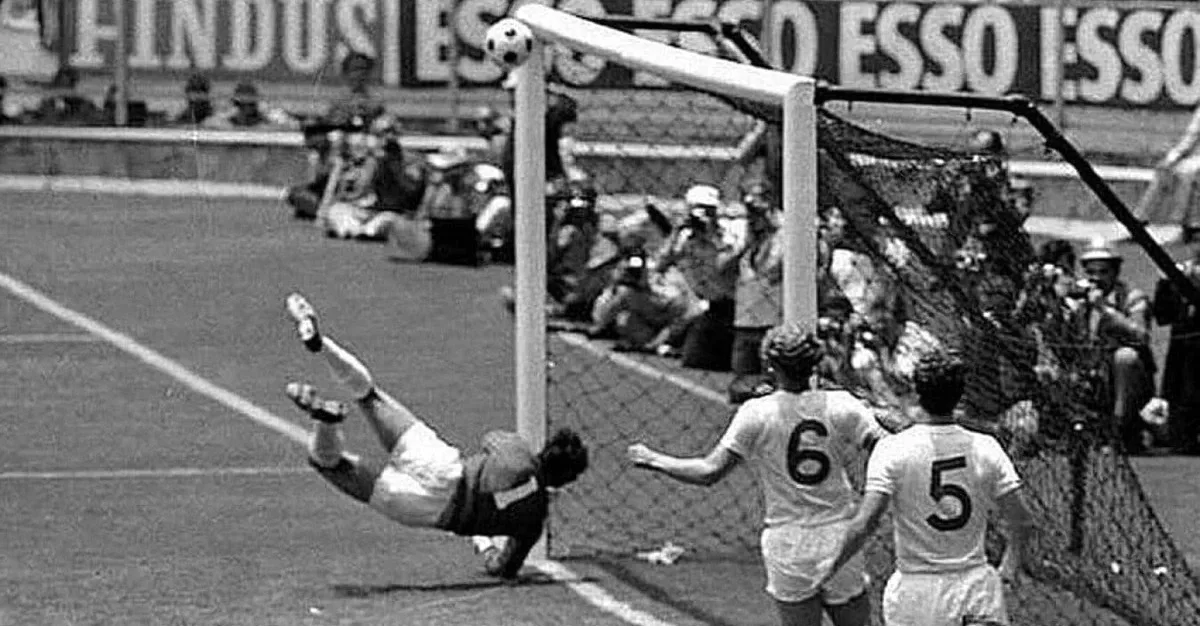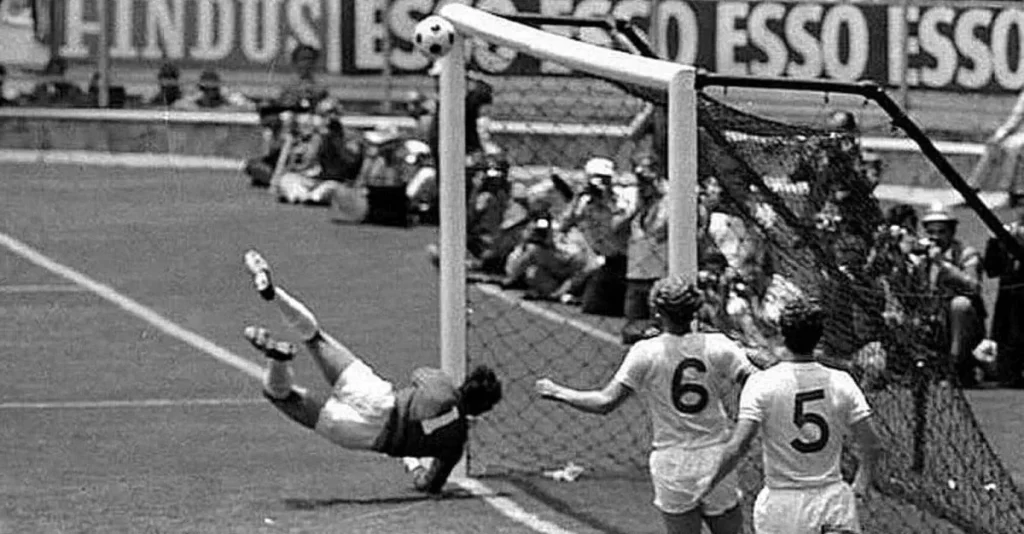 Goalkeeper: Gordon Banks 
Won the World Cup in 1966 but is perhaps even better known for a save he made four years later against Pele in Mexico. He kept 35 clean sheets for England and might have won more caps, but for a car accident, he lost sight in one eye.
His 20-year professional career included 679 appearances, making him one of the greatest goalkeepers and the easiest selection for my best English football team.  Gordon was better than any current Premier League goalkeeper playing this season. England National Team: 73 caps, 0 goals (1963-72)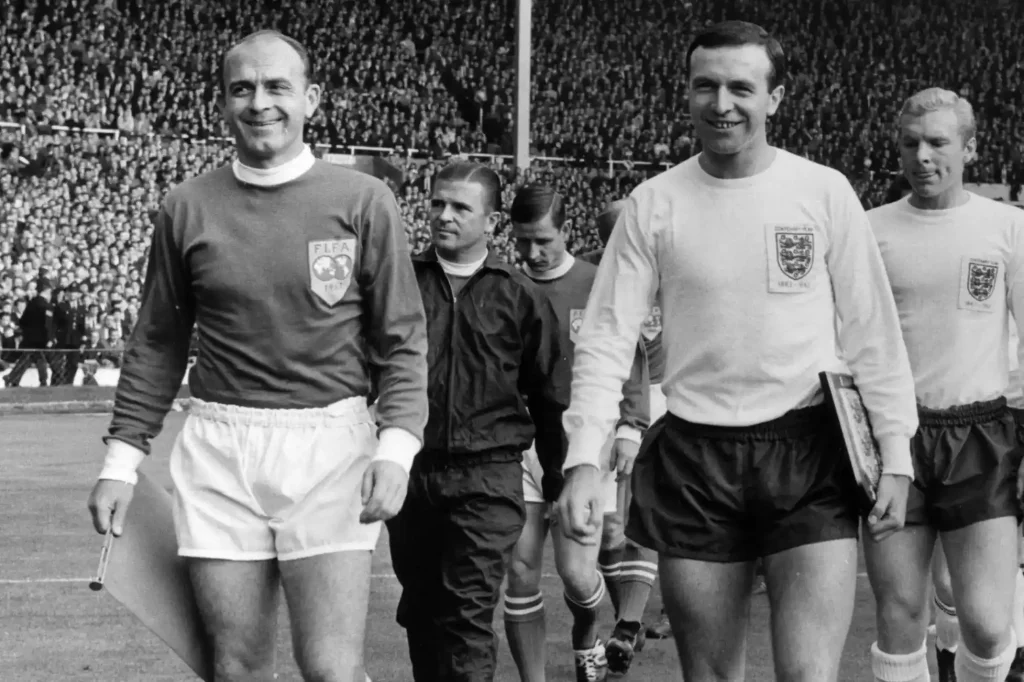 Right Back: Jimmy Armfield 
An elegant defender who could use the ball, Armfield was a loyal one-club man with Blackpool who went to the 1962 World Cup and was also a member of the 1966 squad as an understudy to George Cohen.
His entire Football League career was spent at Blackpool, usually at right back. In all competitions, he played 627 games, scored six goals, and served as captain for a decade. When I hear people talk about football club loyalty, Jimmy's name is the first person I think of.  Fans still hear him as a Radio 5 commentator. England National Team: 43 caps, 0 goals (1959-66)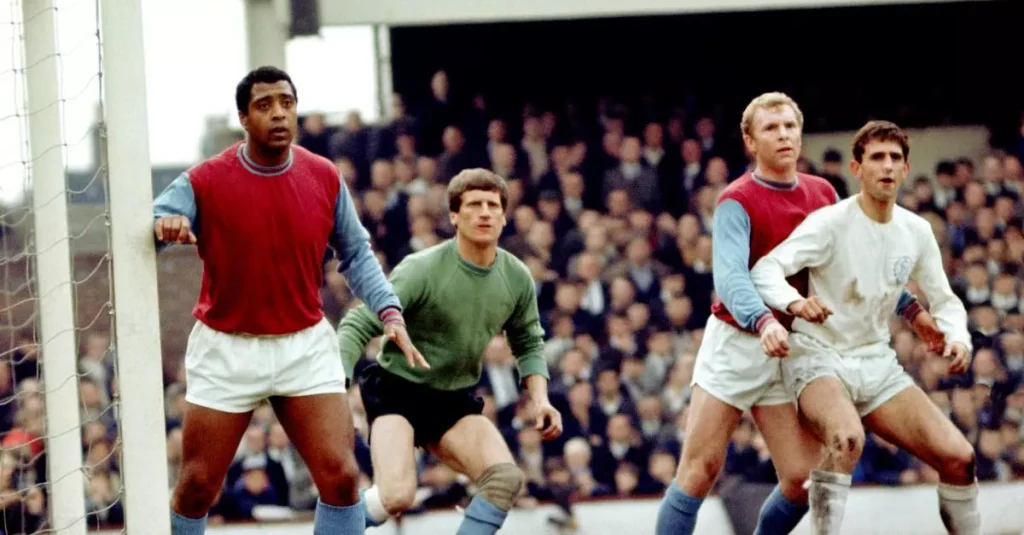 Central Defender: Bobby Moore 
Bobby Moore won three major cup competitions at Wembley in successive years: the FA Cup in 1964 with West Ham, the Cup-Winners Cup in '65, and the World Cup the following year. Tragically died of cancer in 1993 and the age of 51. He should be a certainty in anyone's best English football team.
As the England national team captain at the 1966 FIFA World Cup, Bobby Moore played most notably for West Ham United. He is widely regarded as one of the greatest defenders in the game's history and was cited as the best defender Pelé ever faced. England National Team: 108 caps, 2 goals (1962-73)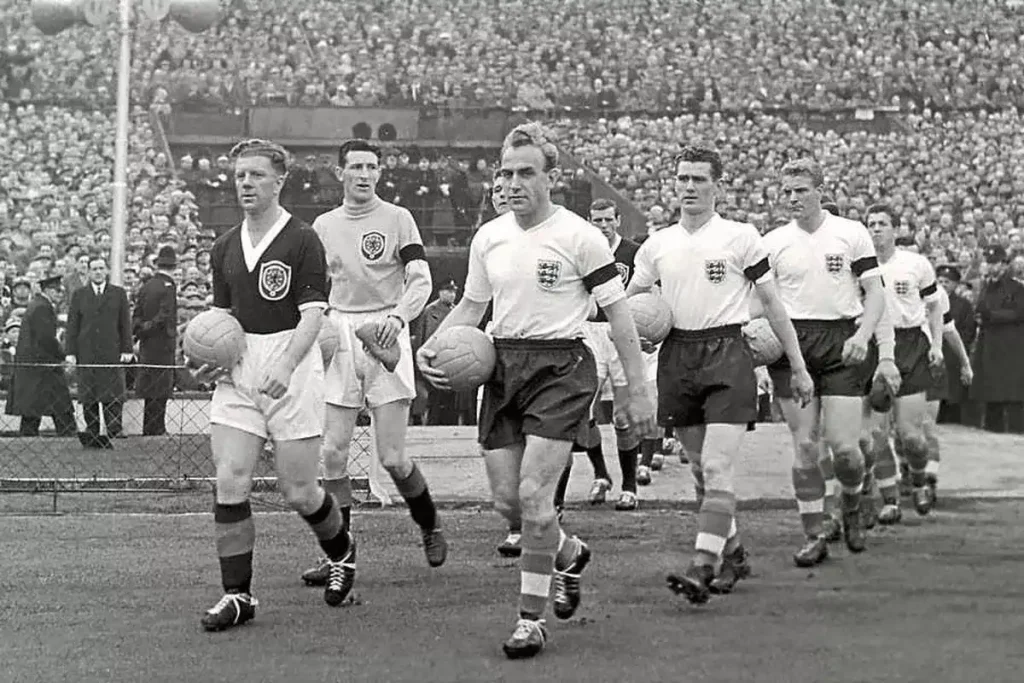 Central Defender: Billy Wright 
The first name on the England team sheet for over a decade, Wright made history by becoming the first international to pass the magic 100 caps. His marriage to pop star Joy Beverley of The Beverley Sisters was the 1950s equivalent to Posh & Becks.
Wolverhampton Wanderers was the football club where he spent his entire career. Besides holding the record for the longest unbroken run in competitive international football, Wright is also the first footballer to earn 100 caps in the world. Additionally, he captained England 90 times, including during their campaigns at the 1950, 1954, and
1958 World Cup
finals.
England National Team: 105 caps, 3 goals (1947-59)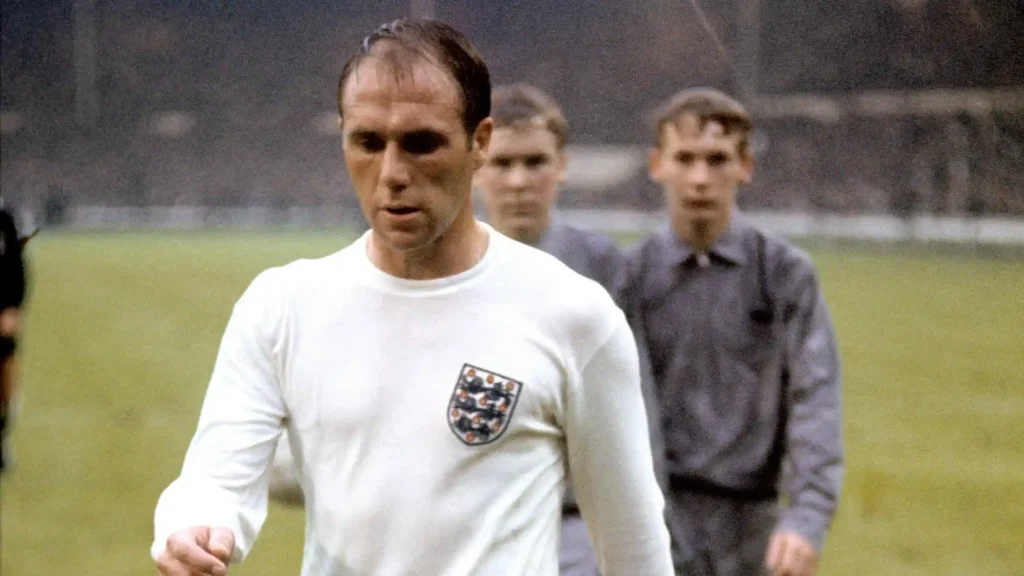 Left Back: Ray Wilson
One of Sir Alf Ramsey's heroes of 1966, Ray Wilson oozed class and had been a Wembley winner two months before the World Cup – with Everton in the FA Cup. He started his career as a forward, which explains why he usually looked comfortable on the ball.
When Wilson left school, he became an apprentice railwayman but was spotted by Bill Shankly playing amateur football. Wilson became Huddersfield's established, first-choice left back two years later before joining Everton. England National Team: 63 caps, 0 goals (1960-68) 63 caps, 0 goals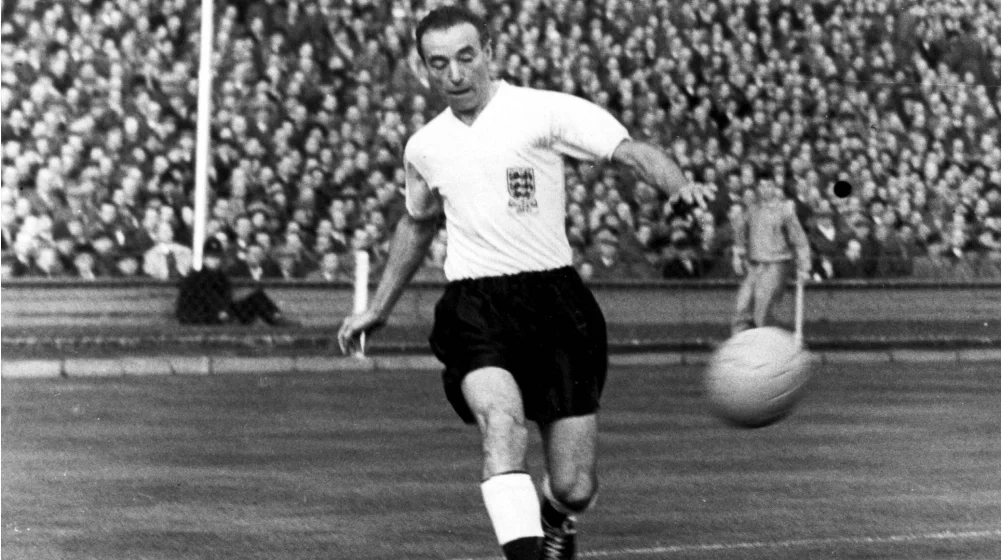 Winger: Stanley Matthews 
Football's first knight, Sir Stanley Matthews, was known as the 'Wizard of the Dribble' and was famous in all four corners of the globe before the advent of color television, let alone the internet. As a teenager, he helped England beat World Cup holders in Italy, and he became his country's oldest international at 42.
From 1932 to 1947, and again from 1961 to 1965, Stan played for Stoke City. Despite his age, Matthews maintained enough fitness to play at the highest level until age 50. His age of 50 years and 5 days makes him the oldest player to have played in the top division of English football (42 years and 104 days) and the oldest to have represented our country.  England National Team: 54 caps, 11 goals (1934-57)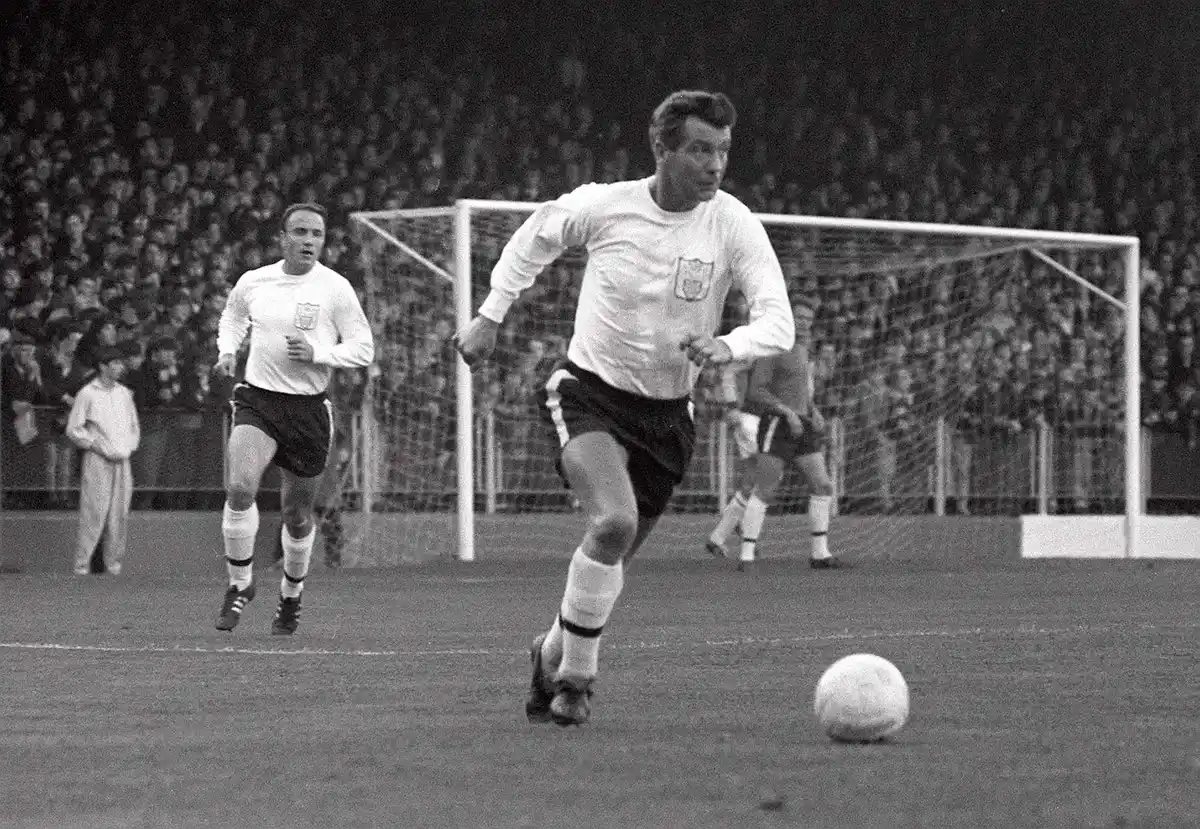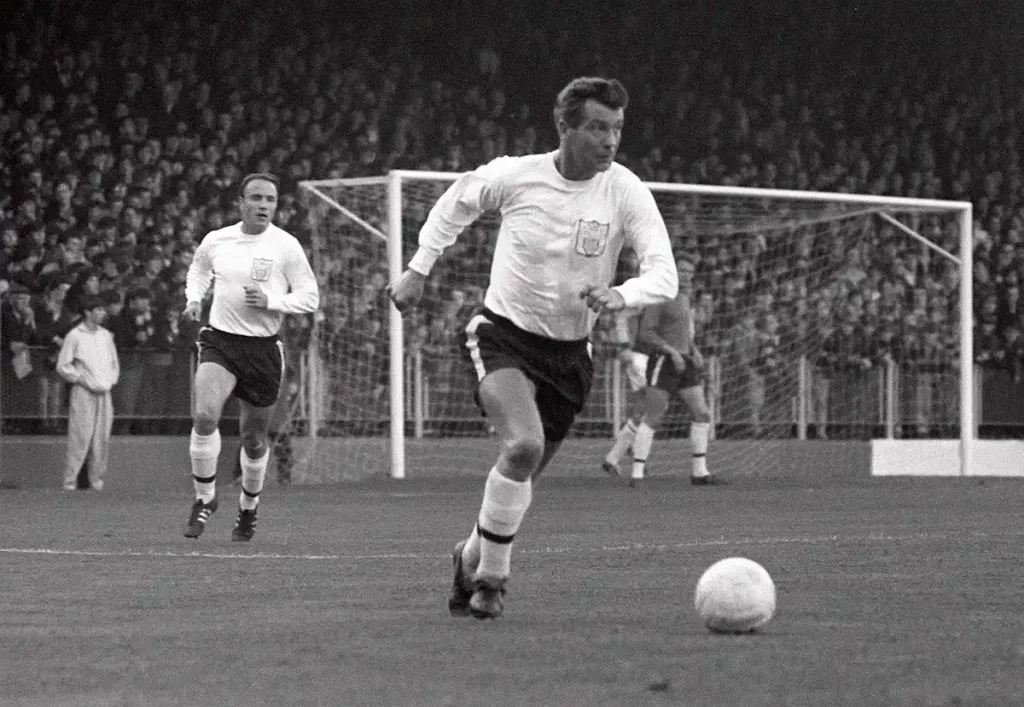 Central Midfield: Johnny Haynes 
Johhny Haynes played at Fulham football club and was regarded as the best passer of his generation. Fulham valued him highly, and after the maximum wage was abolished in the early 1960s, Haynes became the game's first £100-a-week footballer.
He played in two World Cup finals. His two-footed passing ability, vision, and deft touch earned him the nickname "the Maestro.". His loyalty to Fulham for 20 years made him Fulham's greatest ever player, even though he never won a major trophy. England National Team: 56 caps, 18 goals (1955-62)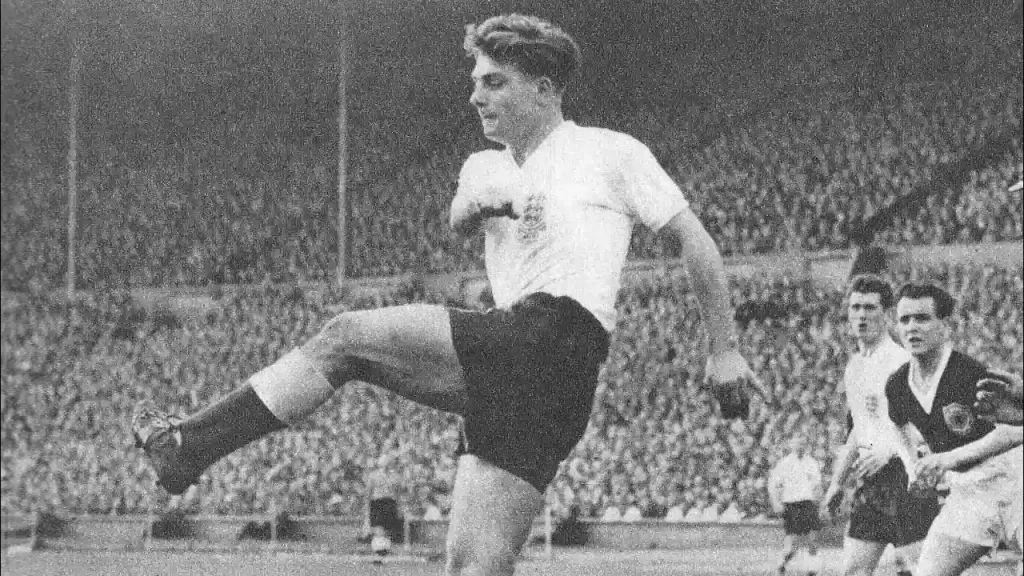 Central Midfield: Duncan Edwards 
Many shrewd judges believed Duncan Edwards was destined to be England's best-ever player when he was tragically killed in Munich at age 21. He combined power with skill and was the greatest of Manchester United's Busby Babes.
He was known for his physical strength, toughness, and level of authority on the soccer field. Duncan was always happy to play in several positions. It is likely that he would have been regarded as one of the toughest football players of all time, hence why I've added him in the best English football team.
Over the course of his professional career, he helped Manchester United win two Football League championships. England National Team: 18 caps, 5 goals (1955-57)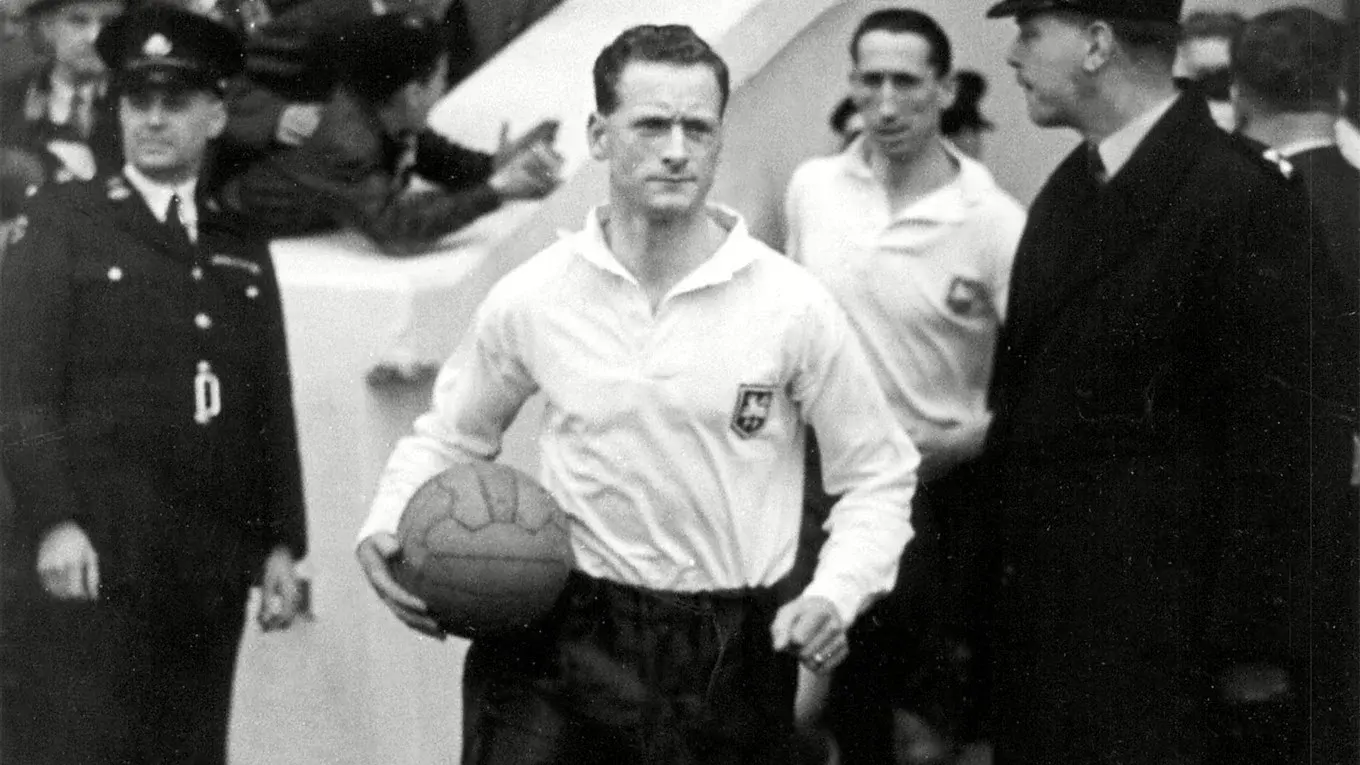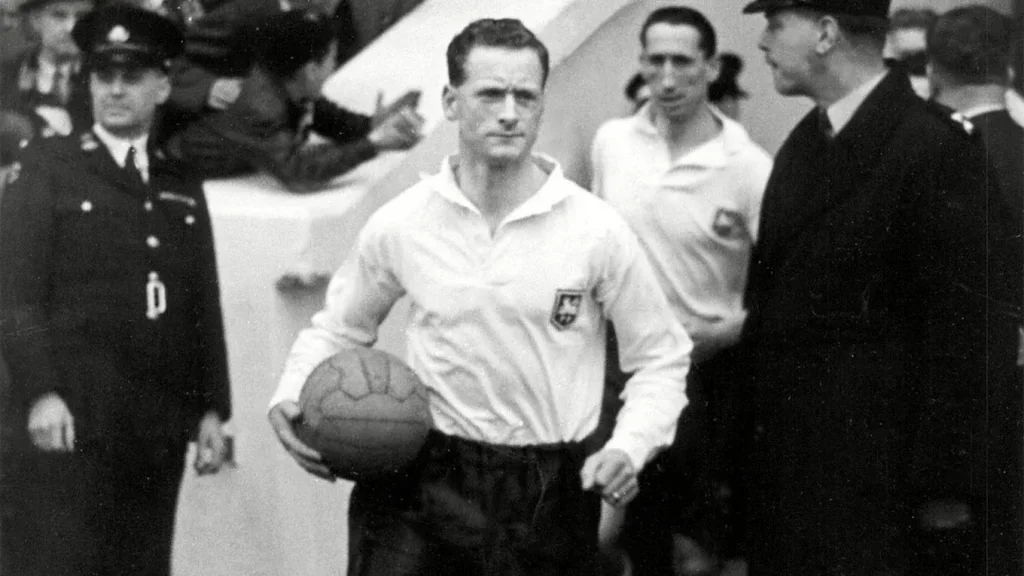 Winger: Tom Finney 
No lesser an authority than Bill Shankly regarded Finney as the best player he had ever seen. For a wide player, his goalscoring record was phenomenal. Nicknamed The Preston Plumber, he was twice voted Footballer of the Year in 1954 and 1957.
Finney was a versatile attacker who could play on either side of the pitch or in the center of the field. Given Matthews' dribbling skills and Finney's all-round ability, football fans often debated who was the best player in the 1950s.
210 goals were scored during his 433 Football League and 40 FA Cup appearances for Preston North End. England National Team: 76 caps, 30 goals (1947-59)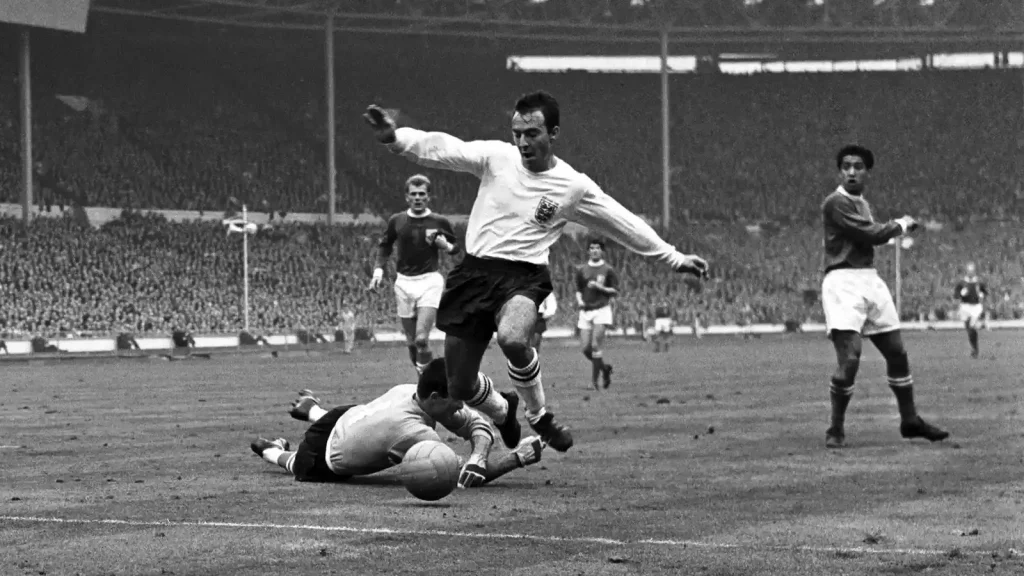 Striker: Jimmy Greaves
The most-natural finisher of them all, Jimmy Greaves, scored on his debut for every team he played, and England was no exception – scoring in a 4-1 defeat in Lima against Peru. He played in the 1962 World Cup. Injury cruelly saw him replaced by Roger Hunt midway through the 1966 tournament, and he missed out on lifting the original World Cup trophy.
Greaves scored many goals during his career. Aside from his great acceleration and pace, he also had great positional skills and clinical finishing.
He scored 266 goals for Tottenham Hotspur, 357 goals for English top-flight football, and six hat-tricks for England. In six seasons, he was the top scorer in the First Division. England National Team: 57 caps, 44 goals (1959-67)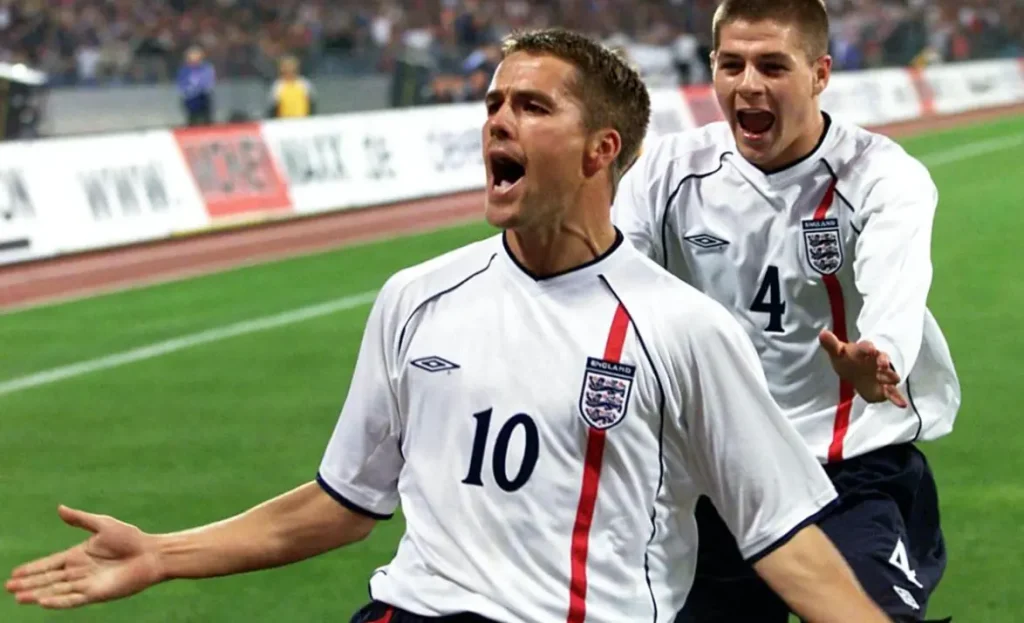 Striker: Michael Owen 
Michael burst onto the scene at 18 with a World Cup classic strike against Argentina. He should be regarded as one of his generation's greatest English and Premier League strikers because of his speed, opportunism, agility, and technical ability.
Despite his lack of height, Owen was a powerful and accurate finisher with his head. Only Englishman to have scored in four major tournaments; hence, he's been selected in my best English football team.  England National Team: 89 caps, 40 goals (1998-2008)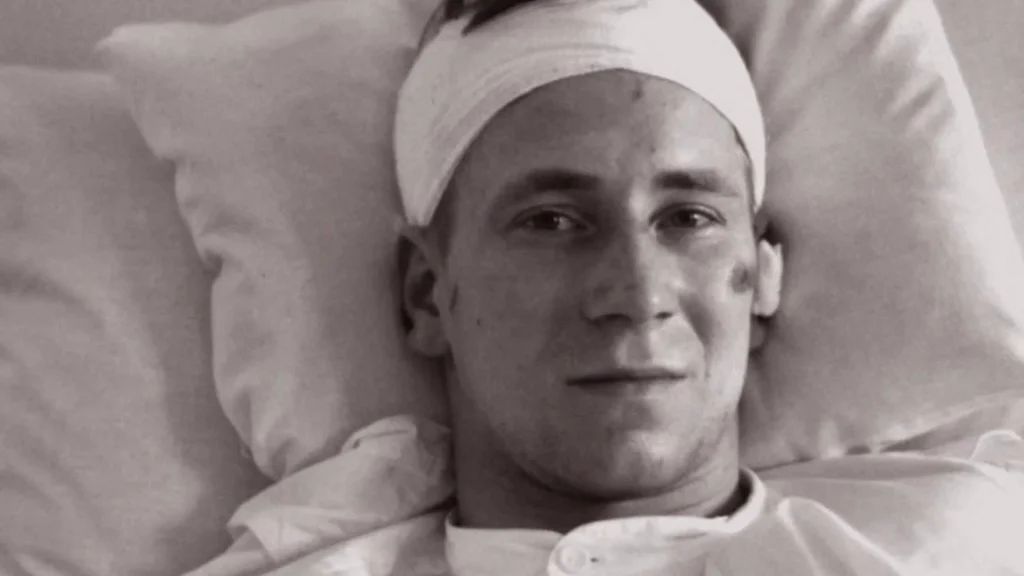 Bobby Charlton: One Of The Greatest
We thank Sir Bobby Charlton for sitting with the History Of Soccer team to discuss the all-time Best English Football Team.
Considered one of the greatest soccer players of all time, Sir Bobby Charlton must be in the best English football team for his ferocious long-range shots and passing ability from central midfield.
As well as his ferocious long-range shot and his attacking instincts, he became known for his toughness and strong mind to overcome the Munich Air Disaster and have the career he did. Harry Gregg, who first found Charlton, thought he was dead before dragging him away from the plane.
It was in 1966, when he also won the Ballon d'Or, that England won the FIFA World Cup. England National Team: 106 caps, 49 goals (1958-1970)
However, the modest and inspiring Sir Bobby Charlton would never select himself.