Goalscoring in the Chinese Super League during the 2000s followed a familiar theme: foreigners dominated it. The media and fans were not immune to reminiscing about Hao Haidong, who finished in the top three on the scoring chart year after year.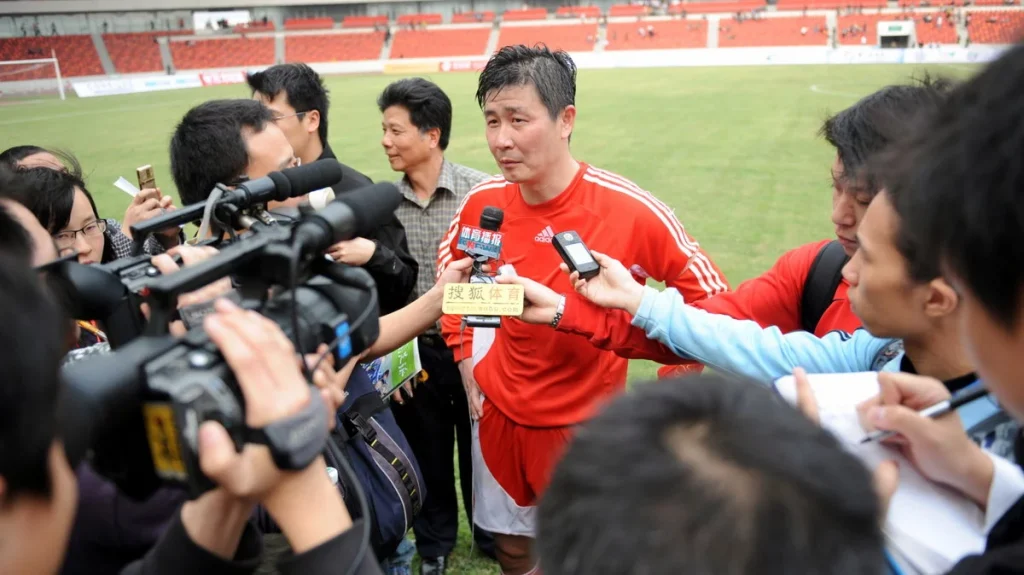 Born In Qingdao
For when the Qingdao native was in his prime, it was a different story. The Dalian Shide ace was the Chinese top flight's leading marksman in 1997, 1998, and 2001 and won the nation's player of the year award twice.
Moreover, Hao Hai Dong netted a record 41 goals for China PR in his 115 internationals between 1992 and 2004.
"It might sound clichéd that a talented player must also work hard, but to achieve the greater success, you need to put in more effort," the 52-year-old, who was renowned for his self-discipline.
When Hao Haidong retired from playing in 2007, following an injury-ravaged spell with Sheffield United in England, he swiftly assumed another role within the sport he adored, becoming Tianjin Songjiang's general manager, a brand new third-division side in his homeland.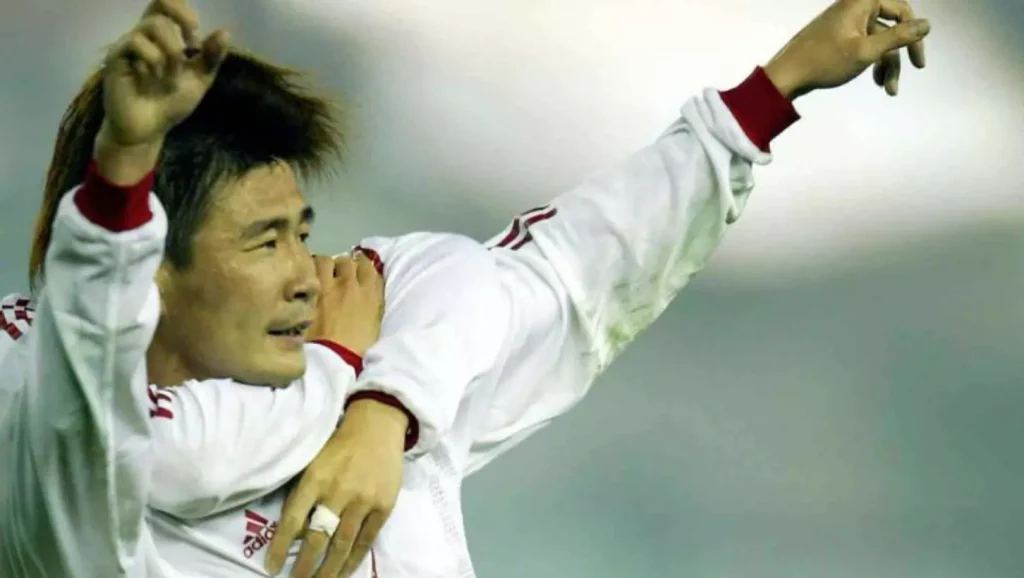 "Our target was gaining promotion to the second division, then the first division," he said. "Our team consists largely of young players, so we focus on their development. Only with the youth developing smoothly can we secure a bright future."
However, after finishing fifth in their first and second season, it was decided that significant restructuring was necessary, which led to Hao Haidong's appointment as chairman, which he did until 2012.
Early Start For Hao Haidong
Hao Haidong was only ten years old when he was recruited into the former Armed Forces FC, known as Bayi. However, it is something on which he still prides himself. "As a little boy, I became a soldier and started my soccer career," Hao Haidong said.
"As all of us went through the meticulous nationwide selection, we were among the country's best. Furthermore, we were also lucky to have some of the country's best mentors to train us."
After cutting teeth with the club's junior side, Hao Haidong graduated to the first team and soon proved himself as a player of significant potential. As a fiesty 23 years old, he got banned for six months for fighting on the soccer field.
Then after playing Uruguay club Penarol in a friendly, the South Americans were interested in signing him. As all overseas transfers in China are somewhat difficult, this move did not happen.
Instead, the striker made a high-profile move to Dalian Shide in 1997 and helped them win five league titles in eight seasons before moving to England.
As a 34-year-old, he moved to Sheffield United for a transfer fee of one pound. Dalian wanted him to chase his dreams after years of service to the successful Chinese team.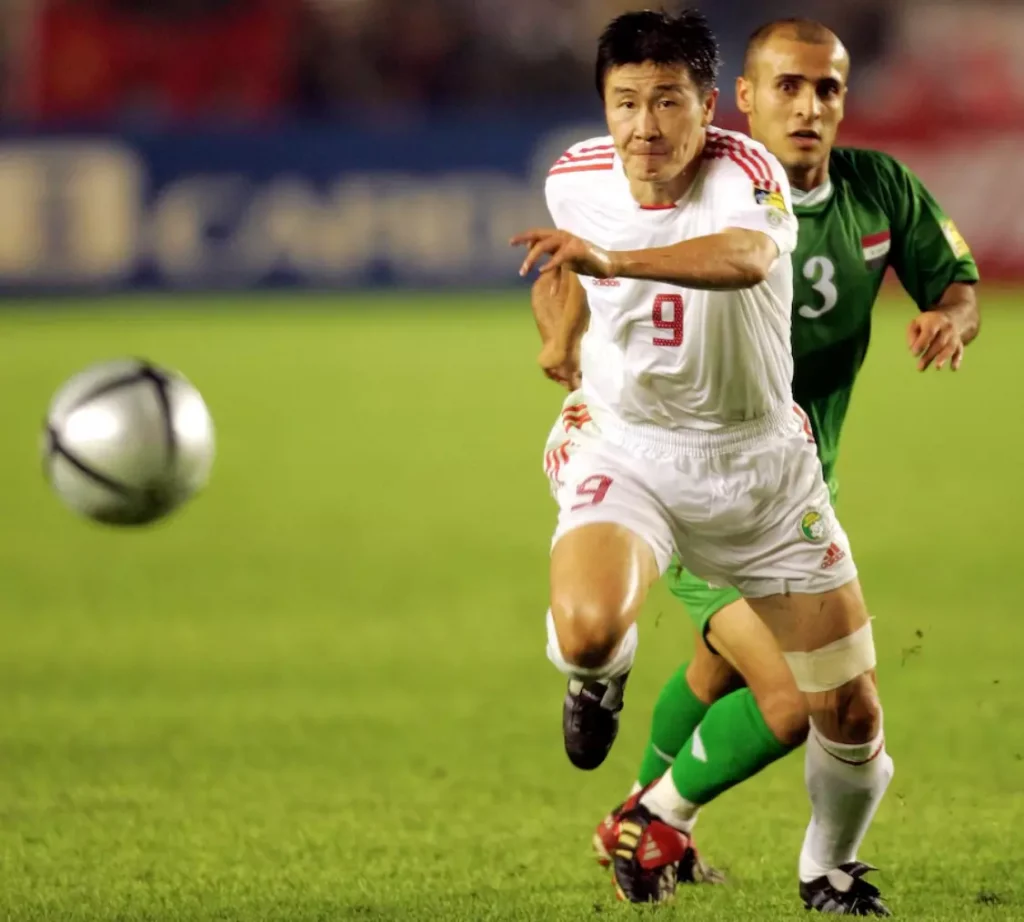 Confrontational
In China, the controversial center forward had a colorful reputation and was not scared of he Chinese authorities.
At the Asian Games in Bangkok in December 1998, he was banned for spitting at a linesman during China's quarterfinal victory over Turkmenistan.
In addition, he was banned from all international football for both club and country by the Asian Football Confederation after a disciplinary meeting several months later. As a result, the Chinese Football Association also issued a similar ban for all domestic games.
Similarly, Haidong slammed national coach Bora Milutinovic in 2001 after he was left out of some of the country's World Cup qualifying squads.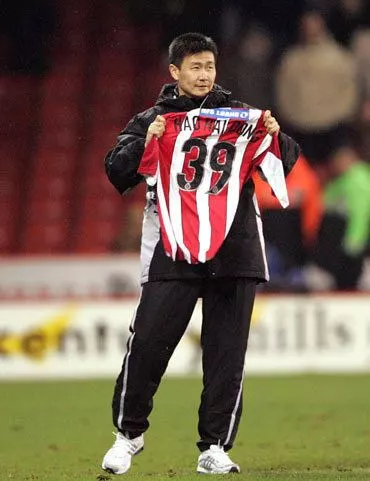 Playing In A World Cup
Hao Haidong also played a fundamental role in China's qualification for the 2002 FIFA World Cup Japan/Korea. And despite the team's first-phase elimination, the lively forward demonstrated his class in their final game against Turkey, when he masterfully set up Yang Chen only for the latter to hit the woodwork.
"We showed we were capable of competing against the world's best teams in both physical and technical terms," Hao Haidong said. "As long as we keep working well, we can gradually bridge the gap in class that exists between us and the best sides."
Hao Haidong led his country's bid to reach Germany in 2006 with some crucial goals, but they ultimately failed to progress into Asia's final qualifying round after finishing behind Kuwait. It prompted the iconic attacker, then 34, to call time on his international career in 2004.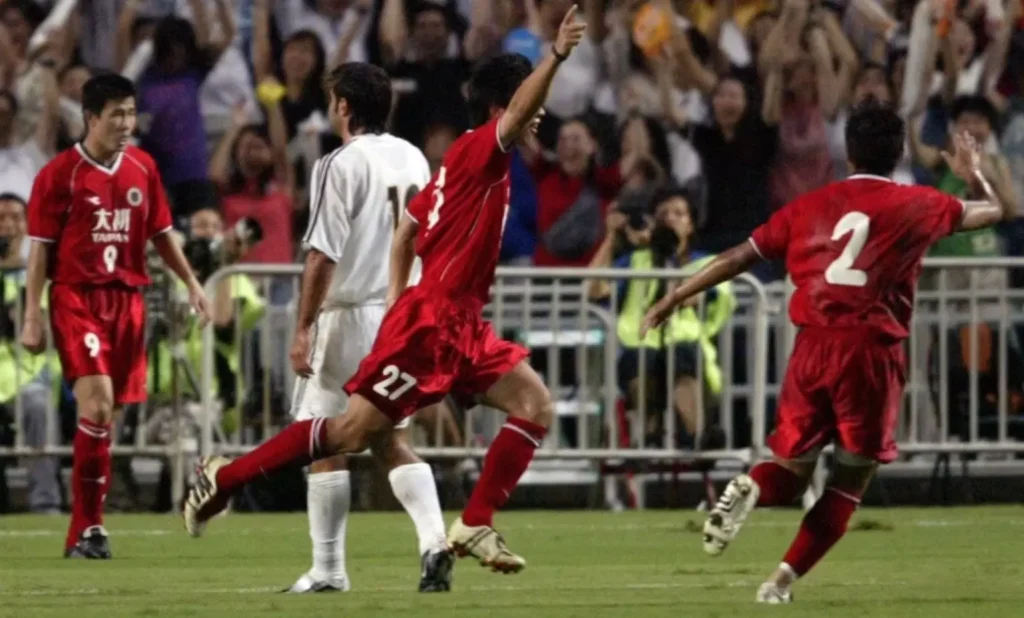 Not Holding Back
His void remains to be filled, with China's blunt spearhead unable to guide them into South Africa 2010, 2014, and 2018.
"The task of developing our young players is urgent. If we want to appear in more World Cups in 2022 or beyond, we must change the game's administration set up in China and remove the bureaucrats. They are holding soccer back".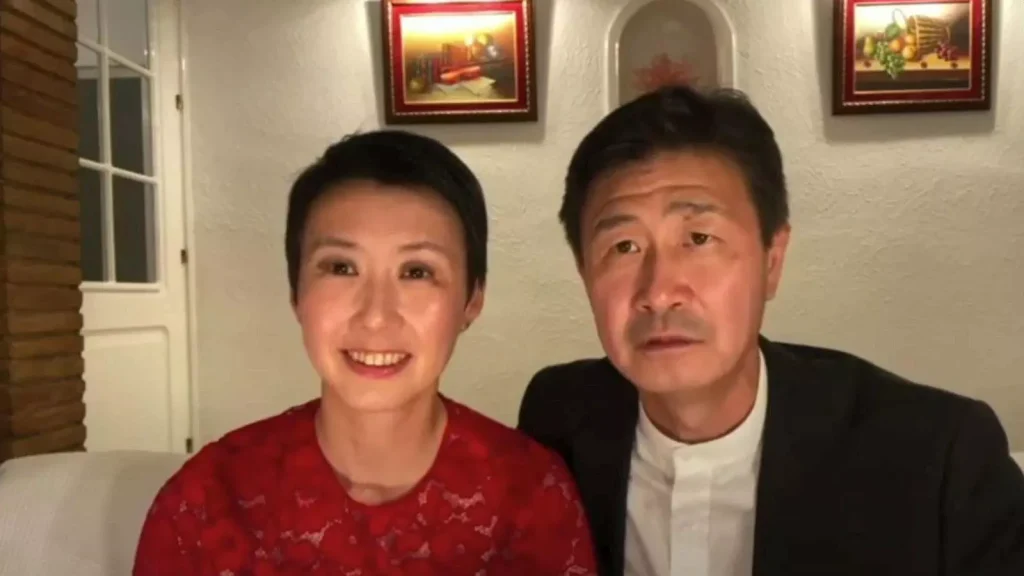 Hao Haidong Wife
Hao Haidong and his wife, Ye Zhaoying (an international badminton champion) denounced the Chinese Communist Party on the 31st anniversary of the 1989 Tiananmen Square protests (4th June 2020), including mishandling professional soccer, Hong Kong, Tibet, and the management of the COVID-19 pandemic.
Ye Zhaoying is caught up in a 2000 Olympics badminton scandal. Former World Champion Ye Zhaoying claims she was instructed by the Chinese team management to lose her semi-match with Gong Zhichao.
Hao Haidong and Ye Zhaoying were married in 2019 and live together in Malaga, Spain.
Chinese Communist Party
The Chinese soccer legend stated, "I think China's Ruling Communist Party should be kicked out of humanity. The ghost of Communism should no longer be allowed to drift in this world. The Communist Party's totalitarian rule in China has caused horrific atrocities against humanity."
The idea that a Chinese sports star would give such a blistering public denunciation of the Chinese Communist Party and openly call for its downfall is scarce, if not unprecedented.
Many dissidents who have accused Beijing, and the Chinese authorities commonly face lengthy prison sentences for publicly criticizing the party or demanding democratic reforms.
The government has deleted all of his existence on the Chinese internet and deleted his Weibo and social media accounts. He has around 8 million social media followers.
Whatever happens to Hao Haidong in his own country, he will be remembered as the best striker produced in China. It is believed that Hao Haidong is currently residing in Spain.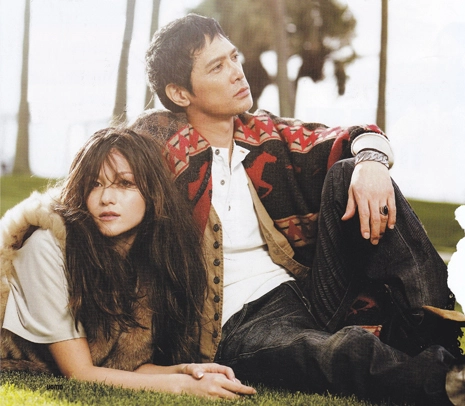 Hao Haidong Stats, Facts, And Figures
Full Name: Hao Haidong
Birthdate: 09/05/1970
Birthplace: Qingdao, Shandong, China
Playing Career:
1986–1996 Bayi
1997–2004 Dalian Shide
2005–2006 Sheffield United
Total Appearances: 179 Matches, 97 Goals
National Team Career:
1992–2004 China (107 appearances, 41 goals)
Playing Honors:
Bayi Football Team
1986: Chinese Jia-A League Champions
1990: Chinese FA Cup Winners
Dalian Shide
1997, 1998, 2000, 2001, and 2002: Chinese Jia-A League Champions
2001: Chinese FA Cup Winners
1996, 2000, and 2002: Chinese Super Cup Winners
Individual Honors:
1998: Chinese Football Association Player of the Year
2001: Chinese Jia-A China Soccer League Team of the Year
1997, 1998, and 2001: Chinese Jia-A League Top goalscorer