Soccer cleats, also known as football boots or soccer boots, are arguably the most important and recognizable accessory used by modern soccer players.
Soccer cleats have undergone years of evolution to develop into their present form. In modern soccer, cleats present significant sponsorship and advertising opportunities to sports manufacturers.
Thus, thanks to modern major footwear companies such as Nike, Adidas, Puma, and more, the history of soccer cleats continues to evolve. Furthermore, professional soccer players can have soccer cleats explicitly made for their playing style and comfort due to technological advancements.

Soccer Cleat History 
Cleats became an integral part of soccer in the late 19th century. As wet conditions prevailed in the winter game, soccer cleats became heavier and heavier as the game progressed.
Cleats for rugby and soccer were originally called brogans, which were engineer's boots. Several early photographs depict stout boots, made by local bootmakers of superior quality to most workers' boots of the nineteenth century, commissioned for public school boys.
These boots were high cut to provide extra ankle support and had a reinforced toecap in iron-hard leather. Soccer cleats were tightened with long laces. There was a boom in soccer popularity in the United Kingdom, and mass-produced soccer boots became more prevalent.
The increasing popularity of women's soccer led bootmakers to downsize their models. Designed with the arch placement, height, traction, and stud size all built for the male foot, these shoes are made to a last model for men's sizes. Gender differences in anatomy were not considered in any way.
Soccer cleats were not designed to be super comfortable then, and it was anticipated they would become heavier during inclement weather.
The weight of a soccer cleat was approximately 500 grams when dry but double that when wet. Unlike today's custom footwear, there were rare exceptions to having boots made according to specific needs. Women's soccer's early successes are remarkable because players wore heavy boots.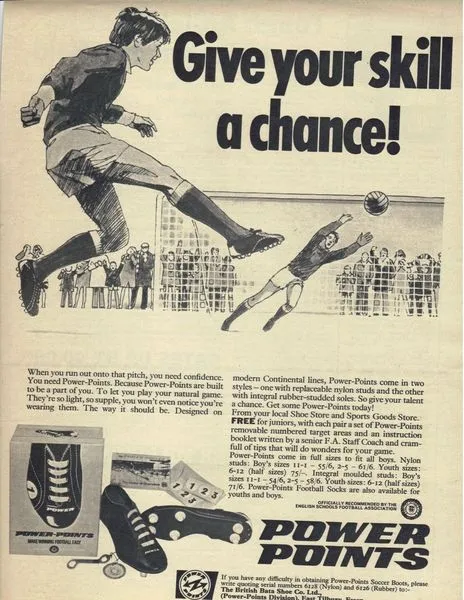 Adi Dassler became Germany's soccer cleat expert in the 1920s when he developed replaceable studs. As new polymers became available, the length of studs was regulated.
Synthetic materials replaced natural materials. When molded studs were applied to soccer cleats, they created a new revolution. As a result, there are different lengths of plugs and cleats used today.
Over time, using long studs was no longer necessary due to the introduction of artificial playing surfaces. Deep penetration was neither beneficial for the surface nor beneficial to the players, resulting in poor performances and injuries.
A change in the design of soccer cleats was also necessary to accommodate the popularity of indoor soccer.
Various forms of cleats are available, depending on multiple factors such as players' requirements, type of pitch, etc.  This article will explore the history of soccer cleats and briefly examine various kinds of soccer cleats available in the current market.
Who Invented Soccer Cleats
Most of the innovation in the production of soccer cleats only occurred in the second half of the 20th century. However, the credit for the invention of soccer cleats is usually bestowed upon King Henry VIII. As per the historical records, the English monarch owned a pair of soccer boots in the Great Wardrobe, all the way back in 1526.
There is no specimen left, but these soccer boots were said to be knee-high, and made of thick and heavy leather. One can imagine that it must have been arduous to kick a soccer ball in these boots. They were made by royal shoemaker Cornelius Johnson and were said to cost four shillings back then.
This amount would equate to around USD 170 (100 British Pounds) in today's market.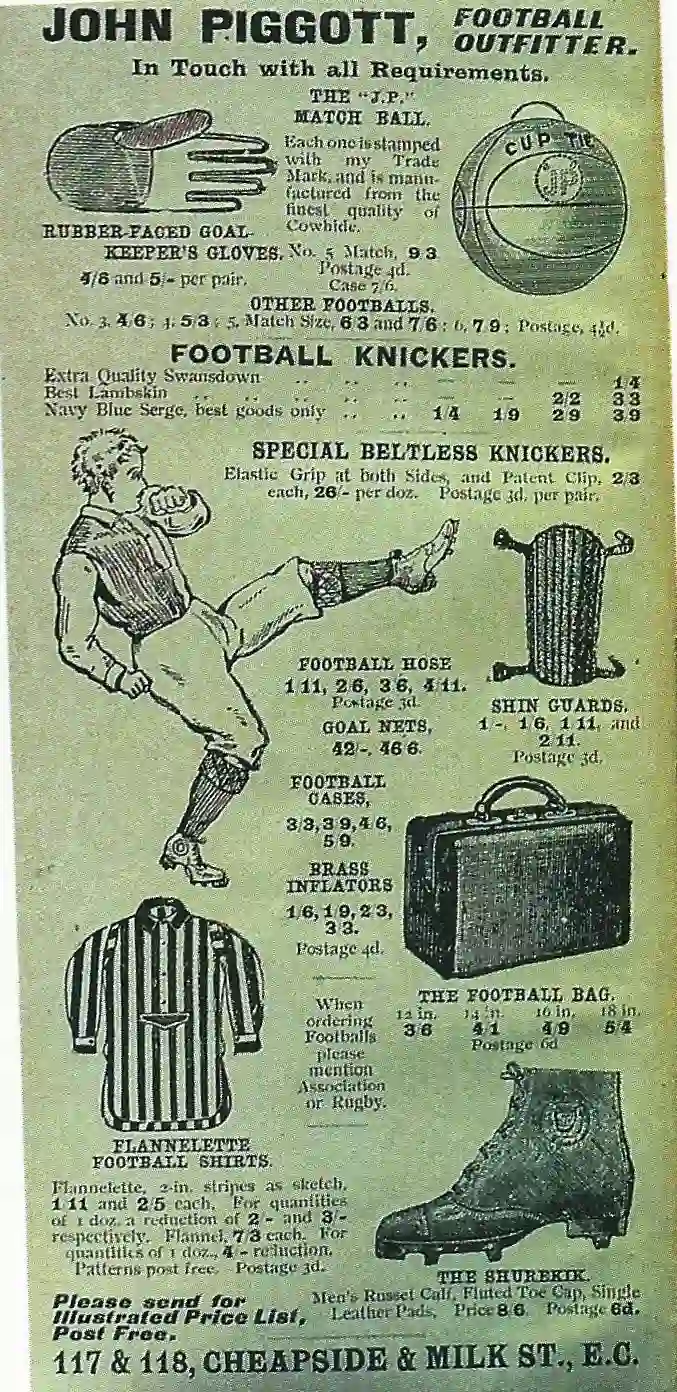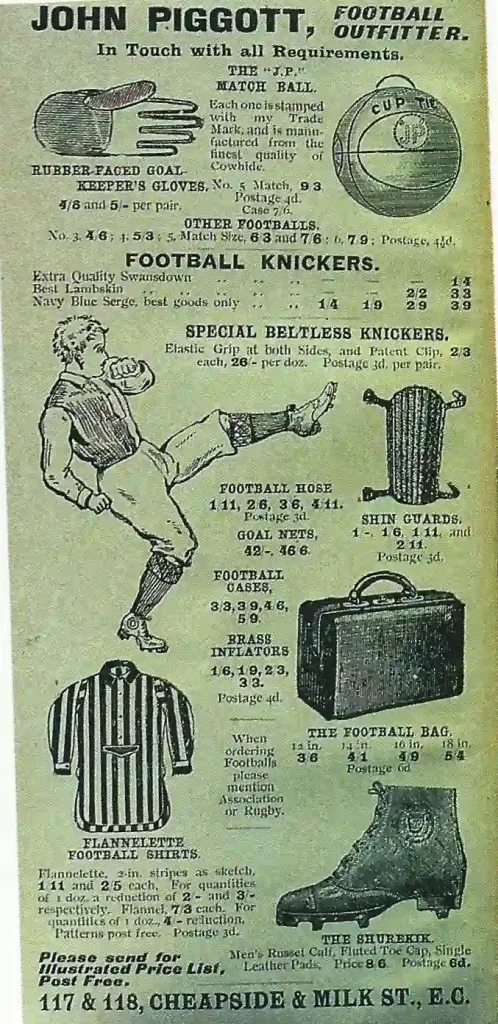 Let's Explore The History Of Soccer Cleats
As we just mentioned, the first specimen of the soccer cleat was developed back in the 16th century. However, after that, soccer cleats didn't improve much until the advent of the 19th century. During the 19th century, soccer witnessed a massive rise in popularity in England.
1800's
The game of soccer started capturing the imagination of the masses during the 19th century. However, it was still only a hobby for people, and they played at an amateur level. Hence, a little attention was paid to football boots, and most enthusiasts wore their work boots while playing the game.
These soccer cleats were made of leather and were heavy. Understandably, these were not made for running and kicking, and it was not a comfortable experience for most players to play in them. Some of these soccer shoes would also have toecaps made of steel.
In contrast, some players would also use tacks as temporary and improvised cleats on the bottom of their soccer shoes.
Soccer is a contact sport, and steel caps and tacks increased the risk of injuries, especially in wet and muddy conditions.
The game of soccer became professional in the second half of the 19th century in England. The advent of professional soccer also brought about rules and regulations to the game. This development also led to the standardization of soccer cleats in professional soccer.
The work boots were replaced by the new slipper-style soccer cleats, like soccus worn in ancient Greece and Rome. The laws regarding soccer cleats allowed the use of rounded cleats made of leather.
These soccer cleats were made of hard and heavy leather and weighed around 500 grams. When wet, these cleats could weigh up to a kilogram. Six cleats were allowed and were hammered on each sole.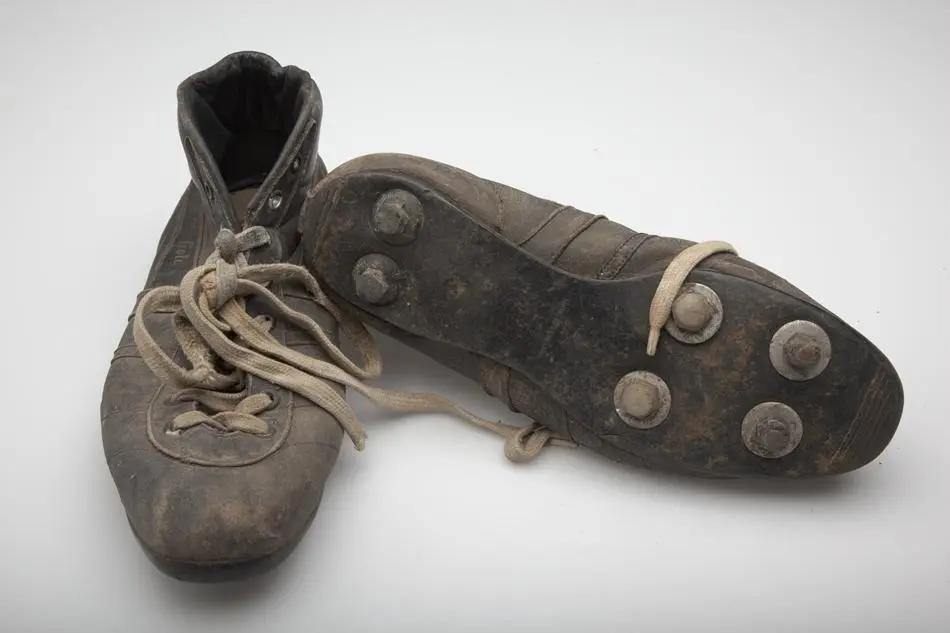 1900 – WW2
The beginning of soccer hardly witnessed any progress during this period due to World Wars, and the same was the case with soccer cleats.
The soccer shoes which emerged towards the end of the last century stayed very much the same during these years. However, a significant landmark did happen in the history of soccer cleats. The mass production of soccer shoes began, and several cleat manufacturers became popular. Some of these manufacturers, such as Gola and Hummel, still exist.
Meanwhile, in Germany, Gebruder Dassler Schuhfabrik (or Dassler Brothers Shoe Factory) was founded by brothers Adolf Dassler and Rudolf Dassler in 1924. The Dassler Brothers Shoe Factory company started producing soccer cleats with interchangeable studs in 1925.
These soccer shoes had interchangeable studs that could be changed according to weather and pitch conditions. These two brothers would shape the evolution of soccer cleats by forming Adidas and Puma in the following years.
WW2 – 1960's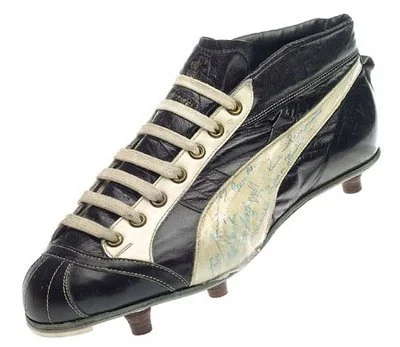 This era was arguably the most critical phase in the history of soccer cleats.
Following the Second World War, soccer witnessed a massive increase in its popularity at the international level. Cheap international travel allowed international soccer to become a norm, facilitating the exchange of ideas between European and South American soccer.
At the time, South American players wore lighter and flexible cleats, allowing flexibility in movement and better ball control. The technical superiority of South American players influenced their European counterparts to prioritize flexibility over protection in their soccer cleats. Thus, these light and flexible soccer shoes replaced the heavy leather designs in European soccer too.
In 1948, Adolf Dassler fell out with his brother Rudolf and laid the foundation for Adidas. Rudolf followed with the conception of Puma in the same year. Rudolf had initially named his company Ruda but later changed it to Puma. This development marked the beginning of a long and fierce rivalry in the history of soccer cleats.
When West Germany played its first international game, after WW II, in 1948, several of its players wore the Puma football boot. Around the same time, the company also launched Super Atom cleats which featured screw-in cleats made of synthetic plastic.
Over the years, both companies have taken credit for introducing screw-in cleats in the game of soccer. Adidas claims that it introduced screw-in cleats during the 1954 World Cup to help the West Germany team to play in rain-soaked conditions.
1960's
The lower-cut soccer cleats became popular during this decade. Technological advancements made the cleats sleeker and lighter while enabling players to move faster. This decade also saw the beginning of an association between soccer stars and the cleats they wore. Brazilian legend Pele famously wore Puma cleats during the 1962 World Cup.
However, Adidas cemented its position as the clear market leader in the soccer cleats industry. It is said that three out of every four players wore Adidas cleats at the 1966 World Cup.
The market became more completive as several other companies such as Mitre, Joma, and Asics opened up during the 1960s.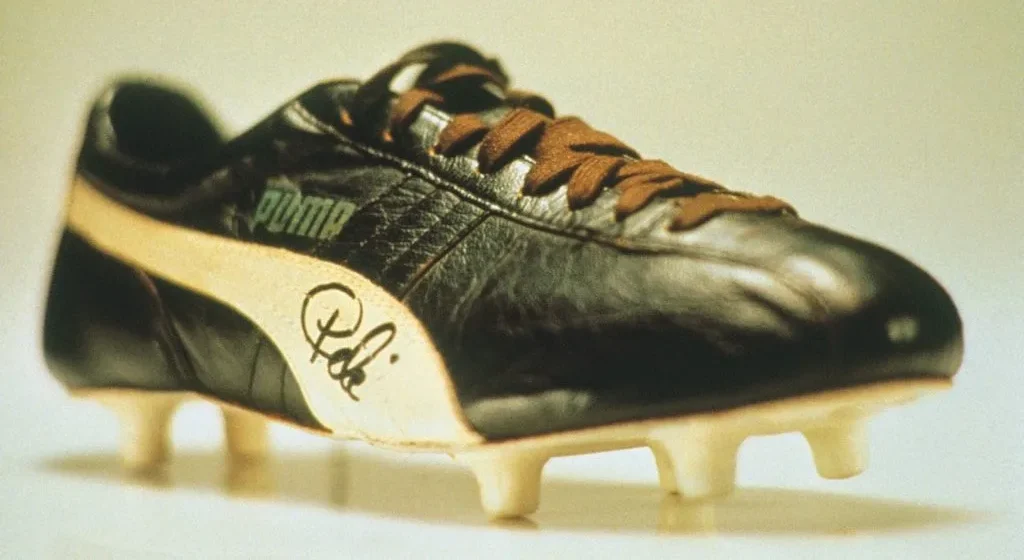 1970's
Pele wore Puma King cleats as he led the mercurial Brazilian side to World Cup success in 1970. This decade also saw the emergence of sponsorship deals between players and cleat manufacturers. Technological advancement continued in the cleats industry, and they became lighter and more colorful. Hummel produced the first-ever white soccer cleats in the 1970s.
In 1979, Adidas launched the Adidas Copa Mundial, which has become the best-selling soccer cleat ever. Famous Italian sports footwear company Diodora also entered the soccer cleats industry during this decade, 1977.
1980's
Adidas continued to dominate the soccer cleats market, but Maradona's Puma cleats stole the limelight at the 1986 World Cup.
The 1980s saw the likes of Umbro, Lotto, and Kelme enter the soccer cleats market.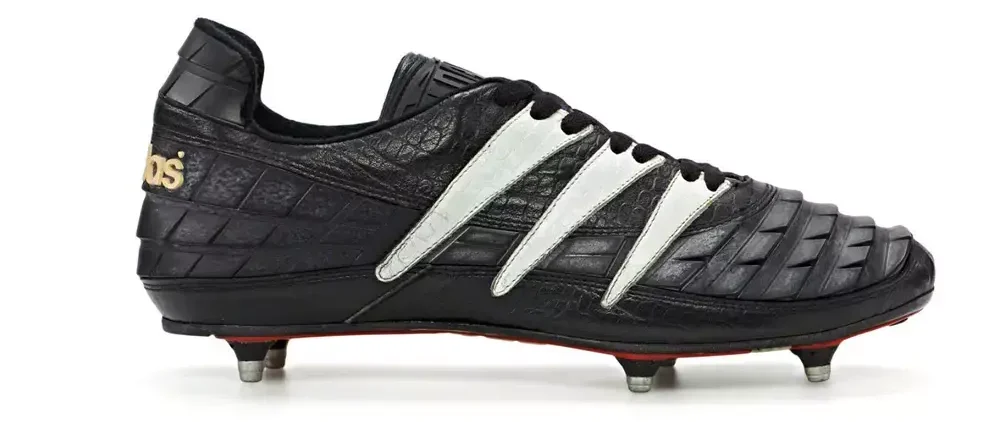 1990's
The 1990s saw many developments that further revolutionized soccer cleats and the game itself. Firstly, Adidas launched the Adidas Predator soccer cleat in 1994. These shoes revolutionized soccer as they provided more excellent traction between the soccer ball and the football, thus allowing players more control over their shots.
These cleats resulted from years of research from former Liverpool star Craig Johnston. He retired from professional soccer in 1988 to care for his ill sister in his native Australia. While teaching children soccer in Australia, he started working on a shoe prototype that would allow players more control of the soccer ball and the ability to swerve it. He used rubber for ridges on top of the soccer cleat.
His Adidas Predator design allowed a greater area of contact between the ball and provided players with 'sweet spots' to hit the ball. Craig Johnston sold his invention to Adidas for a 2% share of all model sales.
This decade also saw US sportswear giant Nike entering the soccer cleats market. Nike launched Mercurial, their first soccer cleats, in 1998. These lightweight soccer shoes were famously debuted by Brazilian legend Ronaldo at the 1998 World Cup. Nike Mercurials were lightweight and weighed only 200 grams.
Some other companies, such as Mizuno, Reebok, and Uhlsport, also entered the market this decade.
Meanwhile, the rivalry between Adidas and Puma went on as they launched and counter-launched several new cleats during the '90s. Most notably, Adidas launched bladed outsole Traxion technology and introduced wedge-shaped cleats. Puma also launched their Puma Cell Technology in the 1990s.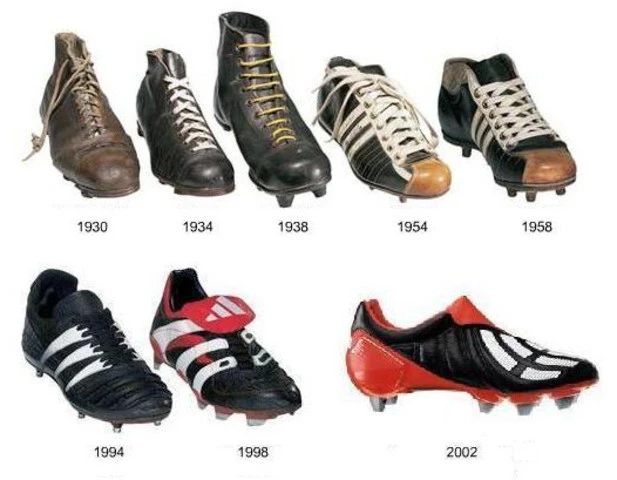 2000's
As the new millennium dawned, the popularity of soccer only increased on a global scale. The arrival of Nike meant that there were three major companies instead of two, leading the competition now. Simultaneously, several mid to small-sized cleat companies also flourished.
The first decade of the new millennium also witnessed the arrival of Laser technology which allowed the creation of the first customized soccer cleats. England-based company Prior 2 Lever was responsible for creating the first customer-specific football boot, the Assassin.
Cleats customization is still not commonly available, but the technology represents the possible future of soccer cleats, especially in professional soccer.
In 2006, Italian company Lotto launched the first laceless soccer cleats called Zero Gravity. However, it took Adidas more than a decade to launch their laceless soccer cleat. Finally, they did so with the launch of Ace 16+ PureControl in 2016.
This soccer shoe had a knitted upper and provided a sock-like grip on ankles. Soon enough, laceless cleats were the latest buzz among soccer teens.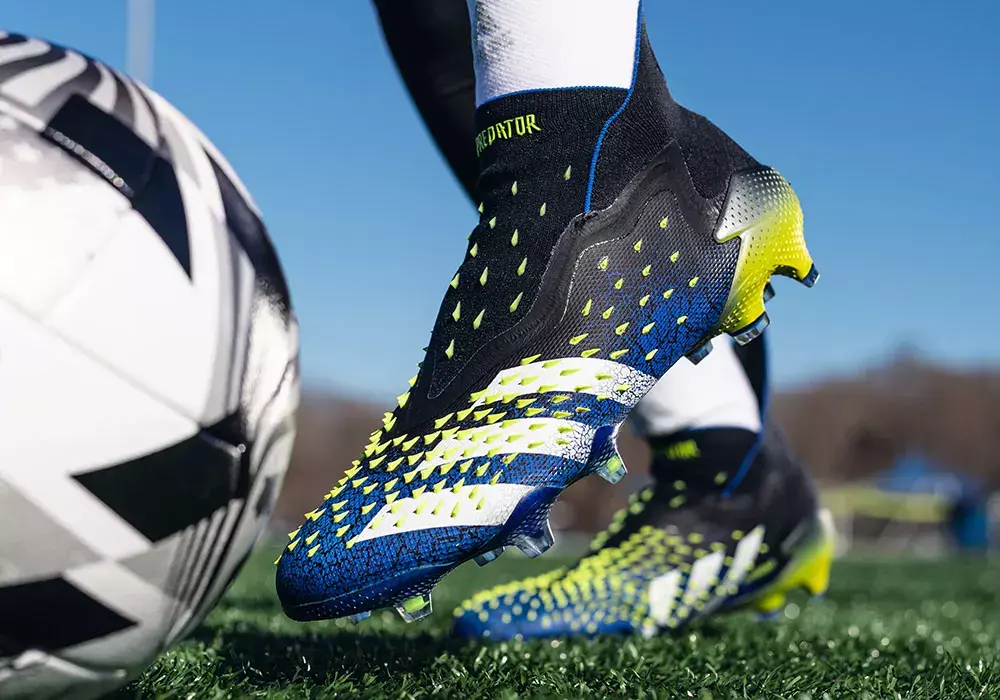 The Present Day Soccer Cleats Trends
From a commercial perspective, the competition is intense in the soccer cleats industry. Furthermore, the advent of social media has compelled companies to focus more on marketing and gimmicks rather than genuine innovation. Laceless cleats, which failed to improve on laced models, can be considered an example.
Companies are releasing more and more models every year, with release cycles becoming shorter. Meanwhile, the ultimate focus has been to make shoes lighter and eventually provide a barefoot feel to players during the last decade.
Adidas shocked soccer fans at the 2010 World Cup by launching the F50 adizero, weighing only 165 grams. Most modern soccer cleats weigh less than 250 grams, and indoor soccer shoes weigh around 330 grams.
In the last decade, knitted soccer cleats have become hugely popular too. All such soccer cleats have an ankle-hugging upper made of microfiber knitted. This enhances the barefoot feel that most soccer cleat manufacturers are in pursuit of these days.
We will also likely see greater use of on-pitch technology, such as GPS, and sensors in soccer cleats soon. The Adidas soccer cleats adiZero F50 is one such example. These cleats have miCoach Sensor to record various metrics.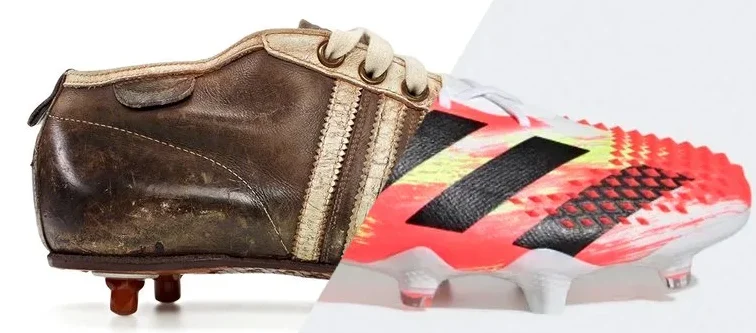 What Materials Are Soccer Cleats Made Of?
The earliest soccer cleats were made of natural leather, mainly Kangaroo leather. The best-selling soccer cleat, the Adidas Copa Mundial model, is made of thick Kangaroo leather.
As the emphasis has shifted towards the weight and flexibility of soccer cleats, natural leather has been increasingly replaced by synthetic leather or fibers. Genuine leather is heavy and retains water, and it has become imperative for companies to use synthetic materials to achieve the lightweight feel of modern cleats.
At present, only a few soccer cleats still use natural leather. Current models such as the f50 adizero, evoSPEED leather, Nike Tiempo Legend, and the Adidas 11pro still use genuine leather.
The soccer shoe consists of several parts, such as the insole, outsole, midsole, and cleats. The insole in modern cleats is made of foam or polyol and has a water-resistant material.
The outer material could be made of several materials, such as natural rubber, synthetic fiber, and Polyurethane. Link normal shoes, the soccer cleat uses a mix of the latter two, while natural rubber is used for ridges on the outsole for ball control. Nike has been using carbon fiber to make ultralight soccer cleats which are also durable. These soccer shoes weigh only 190 grams.
Cleats are made of different materials, such as plastic, rubber, or aluminum. Plastic cleats are used on hard surfaces, while aluminum ones are meant for artificial pitches.
How Are Soccer Cleats Made?
The outsole patterns are generally cut from plain sheets of synthetic or natural leather. These outsoles then go through a skiving process in which a spinning blade is used to thin their edges. Next, any additional material is stitched or glued to the base sole material, either by sewing machines or compressing machines.
The next step is to screen print the outsole design, such as branding, etc., on these leather pieces. These outsoles are then stretched around solid insole boards and kept to give them the shape of a soccer shoe. Using various techniques, these outsoles are then glued to the soleplates (or outsoles).
Next is the Lasting process, in which a newly built soccer cleat is made to sit on foot-shaped boards to give them a perfect fit. These soccer cleats are then made to go through quality control and packaging before they are shipped to stores.
Click here to watch a video on the manufacturing process of soccer cleats.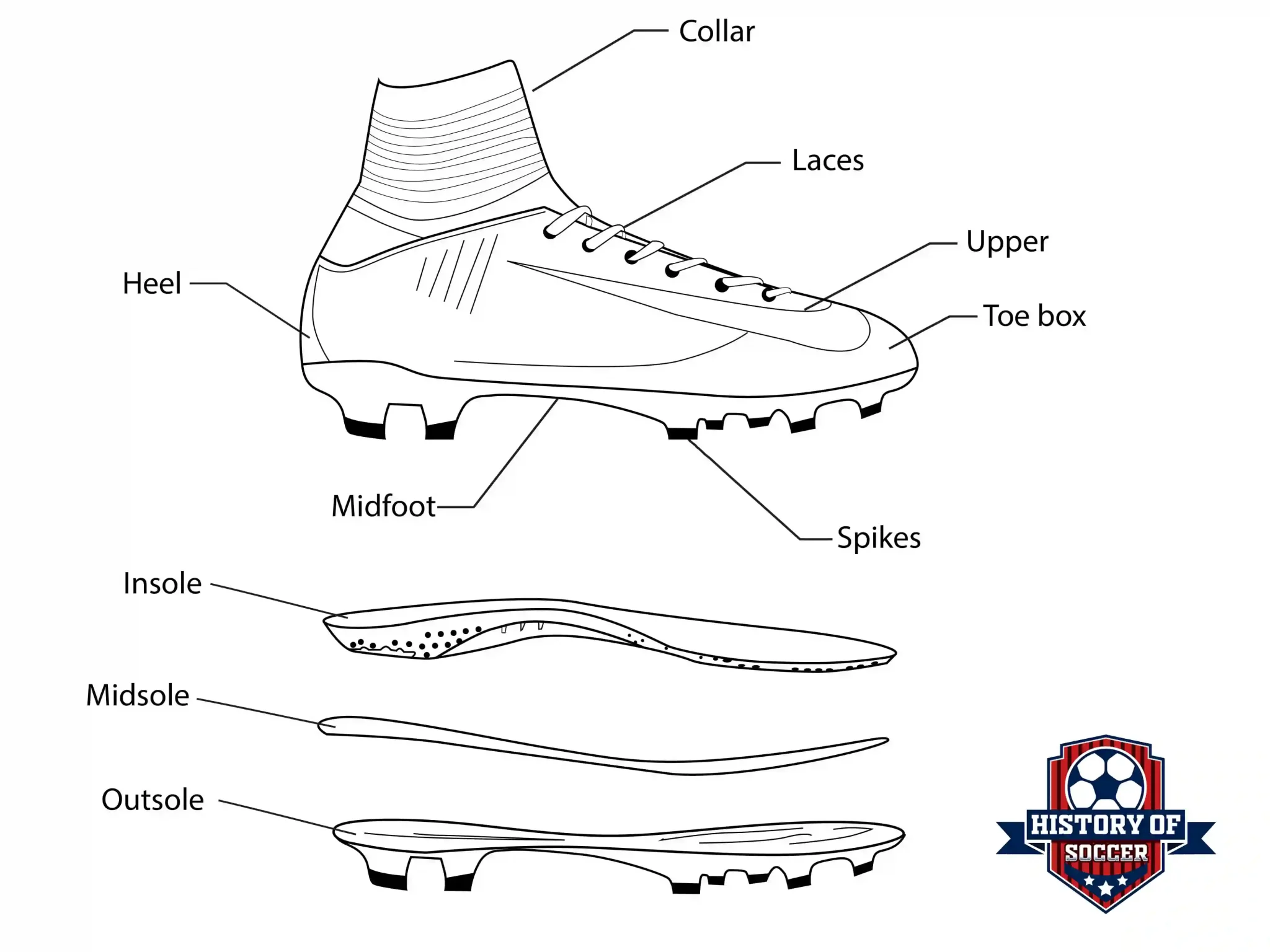 Conclusion
The history of soccer cleats began with King Henry VIII in the 16th century. Almost 500 years later, soccer cleats look nothing like their earliest inception.
However, most innovation could be traced back to the last 60-70 years. In modern soccer, soccer cleats present a great marketing and business opportunity for sportswear companies. Hence, these companies continue to pour money into the research and development of soccer shoes.
Due to these reasons, one can expect soccer cleats to keep evolving in the coming years.
References:
[1], [2], [3] https://quizlet.com/274365946/read-the-flashcard-now-flash-cards/
[6]: www.howmonk.com/how-long-is-a-soccer-game/
[7], [8], and [9]: www.football-stadiums.co.uk/articles/extra-time/
Images:
www.footyfair.com/2014/05/the-evolution-of-football-boots.html
www.beyondthelastman.com/2014/11/25/power-boots-1966-76/
www.foottalk.blogspot.com/2018/01/evolution-of-soccer-boot.html
www.timetoast.com/timelines/evolution-of-the-soccer-cleat-3ca23832-130a-4233-9a56-f54ff0909a1b
NSS Magazine
www.goal.com/en/news/adidas-predator-pulse-mania-precision-david-beckham-football-boots/y73vnoasiarb1dpmyid40316q
https://zh.wikipedia.org/wiki/%E8%B6%B3%E7%90%83%E9%9E%8B#/media/File:Football_boots_1930-2002.JPG
www.youtube.com/watch?v=cFQjFHmmzsQ
www.adidas-group.com/en/about/history/