Uruguayan superstar Luis Suarez divides opinions. He was beloved by many, despised by more. This man attracted the ire of an entire continent, a man notorious for biting opponents, but also a family man and a generational talent.
Seneca the Younger once wrote that there is no genius without a touch of madness, but Luis Suárez has consistently blurred the line between mastermind and maniac.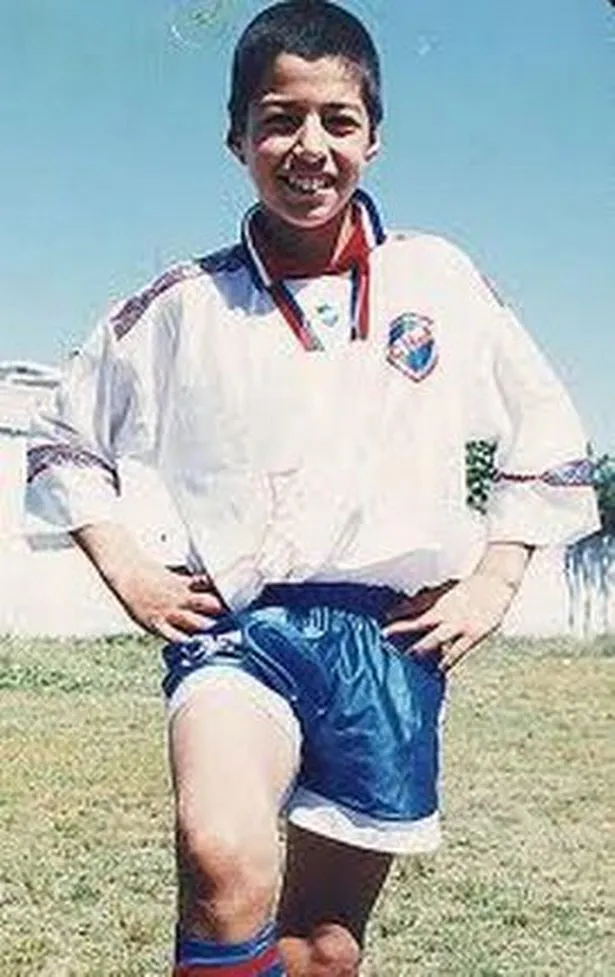 Second Hand of God
July 2, 2010: World Cup quarter-finals in South Africa. The score is 1–1 in stoppage time of extra time between Ghana and Uruguay. An equally impressive Diego Forlán strike canceled out a brilliant Sulley Muntari opener.
Ghana was the last African team left in the competition, the tournament darling; they carried the hopes of an entire continent on their shoulders. Enter Luis Suárez.
After a scramble in the box, the ball is heading toward the back of Uruguay's net. Luis Suarez is the last line of the defense, having already blocked a shot off the goal line, but what he did next would make him the most hated man of the tournament.
Luis stopped the ball from going in with what is now referred to as the "Second Hand of God." He was sent off, but Asamoah Gyan missed the ensuing penalty, and the score remained even until the final whistle. Uruguay went through on penalties.
It wasn't his first misdemeanor—he bloodied a referee's nose as a teenager—but the most high-profile one up to that point.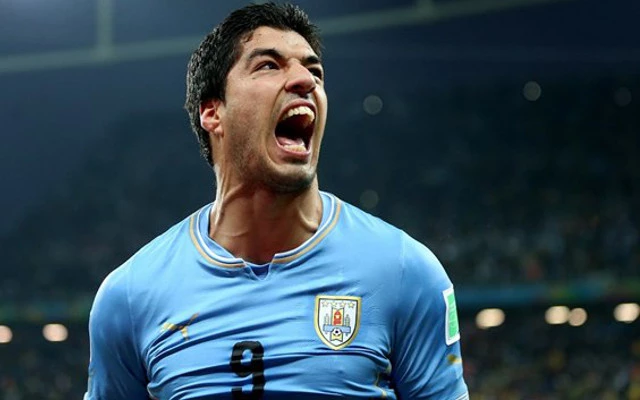 The Cannibal of Ajax
After returning from the World Cup, the Uruguayan bit PSV Eindhoven midfielder Otman Bakkal with his teeth on the shoulder during a match. In addition to suspending him for two matches, Ajax fined him an undisclosed amount, which they will donate to charity. [1]
Suárez was described as the "Cannibal of Ajax" by the Dutch media. A seven-game suspension has been imposed on Suarez by the KNVB. Through a video posted to his Facebook page, Luis Suarez apologized for his actions. [6]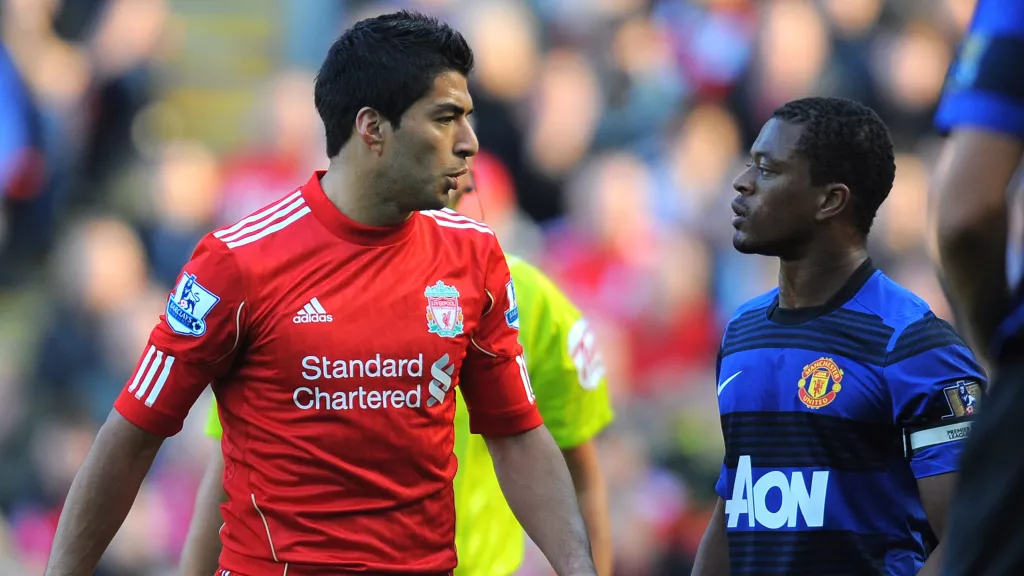 Patrice Evra Incident
Liverpool purchased Luis Suarez in 2011. Patrice Evra was accused of racially abusing the center forward following a 1–1 draw against Manchester United.
In response to the incident, the Football Association opened an investigation. Even though Suárez denied the allegations, the Football Association found him guilty of racial abuse. As a result, he was suspended for eight matches and fined £40,000.
When the two clubs met again in February, Luis Suarez avoided shaking Patrice Evra's hand during the pregame handshakes, intensifying the rivalry. In addition to diving to win penalties, the soccer genius was also accused of stamping on opponents while at Liverpool.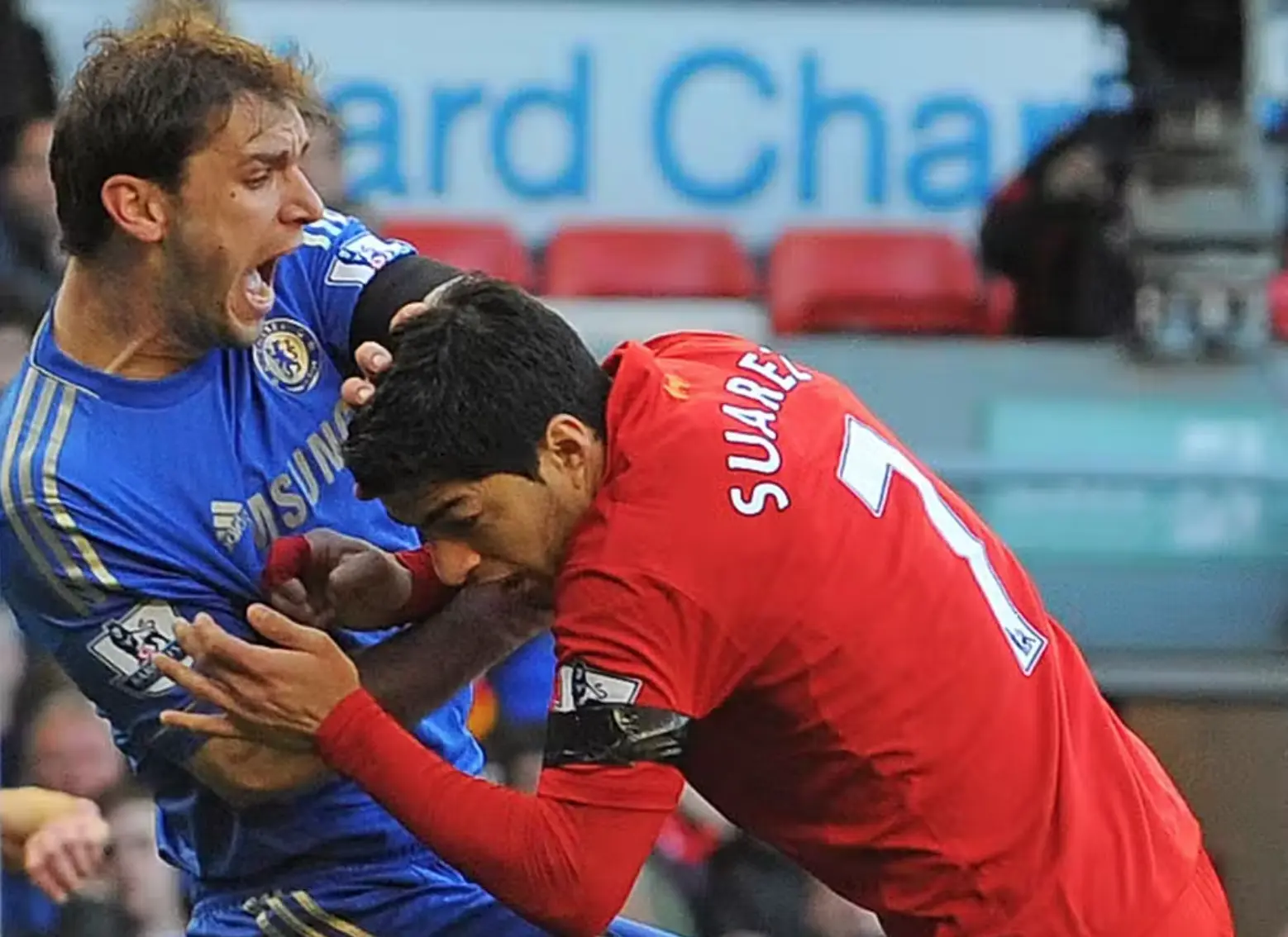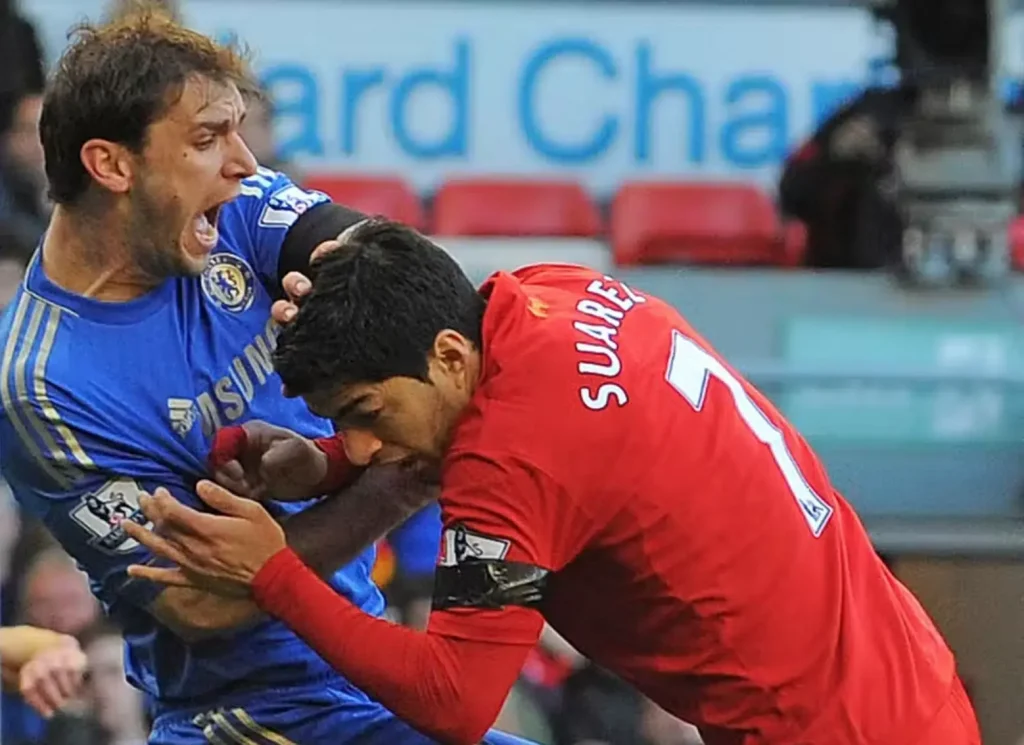 Caught Biting Again
Branislav Ivanovic was bit by Luis Suarez during a 2–2 draw between Chelsea and Liverpool. [2] It went unnoticed by the officials, and Suárez equalized in injury time. [7] A ten-game ban was imposed on him by the Football Association for violent conduct.
Due to excessive media attention on his family, Luis wanted to leave the Premier League at the end of the season.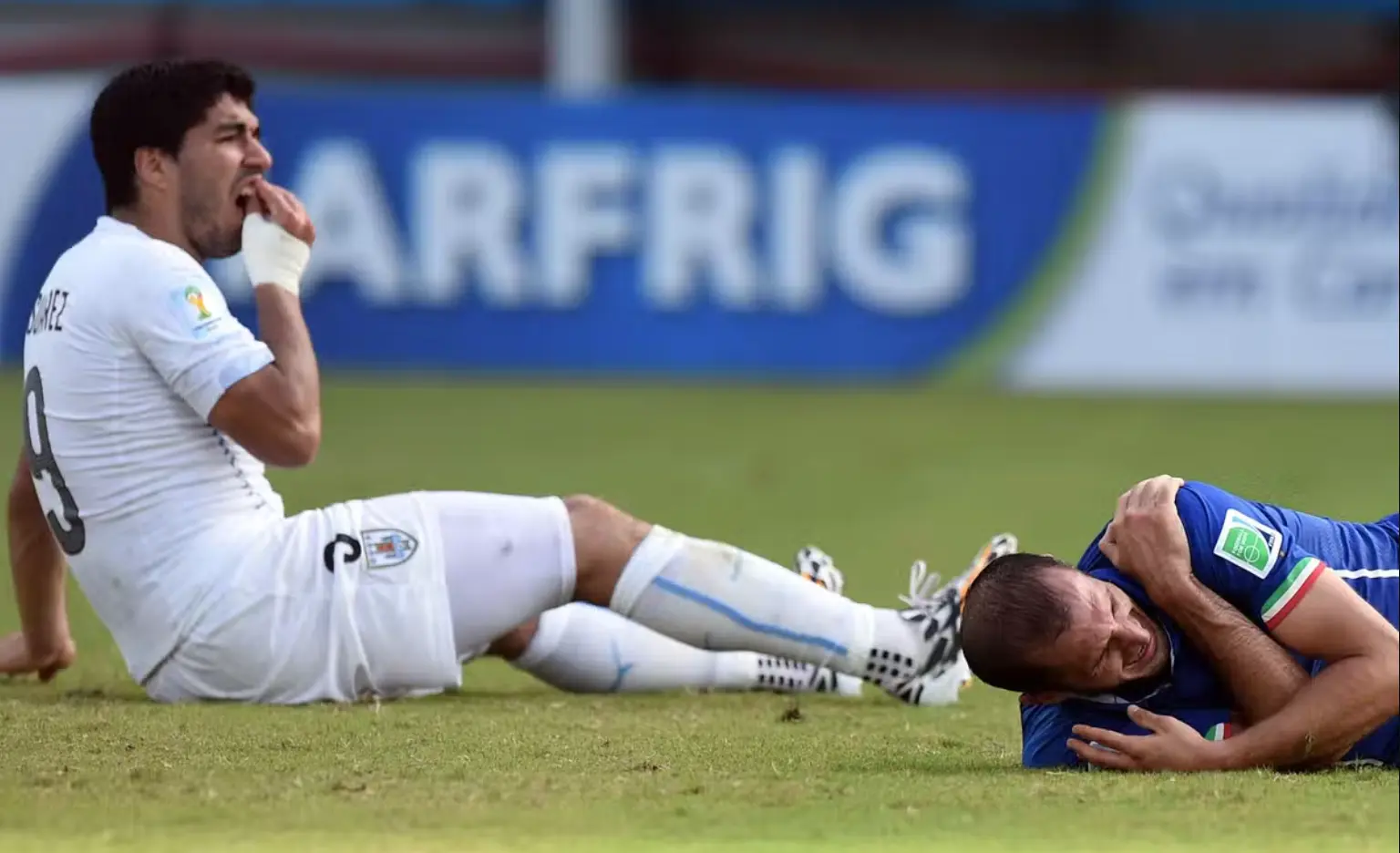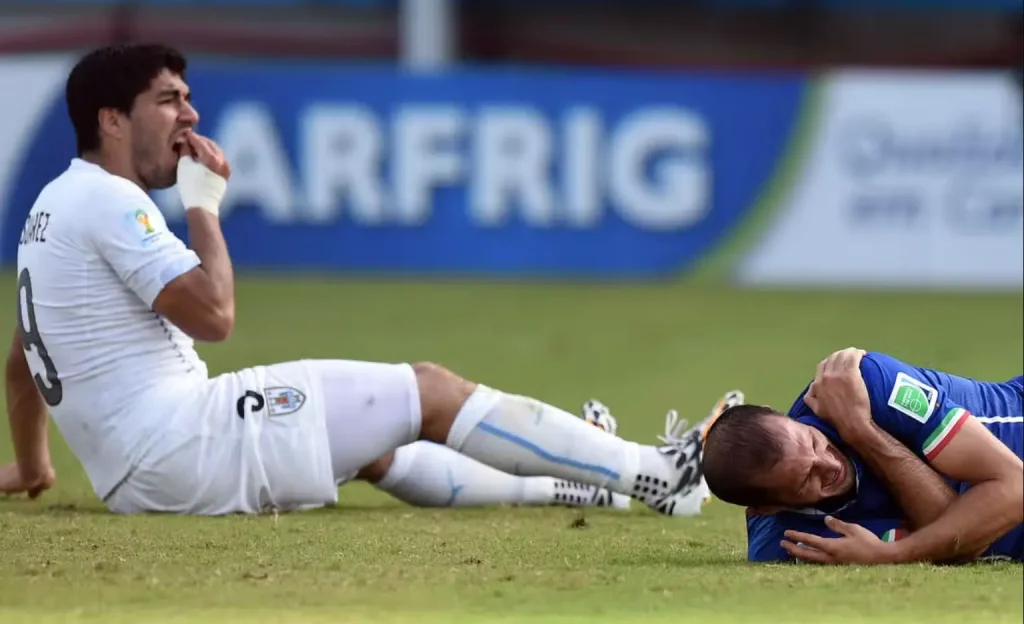 Old Habits Die Hard
Media attention is never far from Luis. Suarez clashed with Italy defender Giorgio Chiellini at the 2014 World Cup. A replay showed that Suárez struggled with Giorgio Chiellini and bit his shoulder, then fell and clutched his face. In the end, Uruguay won by a score of 1–0, qualifying for the knockout stage and eliminating Italy from the tournament. [8]
A FIFA Disciplinary Committee review of replays from 24 camera angles resulted in Luis being banned for nine international matches.  In World Cup history, it was the longest such ban. A fine of CHF 100,000 was also imposed on him.
The outcast was banned from participating in any football-related activities (including entering any stadium) for four months. Chiellini received an apology from Suárez via Twitter and vowed never to repeat the situation in the future.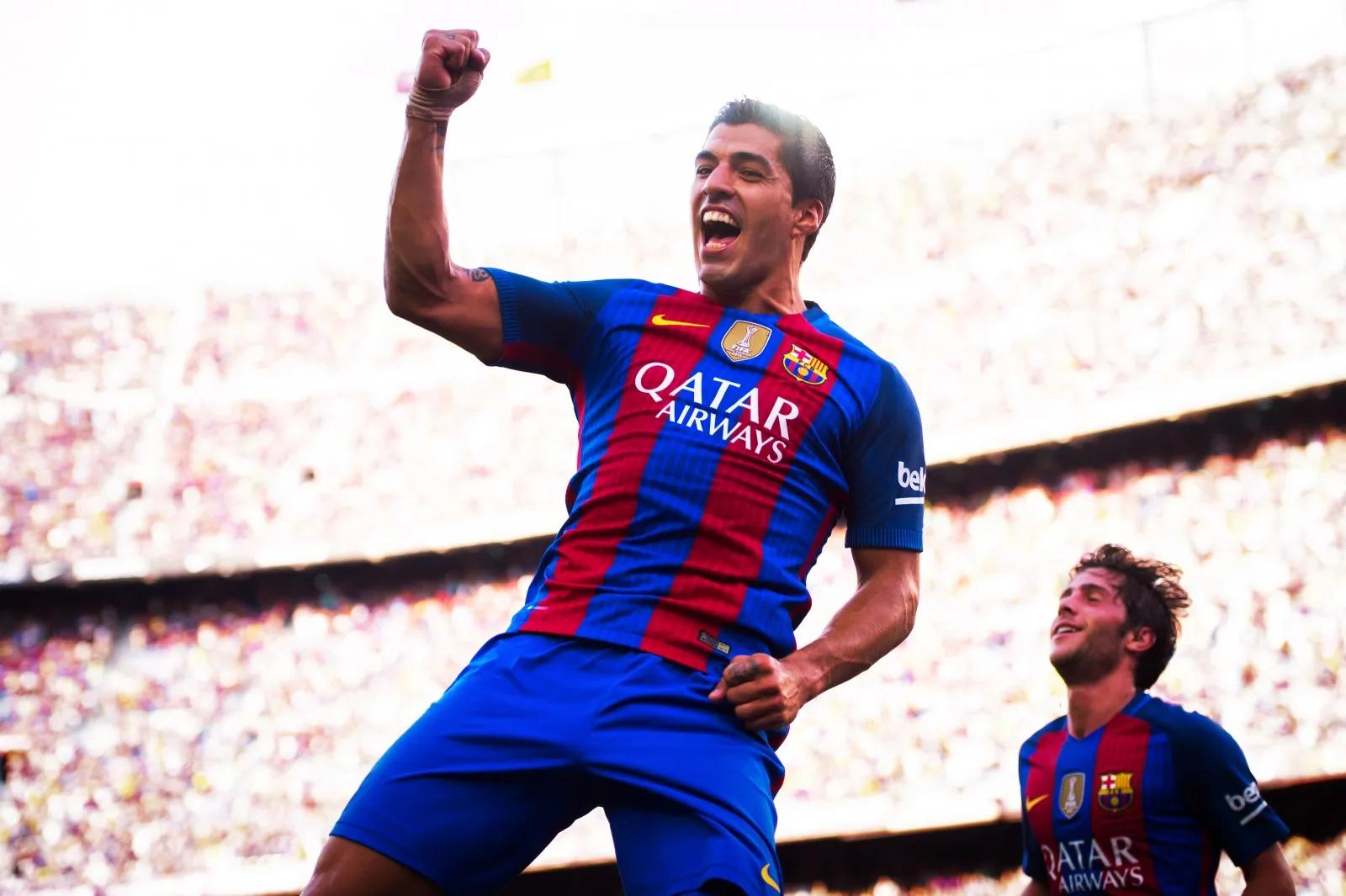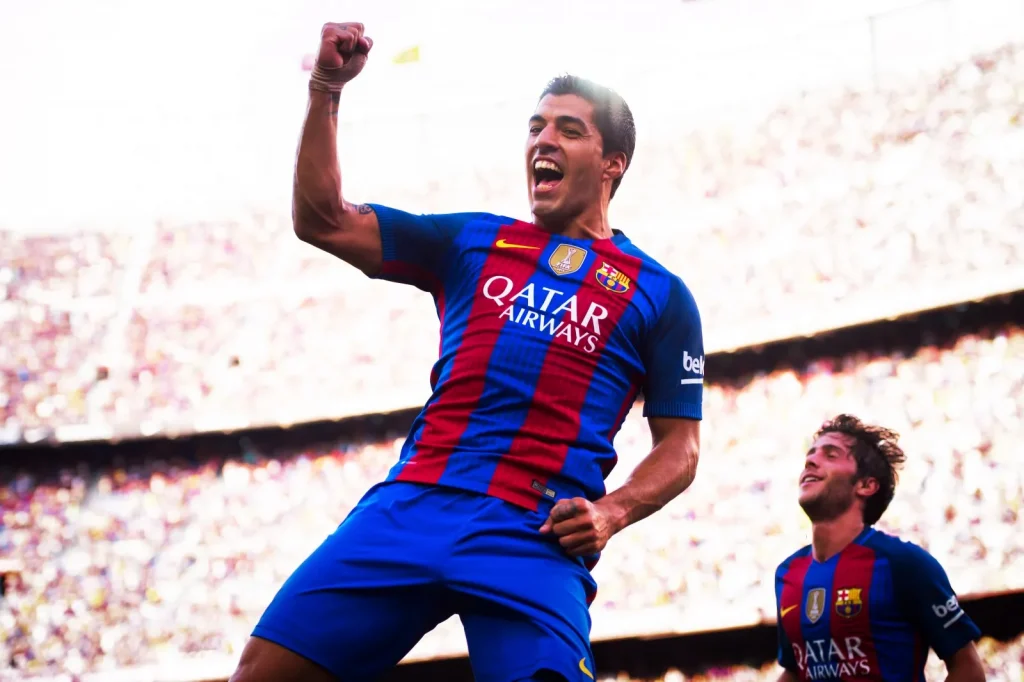 The Olympic Diver
In every country where Suárez has played, he has been accused of diving. Referees have reportedly not awarded him legitimate penalties because of this reputation for simulation, according to his manager, teammates, and various analysts.
While playing against Portugal at the 2018 World Cup, when Suarez collided twice with Portuguese players, he twice acted as if his head was injured.
The Genius Of Luis Suarez
The Uruguayan arrived in England with a reputation as a cheater. However, after taking some time to acclimate, he soon showed more to his game than the so-called dark arts. As a result, the forward quickly established himself as arguably the best player in the Premier League.
He even transformed the Reds into unlikely title contenders in 2013/14, receiving Player of the Year honors.
A skillful striker with a ferocious, insatiable appetite for goals, but one who also takes pleasure in setting up teammates, Luis Suárez is one of the best players of this generation.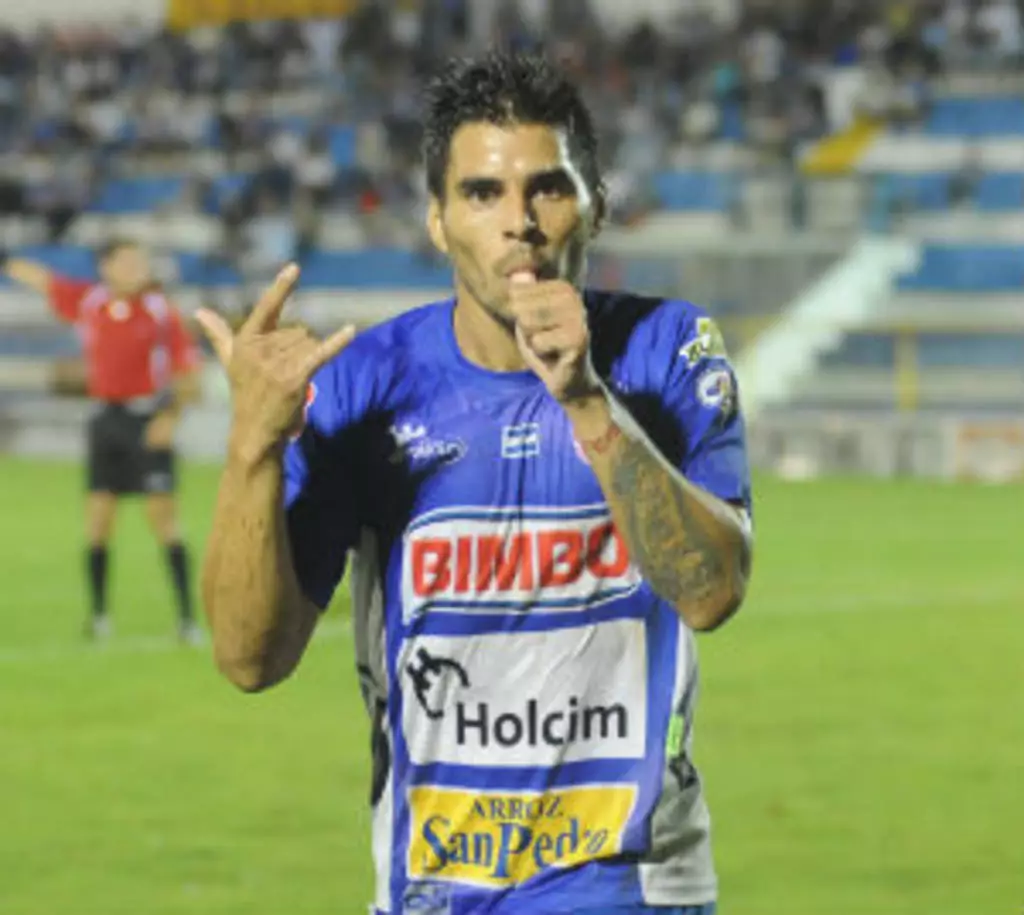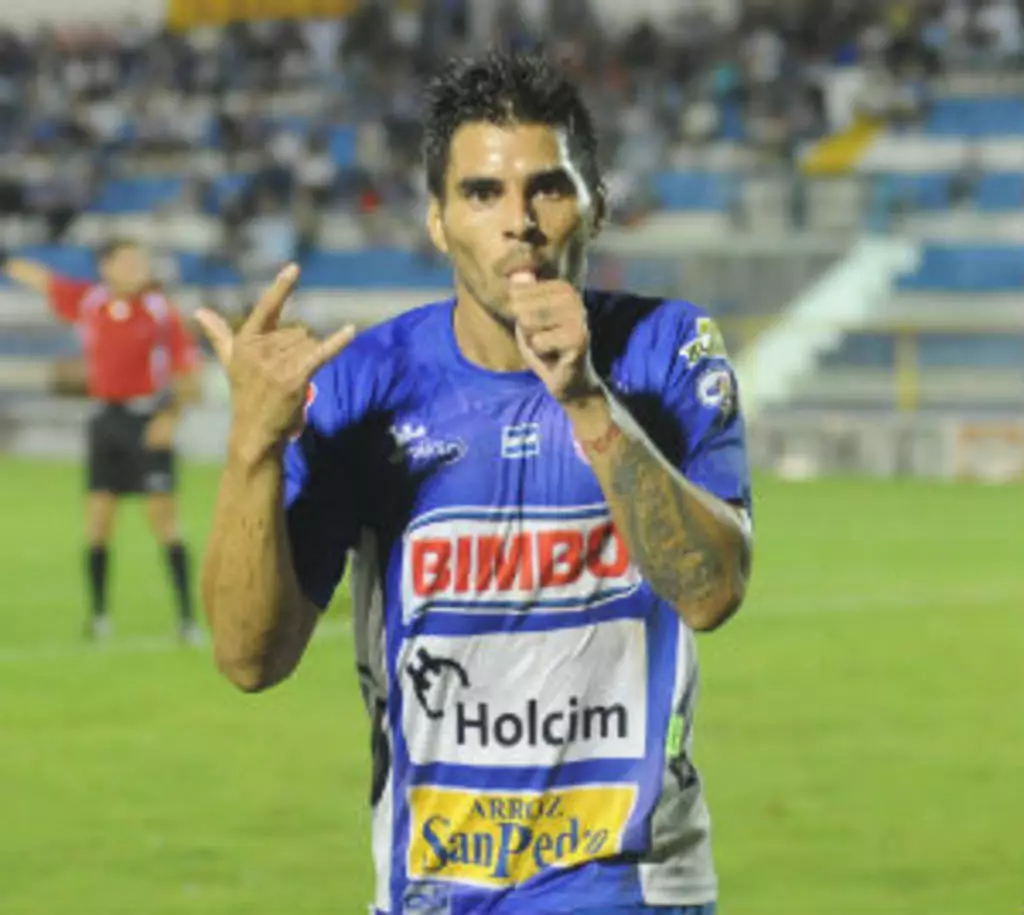 Luis Suarez Early Life
The fourth of seven boys born to Sandra Diaz and Rodolfo, Luis Alberto Suárez Díaz was born in Salto, Uruguay. [8] Paolo Suárez, his older brother, was also a professional footballer. The boys in the family were renowned for their street soccer skills.
After his parents separated at the age of nine, Suárez moved to Montevideo with his family and lived a life below the poverty line. The 15-year-old worked as a street sweeper while continuing to develop his football skills in Montevideo. [9]
In addition to contributing to his periodic aggression on the field, the contrast between his life in Europe and the poverty he left behind has been cited as one of the possible explanations for the more forgiving attitude of the Uruguayan public and press towards such cases than in Europe. [3]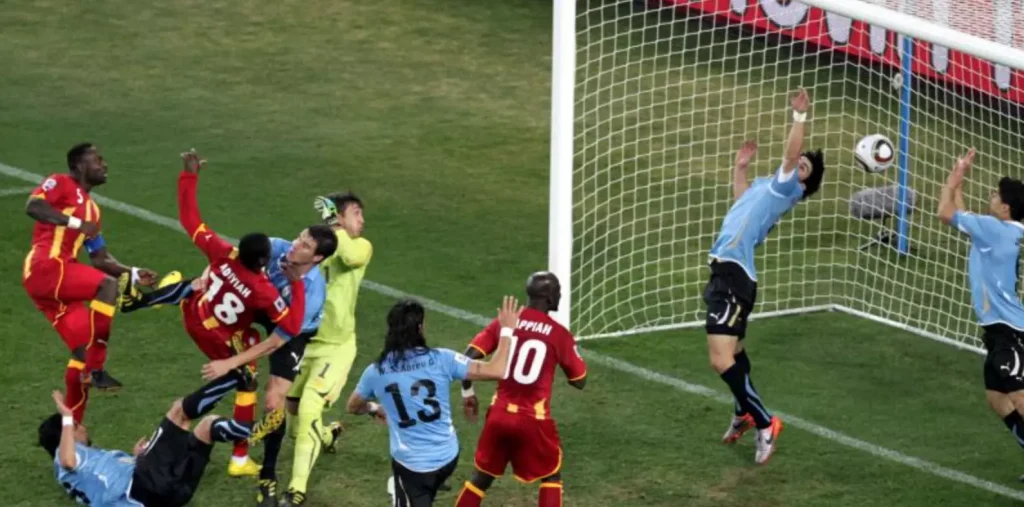 Success Wherever He Plays
A prolific goalscorer, Luis Suárez has the rare distinction of being the top scorer in three top-tier European leagues. Only Cristiano Ronaldo and Ruud van Nistelrooy have achieved that feat throughout the history of soccer.
In and around the penalty box, he has been praised for his work rate, movement, and quickness. Having superb technical ability and being two-footed allows him to take shots or create opportunities for his teammates.
Besides being a prolific player, Suárez has often been praised for his strong mentality and competitive spirit. [10] In this article, you have read that sometimes he goes too far.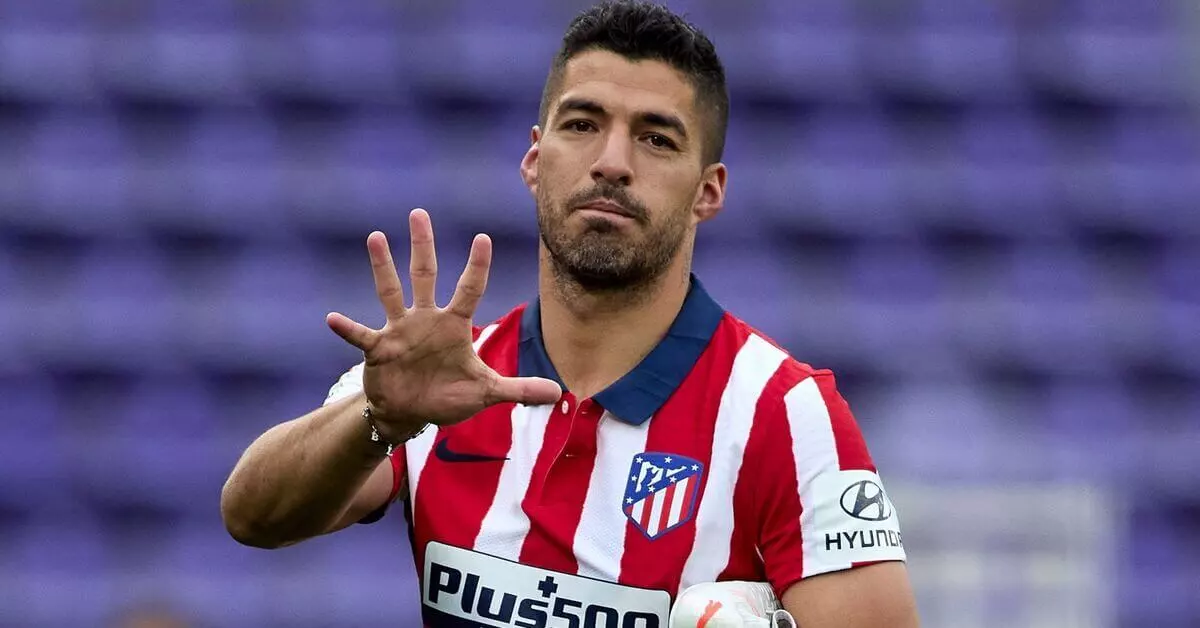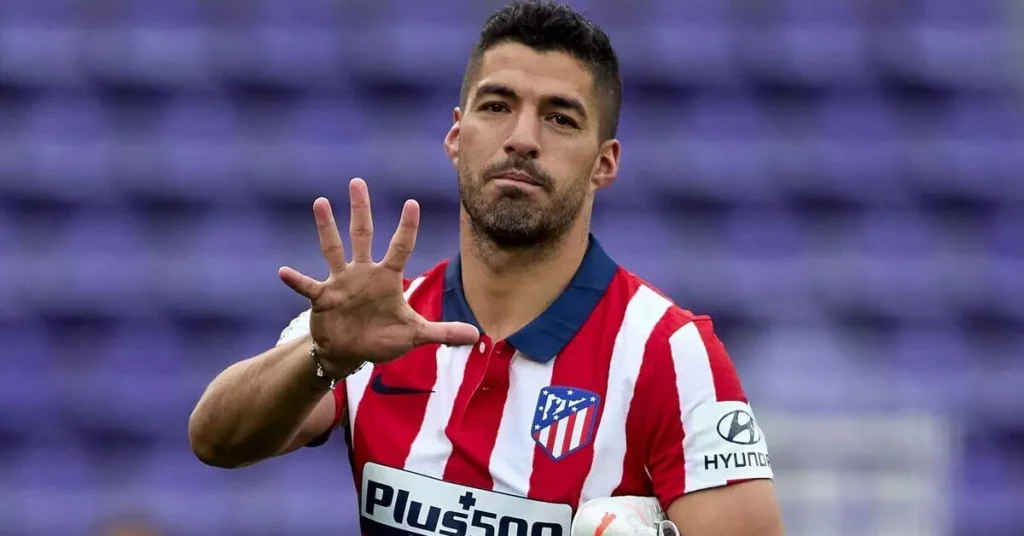 Understanding The Madness
At FC Barcelona, Luis Suárez won everything there is to win. Now, in the twilight stage of his career, he has joined Atlético Madrid. To understand him, you have to realize where he came from. This is a man who grew up poverty-stricken in Montevideo.
The love of his life moved to Europe when he was a teenager, and it left him heartbroken, but it also fueled his ambition to make it in soccer so that the two could eventually be reunited. He had to bite and claw (literally) his way to the top.
In many ways, his actions on the pitch are a reflection of the struggle off it. He understands how hard life in poverty is, and he is afraid of losing what he has achieved, so he seeks to gain a competitive advantage by any means necessary.
Luis Suárez is an accomplished player, one who can score from the halfway line or with a backheel, but also one who struggles to fight his demons. He is a complex character and proof that footballers are more than just mindless goal machines.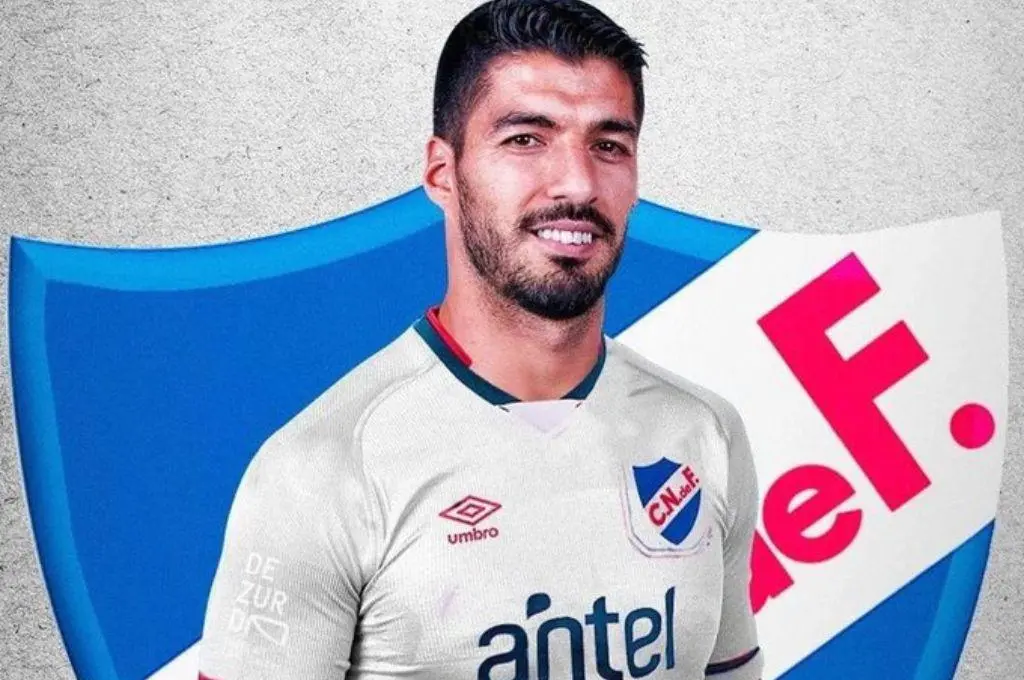 Joining Atletico
In 2020, the striker signed for Atletico Madrid. He scored two on his debut to win over the fans and scored the winning goal on the final game to ensure Atletico Madrid won the La Liga.
Suárez finished his debut season as Atletico's top scorer with 21 goals. [4] In his second season, he scored 11 goals. As Atletico Madrid desperately needs to reduce their wage bill with their crippling debts, they announced that the striker could leave at the end of the 2021-22 season.
Who Does Luis Suarez Now Play For
Should Suarez decide to return home to Uruguay, Club Nacional de Football has always been considered a possible destination for the 35-year-old.
Late in July 2022, both Nacional and Suarez confirmed a deal had been struck.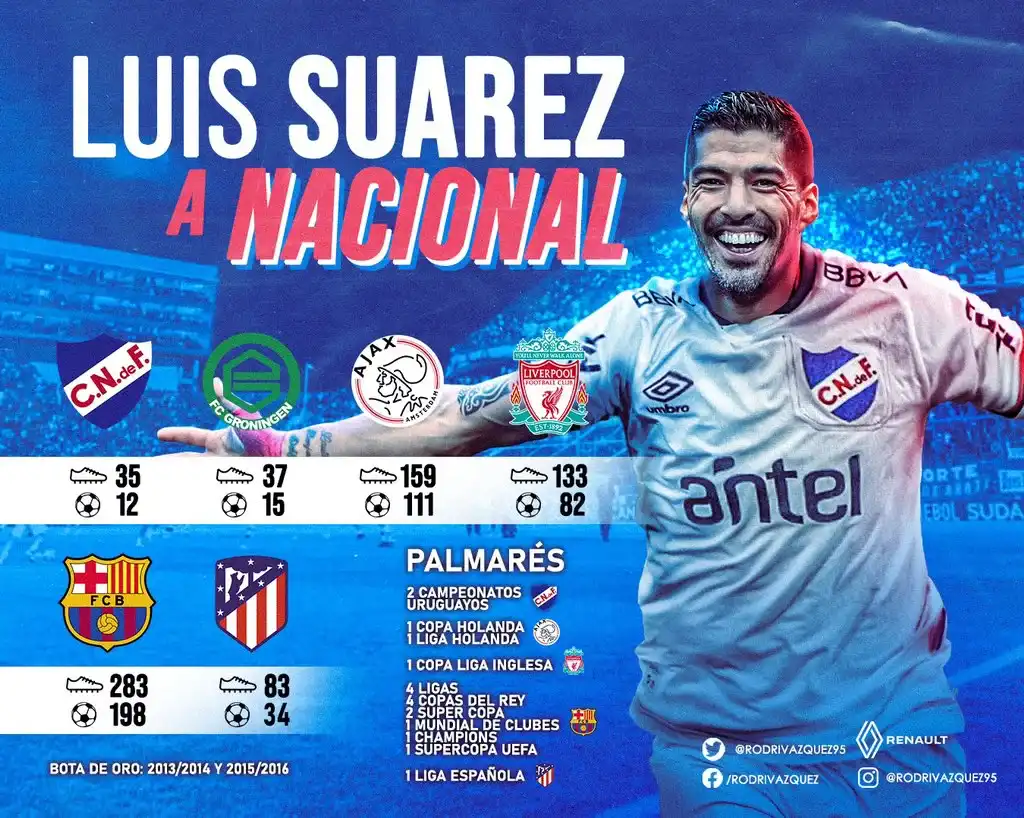 Luis Suarez Facts And Figures
Full Name: Luis Alberto Suárez Díaz
Birthdate: 24/01/1987 24
Birthplace: Salto, Uruguay
Playing Career:
Nacional 2005–2006
Groningen 2006–2007
Ajax 2007–2011
Liverpool 2011–2014
FC Barcelona 2014–2020
Atlético Madrid 2020–2022
National Team Career:
Uruguay (132 appearances, 68 goals)
Club Honors:
Nacional
2005–06 Primera División Champions
Ajax
2009–10: KNVB Cup
2010–11: Eredivisie Champions
Liverpool
2011–12: Football League Cup Winners
FC Barcelona
2014–15, 2015–16, 2017–18, and 2018–19: La Liga Champions
2014–15, 2015–16, 2016–17, and 2017–18: Copa del Rey Winners
2016, 2018: Supercopa de España
2014–15: UEFA Champions League Winners
2015: UEFA Super Cup
2015: FIFA Club World Cup [5]
Atlético Madrid
2020–21: La Liga Champions
National Team Honors:
Uruguay
2011: Copa América Winners
Individual Honors And Awards
2008–09 and 2009–10: Ajax Player of the Year (Rinus Michels Award)
2009–10: Dutch Footballer of the Year
2009–10: Eredivisie Golden Boot
2010: FIFA World Cup All-Star Team
2011: Copa América Best Player Award
2013–14: England PFA Players' Player of the Year
2013–14: Premier League Player of the Season
2013–14 and 2015–16: European Golden Shoe [11]
2014–15 and 2015–16: UEFA Champions League Squad of the Season
2015–16: La Liga Pichichi Trophy
2015–16: Barcelona Player of the Season
2015–16 and 2016–17: UEFA La Liga Team of The Season
References:
[1], [2], [3], [4], and [5]: https://en.m.wikipedia.org/wiki/Luis_Su%C3%A1rez
[6], [7], [8], [9], [10], and [11]: https://kids.kiddle.co/Luis_Su%C3%A1rez
Images:
www.skysports.com/football/news/12040/12314271/luis-suarez-atletico-madrid-la-liga-champion-says-he-was-looked-down-on-in-barcelona-exit (main image)
twitter.com/classicshirts/status/1088376853738541057?lang=ca
PA Sport
Andrew Yates / AFP
Getty Images
www.thesefootballtimes.co/2015/01/15/luis-suarez-modern-footballs-raging-bull/
EDH
Jon Hrusa / DPA
www.twitter.com/fabrizioromano/status/1552357743192850434
www.twitter.com/rodrivazquez95/status/1550242377574514688