Luis Suarez Miramontes is regarded as one of the greatest Spanish playmakers in the history of the beautiful game, having graced European football during the 1950s and 1960s.
He was responsible for revolutionizing the midfielder's role into something quite spectacular and mesmerizing for the eye to behold. He was regarded as one of Spain's greatest players.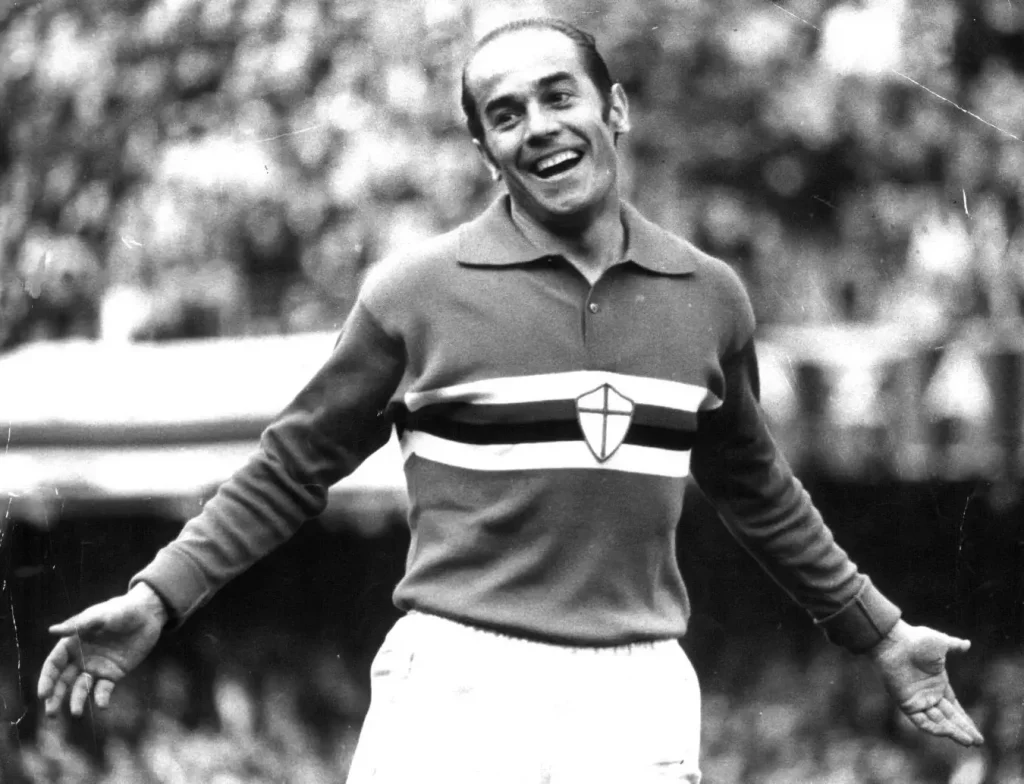 Luisito The 'Golden Galician'
Luis Suárez, or 'Luisito' as he was affectionately known, was born on the 2nd May 1935 in the Galician City of La Coruña, Spain, just a year before the outbreak of the Spanish Civil War.
Luisito spent much of his childhood playing football on La Coruña's beaches, onlookers witnessing how his friends would fight over him when it came time to pick players for their kickabouts.
Luis Suárez Miramontes professional career began with Deportivo La Coruña in 1949. After moving through the junior sides, the Spanish footballer made his La Liga début on the 6th December 1953, which ended up as a heavy 6-1 defeat to Barcelona.
During the latter end of the season, while earning himself the reputation of being a creative midfielder, he also acquired a new nickname, that of the 'Golden Galician'. Having attracted the attention of FC Barcelona in the interim, he was on the move.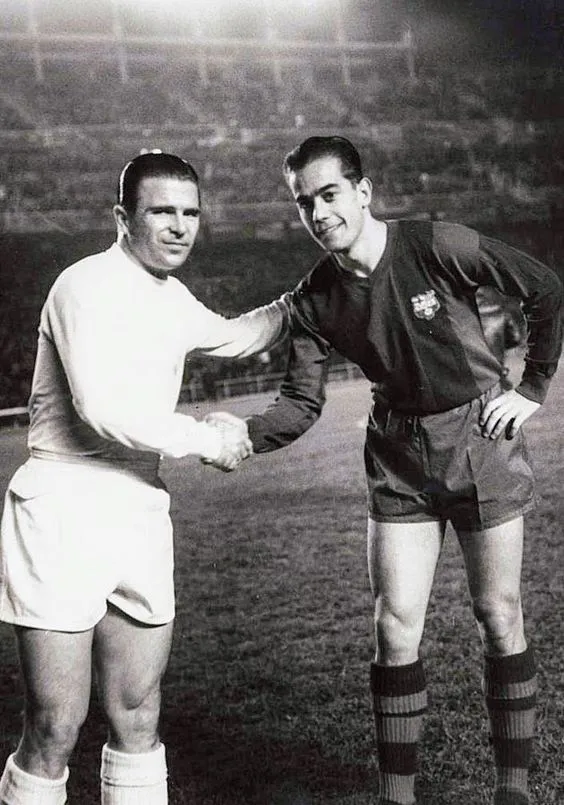 Herrera's Blaugrana Shake-Up
After having signed with FC Barcelona in 1954, Luis Suarez Miramontes was forced to spend most of his first season playing in the Secunda División for CD España Industrial.
A lack of major honors characterized the early part of his career at the club, and Real Madrid was dictating the Spanish game. When FC Barcelona did eventually win the Copa del Generalísimo (Copa del Rey) in 1957, Luis Suárez Miramontes ended up missing the match.
By the season of 1955, the midfielder had still not made the breakthrough he so desired. The arrival of a new coach and Argentine manager Helenio Herrera, 3 years later, brought exciting changes for his new team.
Herrera also represented the turning point for the Galician midfielder, not only giving him a pinnacle role in the team, but he was to be the key to how Barça was to finally break Real Madrid's reign.
Luis Suarez Miramontes Winning Trophies
In Herrera's first season he guided FC Barcelona to win the double: the La Liga title and the Copa del Generalísimo in '59. This was followed by another double in 1960: the league title and the Inter-Cities Fairs Cup (UEFA Europa League Cup).
Luis Suarez Miramontes was transforming himself into Spain's greatest playmaker: he had exquisite technique; possessed extraordinary footwork, and explosive shot, and was unrivaled when it came to his inch-perfect passing and creativity.
Due to his unique style, it was often said that he was so graceful on the pitch he could have easily played in a dinner jacket!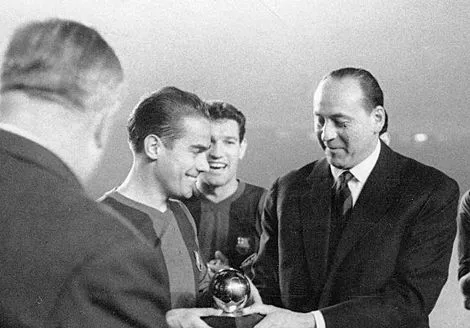 Voted Ballon d'Or Winner
The year 1960 was a memorable one for Luis Suárez Miramontes, as now he was gaining great respect across Europe. This deserved recognition was to arrive in the form of something gold and shiny…It was the European Footballer of the Year award, also known as the Ballon d'Or.
Luis Suárez Miramontes was to become the first, and to date, the only Spanish footballer in history to win France Football's coveted award. In so doing, he joined the ranks of other world greats, the likes of Alfredo Di Stéfano, Raymond Kopa, and Stanley Matthews.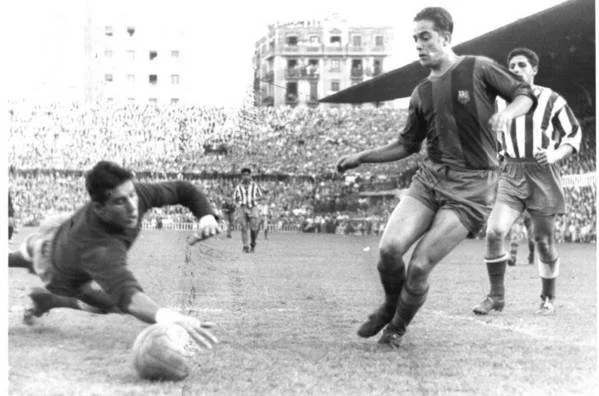 He later donated his Ballon d'Or to Barcelona's museum. This was his special way of sharing a prized possession with his people, exposing it to approximately 1.6 million Catalans who visit the museum annually.
The following year Barcelona had amplified ambition, and with their golden boy in tow, they had their eyes firmly fixed on a certain prize – the European Cup of '61.
Time To Dethrone The Enemy
With the likes of fellow Blaugrana teammates László Kubala, Zoltan Czibor, Sandor Kocsis, and Antoni Ramallets, they were looking clear-cut favorites.
Real Madrid had won the previous 5 European Cup finals and FC Barcelona was desperate to dethrone them at all costs. They met in the first round of the competition, which Barça overcame with an aggregate of 4-3 over both legs.
Real Madrid's dream of a 6th title was shattered. FC Barcelona on the other hand, after overpowering tough competition en route to the final, set the scene for a super showdown against S.L. Benfica in Bern.
Sadly, the final ended in a 3-2 defeat to the Portuguese side. And this was how Luis Suárez 's Blaugrana spell was to pan out…with much heartache, and the departure of Herrera, who had fallen out with the club.
But in the interim, something unexpected was brewing, and a shocking turn of events lay in wait…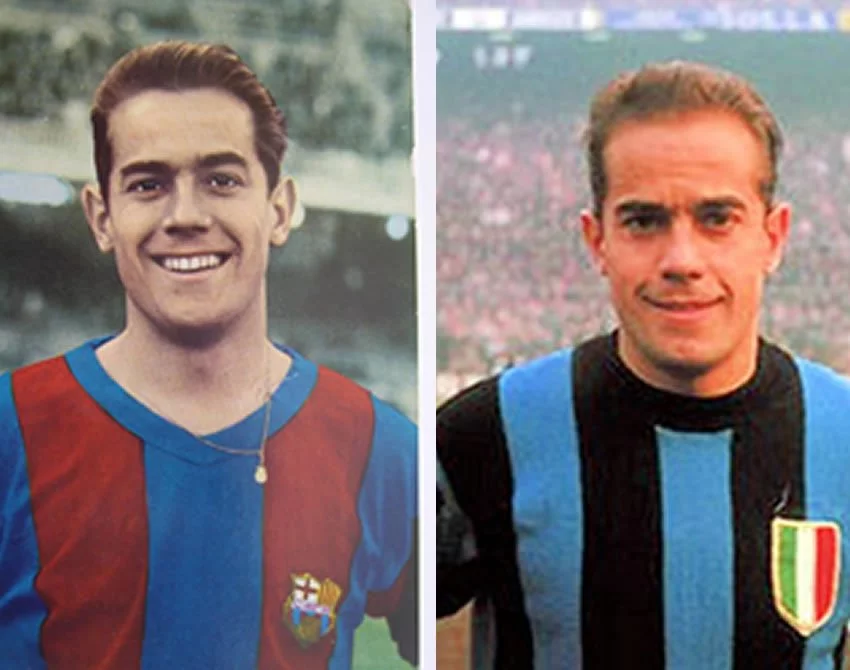 FC Barcelona Sold Luis Suarez Miramontes
The club had fallen upon some difficult financial times, leaving them no option but to sell their star player to FC Internazionale of Italy for 25 million pesetas or €204,000. Luis Suárez Miramontes became the world's most expensive footballer, making him the Gareth Bale of his time!
With Herrera having already left for Inter, the expensive footballer was attempting to lure his former midfield genius to Italy, and just five days after the final, this came to fruition. His 7-year spell with the Blaugrana was enriched with 2 La Liga titles, 2 Copa del Reys, and 2 Fairs Cups.
At the time, it was rare for a footballer to leave his beloved country and move abroad. But this Spanish playmaker was ready for a new challenge; it was his opportunity to succeed elsewhere.
The departure of Luis Suarez Miramontes caused unhappiness and resentment among many of the fans, who even labeled him "El Italiano", which was not said in a positive light. FC Barcelona's loss was Inter's gain, and the Nerazzurri welcomed the Spaniard with open arms.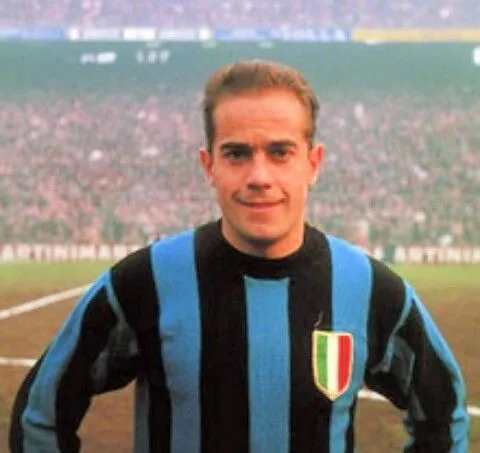 Nicknamed 'El Arquitecto'
His transfer to FC Internazionale saw him follow his mentor and ex-Barca coach, Herrera, in the summer of 1961. Together with the Nerazzurri, they were to embark on a journey of creating 'La Grande Inter' of the 1960s.
Helenio Herrera, known as 'Il Mago' (The Magician) wanted to transform the way in which his team played, giving them greater flexibility in attack, which was exactly where Luis Suárez Miramontes was to fit into his plans and the Italian fans loved this idea.
In the process, the Spaniard had to make sacrifices – whereas, at FC Barcelona, he was an advanced inside-forward with the ability to score goals, he was now dropped into a deeper-lying midfield role.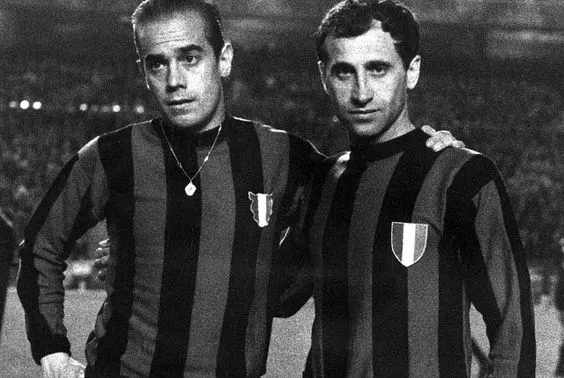 The downside was that his goalscoring rate dropped drastically, but on the upside, he delighted with his skills and tactical sense; his ability to direct play and launch toxic counterattacks, but still with the freedom of being his usual creative self. Helenio had once said of his playmaker, "Inter is great but Luis Suarez Miramontes is the prophet."
It was Suárez 's job to create, which is how his new nickname 'El Arquitecto' (The Architect) came about. It was even said that he knew exactly where to place the ball even before receiving it!
Luis Suárez Miramontes still grappled with the one thing which eluded him – the European Cup (UEFA Champions League). AC Milan had won it in 1963, and Inter was desperate to follow suit.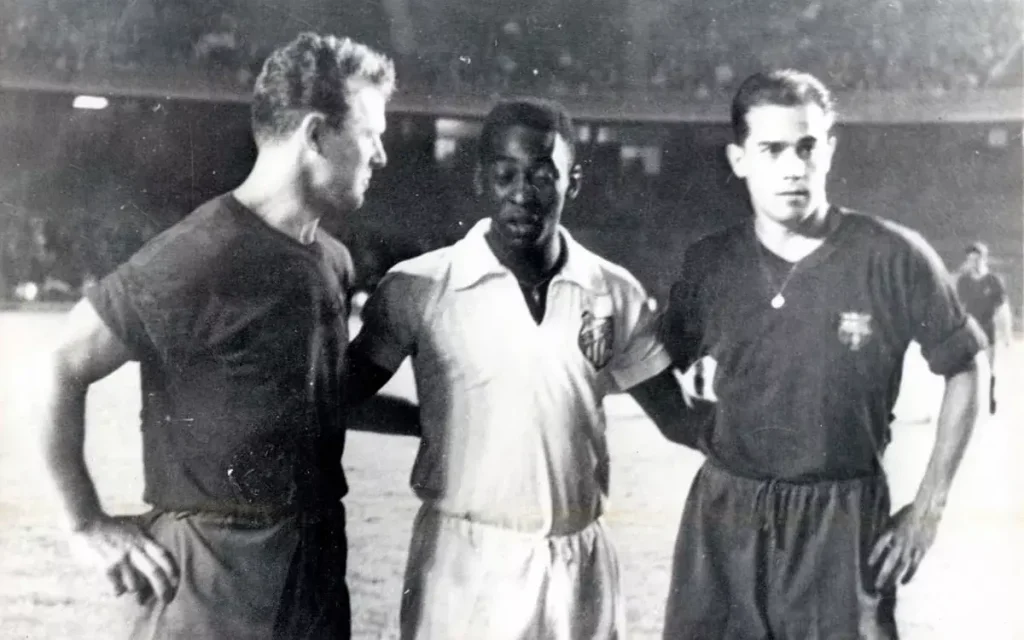 Wanting Intercontinental Cups
Just one year later the Nerazzurri got a chance by reaching the final for the first time in their history. And who would they face in the final? Well, none other than Los Blancos of course, who were hunting their 6th title.
Memories came flooding back for Luis Suárez Miramontes as he once again faced off against the likes of Ferenc Puskás, FranciscoGento, and Alfredo Di Stéfano. This time though, Inter Milan came out victorious, thrashing Real Madrid to a 3-1 defeat.
The sweet revenge part came about when 'El Arquitecto' led his Inter to their second successive European Cup in '65. Their opponents, Benfica, happened to be a team who Luis Suárez Miramonteshad previously met, with FC Barcelona having lost the final.
But this time fate would be on Luis Suárez's side – the winning side. In the Nerazzurri's own San Siro stadium, Inter triumphed over the two-time former champions with a narrow 1-0 win, and for Suárez it was nothing short of a sweet, sweet victory…
By 1970, he left the Nerazzurri to join Sampdoria for a three-year spell, after which he hung up his boots.
Happy Home-Coming!
The highlight of Suárez's international career was achieving his first major success with 'La Roja' at the European Nation's Cup (UEFA Euro) in 1964. 'La Roja' were clear favorites with not only Luis Suárez Miramontes in the squad but in having the home advantage.
The Spanish Football Association had even organized for the Spanish footballer to be specially flown into the country, from Italy, whenever the national side had matches. Just 4 years earlier, due to political reasons, Spain had been forced to withdraw from the tournament by General Franco.
Thankfully this time around, the Spain national team was able to continue on their road to the final, eventually meeting up with the defending champions, the Soviet Union. Once again, Luis Suarez Miramontes played an inspirational role, carving out both goals in the eventual 2-1 scoreline.
This time the fans celebrated "Luis, the Spaniard", and 'La Roja' won a historic first international trophy. After two unsuccessful World Cup tournaments, Chile in 1962 and England in 1966, his final game for the national team was in 1972.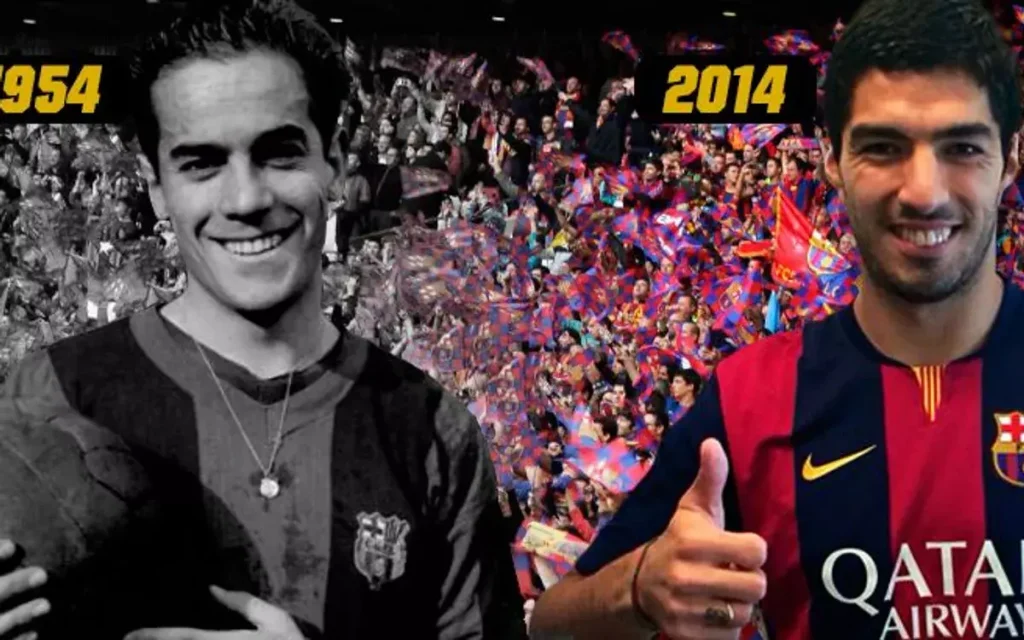 Full Circle For Luis Suarez Miramontes
In 1975, three years after retirement, Luis Suárez Miramontes started his managerial career. He managed various clubs, like Inter Milan and Sampdoria, and even traveled full circle in returning to Deportivo La Coruña.
Regrettably, he couldn't match the success he earned on the pitch and himself admitted that he wasn't really cut out for it.
Luis Suárez Miramontes also had the honor of coaching the Under-21 national team in the early 1980s and guided them to their first trophy, the UEFA European Under-21 Championship in 1986.
In 1988 he led the Spain national team to the 1990 FIFA World Cup in Italy. Due to an early exit in the second round, and struggling to qualify for the 1992 European Championships, his managerial career was on a downward spiral, eventually causing him to leave his post in the summer of 1991.
Rags To Riches
What many may not know is that one of Spain's greatest players was superstitious – he believed that spilled wine in a pre-match meal would symbolize good luck. He would hurriedly dip his finger in the glass's contents and touch his forehead and toe whenever Herrera sneakily tilted his glass a teeny bit too far!
From playing with a ball made of rags as a child to one day holding one made of gold! It truly is a 'rags to riches' story, one enriched with 20 years of unforgettable memories, and consisting of many sacrifices made in order to accomplish all of his.
Luis Suarez Miramontes once said, "At the end of the day, I think I was so successful because I made so many sacrifices for a sport I loved."
In La Coruña there is a tribute dedicated to him, a bronze plaque engraved with the words 'Luis Suárez o arquitecto do fútbol'.
But even more touching than this, more overwhelming still, is that to this very day in La Coruña they continue to call Luis Suárez Miramontes "our great son". There is no greater love.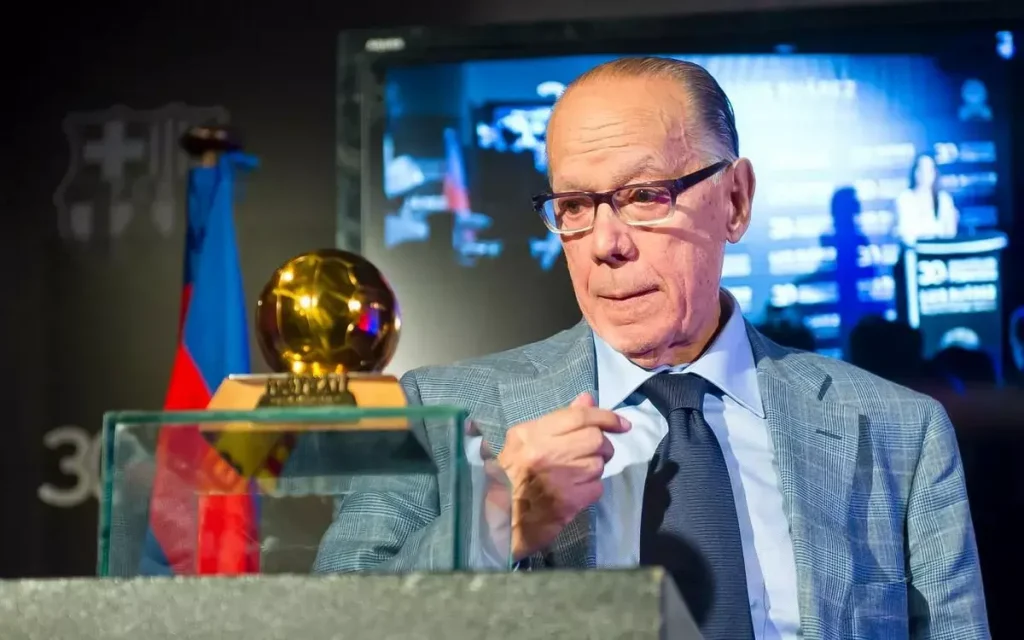 Luis Suarez Miramontes Facts And Figures
Full Name: Luis Suárez Miramontes
Birthdate: 02/05/1935
Birthplace: A Coruña, Galicia, Spain
Playing Career:
Deportivo La Coruña 1953–1954
CD Condal 1954–1955
FC Barcelona 1955–1961
Inter Milan 1961–1970
Sampdoria 1970–1973
Total Appearances: 479 matches, 121 goals
International Career:
Spain Nation Team 1957-1972 (32 appearances, 14 goals)
Managerial Career:
Genoa Primavera 1973–1974
Inter Milan 1974–1975
Cagliari 1975
SPAL 1977
Como 1977–1978
Deportivo La Coruña 1978–1979
Spain U21 1981–1989
Spain National Team 1988–1991
Inter Milan 1992
Albacete 1995
Inter Milan 1995 (caretaker basis)
Playing Honors:
FC Barcelona
1958–59 and 1959–60: La Liga Champions
1957 and 1959: Copa del Rey Winners
1955–58, and 1958–60: Inter-Cities Fairs Cup Winners (Played over 3 seasons, then two seasons)
Inter Milan
1962–63, 1964–65, and 1965–66: Serie A League Champions
1963–64 and 1964–65: European Cup Winners
1964 and 1965: Intercontinental Cup Winners
International Playing Honors:
Spain National Team
1964: European Nations' Cup
Individual Honors: