The oldest Football League clubs kicked off in 1888-89 with twelve teams. The original twelve football clubs forming "The Football League" were Wolverhampton Wanderers, West Bromwich Albion, Stoke City, Notts County, Derby County, Aston Villa, Preston North End, Everton, Burnley, Bolton Wanderers, Blackburn Rovers, and Accrington.
However, some prospective candidates had missed out; therefore, a second-tier called the Football Alliance was started just a year later.
Alliance League
The initial Football Alliance members were Birmingham St. George's, Bootle, Crewe Alexandra, Darwen, Grimsby Town, Long Eaton Rangers, Newton Heath, Nottingham Forest Football Club, Small Heath, Sunderland Albion, Walsall Town Swifts, and the Wednesday Football Club (from Sheffield).
The Alliance lasted for three seasons, and the champions were Sheffield Wednesday, Stoke Football Club, and Nottingham Forest. Long Eaton Rangers were demoted at the end of the first season, then played football in the Midland League.
Sunderland AFC
Meanwhile, Sunderland AFC first played games at Blue House Fields in 1879 and moved to Newcastle Road in 1886, but the following year they were expelled from the Football Association – FA Cup Final for fielding ineligible Scottish players. As a result, James Allen (one of the club's founders) and some other members left the football club and formed Sunderland Albion back at the original venue.
The latter made a strong challenge and had two seasons in the Alliance League and finished third and second, but the success of their rivals in the English Football League meant they withdrew in 1891 and folded up the following year.
There were further developments with the introduction of the penalty kick, and the first was scored by John Heath Wolverhampton Wolves against Accrington on 14 September 1891.
An interesting fact in these early years was that the Corinthians could not accept such a challenge to the concepts of 'fair play,' and their goalkeeper would stand defiantly by the soccer goal post as the spot-kick was taken.
Birmingham St.George
Another team, Birmingham St. George's, played at Fentham Road near Villa Park from 1875 and entered the Football Association – FA Cup in 1881, but finished bottom of the Football Alliance in its last season and folded up. They fielded early soccer stars John Devey and Dennis Hodgetts, who later appeared for Aston Villa.
Indeed, the Football League was increased to 14 members, and Darwen and Stoke City were elected, while Ardwick, Burton Swifts, and Lincoln City were admitted to the English Football Alliance.
The latter was replaced by Division Two in 1892, and Nottingham Forest, Newton Heath, and Sheffield Wednesday went into the top tier, whereas the others formed the backbone of the news division.
As a result, the founders of Football League Division Two were: Ardwick, Bootle, Burton Swifts, Crewe Alexandra, Grimsby Town, Lincoln City, Small Heath, and Walsall Town Swifts – plus Darwen (who were relegated) and new members Burslem Port Vale, Northwich Victoria, and Sheffield United.
Initially, there were 16 teams in the First Division and 12 in the Second. However, there were essential additions the following year with the arrival of Liverpool, Newcastle United, and Woolwich Arsenal, whereas promotion and relegation were settled using test matches until 1898.
Southern League
The Southern League was established soon after. The first contest was in the 1894-95 season with nine members: Chatham, Clapton, Ilford, Luton Town, Millwall Athletic, Reading, Royal Ordnance, Southampton, and Swindon Town. Millwall was Southern League champions during the first two seasons, and Southampton won six times from 1897-1904.
The latter lasted for twenty-five years, and other members who joined the top division were: Sheppey United, Tottenham, Wolverton (1896), Bedminster, Brighton United, Royal Artillery (1898), West Ham (1899), Kettering Town (1900), Wellingborough (1901), Leyton (1906), Bradford (1907), Croydon Common (1909), and Stoke City (1911).
Meanwhile, the bottom three or four Football League clubs were put forward for re-election each season, and on the vagaries of the committee, their futures were decided.
A comprehensive list of those that lost out is shown below, including several whose names have gone down in football history, whereas others survived the process simply by a degree of good fortune.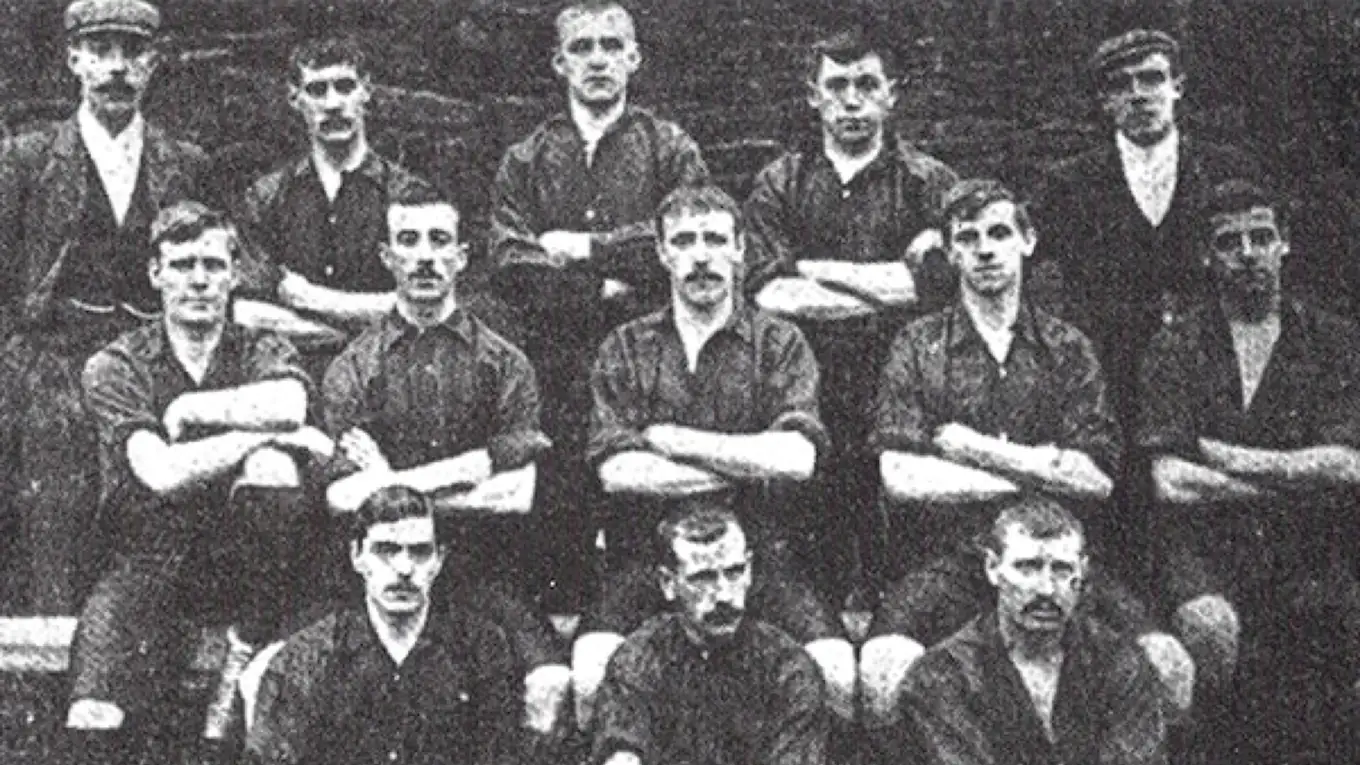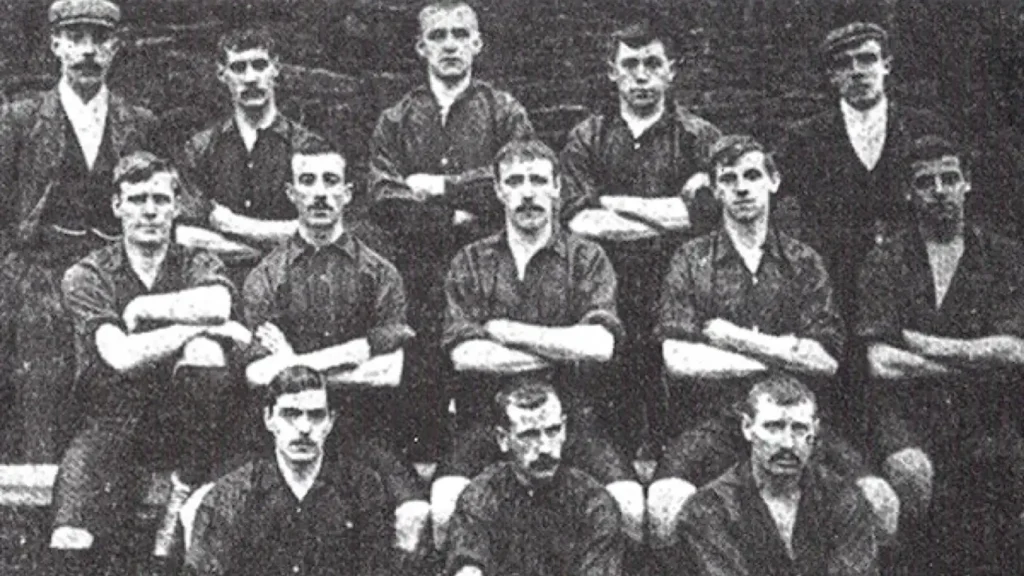 Accrington (1888-93)
The football club was formed in 1878. They played at the local cricket ground in the Lancashire Combination by 1882 but were expelled from the FA Cup for paying their players. After some poor football League results, they were forced to resign in 1893, then folded up two years later.
Bootle (1892-93)
They played at Hawthorne Road and appeared in the Football Association – FA Cup from 1887, then had three seasons in the Alliance. They were briefly the second team in the city after Everton, but their last FA Cup game was in 1892, and they resigned the following year.
Middlesbrough Ironopolis (1893-94)
The football club formed at the Paradise Ground, south of Linthorpe Road, in 1889 but had small crowds of 1,500 or below during their one Football League season. They withdrew due to losses and disbanded at the same time.
Northwich Victoria (1892-94)
Northwich Victoria began at the Drill Field in 1874 and first played in the Lancashire Combination. They won just 3 out of 28 games during their second season in the Football League and scored 30 goals but conceded 98. They were founder members of the Northern Premier League in 1968 and the Alliance Premier (Conference) in 1979.
The Drill Field claimed to be the oldest football ground in the world in continuous use by one football team, and the game was watched from the Dane Bank terrace for over a century – they left in 2002.
However, Maidenhead, who with Marlow played in every Football Association – FA Cup contest, also made the same claim for their York Road ground (used since 1870).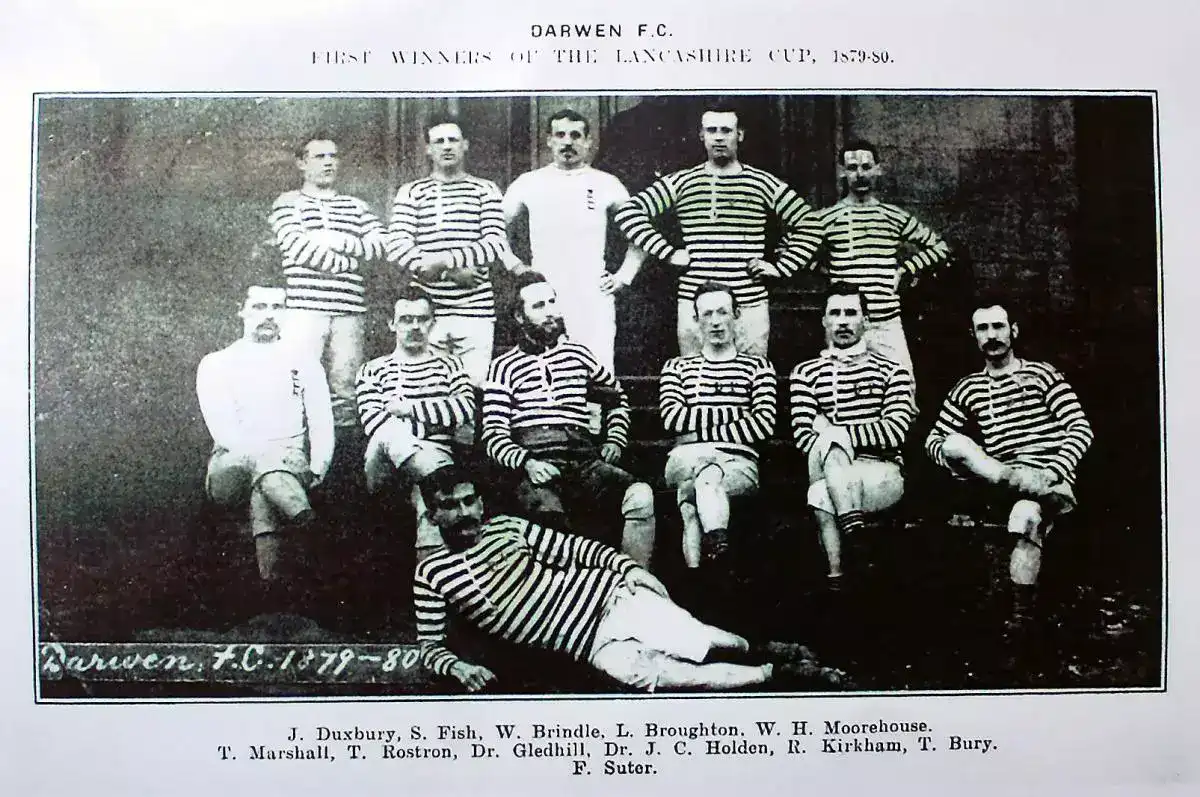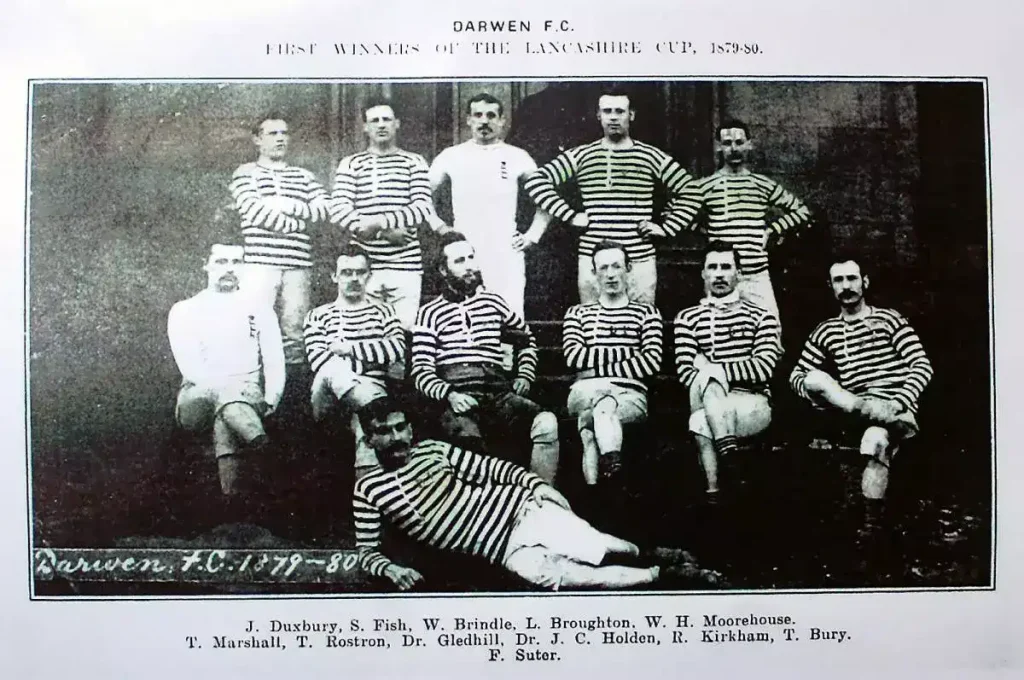 Darwen (1891-99)
Nathaniel Walsh, a local mill owner, sent his three sons to Harrow, and with Mr. J.C. Ashton, they formed the football club from two local mill teams in 1870. They moved to Barley Bank by some cotton mills in 1874, and a floodlit game was played after the one at Bramall Lane in 1878. There was considerable Cup success in 1879, with a record attendance of 12,500 against Blackburn Rovers in 1885.
The cricket team left Barley Bank three years later, and the football club joined the Alliance League and was promoted to the Football League in 1891, whereas the ground had a stand that could seat 1,000 spectators.
Indeed, the football club can be thanked for some of the most memorable score lines, and they lost 12-0 to West Bromwich (a record for the First Division), won only four games, and conceded 112 goals in 1891 92.
They then played in Division Two, setting some staggering records during their last Football League season. They lost 18 games in a row (10-0 three times, 9-0, 9-2, 8-0, 8-1, and 7-0), lost all their away matches except for a single draw, and in total won only two games and conceded 141 goals!
As a result, they moved to the Anchor Ground and played in various Lancashire leagues, while they also lost 11-1 to Arsenal in 1932. The old ground was covered by Hindle Street and a girls' school.
Loughborough Town (1895-1900)
They played at the Athletic Ground, which also saw an appearance by W.G. Grace for a cricket match.
Their first Football Association – FA Cup game was in 1890, and they were champions of the Midland League by 1895. They replaced Walsall Town Swifts in the Football League. However, they finished near the bottom during their five seasons. They won only a single game last season, scoring 18 goals while conceding 100, and were beaten 12-0 by the Woolwich Arsenal.
New Brighton Tower (1898-1901)
James Atherton first laid out New Brighton, The Wirral, as a speculative venture in 1830, and there were grand seafront developments in the 1890s. It was a popular resort rivaling others in the area, and a tower larger than Blackpool's was erected in 1897.
The Tower Grounds covered 35 acres with numerous attractions, while an athletics stadium was at the south end and had two stands. In addition, there was a first-class cycle track (which staged the world championships in 1922).
The owners formed a team, and they joined the Football League with Barnsley, Burslem Port Vale, and Glossop when it increased in size by four members in 1898. Their best finish was fourth in Division Two in 1900-01, but they could not continue and resigned that year. The tower was dismantled in 1919-21, and the theatre and ballroom were demolished in 1969.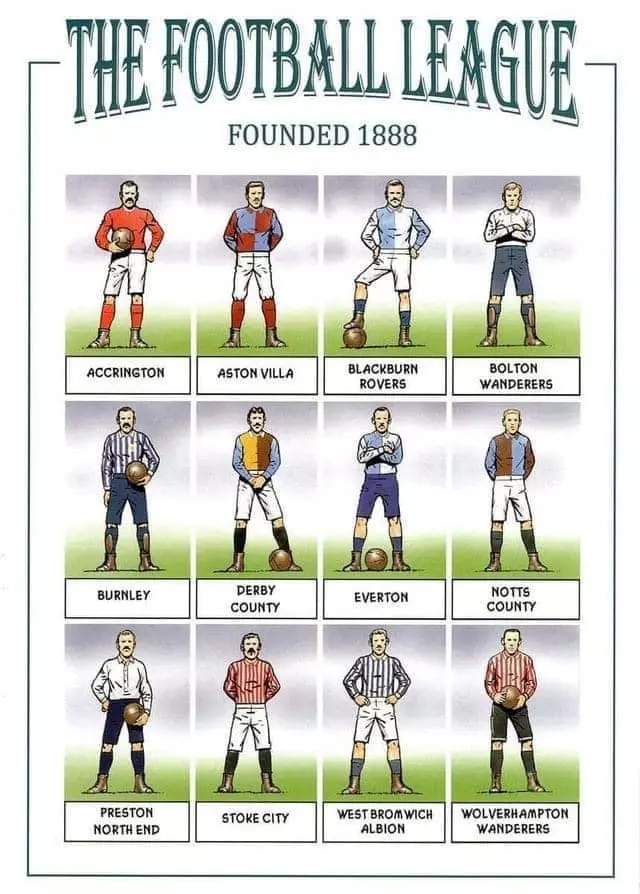 Burton United (1894-97, 1892-1901, 1901-07)
The town was a soccer hotbed and sported three Football League teams. Burton Wanderers were formed at Derby Turn in 1871 and claimed to be the fourth oldest Football League club, but was developed by John Parker from 1885 and soon progressed well. They joined Division Two with Bury and Leicester Fosse from 1894-97 and went to a local cricket ground two years later.
Burton Swifts were established from another side in 1883 and went to Peel Croft, Lichfield Street, in 1891. The ground had a pavilion and cover and was situated amongst the railway lines and breweries.
They played in the Football League in 1892-1901, then merged with Wanderers to form United at Peel Croft – but folded up in 1910, and Burton Albion started in 1950.
Gainsborough Trinity (1896-1912)
A cricket ground was established at Northolme, just north of the town near the River Trent, during the 1850s. The vicar of Holy Trinity Church started a football team in 1873, and they were champions of the Midland Counties League by 1891. Thus they were elected to the Football League with Blackpool and Walsall.
They finished mainly in the lower half of Division Two and the last season won only five games. Lincoln City then took their place, while they continued at Northolme with a record of 9,760 against Scunthorpe in the 1940s and were founder members of the Northern Premier League.
Glossop North End (1898-1915)
This was an unlikely venue for Football League football, and the town was situated on the edge of the Peak District. A football club was formed at North Road in 1886, and they shared the venue with a local cricket club whose ground was just to the west. They initially played in the North Cheshire League in 1890 and became professional in 1894.
After making three applications to join the Football League, they were admitted with New Brighton Tower in 1898, when it increased in size by four members. Indeed, they were runners-up to Manchester City in 1898-99, and both were promoted to Division One.
They were the first football clubs promoted by right, and Glossop became the smallest town to host top-flight football.
They became Glossop FC in 1903, while the owner Sir Samuel Hill¬Wood and a player TT Fitchie moved to Arsenal. They lost 9-2 to Chelsea in 1906-07, and in their final season won only six games and came last.
Leicester Fosse, who finished just above them, returned as Leicester City in 1919. After the war, they played in the Lancashire Combination or Manchester League and then in local leagues at Surrey Street from 1955.
Meanwhile, the Third Division started with 21 teams from the Southern League, plus Grimsby Town, relegated in 1920. The Third Division (North) began the following year with 20 teams, some of them former Football League clubs and the others from northern regional leagues.
Stalybridge Celtic (1921-23)
Herbert Rhodes established the football club at the Bower Fold in 1909, and they played in both the Lancashire Combination and the Central League. Meanwhile, they finished as runners-up to Stoke City in the Southern League, Division Two, in 1914-15.
As a result, they entered the Football League in 1921 and beat Chesterfield 6-0 in their first game. Twenty-seven thousand watched a Football Association – FA Cup tie at the Hawthorns in 1922-23.
Then, however, they resigned due to a lack of funds and were replaced by New Brighton. More recently, they played in the Conference, and the ground was improved to Football League standard.
Aberdare Athletic (1921-27)
Several Welsh teams appeared in the Southern League, Division One from 1912, and then joined the Football League (Cardiff City, Merthyr Town, Newport County Swansea Town).
Aberdare and Charlton Athletic replaced Crystal Palace (promoted) and Grimsby (who moved north) when the Third Division (South) started in 1921. They played at the Athletic Ground, Ynis, and in their last season, conceded 101 goals and were replaced by Torquay United.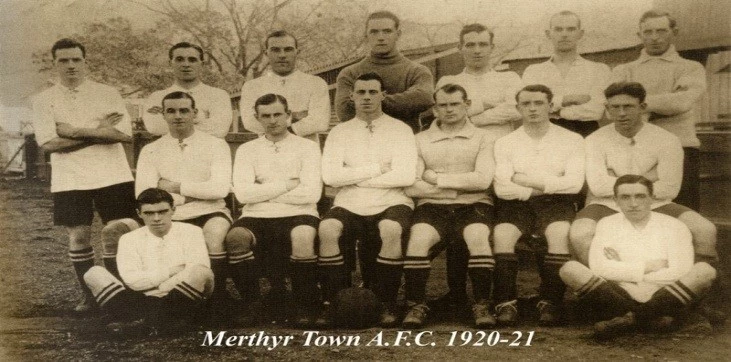 Merthyr Town (1920-30)
The football club played at Penydarren Park and was in the top flight of the Southern League by 1912. Home and away games were played back-to-back (until 1924), and the record crowd was against Millwall on 26-27 December 1920, with 26,000 at The Den and 21,686 at Merthyr.
They let in 135 goals in the last season and were replaced by Thames Football Club, but became Merthyr Tydfil in 1945 and were successful in the 1940s-50s.
Durham City (1921-28)
Their early games were played at Kepier Hughes in the North Eastern League, and after joining the Football League, they went to Holiday Park in 1923. They were replaced by Carlisle and returned to play in the former League but had folded up by 1938. However, they reformed at Ferens Park in 1950 and remained there until 1994.
Ashington (1921-29)
The Colliers formed in 1888 and moved to Portland Park in 1909. They played in the Northern Football Alliance and were champions in 1914, while Jackie Milburn and his relatives Bobby and Jackie Charlton came from the town.
Their first home game in Division Three (North) had a crowd of 10,000, and there was a record of 11,837 for a Cup-tie against Villa in 1924, but the team let in 115 goals and finished bottom during their last season. They then played in the North Eastern League at the same ground.
Nelson (1921-31)
They joined the Lancashire League in 1889, entered the Football Association – FA Cup in 1893, and played in the Central League after the war. With thirteen other non-reserve teams, they joined the Third Division (North) in 1921. Their first Football League game at the Seedhill Ground had a record of 9,000, while they were champions ahead of Bradford P.A. in 1923.
They went on a Spanish tour and played teams like Real Madrid to celebrate the success but were relegated the following year. They were inconsistent and scored 104 goals in 1927 but conceded 136 in 1928 – indeed, they came last again and were replaced by Chester in 1931. A motorway covered the ground, and they were reformed at Victoria Park.
Thames (1930-32)
The Custom House Sports Ground was located on Bingley Road, near the Royal Victoria Dock and south of Upton Park. Initially, it was aligned from east to west and had a small pavilion to the south and some earth banking on the other three sides.
West Ham Greyhound Stadium replaced it on Nottingham Avenue in the 1920s, and the pitch was aligned north to south. There were covered stands on two sides and terraces, while the new sport of speedway came from the Crystal Palace in 1928. Top riders Roger Frogley and Ron Johnson earned £100 per meeting when soccer players earned £8 per week.
The owners then formed a soccer team, and they joined the English Football League in place of Merthyr Town but lacked support with attendances below 1,000. As a result, they were the only London football team to lose their Football League status and were replaced by Newport County; while the ground remained until the 1960s, then was replaced by housing.
New Brighton (1923-51)
South Liverpool played near New Brighton in the Lancashire Combination in 1911-21 but left a vacuum when they folded up. A new football club New Brighton was then formed, but they declined to use the Tower Ground, which was offered by Harrowby F.C. Indeed, the cost of such a move was prohibitive at £50,000.
Instead, they found a vacant site on Rake Lane, Wallasey, just to the south, which became Sandheys Park. The pitch initially had a steep slope but was prepared after the issue of 10-shilling shares, while there was a main stand to the north, and "The Lodge" in Osborne Avenue was the football clubs offices.
They took over South Liverpool's fixtures in the Lancashire Combination, then replaced Stalybridge in the English Football League. Meanwhile, the Martlew brothers were directors and had links to the Wirral Railway. Thus they invited Dixie Dean to come there – he previously played for the railway team. However, he went to Tranmere in 1924 and Everton the following year.
George Camsell of Middlesbrough set the record of 59 Football League goals in 1926-27, but Dixie Dean beat this by one with a hat trick on the last day of the next season. Indeed, he was much sought after, and Herbert Chapman offered Everton anything they wanted for him.
New Brighton started well in the Football League with a third-place finish in 1924-25 and beat Sheffield Wednesday Football Club 2-1 at Sandheys Park in front of a record crowd of 12,408. They also reached the 4th round of the Football Association – FA Cup three times. However, Wallasey Corporation requisitioned the ground in 1944 and built pre-fabricated houses on the pitch!
There was no Football League football in 1945-46, but Derby beat Charlton 4-1 in the FA Cup Final at Wembley, while the football club secured the Tower Ground and played in the League until replaced by Workington in 1951. They were then in the Lancashire Combination, but Wallasey Council purchased the Tower Ground in the 1960s, and the football club then faded.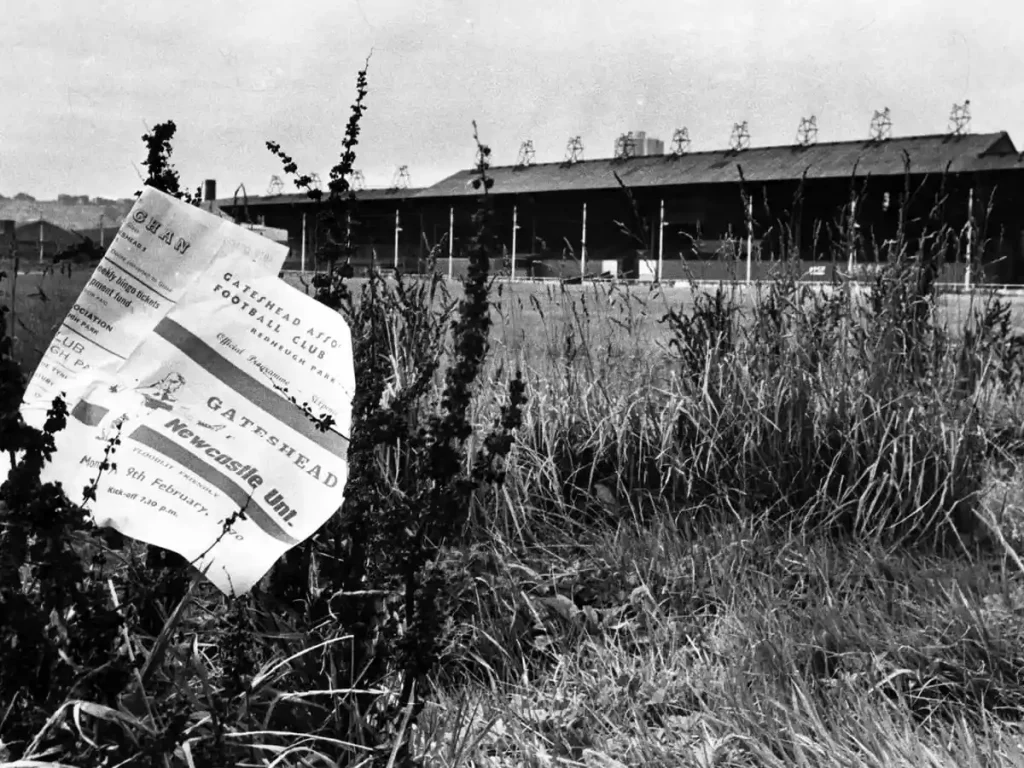 Gateshead (1919-30-60)
South Shields Adelaide or the Tynesiders were formed in 1899 and entered the Football Association – FA Cup, while they were runners-up in the North Eastern League in 1908-09.
They became South Shields the next year and played at Horsley Hill, while they won the local League in 1914-15 and were elected to Division Two in 1919. They played for nine seasons at this level but were relegated after conceding 111 goals in 1928.
After financial problems, they became Gateshead FC at Redheugh Park, on Ropery Road, in 1930, just south of the Tyne amongst ironworks and paper mills – and then played in Division Three (North). Indeed, they were runners-up on two occasions.
Meanwhile, the record attendance was 17,692 during a FA Cup quarter-final against Bolton in 1953, and they joined the new Fourth Division in 1958 but finished in 22nd place in the 1959-60 season.
However, circumstances went against them, and they lost their spot to Peterborough. Such a decision seemed harsh since they had only applied for re-election on one occasion, and Oldham and Hartlepools finished below them.
The football club applied to the Scottish League but was rejected and joined the Northern Premier League by 1968, but Bradford Park Avenue took their place in 1970.
However, they suffered the ignominy of replacing their reserve team in a local league, and after playing in the Midland League, had folded up by 1973. Redheugh Park was then demolished.
A new South Shields team played at Simonside Hall (20,000 capacity) in the North Eastern League from 1936 to the 1970s. They joined Gateshead Town to form United and played at the International Athletics Stadium, while successors Gateshead FC played a friendly against Newcastle with 11,750 in 1995. However, the latter had also folded up by 2004.
Accrington Stanley (1921-62)
Stanley Villa was established at Stanley Street, slightly south of Peel Park, in 1891. They became semi¬ professional when Accrington was disbanded and played in the Lancashire League, then joined the Combination, which mainly included the reserve teams of League clubs. They were champions ahead of Manchester City (reserves) in 1902-03.
They went to the Moorhead Ground (where Accrington had their last season) in 1910, but the English Football League clubs transferred to the Central League the following year, and they then had less competition. Finally, however, the football club reformed in 1919, and Peel Park was established with a 20,000 capacity.
The ground was off Burnley Road towards Hillock Vale, east of Accrington, and had a large stand with a pitched roof on the north side and a different stand to the south near Peel Park Hotel. A bowling green and pavilion nearby suggest that it was previously used for cricket.
The football club played in the Lancashire Combination in 1919-21 and joined the Third Division (North) in 1921. There was some concern that the northern football clubs were not financially viable, but Accrington suggested they all paid a deposit to the Football League committee to quell any such fears.
Initially, the football club had limited success, but then fielded a team entirely of Scottish players and scored 96 goals in 1954-55 – only Blackburn and Bristol City scored more. Meanwhile, they featured on television in 1955 and came second to Scunthorpe in 1957-58, then joined the new Football League Third Division; but this was the high point.
Some bad financial decisions were made, in .particular the purchase of a new stand from the Aldershot Tattoo for £14,000 in 1958. These problems were then transferred to the pitch, relegated to last place in 1959-60, conceding 123 goals.
This was the beginning of the end, and they were unable to complete the 1961-62 season, while their last game was in a snowstorm at Gresty Road. As a result, they owed £60,000, and the English Football League forced them to resign after 33 games, although they pleaded for more time. Significantly, they were replaced by Oxford United (who were Headington until 1960) that year.
They had one season in the Lancashire Combination but then folded up, and Peel Park was finally closed in 1966. Accrington Stanley then reformed at the Crown Ground, Livingstone Road, in 1970, with the specific aim of regaining their Football League status. They eventually played in the Conference and replaced Oxford (yes Oxford) in the League in 2007.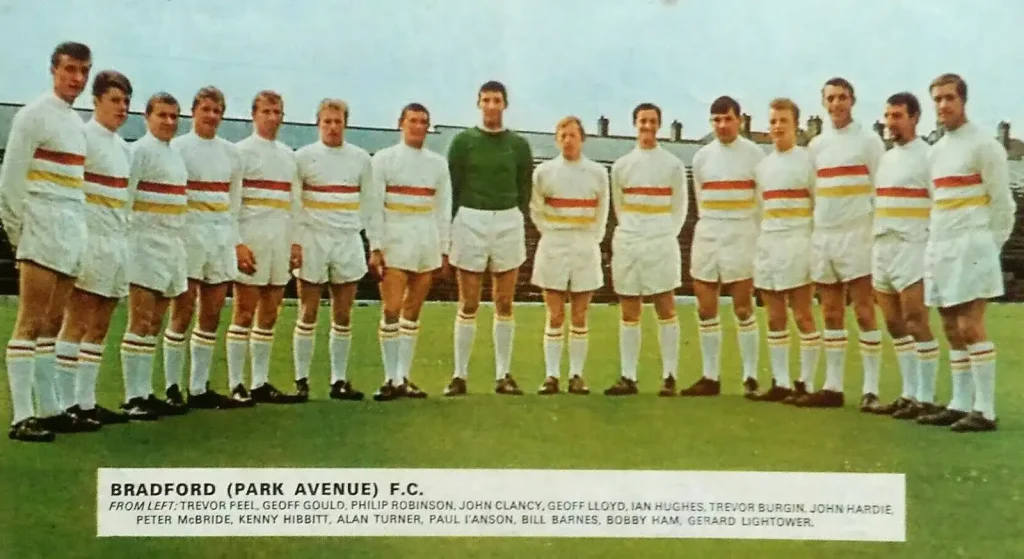 Bradford Park Avenue (1908-70)
They played in the Southern League in 1907 then joined the Football League with Tottenham Hotspurs. County cricket was played at the nearby Horton Park, while the football club played in Football League Division One for three seasons from 1914-21. They then had two consecutive relegations but came third in Division Two in 1928-29.
Both Leo Shackleton and Ron Greenwood played for the football club, while Bill Shankly applied to be the manager in 1953. However, they declined, and with Bradford City, they were playing in Division Four by 1963.
They came last three times and sought re-election oil' several occasions, and were finally replaced by Cambridge United in 1970. They folded up after playing at Valley Parade in 1973-74, and Park Avenue was demolished in 1980. They finished one win ahead of City regarding Football League fixtures, and a new team Bradford Park Avenue. was started in 1988.
Barrow (1921-72)
The Bluebirds were formed in 1901, and they played at Holker Street from 1909, winning the Lancashire Combination in 1920-21. Sixteen thousand eight hundred seventy-four spectators watched the FA Cup tie against Swansea City in 1954, and a similar number saw a game against Wolves in 1959.
They came 22nd in Division Four in 1971-72 eight points ahead of bottom place Crewe, but this was their eleventh re-election, and they were replaced by Hereford (who beat Newcastle 2-1 in the Cup that January). They were founder members of the Alliance Premier League in 1979 and beat Leek 3-0 at Wembley to win the Football Association – FA Trophy in 1990.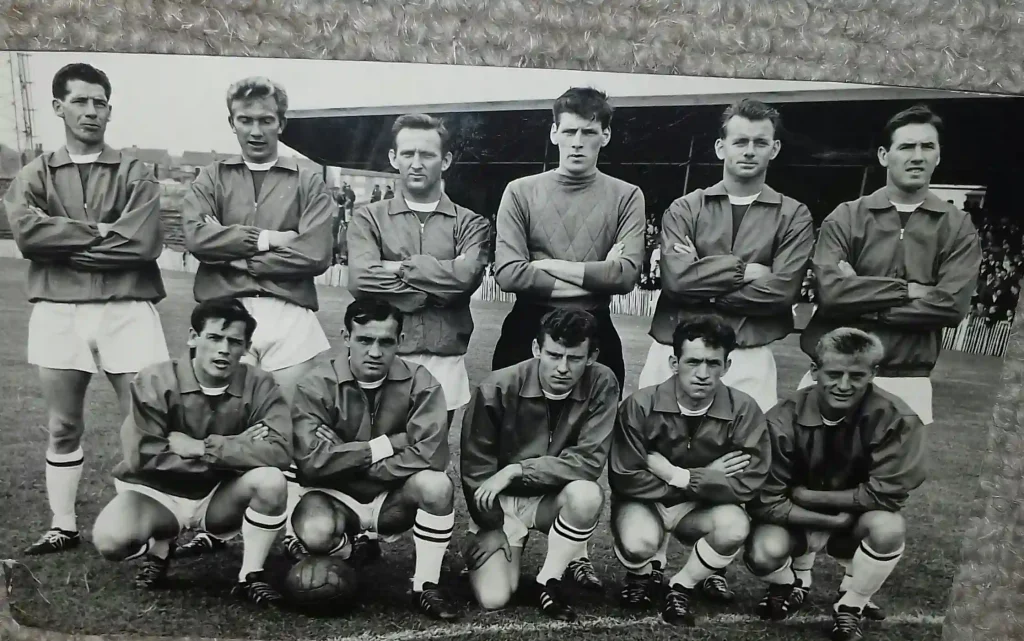 Workington (1951-77)
The town had its base in coal and iron, and the Bessemer process was developed there. The team was formed in 1884 and played in local leagues, the Lancashire Combination in 1904-10, and had one season in the North Eastern League but folded up in 1911.
They reformed as AFC Workington in 1921, joining the North Eastern League, and their first game was against South Shields reserves. They played Preston at Lonsdale Park in front of 15,000 in the FA Cup fourth round in 1933-34, then moved to Borough Park and joined the English Football League in New Brighton in 1951.
The football club came last at the end of their first season, but Bill Shankly was the manager in 1953-56, and they played Manchester United in front of 21,000 in the FA Cup in 1958. Their highest position was 5th in Division Three in 1965-66; however, they were relegated in last place in 1966-67. Their thirteen directors outnumbered the number of full-time players.
They sought re-election five times, and with gates of below 1,000, they were replaced by Wimbledon in 1977. The football club joined the Northern Premier League and were champions of the North West Counties League in 1998- 99, which was, in fact, their first major championship.
Southport (1921-78)
The football club had its origins in a local rugby club, and Ralph Rylance, a solicitor's manager from Preston, was the founder in 1881. They merged as Southport Central and played in the Lancashire League, being the champions in 1903. This took them up to the Combination, and they then moved to Ash Lane (Haig Avenue) in 190,5.
The Vulcan Motor Co. took them over in 1918, and they were Southport Vulcan for one year, but the Football League committee did not approve, and they reformed as Southport FC in 1919. They were the first Football League Division Three football club (with Exeter City) to reach the sixth round of the Football Association – FA Cup in 1931, and there was a record of 20,010 against Newcastle in the fourth round.
They had several re-elections, but Billy Bingham became manager in 1965, and they reached the fifth round of the Cup and were promoted. However, he went to Plymouth and Northern Ireland in 1968, and they were relegated back to Division Four. In 1972-73, the football club was champions but was relegated again and had financial problems with several managerial changes.
There were three successive re-election attempts, and Wigan Athletic, who had formed in 1932 , replaced them in 1978. Haig Avenue, meanwhile, was upgraded, and the covered terracing was demolished in 1987, whereas the football clubs later played in the Conference.
Football League Re-Elections And Records
The re-election process was under increasing scrutiny; however, the most fortunate team indeed came from Hartlepool. A rugby club laid out the Victoria Ground near the docks in 1886, and West Hartlepool FC won the Amateur Cup in 1905, whereas the rugby club failed and was replaced by Hartlepools United in 1908 – who hoped to emulate such success.
They entered the Football League in 1921, and Brian Clough was the manager in 1965, but they sought re-election on no less than fourteen occasions. The last football clubs to enter the lottery were Exeter, Cambridge United, Preston North End, and Torquay in 1985-86. It would have been some story if Preston had followed Accrington out of the Football League.
However, the following season automatic relegation and promotion replaced the somewhat outdated system, and for many years just one football club was demoted. At this point, the gulf between English Football League and non-league was considerable, and many who went down came straight back up.
Indeed, Lincoln City created a record since they lost their Football League status in 1908, 1911, 1920, and 1987. Another significant relegation was Doncaster Rovers, who had first played League football as early as 1901. Nottingham Forest Football Club is now the oldest Football League club since Nott's County relegation in 2019.
The most significant losses were Newport County, who played at Somerton Park and finished bottom 19 points behind Carlisle in 1988, and Aldershot, who played League football at the Recreation Ground from 1932-92. Both of the latter then folded up, but new football clubs were formed soon after.
The Football League structure was significantly altered in recent years with the Premier League and Championship, whereas two teams could join the League from 2002, and since that time, there have been more frequent changes.
English Football League Timeline
| | |
| --- | --- |
| 1888 | The first Football League in the world is established. |
| 1889 | The Football Alliance League started. |
| 1892 | The Football League expands with the establishment of Division Two. There were 16 teams in the First Division and 12 in the Second. |
| 1905 | Division One is expanded to 20 teams. |
| 1915 | The 1915-16 season is canceled due to World War. |
| 1919 | The Football League was restored and Division One is expanded to 22 teams. |
| 1920 | Division Three of the Football League was established. |
| 1939 | The season is abandoned due to World War Two. |
| 1946 | The Football League recommences after the war. |
| 1958 | Division Four of the Football League was established when it was expanded. |
| 1981 | Wins are now awarded three points instead of two in the 1981-82 season. |
| 1991 | Division One expands again from 20 to 22 teams. |
| 1992 | Division One is renamed the Premier League. |