Goalkeeper Rene Higuita was an inspired, eccentric, and trailblazing player who played for several South American club soccer teams and the Colombian national team.
Although he is considered one of the greatest goalkeepers to wear the gloves in Colombia, he is best known for one thing and one thing only: his scorpion kick.
Due to his high-risk "sweeper-keeper" style of play and his flair on the soccer field, he was nicknamed El Loco (The Madman) by his footballing teammates.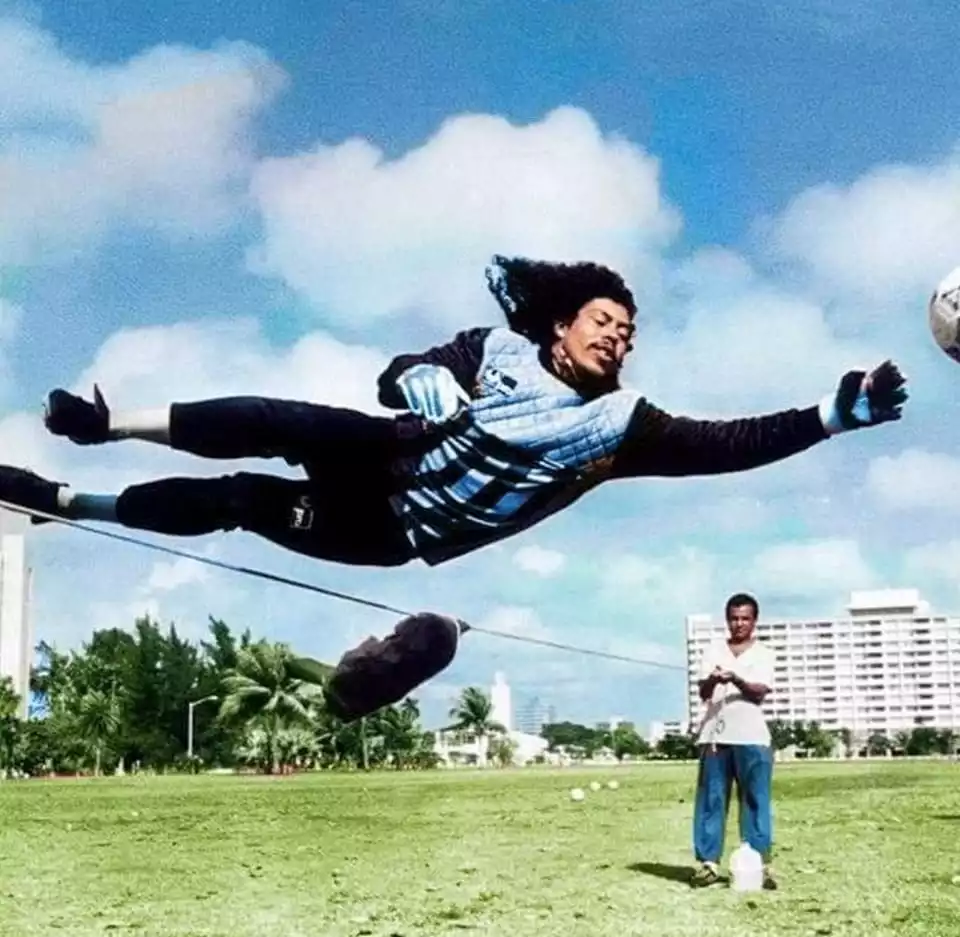 The Scorpion Kick (Escorpion)
Rene Higuita's scorpion kick is what everyone remembers when thinking of him, so you can't write an article on him without even mentioning it.
Wembley stadium was the scene of the kick during a friendly match between England and Colombia in 1995. Higuita received a cross from England midfielder Jamie Redknapp. Rather than catch it, he swung his legs forward and kicked it away with his heels. In that particular game, he invented a move, one he practiced and one he chose to execute.
However, the fact remains that Rene Higuita saw the offside flag. The linesman flagged for offside and none of the attackers advanced on the soccer ball. Later, he admitted that he would not have attempted the move if the offside had not been called. If he had made a mistake in-game, we would remember El Loco for something entirely different.
Who Is Jose Rene Higuita
As soon as we look past "that scorpion kick," it's time to give this eccentric goalkeeper the credit he deserves because he was so much more than one scorpion kick.
Rene Higuita stood only 5 feet 9 inches (175cm) tall, which is very small for a goalkeeper. Yet, despite his small stature, he was amazingly athletic, diving for shots as if he were propelled by springs and making many saves that are still talked about today.
As a sweeper-keeper, Higuita was never afraid of attacking or chasing down attackers. On the contrary, it was not uncommon for him to take on defenders or tackle attackers outside the box, including when he dribbled the ball back inside so he could pick it up.
However, highlight reels typically ignore the instances in which his style of play cost him and his team dearly. For example, Colombia played Cameroon during the 1990 World Cup. International football star, Roger Milla chased Higuita down when he played a one-two with his defender teammate, a long way from his goal. Milla took the ball away from the Colombian keeper after he tried a little move, but he failed, and Roger Milla went on to score, which proved to be the winning goal.
Unnecessary Risks
While he occasionally took unnecessary risks, Rene displayed unrivaled composure when attacking, driving his opponents insane. With this sweeper-keeper style, many other goalkeepers have been influenced to take more risks away from goals and take charge of more than just the box.
Higuita played striker in his amateur days. A teammate's injury forced him to take over for the injured goalkeeper. After impressing his coaches, he never looked back. Many of his flamboyant skills and tricks, which he displayed throughout his career, came from his experience as an outfield player.
Both for his club and country, he was also adept at taking penalties and free kicks. Consequently, René Higuita has similar goalscoring stats to a midfielder, making him one of the highest-scoring goalkeepers of all time.
Although he only scored three goals for the Colombian team, including the only goal in a 1-0 victory over Venezuela in Copa America, he scored 41 times in 380 club games, most of which were played in Colombian leagues. He is fifth on the all-time list of goalscoring goalkeepers.
| Name | Country | Years Played | Total Goals |
| --- | --- | --- | --- |
| Rogério Ceni | Brazil | 1990–2015 | 131 |
| José Luis Chilavert | Paraguay | 1982–2004 | 67 |
| Johnny Vegas Fernández | Peru | 1997–2017 | 45 |
| Dimitar Ivankov | Bulgaria | 1996–2012 | 42 |
| René Higuita | Colombia | 1985–2009 | 41 |
Rene Higuita made his professional soccer debut in 1985 and played his last game in 2010. He never had a shortage of offers to come out of retirement due to his legendary status in Colombia. Having turned 41 in 2008, he signed with a team in Colombia's second division team Deportivo Rionegro before moving to a Deportivo Pereira in Colombia's first division.
He is not one of those legends who come out of retirement only to make a fool of himself. He played 22 games and scored eight goals between these two teams, proving that his skills still stood the test of time.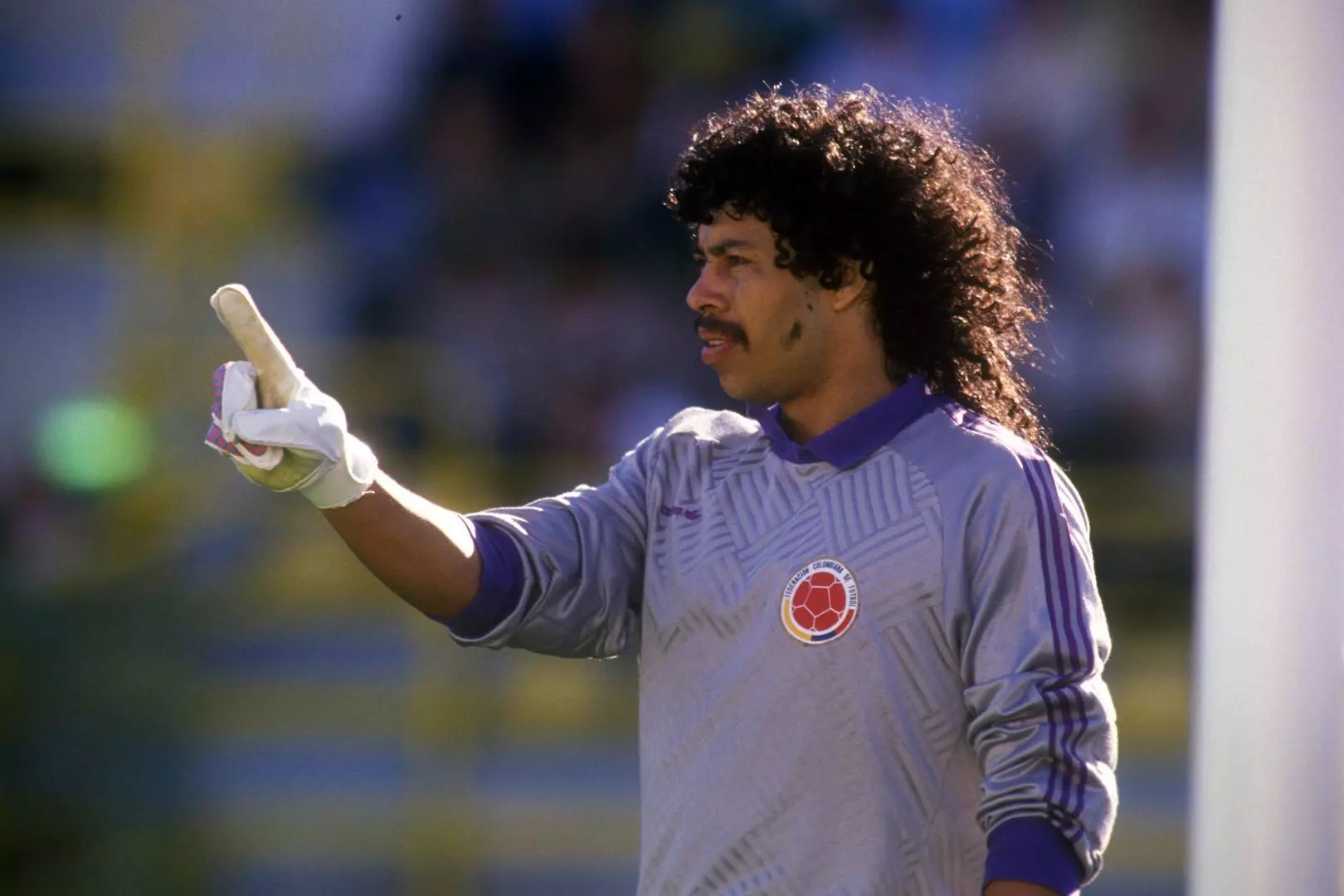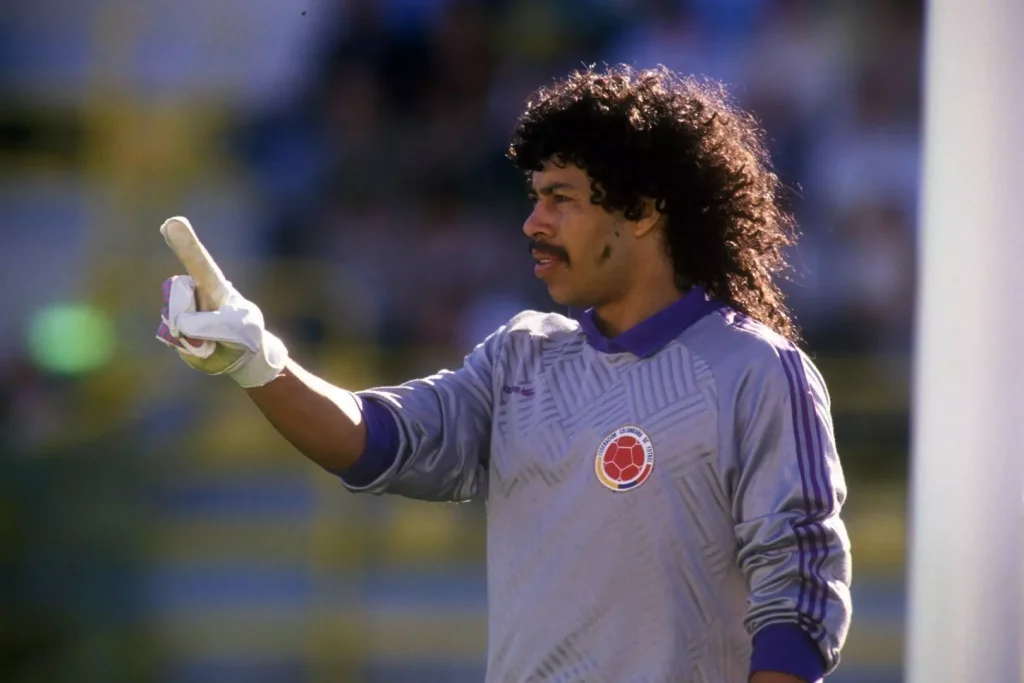 Rene Higuita Personal Life
Rene Higuita was involved in a kidnapping plot that involved Pablo Escobar off the pitch, which saw him imprisoned in 1993. Higuita was prevented from attending the 1994 World Cup in the United States because of this kidnapping. He delivered the ransom money needed to release well-known drug kingpin Carlos Molina's daughter. He claims he was the go between Pablo Escoba and Carlos Molina.
His personal life made headlines again in 2004 when El Loco tested positive for cocaine in a drug test. He then appeared on live tv shows and underwent extensive plastic surgery to change his appearance, gaining national attention once again. Higuita underwent nose surgery, silicon chin implant, skin peel, eyelid skin cut removal, aggressive liposuction, and abdominal muscle enhancement for these reality shows.
Rene spent five years working for Al-Nassr in Saudi Arabia as an assistant manager after retiring from playing soccer. 2017 saw him return to Atletico Nacional as its goalkeeping coach where he still coaches and mentors the keepers of the future.
Due to his famous and controversial life, Higuita's net worth is estimated at USD 2 million. However, he has made more money from guest appearances these days than his soccer career. He is yet to be added to FIFA 22 game. However, there is a massive online push for this iconic player to be added to this year's World Cup game.
The Legend
Many top 100 lists include some of René Higuita's saves, eccentricity, and scorpion kick. The International Federation of Football History and Statistics voted him the eighth-best soccer goalkeeper to come from South America.
There is no doubt that Rene was a very influential goalkeeper. But, regardless of what you think about his abilities and impact on world soccer, you can't deny that throughout his playing career, he left fans entertained over the years. Characters like these are what make the World Cup so memorable.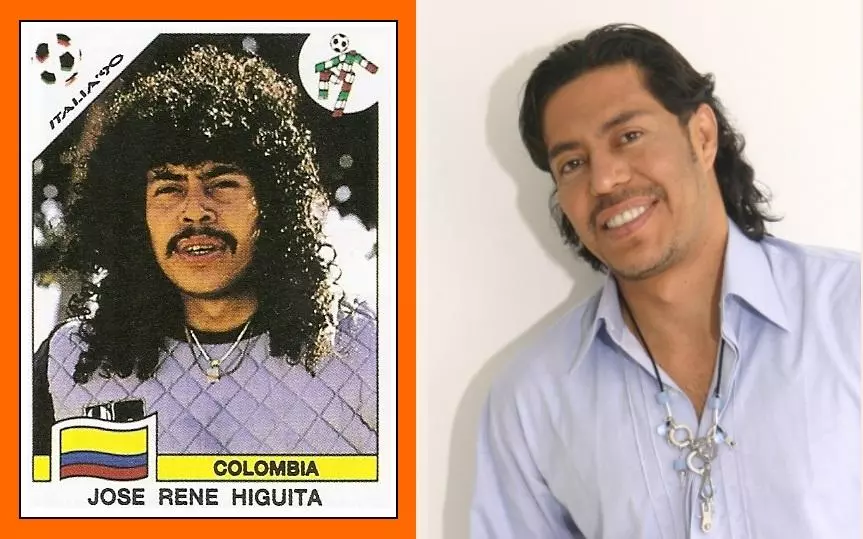 Rene Higuita Facts And Figures
Full Name: José René Higuita Zapata
Birthdate: 27/08/1966
Birthplace: Medellín, Colombia
Playing Career:
Millonarios 1985
Atlético Nacional 1986–1992
Real Valladolid 1992
Atlético Nacional 1993–1997
Veracruz 1997–1998
Independiente Medellín 1999–2000
Real Cartagena 2000–2001
Atlético Junior 2001–2002
Deportivo Pereira 2002–2003
Aucas 2004
Guaros FC 2007
Deportivo Rionegro 2008
Deportivo Pereira 2008–2009
Total: 380 appearances, 41 goals
National Team Career:
2008–2009 Colombia (68 Appearances, 3 goals)