Those early Dutch teams were likened to the 'Clockwork Oranje,' but Rinus Michels was the mastermind behind the machinery. He was a man of few words, but he was the guiding force behind Total Football's brilliance.
Aged 12 When He Joined Ajax
The Amsterdam Olympic Stadium, venue for that year's Olympics, was a few hundred meters away from Michels' birthplace when he was born in 1928. Then, in the summer of 1940, he was invited to join the Ajax youth set-up after he played football on the streets.
At Ajax, Michels became a head-strong striker and debuted on 9 June 1946 just after the head of World War II in a memorable 8-3 victory, Michels scored five goals.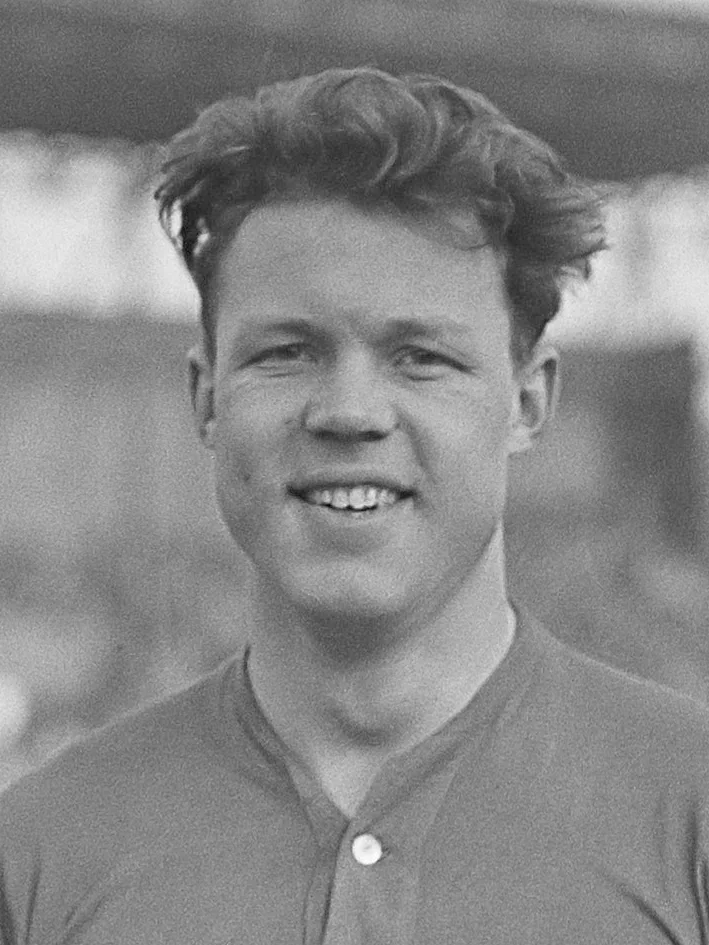 Ajax Playing Career
Rinus Michels had a distinguished playing career, scoring 121 goals in 269 appearances for Ajax and representing the Dutch national team five times. Michels made his mark, though, after he transitioned into coaching. Michels made his mark as a coach in European football with Ajax from 1965 to 1971.
Then, in 1974, he appeared on the global stage with the Netherlands at the FIFA World Cup. The world has been awed by the sublime play of the losing finalists, led by Johan Cruyff, who reflected Michels' belief in fostering team cohesion and individual imagination.
Michels' coaching career has also taken him to the United States, Germany, and most notably Spain, where he established direct ties between the Netherlands and Barcelona that still exist today. Still, his most important links are to Ajax and the Netherlands. During the late 1960s and early 1970s, the 'total football' movement flourished with these two.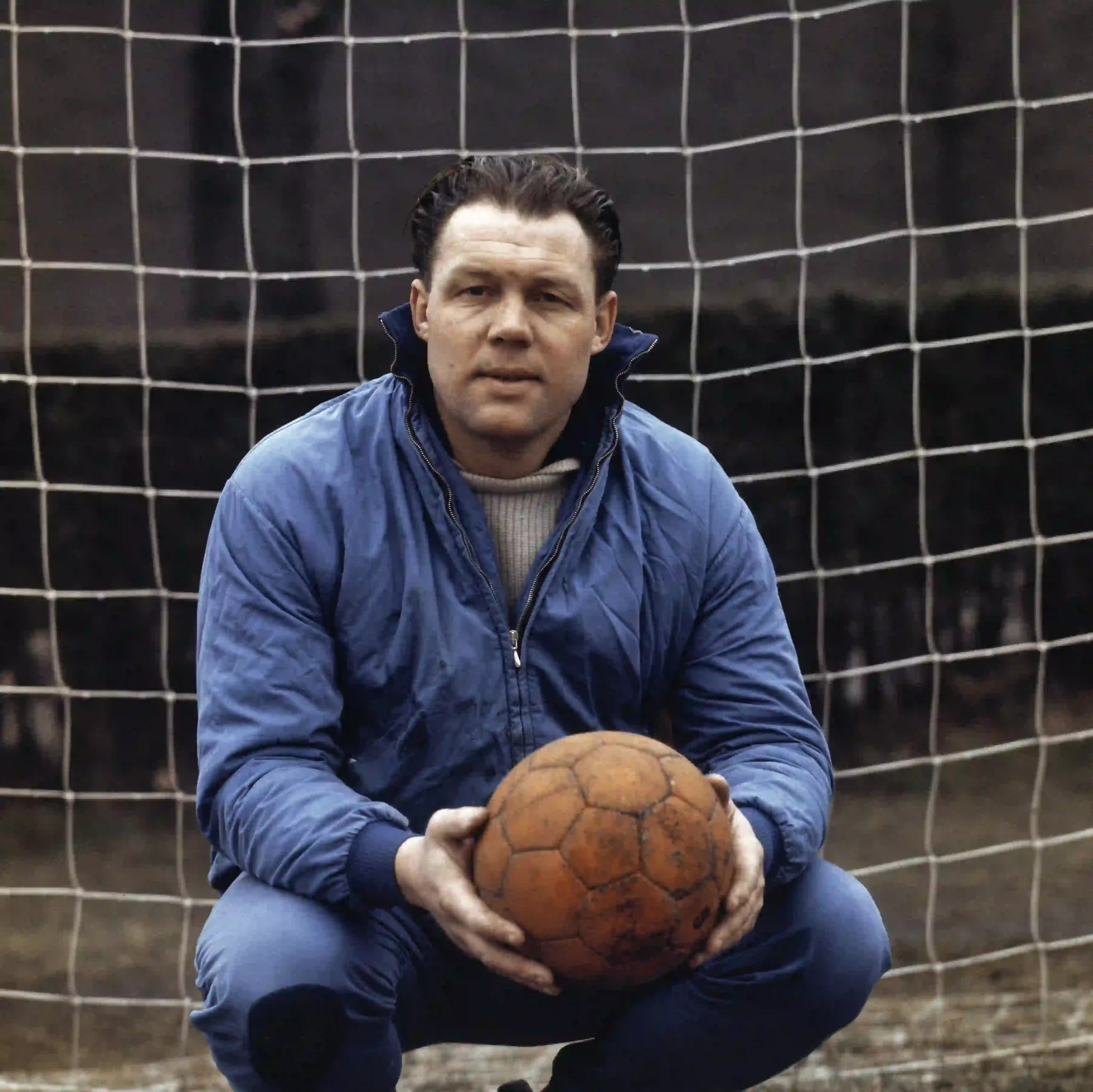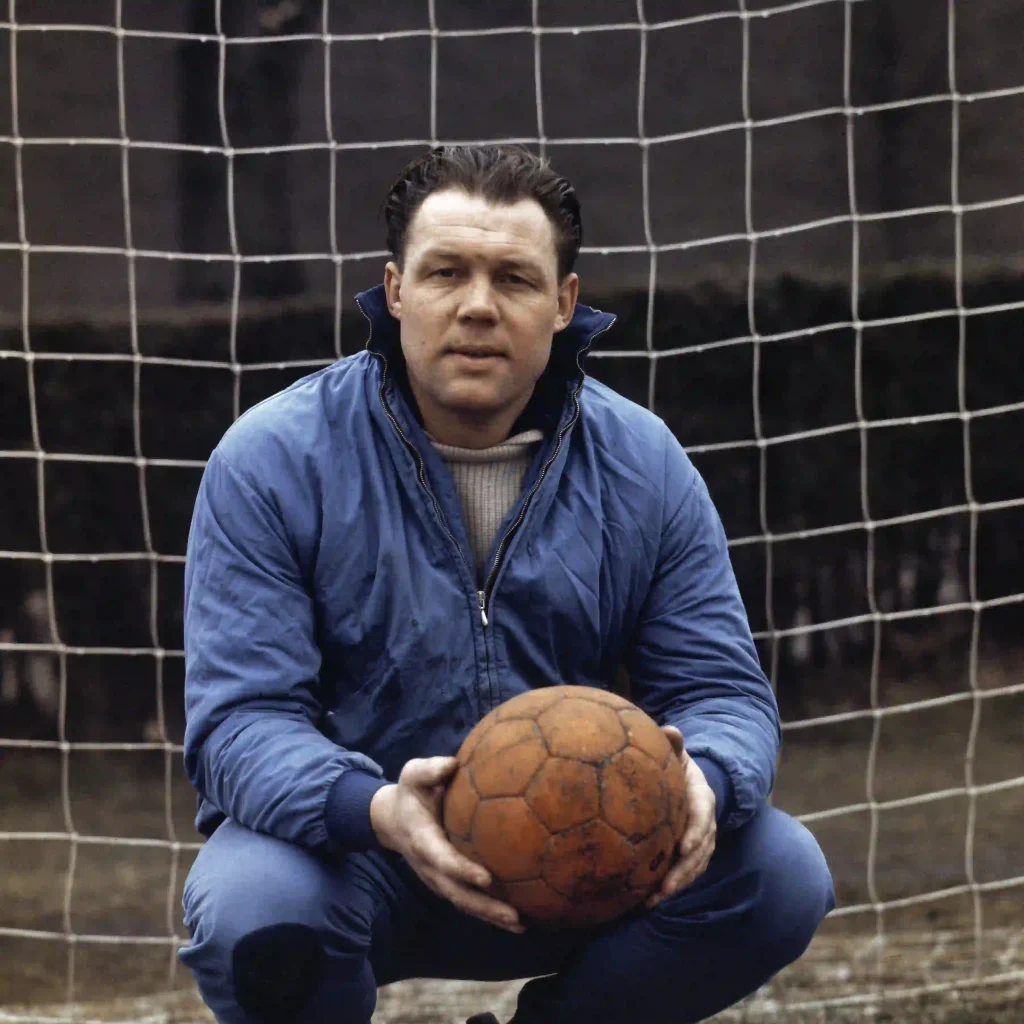 Start Of Rinus Michels Coaching Career
After his army service, he became a sports teacher before embarking on his career as a football coach. Michels took over Ajax, the only team fighting against relegation, on 22 January 1965. With his background, the creative players were forced to complete five training sessions a day in pre-season. Michels trained the squad intensely on the offside trap until it became an art form.
Ajaz won four titles over the next five seasons. By 1971, the team was crowned continental champions in his last match as manager.
He turned them into European contenders within a few seasons sought a new challenge in the hectic world of Spanish football with Barcelona. In addition to building two more European Cup-winning teams, Michels was known as 'The General' for his uncompromising style. He was a man of few words. Michels famously compared football to World War II.
Rinus Michels was known for his skillful movements and versatility on the soccer field. With the Catalan club, he won a league title, but, as the obvious choice to lead the Netherlands at the FIFA World Cup in West Germany, it was with another team that he cemented his legacy.
The player most closely associated with Michels' accomplishments is Johan Cruyff, who used his uncanny ability to read a game to implement his coach's ambitious game plan. Michels' ideas were put into action by Cruyff, a kaleidoscopic shifter who switched between defenses and swarmed the ball.
Cruyff worked with Michels simultaneously at Ajax and Barcelona, but the Oranje, under Michels' first tenure as manager aged 46, launched a new era of Dutch football.
1974 World Cup
The 1974 Netherlands World Cup team was not widely expected to perform well, and Michels, appointed post-qualification, only had time to prepare for three friendly matches before the finals. But their new coach constructed an incredibly cohesive squad out of players from Ajax and Feyenoord.
In their first group, they beat Uruguay 2-0, drew 0-0 with Sweden, and pounded Bulgaria 4-1. In the second group phase, Cruyff was helped by Jonny Rep, Johan Neeskens, and Rob Rensenbrink to demonstrate the gap in class between Michels' side and rival Argentina (4-0), East Germany (2-0), and even World Cup holders Brazil (2-0).
Despite losing 2-1 to Germany in the final, the Netherlands is widely regarded as the best team never to win a FIFA World Cup. The 1974 Dutch team would likely have been compared to Brazil circa 1970 if they had won that famous match in Munich.
Later in his life, Rinus Michels said that composing a starting team is "an art in itself," finding the right balance between creative and destructive players, and between defense, construction and attack – never forgetting the quality of the opposition and the specific pressures of each match.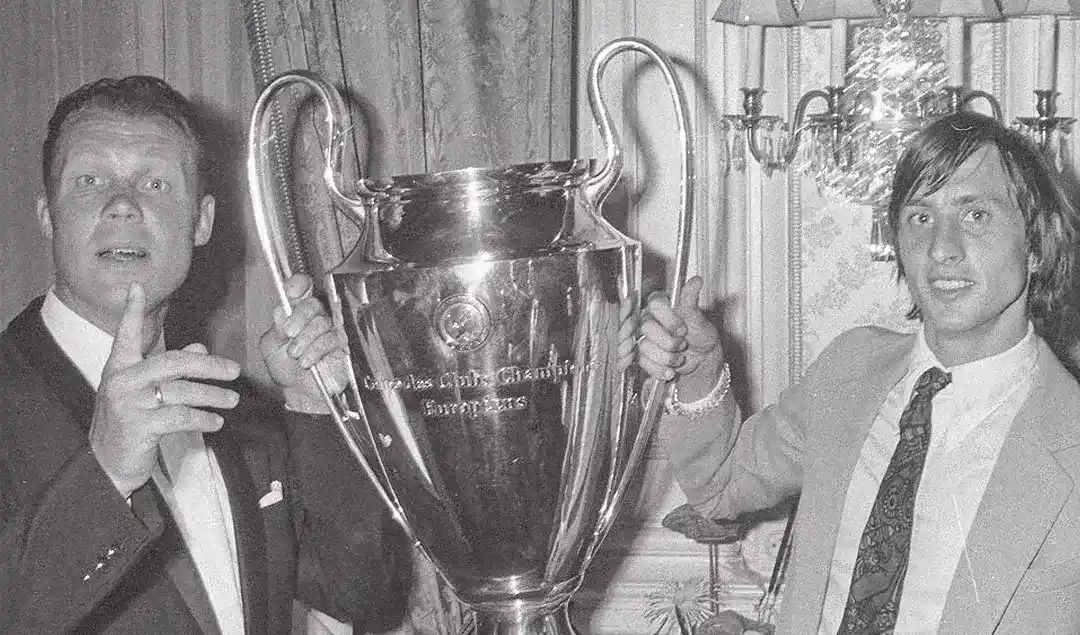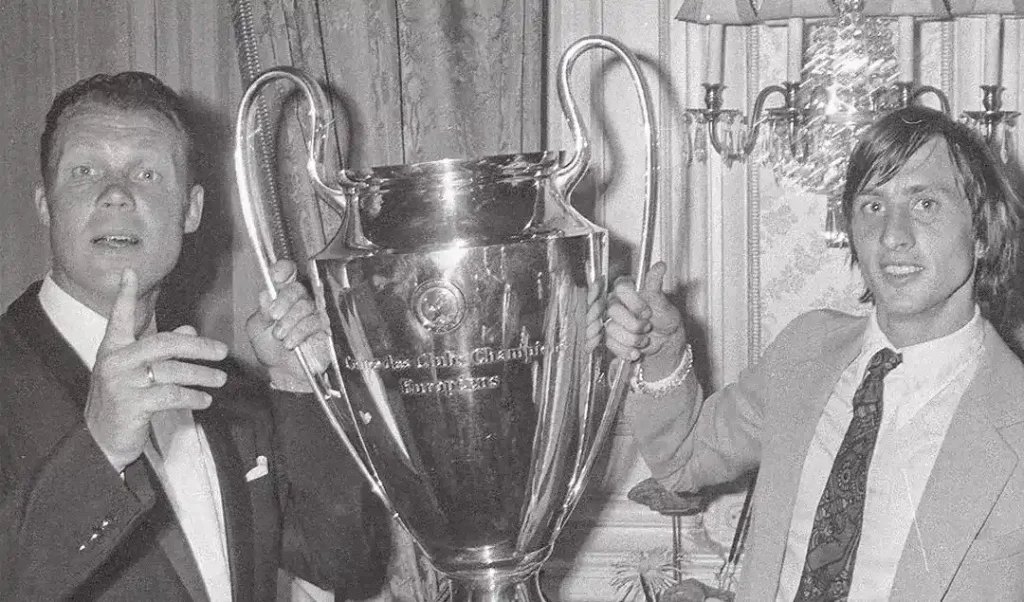 FC Barcelona And European Championships
After the 1974 World Cup, Michels returned to his club career with Barcelona, though he never turned his back on Ajax or the Netherlands national team. As a result, he achieved more in the Netherlands than anywhere else.
He guided the Dutch to 30 wins, and 14 draws in 54 games during his four tenures. Then, in the 1988 European Championships, he led an entirely new generation of players to glory. During the UEFA European Championship, Michels' side beat West Germany 2-1 in the semi-final to beat the Soviet Union 2-0 in the final.
The new team had a spine that included the lethal Marco van Basten in attack, the impressive Ruud Gullit in midfield, and Frank Rijkaard and Ronald Koeman's composed duo at the back. The team Rinus Michels assembled was still composed of skilled players all over the pitch and a commitment to creative attacking football, although he mainly had adapted his 'Total Voetbal' concept to suit the times.
This was evidenced by him fielding Rijkaard and Koeman in the center of defense. Then, as the Dutch lifted their first major trophy under the guidance of their 60-year-old coach, a grateful world applauded appreciatively.
Michels almost repeated the trick at the next European Championships, taking his team to the semi-finals only to be eliminated on penalties by Denmark. A compelling story came to an end.
Rinus Michels Total Football
The tactical success of Total Football heavily depends on the adaptability of the players within the team, particularly their ability to quickly switch positions. Players should be able to play multiple positions comfortably; therefore, they should be technically diverse and intelligent.
Rinus Michels reworked the strategy and became best known for what can be seen as the anti-tactics of Total Football, a strategy that allows players to alter their positions and runs to take advantage of the space offered to them by the opposition.
Even though Cruyff played as the center forward, Michels encouraged him to roam freely around the pitch, exploiting the opponents' weaknesses and creating chances. The teammates of Cruyff were also proactive in adapting their roles to Cruyff, regularly switching positions to ensure the team's tactical roles were always filled.
Jonny Rep played down the right flank for his 1974 team, while Rob Rensenbrink did the same on the left flank. Fullbacks Wim Suurbier and Ruud Krol added to the attacking moves, which swelled and receded at will, while Cruyff was given free rein on the pitch to find ways to open teams up.
According to Michels, intelligent movement, fluid football understanding, being technically proficient, and fitness were the keys to his concept.
His Strategy To Success
The founder of Total Football always stressed the importance of his teams playing a possession-based system by overloading midfield and wing positions. Ajax won nine trophies in five seasons with this method.
In his system, the intensity was the major focus. Every player played a defensive and an offensive role. Jose Mourinho has followed Michels Dutch philosophy with the way he sets his teams up. A 4-3-3 formation was deployed. His formation is slightly different from what you see in modern football
Wide midfielders used to occupy the fullback slots, creating a diamond in the middle to nullify the opposition and retain possession of the ball. Michels' team used a high-line at the back to support the counter-press in midfield. Despite the risk, that by pressing the midfield, they would prevent the opposition from making quick and right decisions. In midfield, one good tackler was necessary to stop counterattacks.
Pep Guardiola's football triangles concept was inspired by Michel's original formations. His emphasis was always on short passes. He instructed his strikers to frequently come deep and allow his wingers to score goals by running behind them.
United States And Germany
After further stints at Ajax and Barcelona, he moved to the Los Angeles Aztecs to coach in the North American Soccer League. A stint followed this in Cologne before finishing his club coaching career with Bayer Leverkusen in Germany in 1989.
He lived for football and still went to matches even at an advanced age. Michels died in a Belgian hospital after undergoing heart surgery. Named after him, the Rinus Michels Award recognizes the best manager in Dutch football each year. He was greatly admired and to many, the greatest coach in world soccer history.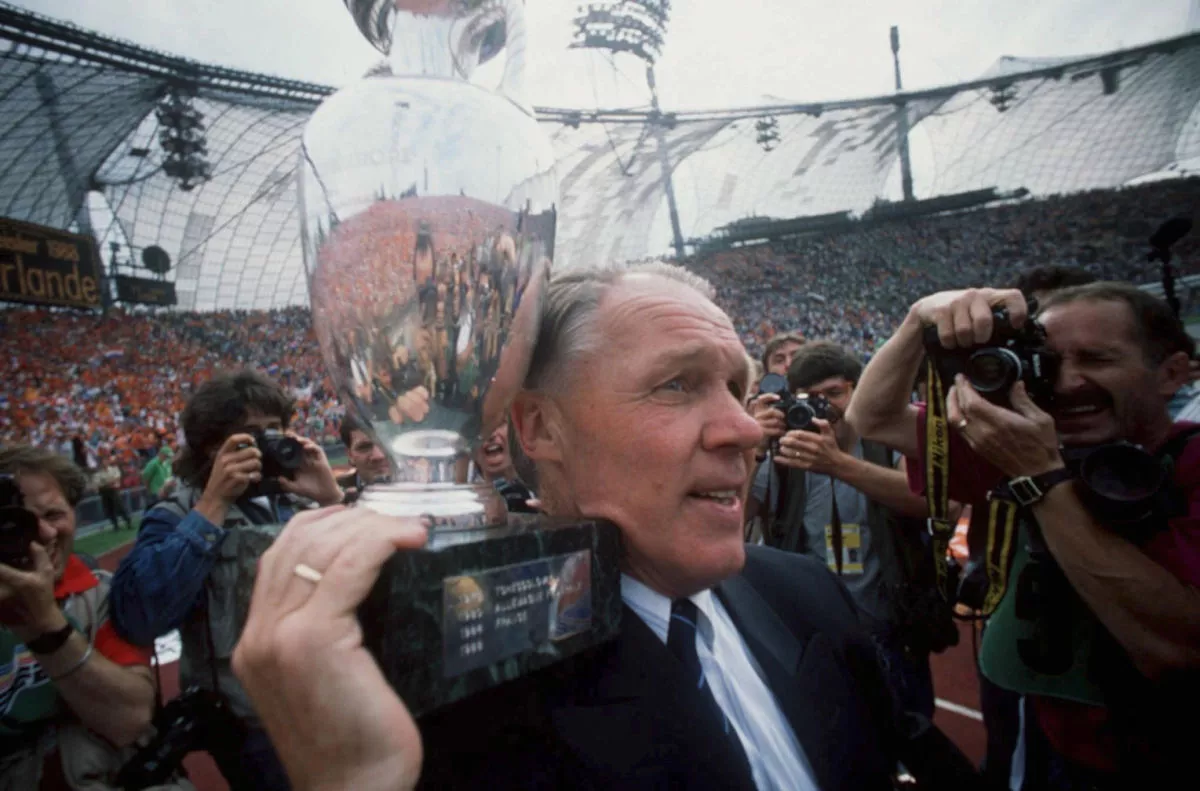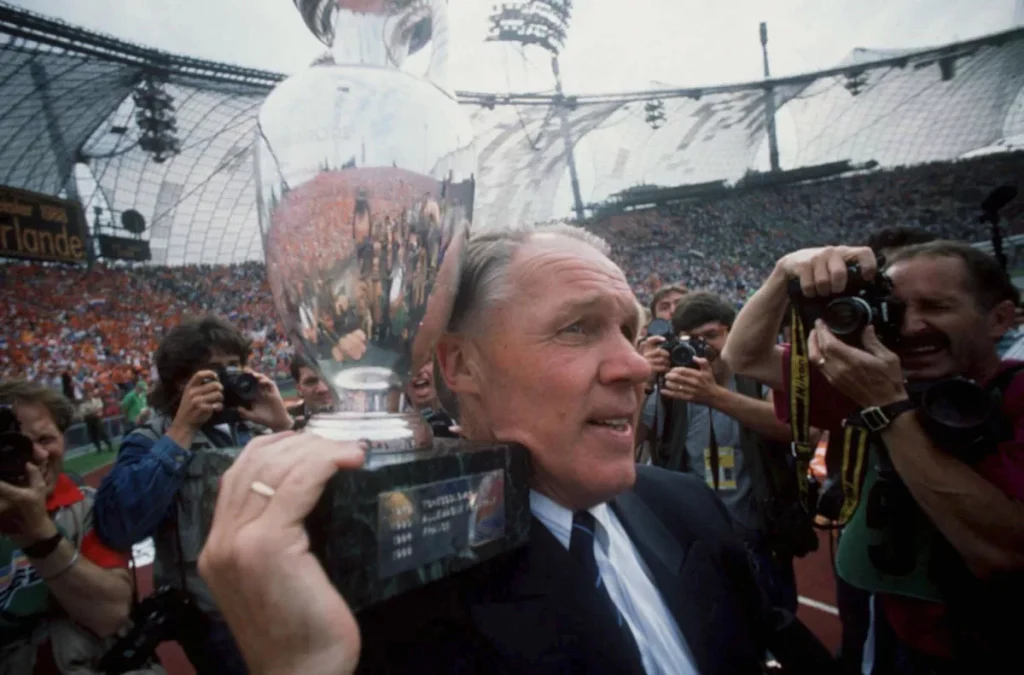 Rinus Michels Facts And Figures
Full Name: Marinus Hendrikus Jacobus Michels
Birthdate: 09/02/1928
Birthplace: Amsterdam
Died: 03/03/2005, (Aalst in Belgium)
Playing Career
Clubs:
Ajax Amsterdam: 1946-1958
Club Achievements:
Dutch League Titles: 1947 and 1957
Total Appearances: 264 matches (122 goals)
National Career:
Dutch International Caps: 5
Clubs Managed
Football Clubs:
JOS Watergraafsmeer: 1960–1964
Amsterdamsche: 1964-65
Ajax Amsterdam: 1965-1971
Barcelona: 1971-1975
Ajax (Technical Director): 1975-76
Barcelona: 1976-1978
Los Angeles Aztecs: 1978-1980
FC Cologne: 1980-1983
Bayer Leverkusen: 1988-1989:
Club Achievements:
Dutch League Winners: 1966, 1967, 1968 and 1970
Dutch Cup Winners (KNVB Cup): 1967, 1970 and 1971
European Cup runner-up: 1969
European Cup Winners: 1971
Spanish League Champions: 1974
Spanish Cup Winners (Copa Del Rey): 1978
German Cup Champions: 1983
National Team
Netherlands: 1974
Netherlands (Technical Director): 1984-1986
Netherlands: 1986-1988
Netherlands: 1990-1992
International Achievements
FIFA World Cup Runners-Up: 1974
UEFA European Championships Winners: 1988
Career Honours
FIFA Coach of the Century: 1999
Dutch Football Manager of the Century: 1999
The Greatest Post-War Football Coach: 2007
France Football The Greatest Manager of All Time: 2019