Santos FC was founded on April 14, 1912, on the initiative of three sportspeople from the city (Raymundo Marques, Mário Ferraz de Campos, and Argemiro de Souza Júnior) who called an assembly at the headquarters of Clube Concórdia (located at Rua do Rosário – Current Avenida João Pessoa), for the creation of a soccer team.
During the meeting, doubts arose about the name to be given to this association. Several suggestions appeared: Concordia, Euterpe, or Brasil Atlético.
But the meeting participants unanimously acclaimed Edmundo Jorge Araújo's proposal: Santos Foot-Ball Clube.
Rua do Rosário, the address where the club was founded.
The first board was formed by:
President – Sizino Patusca
Vice President – George Cox
1st secretary – José G, Martins
2nd secretary – Raul Dantas
1st treasurer – Leonel Silva
2nd treasurer – Dario Frota
The directors were: Augusto Bulle, João Carlos de Mello, Henrique Cross, Raymundo Marques, Cícero F. da Silva, and Jomas de C. Pacheco.
The first game took place only on September 15 of that year. Santos beat Santos Athletic Club 3-0 in their debut.
However, in a new version raised by the club's adviser, Guilherme Gomez Guarche, points out that the first game would have taken place on June 23, 1912, against the local team called Thereza.
But the club's official historian, Francisco Mendes Fernandes, contests the information saying that this match was a training game without an official character.
In this match against Thereza Team, Alvinegro won by the score of 2 to 1, with goals from Anacleto Tool and Geraule Ribeiro.
Santos formed with Fauvel, Simon and Ari, Bandeira, Ambrósio and Oscar, Bulle, Geraule, Esteves, Fontes, and Anacleto.
In the game considered official on September 15, the opponent was Santos Athletic Club, better known as Clube dos Ingleses, today one of the most traditional associations in the City, but which does not currently have a football team.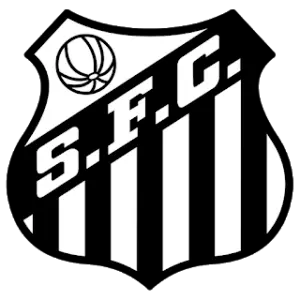 Santos Futebol Clube won 3-0. Arnaldo Silveira scored the first official goal in the club's history.
In early 1913, Santos received an invitation from the Paulista Football League to compete in the state championship.
This was the club's first official competition. His debut took place on June 1 against Germania. The result, however, was not encouraging: defeat by 8 to 1.
The Santos team consisted of Durval Damasceno, Sebastião Arantes, Sydnei Simonsen, Geraule Ribeiro, Ambrosio Silva, José Pereira da Silva, Adolfo Millon, Nilo Arruda, Anacleto Tool, Harold Cross and Arnaldo Silveira.
Three weeks later, on June 22, the Santos team won its first victory in a competition. And right before what would become his biggest rival: 6 to 3 against Corinthians. And in the middle of São Jorge Park.
Still, in 1913, the Santista Football Championship was played for the first time, with the participation of Santos, América, Escolástica Rosa, and Atlético.
Alvinegro was the grand champion, with six wins in six games, 35 goals for, and only seven against. This was the first title in the club's history.
Since its first years of existence, Santos' football team has achieved memorable successes in local and international matches.
Its first title of Champion Paulista happened in 1935, after a decline two years before, due to the creation of professionalism in soccer.
In 1955, after 20 years without being a champion, Santos won the title again, beating Taubaté with a team formed by: Manga, Hélvio, Feijó, Ramiro, Formiga, Urubatão, Tite, Negri, Alvaro, Del Vecchio, and Pepe.
The following year, 15-year-old Pelé would arrive in Vila Belmiro, brought by Valdemar de Brito, who gave new impetus to the history of Santos, leading it to conquests that exalted Brazilian football on the planet. Santos de Pelé made his name abroad.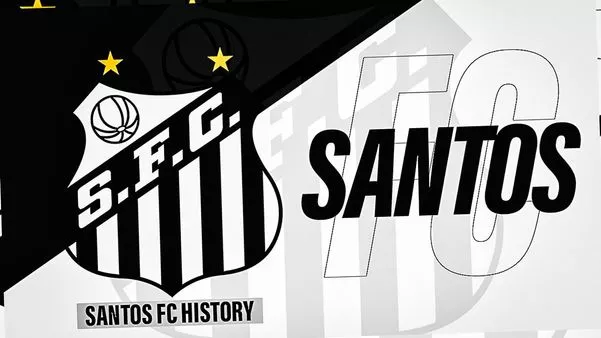 It practically went around the world, enchanting fans with the magical football of its stars. It formed a special attack from the likes of Dorval, Mengávio, Coutinho, Pelé, and Pepe.
During this period, Santos was twice Interclub World Champion (1962/1963), and twice champion of the Libertadores Cup (1962/1963), among other glories.
After the Pelé Era, Santos Futebol Clube continued its path of glory. In 1978 he formed a champion team. The Meninos da Vila, nickname given by the youth of the team's athletes, won the 1978 Paulista Championship. Juari, Pita, Ailton Lira, among others, stood out at the time.
After that, the team continued to win titles, such as Paulista in 1984 and the Conmebol Cup in 1998.
But, in 2002, the year in which the club completed 90 years, Santos won, for the seventh time, the main national tournament (the Brazilian Championship).
The team that achieved the achievement was formed within Vila Belmiro. The Meninos da Vila became a fever all over Brazil, and the duo Diego and Robinho became a bright and cheerful football symbol.
The following year, with the base maintained, Peixe reached the vice-championships of the Libertadores of America and the Brazilian Championship.
In 2004, Peixe won two important titles, one with its main team and the other with its B team created this year. The B team, led by Márcio Fernandes, was champion of the Paulista Football Federation Cup and guaranteed the club a place in the Copa do Brasil.
The main team won the Brazilian Championship again, under the technical direction of Vanderlei Luxemburgo and with Robinho, Elano, Ricardinho, and Léo on the field.
Expectations for 2005 were high. The team kept its leading players, and coach Vanderlei Luxeburgo was already directing his work toward winning the Libertadores de América. However, in the last days of the year, an irresistible proposal from Real Madrid (Spain) took the coach to Europe.
In August 2005, Santos FC lost star player Robinho, again to Real Madrid, in the biggest sale in Brazilian football. At the end of the year, Luxemburgo returned to Santos FC after a season in Spain.
In his first competition for Peixe, the 2006 Paulista Championship, Luxemburgo showed his potential and took the team out of the 22-year fast without a São Paulo title with a 2-0 victory over Portuguesa deesportivas.
Still in 2006, in October, the Santos board repatriated midfielder Zé Roberto, who had been the best Brazilian player in the 2006 World Cup.
Santos FC defeated São Caetano in an incredible final and reached the title. The young Moraes, revealed in the youth ranks of Peixe, scored the winning goal.
The experience and, above all, the midfielder's talent was essential for Peixe to win the Paulista championship for the second time in 2007.
Teams Jersey And Uniform
In the early days, the club's official colors were white, blue, and gold.
In practice, however, Santos managers encountered enormous difficulties making shirts and shorts in these colors. This problem, combined with the debatable taste of the combination, meant that this subject was always questioned.
Almost a year later, on March 13, 1913, partner Paulo Pelúccio suggested that the club adopt white and black as official colors at the third board meeting.
He defended his idea by saying that "white represents peace, and black, nobility." And it got general approval from those present.
The President of Santos, Raimundo Marques, presented the models of the club's flag, which would become "white, diagonally crossed by a black band with the Club's initials in white letters."
Santos Soccer Trophy Cabinet
With nine domestic trophies, Santos is Brazil's second most successful team. As one of South America's most successful football clubs, it has won eight international trophies. Here is a complete list of Santos honors:
1913 – Santista Champion (undefeated)
1915 – Santista Champion (undefeated)
1928 – Tournament Champion Start (Apea)
1935 – Champion Paulista (LPF) 1937 – Tournament Champion (LPF) 1949 – City of São Paulo Cup Champion 1951 – Quadrangular Tournament Belo Horizonte (Undefeated Champion) 1952 – Tournament Champion (FPF) 1952 – Santos Cup Champion
1955 – Paulista Champion (2nd) 1956 – Gazeta Esportiva Cup Champion (24 games undefeated)
1956 – FPF International Tournament
1956 – Classification Tournament Champion (17 games undefeated)
1956 – Bicampeão Paulista (3rd)
1958 – Champion Paulista (4th)
1959 – Troféu Dr. Mário Echandi
1959 – Pentagonal Tournament in Mexico
1959 – Roberto Gomes Pedrosa Tournament (Rio/S. Paulo)
1959 – Tereza Herrera Trophy (Spain) 1959 – Valencia Tournament (Spain)
1960 – Gialorosso Trophy (Italy) 1960 – IV Tournament of Paris
1960 – Paulista Champion (5th)
1961 – Costa Rica Tournament
1961 – Pentagonal Tournament of Guadalajara (Mexico)
1961 – Two-time Paris Tournament Champion
1961 – Italy/61 Tournament 1961 – Two-time Paulista Champion (6th)
1961 – Brazilian Champion (1st) Brazil Cup
1962 – Two-time Brazilian Champion – Brazil Cup
1962 – South American Interclub Champion
1962 – Three-time São Paulo Champion (7th)
1962 – Interclub World Champion
1963 – Three-time Brazilian champion – Brazil Cup
1963 – Roberto Gomes Pedrosa Tournament (Rio/S. Paulo)
1963 – Two-time South American Interclub Champion
1963 – Two-time Interclub World Champion
1964 – Two-time Roberto Gomes Pedrosa Tournament Champion (Rio/S. Paulo)
1964 – Paulista Champion ( 8º)
1964 – Four times Brazilian Champion – Brazil Cup
1965 – Hexagonal Tournament of Chile
1965 – Tournament of Caracas (Venezuela)
1965 – Foursquare Tournament of Buenos Aires (Argentina)
1965 – Two-time Champion of São Paulo (9th)
1965 – Five-time Brazilian Champion – Brazil Cup
1966 – Tournament Roberto Gomes Pedrosa (Rio/S. Paulo)
1966 – Tournament of New York
1967 – Champion of São Paulo (10th)
1968 – Foursquare Tournament Rome/Florence
1968 – Tournament Amazônia
1968 – Chile Octogonal Tournament (Nicolau Moran)
1968 – Twice Champion in São Paulo (11th)
1968 – Pentagonal Tournament in Buenos Aires
1968 – Six times Brazilian Champion – Roberto Gomes Pedrosa Tournament (1st Silver Cup)
1968 – Recopa – Sul-Americano Interclubes
1968 – Recopa – Mundial Interclubes
1969 – Tricampeão Paulista (12th)
1969 – Tournament of Cuiabá
1970 – Hexagonal Tournament of Chile
1970 – City of São Paulo Cup
1971 – Kingston Tournament – Jamaica – Triangular
1972 – Blue Ribbon of Brazilian Football (17 games undefeated)
1973 – Champion Paulista (13th)
1975 – Tournament Governador do Estado – Laudo Natel Cup
1975 – Governador da Bahia Tournament (Roberto Santos)
1977 – Hexagonal Tournament in Chile
1977 – Triangular Tournament in Mexico (Leon)
1978 – Champion Paulista (14th)
1983 – Tournament Winners of America (Uruguay)
1983 – Tournament City of Barcelona (Spain)
1984 – Tournament Start
1984 – Champion Paulista (15th)
1985 – Tournament Copa Kirim (Japan)
1987 – Tournament City of Marseille – 1st edition (France)
1990 – Super Copa Americana (China)
1994 – Denner Cup
1996 – Summer Tournament (Santos)
1997 – Rio/S. Paulo 1998 – Conmebol Cup
2002- Seven times Brazilian champion- Brazilian Championship (1st)
2004- Paulista Football Federation Cup (Santos B)
2004- Eight times Brazilian champion- Brazilian Championship (2nd)
2006 – Paulista Champion (16th)
2007 – Two-time São Paulo Champion (17th)
2010 – Paulista Champion (18th)
2011 – Paulista Champion (19th) and Copa Libertadores (3rd time)
2012 – Paulista Champion (20th) and Recopa Sudamericana
2015 – Paulista Champion (21st)
2016 – Paulista Champion (22nd)
FC Santos All Time Goalscorers
| Santos Player | Years | Total Goals |
| --- | --- | --- |
| Pele | 1956-1974 | 1091 |
| Pepe | 1954-1969 | 405 |
| Coutinho | 1958-1970 | 370 |
| Toninho Guerreiro | 1963-1969 | 283 |
| Feitiço | 1927-1936 | 216 |
| Dorval | 1956-1967 | 198 |
| Edu | 1966-1976 | 183 |
| Araken Patusca | 1923-1929 | 177 |
| Pagão | 1955-1963 | 159 |
| Tite | 1951-1963 | 151 |
| Camarão | 1923-1934 | 150 |
| Antoninho | 1941-1954 | 145 |
| Odair | 1943-1952 | 134 |
| Raul Cabral Guedes | 1933-1942 | 120 |
| Vasconcelos | 1953-1960 | 111 |
| Álvaro | 1953-1961 | 106 |
| Del Vechio | 1953-1966 | 105 |
| João Paulo | 1977-1984/1992 | 104 |
| Serginho Chulapa | 1983-1984/1986/1990 | 104 |
Legendary Santos FC Brazil Goalscorers
Pele
Full name: Edson Arantes do Nascimento
Date and place of birth: 32/10/1940 in Três Corações (MG)
The period in which he played for Santos FC: 1956 to 1974
Titles Conquered
World Champion (1962 and 1963), Champion of Libertadores (1962 and 1963), Brazilian Champion (1961-62-63-64-65-68), Champion Rio -São Paulo (1959, 1963, 1964, 1966), and Champion Paulista (1956, 1958, 1960, 1961, 1962, 1963, 1964, 1965, 1967, 1968, 1969 and 1973)
Edson Arantes do Nascimento, King Pelé was born in the city of Três Corações (MG) on 23/10/1940. He is the greatest football player in the world of all time. The French press awarded him the titles of King of Football (at the 1958 World Cup) and Athlete of the Century (in 1981).
Dico (childhood nickname) arrived in Santos on August 8, 1956, brought by Waldemar de Brito. He came from Baquinho, a team from Bauru, in the interior of São Paulo, and he had never seen or smelled the sea. Nevertheless, the skinny boy walked into the club with wide eyes.
The clumsy gait betrayed the lack of intimacy with shoes and long pants; he wanted to step onto the soccer field and show what he knew.
But it rained a lot, and training was only held the next day. Dico ran a lot and played a lot, but nobody paid attention to him until the moment he dribbled past Formiga (a player from the Brazilian national team) and scored a beautiful goal.
A month later, on September 7, 1956, Dico, or "Gasolina" (nickname given by his teammates), entered the field in the training game against Corinthians de Santo André.
Pele scored his first goal for the professional team, passing the ball between the legs of the goalkeeper Zaluar – who is still remembered today for conceding this goal.
The time was passing. That skinny boy had gained muscle. His eyes weren't so wide anymore.
Dico was called up to defend the Brazilian national team in the 1958 World Cup. At the age of 17, he was already well known. Not because of Dico, but because of his new nickname – Pelé.
He only debuted in the Cup against Russia, in the third game of the Brazilian team in the competition, but did not score a goal.
The first goal was against Wales: Pelé hit the defender inside the area and struck past the goalkeeper without letting the ball touch the ground. Brazil 1-0. He shot and scored five more goals in his next few games.
Newspapers around the world ran his name on the front page. He had become the "King of Football".
Pelé was the top scorer in 11 São Paulo championships, scoring 58 goals in the 1958 São Paulo championship. He is the only player in the world to be a three-time world football champion (with the Brazilian national team) and a two-time interclub world champion (with Santos FC).
He scored his 1000th goal in 1969 at Maracanã against Vasco da Gama. And another goalkeeper, Andrada, made history.
"Pelé scored the goal in anger and exploded the moment he punched the air in celebration of the goal scored.
He had the "look of a cornered beast," which made his opponents fear him, as they did not know his next move. He kicked with his right leg, and with his left, he killed the ball like nobody else (in the chest, thigh, boot toe) and headed with his eyes open, perfectly directing one of his deadly blows.
Describing what Pelé was is humanly impossible. He was perfection. He unbalanced the world".
Pepe
Full Name: José Macia
Date and place of birth: 25/02/1935 in Santos (SP)
Period in which he played for FC Santos: 1954 to 1969
Titles conquered:
Champion Paulista (1955, 56, 58, 60, 61, 62, 64, 65, 67, 68, and 69), Brazilian Champion (1961, 62, 63, 64, and 65), South American Champion (1962 and 63 ), World Champion (1962 and 63), Recopa Sul-Americana Champion (1968), World Recopa Champion (1968), Rio-São Paulo Tournament Champion (1959, 63, 64 and 66) and Roberto Gomes Tournament Champion Pedrosa (1968)
With 405 goals scored, Pepe is the second-highest scorer in the history of Santos, second only to Pelé. But as Pepe says, "the greatest scorer at Santos Futebol Clube is me. After all, Pelé doesn't count. He's from another world".
In 15 years at the club (1955-1970), he earned the nickname "Canhão da Vila" for his deadly left foot. At the age of 20, he scored the goal for the São Paulo title in 1955.
Santos FC faced Taubaté, in Vila Belmiro, for the last round of the competition. The match was tied at 1-1 when there was a penalty for Peixe. With a strong kick with his left leg, Pepe scored the goal that ended a 20-year drought in the title. The 405 goals were scored over 750 matches.
Coutinho
Full Name: Antonio Wilson Honorio (Coutinho)
Date and place of birth: 11/03/1943 in Piracicaba (SP)
The period in which he played for Santos FC: 1958 to 1970
Titles conquered:
World Champion (1962/1963), South American Champion (1962/1963), Brazilian Champion (1961/1962/1963/1964/1965/1968), Rio-São Paulo Tournament Champion (1959/1963/1964/1966 ), Paulista Champion (1960/1961/1962/1964/1965/1967/1968), Recopa Sul-Americana Champion (1968) and World Recopa Champion (1968)
Enshrined as Pelé's perfect partner, Coutinho is considered by many to be a playmaker of the same caliber as the "King ."
With extreme skill in dribbling and co-author of memorable moves with Pelé, Coutinho had as his main virtues the coldness and tranquility in the conclusions.
He made his debut in the first team at age 15, and his rapport with Pelé was soon noticed. For 12 years (from 1958 to 1970), he wore the shirt of Santos FC. He is the third-highest scorer in Santos history. He won 22 titles and scored 370 goals in 457 matches.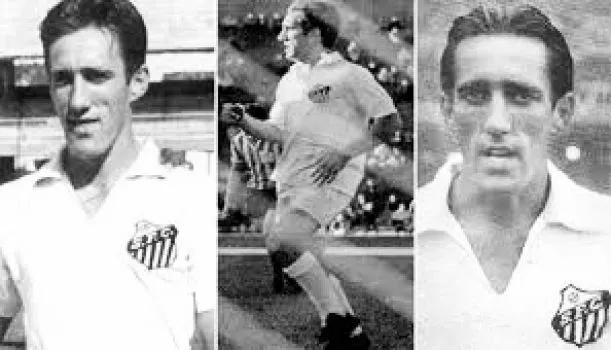 Toninho Guerreiro
Full Name: Antonio Ferreira
Date and place of birth: 10/08/1942 in Bauru (SP) (died 01/26/1990)
Period in which he played for FC Santos: 1963 to 1969
Titles Conquered:
World Champion (1963), South American Champion (1963), Brazilian Champion (1964/1965/1968), Rio-São Paulo Tournament Champion (1963/1964/1966), Paulista Champion (1964/1965/1967/1968 /1969), South American Recopa Champion (1968) and World Recopa Champion (1968)
Antônio Ferreira was almost as good a partner for Pelé as Coutinho. He was also the author of incredible little tables alongside the King, surpassing his companion in artillery in some championships.
Fifth top scorer in history, with 283 goals, he left the club after winning the São Paulo third championship in 67/68/69, seduced by a good proposal from São Paulo.
At Morumbi, he would be the only player to win five consecutive times as champion of São Paulo, with titles in 1970 and 1971. And always the top scorer, as in the six years he drove Santos fans to delirium. For Peixe, he played 373 games and scored 283 goals.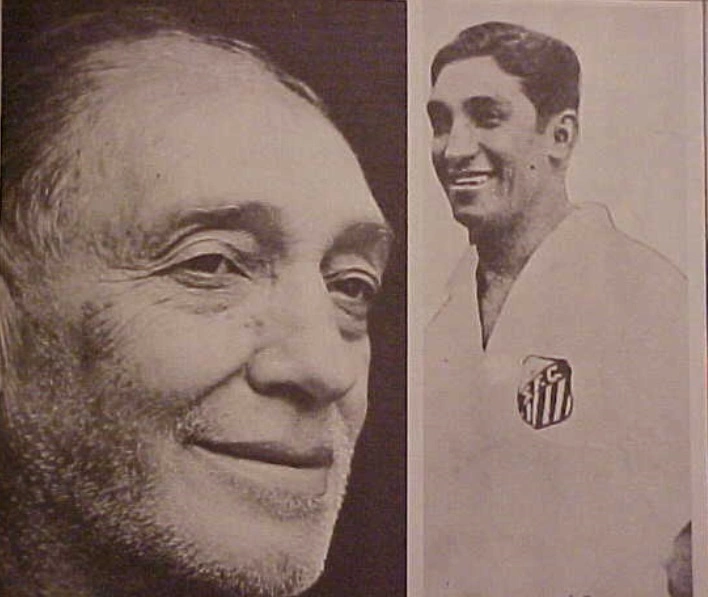 Feitiço
Full Name: Luis Macedo Matoso
Date and place of birth: 29/09/1901 in São Paulo (SP) (died 23/08/1985)
The period in which he played for Santos FC: 1927 to 1932 and 1936
Titles won: None
Not even the President of Brazil, Washington Luís, frightened Feitiço, who was used to overcoming much tougher defenders.
In the final of the 1927 Brazilian National Team Championship, between Rio de Janeiro and São Paulo, in São Januário (RJ), the referee marks a penalty for the home team, and the visitors, dissatisfied, paralyze the game.
The President sends the order from the tribunes: that the game restarts. "Tell the President that he rules the country. Here, we are the ones in charge", warns the Santos star. And the match is not restarted.
No one was more of a scorer in Santos, outside the Pelé era, than Luís Matoso, Feitiço. Speed ​​and a deadly header were characteristics that made him an idol in the early days of Santos.
He has the best goal average in the club's history. In 151 games, he scored 213 goals (1.41 goals per game).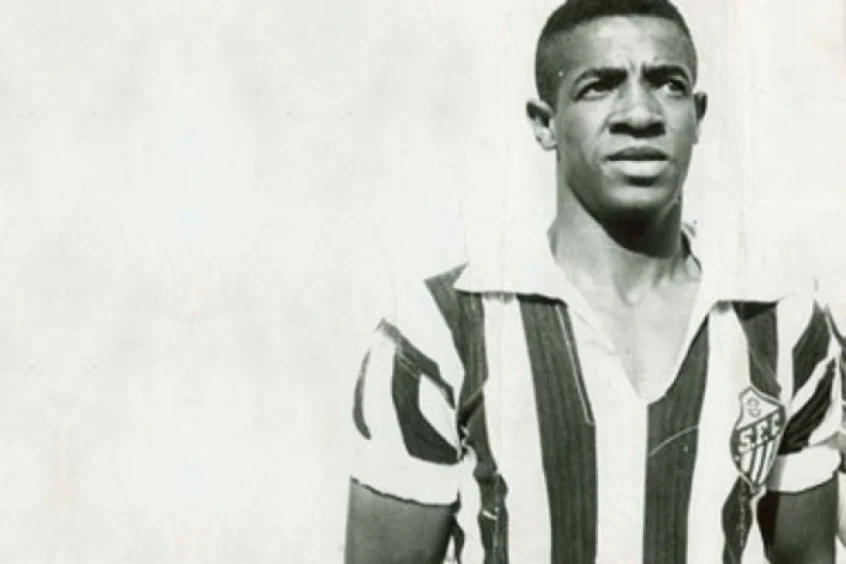 Dorval
Full Name: Dorval Rodrigues
Date and place of birth: 26/02/1935 in Porto Alegre (RS)
The period in which he played for Santos FC: 1956 to 1967
Titles Conquered:
Paulista Champion (1958, 1960, 1961, 1962, and 1965), Brazilian Champion (1961, 1962, 1963, and 1965), South American Interclub Champion (1962 and 1963), Interclub World Champion (1962 and 1963), Champion of Rio/Sao Paulo Tournament (1959, 1963, 1964 and 1966)
In 1955, at 20, Dorval, who would become a key player in Santos Futebol Clube's golden team, took his first steps in football.
The young athlete was one of the main highlights among the youth of Grêmio de Porto Alegre, which in a few months led him to professionalization when he transferred to Esporte Clube Força e Luz.
The following year (1956), the right winger began his glorious career at Alvinegro Praiano.
Four years later, he would form what is considered the greatest midfield and attack line in the history of Brazilian football: Dorval, Mengálvio, Coutinho, Pele, and Pepe.
Until 1964, Dorval and the Santos squad won almost all the titles he played for. Proof of this is that in 1962 Santos FC reached a mark that has not yet been equaled in Brazil, being champion at all levels: state, national, South American, and world.
Dorval dedicated ten years to Santos football: from 1956 to 1967. A period interrupted only by the year he played for Racing in Argentina (1966).
There were 198 goals in 612 games with the Santos Futebol Clube shirt.
Santos Futbol Club Presidents
Here is a list of President of Santos FC:
Sizino Patusca – 1912/1913
Raymundo Marques – 1913/1914
Agnelo Cícero de Oliveira – 1914/1917
Flamínio Levy – 1917/1918
Wallace Simonsen – 1918/1919
Flamínio Levy – 1919/1920
Agnelo Cícero de Oliveira – 1920/1921
Flamínio Levy – 19 Levy – 19 Levy /1922
Armando Lichti – 1922/1923
Flamínio Levy – 1923
Manoel Oliveira Alfaya – 1923/1925
Antônio Guilherme Gonçalves – 1925/1931
Joaquim Pedro dos Santos – 1931/1932
Agnelo Cícero de Oliveira – 1932/1933
Carlos de Barros – 1933/1937
Frederico Jorge Sobrinho – 1937
José Martins – 1937/1940
Benedito Wenceslau Carneiro – 1940
Jaime Matias Ricão – 1940
Romeu de Andrade Lourenção – 1940/1942
Aristotle Ferreira – 1942/1944
Antônio Ezequiel Feliciano da Silva – 1944/1945
Athiê Jorge Coury – 1945/1971
Vasco José Fae – 1971/1975
Modesto Roma – 1975/1978
Rubens Quintas Ovalle – 1978/1982
Ernesto Vieira da Silva – 1982/1983
Milton Teixeira – 1983/1987
Manuel dos Santos Sá – 1987/1988
Otávio Adegas – 1988
Miguel Assad Macool Filho – 1988/1989
Antônio Aguiar Filho – 1989/1991
Marcelo Pirilo Teixeira – 1991/1993
Miguel Kodja Grandson – 1994
Samir Jorge Abdul-Hak – 1994/1999
Marcelo Pirilo Teixeira 1999/2009
Luis Álvaro de Oliveira Ribeiro 2009/2014
Odílio Rodrigues 2014
Modesto Roma Júnior 2015/2018
José Carlos Peres 2018/2020
Orlando Rollo 2020
Andrés Rueda 2021 –
Santos FC And The Brazilian National Team
Santos Futebol Clube has always been a team that provided several athletes for the Brazilian National Team. Of world champions alone, Peixe has provided 11 athletes.
In the history of the World Cups, Alvinegro Praiano had 15 of its players summoned to defend the colors of Brazil.
Striker Araken Patusca was the first Santos player to play in a World Cup, in 1930, in Uruguay.
There was a fight between the Associação Paulista de Esportes Atléticos (Apea) and the Brazilian Sports Confederation (CBD), as no Paulista was on the coaching staff.
For this reason, Apea claimed that there needed to be more time for heads of families to leave everything organized and leave to stay away from home for so long.
This meant that Brazil only embarked with players who played in Rio de Janeiro, except for Araken, the only one from São Paulo, who was at odds with the management of the Santos team.
But the participation of Santos FC players has always been notable for the number of athletes who have been world champions.
In 1958, in Sweden, Alvinegro Praiano loaned left winger Pepe, as well as midfielder Zito and the King of Football, Pelé.
These two athletes were essential in the Brazilian race toward the first title of world champion. Pelé and Zito debuted in the Brazilian victory over the Soviet Union, by 2 to 0, in the last match of the first phase.
Pelé's consecration would begin on Swedish soccer fields, with the Athlete of the Century being Brazil's top scorer, with six goals, two of which were scored in the final against the hosts.
In 1962, in Chile, the Vila Belmiro team provided seven players to compete in this World Cup. Gilmar (goalkeeper), Mauro (defender), Zito (midfielder), Mengálvio (midfielder), Coutinho (forward), Pelé (forward), and Pepe (forward) were the Santos players who shone in winning the second championship.
Pelé only played two games, scoring a 2-0 goal against Mexico in the Brazilian debut. But the King could not continue helping the national team, as a muscle injury prevented him from playing for the rest of the Cup.
However, the team continued to win without Pelé. In the final, Zito played a decisive role in the 3-1 victory over Czechoslovakia, as the captain from Santos scored Brazil's second goal in the final.
Peixe also participated significantly in the tournament with defender Mauro who, in addition to having a beautiful involvement in the World Cup, played in Chile.
He was the team captain and had the honor of lifting the Jules Rimet Cup, with Brazil being crowned two-time World Champion.
After the 1966 World Cup in England, in which Brazil did very poorly, the team again resorted to the strength of Santos FC players to bring the champion's trophy to the next World Cup.
In 1970, Carlos Alberto Torres (right-back), Joel Camargo (defender), Clodoaldo (midfielder), Pelé (forward), and Edu (forward), helped Brazil to win the third star.
Considered by many as the best team the world has seen play, the team led by Carlos Alberto Torres, who was the captain of this team.
Pelé, at the height of his football maturity, was responsible for commanding the team that enchanted the world and brought the Jules Rimet Cup definitively to Brazil, with the unprecedented achievement at the time of three-time world champion.
The last Santos players who went to a World Cup with the Brazilian National Team were defender Marinho Peres and striker Edu, who defended Brazil's title in Germany in the 1974 World Cup.
Even in the World Cups of 1994 (United States) and 2002 (South Korea and Japan), Santos FC was present in the Brazilian team that won both titles.
In 1994, defender Ricardo Rocha and defensive midfielder Dunga had already played with the alvinegro mantle.
Dunga played for Peixe in 1986, while Ricardo Rocha was almost called up by the Vila Belmiro team, where he played until the end of 1993 when his contract with the club ended, and the defender decided to go to Vasco da Gama ( RJ).
In 2002, Santos loaned the goalkeeper coach, Carlos Pracidelli, and the physiotherapist, Luis Rosan, to the five-time world champion team, who were very important for the recovery of striker Ronaldo, who was the top scorer in this last World Cup.
In total, 60 home-grown players playing for Santos have gone on to play for the Brazil national football team.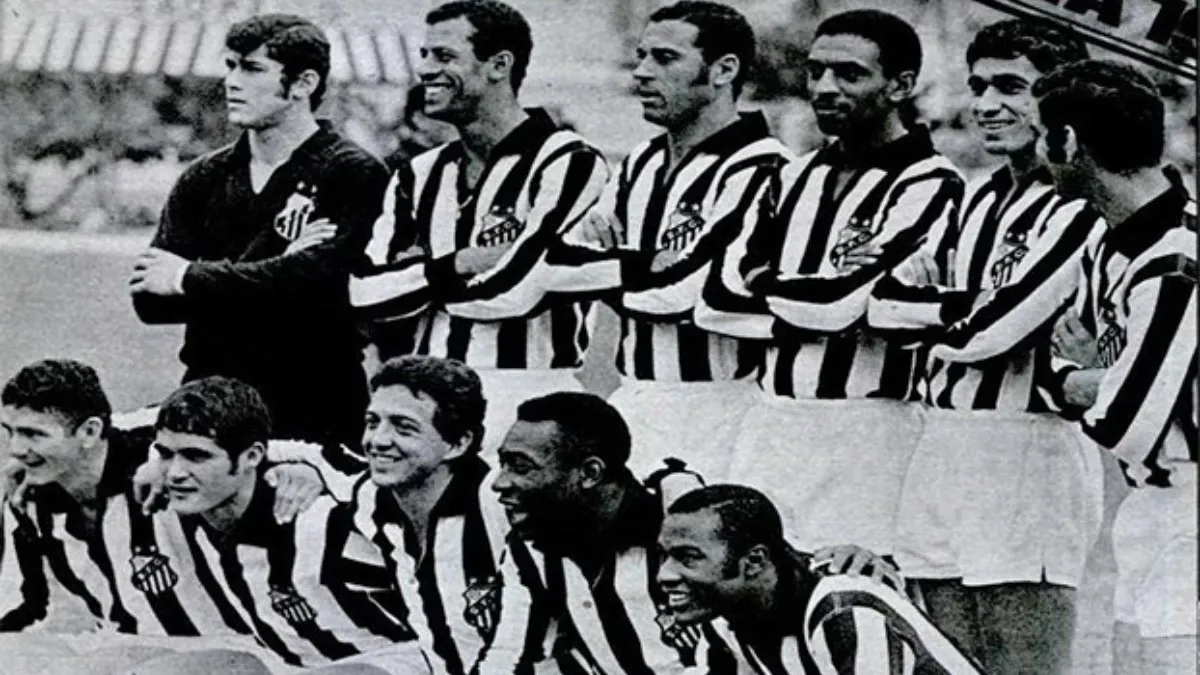 Brazil National Team Call-Ups 
The following is a list of all Santos FC players who have represented the club in official matches while playing for the main national team.
Adolpho Millon
Almir
André
Araken Patusca
Arnaldo Patusca
Arouca
Axel
Carlos Alberto
Castelhano
Cláudio
Clodoaldo
Constantino Mollitsas
Coutinho
Del Vecchio
Diego
Dorval
Durval
Edú
Elano
Fábio Costa
Formiga
Gabriel
Ganso
Gilmar
Giovanni
Haroldo
João Paulo
Joel
Jorge
Juary
Kléber
Léo
Lima
Lucas Lima
Márcio Rossini
Marcos Assunção
Marinho Peres
Mauro Ramos
Mengálvio
Müller
Narciso
Neymar
Nilton Batata
Orlando
Otto Banduck
Paulo Almeida
Pelé
Pepe
Pita
Rafael Cabral
Renato
Ricardo Oliveira
Robert
Robinho
Sérgio
Silas
Sylvio Hoffmann
Tite
Toninho Carlos
Zito

Santos FC Players Representing Other Nations
The first foreign Santos FC player to participate in a World Cup was goalkeeper Rodolfo Rodriguez. The soccer goalie was summoned to defend the Uruguayan national team, which played in the 1986 World Cup in Mexico.
The Santos keeper stayed on the bench during the entire Uruguayan participation without having the chance to play a match, as he was injured in one of the training sessions during the World Cup.
The Uruguayans were eliminated by Argentina, in the round of 16, by a score of 1 to 0.
In 2006, Peixe was represented by defender Júlio Manzur from the Paraguayan National Team.
The player from Santos completed his first World Cup, having already helped his country's national team to win the silver medal, at the 2004 Olympic Games, in Athens, Greece.