Dunga is the nickname given to Carlos Caetano Bledorn Verri. A former professional soccer player from Brazil, he played as a defensive midfielder. In 1994, Brazil won the World Cup final under his captaincy.
He and Spanish midfielder Xavi are the only two players to have participated in a World Cup final, an Olympic final, a Confederations Cup final, and a continental championship final.
He was twice the head coach of Brazil's national team. However, the Brazilian Football Confederation dismissed him after he led them to the 2010 FIFA World Cup quarter finals.
Carlos Caetano Bledorn Verri helped Brazil win the 2007 Copa America and the 2009 FIFA Confederations Cup final. After being appointed a second time as the Brazilian football manager in 2014, Dunga was sacked in June 2016 after Brazil's early exit from the Copa America Centenario.
As a footballer, Dunga had some unique World Cup experiences, which we will discuss in this interview with the great man.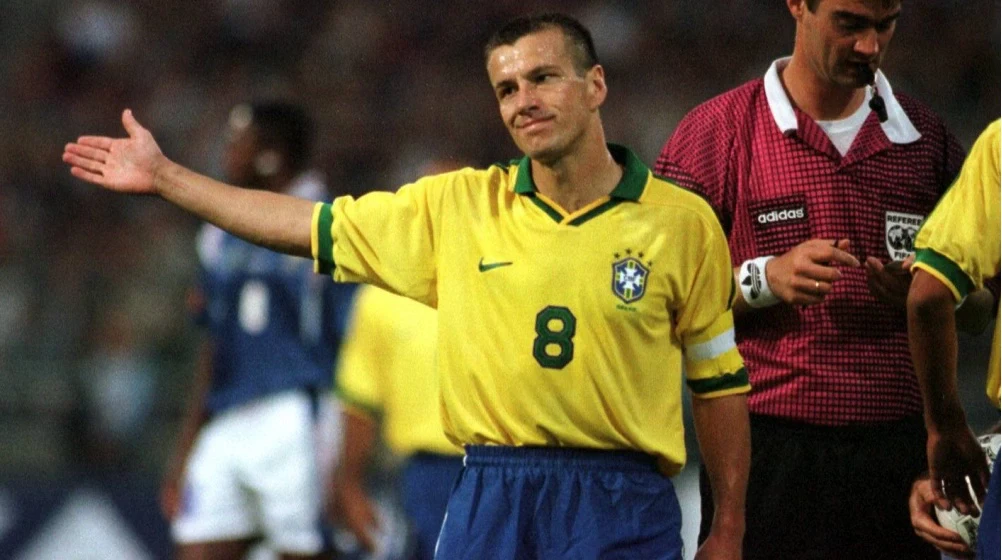 Early Childhood And Three World Cups
What is your earliest childhood memory of the FIFA World Cup?
Dunga: I remember most when the players went up the steps to receive their medals and the World Cup Trophy. That made a big impression on me when I was a kid. Every four years, I'd closed my eyes and imagined the Brazilian national team stepping up there at that moment. That gave me great strength.
You played in three FIFA World Cups. What was the importance of each of them to you personally and professionally?
Dunga: From a personal viewpoint, I was like every Brazilian in that I dreamed of playing at a World Cup final from an early age. When I saw Pele, Rivelino, and all those great footballers, I dreamed of playing one day. So to be able to play in three tournaments was a great learning experience for me, as we had an outstanding national team in 1990 but were still unable to win.
In 1994, Brazil won. That World Cup made it clear to the Brazilian people and me that talent alone is not enough to win it. There must also be unity of purpose, organization, planning, discipline, and determination. There are many ingredients needed to make a winning team.
The 1994 tournament was significant for the country because it encouraged blue-chip companies to adopt a more planned and organized approach to business instead of the traditional off-the-cuff Brazilian style. So, that helped Brasil a good deal.
The 1998 tournament provided us with another lesson. In life, as in soccer, there is no guaranteed winning formula. We thought we'd found that formula, and we wanted to repeat what we'd done in 1994. However, it wasn't enough. We should have honed our technique, tactics, and everything else soccer-related.
It's like when an athlete wins an Olympic medal one year and fails to qualify for the next Olympics. Soccer can be like that too.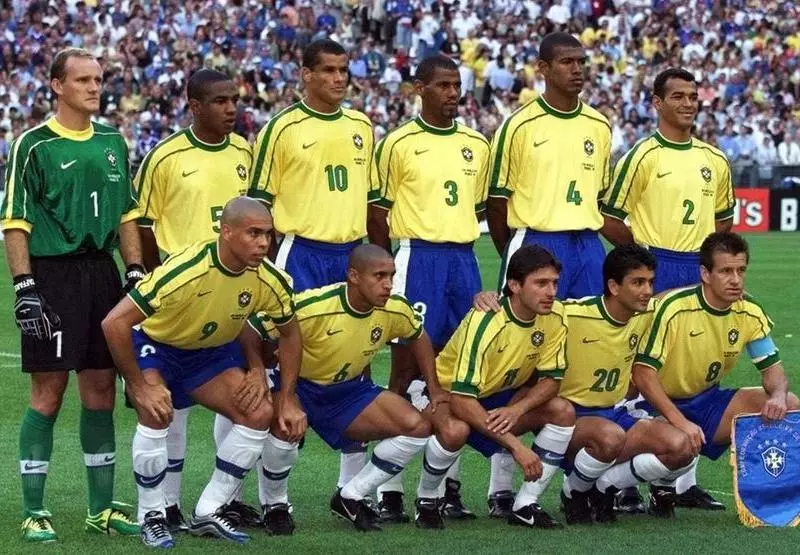 1998 FIFA World Cup Final
You spoke about the 1998 FIFA World Cup. What do you remember about the Final against France?
Dunga: I think that what happened to Ronaldo was very emotionally upsetting for Brazil. And although I don't think it was what decided the destination of the World Cup, it did affect us because we are very emotional people.
Being very close to Ronaldo, what happened ruffled us, and we could not concentrate on the game. We kept thinking about what was going on and felt very unsettled. However, that wasn't what caused Brazil to lose. What happened was that we thought we'd found a winning formula, so we forgot everything else that had to be done.
Some people say that game was a duel between the contrasting styles of you and Didier Deschamps. Would you go along with that?
Dunga: He's a strong player with good technique. But France's team was solid in defense and midfield. They were well organized and well-positioned. In any event, what struck me most was that Zidane had never gone into the area before. So, when a national team is well organized and does their job well, everything goes in their favor.
Good or bad luck doesn't exist in soccer, all that matters is doing things properly, and that's what they did.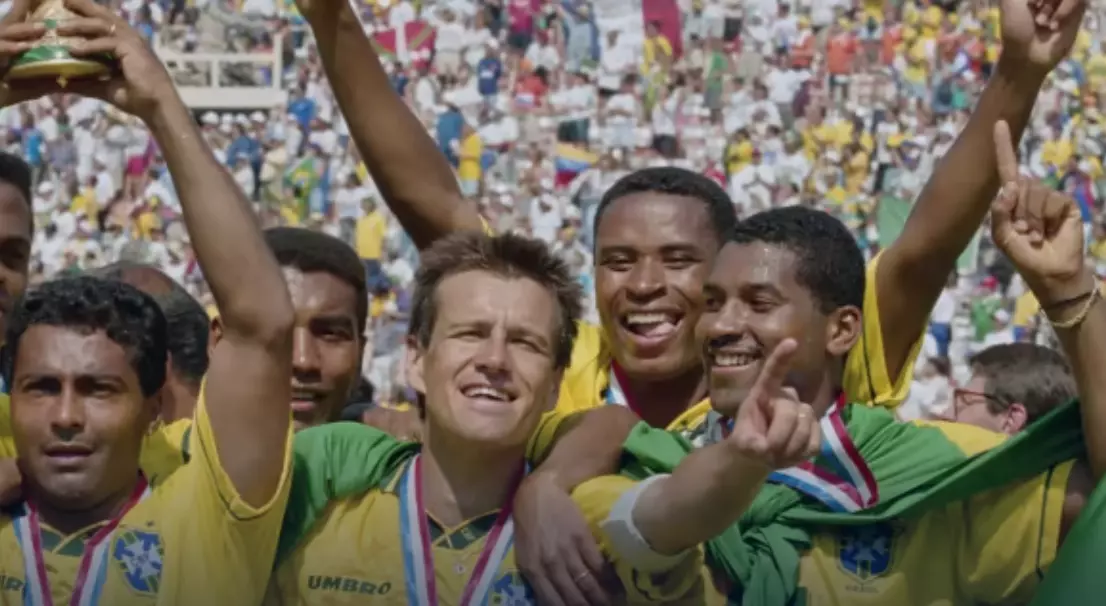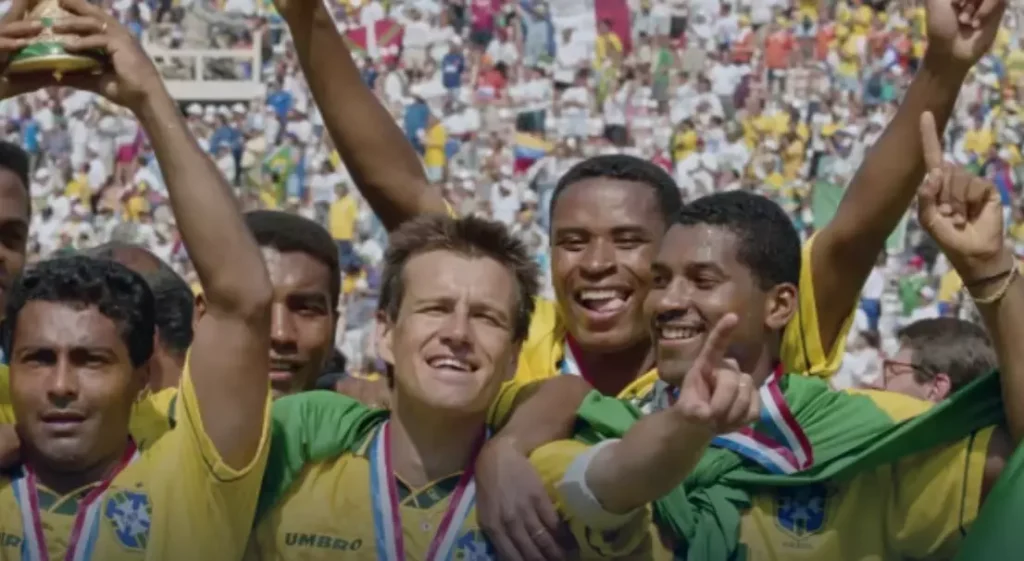 Dunga The Brazilian Captain
How important were you to the Brazil national team during your time as captain?
Dunga: I was only as important as all the other players. Everyone had a job to do within the Brazilian national team. I think the most important thing was our conviction. We'd played a game in Paris the year before, and after that, we sat down and discussed our objective.
We wanted to be world champions, so we had to overcome all the obstacles in our way and make the necessary sacrifices. We concluded that the group was more important than any individual and that we wouldn't repeat the mistakes of 1990. We asked ourselves what our expectations were, and our response was to become world champions.
To achieve that, we'd have to work hard, organize ourselves, and be determined. There would be no room for self-importance; our main objective had to be winning the tournament. To achieve this, we'd have to focus on this goal and resolve any problems we had.
How did you become Brazil national team captain? Was it Parreira's decision or that of the players?
Dunga: It was head coach Carlo Alberto Gomes Parreira's decision. When you're captain, the armband you wear is not that important. What matters is your sense of purpose. So I carried out a captain's duties even before I wore the armband, just as other players did when I was made captain.
That's because you need more than one person to lead a team. In my understanding, a leader is not someone who imposes their opinions, but someone who the group guides. So I only carried out the orders and the objectives that had already been decided upon.
When we made collective decisions, it made it so much easier out on the pitch to get someone's attention, to remind people what we'd agreed on beforehand, and what each person's responsibilities and role were. However, that was not my domain. The squad made those decisions earlier.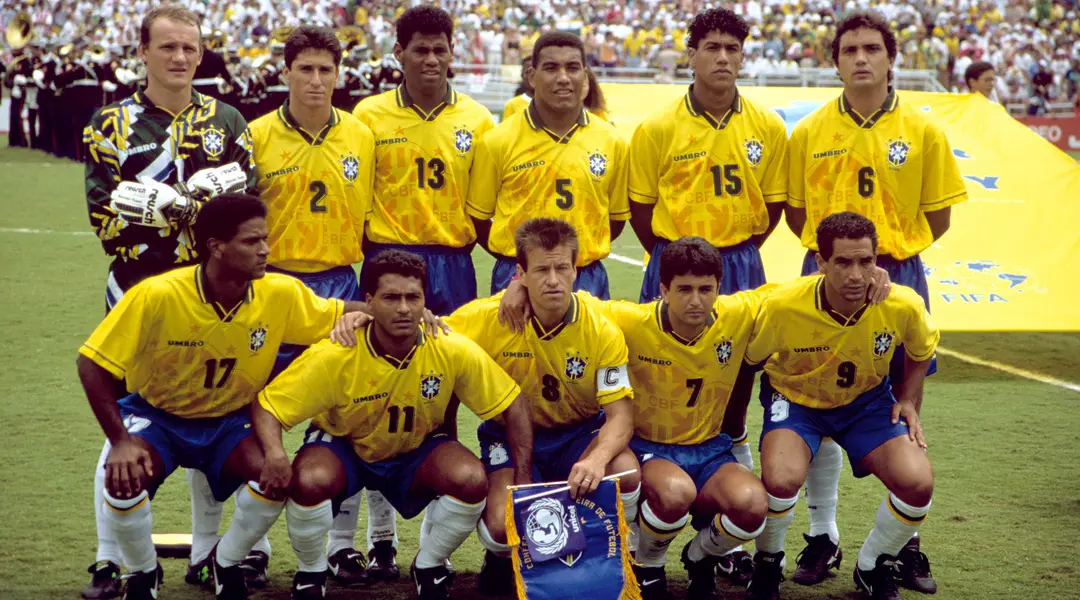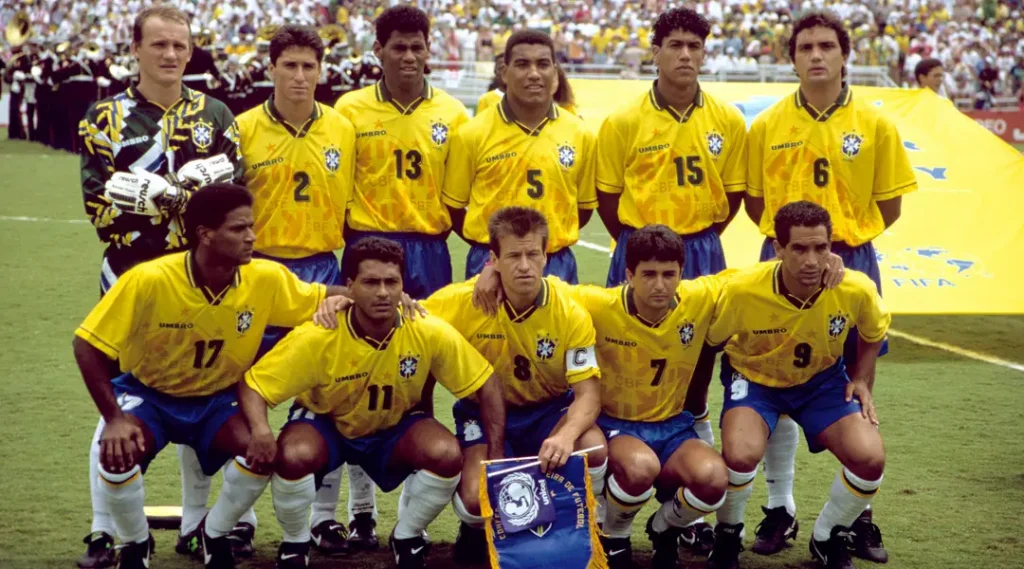 1994 World Cup Tournament
Did the frustration of 1990 help the team succeed in 1994?
Dunga: Yes, it helped a lot because all of us wanted to be go down in soccer history as winners. At that get-together in France, we concluded that we wanted to be world champions, and to do so, we couldn't commit the same mistakes as in 1990.
We already had a good idea of what a World Cup meant, and for some players, it would be their last chance to be champions. We wanted to go down in history and for Brazil to re-establish its hegemony. After that, things took their course naturally.
At the time, did you feel the burden that came with Brazil's 24-year world title drought?
Dunga: Of course. People don't understand what it means for Brazil to go 24 years without winning a title. Our team may not have been the most technically brilliant Seleção, but we had the most personality and strength of character. In Brazil, very few players can perform under that kind of pressure because it's not just the pressure of one state.
You're under pressure from the whole of Brazil. Our fans put a lot of pressure on us, with the news appearing in the papers and TV. So the Brasil squad became very withdrawn, and we didn't allow ourselves to get involved with the news of what was happening back in Brazil so that it couldn't affect us.
We did a psychological study, and we concluded that if we carried on receiving news from Brazil, we wouldn't be able to go out on the pitch and train with our typical Brazilian exuberance. We weren't going to be bothered about training properly as we'd be too concerned about the bad news. T
hat's why we shut ourselves off from the world and focused solely on winning the World Cup trophy.
Take, for example, a country like Cameroon. With all due respect to them, they have never won anything, yet you saw what happened when their footballer missed a penalty that would qualify them for Germany 2006.
If that happened in Cameroon, can you imagine what would have happened if Brazil had reached a final and missed a penalty? We were aware of that pressure, but we didn't get hung up on it. Our only concern was to fulfill our objective.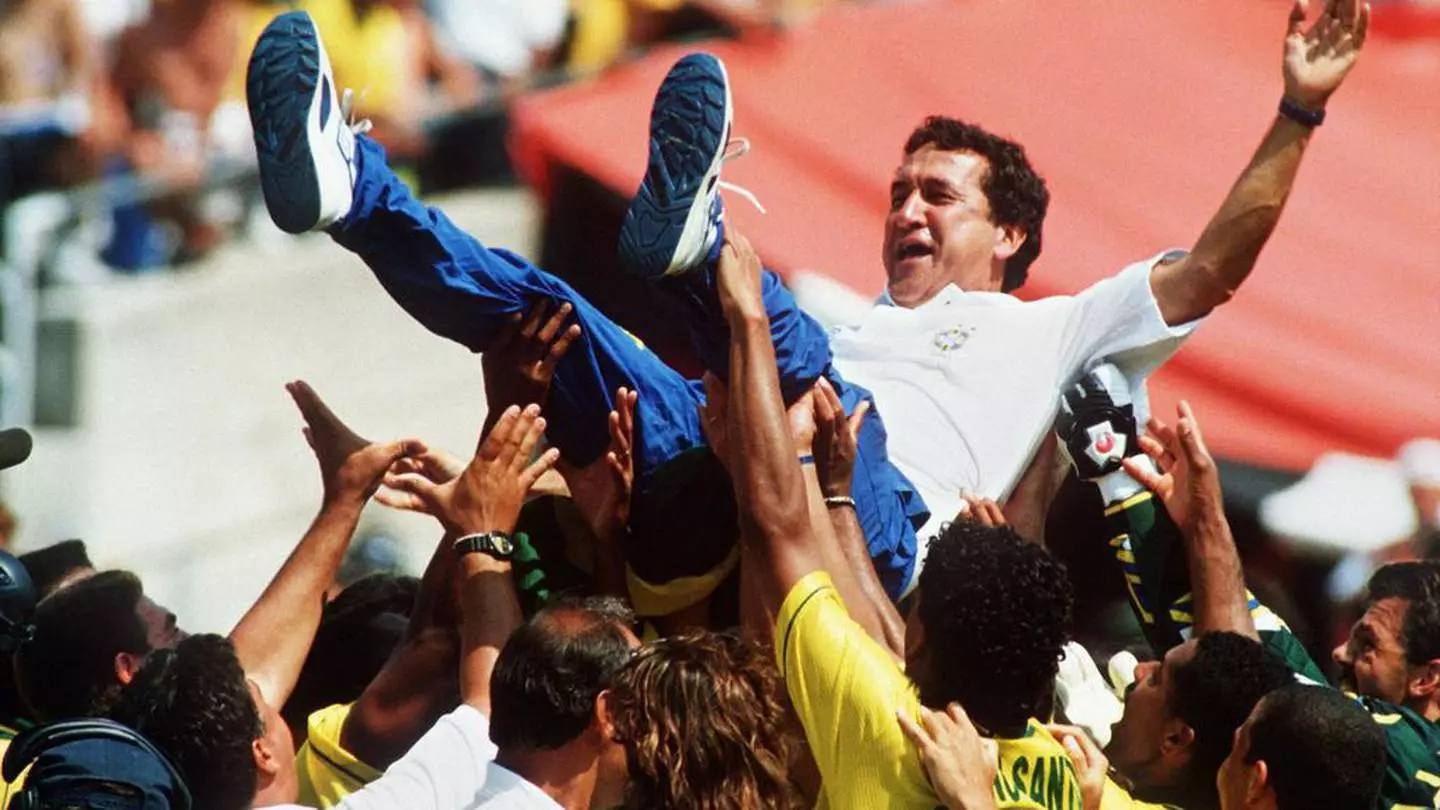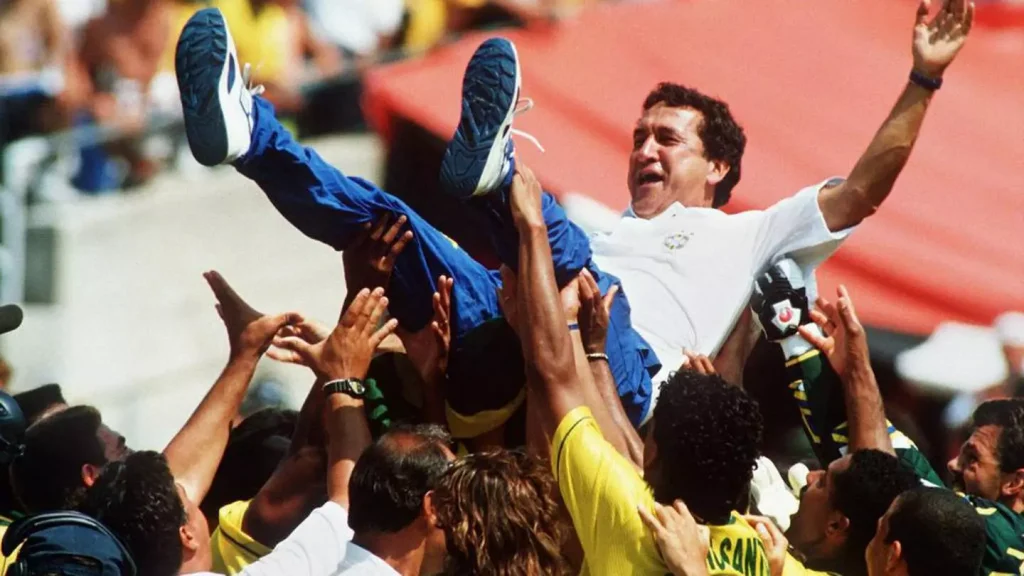 Head Coach Carlos Parreira
What can you tell us about Carlos Parreira as the Brazil coach?
Dunga: Parreira is a different kind of head coach to those that the Brazilian press and fans are used to. We're used to coaches that talk a lot, who shout a lot from pitchside. Coach Parreira is a calmer individual who's very intelligent and well-prepared, just like coach Zagallo.
They took all the decisions; they managed the squad well because everybody knew what was expected of each one of us. He knew how to get the message through to each player about what their role was, and, at the same time, he gave us a license to talk about things between ourselves.
He used to ask us about how the European teams played, about the characteristics of each player, the way each team trained. Because of all of this, he was very prepared, and when we took to the field, we already knew what we had to do.
Can we talk a bit about tactics? Taffarel said that he didn't have much to do in 1994 because Brazil defended so well. Was that the principal strength of that team?
Dunga: Brazil coach Parreira always said: "Brazilian players know how to play when they have the ball." Our only problem was how to organize ourselves defensively when we didn't have the ball. To make use of all the technical quality we had at our disposal, we needed to win back possession as quickly as possible.
It was widely assumed that Brazil's two ball-winning midfielders were defensive tactics, but it was the opposite. The idea was to play as far away from our goal as possible and win the ball as quickly as possible so that Bebeto, Romario, and Zinho could get involved and Jorginho, Branco, and Leonardo had time to get forward.
Therefore, our job was to bring the team out as far forward as possible, as far away from our goal as we could. As a result, when our opponents played the ball out from defense, they would open themselves up, and we'd be able to win the ball only 20 or 30 meters from their goal.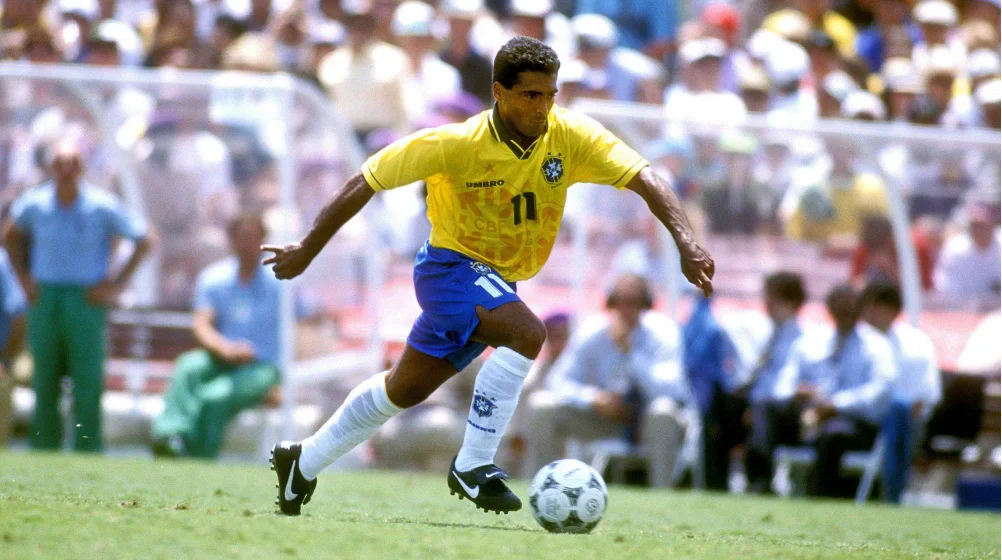 Which would you say was the most difficult game during that tournament?
Dunga: In my opinion, our most challenging game was against the United States because, quite apart from the technical side, there was such an atmosphere and an entire stadium against us on what was America's Independence Day. All of that had a considerable influence.
From a psychological point of view, the Holland game was also tricky because, after leading 2-0, we allowed Holland to level things at 2-2.
The team's maturity shone through as we got ourselves back in front from then on. That game meant a great deal to the squad because Branco had only just come into the team, and he was the one who turned the tide back in our favor. That strengthened the team's resolve.
When were you sure Brazil national team would win that world title?
Dunga: Well, you're only ever certain when you've been crowned champions. However, we believed from early on that we'd get there because we had an obvious objective, unlike 1990. There was an absolute conviction and focus about us.
When we spoke to each other before the games or in training, you could see the resolve in players' eyes, as if they were already on the field, thinking about what they had to do.
How important were Bebeto and Romario to that team?
Dunga: As important as Taffarel, Aldair and Dunga. Everyone had their role. Of course, we know that the players who get the goals are seen differently by the press and the fans. Take Aldair, for example. You had almost the perfect player; he was technically gifted, robust, agile, and very skillful.
Then there was Branco, Jorginho… Each of them played a critical part in deciding the destination of that competition. And, of course, Taffarel himself, who always came up trumps when needed. We can't say that one player wins you the World Cup trophy. Yes, of course, you can have outstanding players, but without a united group, winning is a struggle.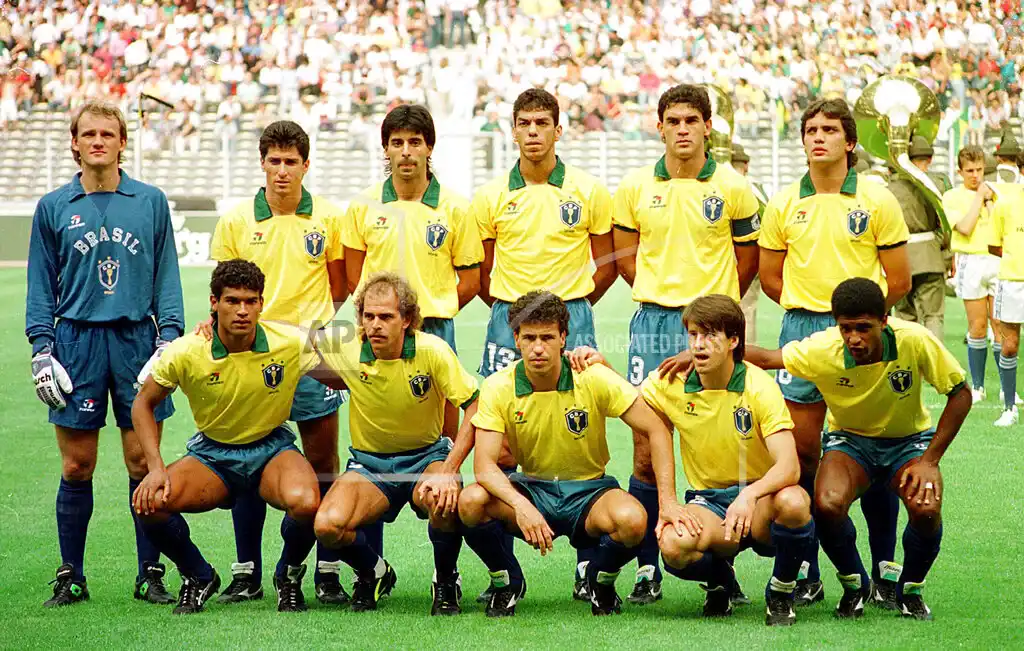 1994 World Cup Final
What did you say to your teammates before the Final?
Dunga: I told them we were doing what we did best – playing soccer – so there was nothing to fear. I also said that if they had ever dreamt of playing in a World Cup Final, now was the moment to fulfill those dreams and see our names go down in history.
Finally, I told them we couldn't allow the pressure or stress to affect us and that everything was up to us.
Do you think that the Final was a good game?
Dunga: Yes, it was a very even game, as you'd expect for a World Championship match between Brazil and Italy. We had chances to score, as did Italy. The clash was decided on penalties for the first time, and journalists had always claimed that Brazilian players weren't emotionally balanced enough to take good penalties.
That just allowed us to put paid to another myth. It had been 24 years since Brazil won, and that was a way of showing how well we'd prepared. That generation of players was able to show why they were there at that moment in time.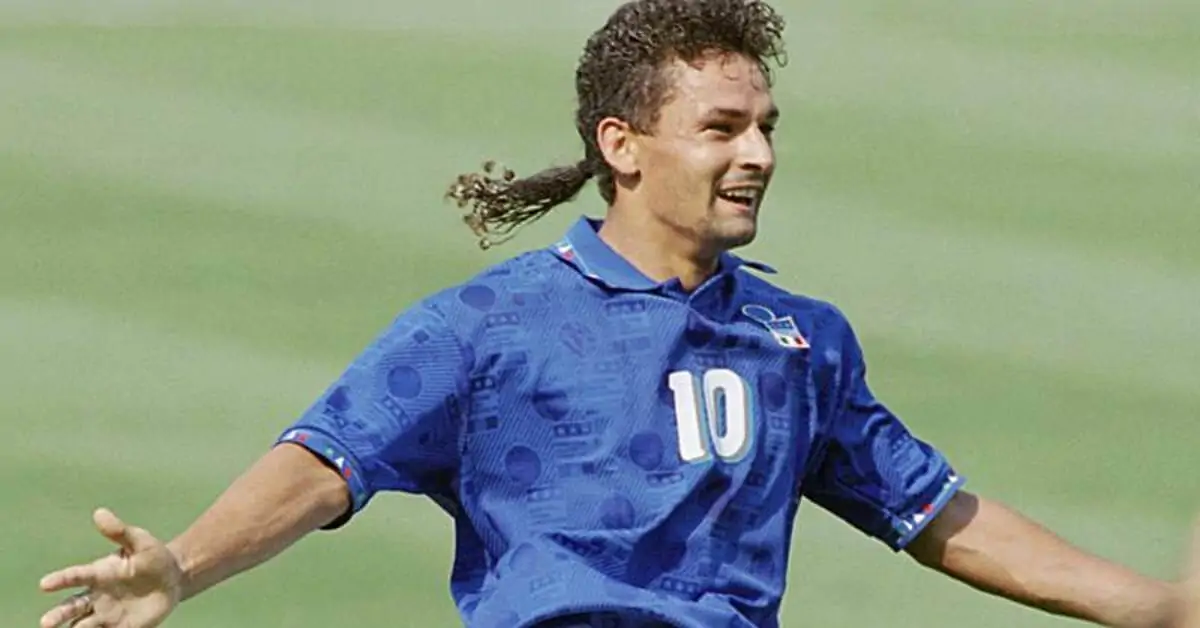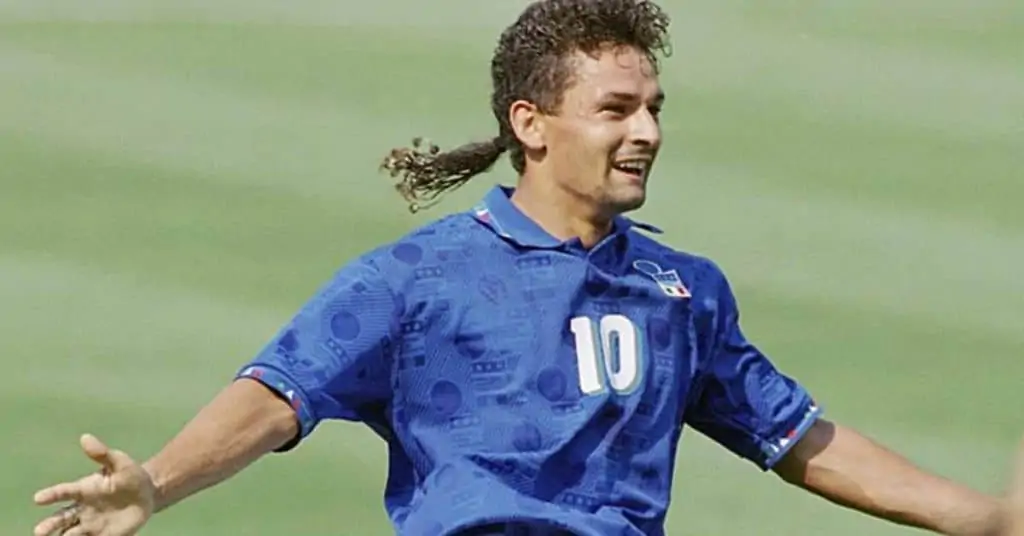 Your task was to nullify the threat of Roberto Baggio. How did you prepare for this?
Dunga: I was ready to play one second, 90 minutes, or every game at this tournament. That was the mentality of every member of the national team. We can't say that it was just about Dunga or Taffarel.
We were all prepared to start the game, play one minute or the full 90, and mark whoever we were told. As far as we were concerned, there's no doubt that Baggio was supremely talented, but you have to remember that our training sessions were even more difficult than facing other sides.
We had Ronaldo, Viola, and Cafu, so you get an idea of the kind of quality we're talking about. We were effectively playing during training; such was the quality of the squad. We had players on the bench as good as or better than those we had to face.
But going back to Baggio, without a doubt, if we gave him a second, half a yard, or even ten centimeters, he could decide the game.
Was the World Cup Final the best game of the tournament, in your opinion?
Dunga: I don't think so. There were games where we played very well, such as against Cameroon. That said, a title-decider is always more memorable. Winning a World Championship is not solely a matter of technique. Perseverance and unity are also essential.
The key, however, was staying mentally composed. Without that, we couldn't have shown our true talent. Therefore, a Brazilian side that wins the World Cup does so because it is emotionally very stable.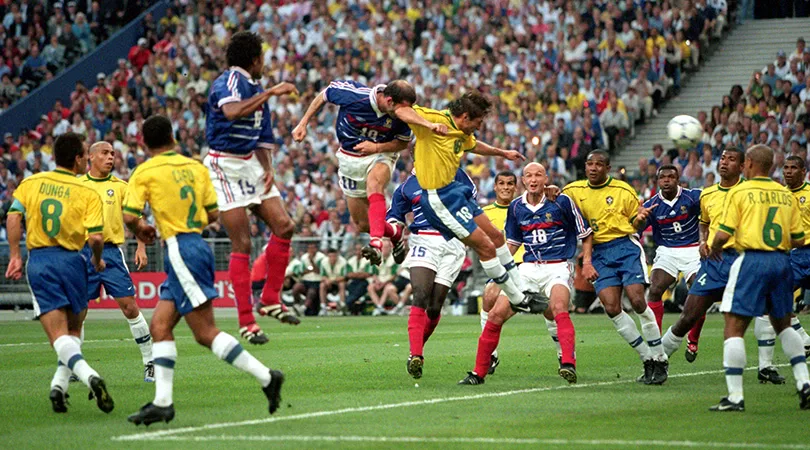 During the Final, the Trophy was not very far from the pitch. Were you conscious of that on the day?
Dunga: No, and, to tell you the truth, I didn't think about the Cup at all, just the thought of becoming world champion. But, of course, finally lifting the Trophy is something extraordinary, but I think much more about it now than I did then.
When I went to play in Japan, people said to me, "Only 17 people have ever captained a national Brazilian side to a competition win, and you're one of them." That's when I began to realize the importance of what we'd achieved. However, my only thoughts were on winning the game.
As I said earlier, before the game, we imagined ourselves on the victory podium, so I only thought about winning. I saw all of our group standing there waiting to be crowned champions in my imagination.
Here was an entire generation of players that had won everything but had yet to be given the credit they were due back in Brazil. We knew that for this to happen, we'd have to win the World Cup trophy. That was our only thought.
What was the feeling among the players when they realized the game was going into extra time?
Dunga: The word "calm" is not the one I'd choose to describe the atmosphere in the camp. We were tense because of the situation, but we knew what we had to do and believed in ourselves. So, "focused" is the right word to use.
The squad was focused, fully aware that we couldn't give them any space; that we couldn't make any mistakes, because if you make a mistake in the Final, you don't have time to recover from that, especially against teams that are as well-drilled as Germany, Argentina, or on this occasion, Italy.
So, we couldn't afford any mistakes, and we'd have to wait for the right moment to kill the game off.
You took a penalty kick. How did that decision come about?
Dunga: The decision was taken during our training sessions. We always said that talent had to be complemented by dedication and practice. When I said earlier, we played by training and trained by playing. I meant just that.
We practiced penalty kicks in training as if it were a game: all the time remaining focused, confident, and imagining you were trying to score against the opposition keeper. With Zetti, Gilmar, and Claudio Taffarel as our goalkeepers, we had three keepers who were experts at saving penalties.
That's what I'd trained for. There's a moment in training when it feels like the real thing, but it's different when it comes to the game itself. It's one thing to take penalties in practice, but when the time comes, and there are no second chances, it's quite another.
It felt like I was plunging into freezing water when head coach Parreira started walking towards us and said my name. But at the same time, as I felt that shock, I began to recall how I'd wanted to play for Brazil since I was a kid. After everything that happened to me in 1990, I was made the scapegoat, and people spent four years criticizing me.
So, that was my big chance. Despite soccer being a team sport, that moment comes down to individual skills. I had to rise above those who'd criticized me and ensure I didn't disappoint my supporters. That was my big chance to do just that.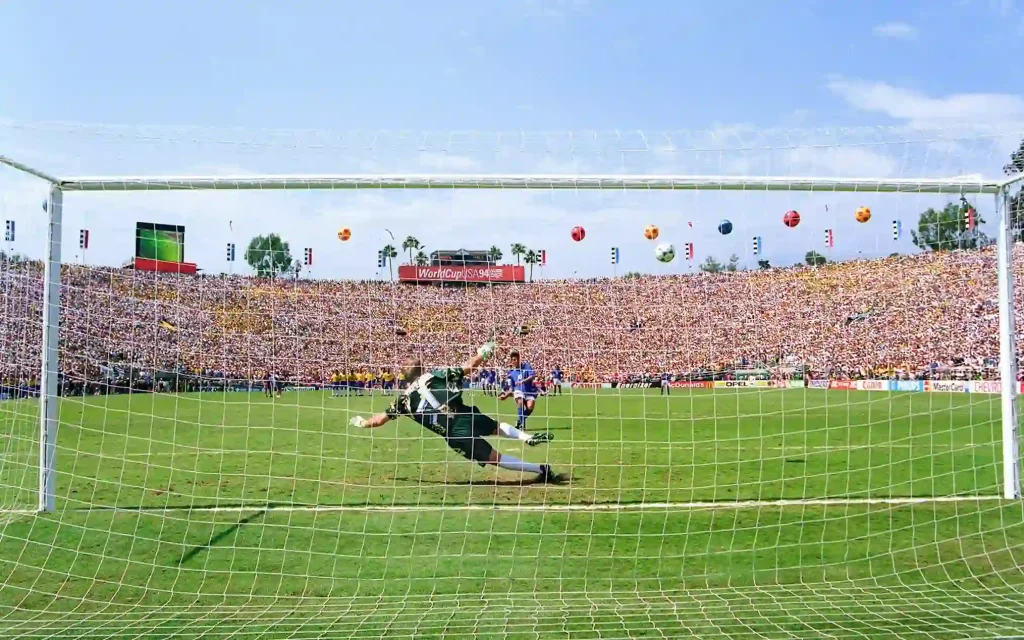 What went through your mind as you made the long walk from the center circle to the penalty spot?
Dunga: Moments earlier, Taffarel had blocked Massaro's spot-kick, and it rebounded towards midfield, where I caught it. At that moment, I began to think about everything that had happened in my professional career, particularly Italia '90. I said to myself, "If I miss this, I'll never be able to go back to Brazil. That will be the end of me."
But at the same time, I began to think about all those things I mentioned: my dreams, about how many people were rooting for me in Brazil and around the world, not to mention my relatives and friends. All these people believed in me and had great confidence in me, and now was the time for me to show as a defensive midfielder I was worthy of that.
I said to myself, "I've trained for this, and so I can do it. This depends on me."
Having practiced a lot with Gilmar and Taffarel, they knew my preferred style when I generally tried to power it into the corners. And so I began to change this during our practice sessions, also aware that, having played in Italy, the opposition would have studied my shooting style.
So in the Final, I thought it would be an excellent time to hit it differently, and I had a good fortune and ability to score.
Taffarel said Marcio had not missed a single penalty kick in training. Were you concerned for any of your fellow teammates at that moment?
Dunga: No. We were confident. We were aware of the responsibility each of us had assumed on behalf of our team and country. Mutual trust was one of the characteristics of our national Brazilian side,, as we had such a strong bond. We placed a lot of faith in Branco when he was on the mend from injury and felt he would be able to contain Holland's fastest player.
When you place your trust in a teammate who knows this, he grows in self-esteem, which helps him perform well.
Were you surprised to see Baresi and Baggio miss their penalty kicks?
Dunga: It was a surprise, given the quality and history of those players. However, the records also show that taking a penalty is not as simple as people like to think, with composure and physical condition all significant factors. In Brazil, we always say that the penalty kick is essential that the president should take it.
If you miss, you can tarnish your whole career in a split second. So, when someone steps forward to take one, he's carrying that responsibility on his shoulders, and he knows if he misses, no one will ever forget. So, you can imagine the tension a professional player feels when he has to take a crucial penalty kick and the composure he must have at such a time.
What went through your mind when Baggio missed his kick?
Dunga: The first thing was to celebrate, to hug my teammates. It's a joyous moment, and you don't know how to control yourself. Everything's very spontaneous and, even as it's happening, you cannot believe it. We only began to digest it after we saw the images on television. Then we realized that everything that had happened was true, not a dream. It was fantastic.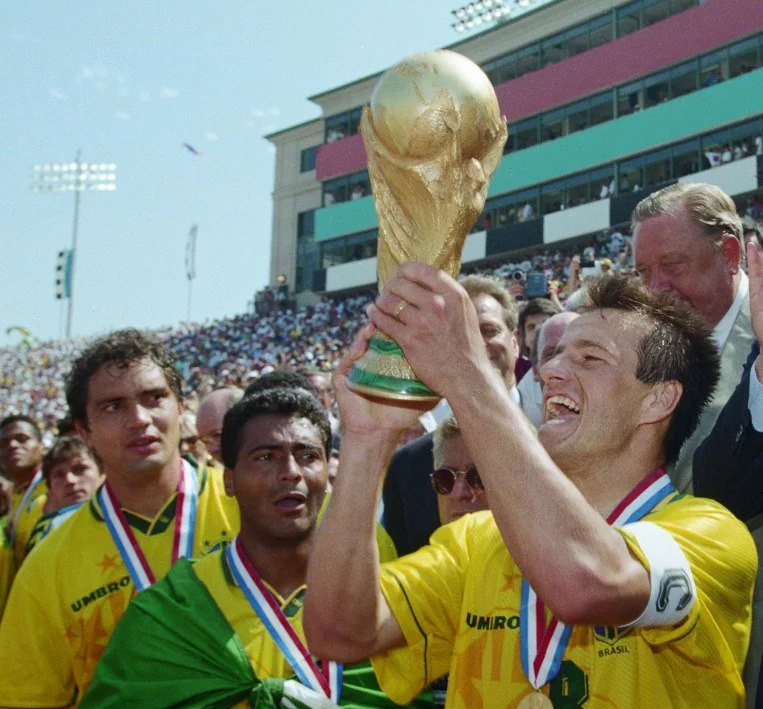 Dunga Insights On The World Cup Trophy
Can you describe the precise moment when you held the Trophy for the first time?
Dunga: Even for the Brazilian national team players, the most memorable moment was climbing onto the podium to receive the Trophy. It's a feeling unlike any other. Something exciting happened just after I received the trophy. The photographers wanted me to pose with the Trophy, but I didn't want to do that and gave them an earful.
They thought I was still angry because of their earlier criticism, but it wasn't like that. I just wasn't interested in posing. I wanted to celebrate the victory with my teammates and friends, not bother about photos. I believe things should be spontaneous and natural like our Brazilian side was.
Nothing has to be thought out, and even my way of rebuking the photographers was natural. I just wanted to be happy and celebrate, like all Brazilians were doing at that moment.
You said that Carlos Alberto passed the Trophy on to Pele, and you were next in line. What did that mean to you?
Dunga: It's a milestone in any professional player's career. Up till then, Brazil had only had three Cup-winning captains. I was the fourth of 120-150 million people. I think that I have to thank God for giving me this opportunity. Maybe it's a little like the story of Cafu.
You don't know why you were chosen to be in that exact position at that time, especially in Brazil, where there is this incomparable passion for the game.
People always ask me if that tournament was more important than in 2002, and I always say no. Every Cup that Brazil has won is essential. The only difference is that in 1994 Brazil hadn't won for 24 years. So there's a pressure that comes with that, a feeling of an overdue debt.
The country was going through a difficult period at that time. Our people needed something to boost their self-esteem to continue to work, remain competitive, and better themselves.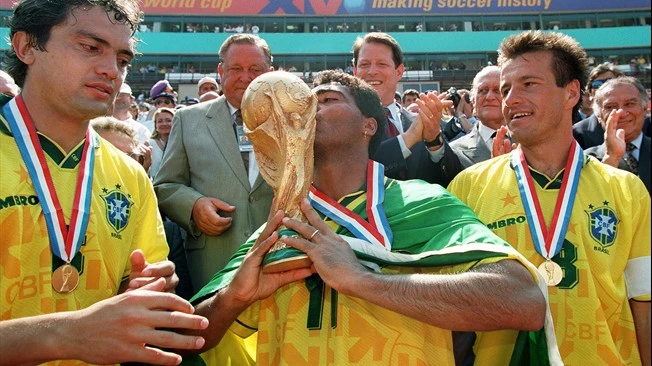 You spoke about the Brazilian people. Can you describe their reaction when you arrived back there with the title?
Dunga: From Recife to Rio de Janeiro, it was incredible, two very hospitable cities. But the big surprise came in Brasilia, which is considered a political and somewhat reserved city. Yet when we got there, the city center was packed. It looked like an anthill. There was only room for the fire truck and the Brazilian players.
Everywhere else was just a sea of people with joy etched on their faces. Bringing some happiness to the Brazilian people was the best prize of all. Our people have suffered so much, yet they're hard-working, dynamic, and very competitive. Whenever something terrible happens, the Brazilians are the first to help.
It was great to know that we could bring some happiness to a whole generation of people that had never seen Brazil national team crowned world champions. Despite having the best players and coaches, the world kept saying Brazil could not win back the world title despite playing the best soccer.
We're all born to win in life, but that all comes down to how much effort we put in, so we were teaching a nation how to win again. Talent is important and can make a difference, but there is more to it than this. There is no magic "Brazilian formula"; there's only a competitive and professional approach, which is the way everything should be tackled.
Of course, you need talent, joy, determination, and dreams, but it's challenging to succeed without planning, organization, and work. We have to provide the framework so that talent can flow naturally.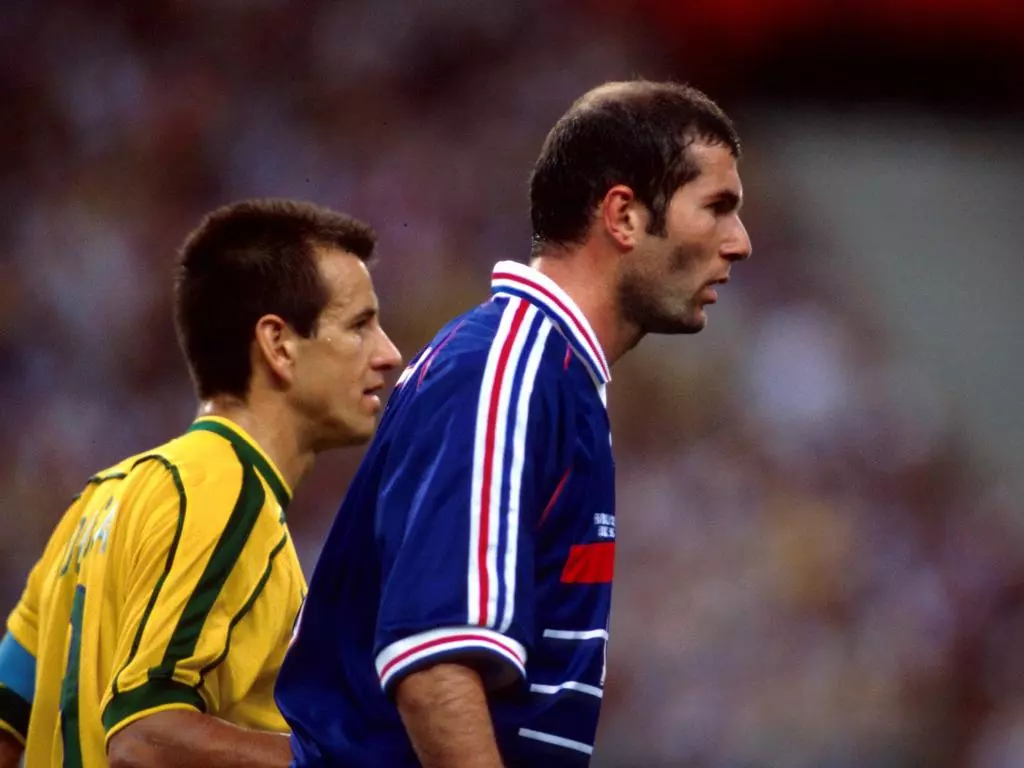 How did you feel when you won?
Dunga: I felt proud to be Brazilian, especially as the people needed something to cheer about. At that moment, we could feel proud and say that Brazil had returned to the summit of world soccer. We were world champions, the best national team on the planet, and that's a priceless feeling. The World Cup is such a massive competition that the world stops watching.
I'm not saying that other sports are less important, but success at a soccer World Cup has economic and cultural significance. The country has become known around the world because of it.
Other sports tend to speak only for themselves with their competitions, but soccer says for all sports that take place in that country. It can market your country, bring warring factions together, and does not discriminate on the grounds of wealth. It can bring people together who only want to celebrate and have a good time.
Soccer and the World Cup are so important, and, for those of us who participated, there's nothing better. As a result of playing in and winning, you become a household name around the globe.
That Final against Italy was the culmination of all the team's efforts. Was that the best day of your career?
Dunga: Without a doubt! Playing in this competition is a milestone in your career. In front of the watching world, the opportunity to compete in one or better still win would be the pinnacle of any soccer player's career. So yes, it's a day we'll remember for the rest of our lives.
Time moves on, and it's become part of history, but there couldn't be a greater treasure in our lives than this. The tournament that Brazil won (in 1994) was testimony to the friendship of that group. This was a group of talented people who worked hard and competed with each other without sacrificing friendship, mutual respect, ethics, professionalism, or transparency.
That meant a great deal. Coach Parreira used a very interesting phrase to sum that up, describing it as "friends forever." That Cup symbolized this. It wasn't winning the World Cup that made us great friends, but rather the hard work and companionship that won us the title in the first place.
How does it feel to hold the Trophy again now?
Carlos Caetano Bledorn Verri: I'm struck by how quickly the intervening years have gone by. The joy then was indescribable. So few people can win this Trophy. It doesn't belong to the other captains or me: it belongs to the people, and that's because it represents soccer.
When Brazil's manager Parreira said he wanted people to touch it, he meant that none of it belongs to us – not the game, not the Brazilian side, and not even the World Cup. It all belongs to the people, and that's the most important thing about soccer.
We showed people that we were ordinary human beings just like them and that our joy came from making others happy, entertaining them, seeing them go to the stadiums to celebrate, all in a peaceful way. Our happiness came from giving the people a World Cup triumph to celebrate themselves.
That joy, motivation, and feeling make players redouble their efforts on the soccer field to produce a beautiful spectacle.
What do you think of the cup aesthetically?
Carlos Caetano Bledorn Verri: Aesthetically, it shows a ball representing the planet, which is intertwined with soccer. In one lies the strength of the other through the union of both elements. It represents all humanity uniting behind something physically small, a ball, but which symbolizes something so huge that it manages to bring people together, using a sphere.
We thank Dunga for his time and for providing such a unique perspective for our readers.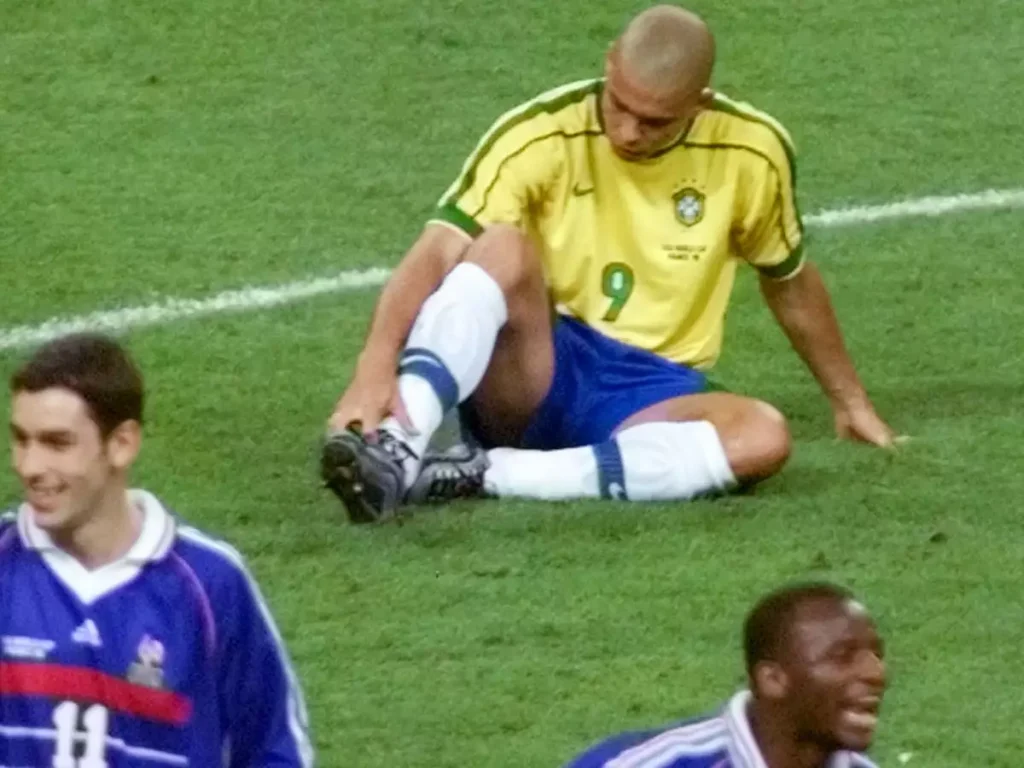 Dunga Facts And Figures
Full Name: Carlos Caetano Bledorn Verri
Birthdate: 31/10/1963
Birthplace: Ijuí, Rio Grande do Sul
Club Career:
Internacional 1980–1984
Corinthians 1984–1985
Santos 1985–1987
Vasco da Gama 1987
Pisa 1987–1988
Fiorentina 1988–1992
Pescara 1992–1993
VfB Stuttgart 1993–1995
Júbilo Iwata 1995–1998
Internacional 1999–2000
Total: 377 Appearances, 42 Goals
National Playing Career:
Brazil 1987–1998 (91 appearances, 6 goals)
Playing Honors:
Internacional
1982, 1983, and 1984 Rio Grande do Sul State League Champions
Vasco da Gama
1987 Rio de Janeiro State League Champions
Júbilo Iwata
Brazil U-20
1983 FIFA U-20 World Cup Winners
Brazil Senior National Team
1994 FIFA World Cup Winners
1997 FIFA Confederations Cup Final Winners
1989 and1997 Copa América Champions
Teams Coached:
Brazilian Football Manager 2006–2010
Internacional 2012–2013
Brazilian Football Manager 2014–2016
Coaching Honors:
2007 Copa América Winners
2009 FIFA Confederations Cup Final Winners
Individual Honors:
1994 and 1998 FIFA World Cup All-Star Team Selection
1997, 1998, 1999, and 2000 FIFA XI
1997 J. League Most Valuable Player