While most coaches prefer strong defense and tight marking, Tele Santana guided his players to seek attack and goals. As a manager, Telê was a master at attacking football. The Brazilian national team only needed a draw against Italy, in that fateful game for the 1982 World Cup in Spain.
Telê never abandoned the audacity to seek the goal-scoring opportunities, even if the price of an open defense cost the elimination of his team.
n 1971, Atletico Mineiro became the first Brazilian team to win a championship under his guidance. 
Telê did not give up his offensive concepts and the personal reward came in the 1990s, when he became a two-time interclub world champion as coach of São Paulo, in a team 'designed' in his own way.
His Background
Telê Santana da Silva was born in Itabirito, Southeast Brazil on the 26th July 1931. The son of a local soccer team's coach and president, Tele Santana showed initial promise as a center forward. Fluminense FC signed him at the age of 20.
The coach, Zeze Moreira, thought Santana's talents would be best served on the right-wing. His slight and small stature along with agile movement, quick feet, and an intelligent soccer brain ideal for exploiting Brazil's radical change from its traditional WM or 3-2-5 formation to the zonal defensive style of play transforming Brazilian soccer.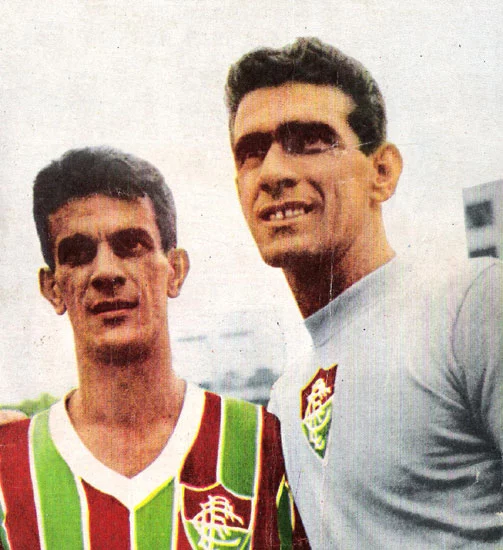 Tele Santana Plays For Fluminense
Telê Santana's career as a soccer player at the club level saw him represent Fluminense for 12 years earning several medals including two state championships. In a different era, he would have represented the national side but his pathway was blocked by 'Julinho' and the famous 'Garrincha'. Eventually, he retired as a player in 1965.
Santana was a special player, but it was as a coach/manager that Tele Santana would earn world-renowned respect and success. His first professional appointment in 1971 culminated in Tele Santana leading 'Atletico Mineiro' to the first-ever Brazilian national league title. Yet it was when the Brazilian National Team came calling in 1980 and Santana was 'charged' with taking over the famed 'Selecao' his road to greatness started.
Perfecting Soccer
Brazilians often state that the English invented soccer but they perfected it. Yet, these words rang hollow without a World Cup win since 1970 and more worryingly playing the unattractive soccer. Something needed to change. The belief was Tele Santana could be that change with 37 wins and 5 losses from his last 52 matches in charge.
Likable as was his mentality that he would rather lose playing good Brazilian football than win playing mediocre stuff, as well as an outspoken critic of corruption in the game, Tele Santana would prove a popular choice.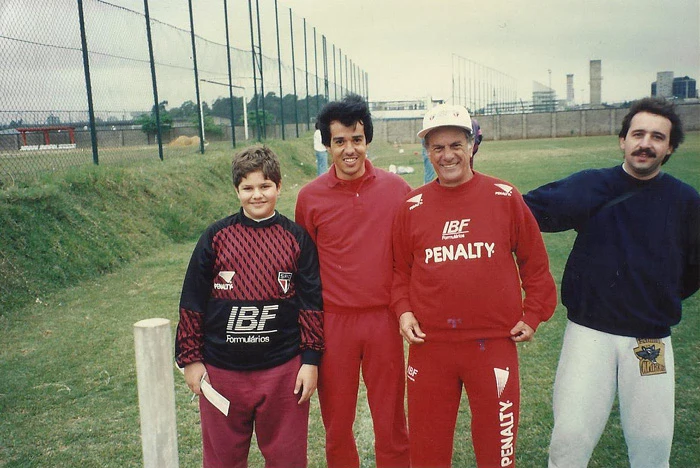 Brazil football fans approved of his managerial methods and tactics. Tele knew how he wanted the game played – the 'Joga Bonito' way! Indeed, Santana drilled this philosophy into his players and did not stop until they shared his vision. Once they did, the results were outstanding.
1982 World Cup
Under Tele Santana's 'Joga Bonito' system, the focus was simply on passes that targeted a player in a better position to score. He had brilliant players who were tasked with one thing and one thing only: use their skills and creativity to score as many beautiful goals as possible.
Under Santana, 'beautiful' was about to be put back into 'the beautiful game'. Players began to understand his desire for attacking soccer and he also won over the fans. Santana's side at the 1982 World Cup in Spain was the catalyst for his eternal fame. His team 'shining a light' on a tournament like no other before or after, illuminating the spectacle with simply beautiful football.
Considered the most artful side in history Zico, Eder, Socrates, Junior, and Falcao under Telê Santana's 'Joga Bonito' system were encouraged to display their mesmerizing flicks, feints, and outlandish skills in the traditional 'samba style' and, in doing so scored 15 exquisite goals.
The attacking flair, ingenuity, and grace Tele Santana encouraged may have proven Brazil's downfall – with a defensive error-prone 3-2 loss to Italy and Paolo Rossi's hat trick.
Nevertheless, they would go down in the annals of football history as the best national team never to win the World Cup and remain forever emblazoned on the minds of those fortunate enough to have witnessed them. Brazil football fans were once again proud.
Rival nations again admired and feared them, and a beautiful template for how the game should be played had been set in motion. Tele Santana's version of 'Joga Bonito' – became the benchmark.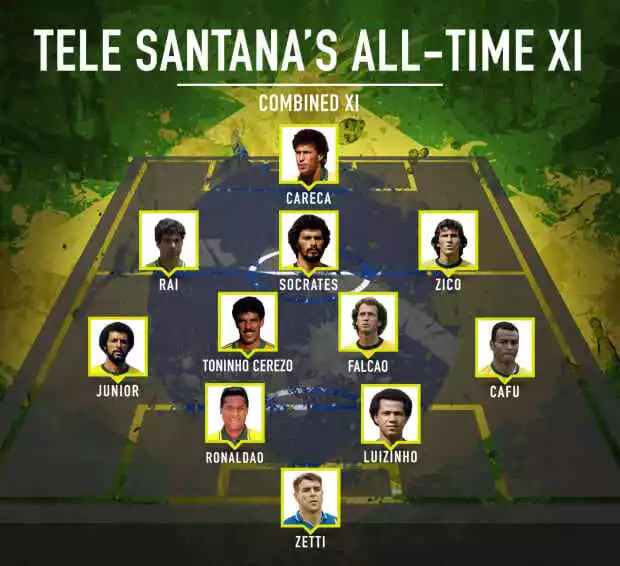 1986 World Cup
His comparable World Cup side of '86 succumbed similarly to a Michel Platini-inspired France. Inevitably, questions arose about his failures to win the World Cup, but this is the tale of a coach who wanted so much more for the game than just results.
Indeed, it was widely reported directly after the match with Italy that when Tele Santana entered the press room, every Brazilian journalist rose to their feet and applauded in homage to him, his team, and what they had witnessed. His record can be easily researched but, what's more impactful for the true Brazil football fan was the effect the man's beliefs had on the game.
'Zico' stating Santana was the only coach he had ever played under who banned his players from committing fouls! Santana himself is often known to muse – winning was optional but stunning play was mandatory. An illustration of Tele's soccer purism.
This was not to say he was unsuccessful. On the contrary, his career did not end in World Cup defeats.
Tele Santana Era At Sao Paulo
Telê arrived at Morumbi in 1990, in time to take Sao Paulo to the final of the National Championship, won by Corinthians. But that was nothing. The following year, they got their revenge against the same Corinthians, but this time for the state title. It was truly terrible luck for the adversaries because Telê lapidated his team to peak during the finals.
In 1991, Sao Paulo had already embodied Telê's style of play. The old master knew exactly how to make Raí's talent explode, and there was not a team in Brazil that could stop the intelligent, loyal club that pressured the adversary for the full 90 minutes.
After three consecutive National Championship finals, Sao Paulo would win its third title against Carlos Alberto Parreira's Bragantino. Few could believe what was happening.
As Brazil Champions, the Sao Paulo team of Telê, Zetti, and Raí (the younger brother of 1982 Captain Socrates) began the Libertadores in a rather nonchalant manner, but they began to evolve during the competition. In the first match of the final, in Buenos Aires, Newell's Old Boys won 1 – 0, but the fans knew that nothing could stop Sao Paulo.
In the return match, hours before the match, the Morumbi was already completely packed, but the fans continued to pour towards the stadium. The streets that gave access to the stadium were jammed. And driven by the roaring crowd, the Libertadores Cup was finally theirs, in penalty kicks!
Becoming Champions Of The World
The dream of the Tokyo Club World Championship had become reality. The opponents were was Johan Cruyff and his FC Barcelona team – considered the best FC Barcelona team of all times – with unbelievable stars like Koeman, Stoichkov, and Laudrup. FC Barcelona took the lead, but after two goals by Raí, the world bowed before the art of Telê Santana's team. Sao Paulo was the best team in the world.
"If you have to be run over, it's best when it's by a Ferrari," said Cruyff, after the match, commenting on the Tricolor's superiority. And when they returned, Sao Paulo made another victim in the final for the state championship. Palmeiras, which was agonizing after a 16-year title drought.
Raí only stayed with Sao Paulo long enough to win another Copa Libertadores, against Universidad Católica. He left the team to conquer France, but he was replaced by other stars. Telê reassembled Sao Paulo without Raí and for the second consecutive year, they won the title in Tokyo. The adversary was Fabio Capello's AC Milan (which had just been the only Italian club in history to win the championship without a loss).
In an electrifying match, Sao Paulo had the advantage on two occasions, with goals by Palhinha and Cerezo, but Massaro and Papin seemed to be determined to spoil the party.  Muller once again proved he was predestined and scored a goal that completely deflated Milan. Sao Paulo repeated their success by being the Champions of the World once again!
Telê Santana stayed at Sao Paulo for a total of five years. During that period, he won every possible competition by a club from Sao Paulo (except the Brazil Cup): State and National Champion, Libertadores, Conmebol Cup, Libertadores Supercup, Libertadores Recopa, as well as the Ramón de Carranza and Teresa Herrera Tournaments.
No other Brazilian club had ever won so much in such a short period of time.
Read: Regarded as one of the greatest managers of all-time – Ernst Happel.
Tele Santana Last Years
In 1996, as a heavy smoker and diabetic, he suffered a stroke and was forced to leave full-time soccer management. In 2003, more ill-health saw Tele Santana require a leg amputation on his left leg. Further hospitalization ensued and sadly resulted in the death on April 21, 2006.
At the time of his death, Tele Santana had bestowed an outstanding legacy on Brazilian soccer through his 'Joga Bonito' movement, which had enthused the world. All he wanted to do was play beautiful soccer – something he accomplished with different sides. [1]
Ultimately, he is revered by his countrymen as the savior of Brazil's art form 'free-spirited attacking soccer' with a cavalier refusal to defend and a style of play that will never be forgotten.
His legacy is perhaps best summed by the fact that if you ask fans across Brazil to name their favorite manager, don't be surprised when they simply reply, Tele Santana! [2]
Tele Satana Facts And Figures
Full Name: Telê Santana da Silva
Birthdate: 26/07/1931
Birthplace: Itabirito, Brazil
Died: 21/04/2006
Playing Career:
Fluminense 1951–1960
Guarani 1960–1962
Vasco da Gama 1963
Playing Honors:
Fluminense
1951 and 1959: Campeonato Carioca
1952: Copa Rio
1957 and 1960: Torneio Rio-São Paulo
Managerial Career:
Fluminense 1969–1970
Atlético Mineiro 1970–1972
São Paulo 1973
Atlético Mineiro 1973–1975
Botafogo 1976
Grêmio 1976–1978
Palmeiras 1979–1980
Brazil 1980–1982
Al-Ahli 1983–1985
Brazil 1983–1985
Atlético Mineiro 1987–1988
Flamengo 1988–1989
Fluminense 1989
Palmeiras 1990
São Paulo 1990–1996
Managerial Honors:
Fluminense
1969: Taça Guanabara and Campeonato Carioca
Atlético Mineiro
1970 and 1988: Campeonato Mineiro
1971: Campeonato Brasileiro Série A
Gremio
Al Ali
1983: King's Cup
1984: Saudi League
1985: Gulf Club Champions Cup
Flamengo
São Paulo
1991: Campeonato Brasileiro Série A
1991 and 1992: Campeonato Paulista
1992 and 1993: Copa Libertadores Cup and Intercontinental Cup
1993: Supercopa Sudamericana
1993 and 1994: Recopa Sudamericana
1994: Copa CONMEBOL
Interesting Facts
In 1971, Atletico Mineiro became the first Brazilian team to win a championship under his guidance. [3]
In 1986, Santana returned to Brazil after a brief stint in Saudi Arabia. [4]
In addition to their sense of fair play, Tele's Sao Paulo team refused to use rough-arm tactics to win matches. Throughout his career, he was an outspoken opponent to violence in sports and for fair play.
The strict discipline Santana imposed on players was criticized by some soccer fans.  Players also complained about Santana's attitude. When he was in Gremio, single players were not allowed out to socialize.
The media referred to him as 'the last romantic of Brazilian football.'
References:
[1] and [2]: https://www.si.com/soccer/2019/07/22/tele-santana-joga-bonito-icon-who-helped-brazil-rediscover-their-love-football
[3] and [4]: https://www.eurosport.com/football/tele-santana-dies-at-74_sto871785/story.shtml
Images:
https://www.si.com/soccer/2019/07/22/tele-santana-joga-bonito-icon-who-helped-brazil-rediscover-their-love-football (Main Image)
https://www.uol.com.br/esporte/colunas/milton-neves/2022/04/21/16-anos-sem-tele-para-voce-ele-foi-o-melhor-tecnico-de-todos-os-tempos.htm
https://www.si.com/soccer/2019/07/22/tele-santana-attack-minded-superstars-all-time-xi