Indoor Soccer is a version of association soccer that is played in an indoor walled area. The sport is usually played on synthetic turf or a synthetic carpet, and each side consists of five to seven players.
Indoor Soccer shouldn't be confused with other versions of soccer, such as five-a-side and Futsal, which are also played indoors. Unlike Futsal, Indoor Soccer is not governed by FIFA. Instead, there are different versions with varying rules, team sizes, and governing bodies in place globally.
Due to a lack of a central governing body, the rules and leagues are localized.
World Minifootball Federation (WMF)
However, World Minifootball Federation is one of the leading organizations that look after the game's development. WMF has adopted 'mini football as the official name for Indoor Soccer.
WMF has 144 member nations, and it also has regional federations such as African Minifootball Federation (AMF), Asian Minifootball Confederation (AMC), Confederación Panamericana de Minifútbol (CPM), European Minifootball Federation (EMF), Oceania Minifootball Federation (OMF) working in the sport too.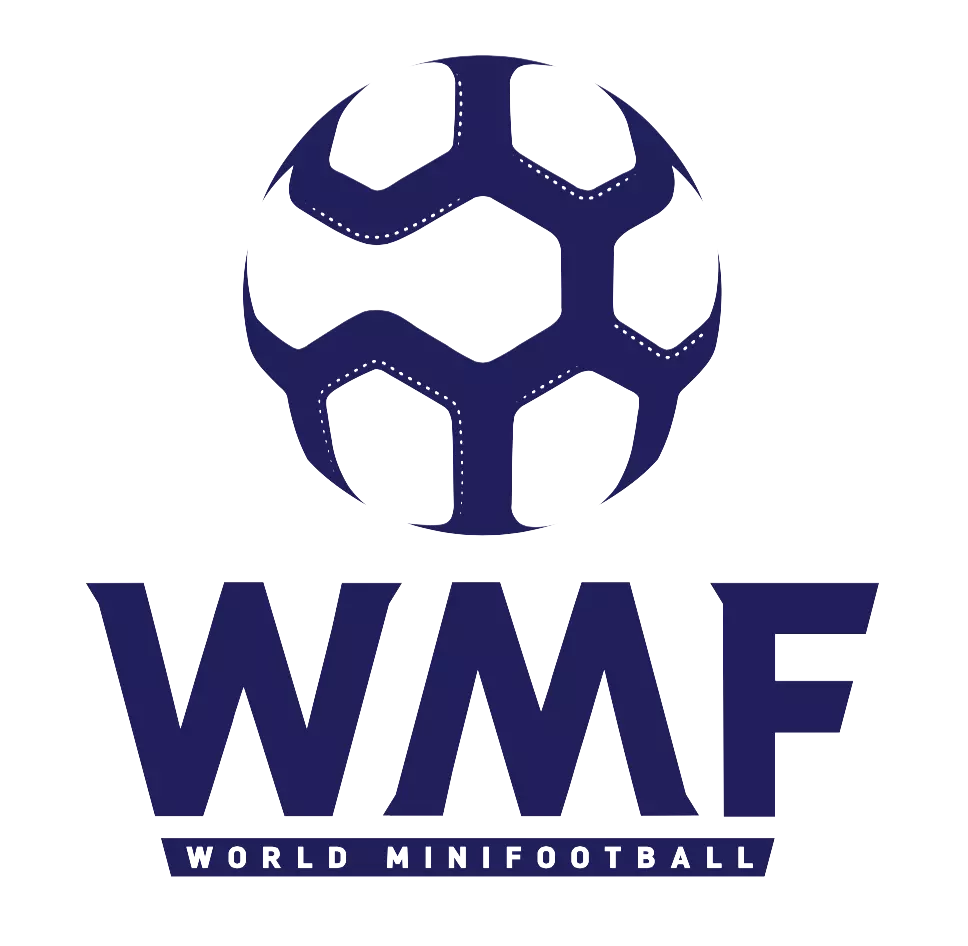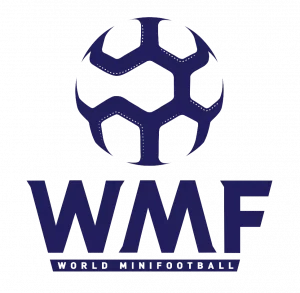 It originated in the United States of America and Canada to play soccer during winters when it becomes impossible to play outdoors in the snow. Its most popular in the United States, Canada, and Mexico, but it is also played in other countries.
It is also known by several other names such as 'arena soccer," indoor football,' 'six-a-side football,' 'fast football,' 'floorball,' or 'showball.' In some parts of the world, it is also known as 'futbol rapido' (Mexico), 'showbol' (South America), or 'futbol indoor' (Spain).
USA Win Inaugural WMF World Cup
Twelve teams from three regional federations came to the United States for the nine-day tournament for the first edition of the World Minifootball Federation World Cup in 2015. The home nation was too strong. The USA won all six matches to be crowned world champions of indoor soccer/mini football. They faced Mexico in the first WMF World Cup Final.
Indoor Soccer vs. Futsal Differences
At first glance, both Indoor Soccer and Futsal might seem like same. However, there are considerable differences between both sports. As we mentioned before, one of the significant differences is that FIFA does not recognize Indoor Soccer. Furthermore, it's played on the synthetic surface, whereas Futsal is played on wooden or ceramic surfaces.
The next big difference is that walls surround the court, and the ball always remains in play. The presence of walls omits the need for throw-ins and corners. It also encourages inventive ways to play for players as they can bounce the balls of the walls. However, this kind is more prevalent in the United States.
In other regions around the globe, one might come across different versions that allow throw-ins and corners.
When it comes to balls used in the sport, Indoor Soccer uses regular soccer balls, but Futsal deploys "low-bounce" balls. In addition, Futsal allows unlimited substitutions, but Indoor Soccer is like regular outdoor Soccer as it permits only three substitutions. Furthermore, it has the rule of offside, but Futsal doesn't enforce the same.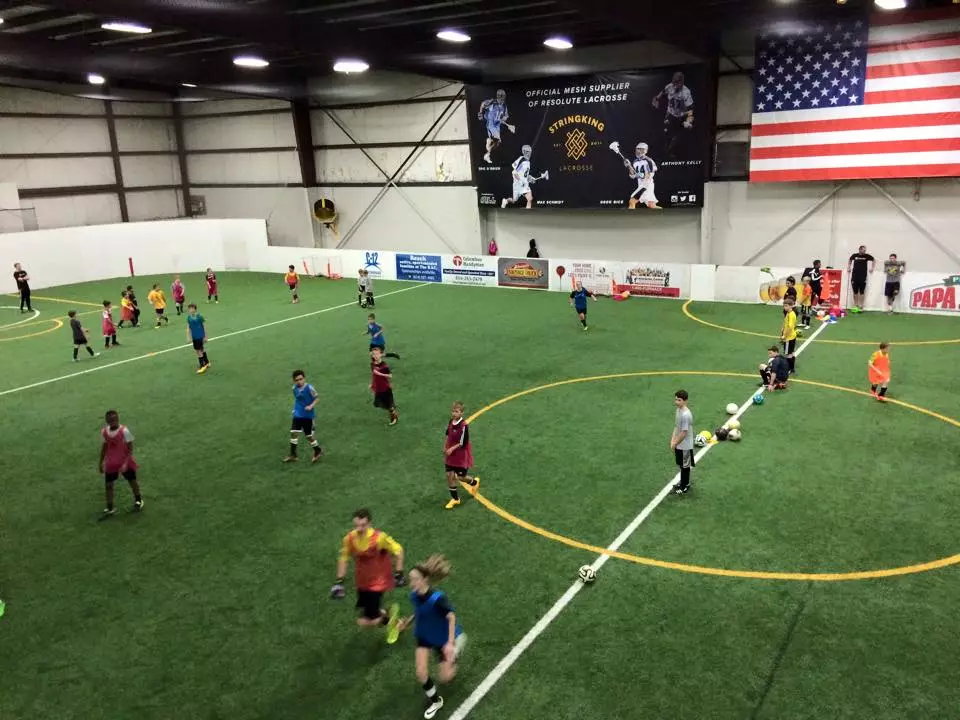 How To Play Indoor Soccer?
As we lacked before, it lacks a central governing agency. Because of this reason, there is a lack of universal rules which can be applied to the game. Hence, one might see some variation in regulations in different regions and different tournaments. World Minifootball Federation is arguably the most prominent governing body. WMF governs the 5-a-side version of the game and has a set of rules found here.
Indoor Soccer Ball
The balls used are similar to those used in outdoor Soccer. According to the WMF guidelines, a ball should be spherical with a circumference between 70 cm (28 ins) and 68 cm (27 ins).
It should weigh between 450 grams (16 oz) and 410 g (14 oz) and should be at a pressure between 0.6–1.1 atmosphere at sea level.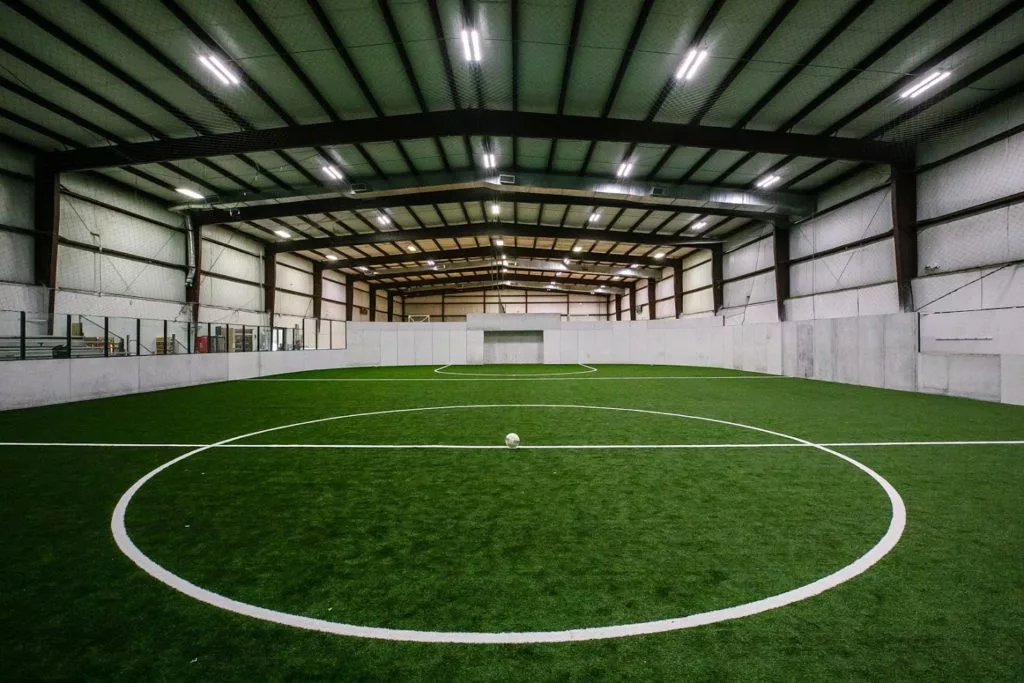 Indoor Soccer Field
In the US, a court is usually 200′ feet x 85′ feet in dimensions. North American hockey rinks have this size. In addition, soccer goals and the penalty area are smaller than outdoor soccer.
As per the WMF rules, the length of an Indoor Soccer field ranges from 46 meters to 50 meters. In the US metric system, this translates to a range from 151 ft to 160 ft. The width of the field should be between 26 meters and 30 meters, i.e., between 85 ft and 98 ft.
Goalkeepers Area
The size of the goalkeeper's area is 7 meters x  14 meters.  i.e., 23 feet x  46 feet. And the width of the goal is 4 meters (13 feet).
All lines drawn on the pitch should have the same width, which shouldn't be more than 12 cm (5 inches). The width of goal lines should be the same as goal posts and crossbar. The goalposts and crossbars must be white and have the same width, which shouldn't be 12 cm (5 ins).
The distance between the insides of soccer goal posts should be 4 meters, and the distance from the bottom of the crossbar to the ground should be 2 meters.
How Long Is An Indoor Soccer Game?
In the US, a regular match usually lasts for 60 minutes, divided into four quarters of 15 minutes each or two halves of 30 minutes each. As per WMF guidelines, a game consists of two halves of 25 minutes each, separated by a half-time break of no more than 10 minutes.
How Many Players In Indoor Soccer?
As we already mentioned, there are multiple versions. The sport can be played 5-a-side, 6-a-side, and 7-a-side. The version governed by WMF usually allows a maximum of six players per side, including goalkeeper. Substitute players are permitted when the ball is out of play.
What Is A Blue Card?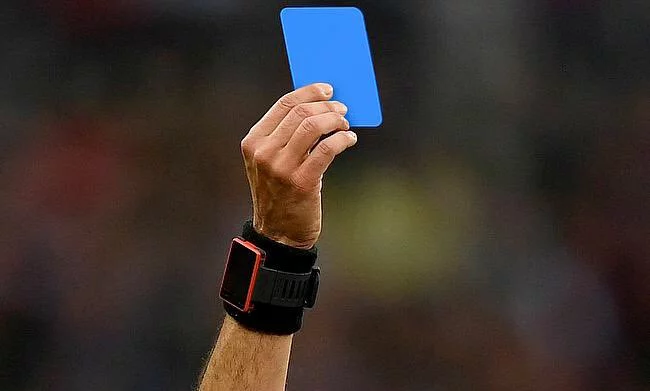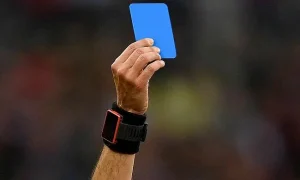 A blue card is not used in outdoor Soccer, but it is a feature in Indoor Soccer. A blue card is the lowest form of punishment that can be dished out to players. It entails a two-minute suspension for the guilty player, thus awarding the opposition numerical advantage.
Some offenses that can attract a blue card are spitting on the playing surface, minor physical fouls, persistent non-compliance to referee's instructions.
Indoor Soccer Shoes
Different kinds of playing surfaces require different types of soccer shoes. For example, as we mentioned earlier, its played on artificial turf.
Ideally, most soccer cleats meant for hard outdoor surfaces should work perfectly for artificial pitches. Unfortunately, these cleats are not meant for soft, natural grass, and they have small plastic cleats on their soles. Adidas Goletto, Puma Future 2.3 Netfit FG/AG, and Nike Tiempo Legend 8 Academy TF are some models currently available in the market.
These soccer cleats differ from typical outdoor cleats as they have smaller plastic cleats or studs. Most outdoor cleats are firm-ground cleats that have spikey rubber cleats or studs.
It also must be pointed out that leather cleats are unsuitable for artificial pitches as their surface can damage the boot. Therefore, most indoor soccer cleats are a hybrid of leather and synthetic material.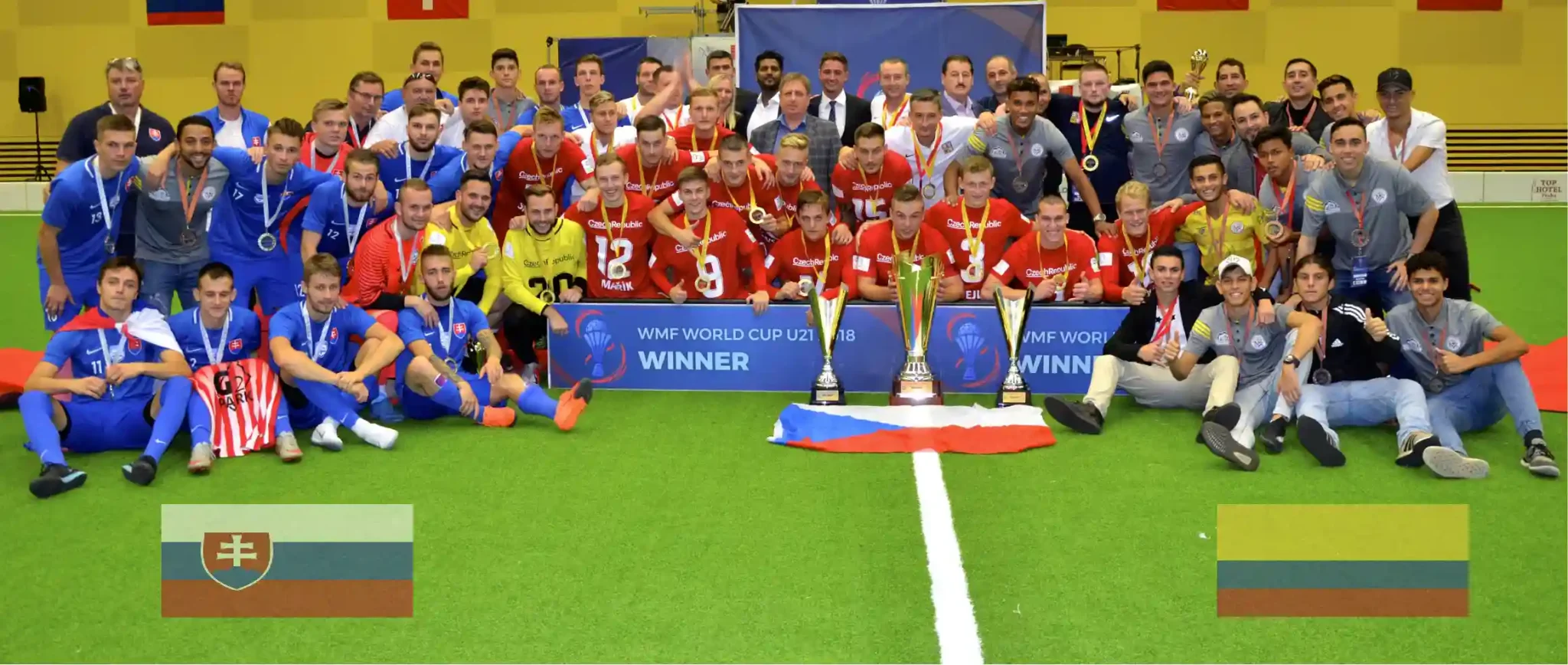 The Popularity
WMF holds Indoor Soccer World Cup every two years. The first World Cup was held in 2015, and WMF also organized a U-21 World Cup in 2018.
Star Sixes is another popular six-a-side indoor tournament. The first edition of the tournament was held at O2 Arena in 2017. The tournament featured various former soccer stars such as Steven Gerrard, Michael Owen, Robert Pires, Michael Ballack, Deco, Carles Puyol, Roberto Carlos, and Jay-Jay Okocha.
Masters Football was another six-a-side indoor football tournament that was popular in the UK. This tournament ran from 2000 to 2011.
Major Arena Soccer League is the most popular indoor league in North America. It was founded in 2008, and it has become quite popular among soccer fans on the continent.
This version is hugely popular in the frozen regions of Northern Canada as it becomes impossible to play outdoor soccer for most of the year. As a result, it has also been a part of the Arctic Winter Games.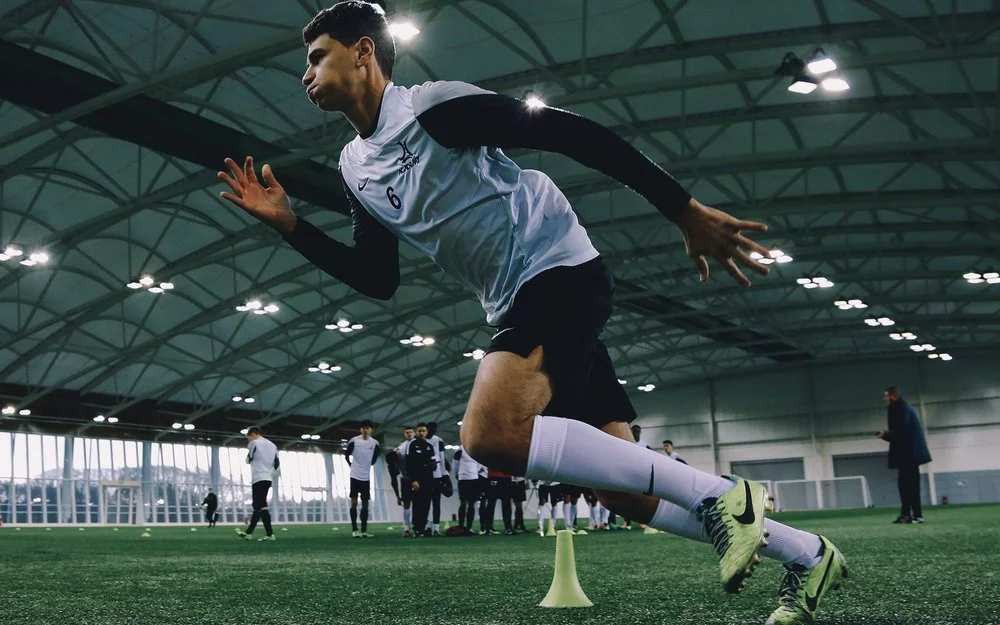 Benefits Of Indoor Soccer
Players who want to level up in the sport will find indoor soccer excellent to prepare for the bigger things ahead, such as tryouts or competitions. In addition, playing the sport offers several advantages to young and severe players and physical fitness enthusiasts.
It allows players to stay active and in tiptop shape during the off-season, which is vital if you want to go far in a physically demanding sport like soccer. In addition, the minimal breaks during play will help improve your fitness levels and build endurance and cardiovascular capacity while you're having fun with the game.
It is a great way to continue playing the game and build up and master essential soccer skills such as ball control, dribbling, quick and accurate passing under intense situations, fast thinking, and team play.
In an indoor soccer game where there are significantly fewer players than in a regular soccer match, players have more opportunities actually to touch the ball and sharpen their competitive skills. Joining your local league allows you to bond with friends and build camaraderie among team members. For those who love the sport and want to get fit all year round by playing the game, its a safer way to enjoy soccer and its health benefits.
Tactics and Strategy
You may think how much strategy can there really be in a game as high tempo and frantic. But there is, and if you are part of a team looking to improve performances, some new tactics might be just what you're looking for.
Ex-Arsenal soccer manager Arsene Wenger was quoted when speaking to FourFourTwo magazine about playing 5-side. He suggested setting up in a 1-2-1 formation. (If you are playing 6-a-side, then set up 1-3-1)
One player sitting in a deeper defensive role at all times, two 'full-backs' who would constantly shuttle up and down the pitch with the demanding nature of indoor soccer, dropping into defender alongside the one defender without the ball and supporting the one striker upfront when attacking.
This formation will ensure your team is strong while defending and offers options in attack. With many small-sided games often high in the number of goals scored, this is vital to remember.
Wenger's last piece of advice is that counterattack beats possession. This might sound strange from a soccer coach who has built his footballing philosophy on controlling matches with the ball.
Short sharp passes are the name of the game where sitting in and defending, inviting opposition teams on to you, and tempting them to lose their shape can be a hugely successful tactic.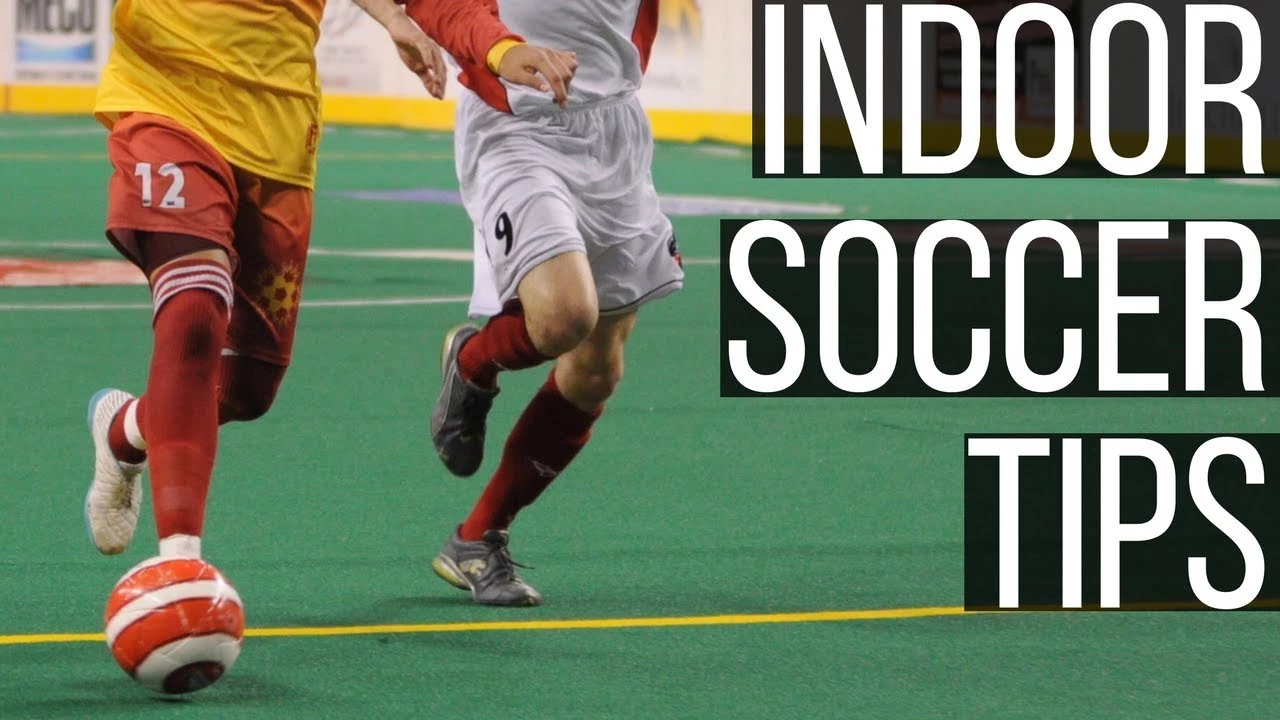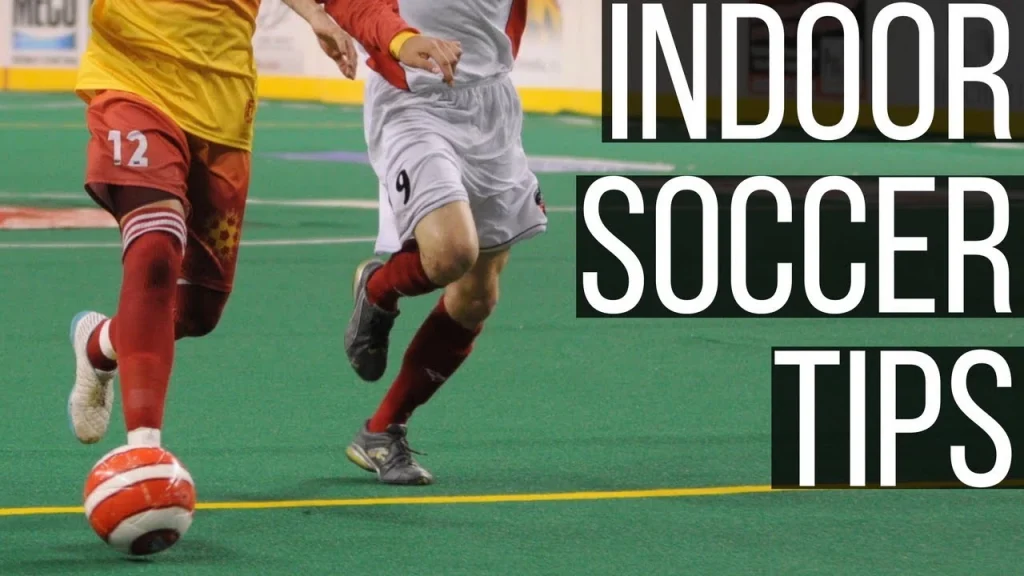 Tips For Indoor Soccer
Here are some advanced tips.
1. Always defend ball side. When protecting your goals, always make sure you defend the ball side and not the goal side.
That means if the opposition has the ball is out wide, you want to position yourself on the outside of your opponent to avoid or cut off passes down the wings on the soccer field. You want the opponents to pass the ball into the center of the field, where there is little space, and it's congested.
2. Be on your toes. As the game is quick, you need to ensure your weight is on your front foot or on your toes. The first two yards are so important on a smaller field.
3. Keep the ball low. Make it easier for your teammates to control the ball the first time.
4. First touch. Ensure your first touch is played in 1-2 yards in front of you. Never get caught with the ball under your feet.
5. Never dribble in your half. Move the ball quickly from your defensive half to the attacking half. The quickest way to get beyond the defense of the opposition is passing, not dribbling. This will allow you to counterattack your opponents.