Telmo Zarra secured his place in football's history as Spain's record goalscorer of all time, which continues to remain unmatched during his reign with Athletic Club Bilbao in the 1940s and 1950s.
'Telmito The Fearful'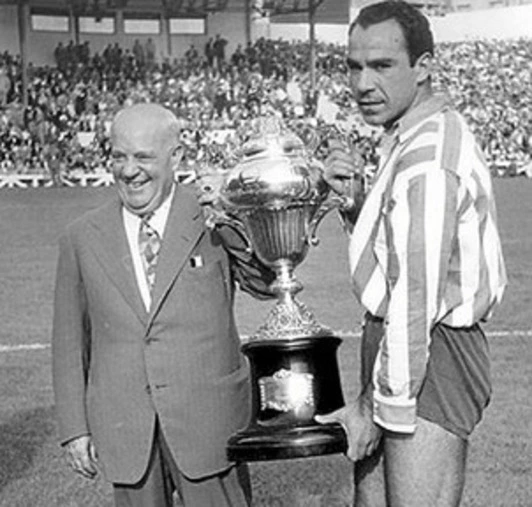 Telmo Zarraonandia Montoya was born on the 20th January 1921 in Erandio, Spain. Football was ever-present in his large family: he was the 7th of 10 children, with two of his brothers played football professionally.
This meant that, whereas other children were playing with improvised balls, Zarra had the luxury of having an actual one to play with. This allowed him the opportunity to refine his already thriving talents.
The young Telmo Zarra had the ambition of following in his brothers' footsteps, and it was immediately visible that he was on his way to achieving, if not surpassing, this desire.
Initially, his parents tried to discourage Telmo from playing football as they felt that having two footballers in the family was enough.
Times were tough and there was too great a risk of financial unpredictability and the danger of early retirement due to injury. His parents, having failed to change Telmo's mind, supported their son in living his dream to become a Spanish football forward.
Telmo Zarra played for various local junior clubs which allowed his natural talents to flourish – his superior control of the soccer ball and goal poacher's instincts became evident.
Unlike others who would have put their talents on display, Zarra being timid by nature was almost embarrassed about his gift; he was cautious in his style of play, and being so self-conscious, earned the nickname of 'Telmito the fearful'.
Telmo Zarra signed his first professional contract with Segunda División side SD Erandio Club, and although they were relegated during his first season of 1939-1940, Zarra's confidence continued to grow after his junior career, fuelling him to expose his natural abilities.
Dizzying Highs And Devastating Lows
Athletic Bilbao, having just exited their golden era in the late 1920s and early 1930s, was now equipped with a young and talented home-grown team derived from the Basque region.
With a competitive team in tow, the 1940s were one of their most glorious and historic periods. Although the Spanish Civil War halted the flow of silverware, a side commanded by Zarra was to bring home a multitude of trophies during his time with the club.
Telmo Zarra who was now part of 'Los Leones' (The Lions), made his top-flight début with Athletic on the 29th of September 1940. In his first match, against Valencia CF, although having scored both goals (the first in just 17 minutes into the game) it ended in a 2-2 draw.
His first season concluded with a second spot league finish. Zarra had made a great first impression and proved to be an inspired signing.
Unknown to his club, Telmo Zarra was to take 'Los Leones' with him on an amazing journey to becoming one of his country's greatest legends!
The previous season's highest scorer was absent during most of the 1941-42 season as a result of military service for the Spanish army. He was stationed in Ceuta, and while there he managed to play in some friendly and competitive matches.
Upon his return to the club, Zarra experienced one of the biggest disappointments in his career. In the 1942 Copa del Generalísimo final (the Copa del Rey), Zarra missed a mammoth opportunity during extra-time of scoring the only goal in the match – Barcelona ended up victorious.
League And Copa Del Rey Double
Fortunately, Telmo Zarra did not have to wait much longer before his first major title with 'Los Leones'. The following season, Athletic secured their double by claiming the league title and the Copa del Generalísimo, beating Real Madrid in the final.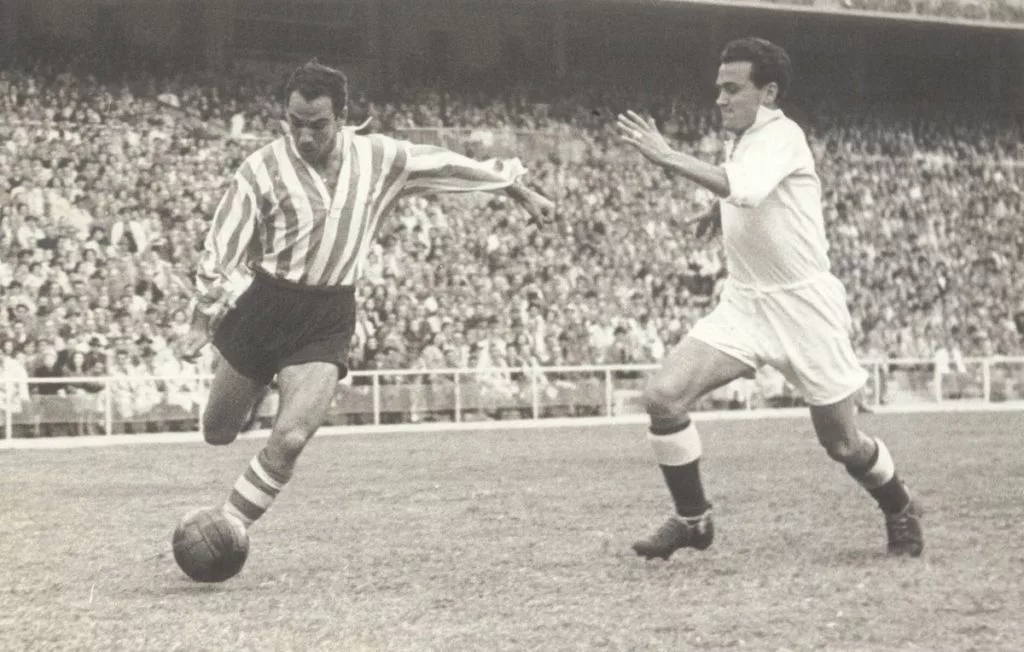 Although it was a hard-fought match, the Spanish football forward scored the only goal, redeeming himself from the previous year's nightmare.
Athletic's triumph in the 1945 Spanish Super Cup final was marred by one of Zarra's most heartbreaking moments in his career. During the 86th minute of their league match against FC Valencia, one of their players fell to the ground.
Telmo Zarra jokingly made a move to trample the fallen player, which unfortunately was not seen in the same light by the referee, who expelled him from the game!
This expulsion was the first and only suffered by Zarra, and in reference to the incident, he said that it had been a 'misunderstanding', whereas the referee interpreted the 'joking' gesture as being aggressive. On a positive note though, Athletic Bilbao did go on to win the match 3-2 and clinched the major trophy.
By now, the top scorer was feared by clubs in Europe for being a goal poacher and for his awe-inspiring headers, and by the age of 30, he had reached his prime.
In the 1950-51 season, he finished the league campaign with a Primera División record as the Spanish league's top scorer for the 4th time in 6 seasons, with 38 goals in 30 games.
This La Liga record stood for 40 years before being matched by Hugo Sánchez in 1989-90. Zarra's and Sánchez's record was finally shattered with 41 goals by Cristiano Ronaldo in the 2010-11 season. The following season, Lionel Messi, topped Ronaldo's record with 50 goals.
Although Telmo Zarra missed much of the 1951-52 season due to his recovery from a leg injury, upon his return in the following season he scored 25 out of 29 matches. He was named top league scorer on six occasions.
Despite his individual successes, Athletic Bilbao struggled in the mid-table for much of the early 1950s, and from 1953 onwards his appearances become scarce due to the imminent arrival of younger Basque players.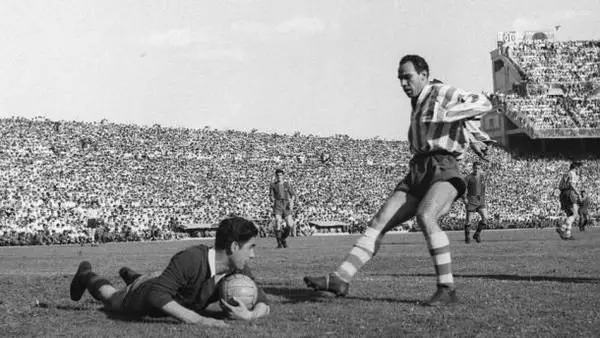 Telmo Zarra Tribute
In April 1954, Telmo Zarra received a tribute in recognition of his long career in Spanish football. In 1955, after having dedicated 15 years of his career to Athletic, the top scorer left the club. With Zarra as the heart of 'Los Leones', Athletic won many accolades, including one La Liga league trophy in 1943, and 5 Copa del Rey final: 1943, 1944, 1945, 1950, and 1955.
Zarra did play football for a few years in the Segunda División with SD Indautxu and Barakaldo CF, eventually retiring at the age of 36 in 1957. He then ran a sports establishment in Bilbao.
Zarra also participated in competitive matches from time to time for a Biscay veterans' team, raising money for various charities, and maintaining a low profile in his later years.
Game Of The Century
Telmo Zarra broke into the national football teams for the first time in March 1945, and by then he was considered to be one of the most lethal strikers in Spain.
His aerial skills were dynamite and having become famous throughout Europe, he was even at one stage referred to as 'the best head in Europe after Churchill'.
One of Spain's national team most unforgettable World Cup memories was its participation in the 1950 FIFA World Cup. Zarra scored in all three of 'La Furia Roja's' games in the first round, saved his best for the historic match against England on the 2nd July 1950.
Zarra referred to this match as 'the game of the century'. His goal at the Maracana Stadium, in which he beat the English goalkeeper Bert Williams, won Spain the match and catapulted them into the semi-finals.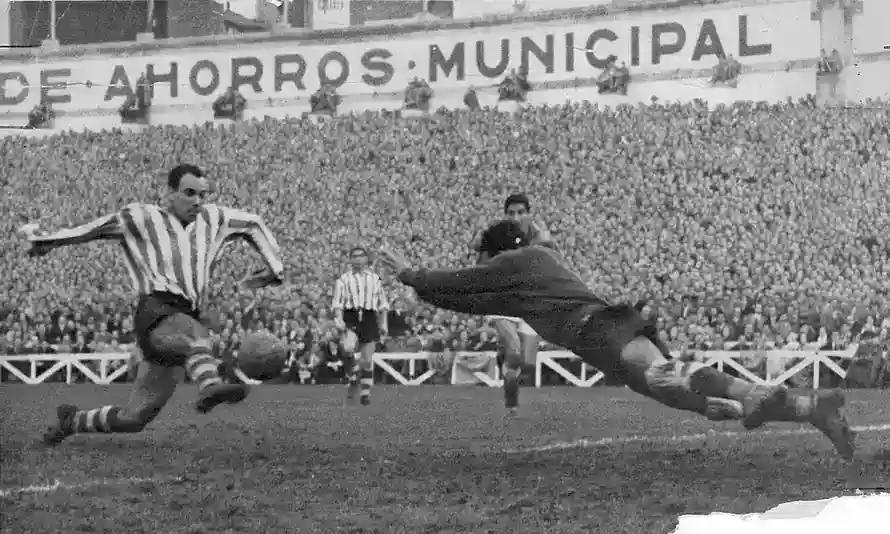 Reaching the World Cup semi finals marked Spain's best performance in the competition for the first time in their history, which lasted until their 2010 FIFA World Cup title 60 years later.
Zarra's memorable goal became known as the 'Zarra goal'. He had realized iconic status and was officially a Spanish sensation!
Telmo Zarra was to complete the tournament with 4 goals, as the Spanish team finished in the 4th spot overall. Although the top scorer only made 20 international appearances for his country, he scored 20 goals, which is a record in itself.
It's Raining Records
Amongst many records set by this Athletic Club Bilbao legend, the greatest of his career were: his record for being the league's top goalscorer with 252 goals in 278 appearances, which remains unmatched; his club history with 333 goals in 352 appearances in all competitions; a record 81 goals in the Copa del Rey; and the record for most goals scored (4) in a Copa del Rey final.
A special career highlight came about in 1945 when Telmo Zarra was awarded his first Pichichi Trophy for being the season's top goalscorer, with 20 goals netted in 26 matches.
The league goal record holder would go on to win this award in another 5occasions: 1946, 1947, 1950, 1951, and 1953. Interestingly, the Pichichi award was named after another Bilbao striker Rafael Moreno Aranzadi, who played for the club in the early 1900s.
Although he too was a prolific goalscorer, he was the first player to score at the inauguration match of the club's San Mamés stadium in 1913. Years later, Telmo Zarra was also honored by winning the Golden Pichichi Trophy in 2003.
Telmo Zarra Was The Pride Of Bilbao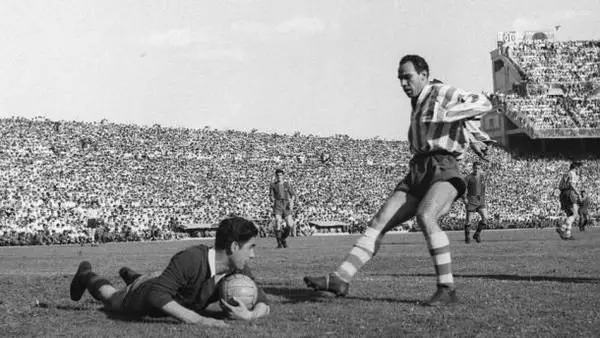 It was strange how the testimonial promised to Zarra in his final contract with Bilbao was not to be played until the 17th of August 1997. The match played in his honor was at the San Mamés stadium, between Bilbao and a selected La Liga league of 11 Spanish greats.
Someone very special was in attendance that day including Bert Williams, the English goalkeeper who conceded the fabled goal in Brazil all those years ago! The meeting was attended by several personalities, among which were Alfredo Di Stéfano and Ladislao Kubala.
The former Athletic Club Bilbao player lived his last years in Bilbao until that fateful day of 23rd February 2006, when he passed away at the age of 85. Telmo Zarra was a man who earned respect from his peers and he was recognized for his sportsmanship, modesty, and chivalry.
As Real Madrid's Alfredo Di Stéfano had said: "Football fans everywhere will remember him, he was one of the best forwards I've ever seen." The Athletic Club Bilbao president Javier Lamikiz also said: "I can't believe Telmo has left us, so I would rather say he will always be among us.
He's part of the history of this club because the club headquarters and San Mamés are crowded with photos of him."
In the Basque superstar honor, the Spanish newspaper Marca awards the 'Zarra Trophy' to the highest-scoring Spanish footballer in La Liga. The first-ever recipient of the trophy in the Primera División was prolific goalscorer David Villa, who has won it on 4 occasions.
Gone But Never Forgotten
Few players like Telmo Zarra had the unique talents of playing a role in some of the most devastating front lines in Athletic Club Bilbao's 120-year history. With their new San Mamés Stadium inauguration, there is a transition from an enchanting past into a new and exhilarating era for the club.
But with the hope of creating new memories, there are legends like Telmo Zarra, who remain a shining beacon and are kept close to everyone's hearts. Zarra who, with his dynamic style, trickery, and memorable finishing, was ahead of his time, created some of the greatest memories in Spanish football.
The Spanish record holder remains the pride of a nation, never to be forgotten.
Facts And Figures Of Telmo Zarra
Full Name: Pedro Telmo Zarraonandia Montoya
Birthdate: 20/01/1921
Birthplace: Erandio, Spain
Died: Bilbao, Spain
Playing Career:
Erandio 1939–1940
Athletic Bilbao 1940–1955
Indautxu 1955–1956
Barakaldo 1956–1957
Total Appearances: 323 matches, 268 goals
National Team Career:
Spain 1945–1951 (20 appearances, 20 goals)
Club Honors:
Athletic Bilbao
1942–43: La Liga League Champions
1943, 1944, 1944–45, 1949–50, and 1955: Copa del Rey winners
1950: Copa Eva Duarte Winners
Individual Honors:
1944–45, 1945–46, 1946–47, 1949–50, 1950–51, and 1952–53: Pichichi Trophy For The League's Leading Goalscorer
Current Records Telmo Zarra Holds:
Most goals scored in the Copa del Rey (81 goals)
Athletic Club's all-time leading scorer (332 goals)
Won the second most Pichichi trophies (6 goals )
The most goals scored in a Copa del Rey final (4 goals in 1950)
Top scorer in the Basque derby against Real Sociedad (14 goals)
Top scorer in El Viejo Clasico versus Real Madrid (22 goals)