1907 FA Cup Final Score: Sheffield Wednesday 2 Everton 1
Venue: Crystal Palace, London
Date: Saturday 20th April 1907
Scorers: Sheffield Wednesday – Jimmy Stewart, George Simpson. Everton – Jack Sharp
Sheffield Wednesday Team: Jack Lyall, Billy Layton, Harry Burton, Tom Brittleton, Tommy Crawshaw, Bill Bartlett Harry Chapman, Frank Bradshaw, Andrew Wilson, James Stewart, George Simpson
Everton Team: Billy Scott, Walter Balmer, Bob Balmer, Harry Makepeace, Jack Taylor, Walter Abbott, Jack Sharp, Hugh Bolton, Alex Young, Jimmy Settle, Harold Hardman
Referee: Nathan Whittaker
Attendance: 84,584
1907 FA Cup Final Match Report
Everton Football Club, the favorite to retain the trophy, were lying third in the League and had ten men on their side who had helped take the FA Cup to Lancashire the previous year. But, as so often happened, the fancied team in the Final lost.
It was an undistinguished match, with the ball too much in the air and fouls rather plentiful. Neither side played as well as they were supposed to be capable of doing. Everton seemed embarrassed by Wednesday's rushing and bustling tactics from the opening whistle.
A mix-up in the Everton defense enabled Wednesday to take a twentieth-minute lead. Chapman swung the ball into the goalmouth for Stewart to give it the final touch.
During the closing minutes of the first half, Everton hit their best form of the match, and Jack Sharp, whose goal had won the Final in 1906. scored a picture goal to level the scores.
Only four minutes remained of the match when Wilson, the Wednesday center-forward, received the ball from a throw-in and hooked it un¬expectedly across the goalmouth for Simpson, his outside-left, to head home one of the softest goals imaginable.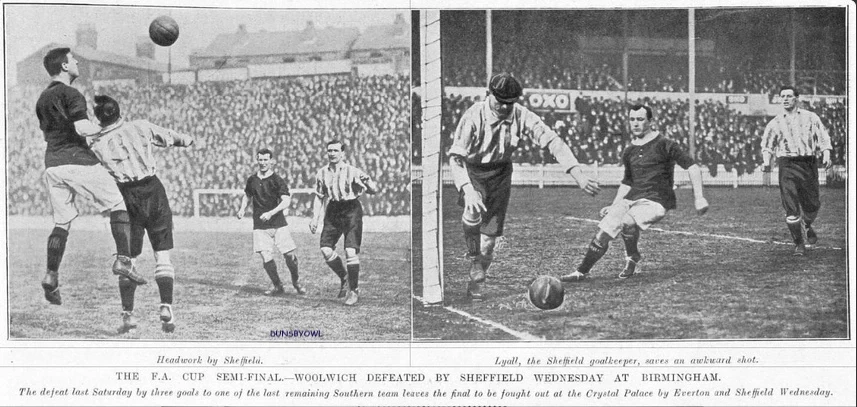 1907 FA Cup Round By Round
First Round
Burslem Port Vale v Irthlingboro 7-1; Notts County v Preston North End 1-0; Blackburn Rovers v Manchester City 2-2,1-0; Spurs v Hull City 0-0, 0-0, 1-0; West Bromwich Albion v Stoke 1-1, 2-2, 2-1; Hastings v Norwich City 1-3; Derby County v Chesterfield 1-1, 4-0; Lincoln City v Chelsea 2-2, 1-0; Stockport v Fulham 0-0, 1 -2; Newcastle United v Crystal Palace 0-1; Brentford v Glossop 2-1; Middlesbrough v Northampton 4-2; Blackpool v W Ham 1-2; EVERTON v Sheffield United 1-0; Burnley v Aston Villa 1-3; Bolton Wanderers v Brighton 3-1; Grimsby T V Woolwich Arsenal 1-1,0-3; Bristol City v Leeds City 4-1; Bristol Rovers v Queens Park Rangers 0-0,1-0; Milwall I v Plymouth Argyle 2-0; Nottingham Forest v Barnsley 1-1, 1-2; Portsmouth v Manchester United 2-2, 2-1; Oxford City v Bury 0-3; Burton United v New Brompton 0-0, 0-2; Oldham Athletic v Kidderminster Harriers 5-0; Liverpool v Birmingham 2—1; Bradford City v Reading 2—0; Crewe Alex v Accrington Stanley 1-1,0-1; Southampton v Watford 2-1; SHEFFIELD WEDNESDAY v Wolves 3-2; Gainsborough Trinity v Luton Town 0—0, 1-2; Sunderland v Leicester Fosse 4-1
Second Round
Burslem Port Vale v Notts Co 2-2,0-5; Blackburn R v Spurs 1-1, 1-1, 1-21907 fa cup final; WBA v Norwich C 1-0; Derby Co v Lincoln C 1-0; Fulham v Crystal Palace 0-0,0-1; Brentford v Middlesbro 1-0; W Ham v EVERTON 1 -2; Bolton Wand v Aston Villa 2-0; Woolwich Arsenal v Bristol C 2-1; Bristol R v Millwall 3—0; Barnsley v Portsmouth 1-0; Bury v New Brompton 1-0; Oldham Ath v Liverpool 0-1; Bradford C v Accrington S 1-0; Southampton v SHEFFIELD WEDNESDAY 1-1, 1-3; Luton T v Sunderland 0-0, 0-1
Third Round
Notts Co v Spurs 4-0; WBA v Derby Co 2-0; Crystal Palace v Brentford 1-1, 1-0; EVERTON v Bolton Wand 0-0, 3-0; Woolwich Arsenal v Bristol R 1-0; Barnsley v Bury 1-0; Liverpool v Bradford C 1-0; SHEFFIELD WEDNESDAY v Sunderland 0-0, 1-0
Fourth Round
WBA v Notts Co 3-1; Crystal Palace v EVERTON 1 -1, 0-4; Barnsley v Woolwich Arsenal 1 -2; SHEFFIELD WEDNESDAY v Liverpool 1-0
Semi-Finals
West Bromwich Albion v EVERTON 1-2; Woolwich Arsenal v SHEFFIELD WEDNESDAY 1-3