1975 FA Cup Final Score: West Ham United 2-0 Fulham
Date: Saturday 3rd May
Venue: Wembley Stadium
Attendance: 100,000
Referee: Pat Partridge
Teams:
West Ham United: Mervyn Day, John McDowell, Frank Lampard, Billy Bonds, Tommy Taylor, Kevin Lock, Billy Jennings, Graham Paddon, Alan Taylor, Trevor Brooking, Pat Holland
West Ham Goal Scorer: Alan Taylor 60′ and 64′
Fulham: Peter Mellor, John Cutbush, John Fraser, Alan Mullery, John Lacy, Bobby Moore, John Mitchell, Jim Conway, Viv Busby, Alan Slough, Les Barrett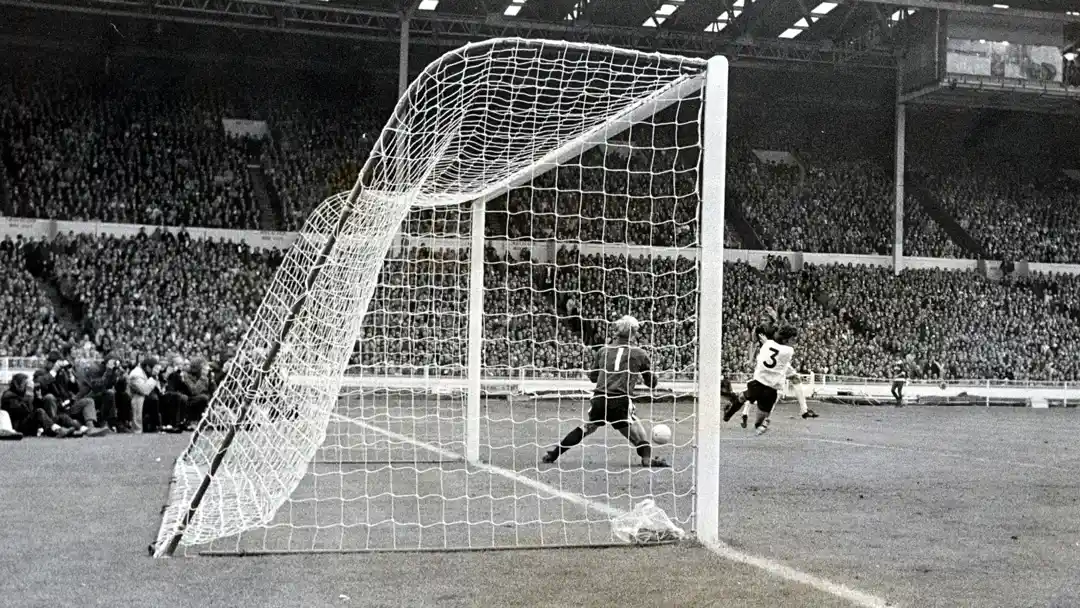 The 94th FA Cup Final
The 1975 FA Cup Final was the 94th final of the competition. Wembley Stadium hosted the match, contested by London clubs Fulham and West Ham United on 3 May 1975.
West Ham United won only 13 of their 42 League matches during the 1974-75 season, while Fulham averaged precisely a point a game in the Second Division. Two moderate sides fought their way to the 1975 FA Cup Final despite all odds, such is the fickleness of Cup fortune.
The Hammers had won the Cup once, 11 years earlier, in a 3-2 thriller against Preston.
Fulham was appearing in their first Final, and they had featured in an astonishing 11 Cup matches en route to Wembley. They had needed three games to see off Hull City in the Third Round and four matches to get past Nottingham Forest in Round 4. To beat Nottingham Forest in the FA Cup Fourth Round, Fulham needed seven hours or 420 minutes.
There were a lot of personalities in the 1975 FA Cup Final. As managers, Alec Stock and Ron Greenwood had already tasted Wembley success – and Fulham had Bobby Moore and Alan Mullery as former England captains. West Ham had captain Billy Bonds and England international Trevor Brooking in their starting line up.
Fulham looked to be the better side in an indifferent first half, with the ball rarely in either penalty area except when defenders passed nervously back to the goalkeepers.
Centre-half John Lacy went close with powerful headers from Jimmy Conway's corner kick and Mullery's free kick. At the other end, Trevor Brooking's volley from at least 30 yards soared high over the bar.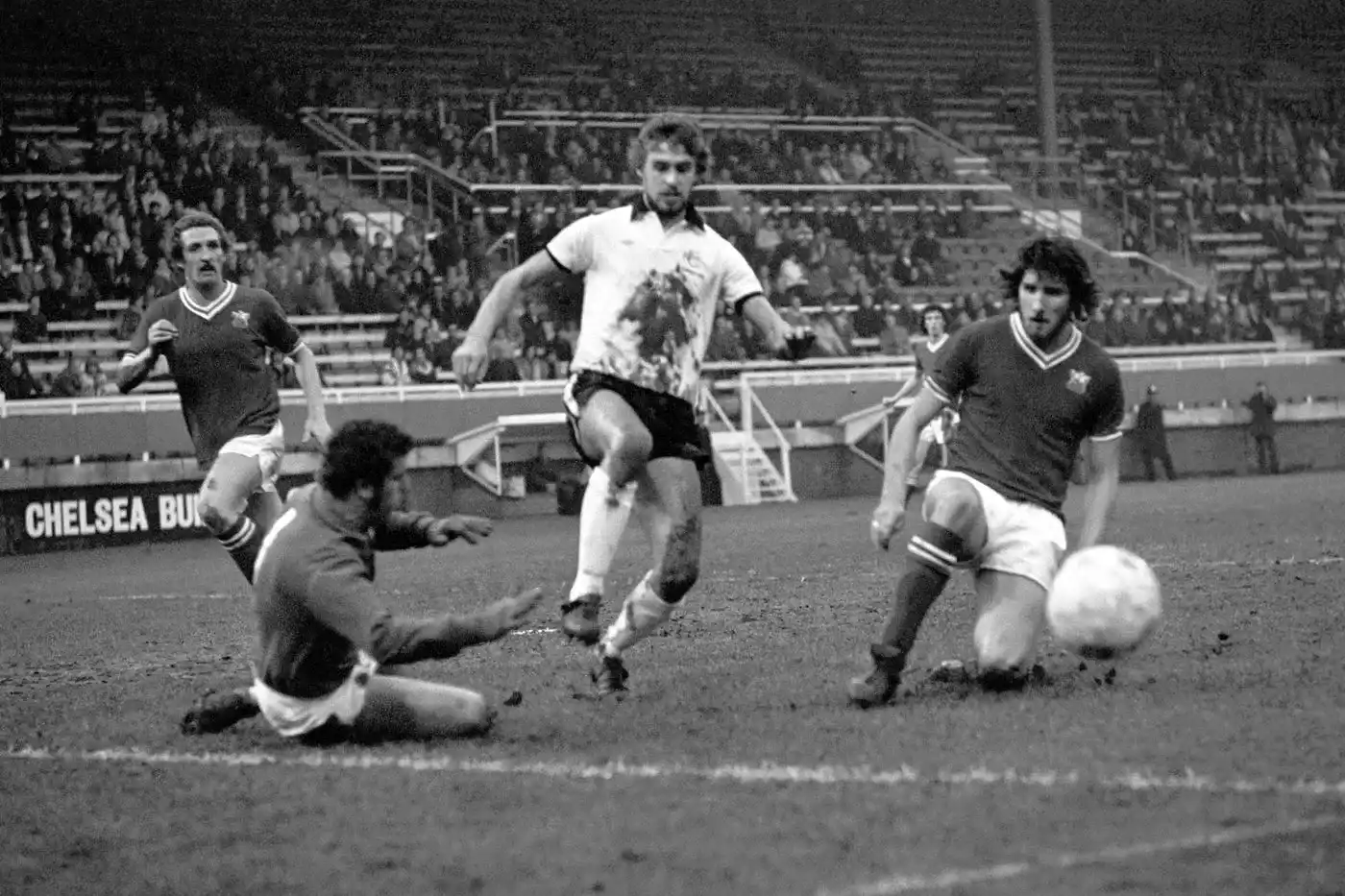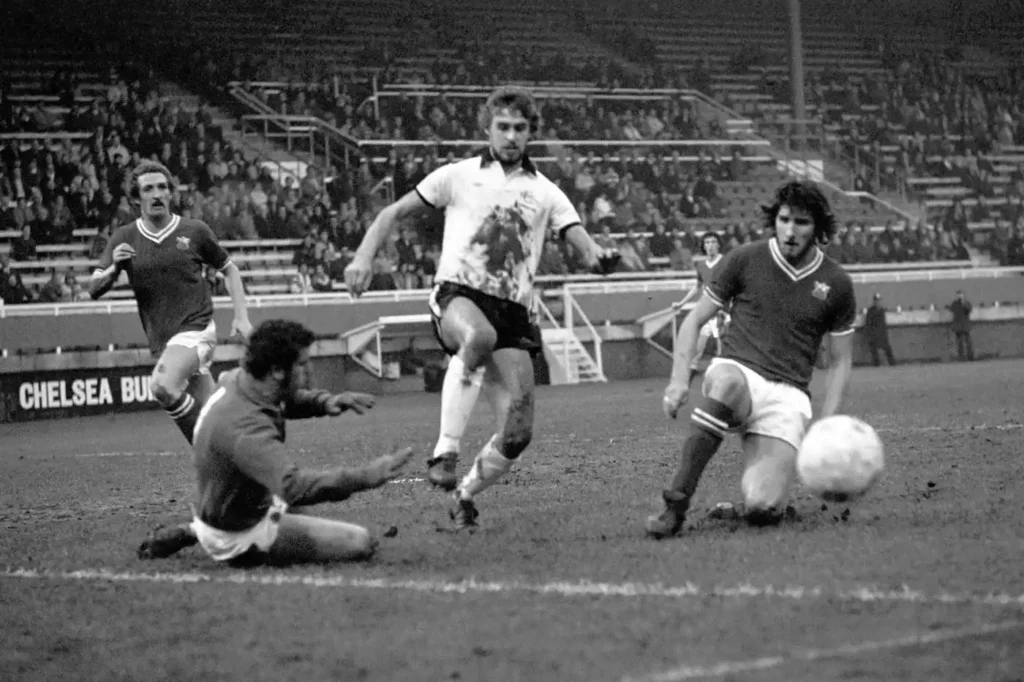 Could Fulham Hold On Once Again
After the interval, West Ham gradually increased the pressure, finally breaking through after an hour. Alan Taylor, who had only joined the Hammers from Fourth Division Rochdale six months earlier, slammed home the rebound from six yards after Peter Mellor parried Bill Jennings' awkwardly swerving effort.
The Eastenders scored an almost identical goal just four minutes later. Mellor failed to make a clean catch from Graham Paddon's hard shot and Taylor, the "Rochdale Whippet," again put the ball in. Neither physio had set foot on the pitch in a very sporting Final, intelligently refereed by Pat Partridge.
West Ham United won the FA Cup for the second time. There has never been an all-English FA Cup-winning team since the 1975 West Ham FA Cup Final. Fulham has only appeared in one FA Cup final.
After an unforgettable weekend, hundreds of thousands of fans cheered on the 1975 FA Cup final heroes as they rode an open-top bus through the streets of Newham.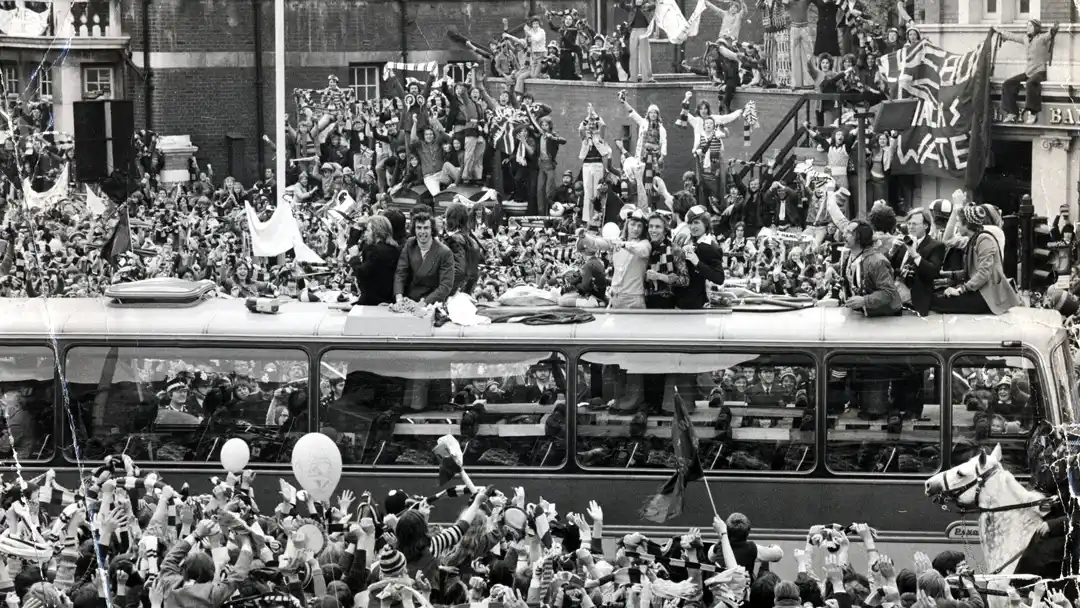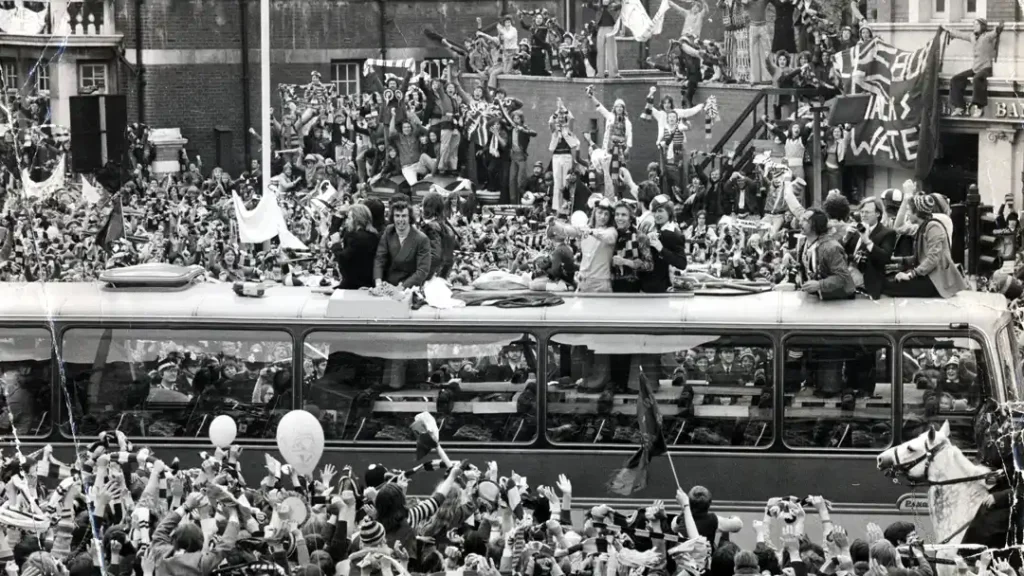 1975 FA Cup Round By Round
Semi‑Finals
WEST HAM v Ipswich Town 0‑0, 2‑1; Birmingham City v FULHAM 1‑1, 0‑1
Sixth Round
Arsenal v WEST HAM 0‑2; Ipswich Town v Leeds United 0‑0, 1‑ 1, 0‑0, 3‑2; Birmingham City v Middlesbrough 1‑0; Carlisle United v FULHAM 0‑1
Fifth Round
WEST HAM v QPR 2‑1; Arsenal v Leicester City 0‑0, 1 ‑1, 1 ‑0; Ipswich Town v Aston Villa 3‑2; Derby County v Leeds United 0‑1; Birmingham C v Walsall 2‑1; Peterborough United v Middlesbrough 1‑1, 0‑2; Mansfield Town v Carlisle United 0‑1; Everton v FULHAM 1‑2
Fourth Round
WEST HAM v Swindon T 1 ‑1, 2‑1; QPR v Notts Co 3‑0; Coventry C v Arsenal 1‑1, 0‑3; Leatherhead v Leicester C 2‑3; Ipswich T v Liverpool 1 ‑0; Aston Villa v Sheffield Utd 4‑1; Derby Co v Bristol R 2‑0; Leeds Utd v Wimbledon 0‑0, 1‑0; Chelsea v Birmingham C 0‑1; Walsall v Newcastle Utd 1‑0; Stafford Rangers v Peterborough Utd 1‑2; Middlesbro v Sunderland 3‑1; Bury v Mansfield T 1‑2 Carlisle Utd v WBA 3‑2; Plymouth Arg v Everton 1‑3; FULHAM v Nottingham Forest 0‑0, 1‑1. 1‑1, 2‑1
Third Round
Southampton v WEST HAM 1‑2; Swindon T v Lincoln C 2‑0; Southend v OPR 2‑2, 0‑2; Notts Co v Portsmouth 3‑ 1; Coventry C v Norwich C 2‑0; Arsenal v York C 1‑ 1, 3‑ 1; Leicester C v Oxford Utd 3‑1; Brighton & H Alb v Leatherhead 0‑1; Wolves v Ipswich T 1‑2; Liverpool v Stoke C 2‑0;Oldham Ath v Aston Villa 0‑3; Sheff Utd v Bristol C 2‑0; Orient v Derby Co 2‑2,1‑2, Blackburn R v Bristol R 1‑2; Leeds Ltd v Cardiff C 4‑1; Burnley v Wimbledon 0‑1; Chelsea v Sheff Wed 3‑2;Luton T v Birmingham C 0‑1; Man Utd v Walsall 0‑0, 2‑3; Man C v Newcastle Utd 0‑2; Stafford Rangers v Rotherham Utd 0‑0, 2‑0; Peterborough Utd v Tranmere R 1‑0; Wycombe Wand v Middlesbro 0‑0, 0‑1; Sunderland v Chesterfield 2‑0; Bury v Millwall 2‑2, 1‑1, 2‑0; Mansfield Town v Cambridge Utd 1‑0; PNE v Carlisle Utd 0‑1; Bolton Wand v WBA 0‑0, 0‑4; Plymouth Arg v Blackpool 2‑0; Everton v Altrincham 1‑1, 2‑0; Nott'm Forest v Spurs 1‑1, 1 ‑0; FULHAM v Hull C 1‑1, 2‑2, 1‑0