1984 FA Cup Final Score: Everton 2-0 Watford
Date: Saturday 19 May 1984
Venue: Wembley Stadium
Attendance: 100,000
Referee: John Hunting
Teams:
Everton: Neville Southall, Gary Stevens, John Bailey, Kevin Ratcliffe, Derek Mountfield, Peter Reid, Trevor Steven, Adrian Heath, Graeme Sharp, Andy Gray, Kevin Richardson
Everton Goal Scorers: Graeme Sharp 38′, Andy Gray 51′
Watford: Steve Sherwood, David Bardsley, Neil Price (Paul Atkinson), Les Taylor, Steve Terry, Lee Sinnott, Nigel Callaghan, Mo Johnston, George Reilly, Kenny Jackett, John Barnes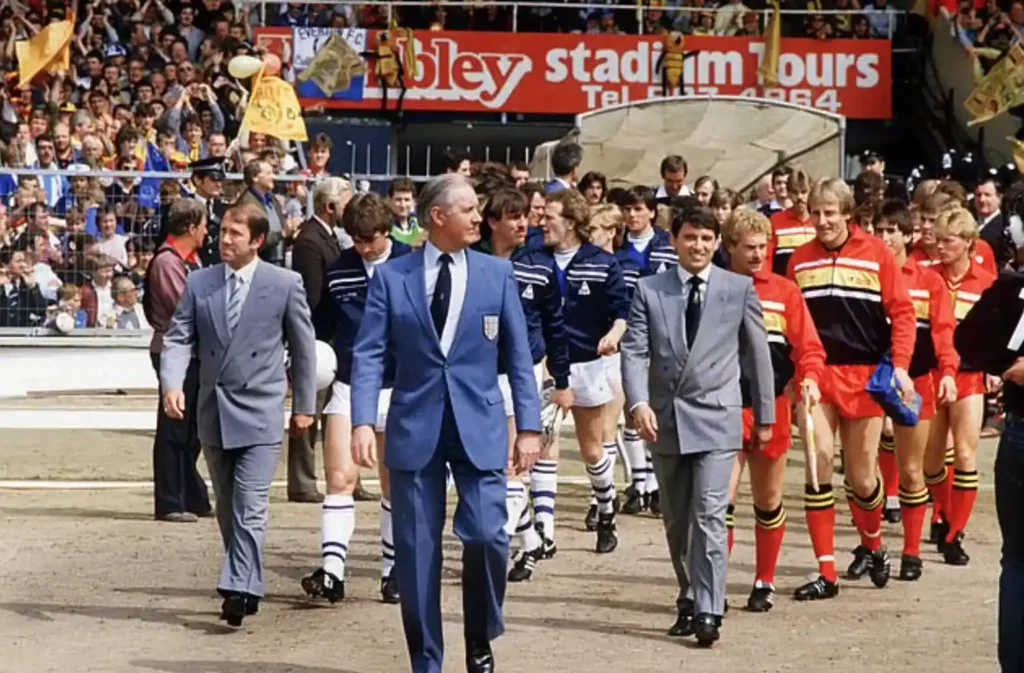 Everton Vs Watford
For Everton, the 1984 FA Cup Final was their second Wembley game in three months, while Watford was making their first visit in the sixty-two years of Wembley finals. The match was viewed as Everton's to win, but everyone knew it was meaningless regarding FA Cup finals.
Howard Kendall and his team wanted to ensure Watford chairman, Elton John, was singing the Blues at 4.45pm. In terms of FA Cup Final appearances alone, however, it was a meeting of clubs enjoying a rare experience.
Everton had last played in the FA Cup final sixteen years ago, and since their Championship season of 1969-70, had been forced to live in the shadow of Liverpool's success.
Watford had completed an unprecedented rise from Fourth Division to runners-up in the First in six seasons under their astute young manager Graham Taylor, and reaching the Final had meant a personal dream come true for the club's flamboyant singing superstar chairman, Elton John.
Different Playing Styles In The 103rd FA Cup Final
The finalists were billed as two teams with vastly different playing styles. Everton played it short in midfield, probing for openings and using the wings, while Watford favored the long-ball game, getting the ball into their opponent's penalty area by the quickest route.
The Everton defense largely stopped the usual Watford ploy by pushing up so much that Reilly and Johnston barely had to step over the halfway line to be pulled up for offside.
And their dangerous winger Callaghan, who was expected to supply a stream of crosses from the right, was effectively marked out of the game. But, for all that, the crowd was still treated to some scintillating football in the first half.
Watford had more chances in the first half-hour, Southall saving John Barnes's close-range header and foiling Barnes again and Mo Johnston after surging runs through the middle.
1984 FA Cup final captain Les Taylors' determination also took him into two scoring positions, but his shooting finally let him down, though he was less than a yard wide on both occasions.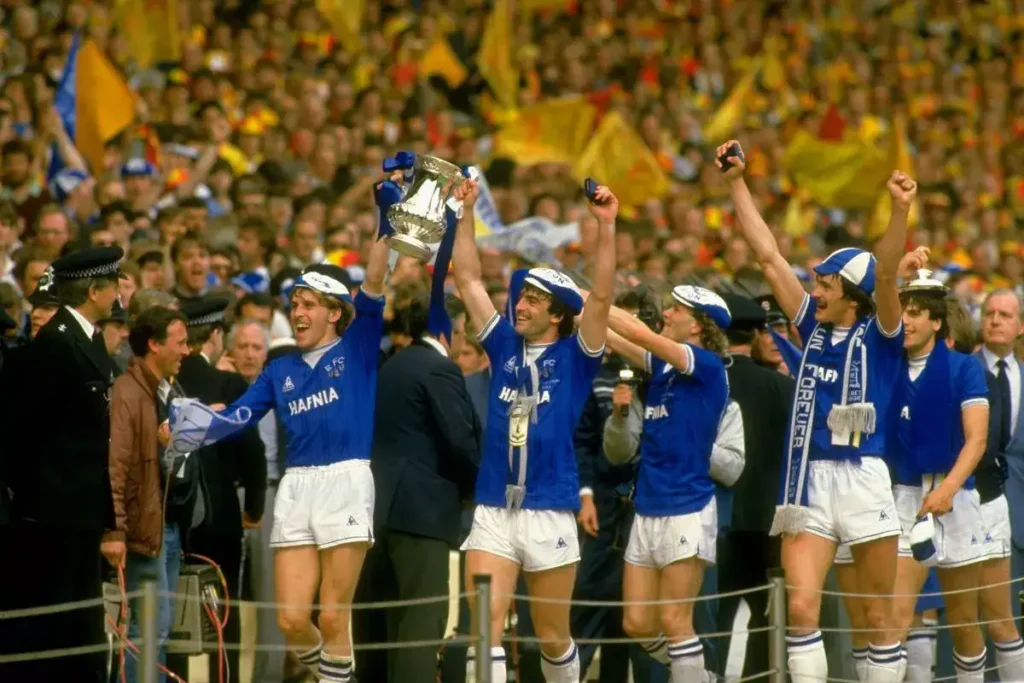 Playing A High Line
Watford's defense had moved swiftly forward to catch the Everton man offside. However, referee John Hunting was on hand to observe their marginal failure, and Graeme Sharp was left to strike an instant right-foot shot past Steve Sherwood, the ball clipping the inside of the left-hand post on its way into the net.
'The Hornets' were by no means out of contention at this stage, and during the half-time interval, Everton might have reflected on their good fortune to be in front.
Then, six minutes into the new half, Watford conceded a controversial second goal which shattered their dreams of ultimate victory. Steven set off down the right, two defenders in hot pursuit, before curving the ball towards the far post.
With Sherwood stretching his 6ft 4-inch frame to gather the ball, it seemed unlikely that Andy Gray, charging in with Terry at his side, would even get close to it. But the leaping Scotsman appeared to head the ball almost out of Sherwood's hands and into the net for a bizarre goal.
Then came the fateful 38th minute when Watford, for once, lost their defensive concentration to allow the Merseysiders to sneak in front.
Reid put Kevin Richardson away down the left, and his cross was half-cleared by Lee Sinnott, the youngest man on the field, to Gary Stevens some thirty yards out.
Under pressure from John Barnes, the Everton full-back could only knock the ball a few yards forward. Though he had been looking to shoot, it fell conveniently for Graeme Sharp.
Unbreakable Defense
Watford wilted, and though they fought bravely, their chances of even being able to force the fourth replay in four years looked remote.
Pulling a goal back would have made for a more exciting finish, but Neville Southall and skipper Kevin Ratcliffe remained in an uncharitable mood in front of the goal until the final whistle to become FA Cup winners.
Everton ultimately emerged victorious, but the match is primarily remembered for the controversial second goal for the 'Toffeemen' scored by Andy Gray. The Blues' memorable day ended with Kevin Ratcliffe collecting the 1984 FA Cup final trophy and receiving a fantastic reception from the Evertonians.
It was the beginning of a special era in Goodison folklore, with practically that entire squad making their way to greater heights a year later.