Botafogo, also known as Botafogo de Futebol e Regatas is a Brazilian sports club in the city of Rio de Janeiro. Botafogo competes in various sports, but its soccer team is the most well-known.
In addition to playing in the top tier of the Brazilian football league system, it is also a member of the premier state league of Rio de Janeiro.
The legends and idols who have played for Botafogo FC are explored in this article. Among the club's impressive records is participation in the most matches of the Brazilian national football team and World Cup victories by the most players from one club. This Brazilian club's success is primarily due to these players.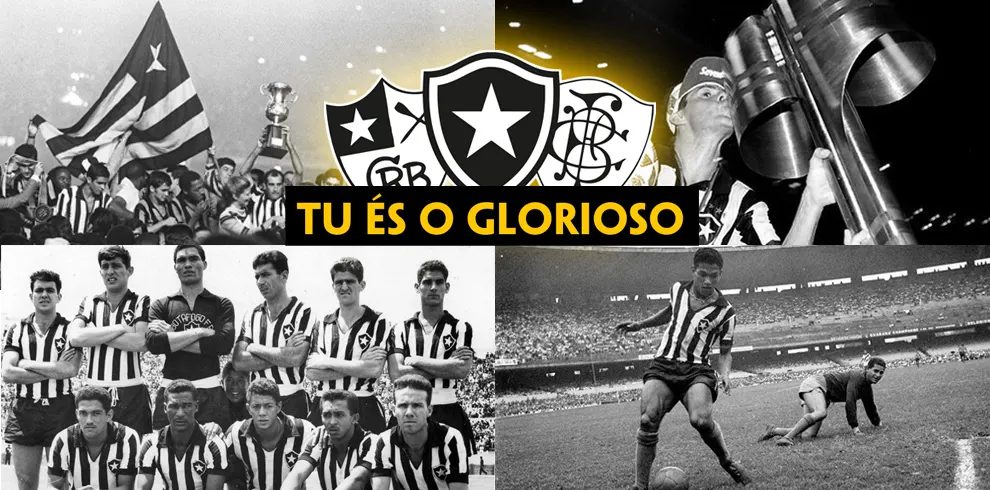 Birth Of An Institution
Flavio Ramos and Emmanuel Sodre were studying together when, during an algebra lesson, they decided to found a football team. The pair quickly assembled a group of friends, all aged 14 or 15, where they started the Electro Club on August 12, 1904.
This name was quickly changed to Botafogo Football Club, which remained until they merged with Club de Regatas Botafogo to form Botafogo de Futebol e Regatas. The team colors consists of a black jersey with vertical white stripes, black shorts and grey socks.
O Fogão participated in the inaugural Campeonato Carioca in 1906 and, one year later, finished the competition level on points with Fluminense at the summit.
Following an 89-year dispute, the Clássico Vovô (Grandfather Derby) rivals were declared joint champions.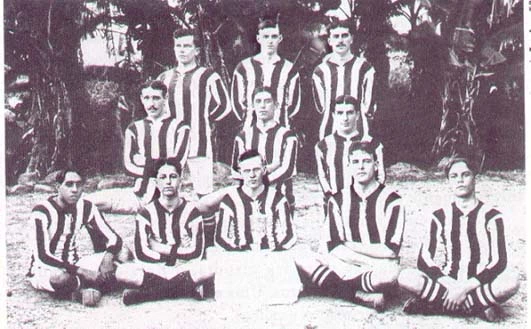 Making Of A Legend
Botafogo swiftly developed a taste for emphatic victories, and their 24-0 defeat of Sport Club Mangueira during the Campeonato Carioca 1909 remains a Brazilian record.
After losing their opener 4-1 to America the following year, O Glorioso (The Glorious), inspired by Mimi Sodre and Abelardo de Lamare, won their remaining nine games, scoring 65 goals in the process, to become state kings.
Botafogo seized five Carioca golds between 1930 and 1935, scoring 320 times in 113 outings during these triumphant campaigns.
Dashing left-winger Patesko and forward Nilo made handsome contributions to these figures, but the side's chief headliner was Carvalho Leite.
The striker arrived at the club as an 18-year-old and struck 275 goals over 11 seasons before injury put paid to his career.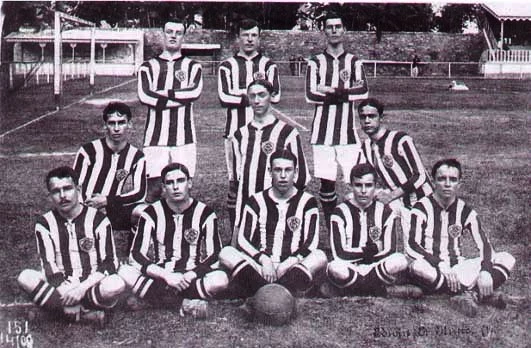 He was not the only competitor to devote his playing career to Botafogo. After Heleno had thrilled the Botafoguenses between 1940 and 1947, a 22-year-old named Nilton Santos turned up for a trial.
Although an aspiring forward, he was deployed at left-back, where he made a club-record 718 appearances over the ensuing 16 years.
Crucially, Nilton Santos persuaded Botafogo to gamble on a young winger with crooked legs, and they hit the jackpot by signing Garrincha.
The pair became the Rio heavyweights' greatest all-time players.
Together with luminaries such as Didi, Quarentinha, Zagallo, Amarildo, and Paulinho Valentim, they composed the most vigorous symphony in the club's history, winning, in style, the Campeonato Carioca in 1957, 1961, and 1962, when they also brought home the Rio-Sao Paulo Tournament prize.
To Botafogo's misfortune, they shared their peak with Pele's Santos, who, in 1962, beat them in the final of the Taca Brasil and the semi-finals of the Copa Libertadores.
Another exhilarating side, comprising Gerson, Paulo Cesar Caju, Rogerio, Jairzinho, and Roberto Miranda, propelled them to Taca Brasil glory in 1968, before Botafogo suffered the longest wait for silverware in their history.
Notwithstanding, an Alvinegro outfit with an emerging Osmar as its rock, and Mendonca as its fulcrum, went 42 games without a defeat from October 1977 to July 1978 to set a Brasileirao record. This remains, incredibly, 24 matches more than any other Rio side have stayed unbeaten in the competition.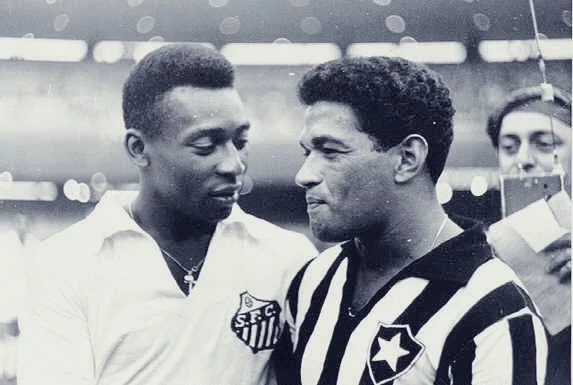 Botafogo finally ended an exhaustive, 21-year barren period in 1989, when a solitary Mauricio goal proved enough to sink Flamengo in the Campeonato Carioca final, and grander conquests were soon to follow: the Copa Conmebol in 1993 and, two years later, their maiden and only Brasileirao crown.
The indubitable star of the latter conquest was striker Tulio, who was the latest in A Estrela Solitária's long line on heroic No7s.
Supporters of Flamengo, Fluminense, and Vasco may prefer to don replica No10 jerseys in tribute to Zico, Rivelino, and Roberto Dinamite, respectively.
Still, to the Botafoguenses, nothing compares to the hallowed No7 carried so memorably by Paraguaio, Garrincha, Jairzinho, Rogerio, Zequinha, Maurício, and Túlio Maravilha.
It is just another ingredient that adds to the seductive individuality of Botafogo de Futebol e Regatas.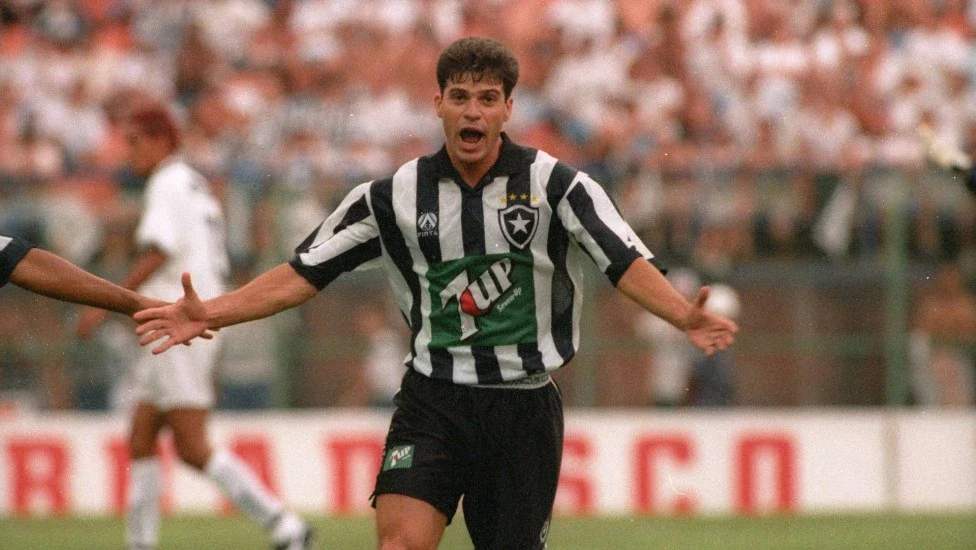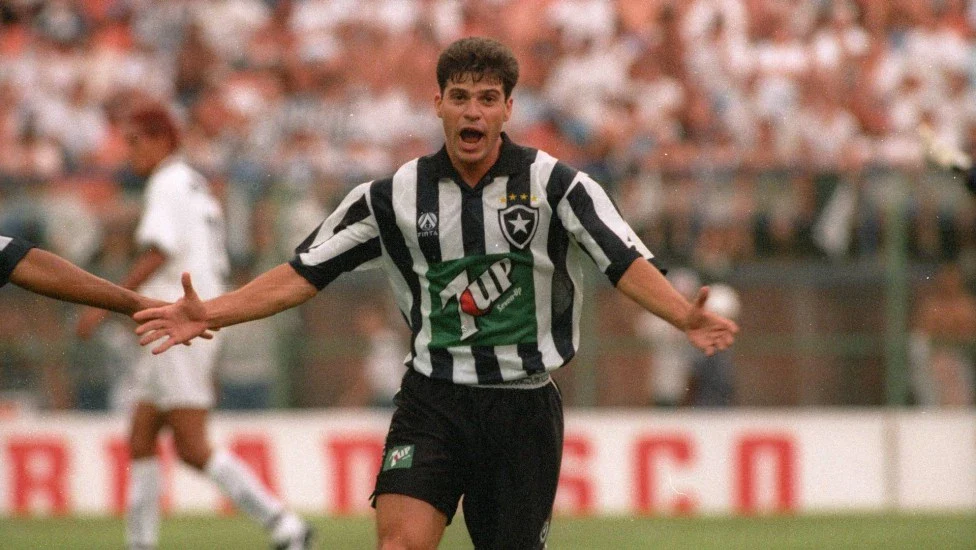 The Recent Years
Botafogo flirted with relegation in 1999, 2000, and 2001 before succumbing to the drop the following year. However, they overcame a series of hurdles to bounce back at the first attempt and, inspired by playmaker Lucio Flavio and goal-getter Dodo, won the Campeonato Carioca in 2006.
The Merging Of The Clubs
The union of the two clubs created one of the most traditional teams in Brazil.
Botafogo de Futebol e Regatas was officially born on December 8, 1942, due to the merger of two clubs with the same name: Club de Regatas Botafogo, which was founded on July 1, 1894, and Botafogo Football Club, founded in mid-1904.
The two clubs had their headquarters in the neighborhood of Botafogo, in the south zone of Rio de Janeiro, and after a sad fact, they joined.
On June 11, 1942, the two clubs played a basketball match for the state championship at Mourisco Mar, the headquarters of Club de Regatas Botafogo.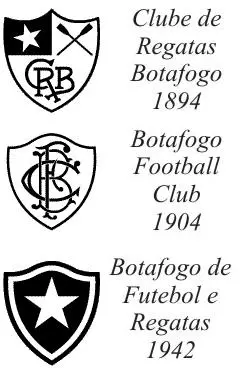 On that day, the player Albano from Botafogo FC arrived late. The game had already started. Still, he entered with the game in progress. During the break, Albano bent down to pick up a ball and fell unconscious, the doctors ran and made every possible effort, but it was no use. The player had suffered a fulminating attack.
After the player's death was confirmed, the match was interrupted ten minutes from the end when the scoreboard read CRB 21x 23 BFC.
The body of Albano, a Botafogo FC player, left General Severiano's headquarters. As he passed in front of Morisco Mar, there was a stop. The then president of CRBotafogo, Augusto Frederico Schimidt, pronounced a eulogy that ended with these words: "And I communicate this time for Albano that his last game resulted in a clear victory. The remaining time of the interrupted game, our players will not play anymore. However, we all want the missing young fighter to enter the big night a victor. And this is how we salute you."
The then-president of Botafogo Football Club, Eduardo Góis Trindade, replied: "In disputes between our clubs there can only be one winner, Botafogo!"
Schmidt then sealed the merger: "What else is needed for our two clubs to be one?".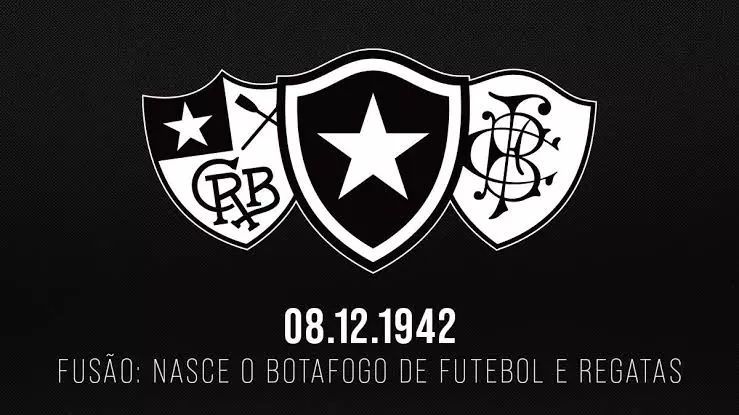 From that date onwards, the procedure for merging the clubs began, giving birth to Botafogo de Futebol e Regatas.
With the merger, only three changes were made – the flag lost the CRB's shield of intertwined letters and gained the lone star of Botafogo Football Club, the team started to use black shorts, and the flag gained a black rectangle with a white star at the top.
In the 1930s, during the split between amateurs and professionals, Botafogo won the only tetra of the Campeonato Carioca, represented by four stars above the shield on the team's uniform.
On December 8, 1942, Botafogo Football Club and Clube de Regatas Botafogo merged, giving rise to Botafogo de Futebol de Regatas.
The first title came six years later, in 1948, defeating Vasco da Gama's legendary "Expresso da Vitória" in General Severiano.
Botafogo Soccer Legends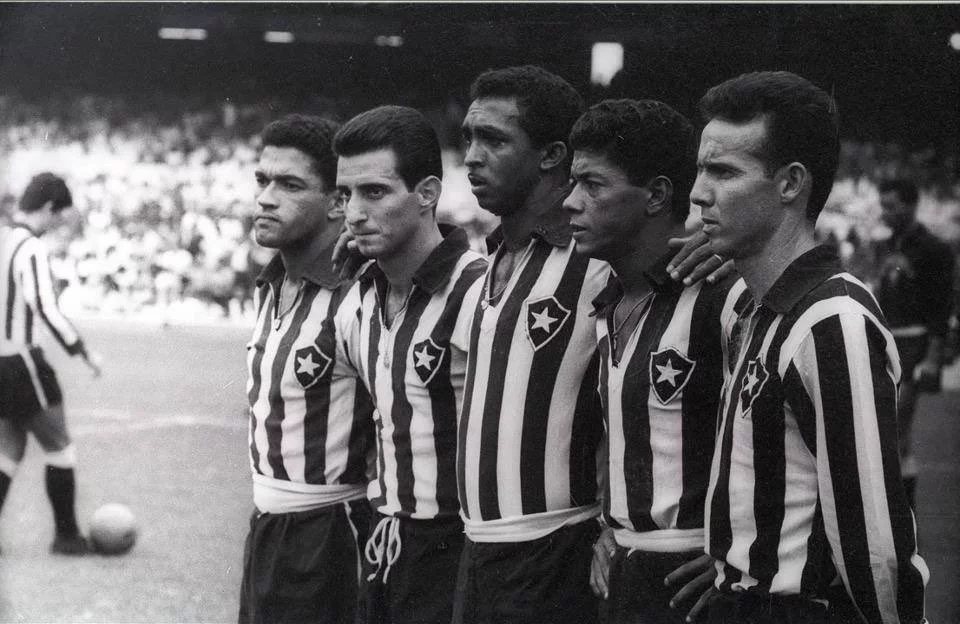 Carlos Alberto Torres
After the Cup, Carlos Alberto left Santos and returned to Rio de Janeiro. In 1971, he wore the captaincy of Botafogo, then went for Flamengo.
Soon after abandoning the four lines, Carlos Alberto became a football coach. His best moment was in 1983 when he won the Brazilian Championship with Flamengo.
Since then, he has had a few spells at big clubs like Botafogo and Corinthians and small teams like América-RJ.
Name: Carlos Alberto Torres.
Born: July 17, 1944, in Rio de Janeiro/RJ
Position: Right-back
Clubs where he played: Fluminense (1962 to 1965 and 1976), Santos (1965 to 1970, 1972 to 1975), Botafogo-RJ (1971), Flamengo (1971), Cosmos-USA (1977 to 1980 and 1982) and Newport Beach-USA (1981)
Main titles: Carioca champion (1964 and 1976); São Paulo champion (1965, 1967/68/69, and 1973); North American champion (1978, 1980, and 1982); and World Champion, in 1970, with the Brazilian team.
Official matches for the national team: 73
Goals: 9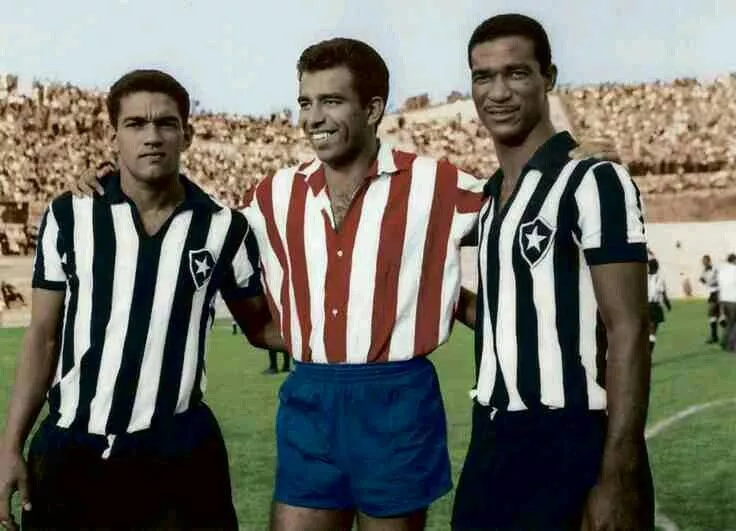 Didi
His mastery of playing football earned him several titles and honors, extolling his class and elegance. Didi is among the few unanimities regarding players of skill and leadership in Brazilian football.
He became famous as the inventor of the "dry leaf," a style of free-kick that gave the ball an unexpected effect, similar to a falling leaf.
With a free kick in this style, he qualified Brazil for the 1958 World Cup, with a 1-0 victory over Peru, in the 1957 qualifiers.
In Sweden, he was elected the best player in the World Cup. Didi is also recognized for scoring the first goal at the Maracana stadium, in the inaugural match of the stadium, in 1950, between the teams from Rio de Janeiro and São Paulo (with São Paulo winning 2-1).
For Botafogo, Didi played 313 matches, scoring 114 goals and winning three Campeonato Cariocas (1957, 61, and 62) and a Rio-São Paulo Tournament (1962). In addition, he won two World Cups (1958 and 1962) for the Brazilian team, having also participated in the team that went to the 1954 Cup in Switzerland. He also played for Fluminense and Real Madrid.
NAME: Valdir Pereira
BORN: 8/10/1929, in Campos (RJ)
DIED: 12/05/2001
POSITION: Midfielder
CLUBS:
As a Player: Americano, Madureira, Fluminense, Botafogo and Real Madrid and São Paulo.
As a Coach: Sporting Cristal and Alianza Lima (Peru), Vera Cruz (Mexico), River Plate (Argentina), Fernerbache (Turkey) AL – Ahli (Saudi Arabia), Fluminense, Botafogo, Cruzeiro and Bangu (Brazil).
MAIN TITLES:
As a Player: Carioca Champion: 1951 (Fluminense), 1957, 1961, and 1962 (Botafogo); Rio-São Paulo Tournament: 1962 (Botafogo); World Champion: 1958 and 1962 (Brazilian team). Matches for the national team: 74 (68 official), scoring 21 goals. World Cups: 1954, 1958, and 1962 (two-time champion).
As a Coach: three-time champion of Peru with Sporting Cristal, five-time Turkish champion with Fenerbahce, three Copa del Reys, and one Gulf championship with Al-Ahli Club Jeddah (from Saudi Arabia).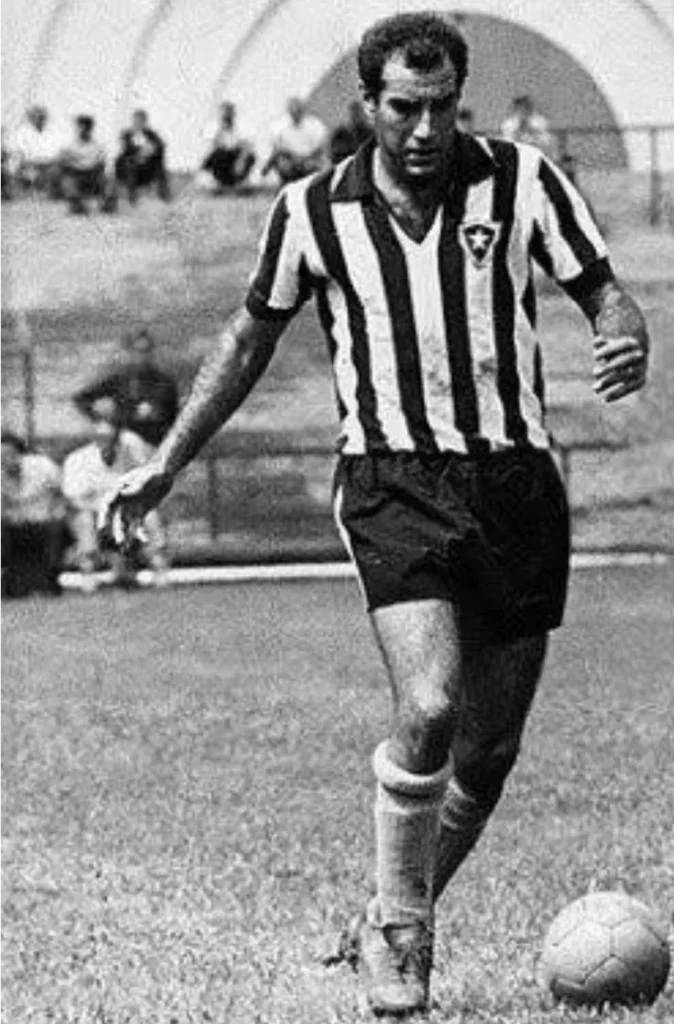 Gerson
Known as "O Canhotinha de Ouro," Gérson had a great sense of game organization and was the perfect passer in Brazilian football, capable of putting the ball in the chest of an attacker from 40 meters away.
The player can be included among the best talents in the entire history of Brazilian football. At Flamengo, he gained fame, but it was at Botafogo that he gained fortune and a significant position in the Brazilian team alongside stars like Jairzinho. His passing made Roberto and Jair the top scorers at Botafogo.
NAME: Gérson de Oliveira Nunes
BORN: Niterói, RJ, 1/11/1941
POSITION: Guard
NICKNAME: Papagaio
CLUBS: Flamengo, Botafogo, São Paulo and Fluminense.
TITLES: Carioca Champion: 1963 (Flamengo), 1967 and 1968 (Botafogo) and 1973 (Fluminense); Rio-São Paulo Tournament: 1961 (Flamengo), 1964 and 1966 (Botafogo); Brazilian Champion (Brazil Cup): 1968 (Botafogo); Paulista Champion: 1970 and 1971 (São Paulo); Champion of the Independence of Brazil Tournament: 1972; World Champion: 1970 (Brazilian National Team).
WORLD CUPS: 1966 and 1970.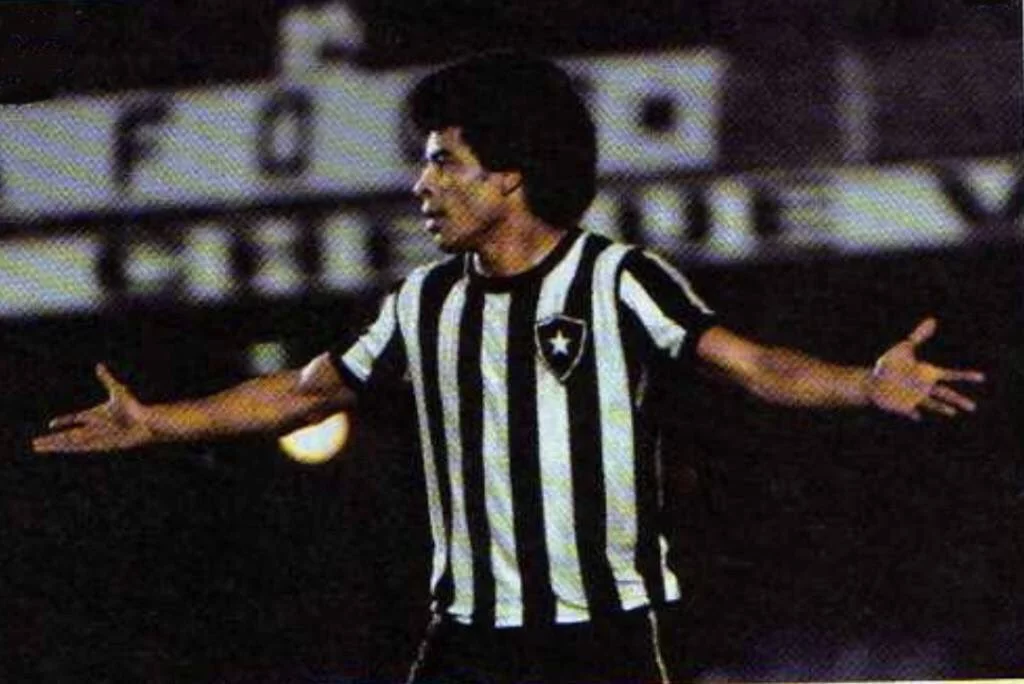 Jairzinho
At the end of the 1950s, the Ventura family moved from Duque de Caxias to Rio de Janeiro. The chosen address ended up influencing the future of its most famous member. Living on Rua General Severiano, it was only natural for the boy Jair to start going to Botafogo, next to his house.
It didn't take long for him to do a test in Glorioso's base categories and start defending the black and white colors.
In 1965, having just left the youth ranks, Jairzinho received a practically impossible mission: to be Garrincha's replacement at Botafogo. However, rather than trembling or disappointing, the 19-year-old filled the eyes of fans.
With the same number 7 on the back of his shirt, Jairzinho didn't show Mané's talent for disconcerting dribbles, but his goals and runs also left his name in the club's history.
Revealed in General Severiano, Jairzinho inherited and honored Garrincha's number 7 at Botafogo in the second half of the 1960s and early 1970s.
In the 1970 World Cup in Mexico, he was Brazil's top scorer, with seven goals (scoring in all matches), and earned the nickname "Hurricane of the Cup" for his speed and disposition.
In 404 matches for Botafogo, he scored 189 goals, winning the Carioca Championship and the Guanabara Cup (1967/68) and two Rio-São Paulo Tournaments (1964 and 1966). In addition, he played in three World Cups (66, 70, and 74) and was the champion once (1970).
Name: Jair Ventura Filho
Born: 12/25/1944, Rio de Janeiro/RJ
Position: Striker
Clubs: Botafogo, Olympique de Marseille (France), Cruzeiro, Portuguesa de Acarígua (Venezuela), Noroeste, Fast Clube, Jorge Wilsterman (Bolivia).
Main titles: Two-time champion of Rio, in 67 and 68, Torneio Rio São Paulo, in 66 and Taça Brasil, in 68, for Botafogo; Champion Mineiro, in 75 and the Libertadores Cup, in 76, for Cruzeiro, in addition to the World Cup, in 1970.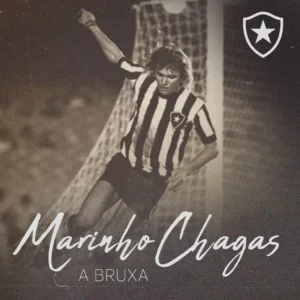 Marino Chagas
Francisco das Chagas Marinho came from the Nautico. In the national team, he won the position of Marco Antonio in the preparations for the 1974 World Cup in Germany. And at the World Cup, he was the best left-back player.
Marinho was the great victim of the Botafogo team's downfall in the 1970s. With the departure of Jairzinho, he became the team's only ace. In 1977, he transfered to Fluminense.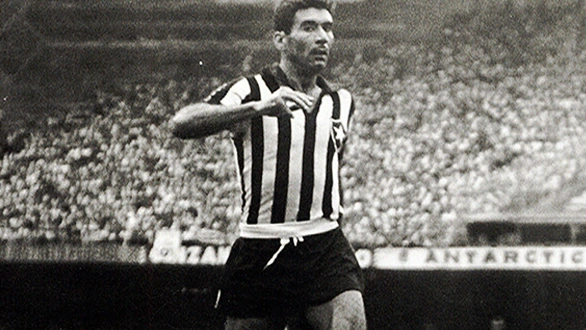 Nílton Santos
Nílton dos Santos, two-time world champion with the Brazilian National Team, four-time Rio champion with Botafogo, in addition to several other international titles, always with the same shirts, was responsible for tactical changes in several teams and clubs around the world and also for a new role for the side in the field.
Nílton Santos wore only two shirts in his entire career as a football player: that of Botafogo from Rio, which he defended for 17 years in 716 games, and that of the Brazilian National Team, for which he played 75 official matches and ten unofficial ones and scored three goals.
Name: Nílton dos Santos
Born: May 16, 1925, on Ilha do Governador, Rio de Janeiro
Position: Left-back
Height: 1.80m
Club: Botafogo/RJ (1946 to 1964).
Matches for the National Team: 75
Titles for the National Team: 1958 and 62 World Cups; 1949 America's Cup; 1952 Pan-American Championship
Titles for Botafogo: 4 Cariocas (48, 57, 61, and 62); Rio-Sao Paulo (1962/64).
Paulo Valentine
Paulinho Valentin went to Botafogo, taken by coach João Saldanha to try to win the title, which the team had not conquered since 1948. He came to Botafogo in 1952 after a short stint at Atlético Mineiro.
He played for Botafogo until 1960 when he was sold to Boca Juniors. Then he played in Mexico and coached a youth team in Argentina. But he was already poor and sick due to excessive smoking and drinking. He died in 1983.
Túlio Maravilha
Born in Goiânia on June 2, 1969, the son of Mussolini, a retired inspector from the state of Goiás, could never be recognized for his refined technique.
In 1987, playing for the youth category, he scored 22 goals and became the top scorer in the state championship.
At Botafogo, Túlio reached the best moment of his career. In 1994, he was again the top scorer of the Brazilian for Botafogo, although he could not prevent the elimination of the carioca team.
In 1995, Túlio was one of Botafogo's highlights in winning the Brazilian Championship, a competition in which he was the top scorer with 23 goals.
The striker stayed in the team until 1996, when he transferred to Corinthians. Then the ace still had two spells at Glorioso but nothing comparable to the success of 1995.
NAME: Túlio Humberto Pereira Costa
BORN: 02/06/1969, in Goiânia (GO)
HEIGHT: 1.75m
POSITION: center forward
CLUBS: Goiás, Sion (Switzerland), Botafogo, Corinthians, Vitória, Fluminense, Cruzeiro, Vila Nova, São Caetano, Santa Cruz, and the Brazilian national team.
MAIN TITLES IN THE CLUB: Brazilian Championship (1995) and Cidade Maravilhosa Cup (1996)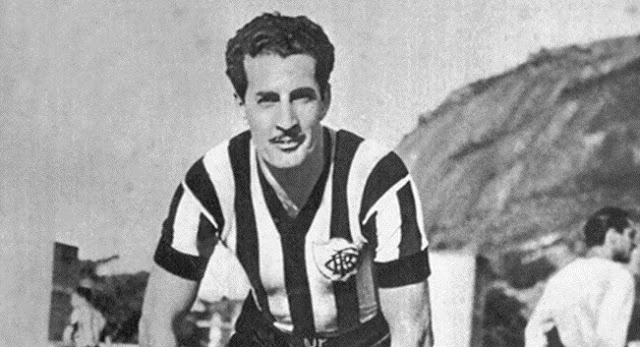 Carvalho Leite
Of the eighteen Rio de Janeiro titles won by Botafogo until 1998, five had the participation of Carvalho Leite. The simple memory of the conquests of 1930, 1932, 1933, 1934, and 1935, when Botafogo won the fourth Championship in Rio, shows the importance of the Botafogo idol.
Born in Rio de Janeiro on June 25, 1912, Carvalho Leite was not intimidated, even in his youth, by the responsibility of wearing Botafogo's number 9 shirt.
In the 1930 Campeonato Carioca, at age 18, he played the most in the Carioca title campaign (twenty times), becoming the team's top scorer, with fourteen goals. He became, for years, Botafogo's leading goalscorer.
He scored 274 goals in 210 games with the white shirt and was only surpassed several years after leaving the fields by Quarentinha, who scored 310 goals for the club.
But Carvalho Leite suffered an injury in May 1941 against Bonsucesso, which took him off the pitch forever, at the age of 29, one of the top scorers that Alvinegro had in its entire history.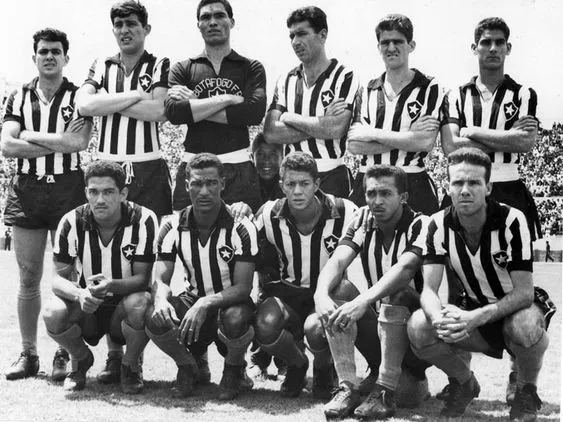 Garrincha
The crooked-leg genius made history at Alvinegro.
NAME: Manuel dos Santos Date of birth: 10/18/1933
NATURALITY: Pau Grande (RJ)
POSITION: Right Winger
TITLES WITH BOTAFOGO: Carioca from 57, 61 and 62, Rio-São Paulo (62 and 64)
TITLES WITH CORINTHIANS: Rio-São Paulo (66)
TITLE BY THE NATIONAL TEAM: 1958 and 1962 World Cups
BOTAFOGO APPEARANCES: 579
BOTAFOGO GOALS: 249
CLUBS PLAYED: Botafogo, Corinthians, Portuguesa Carioca, Bangu, Flamengo, Goiás and Pottery.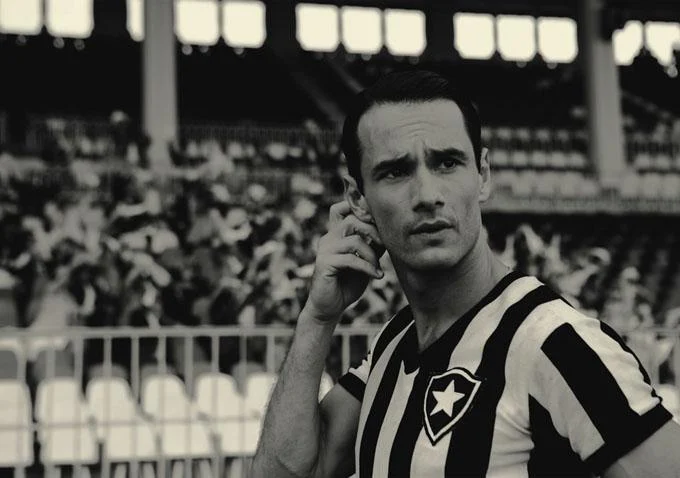 Heleno de Freitas
He arrived at Botafogo's main team in 1937 with the responsibility of replacing the idol Carvalho Leite (scorer of the fourth state championship from 1932 to 35).
Again, Heleno de Freitas did not disappoint the crowd with great skill and excellent heading.
Owner of an elegant posture on and off the field, he was the most prominent black and white idol before Garrincha, even without ever having been champion for the club.
He marked his stint at Glorioso with 204 goals in 233 games, becoming the fourth top scorer in the club's history. He left General Severiano in 1948 when he was sold to Boca Juniors of Argentina.
Heleno de Freitas was nicknamed Gilda. Throughout his career, he played for Vasco (where he was state champion in 1949), Atlético de Barranquilla (Colombia), and América before being admitted to a sanatorium in Barbacena in 1953, where he would die six years later.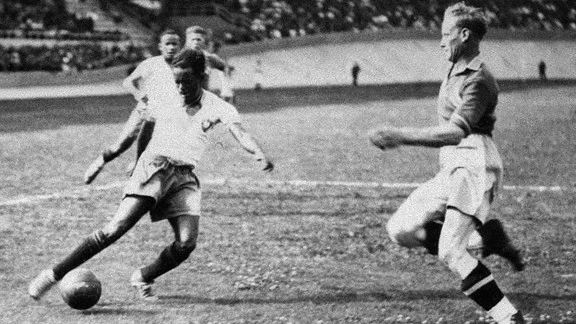 Leonidas
As he became known, Leonidas da Silva, the Black Diamond, was one of the most exciting players of all time. A fast, brave, skillful, and opportunistic striker, he marked an era in the 1930s and 1940s.
His football career began at São Cristóvão in 1930. His playing style and skill did not take long to secure him a spot on the Brazilian national team two years later when he was just 19 years old.
And there went that young man with a solid personality to take the field at the Centenario stadium in Montevideo to face Uruguay, champion of the World Cup and two-time winner of the Olympic Games.
His club career was no less successful. He played for Flamengo, Botafogo, and Vasco, being champions in all of them. In 1942, Leonidas accepted the challenge of transferring to Sao Paulo football, going to play for São Paulo.
Name: Leônidas da Silva
Date of Birth: 06/09/13
Place of Birth: Rio de Janeiro
Position: Forward
Nicknames: "Black Diamond," "Bom Rubber," and "Bonde de 200 Contos"
Clubs where he played: Sírio and Libanês, Bonsucesso, São Cristovão, Peñarol (Uruguay), Vasco, Botafogo, Flamengo, and São Paulo
Career in the Brazilian National Team
Games played: 37
Goals scored: 37
World Cups in which he participated: 1934 (Italy) and 1938 (France)
Titles won: Champion of the Copa Rio Branco (32) and top scorer of the 1938 World Cup, with eight goals scored
Titles: Campeonato Carioca (1934) with Vasco da Gama; Campeonato Carioca (1935) with Botafogo; Campeonato Carioca (1939) and Tournament Rio – São Paulo (1940) for Flamengo; Campeonato Paulista (1943, 45, 46, 48 and 49) for São Paulo; Copa Rio Branco (1932), 3rd place in the World Cup (1938) and Copa Roca (1945) for the Brazilian national team.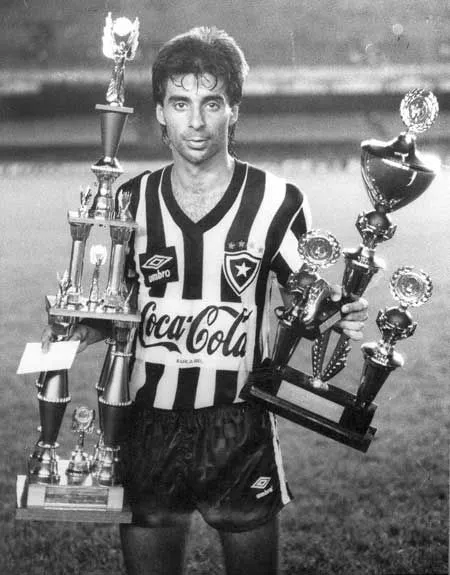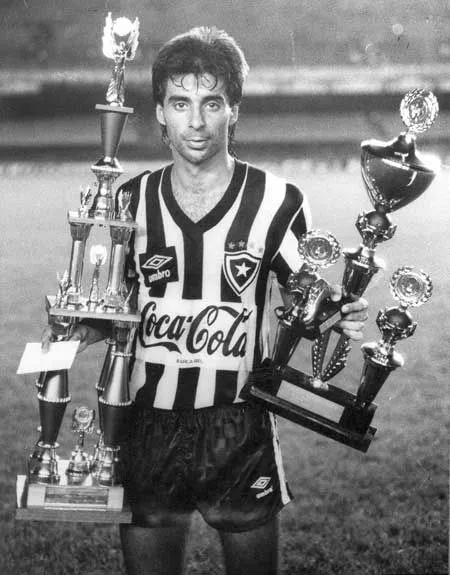 Mauro Galvão
At 15, Mauro Galvão started to stand out in the team and was invited to play in the group of 17/18-year-olds from the Tricolor gaucho, Grêmio.
But a change in the club's planning imposed a return to its starting group, which left Mauro Galvão discontented.
With that, he decided to seek new challenges and moved to rival Colorado. From there, the path to success opened up for this defender.
In 1986, Mauro moved to Bangu and then played for Botafogo-RJ from 1987 to 1990. He was one of the team's highlights in winning the 1989 Campeonato Carioca to Lugano, Switzerland, where he stayed for six seasons.
He returned to Brazil in 1996, when he spent a year at Grêmio, winning the 97 Brazilian. Galvão even played for Vasco at the end of his career.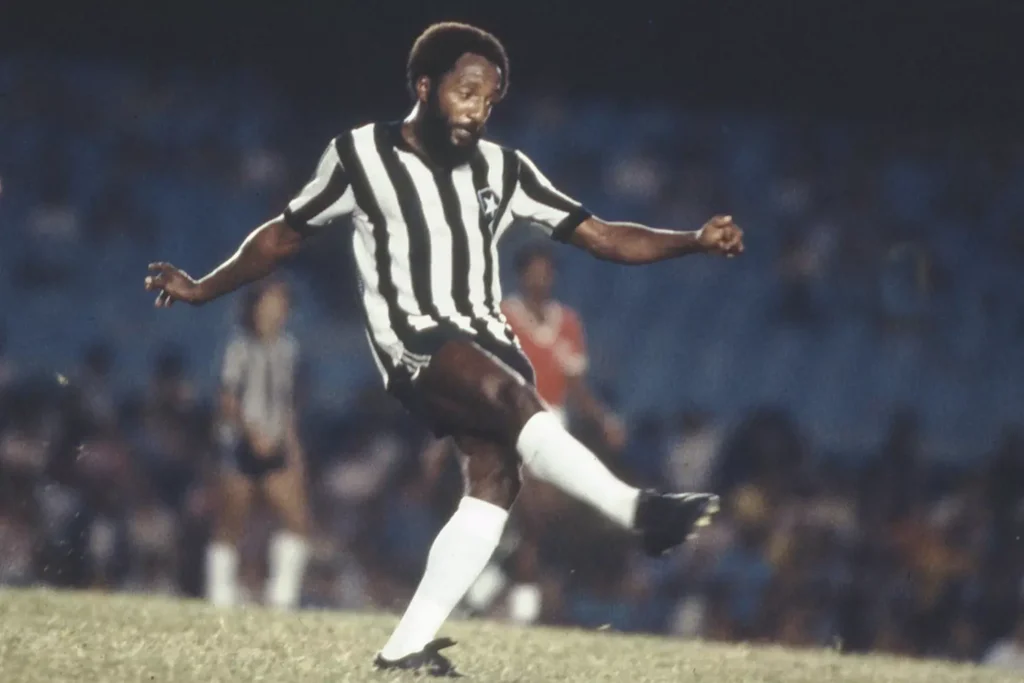 Paulo César Caju
Born in 1949, in the favela of Cocheira, in Rio de Janeiro, Paulo César had the same dream as any poor boy: to succeed in football and to get out of poverty.
As the favela was located in the Botafogo neighborhood, it was only natural that he would try his luck in General Severiano's black-and-white.
Caju played for great Brazilian teams such as Botafogo, Fluminense, and Grêmio, for Olympique, from Marseille, and also participated in the 1970 and 1974 World Cups with the Brazilian team.
His skillful and provocative football soon attracted attention, and he became known in Rio de Janeiro in a short time. Still, in 1967, Paulo César was called up for the first time to the Brazilian national team and became known throughout the country.
Name: Paulo César Lima (Paulo César Caju)
Born: 06/16/1949, in Rio de Janeiro
Position: left winger and midfielder
Main clubs: Botafogo, Flamengo, Olympique de Marseille, Fluminense, Vasco, Grêmio and Corinthians.
Main titles: champion of the Brazil Cup, in 68, by Botafogo; two-time champion in Rio de Janeiro, in 67 and 68, for Botafogo, and in 75 and 76, for Fluminense; champion in Rio de Janeiro, in 72, for Flamengo; and champion of the World Cup, in 70, with the Brazilian team.
Matches for the national team: 77
Goals for the national team: 17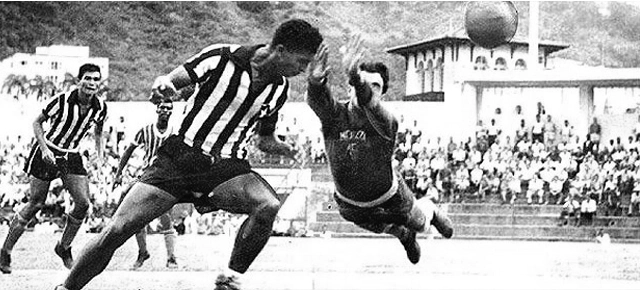 Quarentinha
Quarentinha is the top scorer in Botafogo's history, with 308 goals in 442 games, yet Quarentinha saw no reason to celebrate.
The striker with a powerful left leg never celebrated his goals, which irritated the Botafogo fans. He said there was no reason to celebrate because he was fulfilling his obligation since he was paid for it.
Playing alongside Didi and Garrincha, he made history and was the top scorer in the Campeonato Carioca for three consecutive editions: 1958/59/60. Quarentinha has the best goal average in the history of the Brazilian team: 1 goal per game (17 games and 17 goals)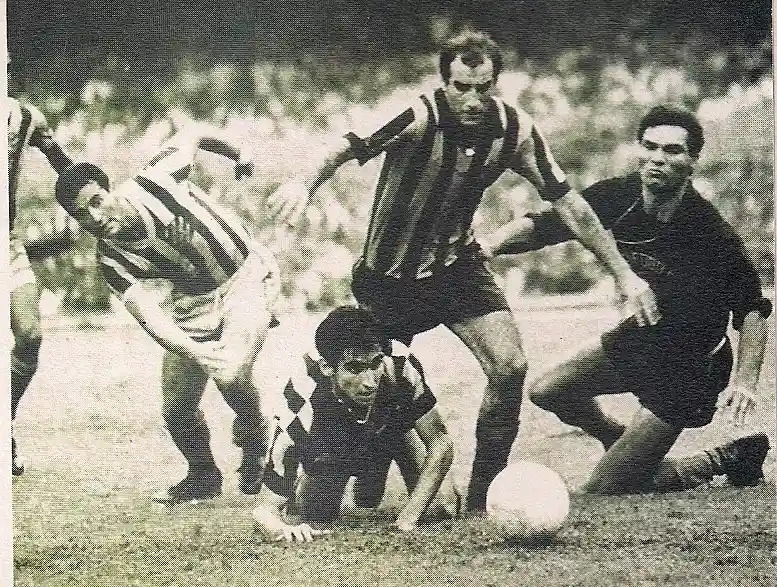 Zagallo
Achieving prominence at the left end of a line in which the myths Mané Garrincha and Didi played, in addition to the renowned Amarildo, was not for everyone. And Zagalo was the starter in this legendary attack, which took Botafogo futbol club to the 1961/62 championship precisely because he was not an ordinary player.
Zagalo patented the "formiguinha" style, the left winger who returns to score in midfield. Mário Jorge Lobo Zagalo was born in Maceió on August 9, 1931, and moved to Rio de Janeiro at the age of 8 months.
In 1943, he joined the club America. Zagalo played volleyball too. In the early 1950's he transferred to Flamengo.
His story at Botafogo soccer club began shortly after the 1958 World Cup in Sweden. In General Severiano, he was already respected for his new way of playing in the left wing, worrying about the midfield.
Zagalo abandoned his playing career in 1965, aged 34. From then on, the simple and efficient left winger gave way to the intellectual and strategist coach, who contributed to the modernization of Brazilian football.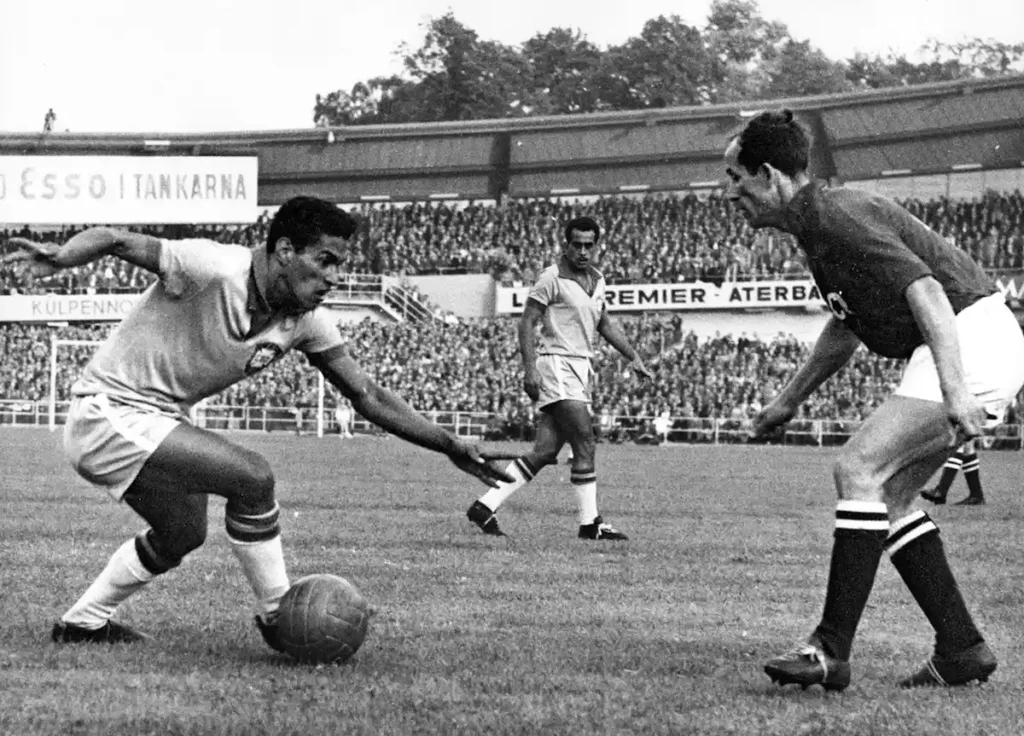 Botafogo Players Who Are World Cup Winners 
The following is a list of all Botafogo players who have represented the club in official matches and won the World Cup championships with Brazil.
Nílton Santos 1958, 1962
Didi 1958, 1962
Garrincha 1958, 1962
Amarildo 1962
Zagallo 1962
Jairzinho 1970
Paulo Cezar Caju 1970
Roberto Miranda 1970

Nilton Santos Stadium
Built for the 2007 Pan American Games, the Nilton Santos Stadium was constructed by the City Hall on the former site of the Federal Railway Network, on Rua José dos Reis, in the Engenho de Dentro neighborhood, in the North Zone of Rio de Janeiro.
Inaugurated on June 30, 2007, with Botafogo's 2-1 victory over Fluminense, the stadium is considered the most modern in Latin America and the fifth most modern in the world.
Botafogo's dream of having its stadium came true in August 2007 when the club won the tender held by the City Hall. The club then started to play its games in the place, managing and commercially exploiting it.
In 2009, Botafogo hired the company Pepira Empreendimentos Ltda. to assist the club in operating the stadium.
In addition to the soccer field with natural grass, measuring 105 x 68m, the stadium has an athletics track, with nine lanes in the standard IAAF standard, two sectors for triple and long jumps, one for pole vaulting, the other for high jump and a javelin track.
An attached field for training and an indoor athletics track for warm-up. The Nilton Santos Stadium currently has a capacity of 46 thousand people, and there is an expansion project for 60 thousand Botafogo supporters when required.