Born near the center of Rio de Janeiro in 1913, Leonidas Da Silva started playing in 1930, before soccer became a professional sport. Two years later received his first national call-up. At the 1934 World Cup in Italy, he scored Brazil's goal in their only game, a 3-1 defeat by Spain.
Leônidas had stints at three of Rio de Janeiro's big soccer clubs – Vasco, Botafogo and Flamengo. In his role as Flamengo's first black player, he created a working-class image for the club and made it the most popular in Brazil.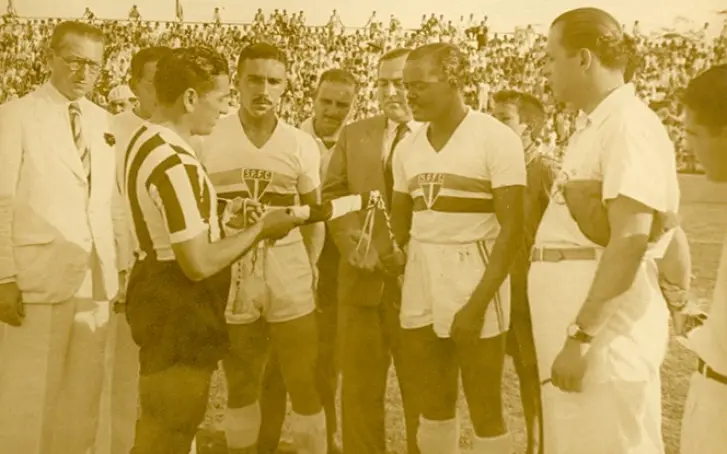 Leonidas Da Silva Early Years
During his formative years in Sao Cristovao, Leônidas Da Silva's family hoped he would become a lawyer or doctor. As strange as it may seem now, Brazilian children were actively discouraged from pursuing a career in soccer in those days. The youngster had other ideas. However, his mind was occupied with nothing but thoughts of the game he loved so much.
Drawing on the boundless inventiveness and determination that would serve him so well during his career, the bare-footed Leonidas honed his skills on the local streets, mastering improvised soccer balls made from socks and playing endless one-twos against factory walls.
Leonidas Da Silva left school at 14 because his family couldn't contain his enthusiasm for the sport. "Even if I didn't always play well, I never settled for a defeat," he once said about his will to win.
Playing for neighborhood football teams to begin with, Leônidas soon started to make a name for himself. He signed for local club Sirio Libanes after turning 16 and then joined a talented side called Bonsucesso, who was making a habit of challenging the big guns. By the time Leônidas was 18, he was already making the headlines.
Chasing His Dreams
Founded in 1922, the now-defunct Brazilian State Team Championship was invariably a two-horse race between Rio de Janeiro and São Paulo. The two had already contested seven of the competition's first eight finals when they came together for an eighth time in 1931, with Os Paulistas, led by the great Arthur Friedenreich, defending the title they had won two years previously.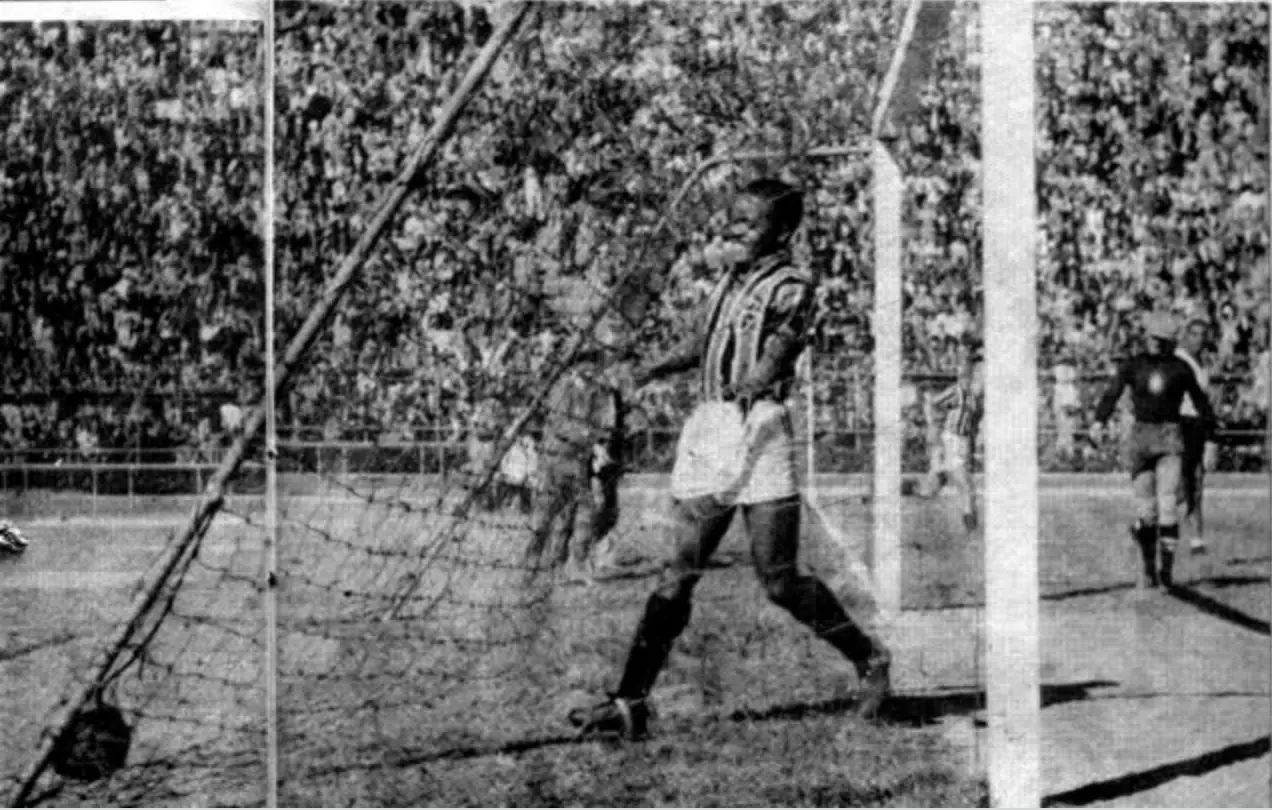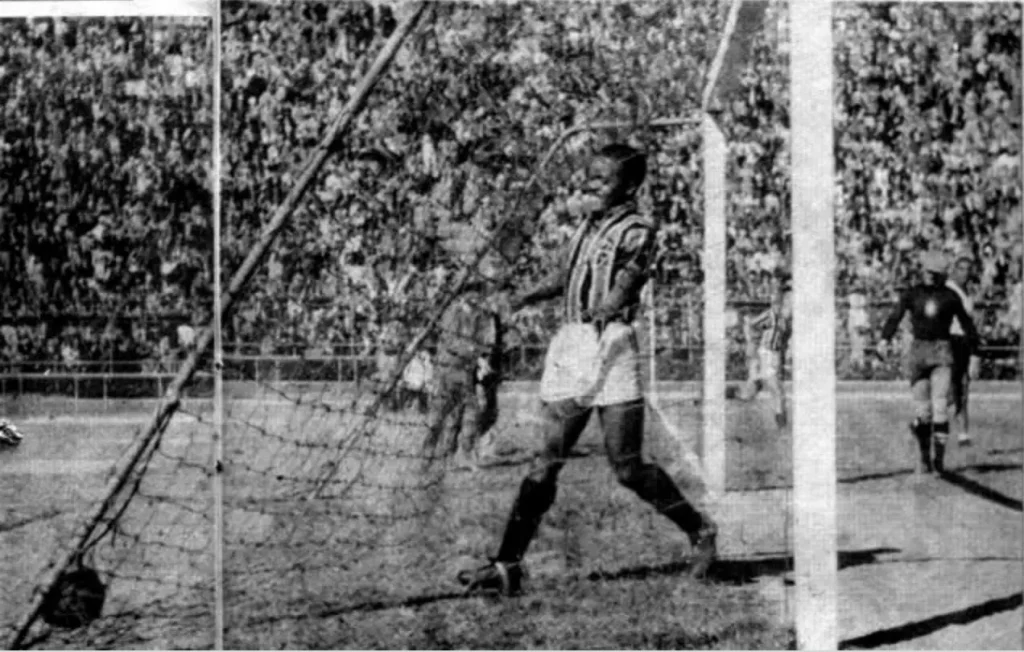 Rio's hopes of regaining the national crown suffered a severe blow when star player Nilo was ruled out before the final, to be played at their home stadium, the Sao Januario. The well-informed Rio state championship fans packed into the ground brushed off the bad news by chanting for an 18-year-old sensation named Leônidas Da Silva.
The only problem was that the talented teenager was so sure he would not be playing in the final that Leônidas had spent the previous night at a dance. So, waking up that morning to enjoy a kickabout in the street to keep himself fit, he tucked into a hearty bean and pork stew for lunch.
Though thunder-struck on the news of his last-minute selection, Leonidas managed to control his nerves and turn in a match-winning performance capped by two second-half goals. As Leônidas celebrated with his teammates for winning the Rio state championship, Friedenreich congratulated him.
It was a moment loaded with symbolic significance as the great striker passed the torch on to his successor, one he would carry beyond Brazil's borders to become the country's first international soccer superstar.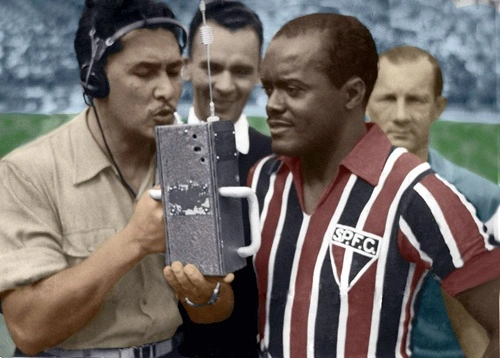 Discrimination and Elitism
It was not an easy journey for Leonidas when he started his career as a professional footballer. He faced several social obstacles along the way. Despite the abolishment of slavery in Brazil in 1888, discrimination still exists.
Football was introduced into Brazil by the British. For a long time, it was a sport for the elite, so it was somewhat challenging for the black community and lower classes to achieve higher goals through playing football.
With the emergence of Domingos da Guia – one of the greatest center-backs in Brazilian history – Brazil began to think differently about their black citizens.
Leônidas Da Silva Brazil Debut
Leônidas continued to do so before earning his Brazil team debut at a friendly tournament in the Uruguayan capital of Montevideo in 1932. Forming part of a young, transitional side that did not inspire much faith in the Brazilian football public, Leonidas Da Silva showed he belonged on the big stage.
Accustomed to large crowds at the Sao Januario, the brave youngster was unfazed by the prospect of taking on reigning world champions Uruguay at a packed Estadio Centenario and scored both goals in a notable win for A Seleção.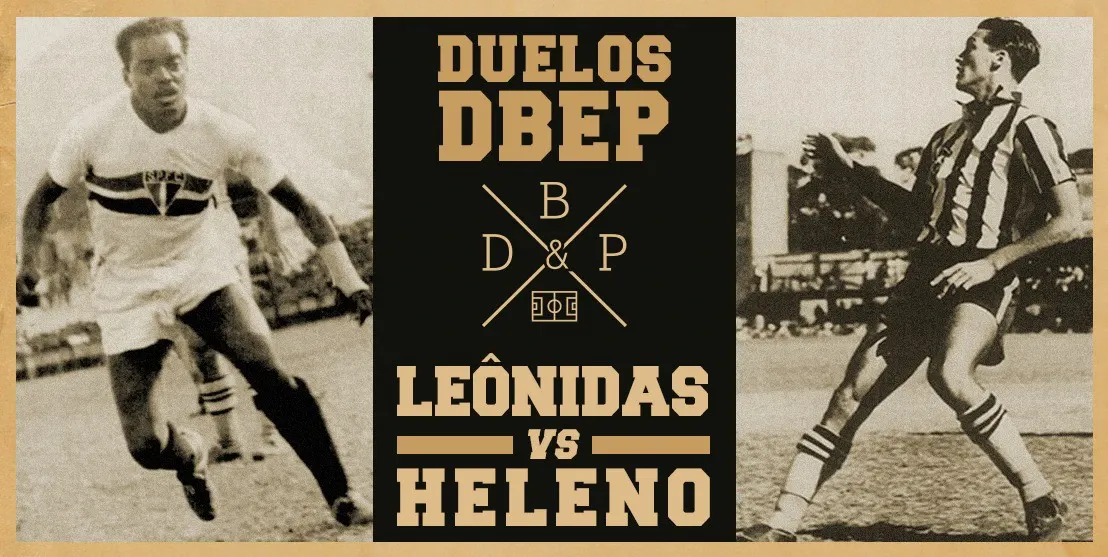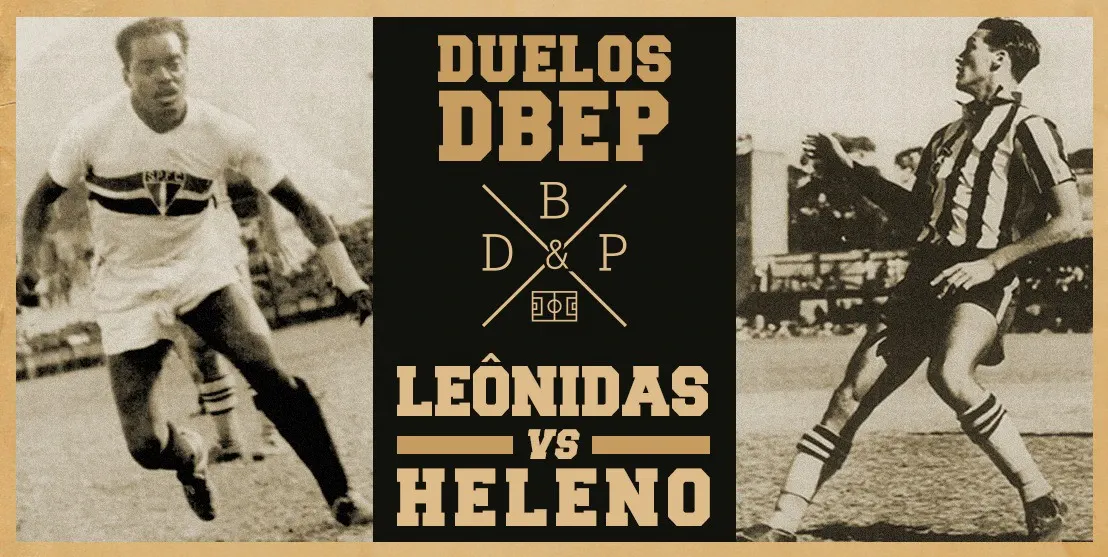 Political wrangling hampered Brazil's build-up for the 1934 FIFA World Cup in Italy, and it was a much-weakened and ill-prepared team that went down 3-1 to Spain in their opening game at the World Cup finals. Leonidas scored his side's only goal in that defeat and later that year would hit 13 in 11 matches on his first tour of Europe.
The Shoeless Goal
Anxious to take on the world, Leônidas was about to forge the legend that would see him become known as The Rubber Man and The Black Diamond.
Brazil was a soccer minnow when it went to the 1938 World Cup in France, and they hadn't yet made an impression on the world stage. In their first round, however, the crowd was stunned as the South Americans beat Poland 6-5 with a hat-trick scored by their acrobatic center-forward Leônidas Da Silva.
Rain fell non-stop during the match, making the soccer field a muddy mess and affecting the feel of Leonidas' cleats during the contest played at Stade de la Meinau in Strasbourg, France.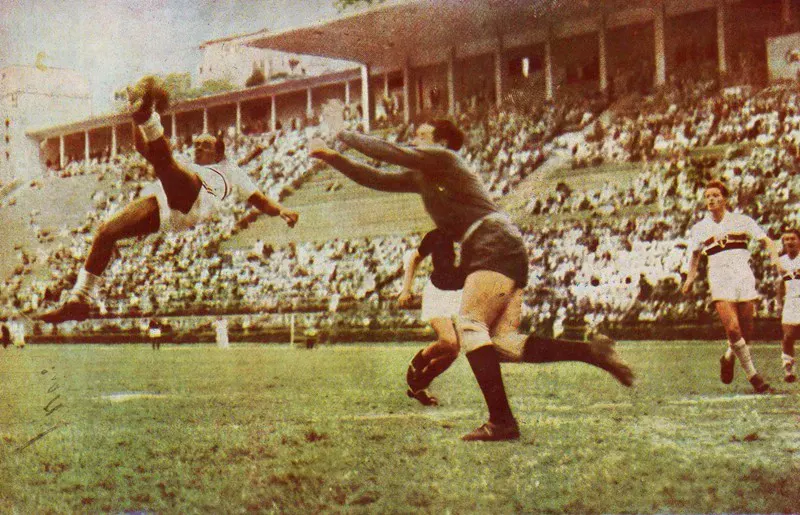 A streetwise Brazilian star, who lost his shoes in the sticky mud, still had enough presence of mind to pounce on a slip by the Polish goalkeeper and turn the soccer ball into the net. As legend has it, he took off his shoes for at least a portion of the extra time and played as he had grown up in the shantytowns of his native Rio de Janeiro.
That match began Brazilian soccer's international and World Cup reputation for flamboyance, prodigious technique, audacity, and joy. The first true artist of the "beautiful game" was Leônidas Da Silva. He became the first and only player to score a shoeless goal in soccer's premier event.
The Bicycle Kick
He was soon nicknamed the "Rubber Man" for the elastic swing and dexterity of his movements. Even though Leônidas always claimed that the bicycle kick – in which the ball is kicked when you are horizontal in the air – was first performed by a colleague, he is generally considered its inventor, and the move was his trademark.
According to legend, the bicycle kick had been used in South America, particularly in Uruguay and Chile, but Brazil was the first country to experience it, and they were mesmerized.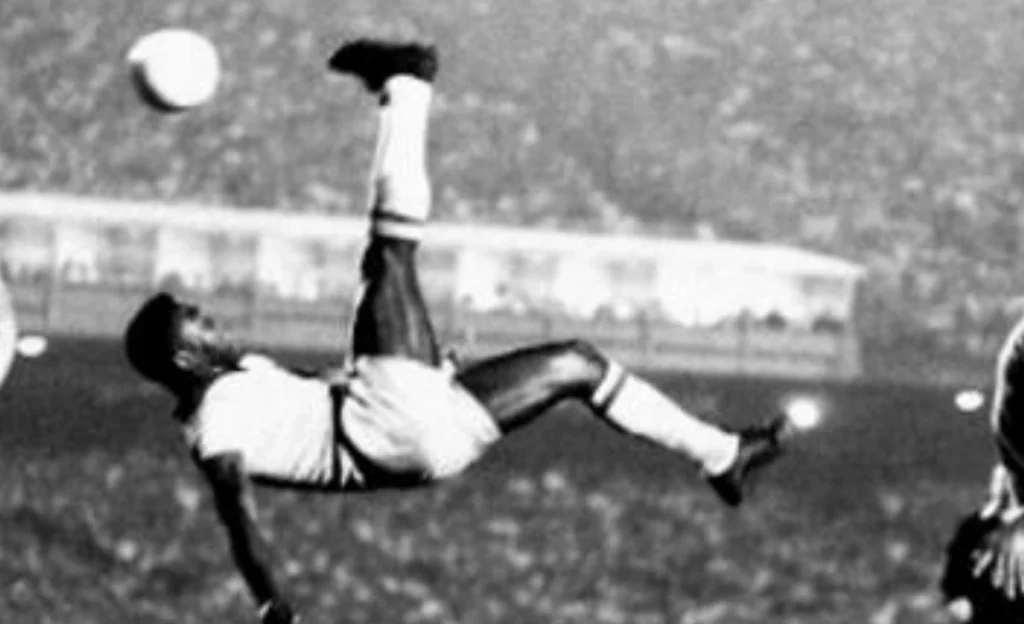 1938 World Cup
In the quarterfinals, the Brazil national team managed to earn a 1-1 draw with former Czechoslovakia despite being down two of their most important players. In addition to Leonidas scoring,  Leônidas displayed a very innovative trick: an acrobatic bicycle kick that was both admired and admired.
Coach Adhemar Pimenta rang the changes for the replay against the Czechs, retaining only star man Leonidas in a full-strength line-up. The rest had done his players good, although their 2-1 victory was soured by a muscle strain for the Flamengo center forward, who had scored his side's opening goal in the win.
Leônidas Da Silva watched helplessly as the Brazilian football team lost by 2-1 to Italy in the semi final. After his return to full fitness, Leônidas scored twice and set up another in Brazil's 4-2 third-place match over Sweden to claim their first podium spot in the world finals.
With seven goals in four games, the Black Diamond returned to a hero's welcome, with the World Cup 'Golden Shoe' (for being the top scorer) safely in his possession.

Brazil's New Image
As well as giving Europeans a new image of Brazil, back at home Leônidas Da Silva helped transform Brazil's image of itself. There had been unprecedented interest in the 1938 World Cup, and when he returned, Leônidas was the most famous Brazilian sports person there had ever been.
The soccer player was also the first to endorse a product. The Brazilian chocolate manufacturer Lacta launched a chocolate bar on the back of his success – called the Diamante Negro, after his other nickname, "The Black Diamond." The Diamante Negro is Brazil's most popular chocolate brand.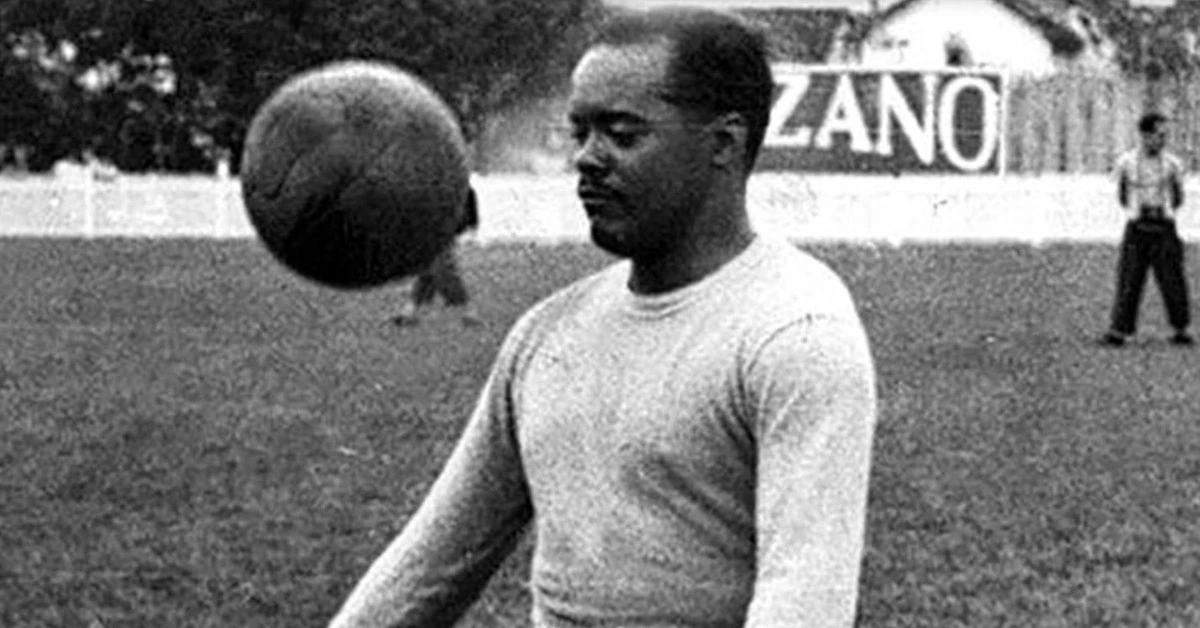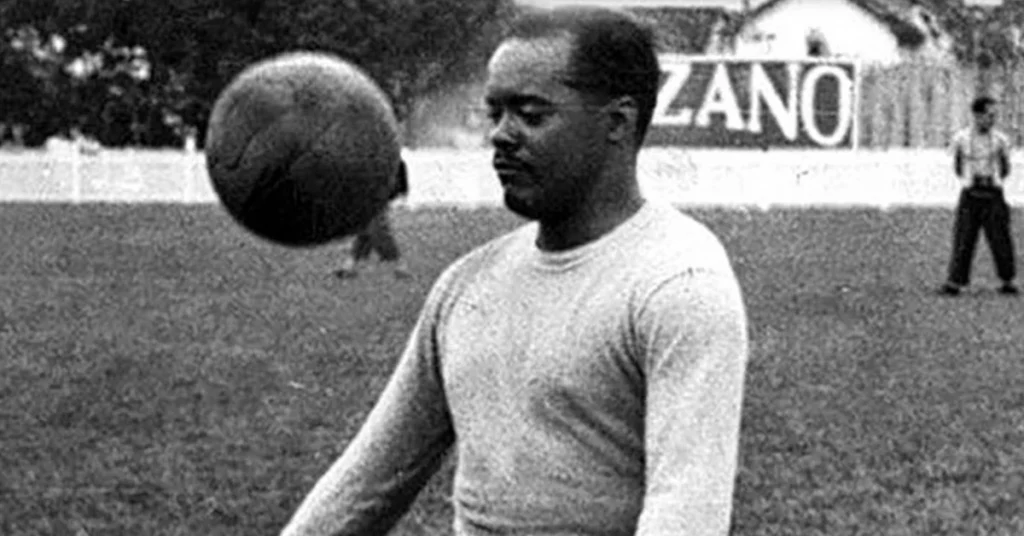 Leonidas Da Silva fame helped further new theories of race that, for the first time, saw Brazilians be proud of their racial mixture. Gilberto Freyre, the most influential academic of his day, used the soccer player – who was black – as a positive symbol of Brazil's culture of miscegenation.
Not only did soccer show Brazil at its best, but Leônidas Da Silva's style of play embodied Brazilian football characteristics of musicality, happiness, astuteness, and guile. This helped make soccer the most powerful symbol of national identity, an idea which continued and strengthened as Brazilian soccer eventually achieved greatness.
A Place In The Pantheon
Although a succession of knee injuries would prevent him from repeating such feats again with Brazil, for whom Leônidas continued playing until 1949, he continued to enjoy great success at the club level, becoming the first of many idols at Flamengo and winning several titles for them and other clubs.
In this era, Flamengo was a club renowned for its elitism. Leônidas would become of their first black players. What changed the Brazilian soccer clubs thinking was that Leônidas became their best player for many years while becoming a leader of the movement against black prejudice.
Though the transfer deal that took him from O Mengão to São Paulo was a Brazilian football record at the time, it was met with skepticism by many fans at the Estadio Morumbi. Nevertheless, Leonidas would prove the São Paulo doubters wrong. He turned on the style to help the team achieve promotion to the top flight and rival city foes Corinthians and Palmeiras.
His life had its troubles. Leônidas made enemies and ended up briefly in jail when it was discovered he falsified dispensation papers for military service. In the 1940s, he moved to São Paulo, winning five championship medals with São Paulo FC. He retired in 1950.
In 1974, Leônidas began to suffer from Alzheimer's, and he spent the last decades in a home. Leônidas was married to Maria Da Silva.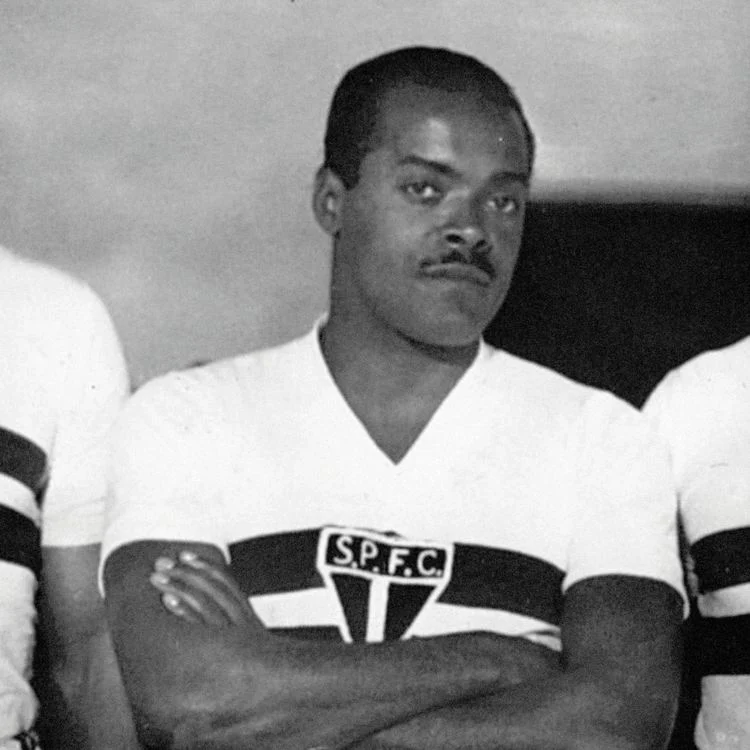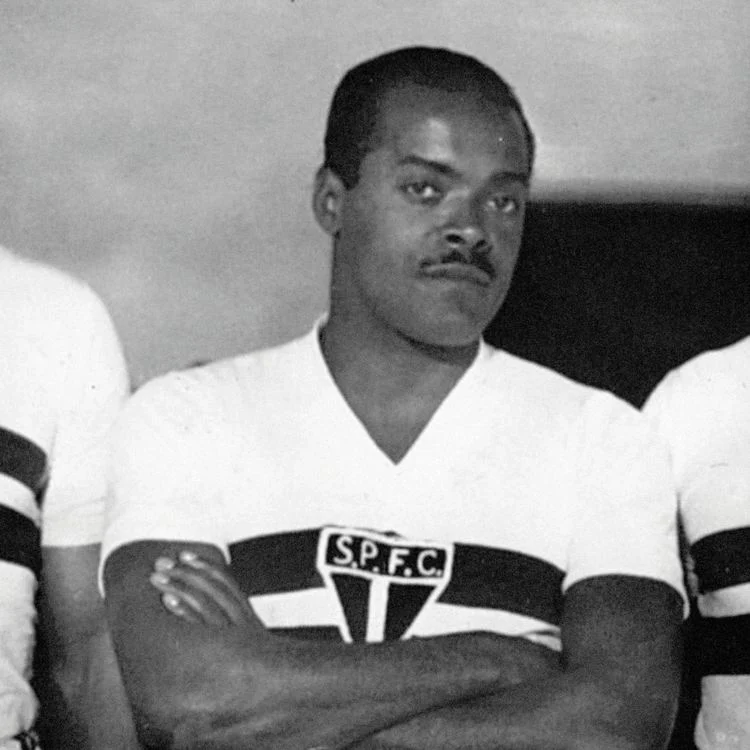 Leonidas Da Silva Interesting Facts And Figures
Leonidas scored on his Brazil debut, a 2-2 draw in a friendly against Hungarian club Ferencvaros.
Leonidas also played basketball for his first club, Sirio Libanes. At the time (the 1920s), soccer clubs in Rio were lawfully required to run other sports teams.
Leonidas had a habit of breaking windows when playing soccer in the street, which was one of the reasons why Leônidas took up a job with a local company at the age of 14.
Before becoming known as The Black Diamond and The Rubber Man, Leonidas was dubbed The Petronilho of Rio after the great center-forward Petronilho de Brito, the first black Brazilian footballer to play abroad for San Lorenzo in Argentina in South America.
He also used the bicycle kick in the 1938 World Cup, much to the crowd's delight. The referee was so stunned by the bicycle kick that he wasn't sure whether it was within the football rules at the time.
In 1948, Leônidas da Silva scored a bicycle kick in the massive 8-0 win over Juventus. The picture of the goal is regarded as the most famous picture of the player while playing for São Paulo.
After retiring, Leonidas had a brief stint as a coach at São Paulo and tried his luck in the movie world. Leônidas would enjoy far greater success as an outspoken football commentator.
Full Name: Leônidas Da Silva
Birthdate: 06/09/1913
Birthplace: Rio de Janeiro, Brazil
Died: 24/01/2004
Club Career:
1930: Sirio Libanes
1931–1932: Bonsucesso
1933: Peñarol
1934: Vasco da Gama
1935–1936: Botafogo
1936–1942: Flamengo
1943–1950: São Paulo
Total: 291 Appearances, 230 Goals
Club Honors:
São Paulo Athletic Club (SPAC)
Campeonato Paulista League Champions: 1943, 1945, 1946, 1948, 1949
Campeonato Carioca (Rio State Championship)
1934: Vasco da Gama
1935: Botafogo
1939: Flamengo
National Team:
National Team Honors:
1938 World Cup Finals: Third Place
1938 World Cup Finals: Golden Boot (top scorer), Golden Ball, And 1938 FIFA All-Star Team