Brazilian soccer player Claudio Taffarel played as a goalkeeper. He played professional soccer for five clubs in Brazil and Europe during an 18-year career.
His senior career began with Internacional in 1985, while his later clubs were Parma, Reggiana, Atlético Mineiro, and Galatasaray. After a second stint with Parma in Italy, his career ended in 2003. In 1994, Brazil goalkeeper Taffarel helped Brazil win the World Cup.
The widely popular born-again Christian Claudio Taffarel kindly accepted our request for an interview with the History Of Soccer team about his three World Cup appearances and his current goalkeeping coach role at Liverpool Football Club.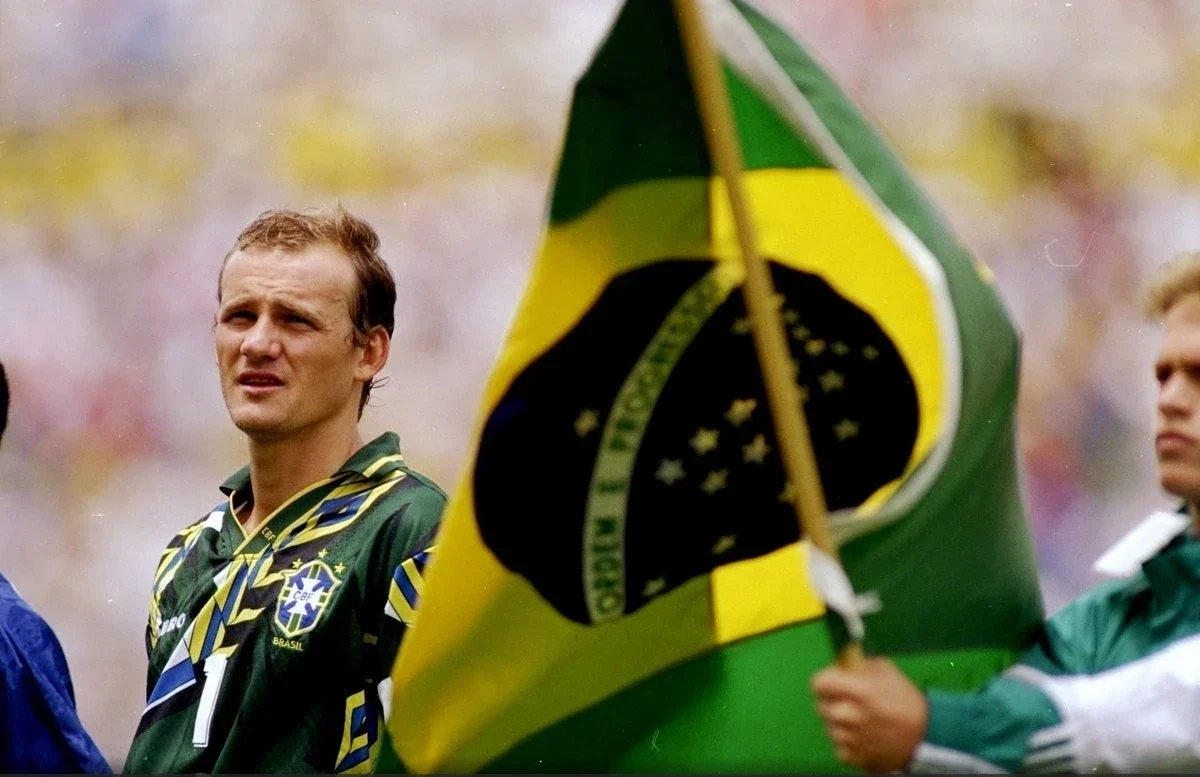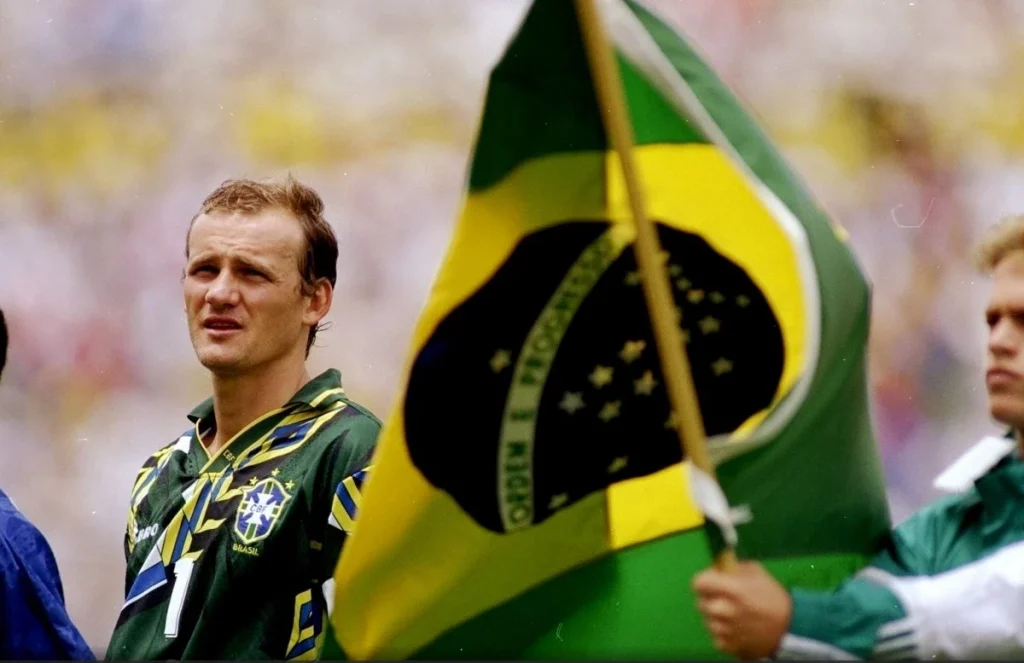 Interview With Claudio Tafferel
You kept the goal for Brazil at three FIFA World Cups. What did each of them mean to you as a professional?
Cláudio Taffarel: When I started playing soccer, I often heard great champions, like Diego Maradona and others, say in interviews that they'd wanted to play for the Brazil national team and be world champions ever since they were children.
For me, it wasn't like that. My dream was to become a professional soccer player and see what happened. My life has always been like that. I began playing in 1984 at the age of 18 and participated in my first World Cup in 1990 at 24.
Although these things happened very quickly, I was never over-awed by them. I just let things happen naturally.
I played at 1990, 1994, and 1998 World Cups, but I felt the most prepared for the 1990 tournament. I'm not sure why. Perhaps it was because it was my first.
Can you tell us what you remember most about each of them?
Cláudio Taffarel: I was better prepared, more sure of myself, at the 1990 World Cup, as I've said before. However, I had the feeling that the rest of the group wasn't as mentally prepared as I was.
There were a lot of problems within the group during the tournament and beforehand, about national team selections and in our day-to-day dealings. The atmosphere was not conducive to playing in a World Cup. Even so, Brazil was in the best position to win because we had a better team than Germany, who ended up winning.
Therefore we felt that we were capable of winning, but the atmosphere in the camp wasn't helpful.
The game against Argentina was miserable, and we were knocked out. Throughout that game, we had a lot of scoring opportunities, but we couldn't put the ball away. That tournament stands out for how we missed out on the World Cup through our misguided behavior. That served as a lesson to us ahead of the 1994 World Cup.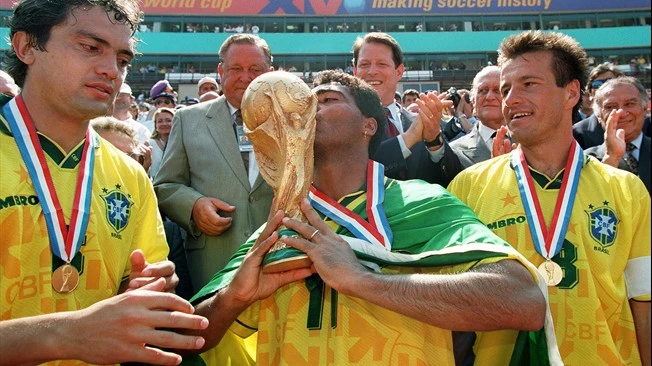 When we headed to the 1994 World Cup, the team was well-prepared, very compact, very united. We were aware that, after 24 years, the moment had arrived and we had to win. So, once the first game kicked off, we already knew that that was our chance – our chance to win.
So, the group grew even more tightly knit, and we managed to achieve that success.
We were not as well prepared for the 1998 World Cup, but we managed to go far, given the team that we had at that time and everything that happened during the competition.
I think that the World Cup is a concise competition and you can't afford the slightest error or problem, because when these arise, they end up destroying the excellent atmosphere in the camp – which is vital. Everything needs to go well.
There are seven games, and every one of them needs to be good. In 1998, the Brazil national team was inconsistent, with many ups and downs. Nevertheless, we were getting closer and closer to the Final, and we knew that other teams were better than us.
France proved that to be the case in the World Cup Final with their 3-0 victory, which shocked many people, who thought that maybe Brazil had wanted to make life easy for France. That wasn't what happened at all. Nobody wanted to help France. They were simply better than we were.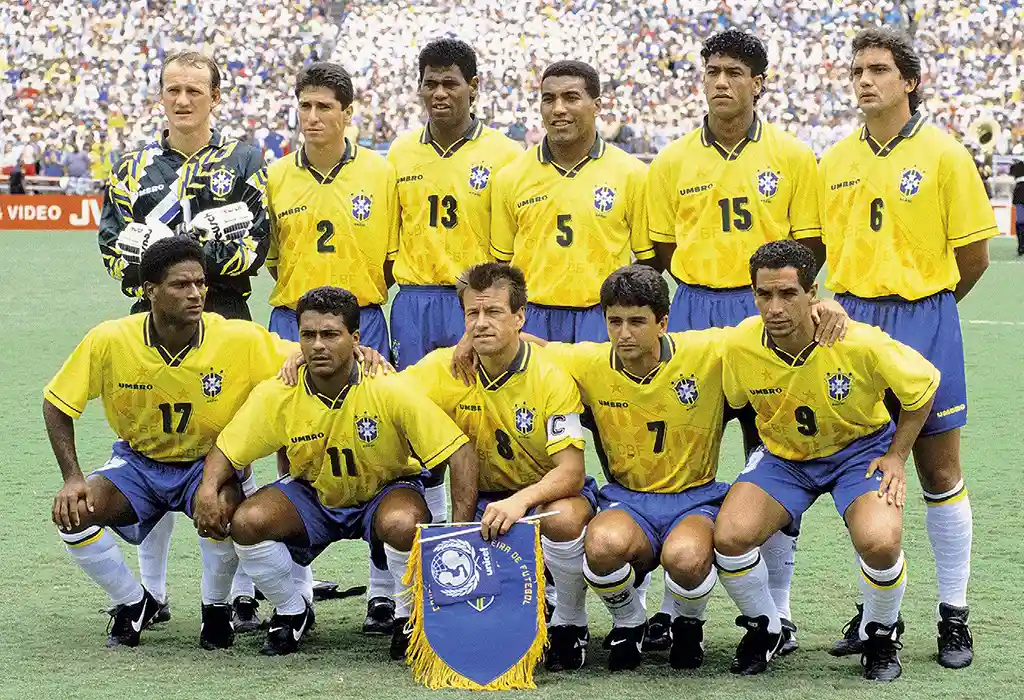 What do you recall about that game?
Cláudio Taffarel: After our great victory in 1994, during and after the game, we were celebrating out on the pitch, and I saw friends of mine from Italy, Benarrivo, Apolloni, Minotti, brilliant guys I played with at Parma, and some other Italian players who I'd played against in the league.
I could see how sad they were. People were crying, on their knees, and lying on the ground. In 1998, when we lost, my thoughts went back to that moment.
That's what happens if you lose, so I accepted that defeat. That's part of world football. But, moreover, I realized that we'd lost to a better team. We didn't lose because we were terrible; we lost because France was better on the day.
So my memories that day are of defeat, no doubt about that, but a defeat where I could still hold my head up and not feel personally vanquished.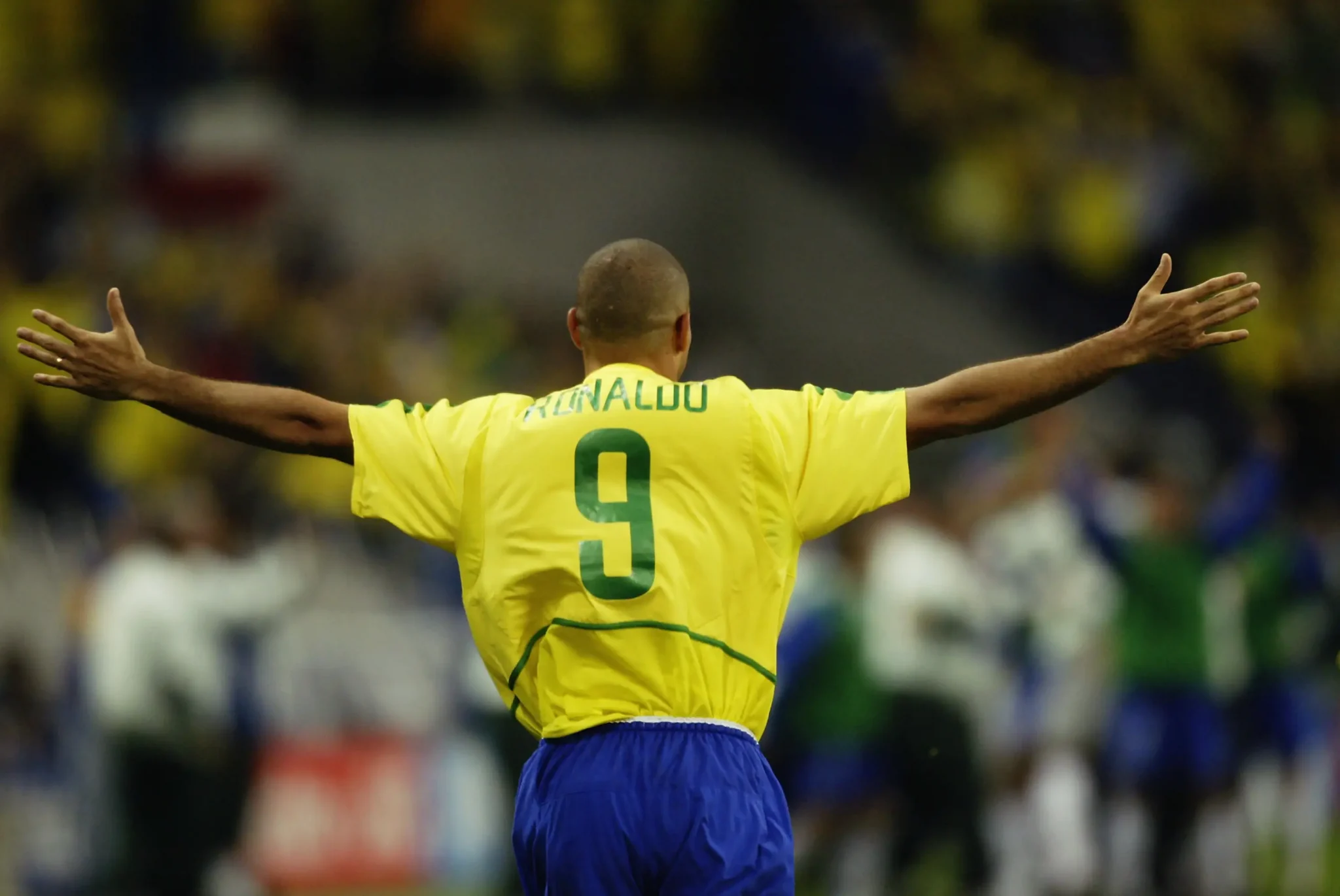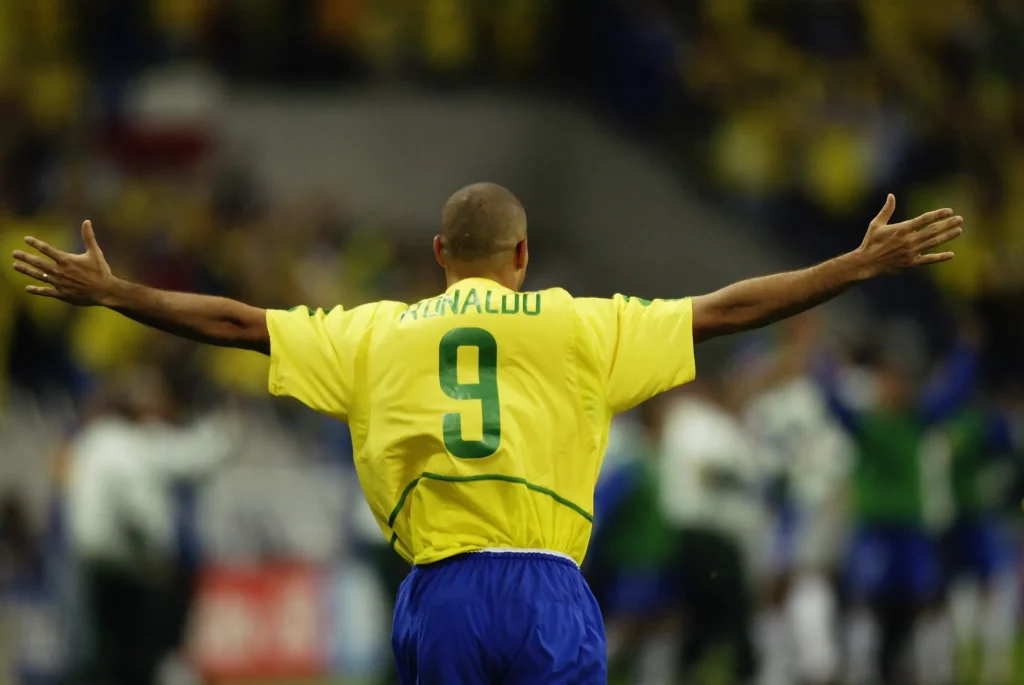 Bebeto has spoken about the problem with Ronaldo before the game. How did you see that?
Claudio Taffarel: It's a controversial issue. After the World Cup, all anyone was talking about was the problem with Ronaldo – how he'd fainted during the training camp.
However, I don't believe that was the determining factor in our defeat. With any team, especially a national team, you can have one or two exceptional players who are not performing well at a given moment, but the remainder of the side can compensate for that out on the field.
That day, however, none of us performed well. We were all off our game, and that was the determining factor. It was a bad day for the Brazilian national team, and that's why we lost.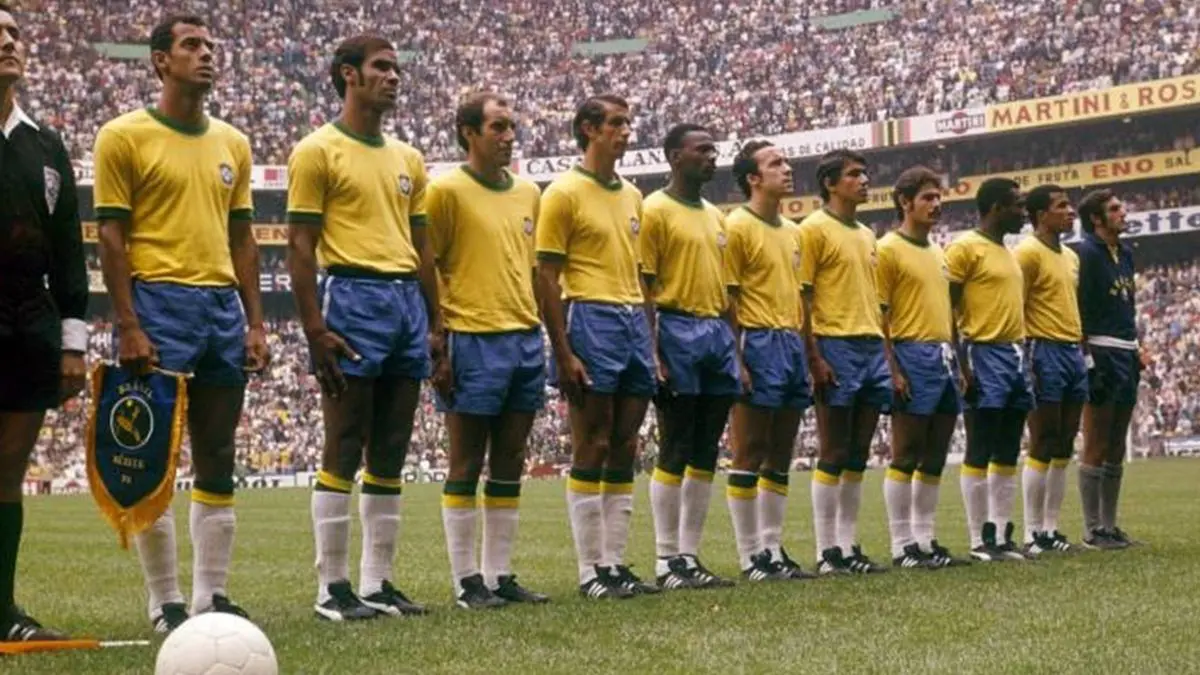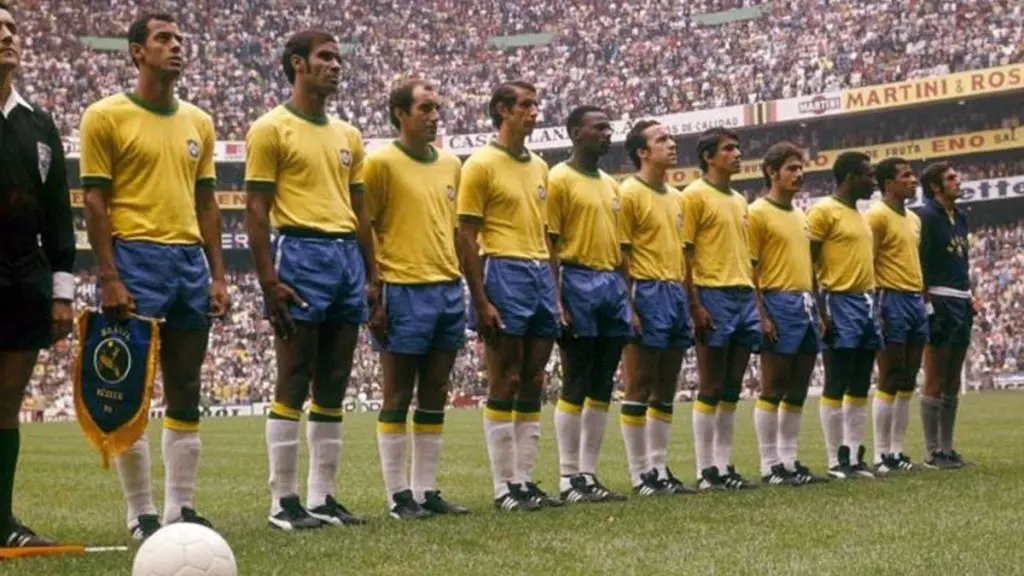 Early Memories
What memories do you have of the FIFA World Cup when you were a youngster?
Claudio Taffarel: My first memory. That's a tricky one! I think it was 1970, I recall seeing pictures some years later of those Mexican fans invading the pitch, embracing the Brazilian players, lifting a shirtless Pele, and all the great goals scored at that World Cup. That was as good as it gets.
However, when it happened, I wouldn't have been watching it. I only saw those images later, which motivated me to become a world-class player. I thought it all looked so cool, but I felt a long way from that kind of life and my dream of being a footballer back then. There's no question, though: those images made a big impression on me.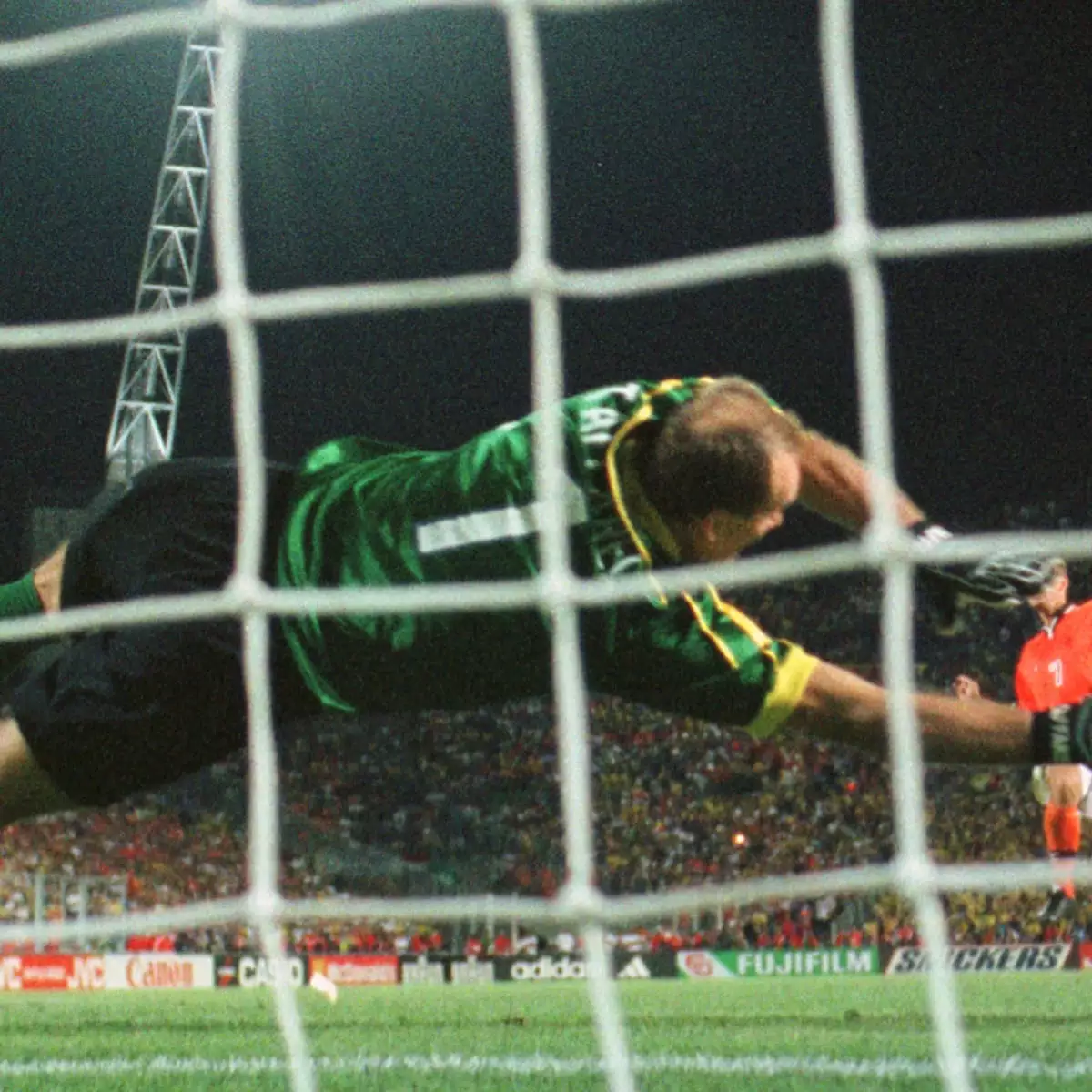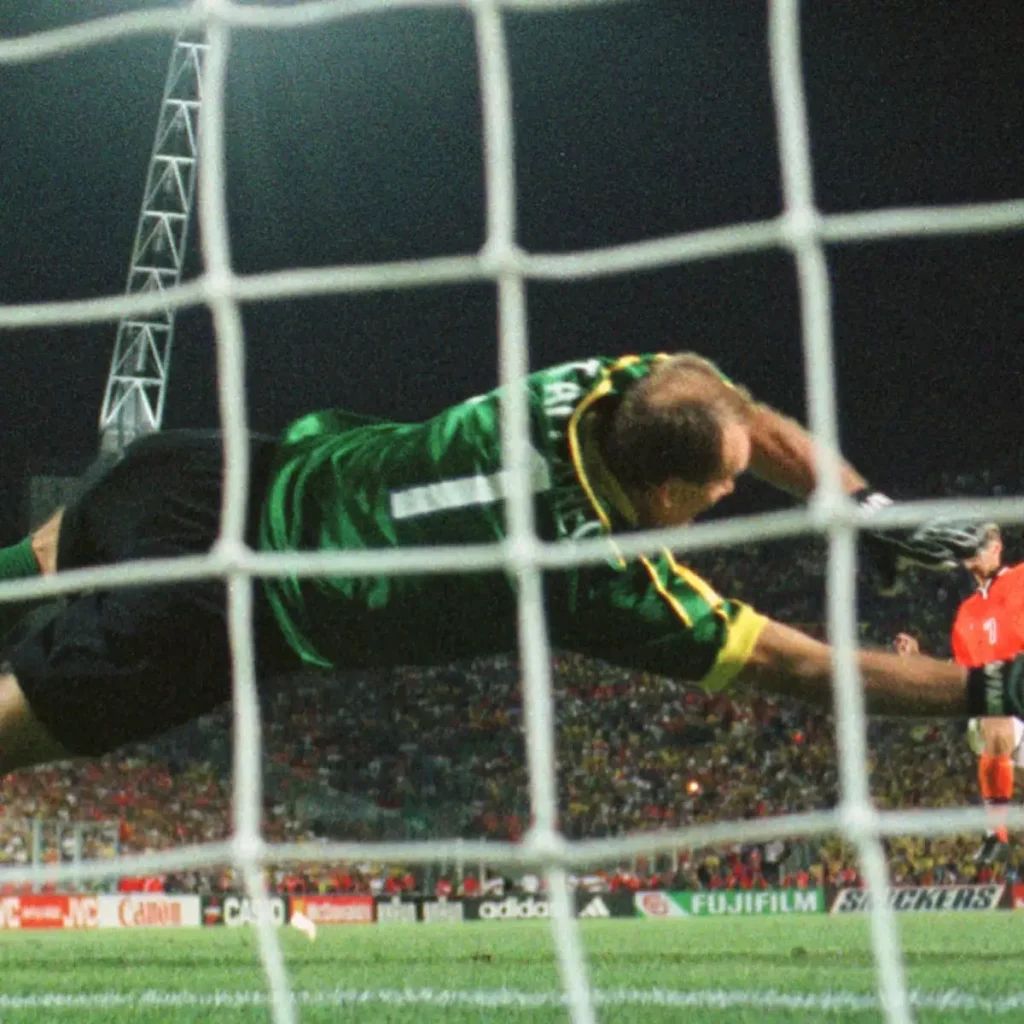 You mentioned the 1970 FIFA World Cup. In 1994 Brazil had gone 24 years without a world football title. Did that put a lot of pressure on the group?
Claudio Taffarel: There was a massive weight on our shoulders. In 1990 we'd felt that weight because nobody could accept the fact that Brazil had gone so long without winning the World Cup. Since 1970 we'd had teams like the 1982 side, which had been hailed as world champions-elect as soon as they took to the field.
When that didn't happen, it caused the pressure to grow and people to ask, "Would Brazil ever win the World Cup again?" and "What's going on with Brazil?" Then came our generation of players, including Dunga, Romario, and Bebeto, who knew about that responsibility and how to play accordingly. There was a lot of expectation.
When people talked about the Brazilian national team, they spoke about the 1970 side and the 1982 team, which didn't win but had Zico, Falcao, Cerezo, and other exceptional players. I think that we knew how to handle that pressure well and harness it in our favor to use it to grow stronger. I believe that was crucial in our victory.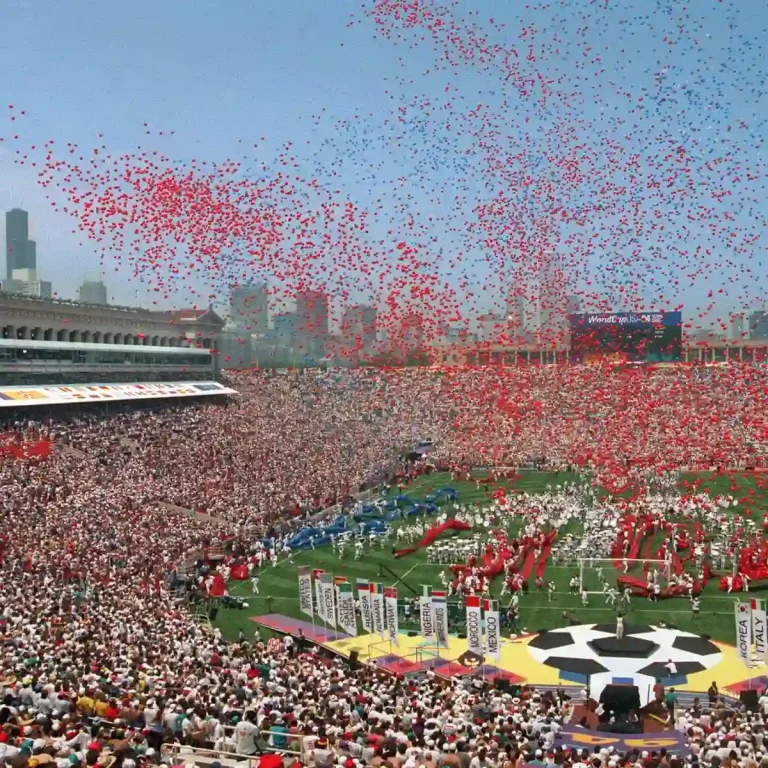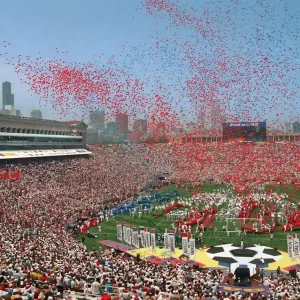 1994 World Cup
Your position in the goal lets you see the whole team. In your opinion, what should Brazil have done to win that 1994 Final in regulation time?
Claudio Taffarel: In 1990, there was a general lack of dedication, and I don't think anyone was willing to go all out. In 1994 perhaps Romario, a unique personality, wanted to be the standout player.
In the end, however, he wasn't able to because it was a victory for the team as a whole. And it had to be because that World Cup showed that Brazil had to play differently.
We had to put spectacular play to one side and be objective. Parreira was very intelligent in this sense, as he put together a team where nine players had defensive responsibilities, leaving just the front two, Bebeto and Romario, to secure victory.
So our play revolved around those two, who were to take care of everything upfront, and that's how it transpired in all our games.
I was so well protected, I didn't have a vast amount to do during that World Cup. Everyone was picking up players and shutting down our opponents' moves. Sometimes I wondered if I'd ever see the ball. I
think that the players refrained from showing off their talents and left the football to the front two was fundamental because ultimately, the strikers did what was asked of them.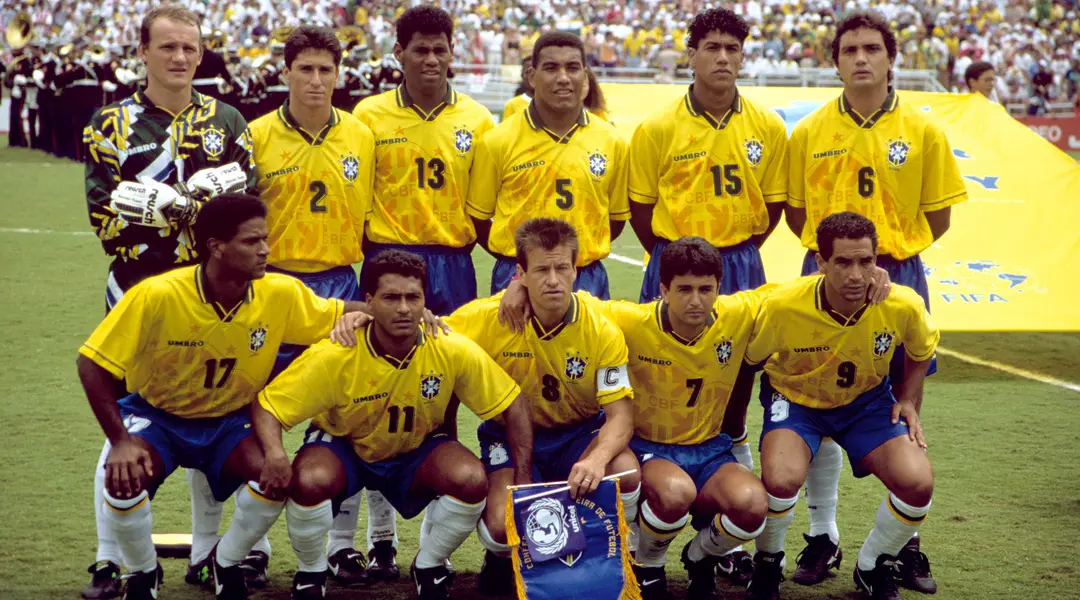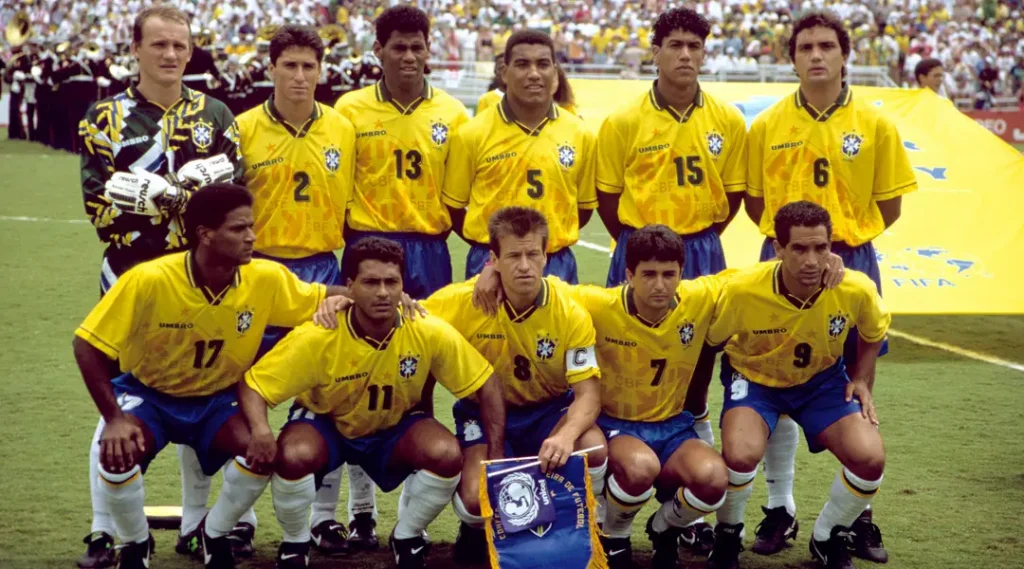 Some people say that keeping goals for Brazil is the most demanding, given the enormous responsibility placed on the keeper. Would you go along with that?
Cláudio Taffarel: Are you talking about how much is expected of the keeper? Yes, that's exactly it. But this has always been the case here in Brazil, proof that people maintain we didn't win in 1982 because we didn't have a good enough goalkeeper. It's always been like that, in 1986 as well.
For the last few World Cups, Brazil became more concerned with defense because soccer is not only about attacking and scoring goals. Back in 1970, or thereabouts, Brazil used to concede goals, but they would score five or six too. Soccer has changed a lot, and scoring is now challenging.
So, first and foremost, you have to defend. Specific Brazilian goalkeepers coaches and keepers were instrumental in bringing this about and made it more difficult to score against Brazil.
Which was your finest save?
Cláudio André Mergen Taffarel: My best goalie save came against Italy, from Daniele Massaro's first shot. I think that was his first attacking burst, right at the start of the game. It even took me by surprise to see how Italy had taken the soccer field and was taking shots at goal in no time.
It wasn't a very spectacular or challenging save, but it was vital. If we'd conceded a goal at that point, it would have made things very difficult for us.
What was the best game of USA 1994, in your opinion?
Claudio Taffarel: I'd have to say the World Cup Final because of how I felt inside. So many people asked me if I was nervous during the World Cup, and I told them that it felt like a friendly game when I took to the field because I was so calm. That calmness gave me a sense of security.
I was calm when I was making saves, but I started to panic a bit when the penalties came around, which is to be expected. But I was very relaxed during that game because I knew that whatever shot came my way, I'd be ready to deal with it. That's why it was the best game.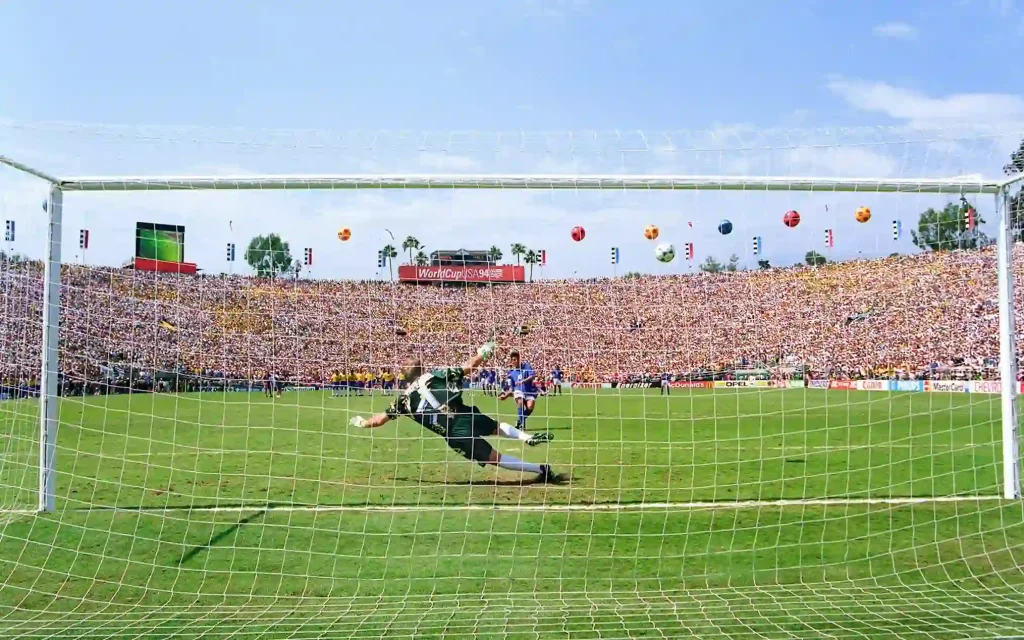 Claudio Tafferel Experience Of 94 Final
At what point in that tournament did you become convinced that Brazil would win the title?
Cláudio Taffarel: As early as the first game. Before we played our opening match of that World Cup, one of the Brazilian goalkeeping coaching staff wrote up Match One, Match Two…etc. All the way to Match Seven on a blackboard at the entrance to our restaurant.
After our first game, he crossed off Number One, and, as I looked at it, I could imagine them all crossed off down to seven. We were that confident we would win. So, yes, I had that feeling right from the first game, and I believe the other players did too.
What did Parreira say to you all before the Final?
Claudio Taffarel: That's hard to remember precisely because I think we just wanted to get out there when Parreira spoke to us beforehand. It was a very nerve-wracking moment. However, he told us to stay calm and discuss the hot conditions. It was hot that day, which made it hard for both teams, although it affected Italy more.
He reminded us to let the ball do the work, not exhaust ourselves and concede a goal. We had to make sure the Italian players got tired before we did. Those were his instructions.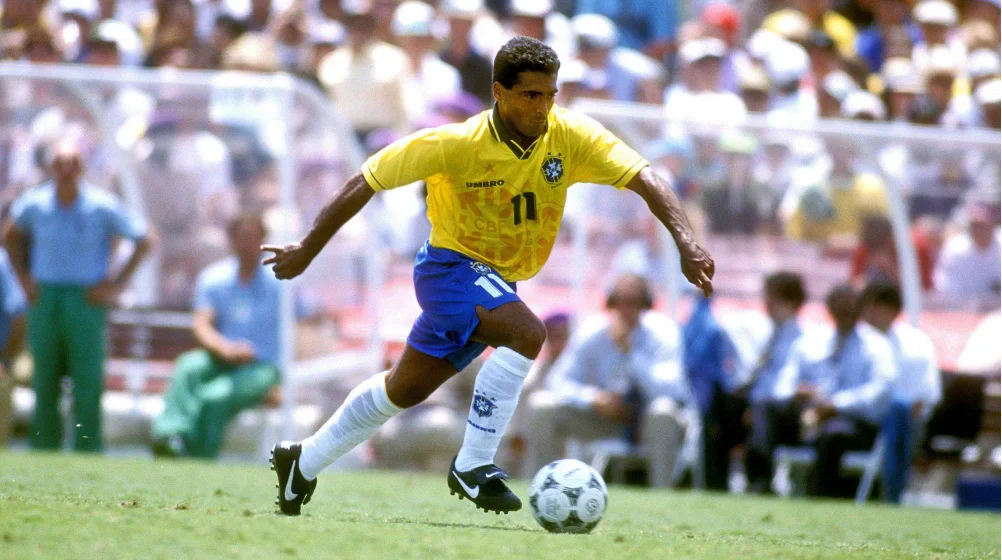 The match ended 0-0, but would you say it was a good game?
Claudio Taffarel: In a World Cup Final, no mistake is tolerated because everybody wants to win, and there comes a time when no one wants to make a mistake. And when you don't want to make a mistake, you become less daring, play things more straightforward, and hold back.
But I still think Brazil had quite a few changes during that game. There were several occasions during the 90 minutes when Brazil could have scored. In my opinion, that wasn't a spectacular game, but nor was it an ugly encounter. It was a game that eased its way inexorably towards penalties.
It was exciting and highly nerve-wracking for everybody watching the game, whether in the stadium itself or at home on TV. It was a very nervy game.
Penalty Shootout
Parreira told us that you told him you'd save them before the penalty shoot-out. Why were you so confident?
Cláudio Taffarel: As I said before, I was sure we'd be champions from the very first game. In other words, I knew the shoot-out would go our way. So we talked to each other a lot, telling each other we all had to play our part. That's not to say keepers nowadays don't face extra responsibility during penalty shoot-outs.
But, of course, they do, just like all the other players. So I said to the Brazil goalkeeper coach: "I'm going to stop these shots, alright." He probably remembered what I said.
What was the key to saving those penalty kicks in that Final?
Claudio Taffarel: I felt a great deal of responsibility for saving those penalty kicks. I felt that pressure of it being the Final and saw how worried the Brazilian players were when they went to take their penalties.
They were terrific because leaving the center circle to take a kick is a huge weight for a player to bear. It is a huge responsibility. That's why exceptional players like Dunga, Branco, Romario, and Marcio, who missed kicks, had a great deal of pressure on their shoulders.
I also felt that weight of responsibility, and I felt drained. I realized that for the first two penalties before they'd even been taken, I was already heading to where I thought the ball was going. I wanted to settle the match straight away.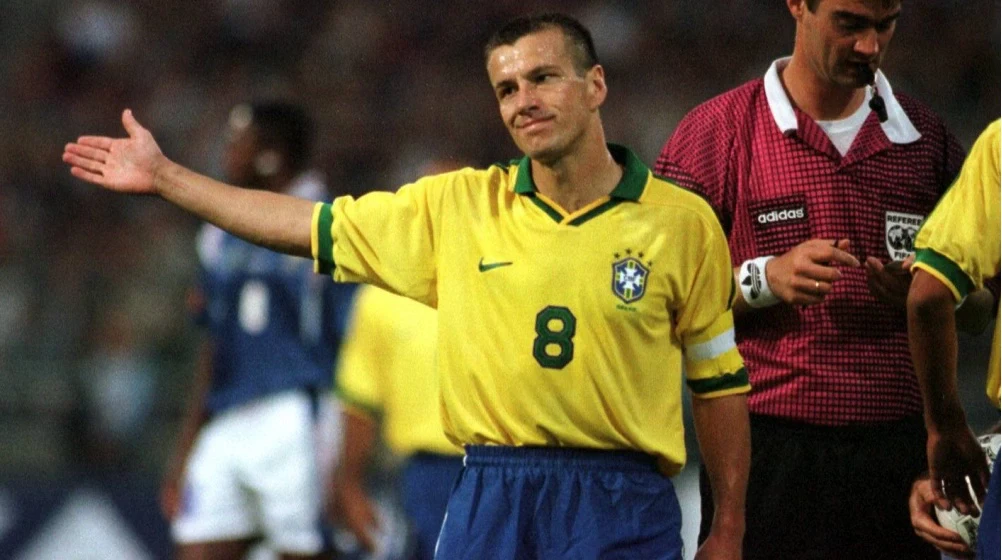 The third penalty, by Massaro, which I stopped, was the moment when I looked at the scoreboard and thought to myself: "It's 2-2… I'm going to have to stop this next one. I need to calm down." So I managed to calm myself down and make that save. My technique wasn't spectacular. I guess I was just lucky.
God smiled at me at that moment. That said, I knew that it was time to do something, stop panicking, stay calm, and make the save. It wasn't a difficult save. I simply guessed the right way – the way the ball was headed. And I ended up saving it.
Did any special preparation go into making that save?
Claudio Taffarel: No. I hadn't prepared at all. The funny thing is that in the last game of the Italian championship in 1994, my team, Reggina, had to face Milan at their ground. As fate would have it, I made a vital save from Massaro, which ended up keeping us in Serie A.
So, I think I had a certain bond at that moment with Massaro… It was a very important save.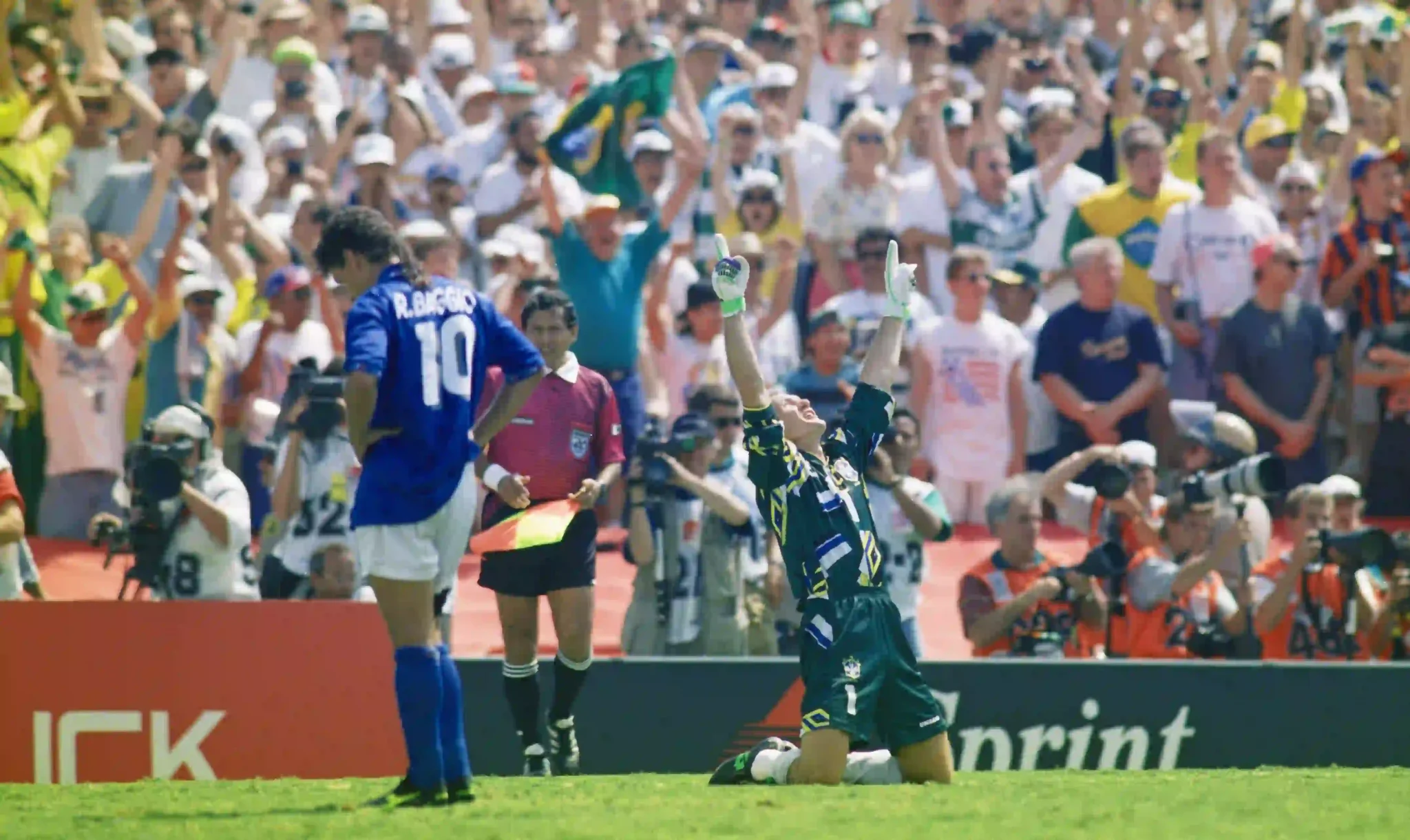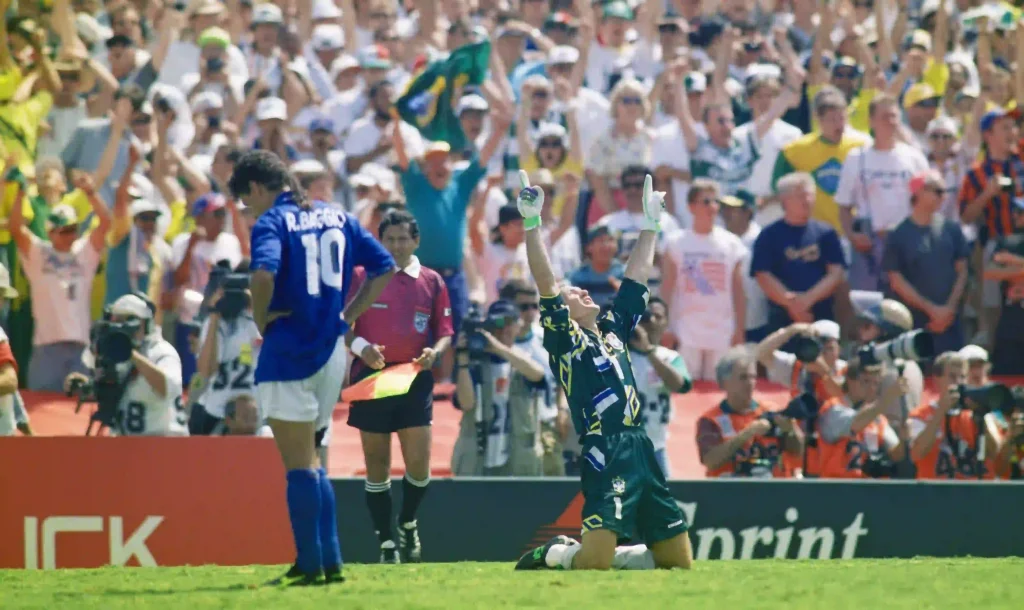 Have you ever spoken to Massaro about that penalty kick?
Cláudio André Mergen Taffarel: No. We didn't speak afterward.
What was your initial reaction when you stopped that penalty kick?
Cláudio Taffarel: I thanked God because I felt he was with me at that moment. Throughout the World Cup, we were sure God was on our side, that he was lighting the way for us.
We had a prayer group, a group of us that were firm believers, and we asked God for his help because we thought that if we worked hard, showed our faith, and prayed, he would help us. But, you know, we also prayed in 1998, and He didn't grant us our request.
Nevertheless, we believed that this could be the moment. That's why I was so confident throughout the entire competition, and proof of this came when Baggio took their last penalty. As he made his run-up, I was sure that I'd save it, or he would hit it wide.
When Robert Baggio shot over, I was sure God wanted that World Cup to end that way. It wasn't meant to end with a Romario goal so that everyone could say he was the best in the world and had single-handedly won us the World Cup.
Nor was it meant to end with a save of mine and for me to return home the hero and best player. Instead, it was won by the entire group and was a victory for all of Brazil. A victory for those that believed and trusted in God. That's what it was.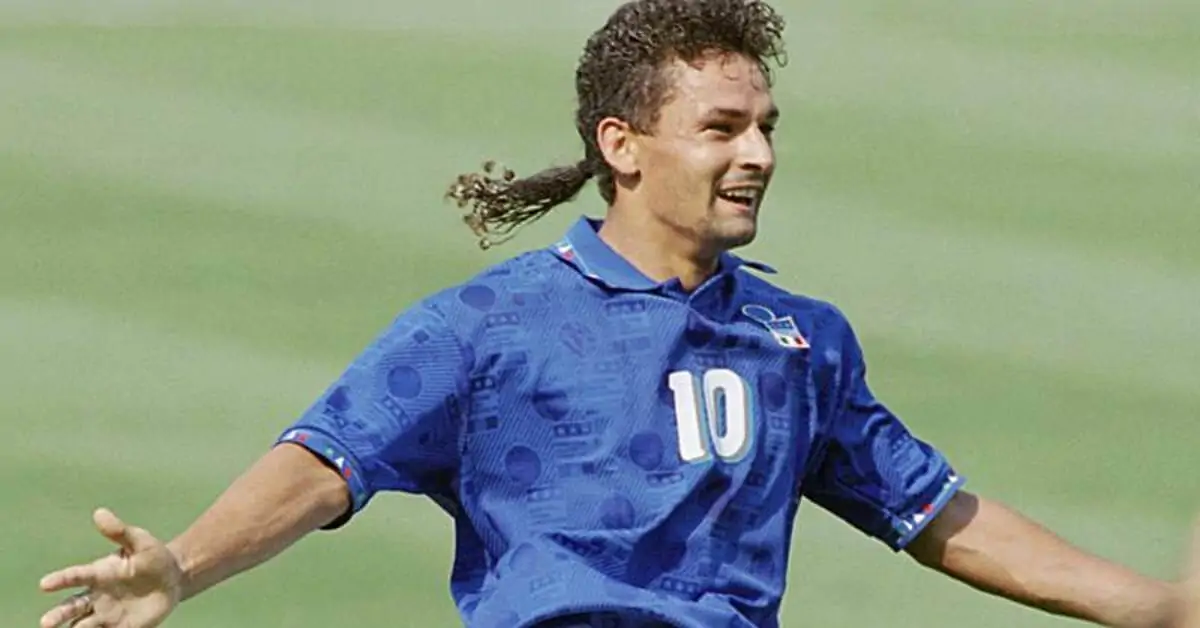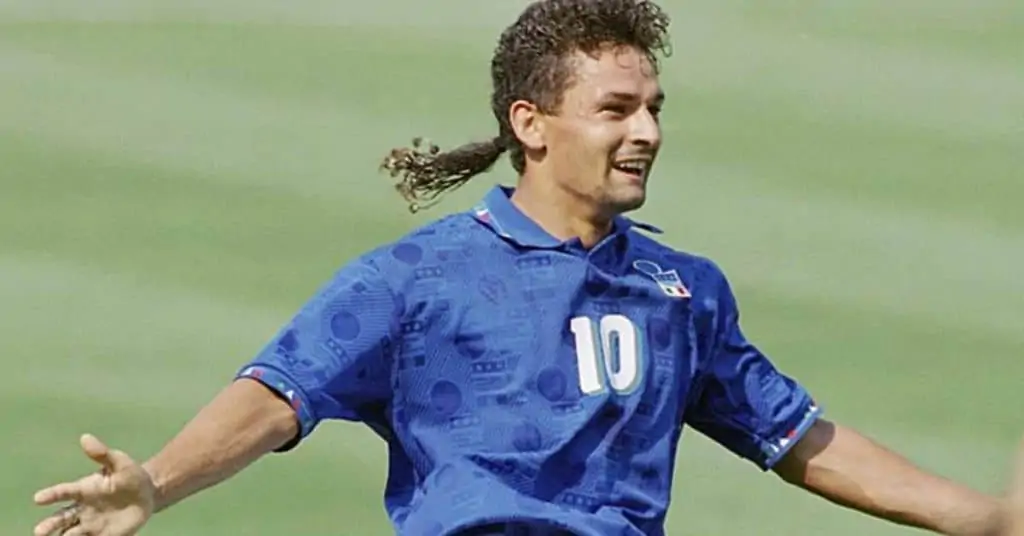 Were you surprised that both Baggio and Baresi missed their penalty kicks?
Claudio Taffarel: Baresi's miss didn't surprise me, which is not to say he wasn't a good player. Baresi was one of the best defenders in the history of soccer, but I'd never seen him take a penalty kick. I'd played in Italy for many years and had never seen him take one there either.
At that moment, Arrigo Sacchi called on his most experienced players, the ones he thought would cope better with the pressure of taking a kick. That said, I don't know if Baresi had been practicing because he struck his shot very poorly and very high.
Baggio's missing was the biggest surprise, as he took free kicks and penalties for Juventus. But as I've already said, I was convinced it would turn out that way: either that I'd save it or he'd miss it. So at the time, it wasn't a huge shock. That came afterward when we watched the video and saw just how Baggio had struck it.
Did you have faith in all of Brazil's penalty-takers?
Cláudio Taffarel: Funny you should ask that. In the days before the Final, we practiced penalties a lot. Ironically, Marcio Santos, who missed, was the most consistent. I don't think he missed a single penalty in all the practice sessions.
We had one exercise we did every day in which our designated kickers took five penalties each, and Marcio was the only one who never missed. The other keepers and I never managed to keep one of his out, but he still missed in the Final.
There were others in the side like Branco, an exceptional player who had immense experience and his unique style – he'd even scored in a shoot-out eight years earlier at the 1986 World Cup.
We also had Romario, who needs no introduction. He's a goal scorer and is used to that type of pressure situation and so was very well prepared for it. Then, of course, there was Dunga, our captain.
So I had confidence in all the players, even though I knew that a miss could occur, as it did with Marcio. You can only miss it if you're brave enough to take one.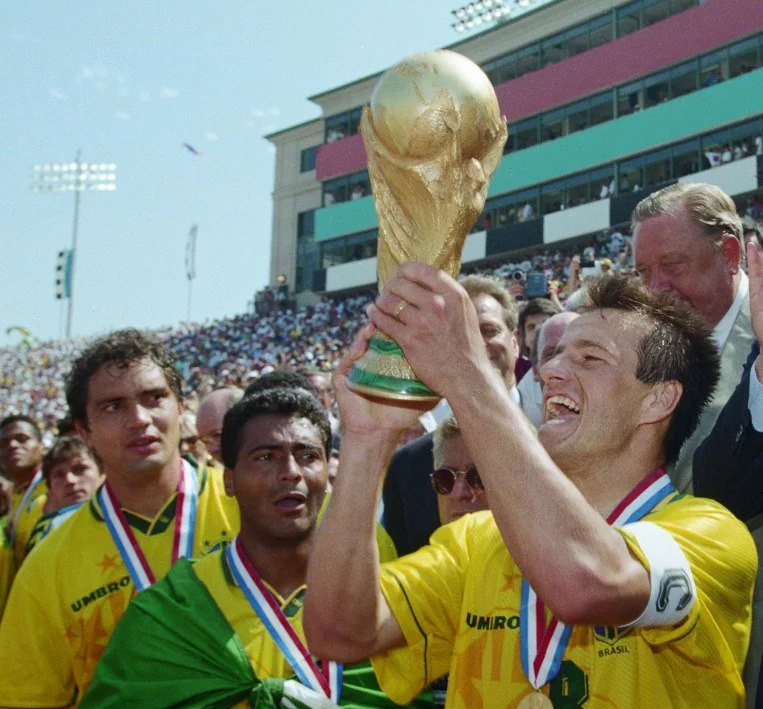 How important was Dunga to the team?
Cláudio Taffarel: He was very important because apart from being our captain and our leader, the team felt his presence out on the pitch. He had the vision to see what was happening across the field.
He used to talk to us, and I think having somebody who guides his teammates is essential for the team, doing a coach's job on the pitch. He was that man.
Parreira had a great deal of faith in his ability because he solved everything when he was on the pitch. He'd be telling players, "You come over to this site, you go over to that side." And everybody did what he told them.
But, of course, sometimes he'd get on your nerves a bit because he shouted a lot. But a team needs to have a player like Brazil legend Dunga. He was crucial at that World Cup, and that's proved that he was one of Brazil's most-capped players.
Did he talk with the group before the penalty shoot-out?
Cláudio André Mergen Taffarel: It was a difficult moment for everyone, and we all supported and helped each other. I don't think we were calm exactly. There was a lot more pressure on us when extra time ended, as we'd had many more chances during the game than Italy.
At a time like that, so many thoughts go running through your head – things like "Whoever doesn't score is going to pay for it." So it was a very tense time for all of us.
There was that nagging fear that Italy could win on penalties if we didn't succeed in regular or extra time. Nevertheless, we were very certain victory would be ours.
Claudio Taffarel's Celebrations
How did you feel when you raised the World Cup trophy for the first time?
Claudio Taffarel: I felt a real sense of achievement, a sense of having made it. We knew that not many players had had the chance to raise that trophy, which is the ultimate representation of world football. So it's a real achievement. I felt complete at that moment and thanked God. Now, it's part of my life story.
Any interesting anecdotes from the post-match celebrations?
Cláudio Taffarel: What was interesting was the tie I was wearing at the time. Just as I was heading over to where we would receive the Cup, I was approached by an official who was with the USA delegation. I think he wanted my shirt or maybe my gloves, so he gave me his tie in exchange.
I put it on, and when I lifted the trophy, I was still wearing his tie. My first impression of the trophy was how heavy it was for something so small.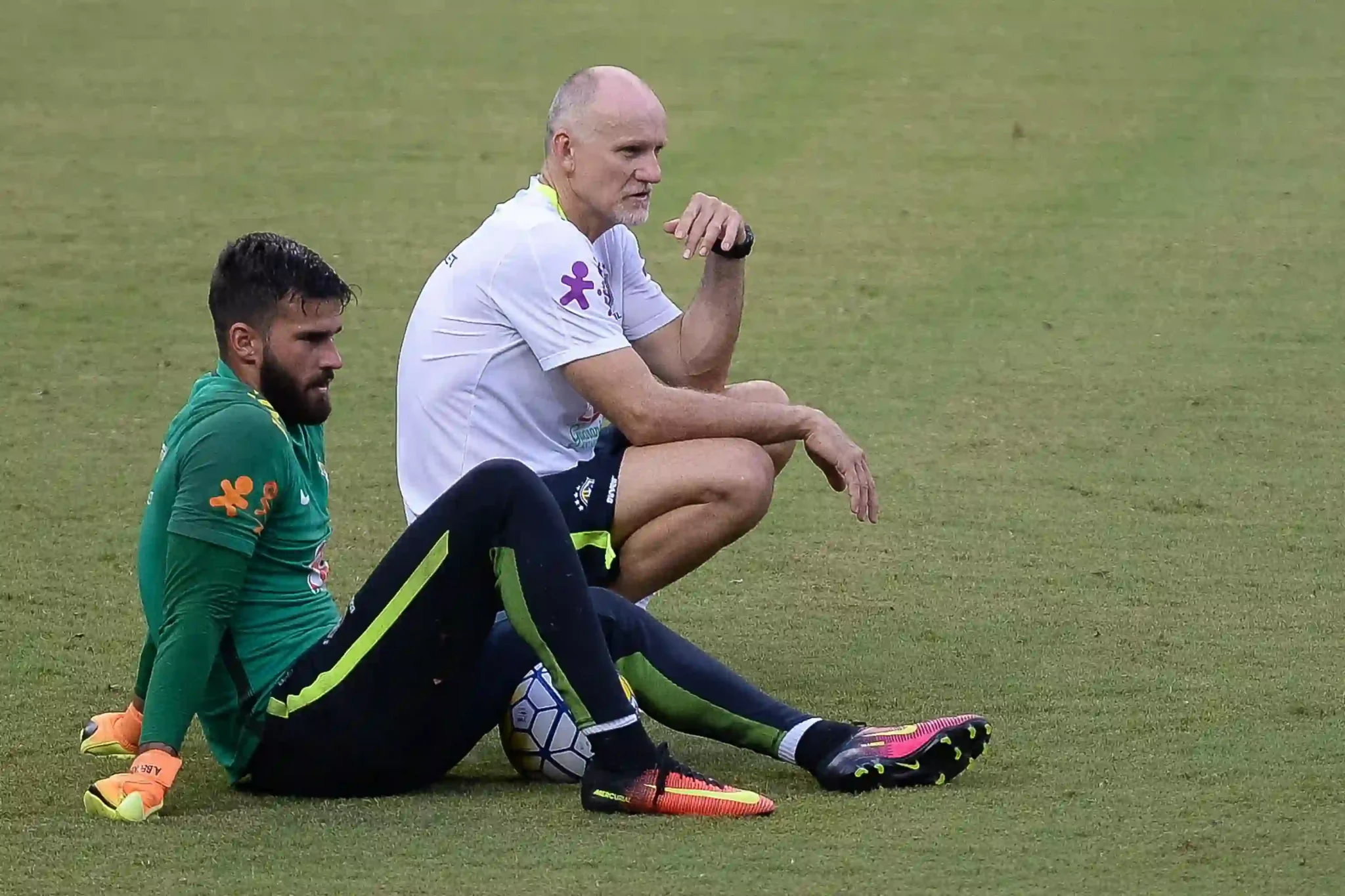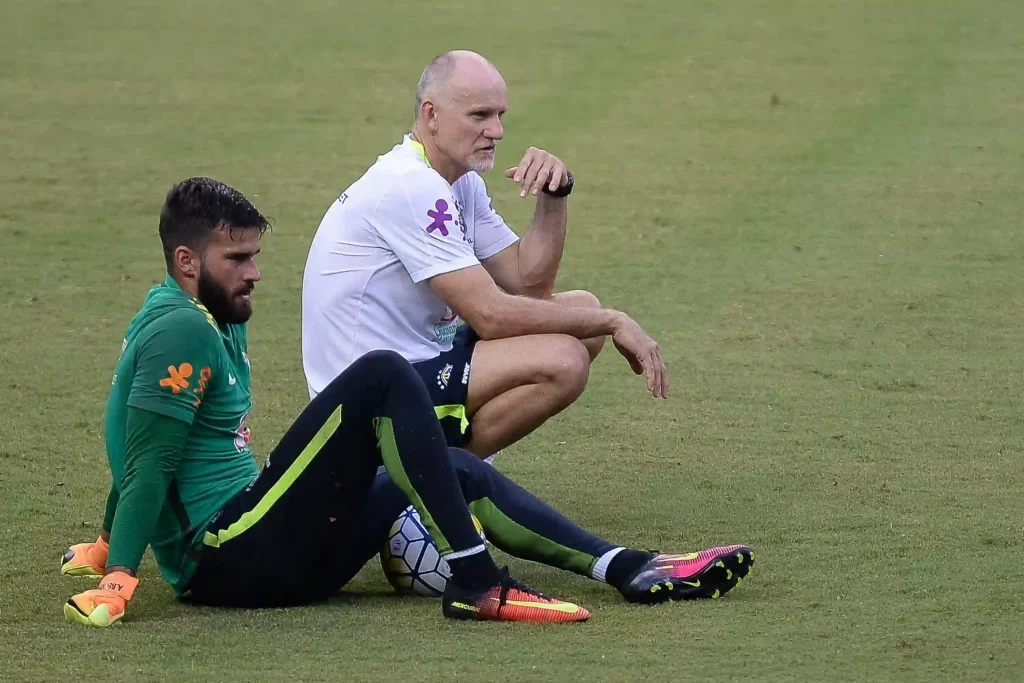 How did you all react when you brought the World Cup Trophy back to your dressing room?
Cláudio André Mergen Taffarel: We took loads of photos. At that point, everybody wanted to embrace the Cup. I've got several photos where I'm just in my underwear, with no shirt on. Everybody wanted to touch it and record that moment because we knew that we couldn't take that trophy home with us.
It would be given to the CBF and taken to many different places. During the flight back to Brazil, we took loads of photos with our families on the plane. I was with my daughter, who was one at the time, and my wife. That was the time to record everybody with the Cup.
Can you tell us a bit about the team's reception back in Brazil?
Cláudio Taffarel: Our arrival was terrific, and it made an enormous impression on me. Brazil is unique in this respect. It's not like, say, the USA, where world football is still not the number-one sport and people behave in an orderly manner even when their team wins. Here, it's much more than just clapping and taking pictures.
We celebrated in our dressing room as a group, then at our hotel and later on the plane. When we arrived back, Brasilia was our first stop. People everywhere tried to take our pictures, even from trees and countless others lining the streets with their families.
That's when we realized the magnitude of what we'd done: we'd won something not only for ourselves but for all our people. We represented all of Brazil, and everyone had been rooting for us. It was akin to a national fan club, with everyone embracing us. It was fantastic and made an impression on me.
So many of the more emotional players cried when they saw how happy those people were. That was magnificent.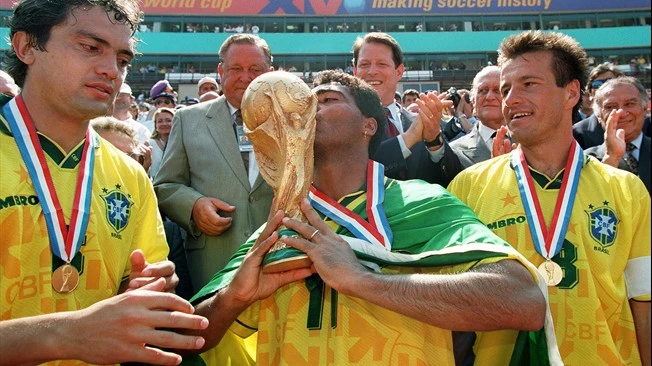 Which players were crying?
Claudio Taffarel: It's difficult to say precisely, but there were many very emotional people shedding tears. Of course, I'm more reserved, but I saw in the eyes of some of the players just how much that reception had meant.
Is that the original? My God, what's this? Is this really it? It's really something! And it's really heavy. That's what I meant when I spoke to you about the weight you have to bear. It's not that big, but it's certainly heavy. This is crazy!
Looking Back
How does it feel, holding the trophy once again almost 30 years later?
Claudio Taffarel: It reminds me that I was part of that victory. That I was there and lived those moments. It's not that I wake up every day and tell myself that I won a World Cup that I'm a world champion.
But, nevertheless, occasionally when I'm out and about, and someone tells me they'd seen me playing in the World Cup, all the memories come flooding back. Holding the trophy again brings it all back, that feeling of warmth… It's stunning.
What do you think of it aesthetically?
Aesthetically it's beautiful. I can look at it more closely now because it was very rushed the last time. It went from one side to another, being passed from hand to hand. I think that I've never held it for so long before because there were so many people who wanted to take hold of it…
To hold it in your hands like that, my God. I was a part of that. Fantastic. Great. I want to take a photo with it since it's important to record this at another time. I've got less hair now. This is fascinating. It'll be a great memory.
Before we finish, you have recently signed a contract and joined Liverpool FC to work as their goalkeeping coach. What was the attraction to England?
Liverpool's keepers are talented. They're a very talented team. With the Brazilian national team still under my wing, I have joined Liverpool as their third goalkeeping coach to support experienced goalkeeping coaches John Achterberg and Jack Robinson Alisson Becker recommended me to the Liverpool boss, Jurgen Klopp.
My job is to provide my own coaching philosophy and a different perspective to the other goalkeeping coaches. The Liverpool boss has given me the freedom to coach the younger and different age groups in this role.
Thank you to Brazil legend, Cláudio, for sharing your memories. Our readers will certainly enjoy reading your answers. After retiring from international football, the former Brazil football goalkeeper was ranked No.2 in the Best Brazilian Goalkeepers Of All Time. He was behind Gilmour and before Marcos, Dida, and Emerson Leão.
Claudio Taffarel Facts
Full Name: Cláudio André Mergen Taffarel
Position: Goalkeeper
Height: 1.83cm (6ft)
Club Career:
Internacional
Parma
Reggiana
Atletico Madrid
Galatasaray
Parma
Club Honors:
Coppa Italia – 1992, 2002
UEFA Cup Winners Cup – 1993
UEFA Cup – 2000
UEFA Super Cup – 2000
Turkish League – 1999, 2000
Turkish Cup – 1999, 2000
In his first spell with Parma, he won the Cup Winners' Cup, and in his second spell with Galatasaray, he won two Turkish league titles and the UEFA Cup
National Team:
Brazil National Team – 101 Appearances
Debut: 7 July 1988 versus Australia (Melbourne)
World Cups
1990 – 9th position
1994 – Winner
1998 – Runners Up
Copa America
1989 – Winner
1991 – Runners Up
1996 – Runners Up
1997 – Winner
Olympic Games
FIFA U-20 World Cup
Cláudio Taffarel Teams Coached:
2011-2019: Galatasaray (Goalkeeper coach)
2014-current: Brazil National Football Team (Goalkeeper coach)
2014: Galatasaray (interim Manager)
2015: Galatasaray
2021- current: Liverpool FC (Goalkeeper coach)