It is one of the best things about watching matches live that many of the English football stadiums are worthy destinations in their own right. We have put together this article on the history of the grounds and stadiums in England all the way back to the founding clubs of the Football League.
The Original Football League Grounds
Here is a list of the original twelve football teams and their football ground.
| | | |
| --- | --- | --- |
| Team | English Football Stadiums | Years At Football Ground |
| Accrington | Accrington Cricket Ground | 1882-94 |
| Aston Villa | Wellington Road, Perry Barr | 1876-97 |
| Blackburn Rovers | Leamington Street | 1881-90 |
| Bolton Wanderers | Pikes Lane (Deane Road) | 1881-95 |
| Burnley | Turf Moor (Calder Vale) | 1883- |
| Derby | The Racecourse Ground | 1884-95 |
| Everton | Anfield (then Liverpool) | 1884-92 |
| Notts County | Trent Bridge Cricket Ground | 1883-1910 |
| Preston North End | Deepdale | 1881- |
| Stoke (City) | Victoria Football Ground | 1883-1997 |
| West Bromwich Albion | Stoney Lane | 1885-1900 |
| Wolverhampton Wolves | Dudley Road | 1881-89 |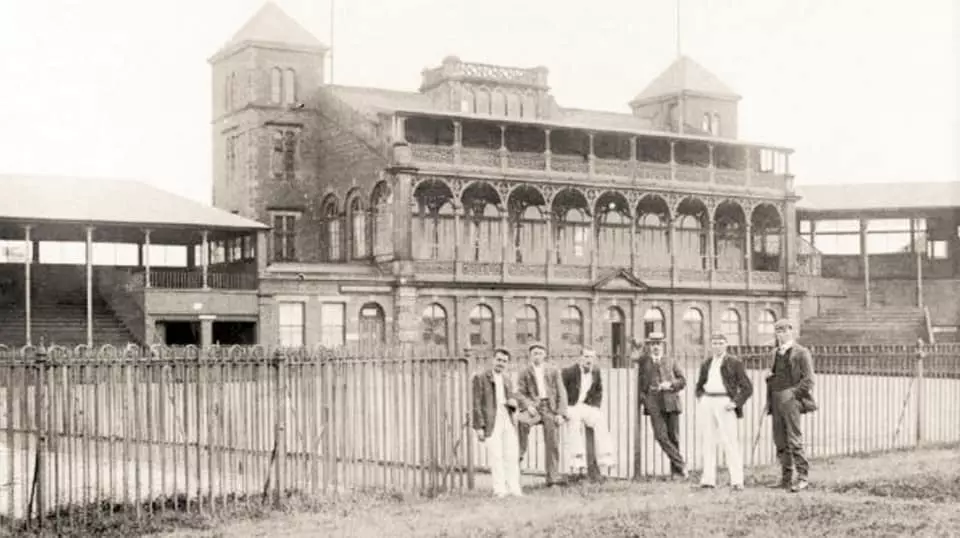 Regarding the founding English football clubs, there are several additional facts of interest. Blackburn played at Alexandra Meadows from 1878. An international football match was staged there against Wales in 1881 (the first away from the Oval). Leamington Street was also used for international matches in 1885 and 1887.
Prince Albert (Edward VII) watched part of a game at Turf Moor in 1886. Their record crowd of 54,775 was during a game against Huddersfield in 1924. The main feature of their football ground was the Long Side, which rose to a high point in the northeast corner and was roofed in 1954.
County cricketers started Derby at the racecourse football ground. This venue hosted FA Cup games and an international soccer game. Derby Junction lost a FA Cup semi-final to West Bromwich Albion in the 1887-88 season. Derby football club moved to the baseball ground.  It hosted summer baseball tournaments and staged an international soccer match in 1911.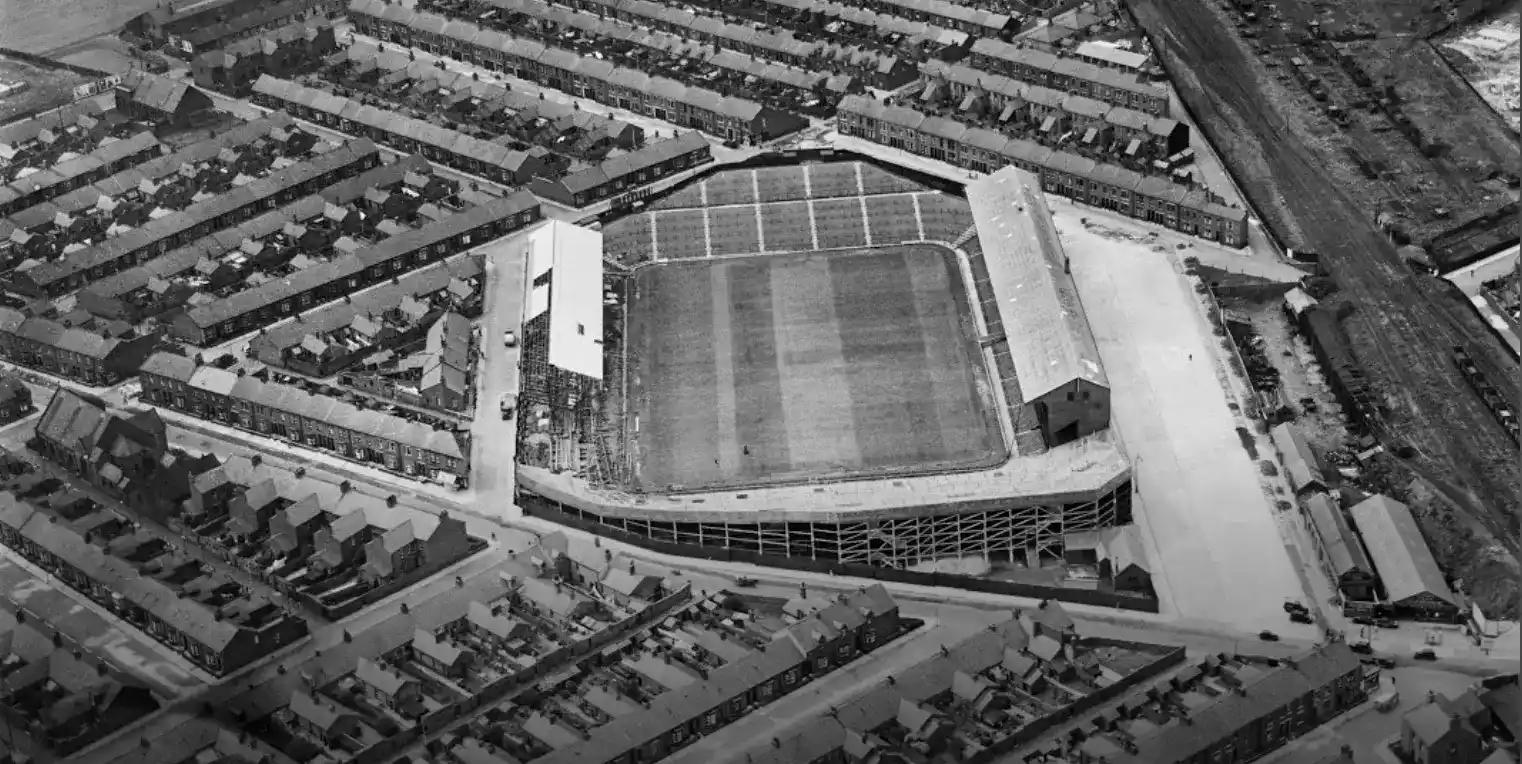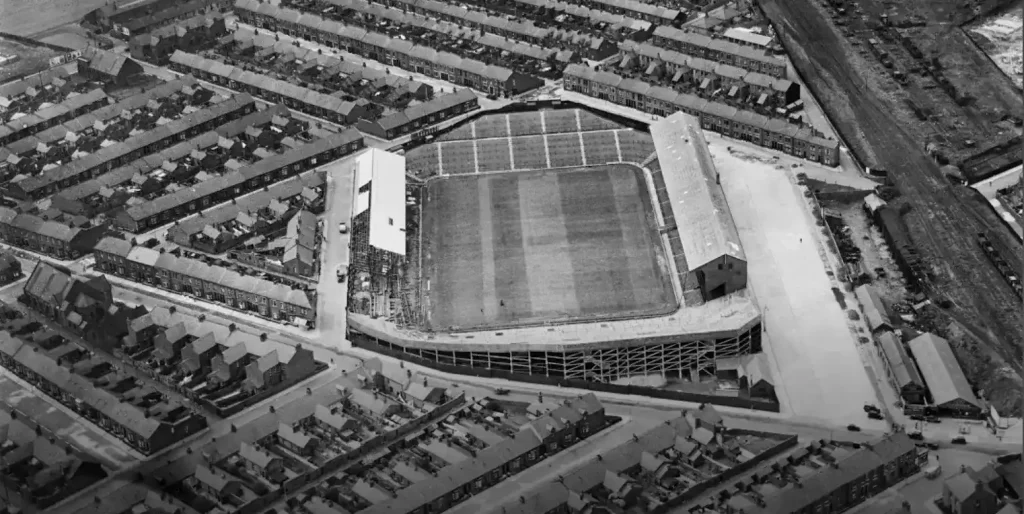 History Of English Football Stadiums Throughout England
The English League was introduced in the northern climes in 1888, and the Scottish league followed with eleven teams two years later. The first outright winner in Scotland was Dumbarton in 1892. The Football League quickly became as important as the FA cup competition, and the English clubs soon developed some significant and permanent football grounds.
There were attempts to form a football league in the south of England at this time. Only Arsenal, Luton, Millwall, Swindon, and West Herts attended a meeting. As a result of such poor attendance, Arsenal joined the Football League in 1893, whereas the Southern League was established the following year.
Meanwhile, the golden era of English football stadiums development was to follow, and sixty English clubs opened new football grounds between 1890 to 1910. Many of these grounds were to last for over one hundred years and thus had considerable significance to soccer history and the game's development in England.
Notts County
Everton, meanwhile, has played continually in Division One since 1888 (except for 1930-31 and 1951-54), whereas Notts County was established in 1862 and is, therefore, the oldest League club in the world.
Like Nottingham Forest in the early days, Notts County played at the Meadows Cricket Ground and reached the FA Cup semi-final in 1883, but lost 2-1 to the Old Etonians. Trent Bridge Cricket Ground was laid out in 1838, and the club moved there after Nottingham Forest (1880-82) departed. The main stand was on Fox Road. The football stadiums struggled to hold 20,000 spectators and had low attendances, although it staged FA Cup semi-finals and an international match, while the club reached the FA Cup Final in 1891 and 1894.
Preston North End And Stoke City
William Sudell was a cotton mill manager, and his efforts took Preston to the first double, while only Aston Villa emulated them in 1897. The west stand at Deepdale stadium contained many supports and a Belfast roof, lasting from 1906-95, whereas the Fulwood end was built in 1921.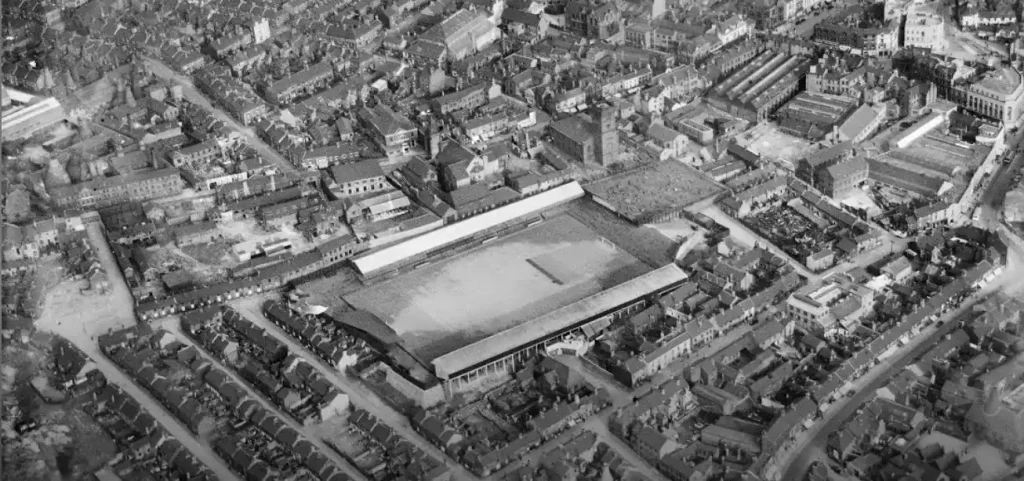 To the south of the country, old boys from Charterhouse established Stoke in 1868, and the main stand at the Victoria football ground was on Boothen Road. The club had to resign from the English Football League in 1908 but reformed and joined Division Two in 1919. They stayed at the football ground for over a hundred years, and after they went to the Britannia Stadium, only the grass outline remained. Stock City moved to the Britannia stadium in 1998.
West Bromwich Albion
West Bromwich first played at Dartmouth Park, Bunn's Field, and Four Acres – the latter having a crowd of 16,393 for a FA Cup tie against Blackburn. Their English football stadium at Stoney Lane had a stand called Noah's Ark, and the first game was against Third Lanark, but there were some small crowds. It was later covered by asphalt and became Albion Field Drive.
West Bromwich Albion moved to the Hawthorns in 1900 and built banked terracing on the Handsworth side and at the Smethwick end. The record of 64,815 was for a FA Cup tie against Arsenal in 1937.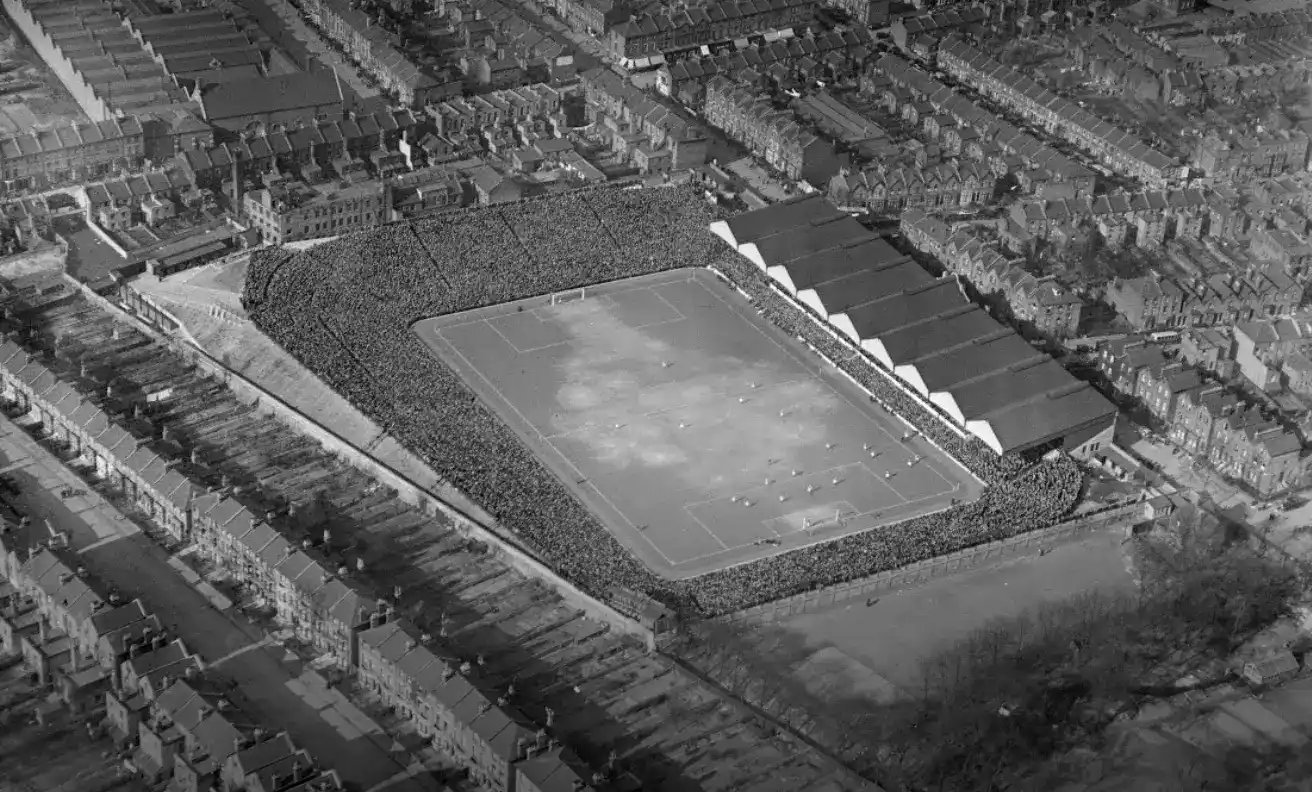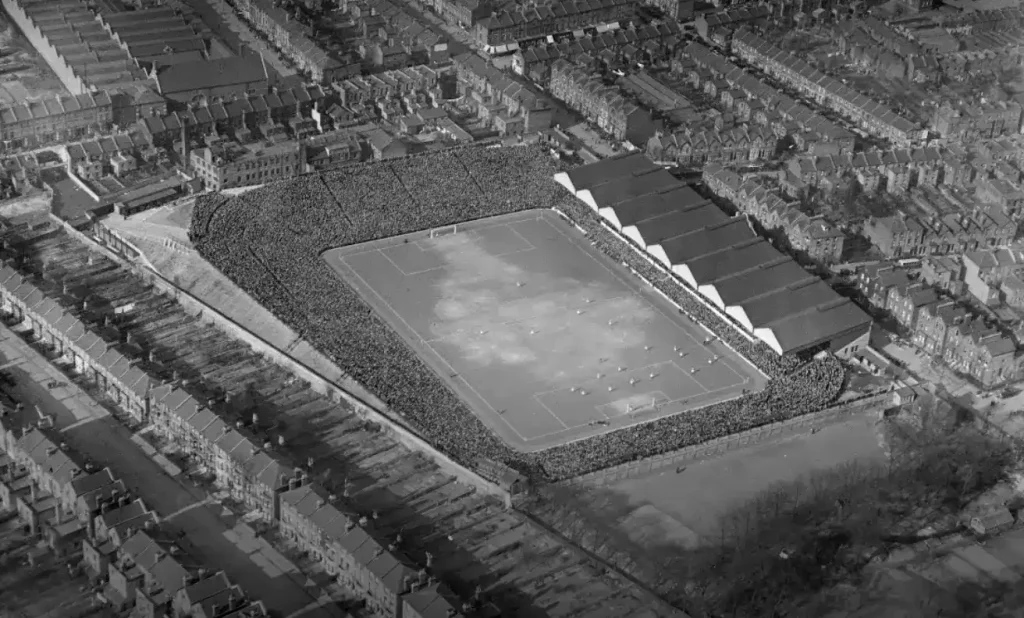 Arsenal 
Quite naturally, the history of football grounds begins alphabetically with Arsenal. The side was formed in 1886, and Fred Beardsley, one of the founders, had played for Nottingham Forest – hence his old club provided some red shirts.
Initially, they had three venues in Plumstead and moved to the Manor football ground when they joined the Football League in 1893. The first sizeable banked terrace or Kop was built there in 1904, and this was the forerunner of many other such terraces around the country.
West Ham United
Thames Ironworks Football Club was formed in East London in 1895, and the driving force was Arnold Hills, the proprietor of a local shipyard. He then laid out the sizeable football stadium on Springfield Road with a west stand and track in 1897, while the football club joined the Southern League the following year.
However, the club fell out with Arnold Hills over professionalism, and he invited the (then) amateurs Clapton Orient to come there. As a result, they became West Ham United in 1900 and moved to Upton Park in 1904.
Queens Park Rangers
Queens Park Rangers were formed from a church side in 1886. They had several English football grounds and should have been called " the rovers." Most of their stadiums in England were in the inner city locations to make it easy for people to attend, but they moved west and played at the Park Royal soccer field, Coronation Road, from 1907-15.
Queens Park Rangers developed this as a speculative venture, and it was built in a similar style to Middlesborough's Ayresome Park, with a potential capacity of 60,000. The first game was against Millwall with a crowd of just 20,000. Queens Park Rangers were champions of the Southern League in 1908 and 1912. However, the army took over the football ground during WWI and Rangers moved to Loftus Road by 1917, which was previously occupied by the amateur outfit Shepherd's Bush F.C.
The White City Stadium was built nearby for the Olympic Games in 1908 and had a revival with athletics, greyhound racing, and a speedway. Queens Park Rangers played there in 1931-33 and 1962-63, with a record attendance of 41,097 against Leeds United (1932). However, the latter was demolished for road improvements in 1984.
Liverpool 
Liverpool joined the Football League with Ironopolis, Newcastle United, Rotherham Town, and Arsenal in 1893 and became champions of Division Two. That year their Liverpool team was composed entirely of Scottish players.
Anfield and The Kop were developed in 1906, and the first game had a crowd of 32,000. One feature of the new Kop was a 50-foot flagpole at the south end, the topmast of the S.S. Great Eastern ship. The Football League president John McKenna opened the re-roofed terrace with a capacity of 28,000 in 1928, and the record attendance was 61,905 for a Cup game against Wolves in 1952.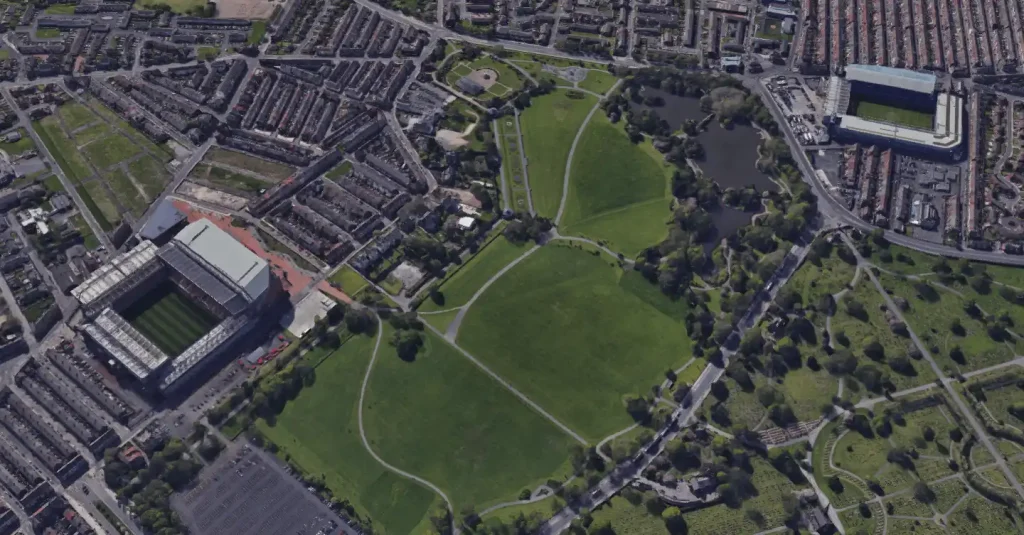 Everton
Originally, Everton played on an open pitch in the southeast corner of Stanley Park. Everton moved to nearby Anfield Road, where covered stands were erected. From 1884 to 1892, Everton played at Anfield. In 1892, Everton moved to Mere Green Field, situated on the north side of Stanley Park. This became Goodison Park.
Birmingham City 
Small Heath Football Club was formed by some cricketers and played at Muntz Street, off Coventry Road, from 1877 to 1906. At the latter date, they became Birmingham City F.C. and moved to a new venue on St. Andrew's Street.
The club employed the little-known Harry Pumphrey to build a football stadium in the former brickworks, which had a large Kop reaching around to the Tilton Road end and a basic main stand on the east side. The terrace was the largest in the country with a capacity of forty-eight thousand, and the record crowd was 67,341 against Everton in 1939 (but it was replaced in 1994).
Doncaster Rovers
Doncaster Rovers moved to a new ground near the Great North Road in 1922, on the edge of Low Pasture. The pitch and embankments of the football field were constructed with ash. Subsidence caused the cover of the Popular Side, to the left side of the pitch, to be demolished in 1987. In 1995, an arson attack destroyed the Main Stand on the opposite side. As a result, the Rovers moved from Belle View Stadium to the new, multipurpose Keepmoat Stadium in 2006.
Huddersfield Town
The Rugby League club was established at the George Hotel, situated next to the regal Huddersfield Station, in 1895. It was called the Northern Union, and the local football team played games there at Fartown stadium, which was also the venue for the two FA Cup semi-finals. Huddersfield Town, meanwhile, was formed in 1908, and since sharing was discouraged, they developed the Leeds Road football ground.
Huddersfield Town was incredibly successful under Herbert Chapman in the 1920s, whereas the vast east terrace allowed a record crowd of 67,037 against Arsenal in the FA Cup in 1932. A new roof was added in 1955. The football ground slowly deteriorated, and the final game was played there in 1994.
Leeds United And Elland Road
Their near neighbors also had connections to rugby. Elland Road was first used for rugby in 1878. Holbeck Rugby Club of the Northern Union purchased the grounds in 1897, and local soccer first took place the following year.
Hunslet F.C. played their games in the south of Leeds, but they occupied Elland Road football ground when Holbeck departed and formed Leeds City in 1904. They joined the Football League the following year. The pitch and the soccer goal posts was turned end-on, and there was a main stand on the west side. In addition, a large bank was erected to the north and east, thus raising the capacity to about 45,000.
The football stadiums in England, and especially Leeds were inadequate for large crowds in 1910 and 1912. The club went bankrupt and sought re-election to the Football League with Gainsborough Trinity. Herbert Chapman had played there and took over as manager, and for a time, matters improved. But the club was then accused of making illegal payments. Indeed, John McKenna announced, "We will have no-nonsense. The football stable must be cleansed!"
Herbert Chapman denied any knowledge of wrong-doing. However, Leeds City was promptly expelled, and the club and its fittings sold off, while Port Vale took over their League fixtures during 1919-20.
There was a suggestion that the ailing Huddersfield Town might move to Elland Road. However, Leeds United was then formed, and due to a degree of guilt, the English Football League committee elected them to Division Two in 1920.
The ground were improved that decade with new roofs on the Main and Elland Road stands, and the north Kop was increased to three times its former height. It joined the Lowfields Road terrace, and there was a (then) record crowd of 56,796 against Arsenal in 1932.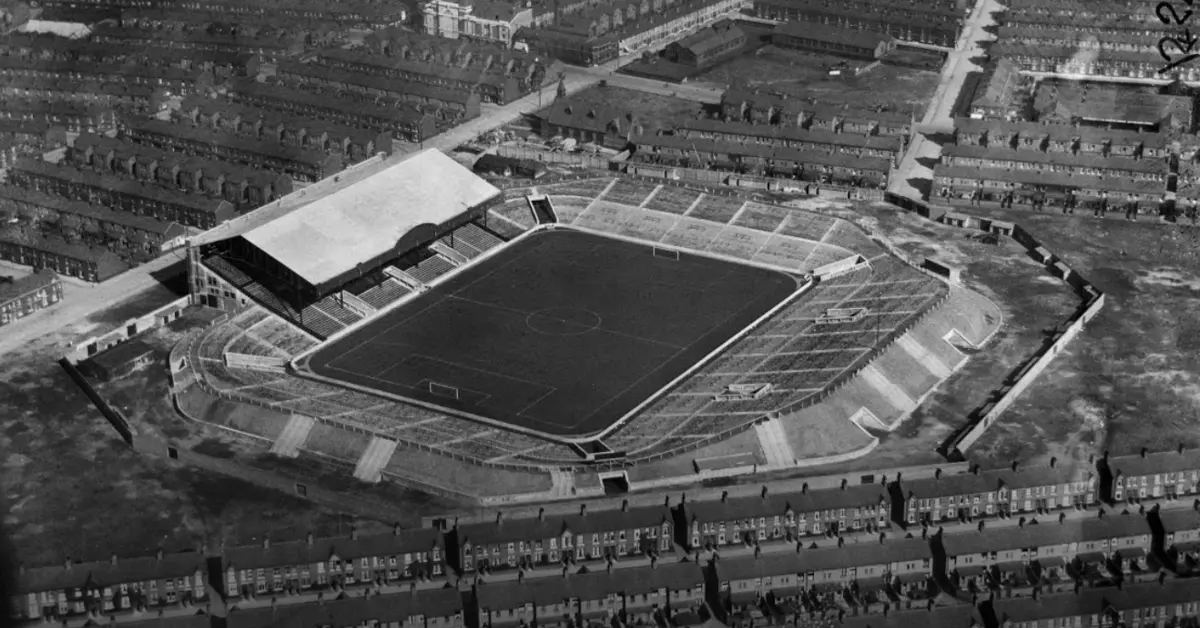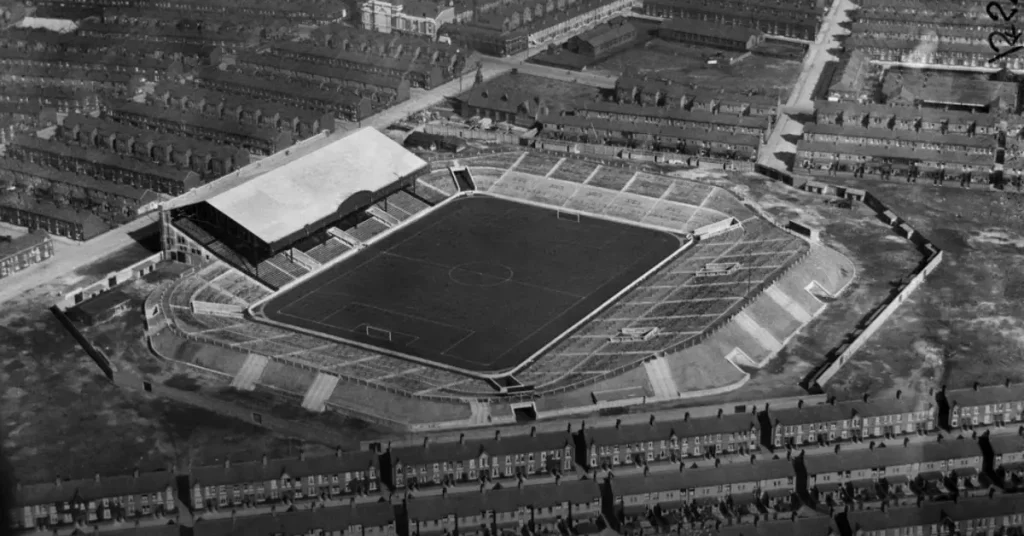 Manchester City
Several football clubs aspired to build an English football stadiums that might claim the accolade of being known as the 'Wembley Of The North'. The most apparent contender was Maine Road, which opened soon after its namesake. Gorton Football Club was established in 1880 and became Ardwick on moving to Hyde Road in 1887. They were founder members of Division Two and were re-formed as Manchester City in 1894.
Facilities at Hyde Road were always basic with a railway line across one corner, and there was talk of moving to the nearby Belle Vue Athletic football ground, but they decided to stay and made basic improvements. Despite this, the main stand burnt down in 1920, and the lease expired in 1923. Thus they moved to a new football ground at Maine Road in South Manchester.
Charles Swain designed a stadium in a former clay pit on a grand scale, with a main stand on the west side and an enormous curving terrace with tunnels at each corner. McAlpine's were the building contractors (as at Wembley), and it was the most prominent football ground with a 90,000 capacity. The main feature was the vast Kippax terrace.
Indeed, it opened just after Wembley with a game against Sheffield United in front of 60,000. The record attendance for a club game of 84,569 was against Stoke in the FA Cup in 1934. Strangely enough, Manchester United set the record for an English Football League game of 83,260 against Arsenal there in 1948.
Bolton Wanderers
Manchester rivals Bolton moved to Burnden Park, a wasteland on Manchester Road, in 1895, and initially, the football pitch became a messy bog. There was a large terrace built at the railway end, while the Burnden Stand with wooden planking (to the rear) was built in 1928.
The record attendance of 69,912 was for a FA Cup tie against Manchester City in 1933. However, there was a disaster due to overcrowding just after the war, and the railway end was sold for a supermarket in 1985. Indeed, from that time, there was no railway and no end. Bolton moved to the new Reebok Stadium in 1997.
Blackburn Rovers
Blackburn Rovers went to Ewood Park in 1890 (which was the venue for an international soccer match soon after) and won the championship in 1912 and 1914. As a result, they had crowds of 28,000 and won the FA Cup again in 1928. Blackburn had a record attendance of 61,783 during a FA Cup tie against Bolton the following year. However, the new Ewood Park stadium was quite unlike the old football ground.
Nottingham Forest And Notts County
Nottingham Forest played at the City Ground by the river and directly across the road from Trent Bridge in 1898. They hosted an international in 1909. However, few developments were made until the east terrace, and the Bridgford end was enlarged in the 1950s, resulting in a record of 49,946 for a Division One game against Manchester United in 1967.
Their rivals Notts County moved over the river to Meadow Lane in 1910. They actually floated an old stand across the River Trent for their move. Their main stand had a barrel roof (like Preston North End), and a large Kop was raised at the north end. Notts County had a golden era when Tommy Lawton joined the club, and the record of 47,310 was for a FA Cup quarter-final against York in 1955.
Bradford City 
Bradford City also had a large terrace at the Manningham end, and this was called Nunn's Kop, after a city dignitary. Valley Parade stadium's record attendance was 39,146 against Burnley during the FA Cup-winning season of 1911.
One of the worst sporting disasters ever occurred at Valley Parade on 11 May 1985, when 56 people were killed and at least 265 were injured in a fire that engulfed the main stand.
Blackpool
At Bloomfield Road in Blackpool, there was a large Kop at the north end, although the other three sides were restricted. The central railway was close to the stands, and Blackpool Tower and the seafront illuminations could be seen in the distance. The record crowd was 38,098 for a Division One game against Wolves in 1955.
Halifax Town
Halifax Town FC was formed after a public meeting in 1911, and the Shay was developed in a natural hollow, once used as a council rubbish tip. The club moved there as founder members of Division Three (North) in 1921, and some large banking was raised on three sides. A motorcycle speedway came there in 1948, determining the football ground shape, whereas a crowd of 36,885 watched the fifth round FA Cup match against Tottenham Hotspurs in 1953.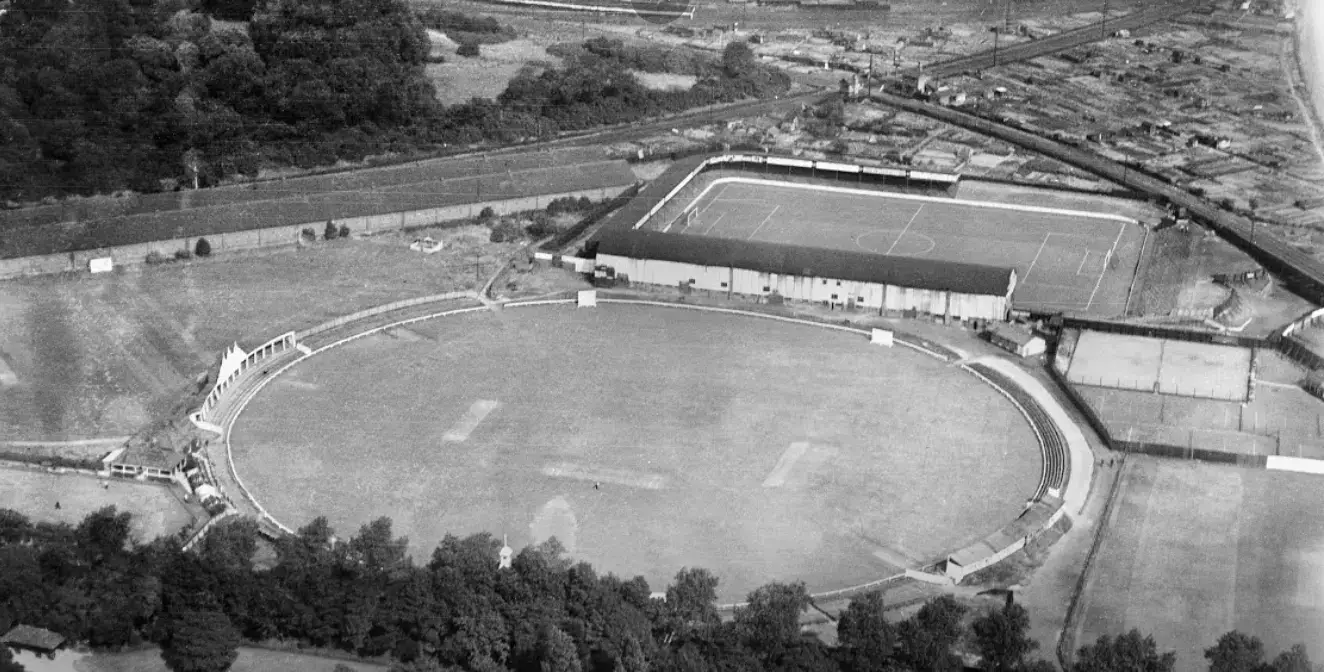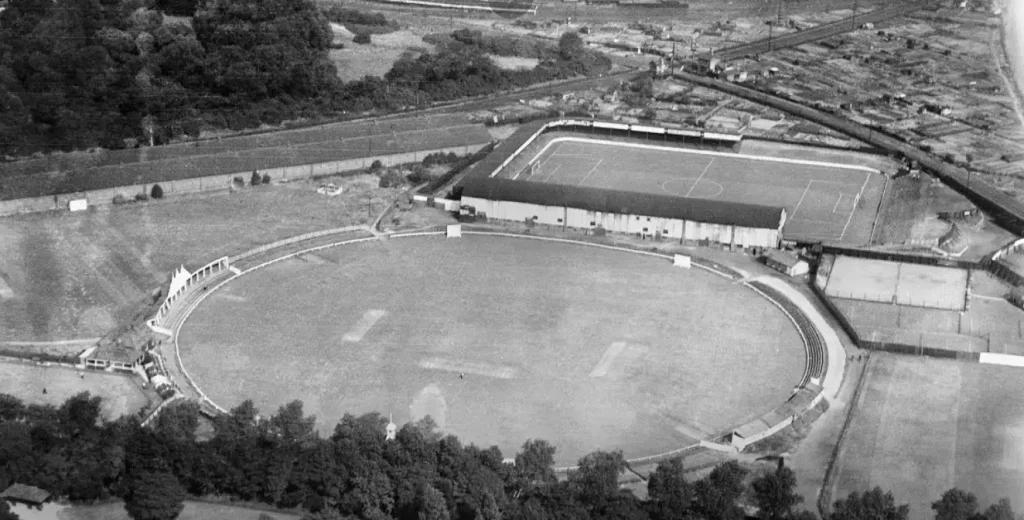 Hull City Venue
Although Hull City played at the "Circle," Anlaby Road from 1906, Kingston Upon Hull was dominated by rugby, with the main stand backing onto the cricket oval. Meanwhile, they had an uncertain future at the venue. So they purchased Boothferry Park just west of the city in 1930.
The new football ground was not ready for use until 1946, but there was soon a record crowd of 55,019 for a FA Cup match against Manchester United in 1949, and they were promoted that season, leading to average crowds of 37,000. However, both Hull and Boothferry Park declined in the following years, and a supermarket replaced the north stand in 1982.
Port Vale
Port Vale was formed in a district of Burslem in 1876 and went to the Recreation football ground, Hanley, in 1913. Due to severe debts, they sold it to the Corporation in 1943 and purchased Vale Park the following year. There were ambitious schemes to build a "Wembley of the North," but only the paddock and tunnel of the main stand were ever built, and the football ground was opened with uncovered terracing on all four sides in 1950.
The first game was against Newport County in Division Three (South) in front of 30,042, while the English football stadium was gradually improved with several different covers. Meanwhile, the record attendance was an estimated 50,000 for a fifth-round FA Cup game against Aston Villa in 1960.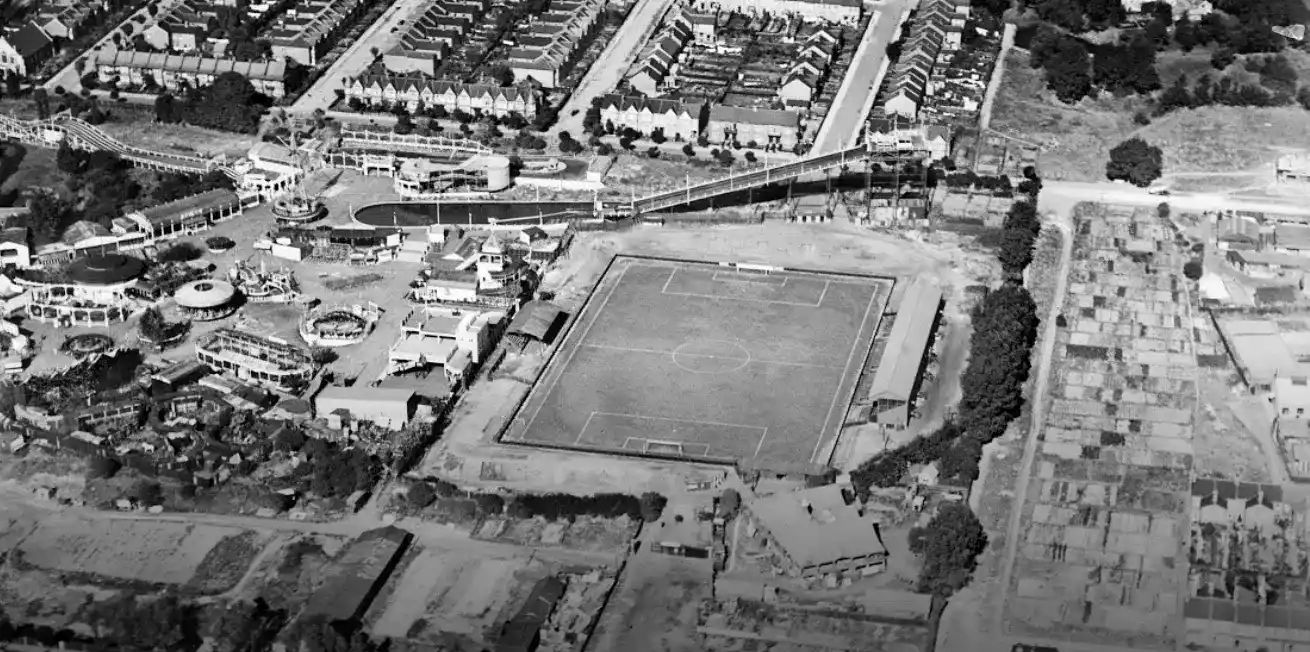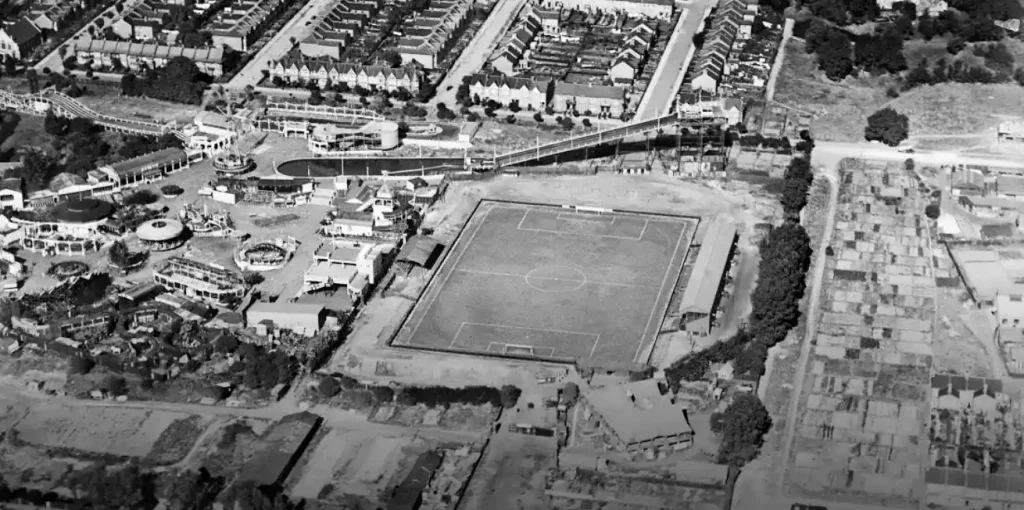 Southend
Southend played at Roots Hall from 1906-16 and moved to the "Kursaal" on the seafront in 1919, then to the greyhound stadium in 1934. During this period, the original football ground was lowered due to quarrying, but they returned to the new Roots Hall in 1955 and developed the stadium over the next five years.
This was the last "old-style" English football stadiums to be built, and the age of the terrace had come to an end; whereas a new era was ushered in with the opening of Glanford Park at Scunthorpe on 14 August 1988, followed by Bescot Stadium at Walsall just two years later.
Millwall
Millwall Football Club was established on the Isle of Dogs in 1885 and played at East Ferry Road in 1890-1901, an oval arena capable of holding 15,000 – and they won the Southern League there. Indeed, their status was confirmed when they hosted both Preston North End and Sunderland.
Milwall moved to North Greenwich on a former potato field and opened the football ground with a friendly against Aston Villa in 1901, the record being 11,000 against Tottenham that year, but they moved to New Cross in 1910.
However, the story might have been different since the unlikely named Willey Reveley proposed a grand scheme to straighten the Thames across the area in 1796. Unfortunately, the plan was dismissed as too expensive, and instead, the congestion problem was solved with some prominent new docks.
These were days unlike the present, and clubs had to be frugal in English football stadiums development. As a result, many would re-use existing stands or borrow those from other football grounds.
For example, The Wellington Road roof went to Muntz Street in 1897; Noah's Ark was taken to the Hawthorns in 1900; a Hyde Road stand was transferred to the Shay in 1923, and the Swan Passage stands went to Vale Park in 1950.
Bristol City
Bristol South End was established in 1894 and played at St. John's Lane, Bedminster, although the venue was overlooked, and they became Bristol City in 1897. Their rivals, Bedminster, were formed in 1887 and played at Ashton Gate from 1896. Indeed, legendary cricketer W.G. Grace played a county cricket match there, which was the venue for two early football internationals.
Both teams played in the Southern League from 1898 but merged in 1900. They were the third southern team to enter the league the next year – only Woolwich Arsenal (1893) and Luton Town (1897) preceded them.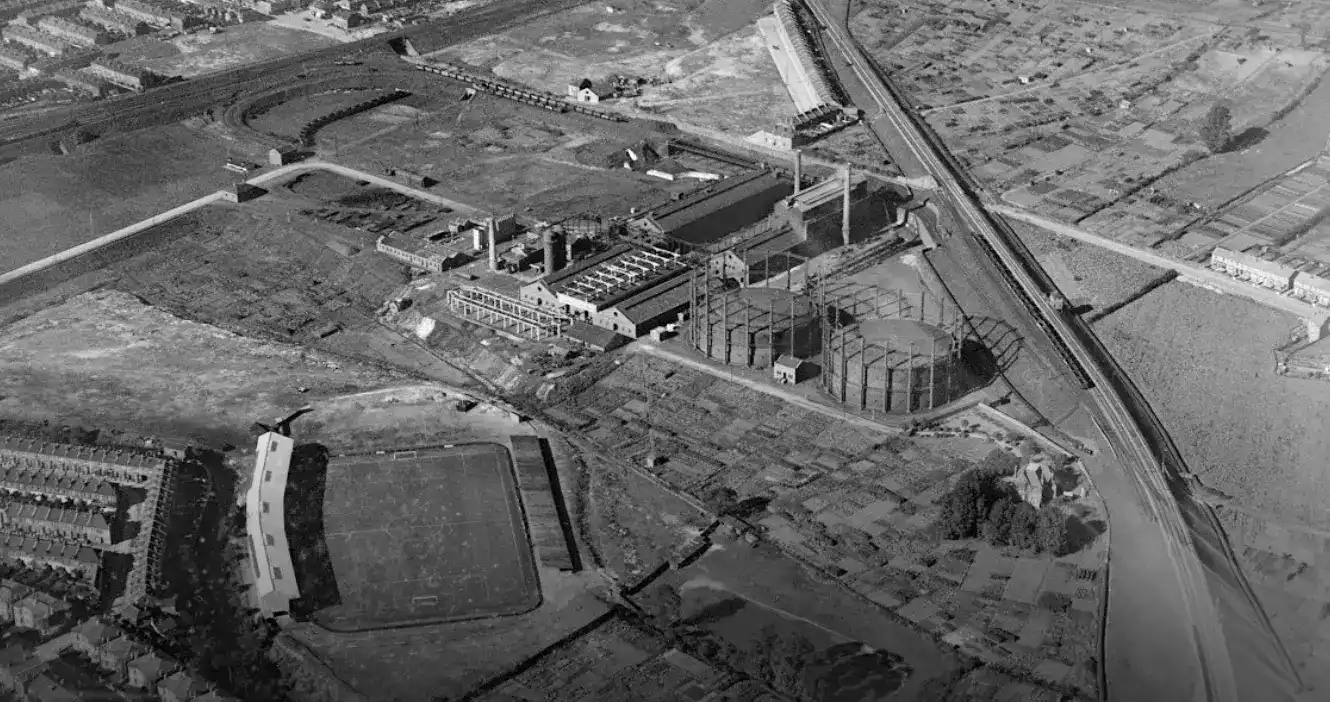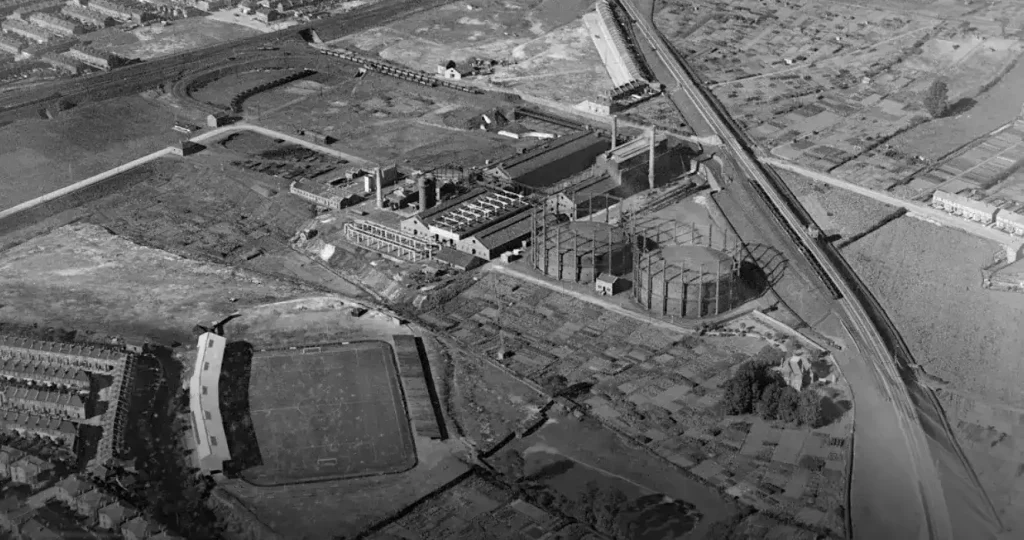 Bristol Rovers
Eastville Football and Athletic Ground at Stapleton Hill was the new home for Bristol Rovers in 1897. Gasheads was the club's nickname due to its proximity to the Stapleton Gas Works and the River Frome.
Fire mysteriously destroyed it in 1980. Rovers left Eastville in 1986 due to financial pressures, taking up a temporary lease at Bath City's Twerton Park. A retail park was ultimately developed as a result of the closure of Eastville in 1997.
Cardiff City
Meanwhile, Wales had two large soccer stadiums, both being in one city. Cardiff Arms Park staged rugby from 1876, and a grandstand was erected in 1885. Hence Wales used it for soccer internationals from 1896 to 1910.
The Riverside C.C. played nearby and formed Cardiff City in 1899, and after a few trial games, turned professional at Ninian Park, Sloper Road in 1910. Their football ground was sited on a former rubbish tip, and Lord Ninian Crichton Stuart provided the funds. The main terrace on the east side was called the "Bob Bank," since it (once) cost just a shilling to stand there.
The Welsh club joined Division Two with Leeds United in 1920, and just a year later, reached the top division. They were runners-up to Huddersfield in Division One during the 1923-24 season.
At this time, the championship was decided on goal average; however, Cardiff would have won on goal difference (having scored one more goal). Indeed, this was the only time there would have been a different outcome, and they were separated by a tiny 0.0241 of a goal.
Meanwhile, Cardiff won the FA Cup in 1927, and there was a revival with average crowds of 38,000 in 1952-53. There was a Welsh clubs record of 57,800 for a First Division game against Arsenal that season. The Bob Bank was then extended, and a large roof erected, resulting in a record of 61,566 during an international against England in 1961.
However, in general, the days of the Kop were numbered, and only three old-style football grounds were opened after the Second War, namely Boothferry Park (1946), Vale Park (1950), and Roots Hall (1955).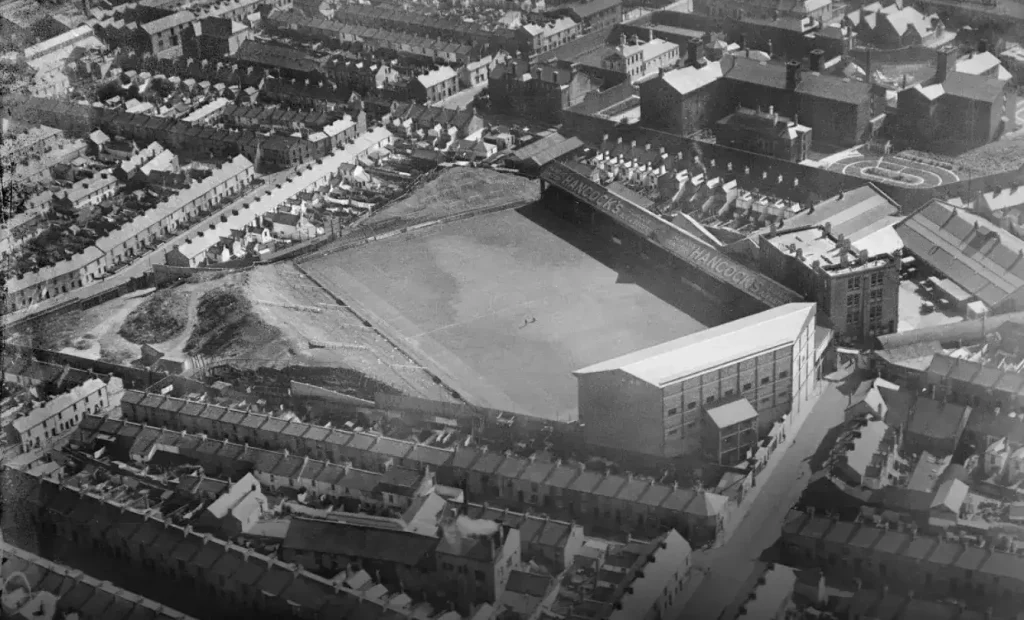 Wrexham
For several years the site was used just for cricket, but the races were then re-instated in 1872, and football was played from that time; thus, Wrexham (Olympic) was formed in 1884. Indeed, this makes the Racecourse Ground the only League venue as old as Deepdale and Turf Moor.
In the early years, the club's activities were centered on the Turf Hotel, and the main stand was erected on Mold Road in 1902, the pitch being located across the racetrack. However, the racing ended in 1912, and when the club joined Division Three (North), they developed the football ground. One unusual feature was the installation of a deck of seats from the local cinema on the Town End terrace from 1962-78. In contrast, the Yale Stand was added in 1972 to stage future internationals.
Cricket Grounds Where Football Was Played
The sport of cricket developed long before soccer and had its origins in London in the 18th century. Its focus was the Noblemen and Gentlemen's Club, which were involved in sports mainly for gambling.
They were based at Pall Mall and formed the London Cricket Club in 1722 and the Jockey Club in 1750, while they also arranged prize-fighting events. The former played their cricket at Kennington or White Conduit Fields and increasingly at the Artillery football ground in Finsbury, with huge stakes riding on matches against the parish and local county opposition.
During the Seven Years War, this came to a stop, fought between England and France over colonial trade in 1756-63, whereas the Artillery football ground became a place of ill-repute. Hambledon was then the center of cricket for the next twenty years, and they beat an all-England side in 1777.
Meanwhile, the gentlemen hoped to re-establish the game in London and formed the White Conduit Club, Islington, in the early 1780s. However, the venue was found to be inadequate. Hence they asked Thomas Lord (1755-1832), one of their players, to find a new rendezvous.
Marylebone Cricket Club
He initially obtained land at Dorset Square, Marylebone, in 1787, and the gentlemen formed the M.C.C. later that year, but they were forced to move to North Bank, Lisson Grove in 1810. The first regular contest between Eton and Harrow was then established.
A new site was found on the Eyre Estate at St. John's Wood in 1814, and this became the famous Lord's Cricket ground. There were annual games between the Gentlemen and Players from 1819, and a regular North v South contest took place in 1836-38, each year from 1849. The two regions also played against touring teams and the M.C.C., while William Clarke's All England XI traversed the counties from 1846.
Robert A. Fitzgerald was the M.C.C. secretary from 1863-76 and arranged a cricket tour of North America in 1872. In addition, there was an unofficial County Championship from that time. Charles Alcock developed the game at the Oval with the first test against Australia in 1880.
However, there was a close correlation with football development, and the first official County Championships was started in 1890, with eight county teams taking part at first.
Meanwhile, emerging football teams around England required a venue, and many used cricket grounds, which seems a strange arrangement in modern times. The two sports were often in conflict right from the start.
County Cricket Grounds
A number played early games at the County Cricket grounds, and some examples are Brighton, Southampton, and Stoke, whereas Swindon moved to the County ground in 1896 and remains there today. Such sharing took place in Derby, Northampton, Nottingham, and Sheffield, whereas several English clubs played at their local cricket grounds.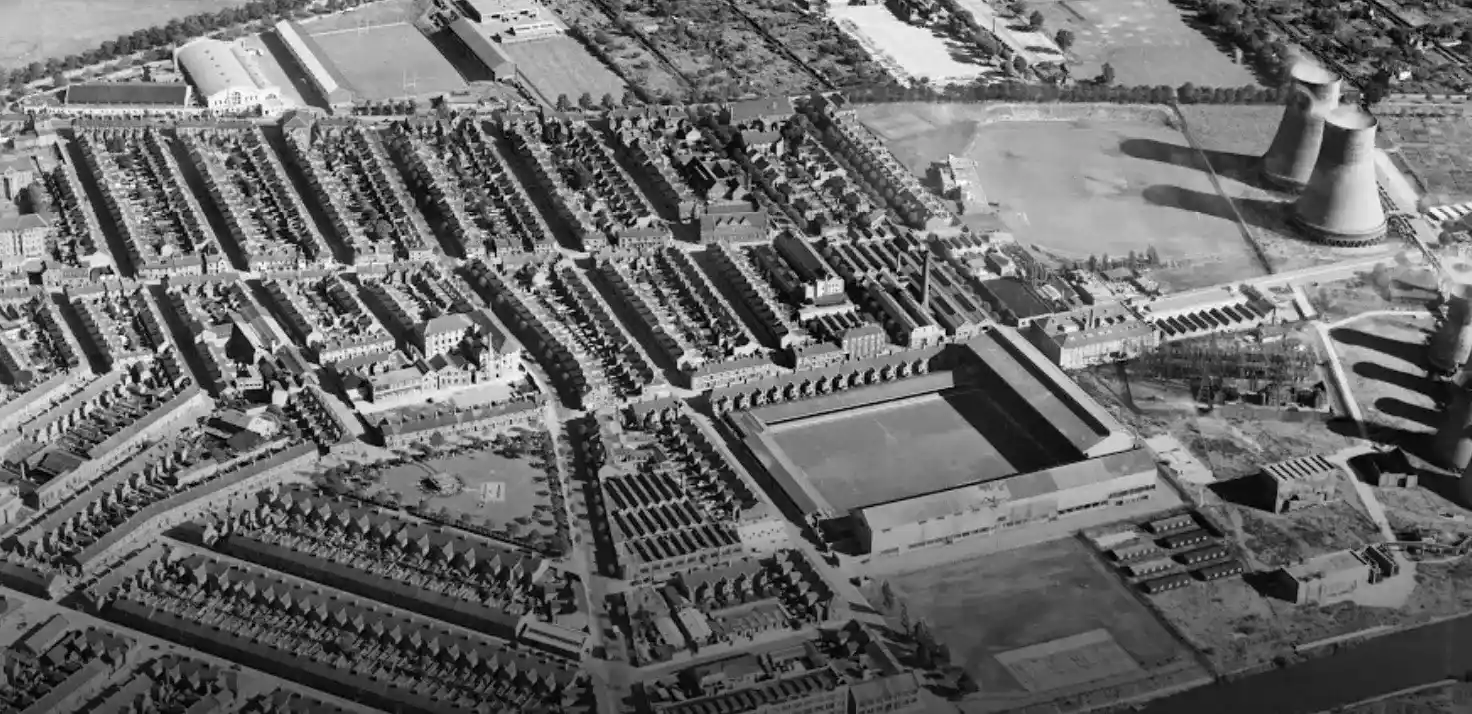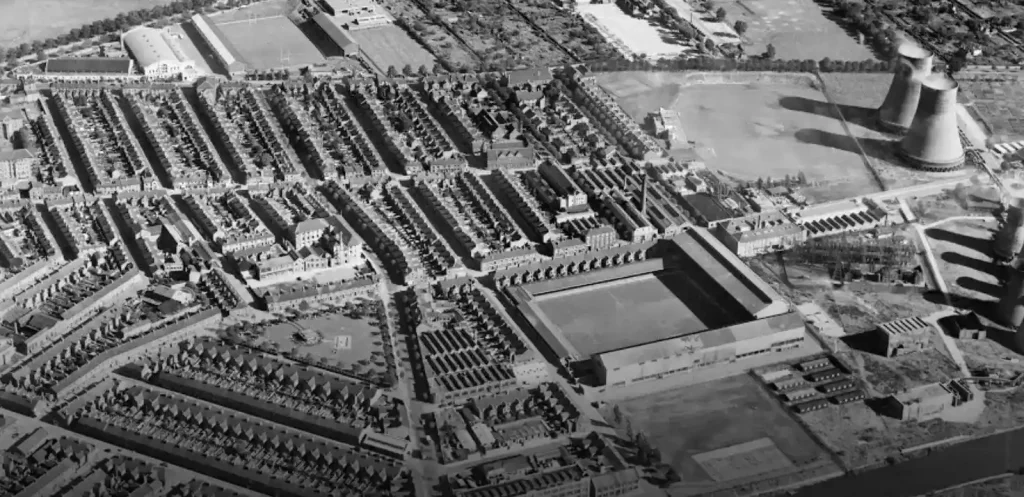 For instance, Leicester Fosse played some games at the Aylestone Road Cricket ground and moved to Filbert Street in 1891, whereas Reading went to Caversham Cricket ground in 1889.
Watford
Watford Rovers started in 1881 and were invited to use the West Herts football ground at Cassio Road in 1891. Still, a condition of the tenancy was that they became West Herts Football Club. The venue had a cricket pavilion and some basic banking, while a merger saw the name change to Watford F.C. in 1898. They moved to Vicarage Road in 1922.
Mansfield Town 
Greenhalgh C.C. played at Field Mill, Mansfield in 1840, and a football team was established there in 1861, making it one of the oldest football venues in the world. There was a complex story of the sport locally, but Mansfield Town Football Club began in the 1890s and moved to Field Mill by 1919. The cricket club left three years later. They won the Midland League in 1924, 25, 29, and were thus elected to Division Three (South) in 1931.
Crewe Alexandra
Another example was Crewe Alexandra Football Club started playing at the Alexandra Recreation field, Nantwich Road, in 1877. This was the venue for a FA Cup semi-final between Aston Villa and Queens Park Rangers in 1887, whereas the club was in the league from 1892-96 and moved to Gresty Road in 1906.
Rotherham United
Rotherham Town played at Clifton Lane (cricket ground and racecourse) from 1882 and moved to Clifton Grove, where they played league football between 1893-96. A new team Rotherham FC was formed at the cricket ground. Rotherham County moved to Millmoor in 1907 and joined Division Two in 1919. However, they finished bottom of Division Three (North) in 1924-25, and the two teams merged to form Rotherham United.
Leyton Orient And Stockport County
Several football clubs had their origins within cricket. Thus Leyton Orient came from the Glyn Cricket Club. Stockport County had links to Heaton Norris Cricket Club. Darlington was formed at the local grammar school in 1883 but played at Feethams: the home of Darlington C.C.
The latter club was a successful amateur side and played in the Cup from 1885, then in the Northern and North East League, and were founder members of Division Three (North) in 1921. The cricket pitch was next to the football ground for over a century and was the last surviving example of such an arrangement (they moved to a new stadium in 2003).
Northampton Town
Meanwhile, after the demise of Bramall Lane in 1975, the last example of a shared venue was the County ground at Northampton. The cricket club laid out the site south of Abington Avenue in 1885, and a football club was formed in 1897, but always on non-preferential terms. For example, they were charged more rent than the cricketers and could not play any games there before September or after April.
However, they became professional and joined both Kettering Town and Wellingborough in the Southern League. Initially, the team changed in the pavilion, and attendances were just 4,000, while the main stand was built in 1907. Herbert Chapman returned as the manager, and they won the Southern League in 1909 and were founder members of the Third Division in 1920.
There were several plans to move but without success, and they joined the new Fourth Division in 1958. There was then a remarkable rise in the league, and they went from Division Four in 1961 to Division One in 1965. During their one season at the top, the average crowds were 18,000, and the record was 24,253 against Fulham. However, they then experienced one of the fastest slides and were back in Division Four by 1969.
Despite this, the cobblers reached the fifth round of the FA Cup in 1970 and played Manchester United at home, losing 8-2. Indeed, it was the one time that a stand was allowed on the cricket pitch. Northampton left the County ground, with its unusual wedge-shaped end terraces, and went to Sixfields stadium in 1994. Thus the cricketers took sole charge after 97 years.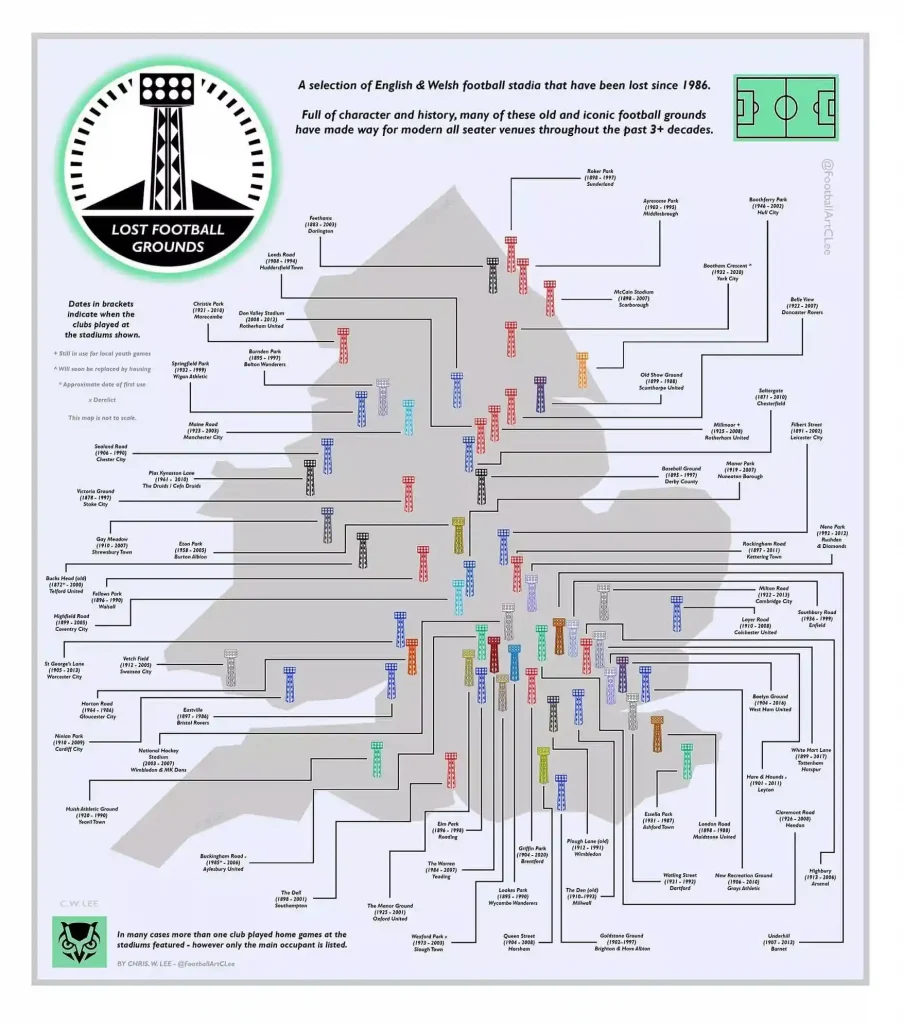 English Football Stadiums Opening Dates
1860
Sandygate – Hallam (Sheffield)
1870
York Road – Maidenhead
1874
Drill Field – Northwich Victoria
1881
Deepdale – Preston North End
1883
Turf Moor – Burnley
Feethams – Darlington
Victoria Ground – Stoke City
1884
Racecourse Ground – Wrexham
1885
Gigg Lane – Bury
1887
Saltergate – Chesterfield
1888
Oakwell – Barnsley
1889
Bramall Lane – Sheffield United
Molineux – Wolverhampton Wolves
1890
Ewood Park – Blackburn Rovers
Aggborough – Kidderminster Harriers
1891
Filbert Street – Leicester City
1892
Goodison Park – Everton
Anfield – Liverpool
St James's Park – Newcastle United
1893
Priestfield Stadium – Gillingham
1894
St James's Park – Exeter City
1895
Burnden Park – Bolton Wanderers
Baseball Ground – Derby County

Sincil Bank – Lincoln City

Loakes Park – Wycombe Wanderers
Old Showground – Scunthorpe United
1896
Craven Cottage – Fulham
Elm Park – Reading
County Ground – Swindon
Fellows Park – Walsall
1897
Villa Park – Aston Villa
Eastville – Bristol Rovers
County Ground – Northampton
1898
City Ground – Nottingham Forest
The Dell – Southampton
Roker Park – Sunderland
1899
Bloomfield Road – Blackpool
Highfield Road – Coventry City
Blundell Park – Grimsby Town
Fratton Park – Portsmouth
Hillsborough – Sheffield Wednesday
White Hart Lane – Tottenham Hotspurs
1900
The Hawthorns – West Bromwich
1902
Edgeley Park – Stockport County
Goldstone Ground – Brighton & Hove
1903
Valley Parade – Bradford City
Ayresome Park – Middlesborough
Home Park – Plymouth Argyle
1904
Griffin Park – Brentford
Ashton Gate – Bristol City
Upton Park – West Ham United
Rose Stadium – Macclesfield Town
1905
Stamford Bridge – Chelsea
Kenilworth Road – Luton Town
1906
St. Andrew's – Birmingham City
Sealand Road – Chester City
Gresty Road – Crewe Alexandra
Boundary Park – Oldham Athletic
1907
Underhill – Barnet
Portman Road – Ipswich Town
Spotland – Rochdale
Millmoor – Rotherham United
Leeds Road – Huddersfield Town
1909
Brunton Park – Carlisle United
Layer Road – Colchester United
1910
Dean Court – Bournemouth
Ninian Park – Cardiff City
Victoria Ground – Hartlepool United
Old Trafford – Manchester United
The Den – Milwall
Meadow Lane – Notts County
Gay Meadow – Shrewsbury Town
Plainmoor – Torquay United
1912
Vetch Field – Swansea City
Prenton Park – Tranmere Rovers
Plough Lane – Wimbledon
1913
Highbury – Arsenal
1917
Loftus Road – Queens Park Rangers
1919
The Valley – Charlton Athletic
Elland Road – Leeds United
Mill – Mansfield Town
1920
Springfield Park – Wigan Athletic
Huish Park – Yeovil Town
1921
The Shay – Halifax Town
Christie Park – Morecambe
1922
Vicarage Road – Watford
Belle Vue – Doncaster Rovers
1923
Maine Road – Manchester City
1924
Selhurst Park – Crystal Palace
1925
Manor Ground – Oxford United
1926
Recreation Ground – Aldershot Town
1932
Abbey Stadium – Cambridge United
Whaddon Road – – Cheltenham Town
Bootham Crescent – York City
1934
London Road – Peterborough United
York Street – Boston United
1935
Carrow Road – Norwich city
1937
Brisbane Road – Leyton Orient
1946
Boothferry Park – Hull City
1950
Vale Park – Port Vale
Roots Hall – Southend United
1955
Victoria Road – Dagenham Redbridge
1958
Eton Park – Burton Albion
1970
Crown Ground – Accrington Stanley
1976
Broadhall Way – Stevenage Borough
1994
Nene Park – Rushden Diamonds