Ferenc Puskas was goalscoring royalty during his reign in the 1950s and 1960s. It's no wonder the centre forward was destined to become a legend who, in making Europe his kingdom, became one of the greatest footballers of the 20th century. This is his awe-inspiring story.
The Hungarian Wonderkid
On the 1st April 1927, Ferenc Purczeld Biró was born to a modest family in the village of Kispest, in Budapest, Hungary. His father later changed the family surname to Puskas, when he was just 10 years old.
Ferenc Sr, an ex-soccer player and coach of local side Kispest AC, had both Ferenc and his friend, future international teammate, Bozsik join the club. In bypassing the minimum age rule, Ferenc Puskás played under the assumed identity of Miklós Kovács, before signing at age 12.

This inside-left wonder kid speedily moved through the youth ranks. Four years later, the centre forward made his senior appearance in November 1943. Here he earned his first nickname, 'Öcsi', meaning 'Little Brother' or 'Buddy'.
Although Kispest AC was not one of the strongest sides around, Ferenc Puskas's regular performances swiftly alerted the national team selectors, leading to his debut for Hungary in August 1945.
Puskás was swiftly off the mark, scoring in a 5-2 win over Austria. This had all the signs of turning into something quite spectacular!
The 'Galloping Major'
At first glance, the Hungarian's physical appearance made him noticeable when compared to other players – he was short, top-heavy, and overweight; the centre forward couldn't head the ball and apparently was inept at using his right foot.
On the other hand, there existed an affinity between his supreme ball control and his anticipation of thought – and who could forget his fierce left foot!
Ferenc Puskás had sublime dribbling skills and contributed many assists. The international superstar was often severely underestimated, but this was only at his opponent's peril!
In 1949, Kispest AC was taken over by the Hungarian Ministry of Defence, and transformed into an army club, renamed Budapest Honvéd. Players received military ranks, and Ferenc Puskas became known as the 'Galloping Major'.
During his time at Budapest Honvéd, Ferec Puskas achieved: 5 league titles (1949- 1955); was the league's top scorer on 4 occasions, and Europe's top goalscorer in 1848.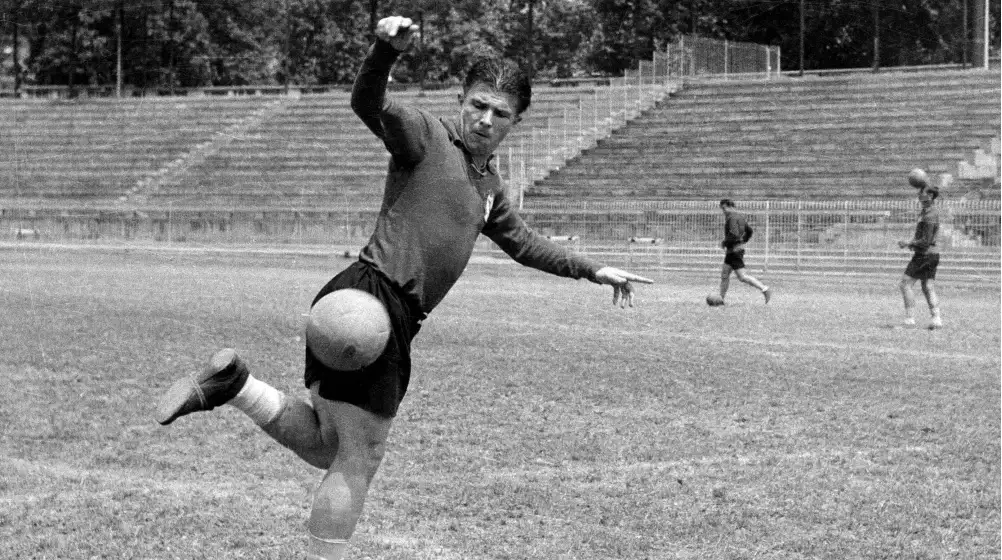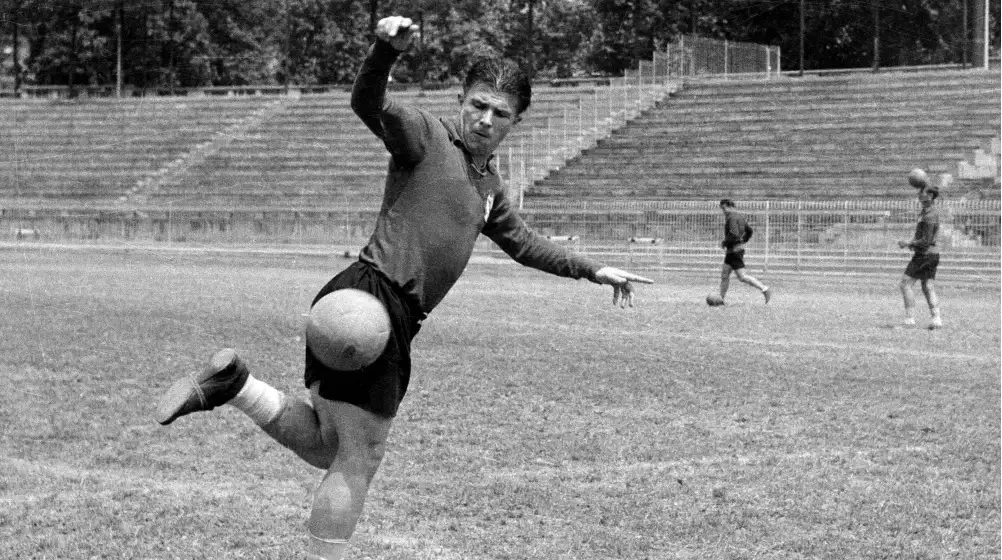 Revolutionizing The Game
The post-war years saw Hungary's national team emerge, dubbed the 'Mighty Magyars' or the 'Golden Team' of the 1950s. Ferenc Puskas and his teammates completely revolutionized the face of international football.
Their innovative playing style engaged fluidity with a focus on possession and players' versatility. The Hungarians were credited with introducing this model, which catapulted them to world supremacy.
Ferenc Puskás, the captain, remarked that the team was the 'prototype for total football.' The 'Mighty Magyars' were in the process of creating history and in the interim, became Olympic gold champions in Helsinki in 1952.
On the back of fabled performances, they were invited to play a friendly against England at Wembley in 1953.

Wembley's 'Match of the Century'
In 1953, the Hungarian national team arrived at Wembley Stadium, ready to challenge England's home record of a 52-year undefeated run. The international was labeled the 'Match of the Century', and marked a momentous 90 minutes in the history of the English game.
Hungary conquered the match, and Ferenc Puskas making his usual inspired performance, scored a double, contributing to their 6-3 triumph. In so doing, Hungary became the first team from outside Britain to beat the English on home soil.
As with any impressive match, there's always a breathtaking moment – and Puskás's first goal was one! A cross made onto his left side was eased down while deceptively making it seem as though the Galloping Major was to shoot with his right foot.
This immediately triggered Billy Wright, England's captain, to fly into a sliding tackle. In describing Wright's challenge, Geoffrey Green wrote in The Times: "[it was] like a fire engine going to the wrong fire."
Then, with the sole of his left boot, Ferenc Puskás drew the ball back, twirled, and fired a shot into the net.
As noted in The Guardian, the Hungarian radio commentator Gyorgy Szepesi remembered taking to the pitch after the match and in scrutinizing the spot, said: "They should have laid down a plaque".
Ferenc Puskas had a wonderful sense of humor and, as mentioned in The Guardian, in sharing his thoughts on the victory, the centre forward said: "I would be a liar if I said we were not pretty nervous on the day of the match… I was in my kit, hanging about in the corridor, when I saw the England inside-right Eddie Taylor, who wasn't very tall. I popped back into the dressing room and said to the others: 'Listen, we're going to be all right. They've got someone even smaller than me.'"
It was déjà vu for England the following year in Budapest when their paths crossed, and England sought retaliation. Once again, Ferenc Puskás netted 2 goals, and the 'Mighty Magyars' struck their opponents 7-1, one of England's heaviest defeats.
As a result, the Hungarians were placed as overwhelming favorites for the upcoming 1954 FIFA World Cup tournament in Switzerland.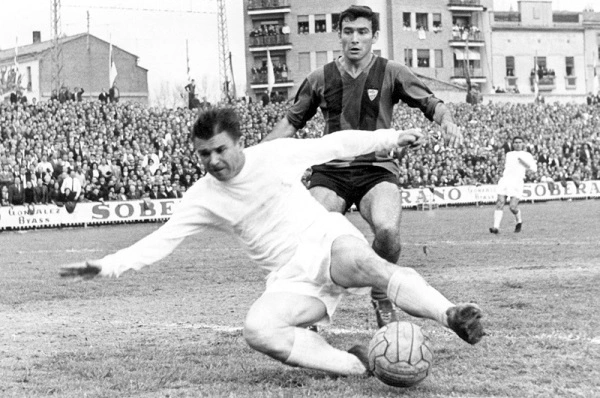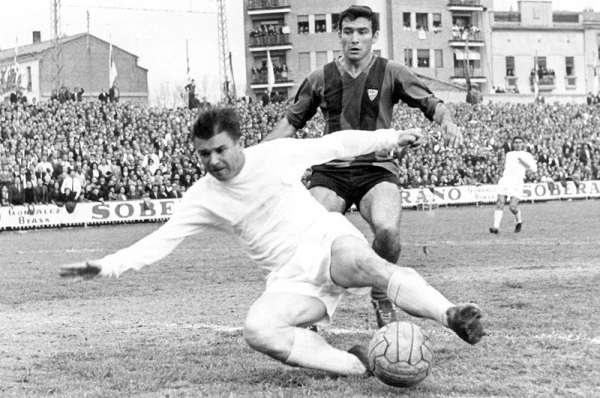 A Swiss Affair With A Hint Of Controversy
Initially, it seemed as though the 'Mighty Magyars' remarkable record was to continue, especially after convincingly pulverizing South Korea 9-0 and West Germany 8-3 in their pulsating opening round matches.
Regrettably, Ferenc Puskas had picked up an ankle injury early on and was ruled out until the World Cup final, which was set to be a cracker against West Germany in Berne.
Despite a hampered performance, Ferenc Puskás netted an early goal, doubling their advantage to 2-0, in the early minutes.
However, the Germans clawed back and not only leveled things before half-time but took the lead minutes before the final whistle – it was now 3-2. Mere moments before the final whistle, Puskas scored a goal! But wait…it was ruled offside!
This controversially disallowed goal became an intense talking point, a decision Ferenc Puskas would always dispute. Ultimately it cost Hungary the World Cup final, and their undefeated record of 32 consecutive games was annihilated.
Puskás had netted an astounding 84 times in 85 appearances for his country. This Hungarian national team of the 50s was considered by many to be the grandest team to never have won the World Cup trophy.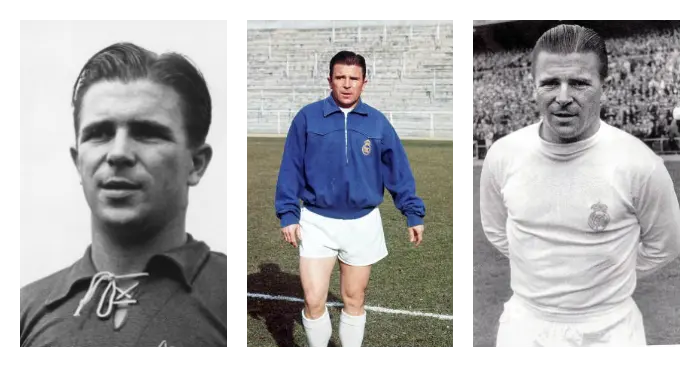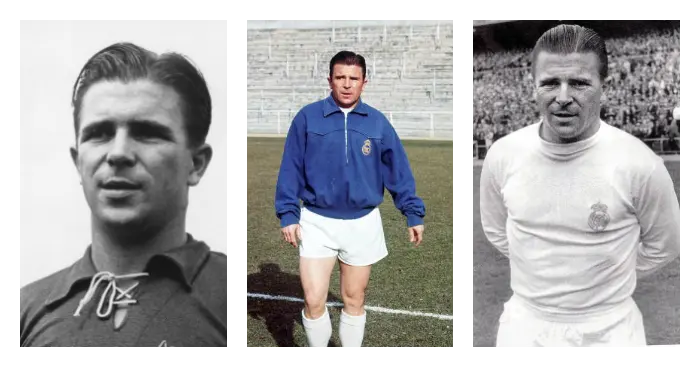 Unexpected Excursions
During the Hungarian Revolution, which erupted on the 23rd October '56, Budapest Honvéd was to play Spanish side Athletic Bilbao in the first round of the European Cup.
After losing 2-3 away, as they traveled back to Hungary news broke out of the uprising. Concerned at the widespread chaos and violence, the players decided not to return home.
The second leg was then played at the Heysel Stadium in Belgium, where Honvéd were eliminated on a 6-5 aggregate, after a 3-3 draw.
With nowhere to go, the players organized a fundraising tour of Italy, Spain, Portugal, and Brazil, as their families were summoned from Budapest.
This decision was met with much anger by both FIFA and the Hungarian FA. Once the tour ended, the players parted ways, many choosing to remain in Western Europe.
After a few unofficial matches for RCD Espanyol, Ferenc Puskas had to serve a 2-year ban from UEFA for refusing to return to his homeland.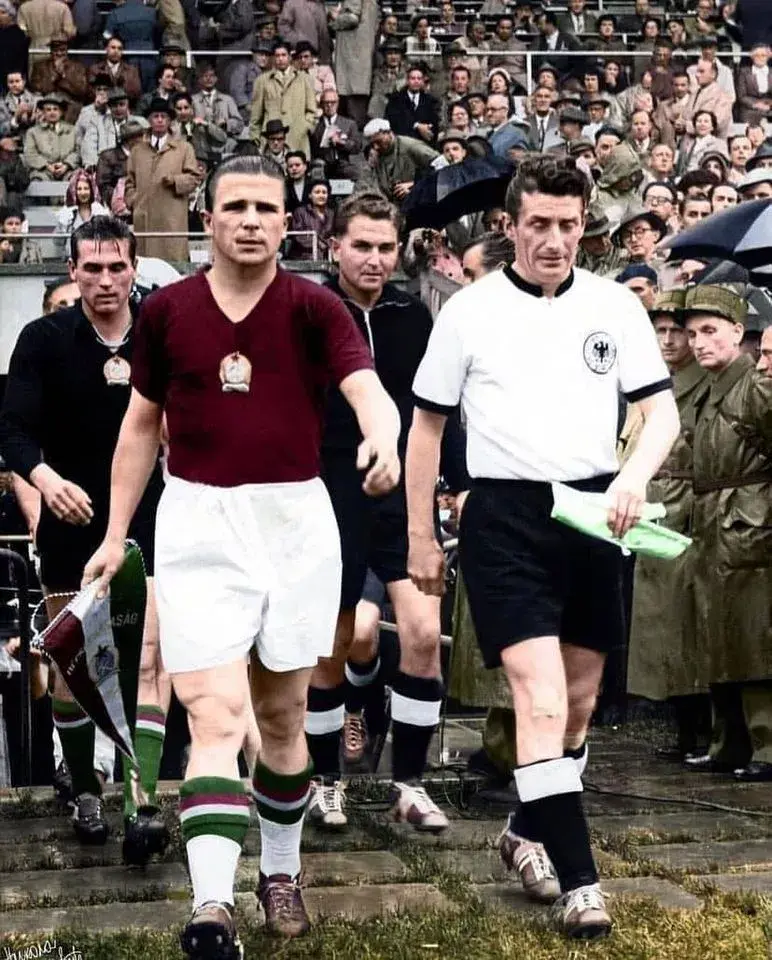 The Real Madrid Menacing Duo!
Although many European clubs showed interest in recruiting the Hungarian, they decided against it as they were concerned about his weight and age. It was Real Madrid who gave Ferenc Puskás their vote of confidence in 1958 by signing him.
This was a decision they would never regret! As soon as the fans witnessed this supreme marksman, the centre forward gained new nicknames, 'Pancho' and 'Cañoncito pum' ('Little Canon'), due to his fired-up goal scoring exploits!
Here Ferenc Puskás dazzled, scoring 25 goals in 34 appearances during his first season, not to mention his 4 hat-tricks!
Ferenc Puskas and Alfredo Di Stefano became one of the most commanding, creative, and lethal attacks in European history, and both thrived on the thrill of it all! It was even said that they had an almost telepathic relationship!
In capturing the emotions of a nation, they delivered nothing less than the spectacular, in a team consisting of an exceptional generation of players. Di Stéfano now had someone who would partner him in taking Spanish league and the world by storm!
Welcome to the Real Madrid golden era!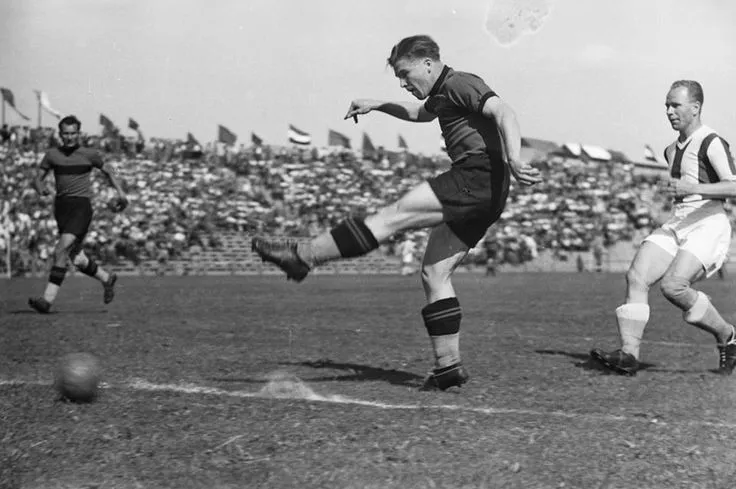 Ference Puskas Stellar Display
The 1960 European Cup final (UEFA Champions League) was a noteworthy highlight of the Hungarian's time with Real Madrid. Real Madrid, having beaten FC Barcelona in the semis of the European Cup, came up against Eintracht Frankfurt in the final at Glasgow's Hampden Park in Scotland.
As winners since its inception in 1956, Los Blancos was on a winning streak! Their display in front of a 127,000 crowd was rated as one of the greatest performances in football history.
Real Madrid's duo was in devastating form – Ferenc Puskas netting 4 and Alfredo Di Stefano grabbing a hat-trick, in their 7-3 victory. This was their 5th successive European Cup trophy.
After the match, Puskás handed the match ball to Eintracht Frankfurt's player, Stein, who had scored 2 of their 3 goals – Puskás had 4.
Among many accolades with Real Madrid, Ferenc Puskás won: 5 consecutive league titles between 1961 and 1965; Four Pichichis ('60, '61, '63, '64); and 1 Copa del Generalísimo in '62.
The 1965-1966 season was to be his last and it ironically coincided with Los Blancos losing their grasp on the league title.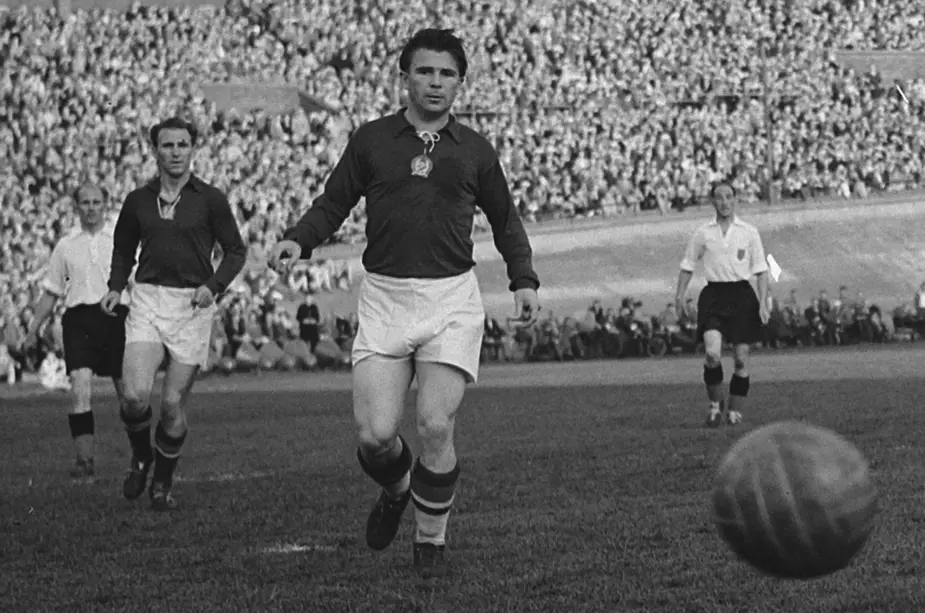 From Spain With Love
In accepting an invitation to play for Real Madrid, and having taken Spanish citizenship, Ferenc Puskas earned 4 caps, 3 of which were for his participation in the 1962 FIFA World Cup in Chile.
Despite Spain announcing something of a coup with his inclusion in the team, he experienced a rare goalless run. After retiring in the summer of 1966, Puskás moved into coaching, which turned him into quite the world traveler, managing teams worldwide.
Despite defection in 1956, Ferenc Puskas was granted a full pardon by the Hungarian government in 1993, allowing him to return home. The international superstar took charge of the Hungarian national team for 4 matches.
What A Beauty!
In October 2009, the FIFA Puskás Award was created. It is presented annually to the player who has scored the 'most beautiful goal' of the season. Cristiano Ronaldo was the first recipient of this award in December 2009.
Among magnificent honors Ferenc Puskas was elected FIFA 'Top Scorer of the Twentieth-Century' in '1995; World Soccer Player of the Year and European Player of the Year in 1953; World Cup Golden Ball and World Cup Bronze Boot winner in 1954.
Puskas set up The Ferenc Puskás Football Academy which was opened in April 2007, for the education and nurturing of the next generation of footballer.
In 2002, Budapest's Népstadion was renamed Puskas Ferenc Stadion. A year later, the Hungarian Football Federation declared Puskás their best Hungarian player of the last 50 years.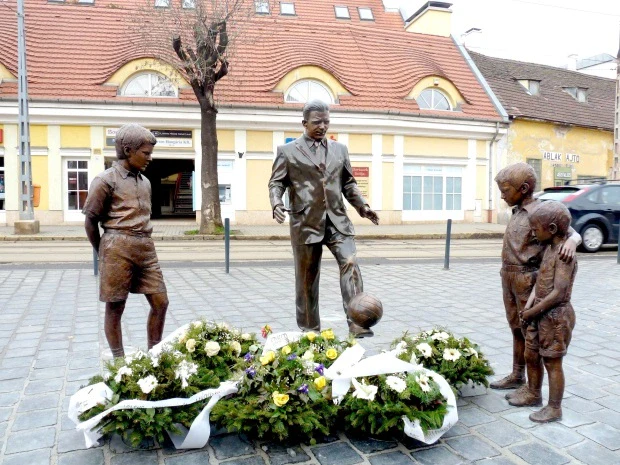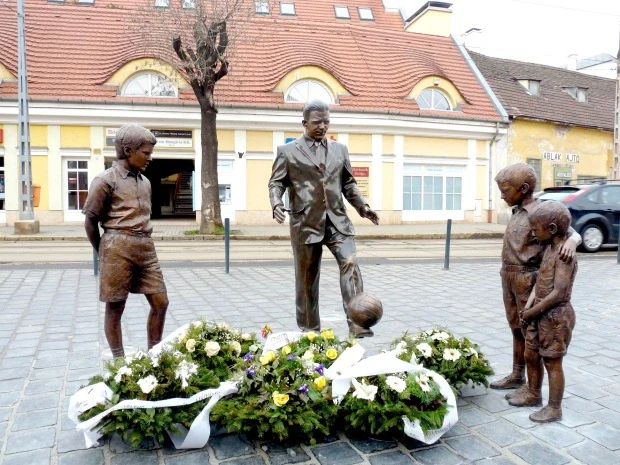 Tears Shed For Ferenc Puskás
On the 17th of November 2006, after having battled Alzheimer's disease since 2000, Ferenc Puskas passed away at 79 years of age as a result of pneumonia.
His passing was deeply felt throughout the world and many came to mourn his death at a state funeral in Budapest.
After his coffin was moved from the Puskás Ferenc Stadion, he received a military salute in Heroes' Square. The centre forward was then laid to rest under the dome of Saint Stephen's Basilica.
Years later, on 28th March 2013, a statue was unveiled in Budapest by his former teammates, Szepesi and Kovács. The sculpture was inspired by a photograph depicting a street scene in which Puskás was teaching and showing children how to control a ball in Madrid.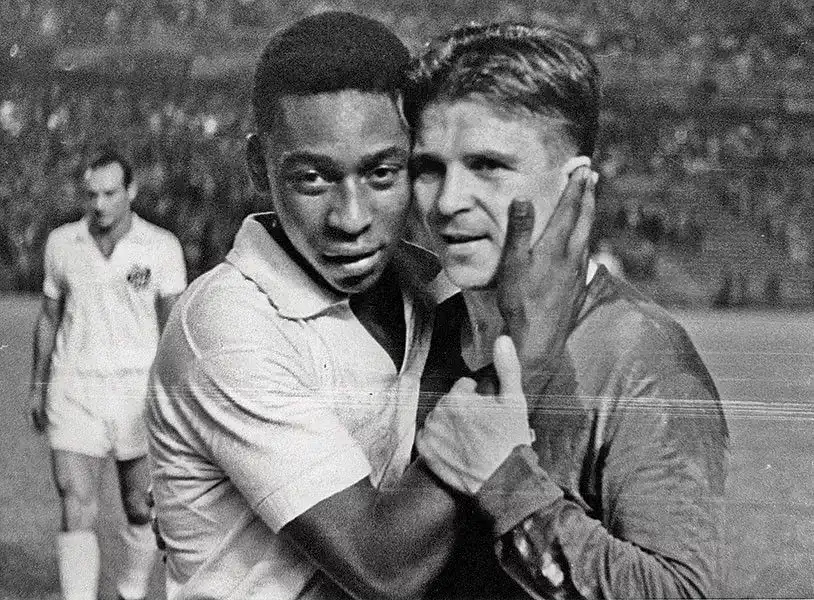 Born An Exceptional Wonder
The career goalscoring statistics of Ferenc Puskas are truly extraordinary – 616 goals in 620 appearances! His out-of-this-world achievements place him centre-stage among the world's elite.
But these numbers alone don't portray the entire picture – they are just the golden trimmings of a life spent doing what he was truly passionate about, one in which every possible sentiment was amplified, and each victory, was more fragrant than the last.
As Gyula Grosics, a member of the 1950s legendary Golden Team once said of his teammate: "He had a full career in Hungary and he repeated it in Spain with Real Madrid. That's why he is not only world-class, but Ferenc Puskás belongs to the realm of dreams."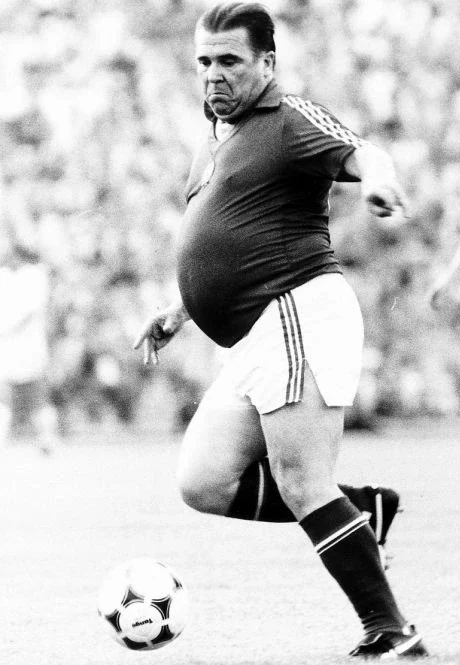 Ferenc Puskas Facts And Figures
Full Name: Ferenc Purczeld
Birthdate: 01/04/1927
Birthplace: Budapest, Hungary
Died: 17/11/2006 (79 years old)
Playing Career:
Budapest Honvéd 1943–1956
Real Madrid 1958–1966
Total Appearances: 618 matches, 619 career goals
National Team Career:
Hungary 1945–1956 (85 appearances, 84 international goals)
Spain 1961–1962 4 appearances
Managerial Career:
Hércules 1966–1967
San Francisco Golden Gate Gales 1967
Vancouver Royals 1968
Alavés 1968–1969
Panathinaikos 1970–1974
Real Murcia 1975
Colo-Colo 1975–1976
Saudi Arabia National Team 1976–1977
AEK Athens 1978–1979
Al Masry 1979–1982
Sol de América 1985–1986
Cerro Porteño 1986–1989
South Melbourne Hellas 1989–1992
Hungary National Team 1993
Playing Honors:
Budapest Honvéd
1949–50, 1950, 1952, 1954, and 1955: Nemzeti Bajnokság I Champions
Real Madrid
1960–61, 1961–62, 1962–63, 1963–64, and 1964–65: La Liga Champions
1961–62: Copa del Generalísimo
1958–59, 1959–60, and 1965–66: Three European Cup Titles
1960 Intercontinental Cup Winner
Hungary
Managerial Career:
Panathinaikos
1969–70, and 1971–72: Super League Greece Champions
Sol de América
1986: Paraguayan Primera División
South Melbourne Hellas
1990–91: National Soccer League
1989–90: NSL Cup
Individual Honors:
1960: Ballon d'Or Silver Award
1959–60, 1960–61, 1962–63, and 1963–64: Spanish League top scorer (Pichichi Trophy)
1960, 1961, 1962, and 1963: World Soccer World XI
1954 FIFA World Cup: Golden Ball and All-Star Team
FIFA Ferenc Puskas Award
Presented annually, the FIFA Puskás Award recognizes the player whose goal has the most aesthetic impact, regardless of the championship, gender, or nationality, and without the use of luck or mistake.
The award that was called after the player who won three European Cup titles was established on October 2009 and has been awarded each ever since. FIFA's official website allowed fans to vote on the winner until 2018.
In the new system, pundits selected by FIFA will select the winner based on the top three goals voted for by the public.