Fulham Football Club lost their most famous son with the death of the great Johnny Haynes in 2005. He was Fulham's greatest-ever soccer player and probably the best soccer player in Britain during the late 1950s.
There was a minute's silence at the home match with Liverpool Football Club, and it was fitting that his great friend and Fulham colleague Tosh Chamberlain should lay a wreath in Johnny's memory.
One Club Player
A superb passer who scored goals with his head and feet, Johnny Haynes followed his boyhood friend Tosh to Fulham rather than accept offers from Tottenham Hotspur and Arsenal. Over the next 20 years, he remained loyal to the soccer club despite the many offers from other clubs, both at home and abroad.
With his magnificent tactical brain, control, and passing ability, Johnny Haynes dictated most games. However, he was a perfectionist who was as hard on himself as his teammates when they did not read what he intended. His loyalty to one club maybe cost him a higher profile in the soccer world.
We shall never know whether he would have looked a better player appearing alongside other world-class soccer players at a bigger club than Fulham Football Club.
His Debut
During his early days at Craven Cottage, Johnny Haynes played on loan for Feltham, Wimbledon, and Woodford Town. He made his debut on Boxing Day 1952 against Southampton and was soon a regular. He made up a wonderful inside-forward trio alongside Sir Bobby Robson and Beddy Jezzard.
Sadly, this was quickly broken up with the departure of Sir Bobby Robson to West Bromwich Albion and Jezzard to retirement caused by injury. Johnny Haynes scored 18 goals during his first entire season of 1953-54 and 19 goals two seasons later.
His best season came in 1958-59, when he scored 26 goals in only 38 appearances as Fulham FC won promotion to the First Division.
Haynes scored all four goals when Fulham defeated Lincoln City in September 1958. He never played for Fulham at Wembley but appeared in two losing FA Cup semi-finals, in 1958 against Manchester United and 1962 when Burnley was the opposition.
In 1958, the country sympathized with Manchester United, who was trying to recover from the Munich Air Disaster, and Fulham could have won their first semi-final at Villa Park, which was drawn 2-2.
Tony Macedo was outstanding between the goal posts that day, but he had a nightmare in the replay at Highbury and let in five goals.
Fulham should also have beaten Burnley in the first semi-final of 1962 and missed many great goal-scoring opportunities. Unfortunately, they lost the replay 2-1 at Filbert Street. Johnny Haynes played for Toronto City in the Eastern Canada Professional Soccer League in the summer of 1961.
Stanley Matthews, Danny Blanchflower, Jackie Mudie, and Tommy Younger were on the same team. Haynes probably only played around eight games just after the start of the season, before the players were recalled to their English clubs.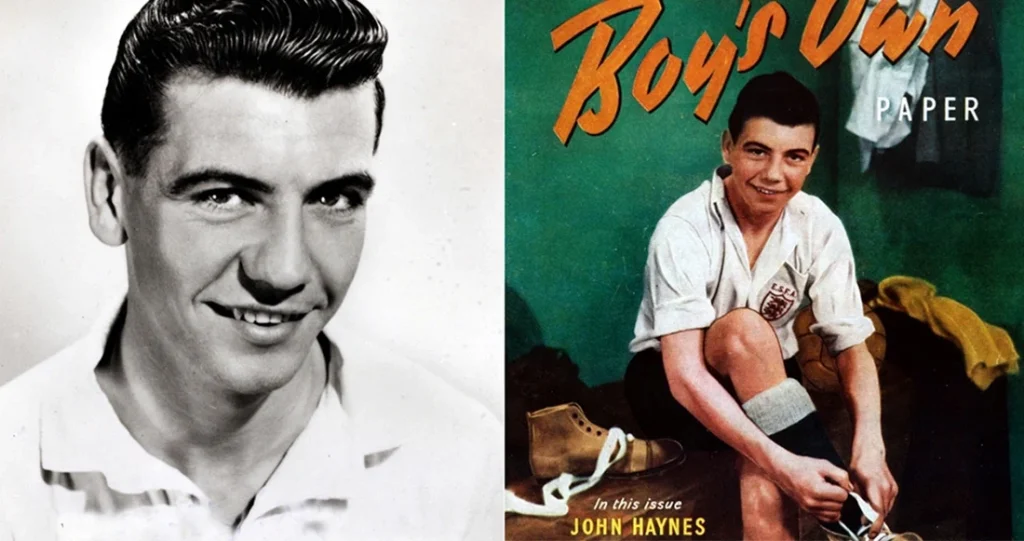 Inter Milan Interest
Known as the 'Brylcreem Boy' for being one of the first footballers to put his face to advertising – in this case, hair styling products – the wage-cap abolishment on 18 January 1961 set in motion a whirlwind 18 months.
After Fulham chairman Tommy Trinder – a famous comedian in those days – had turned down an offer of £100,000 from AC Milan, which would have reportedly made Haynes the best-paid player on the planet, Trinder said he would pay him five times the £20 maximum wage if he could. "Haynes is an entertainer like I am, and if the maximum wage is ever abolished, I will pay him what he is worth, which is £100 a week."
Come January 1961, Haynes turned up at Trinder's door with the newspaper cuttings of those quotes, and the chairman had no choice but to give him the triple-figure wage, equating to roughly £4000 per week today.
"I signed the contract straight away," said Haynes. "I love London, I am the captain of England, and I feel I owe the game something."
For future England coach Bobby Robson, a team-mate for club and country, it was money well spent. "We've got the best player in the country, nobody's going to touch him, and we'll pay him whatever we have to."
He remained at his best until a car crash at Blackpool in August 1962 caused severe injuries and meant that he lost some of his natural speed when he recovered.
Tottenham Hotspur Interest
Johnny Haynes could have moved to Tottenham Hotspur in 1963 after the death of John White, who was killed by lightning on a golf course. Spurs offered Fulham a massive fee to entice Johnny Haynes away from Craven Cottage. However, chairman Tommy Trinder resisted the offer.
Fulham seemed to be two or three players short of the required standard for the top flight, so they often struggled against relegation during the sixties.
They were rock bottom of the First Division at the turn of January 1966, but a remarkable recovery, in which they lost only two of their last 13 games, led the club to safety, inspired by the play of Johnny Haynes.
However, with Johnny Haynes' career declining, things went downhill at the club. Fulham was relegated from the First to the Third Division in consecutive seasons from 1967-69. Johnny Haynes played his last game for the club in January 1970 against Stockport County in the Third Division.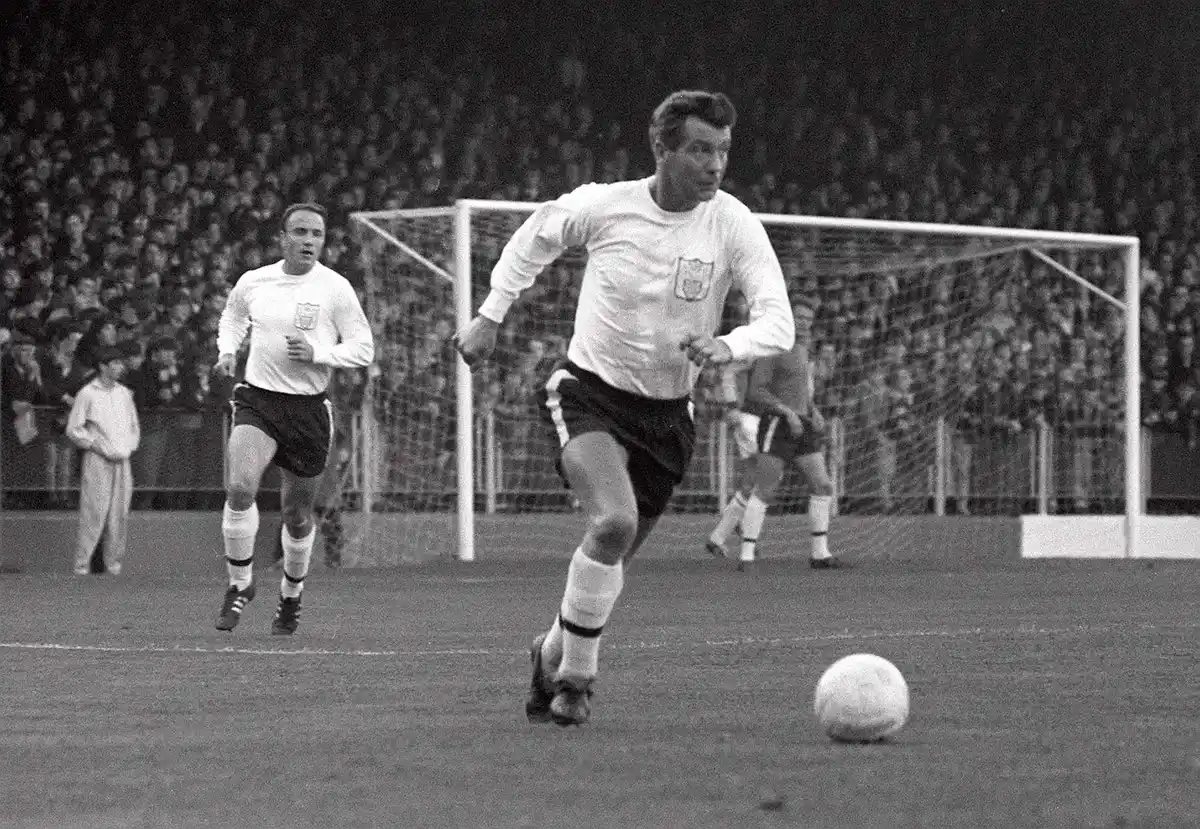 England Debut
Johnny Haynes was first noticed after a brilliant performance for the England Schoolboys against Scotland at Wembley in 1950 during an 8-2 victory. He made his full England national team debut against Northern Ireland in October 1954 in a 2-0 win in Belfast. He scored the first goal after sidestepping a defender and shooting past 'keeper Uprichard.
Nicknamed 'The Maestro,' he had to wait 13 months for his next England cap, which was against the same opposition and had a great match with a newspaper report stating, "Here is a player of real class, who showed maturity beyond his years. His superb passing and two-footed skills were the main features of the match.
His two greatest games for his country came when he scored a memorable hat-trick against USSR in a 5-0 victory in October 1958, as he and Tom Finney tore the Soviet defense to shreds, and when he captained the side to a crushing 9-3 victory over Scotland in 1961 to win the Home International Championship trophy.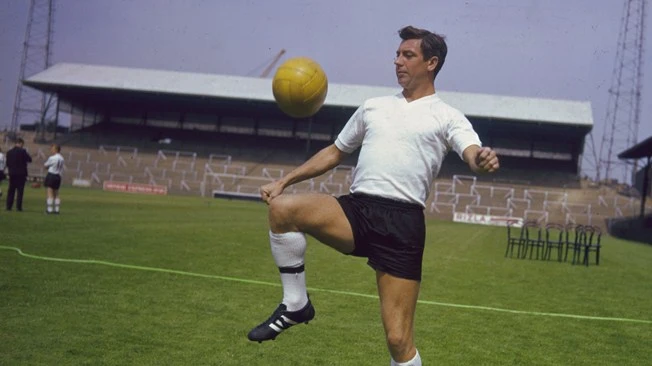 Johnny Haynes  Finest Moment
A few months later, the then England captain had arguably the greatest moment in his country's colors when he orchestrated a decimation of neighbors Scotland to clinch the British Home Nations Championship.
The 9-3 defeat still ranks as the Scots' second-heaviest in history, and Haynes was carried aloft by his teammates after scoring two and making several more.
Poor Frank Haffey in the Scotland goal did not know what had hit him. Johnny Haynes struck two goals and set up many others as he ran the Scottish defense ragged in what was probably the most outstanding performance of his career."
Johnny Haynes played in two World Cup final tournaments, in 1958 and 1962, but the closest he got to appearing in a final was when England lost 3-1 to Brazil in the quarter-final in Chile in June 1962.
This was despite England being in stunning form leading up to the finals. Haynes played in all four games for England in 1958, and their finest result was holding the future champions Brazil to a 0-0 draw in the group stage.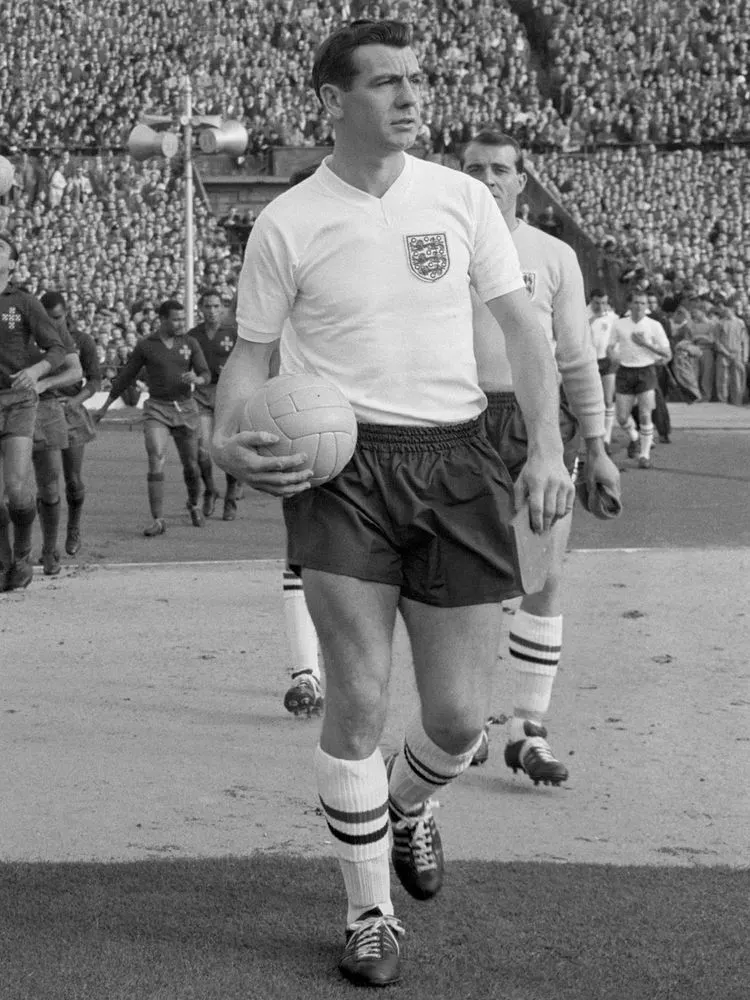 Car Crash
A gust of wind blew his sports car into the path of another vehicle on the Blackpool promenade in August 1962. Both of Haynes' feet were broken, and his knee was badly injured. An officer who attended the incident assured him, "Don't worry son, you only broke your legs." Almost a season went by without him.
Before his car crash, Johnny Haynes was capped by England national team 56 times, with 22 as the captain, but was never selected by the new England manager Sir Alf Ramsey.
After being far from his best, Haynes, who would be 31 when the competition came to his homeland in four years' time, was defiant. "My burning ambition now is to captain England in the finals of 1966 at home and to be the captain of the winning team." He also gained eight Under 23 caps, and five 'B' caps and won international honors for youth and schools.
Haynes played 14 times for the Football League representative side, scoring seven goals, and appeared in the 1961 FA Charity Shield match for an FA XI against the 'Double' winners Tottenham Hotspur at White Hart Lane.
Johnny Haynes remained loyal to the Fulham Football Club and played 658 times for them (a club record), scoring 159 goals (a record since beaten by Gordon Davies). He was also caretaker manager of Fulham in November 1968 after the sacking of Sir Bobby Robson but decided not to take the job permanently.
Instead, he appointed his former teammate Bill Dodgin as his deputy, and Dodgin took over when Johnny Haynes chose to stay as a player rather than take on the responsibilities of management.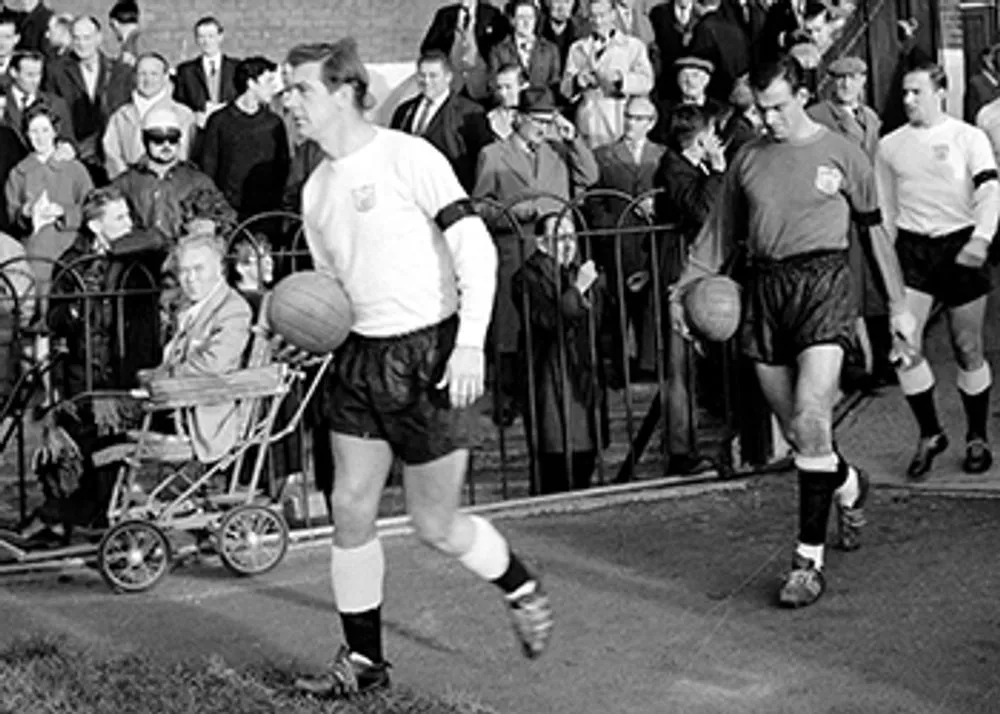 Influential Position In Club
Haynes was in a powerful position at Fulham but was not always positive. For example, he never rated Malcolm MacDonald and probably influenced Bill Dodgin to sell him to Luton Town for a paltry £17,000 despite scoring over 20 goals for the reserves in 1968-69.
Haynes' testimonial attracted a crowd of over 24,000 in April 1969 despite the club's recent relegation to show how popular he was with the Fulham supporters. It was eight years since he became the first £100 a week footballer. He was still on the same amount after all this time.
After his Fulham contract ended in June 1970, Johnny Haynes went to play in South Africa. At age 35, he retired from professional football in England and joined Durban City in South Africa, where he won the 1970–71 National Football League. In senior football, this was his only winner's medal.
He was 40 when he retired from playing in 1974 after appearing for three Durban clubs. The Maestro lived in Durban for many years after his retirement and enjoyed the warmer climate.
During the 1980s, Johnny returned to the UK to live in Edinburgh, where he enjoyed golf and watching Hearts, and was an occasional visitor to Craven Cottage.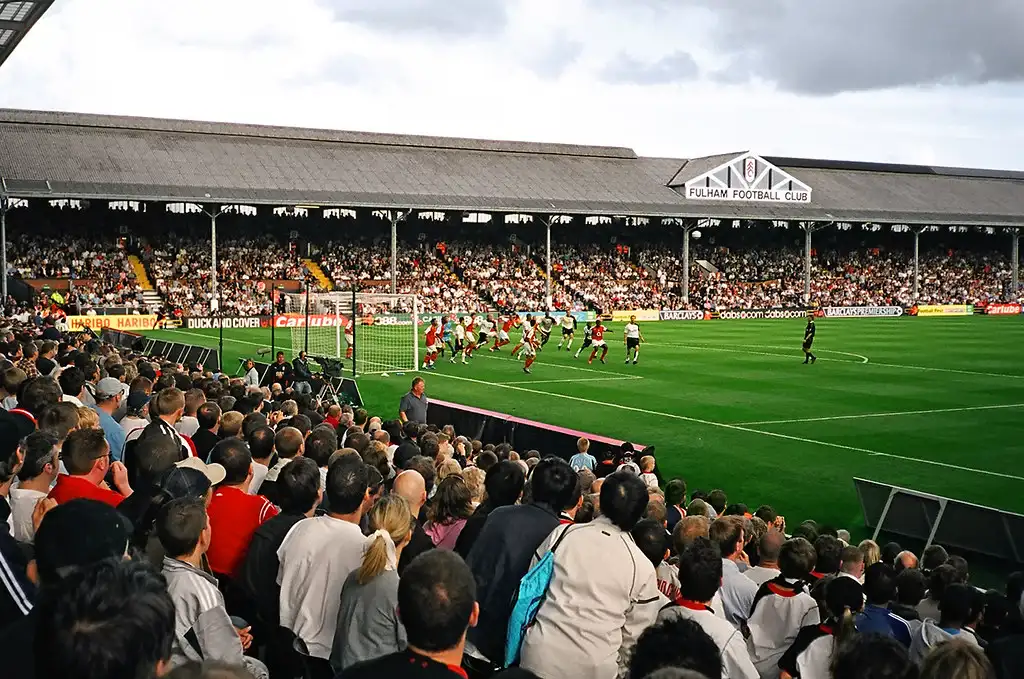 Johnny Haynes Stand
Shortly after Johnny Haynes' untimely death in late 2005, the stand's new name was announced. Before that, it was called the Stevenage Road Stand. The stand includes the ticket office, the club shop, and old-fashioned wooden seats that are somewhat uncomfortable. It is the oldest stand in the Football League (dating back to 1905) and is thus a Grade II listed building.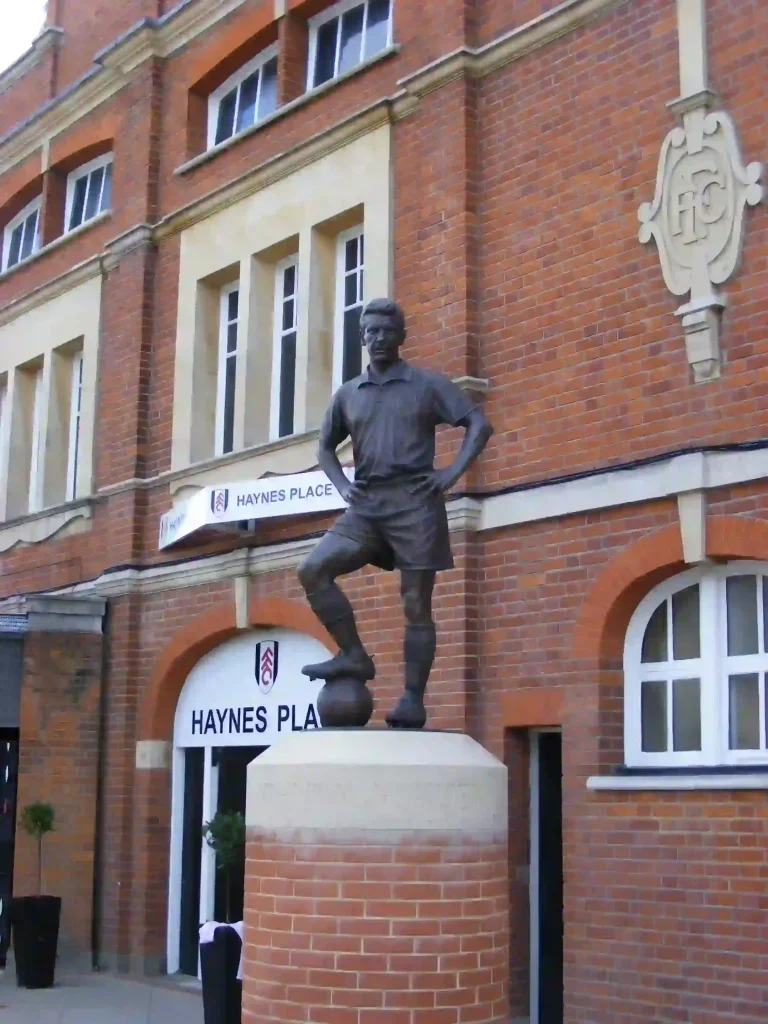 Johnny Haynes Statue
A statue of Johnny Haynes stands outside the Johnny Haynes Stand at Craven Cottage on Stevenage Road. It stands next to a statue honoring George Cohen, Fulham's 1966 World Cup winner. This statue of Johnny Haynes was built in 2008 and unveiled on the day of the Sunderland match that year.
The late great Bobby Moore was once quoted, "Once you get used to watching that perfection, you realize the rest of the secret. Johnny Haynes was always available, hungry for the ball, and wanting to play. I loved watching the footballer."
Pelé said he had never seen a better ball passer than the Maestro.
Johnny Haynes Facts And Figures
Full Name: John Norman Haynes
Born: Edmonton, Middlesex, 17 October 1934
Died: Edinburgh 18 October 2005
Club Career
Clubs: Fulham (Amateur from July 1950 – Professional from May 1952 to May 1970)
Football League: 594 Appearances, 147 Goals
FA Cup:44 Appearances, 9 Goals
League Cup: 20 Appearances, 2 Goals
Total: 658 Appearances, 158 Goals
International
England Schoolboys
England U23: 8 Appearances, 9 Goals
England B: 5 Appearances, 0 Goals
England: 56 Appearances, 18 Goals
Individual Honors:
1961: Ballon d'Or Bronze Award
2002: English Hall Of Fame  (National Football Museum)