Enrique Castro González, also known as 'Quini,' was a spectacular striker at Sporting de Gijón and FC Barcelona. He gained legendary status due to his supremacy in front of the goal and his bravery on and off the pitch.
"The Era Quini"
Born on 23rd September 1949 in Oviedo, Spain, the young Quini later moved with his family to Llaranes because his father worked for the Ensidesa company. At 18 years of age, Quini joined the Third Division side, CD Ensidesa, in 1967.
After just one season, he was signed by Sporting de Gijón, who had noticed this splendid forward. As a result, they brought him to the club in the latter half of 1968. The club must have been delighted to see how, shortly after his début, he had already started scoring goals.
By the end of his first season, he had netted 15 goals, which was only the beginning – Quini was to go on an 11-season goalscoring spree!
Over his period at the club, only once did he score under double digits (9 goals). No surprise as to why his time at the club is often referred to as "the era Quini"!
By the end of his second season, his team finished first in the league and was promoted to top-flight football in the Primera División. Quini received his first significant acknowledgment at the end of the 1973-1974 season when he won his first Pichichi Trophy in La Liga, having scored 20 goals.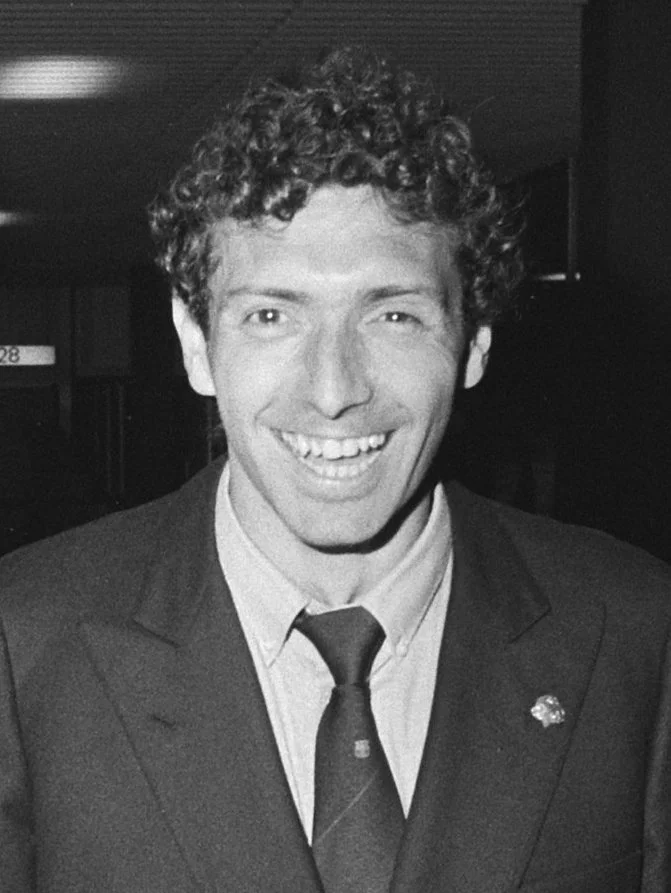 Nothing Short Of Captivating
Quini's abilities as a striker earned him the nicknames' Quinocho', 'Quinigol,' and 'El Brujo,' which means 'the warlock.'
As the epitome of goalscoring superiority, he was fast, elusive, vibrant, had predacious skills, finely-tuned alertness, and had an impeccable finish. His most lethal weapon, though, was his commanding headers! He had a knack for placing the ball exactly where he desired it.
On the tail end of his accomplishments at Sporting de Gijón, having scored a whopping 215 goals in 380 appearances and parting with them comfortably in third spot in La Liga, he was ready for a new chapter to be penned.
After multiple attempts by FC Barcelona to secure this sensation's signature, they finally sealed the deal in the summer of 1980. The transfer was valued at 82 million pesetas, and although Quini was 31 years of age, nothing had changed – he was as sharp as ever and still had the poacher's scent for goal!
FC Barcelona Finally Get Their Target
Quini announced his desire to become the league's top scorer at Barça, and he wasn't joking! Known as 'The Wizard', he gave his everything on the soccer field and swiftly became a fan favorite.
Of all the great memories he generated in his Blaugrana shirt, the most unforgettable is: during his first campaign at the club, in lining up against his former club, Sporting de Gijón, he scored a double and secured the Catalan's 3-1 victory in the 1981 Spanish Cup (Copa del Rey) final.
He was the top goalscorer in his first two seasons (1981 and 1982). In the 1982 UEFA Cup Winners' Cup final, he scored the winning goal in Barça's comeback over Belgium's Standard Liège, 2-1 on home soil.
He recorded Barça's 3,000th La Liga goal on 24th January 1982, outclassing CD Castellón at the Camp Nou, 4-3.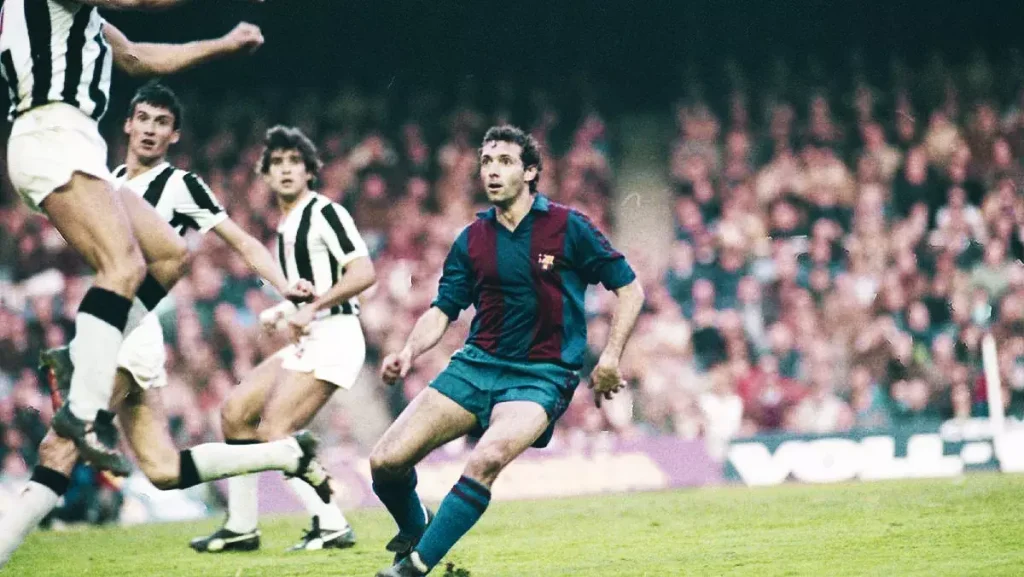 Darkest Encounter
But, for Quini, things were not always roses and smooth sailing. On the evening of the 1st March 1981, as players and fans reveled in the blaze of Barcelona's pulverization of Hércules CF by 6-0 at home, with Quini scoring two of those goals, a catastrophic incident overshadowed the evening.
While in his car, the striker was approached and kidnapped at gunpoint by two men. It was horrifying, and as the news spread, chaos and panic erupted.
The following day, the Spanish daily newspaper La Vanguardia received a phone call from one of the captors, explaining that the reason for Quini's abduction was that Barça's leading marksman was not to play in the next match and that "the team cannot win the 'separatists' league."
Reference had been made to Barça's match against La Liga leaders, Atlético Madrid, to be played a few days later. Barça were undeniable title challengers and favorites going into the game.
Amidst uncertainty and confusion, the authorities were unsure if the call had come from pranksters or far-right terrorists. To make matters worse, due to the tense political atmosphere in the country at the time, many conspiracy theories surfaced.
On the third day after Quini's abduction, his wife, Maria Nieves, received a call from the kidnappers detailing their ransom demands. Fearing for Maria and her children's safety, Barcelona's club president, Josep Lluís Núñez, and two of Quini's teammates remained with Quini's family.
His Teammates Support
As Barcelona's match was fast approaching, the influential player Bernd Schuster was adamant that he would not play against Atlético – and he wasn't the only one. Football was the last thing on everyone's minds, and the players wanted no part in any matches until their friend's safe return.
Against the players' will, Barça traveled to the Vicente Calderón, where they played a 1-0 defeat. After that, Barça's form dropped significantly, and the next few games proved destructive to their title hopes.
Predictably, with each passing day, Maria received a call from the kidnappers, who continued making ransom demands.
Three weeks after Quini's capture, on 23rd March, a breakthrough was made – a conversation between Barça player Alexanko and the kidnappers finalized the ransom at 100 million pesetas, which was to be deposited into a Swiss bank.
With the cooperation of both the Spanish and Swiss law enforcement agencies, a trap was set to apprehend these criminals. Finally, in Geneva, on 25th March, as one of the men attempted to withdraw 1 million pesetas, the police got their lead – the trap had worked!
They were led to a garage in Zaragoza, and, after a grueling 25 days in captivity, Quini was rescued and returned home in good health but mentally exhausted. As this exhilarating news made its way through the streets of Spain, there was rejoicing in Quini's homecoming!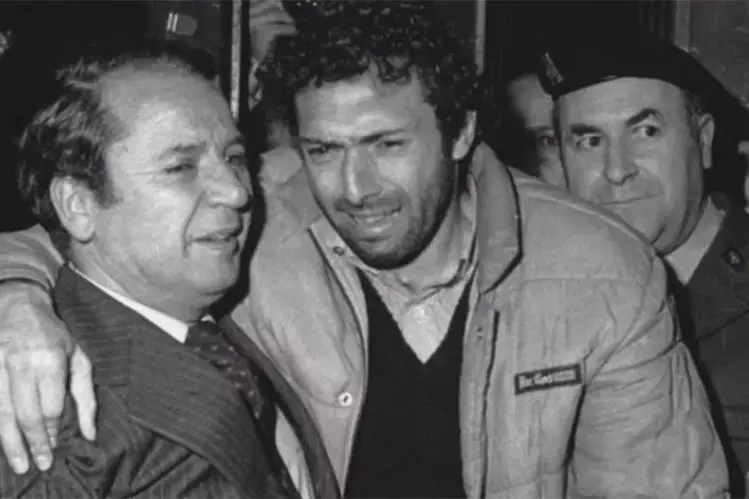 Arrests
Upon the kidnappers' arrests, it was discovered that they were unemployed Spaniards, contrary to what was initially presumed.
There was also speculation over Quini having developed Stockholm Syndrome, which demonstrates an irrationality on the part of a victim in their sense of empathy for their captor.
Quini chose not to press charges, saying they seemed to be good people who had treated him well. On the other hand, FC Barcelona pursued the case intensely and sought justice.
On 15th January 1982, the captors were punished with ten years behind bars and had to pay 5 million pesetas to Quini.
Although the punishment was less severe than the club had hoped for, as they intended to put one of their darkest experiences behind them rapidly, they accepted the verdict.
Interestingly, Quini has never claimed his personal damages settlement of 5 million pesetas.
In defending the Blaugrana colors for four seasons, Quini scooped: 2 Spanish Cups (1981and 1983), 1 UEFA Cup Winners' Cup (1982), 1 Spanish Super Cup (1983), and 1 Spanish League Cup (1983).
After that, at 35, Quini retired, and in honoring him, FC Barcelona arranged a testimonial match. But, a mere few weeks later, Quini couldn't resist but to put on his boots again, and he rejoined Sporting de Gijón for three more seasons before finally retiring in '87.
Pride Of Spain For Over A Decade
Quini played for the U18 Spain national team in 1968, followed by periods with the Under 23s and the amateur side before joining the senior team for 12 years. His senior team début, in October 1970, was in Zaragoza against Greece in a friendly.
Quini immediately scored his mark in the 69th minute, in their 2-1 victory. He also represented his country in 2 FIFA World Cups. In 1978 hosted by Argentina, and in 1982 on home soil.
In the interim, there was the 1980 UEFA European Championship in Italy. After a decade with La Roja, with a tally of 35 proud caps and eight goals, his time with La Selección was over.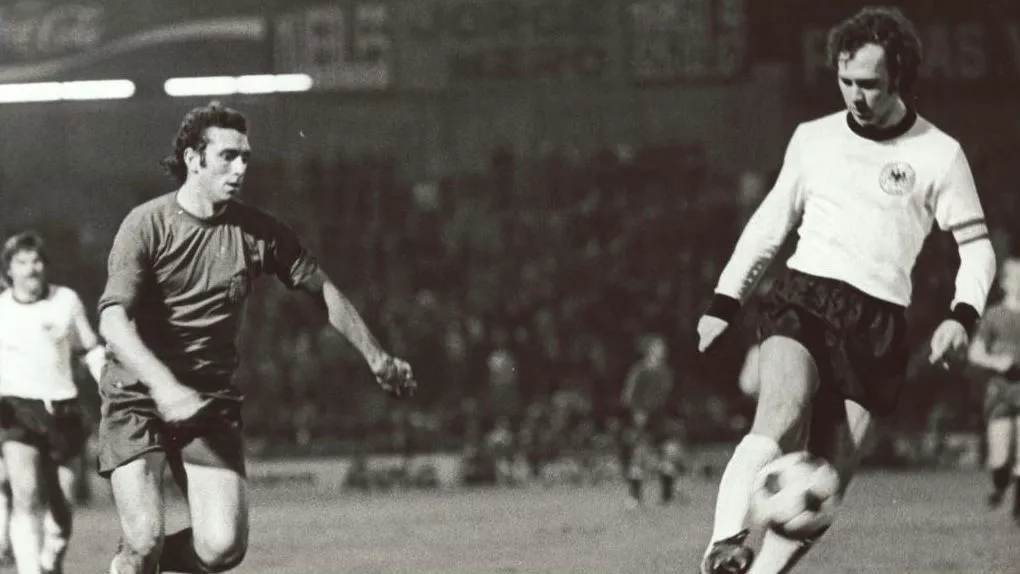 Pichichi Royalty
As one of the most celebrated forwards in Spain's history, he won a record of 7 Pichichi Trophies: 5 in La Liga – 3 with Sporting (1974, 1976, 1980) and 2 with FC Barcelona (1981, 1982). And two more with Sporting in the Secunda División (1970, 1977).
Those five priceless La Liga awards make Quini one of 3 players – along with Alfredo Di Stéfano and Hugo Sánchez – to have achieved this feat, with only Telmo Zarra on a glorious 6!
Quini also received the Don Balón Award as the Best Spanish Player in the 1978-1979 season.
The Spaniard was also ranked as the 7th highest all-time top La Liga scorer (219) in the history of Spanish football, sharing the top ten list with other legends: Zarra, Hugo Sánchez, and Raúl, as the top 3.
And it was Messi who surpassed Quini's 6th spot to claim it! Even his Barça record of 2 Pichichi trophies was broken by Messi, who now has 3 of his own.
In reference to Barça's most recent legend on the block, Quini once said: "Messi is not from this world. He's from another planet. I had goalscoring records, and he's broken all of them!"
Sibling Heroics
Earlier this year, Quini displayed his film El Brujo Frente al Espejo to the world after it was presented during the International Film Festival of Gijón last year.
The film's focus was not on Quini's athletic accomplishments but rather on his life – it covers his kidnapping ordeal, the death of his brother Jesús, who attempted to save two children from drowning, and his successful battle against cancer.
Quini said his ordeal: "I talk about things that I have always considered taboo. Doing this film has strengthened me, and I feel more comfortable and calm."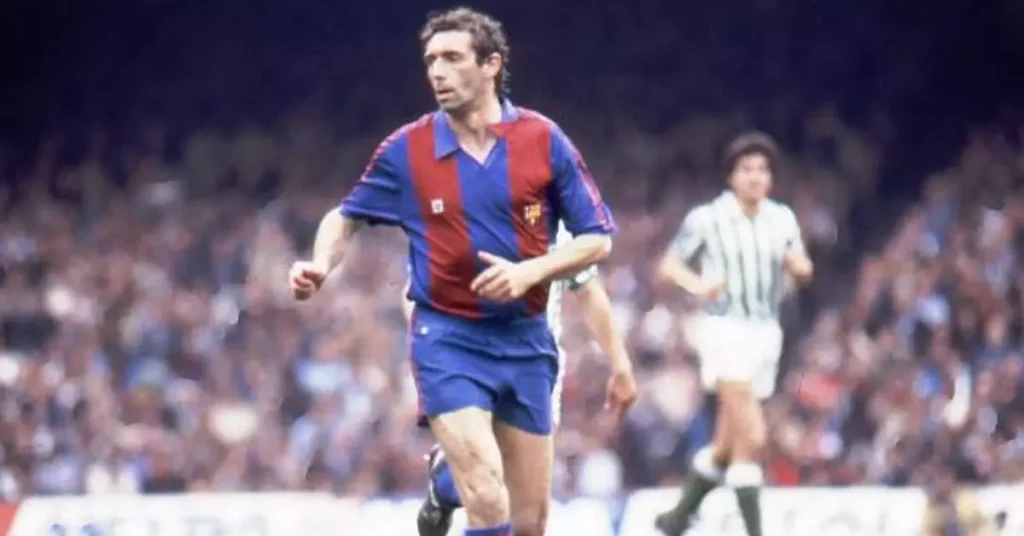 Inspired Gift of Giving
In early 2012, Quini launched a charitable initiative: the Quini-Hermanos Castro Foundation.
It's a non-profit organization aimed at assisting children from needy families in social, cultural, and sporting activities. Quini also dedicated the foundation to the memory of his brother.
During its presentation, Quini explained: "with the memories of my brother Jesús who gave his life helping others and with the support of my other brother, Falo; I would like for everyone to enjoy all that football has given me."
Authentic Conqueror
As the icon of an era and role model for a generation, Quini is the most outstanding illustration of what it means to be a true champion by overcoming all the obstacles in his path and achieving all he has over the years.
Respect and admiration for this caliber of player are spontaneously reciprocated in the most genuine of ways.
As noted on UEFA.com, Quini proudly said: "In my day, you had great forwards like Mario Kempes scoring lots of goals, but here was this kid from Oviedo called Quini who managed to be the league's top scorer with Sporting."
And it was his radiance in football, coupled with his feet firmly on the ground, that allowed him to exceed all expectations. And, he did, not once, or even twice…but an incredible seven times!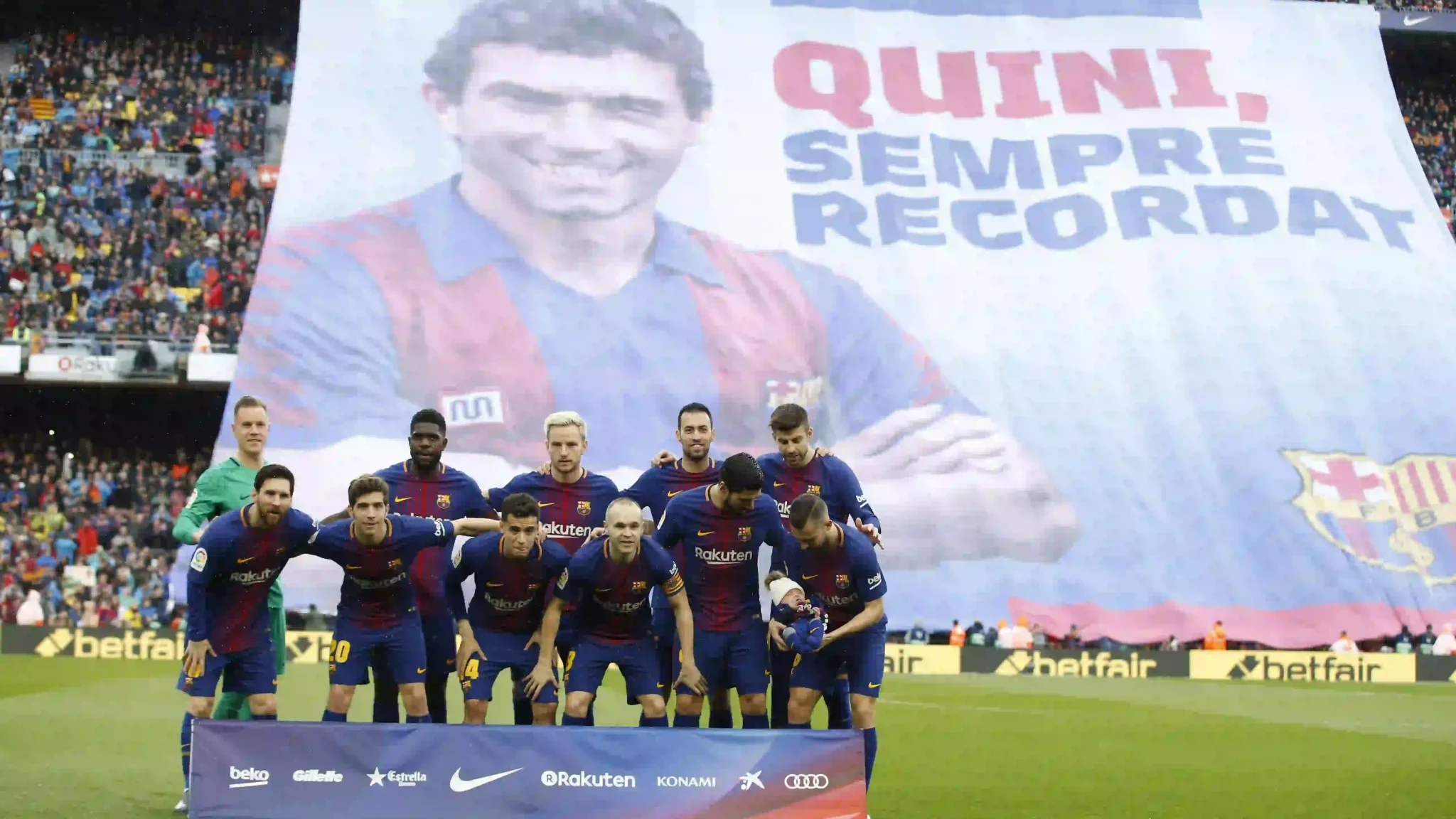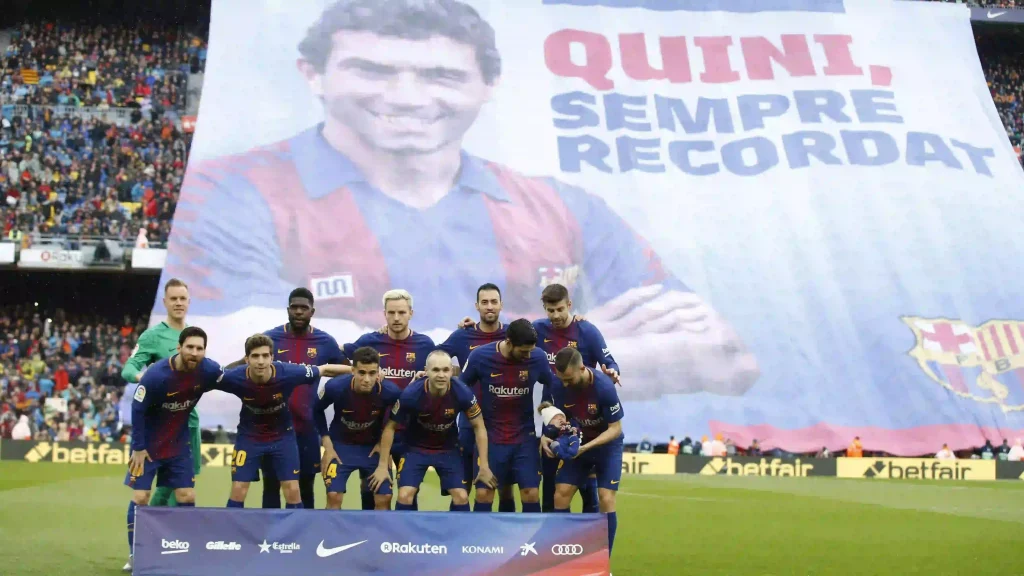 Enrique Castro' Quini Facts And Figures
Full Name: Enrique Castro González
Birthdate: 23/09/1949
Birthplace: Oviedo, Spain
Playing Career:
Ensidesa 1967–1968
Sporting Gijón 1968–1980
Barcelona 1980–1984
Sporting Gijón 1984–1987
Total Appearances: 567 games, 302 goals
National Career:
Spain National Team 1970–1982 (35 appearances, 8 goals)
Playing Honors:
Sporting Gijón
1969–70 and 1976–77: Segunda División Champions
FC Barcelona
1980–81 and 1982–83: Copa del Rey Winners
1981–82: UEFA Cup Winners Cup
1983 Supercopa de España Winners
1983: Copa de la Liga Champions
Individual Honors:
1978–79: Don Balón Award – Best Spanish Player
1973–74, 1975–76, 1979–80, 1980–81, and 1981–82: Pichichi Trophy
A heart attack caused Quini's death on 27th February 2018. He was 68 years old. In his memory, the Gijón City Council unanimously renamed El Molinón stadium Estadio El Molinón-Enrique Castro "Quini". Quini's funeral was attended by about 14,000 people at his main club's stadium.