Over a century ago, a young footballer by the name of Ricardo Zamora Martínez was to become Spain's first and finest goalkeeper.
Although Zamora's genius allowed him the magnificent opportunity of playing for Spanish giants, who claimed him as their own, it was RCD Espanyol who nurtured and prepared him for the bright future he was destined to have. RCD Espanyol honors Ricardo Zamora as their greatest player of all time.
A Broken Promise
Born in Barcelona on the 21st of January 1901, Ricardo Zamora grew up in a calm, loving, and well-off family. His father, a doctor of medicine, pressed Ricardo to follow in his footsteps.
His parents were distressed when he would return home with scratches, bruises, and broken shoes after playing football with his friends.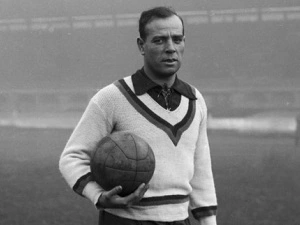 It was the last straw when one of his wounds almost turned gangrenous. This incident led Ricardo to make a promise to his parents that he'd never play again – a promise inevitably to be broken. His love for the game was too immense to resist.
And, an unexpected visit from Barça directors confirmed the obvious – Ricardo was born to play football. It's believed that he even bought his first pair of football boots from a friend for approximately 5 Spanish pesetas.
After his first year with Universitari SC, Ricardo Zamora went on to join RCD Espanyol in 1916, at the age of 15. During his 3-year stint, he won a Campionat de Catalunya (Catalan Football Championship) in the 1917–1918 season.
But, after falling out with one of the club's directors, Zamora relocated to FC Barcelona in the summer of 1919.
Every Cloud Has A Silver Lining
At FC Barcelona, Zamora was in great company, surrounded by players such as Paulino Alcántara, Emili Sagibarba and Josep Samitier, among others. Together they would be part of the luminosity of Barça's "Golden Age".
After acquiring an assortment of trophies with the Blaugrana – 3 Campionats de Catalunya and 2 Copa del Rey titles – Zamora earned a call-up to the Spanish National team, making his début as the starting Spanish goalkeeper at the 1920 Olympic Games in Antwerp, Belgium.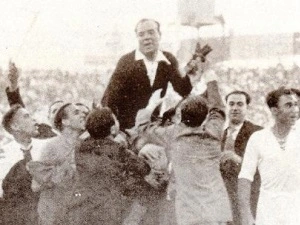 His performance earned him rave reviews, even claiming him to be a revelation. Unfortunately, he was disgraced in La Roja's Consolation semi-final match against Italy, where he was sent off for striking an opponent!
But he was not done yet – he was saving the best for last! On the squad's trip back home, with their prized Olympic silver medals, as their train reached the Belgian border, Ricardo Zamora was arrested, imprisoned and also fined in his attempt at smuggling out a case of Havana cigars!
In fact, the entire team was detained at the police station as they were all searched.
Zamora had a distinctive sense of style. He'd appear on the pitch wearing a white polo-neck sweater and a cloth cap, and you couldn't miss him!
Contrary to popular belief though, it was not for trendsetting purposes – it was to protect him from his opponents and the sun.
As Jimmy Burns, author of Barca: A People's Passion, stated: he "adopted a dress code that marked him out as one of the great eccentrics" and "made him look like an Argentinian on his way to play polo in an English winter".
Added to this, it was believed that Ricardo Zamora had a fondness for Cognac and smoked 3 packs of cigarettes a day.
Ricardo Zamora High-Profile Transition
In 1922, after a wage dispute with FC Barcelona, Zamora decided he wanted out. Barça refused to consent to his transfer request, as RCD Espanyol had made him an offer too enticing to refuse. 100,000 pesetas for his former team as a transfer fee, 50,000 for him, and a salary of 3,000 a month. At the time it was considered, 'the salary of a minister'.
After the outcome of Zamora's disciplinary proceedings, a one-year ban ensued. Zamora told El Mundo Deportivo: "My desire was to play for the club that I chose to join. I was told it was possible."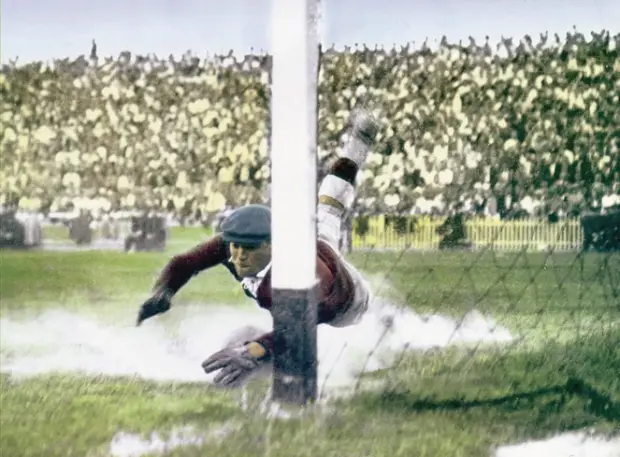 Once Zamora departed, the Barça fans were left reeling – it was the ultimate act of betrayal. When it came time for Espanyol to feature at Barça's Les Corts ground, their "Cathedral", that same year, Ricardo Zamora was not well received and was greeted with whistles.
Success seemed to trail him, however, and Espanyol was victorious in both the Spanish football Campionat de Catalunya and their first Copa del Rey title during the 1928-1929 season, in which they went on a winning rampage!
In the Copa del Rey quarter-final stage, Espanyol annihilated Athletico de Madrid 9-3 on aggregate before thumping Barcelona 3-1 in the semi-finals, and later, defeating Real Madrid 2-1 in the final! Zamora also made his début in the first season of La Liga in 1929.
In the summer of 1930, Zamora was to breathe the Bernabéu air. He became the first high-profile transfer between the Spanish giants, and his exorbitant signing fee obliterated all records thus far.
He also became the highest-paid player in Europe. With the joy of being part of another tremendous squad, he added to his already great accomplishments.
During his six-year stay at Real Madrid, a noteworthy achievement occurred during the 1931-1932 season, when Los Blancos won their first La Liga title in the club's history, only to be repeated the following year.
Recognized Act of Bravery
At the international level, Ricardo Zamora played for both Spain and the Catalan XI. Despite the trouble that he created for himself, he was regarded as an extraordinarily gifted and Spain's best goalkeeper.
One of his most heroic moments with La Roja was in their match against England in 1929. England had never been beaten by a team outside of the British Isles…'til now! Spain overpowered their opponents and was triumphant in the presence of a record crowd of over 30,000 fans at the Estadio Metropolitano de Madrid, winning 4-3.
Zamora's performance in the match was questionable; he was responsible for two of England's goals. It only became apparent later on that he had played with a broken sternum!
Zamora's international fame was forged at the Olympic Games in Antwerp in 1920, where the Spanish team achieved its first great success. La Roja won the silver medal, after beating the Netherlands in the consolation final, and a very popular phrase was coined: "1-0 and Zamora the goalkeeper", to highlight his effectiveness. The goalkeeper left the stadium on the shoulders for his heroic performance in what had been his debut with the national team.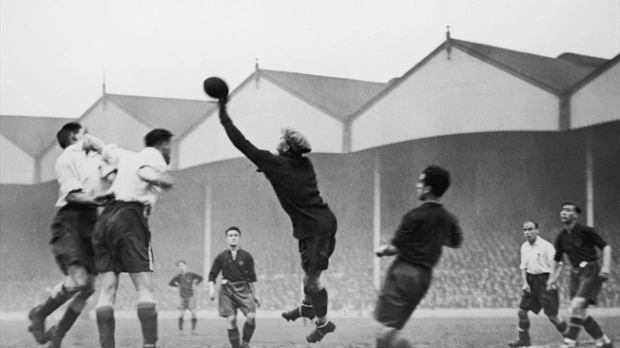 Captaining Spain At The 1934 World Cup
Ricardo Zamora had the honor of captaining Spain at the 1934 FIFA World Cup in Italy.
In La Roja's first match of their campaign, having started on a positive note with a 3-1 win over Brazil, history was made: Brazil's Waldemar de Brito became the first player to miss a penalty in a World Cup tournament, as Zamora saved the day.
Once again, his heroism upheld his reputation as the best goalkeeper in Spain. La Roja exited the tournament in the quarter-finals losing to the home side. Zamora was Spain's most capped player with 46 appearances, and in the interim, only conceded 42 goals. He maintained this record until it was surpassed by José Ángel Iribar.
His retirement from the national team after 46 games came in February 1936 in a friendly against Germany in his hometown of Barcelona.
'La Zamorana'
Ricardo Zamora was the first goalkeeper to make his position glamorous during the early quarter of the 20th century.
Not an easy task as this distinctive role comes under intense scrutiny, and as the most exposed player on the pitch, the keeper can go from glorified to condemned in the blink of an eye!
What set Zamora in a league of his own was his immaculate ability to sense the ball's trajectory, his courage when he'd throw himself at opponent's feet and his phenomenal saves, all earning him the nickname 'El Divino' (The Divine One).
He had an invincible edge – the unshakeable conviction in his abilities, even creating his own innovative way of making saves. This revolutionary and risky stop, in which he repelled the soccer ball with his elbow or forearm, came to be known as 'La Zamorana'.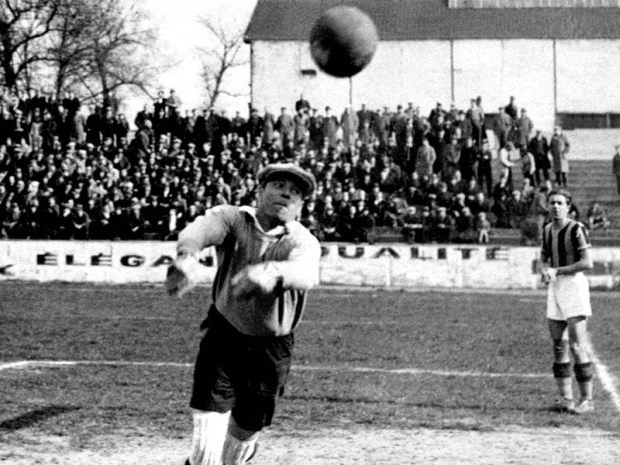 Crowned With A Standing Ovation
The 1936 Copa del Presidente de la República final (Copa del Rey) was not only to be Zamora's last match for his club, but also a highpoint in his career. After squashing Hércules FC 8-2 in the semi-finals, Los Blancos faced FC Barcelona in the final.
In the game's fading moments, Escolà unleashed a fierce strike that seemed predestined to end up at the back of the net – but not with Ricardo Zamora between the posts!
The El Divino made an astonishing save, denying Escolà. With one of the greatest performances of his career, and a 2-1 victory, he deservedly received a joyous standing ovation in Valencia's Mestalla Stadium, as the final whistle was blown.
He was even paraded around the stadium on fans' shoulders! The media was in a frenzy for the next few days – ABC could only describe his save as "inexplicable".
Divided Allegiances For Ricardo Zamora
While Zamora's career was flourishing, Spain, his homeland was in the midst of political turmoil. His loyalties were always under scrutiny and surrounded by much controversy.
Shortly after the Copa del Rey final of 1936, General Franco and the military attempted a coup, igniting a Spanish Civil War. Media reports suggested that Zamora had been shot and killed at the hands of the Republican forces during the Civil War.
With the Nationalists attempting to exploit this, the Republicans were so infuriated that they arrested and imprisoned Ricardo Zamora. What kept him alive was his willingness to talk and play football with his guards 'til he was eventually released with the assistance of the Argentinian Embassy.
Ricardo Zamora fled to France and joined the French soccer club OGC Nice.
Upon returning to his homeland, he spent various stints in the dugout. The Spaniard's first coaching position was with Atlético Aviación (Club Atlético de Madrid) in '39, followed by Celta de Vigo, Málaga CD and RCD Espanyol.
After managing La Roja for a mere 2 matches in June 1952, and the Venezuelan national team in 1953, he called time on his managerial career in 1961 at the age of 60.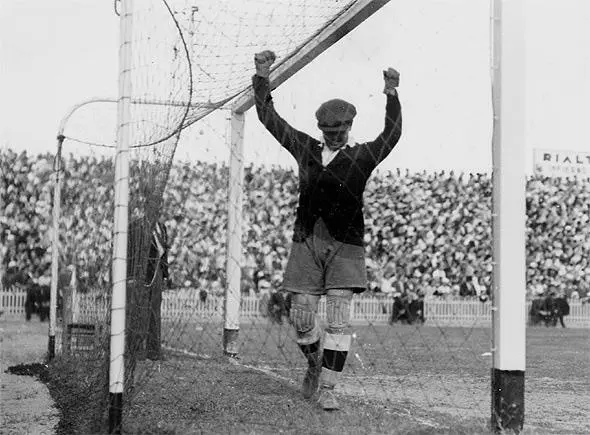 Star-Struck
Zamora's good looks transcended from the pitch to film, and he starred in two films: 'Champions' in 1942 and later in 'Eleven Pairs of Boots'.
He was also deemed to be the first Spanish footballer to obtain a media profile, affording his appearance in various advertising campaigns in the 1930s. In 2009, HO Soccer named a new goalkeeper kit range the 'Zamora set' after him.
Simply Divine
With a reputation for brilliance and nicknamed El Divino, he was honored with the Trofeo Ricardo Zamora (Ricardo Zamora Trophy) in 1959. Created by Marca, the Spanish newspaper in 1958, it is awarded to Spain's La Liga goalkeeper with the lowest ratio of "goals-to-games" each season.
Had the trophy existed in his day, he would have won it on 3 occasions.
And, with super statistics comes a touch of luck too, right? What many may not know is that Zamora was superstitious. He would hang his rag doll (yes, a doll!) in his net, believing it would bring him luck.
Great for him, not so much for his opponents who must have got the shock of their lives while attempting to score!
In 1967, FIFA honored Ricardo Zamora with a match between the Spanish national squad and a selected world eleven, which La Roja won 3-0. Once the match ended, Zamora received a long-standing ovation – which was his last.
His passing at 77, on the 8th of September 1978, brought heartache to the world of football. El Pais wrote of the "deep grief for the famous international goalkeeper."
El Mundo Deportivo dedicated a substantial amount of coverage to Zamora's passing the following day, beginning with the words 'Simplement El Divino'.
20th Century Legend
In IFFHS' Century Elections, voted by journalists and former players, Zamora came 5th in the 'World Goalkeeper of the Century' list.
In 1999, he was also honored by World Soccer magazine as one of the top 100 players of the 20th Century. It was Zamora's talents that bestowed on him the joy and right of playing for some of the greatest clubs during the 1920s and 1930s. During his era, people would say that he was the best goalkeeper of all time.
Not only did he leave a path of glorious football behind him, but also his story – one enriched with many treasured and humorous memories, not to mention the odd regret!
And in all his celebrated moments, we take a journey to another time, when 'El Divino' became a legend, and the first great one.
Ricardo Zamora Clubs And Honors
Full Name: Ricardo Zamora Martínez
Birthdate: 14/02/1901
Birthplace: Barcelona, Spain
Playing Career:
Espanyol 1916–1919
Barcelona 1919–1922
Espanyol 1922–1930
Real Madrid 1930–1936
Nice 1937–1938
International Career:
Spain National Team 1920–1936 (46 appearances)
Catalan XI 1920–1930
Manager Career:
Nice 1937–1938
Atlético Madrid 1939–1946
Celta Vigo 1946–1949
Málaga 1949–1951
Spain National Team 1951–1952
Celta Vigo 1953–1955
Espanyol 1955–1957
Celta Vigo 1960
Espanyol 1961
Playing Honors:
Espanyol
1928–29: Copa del Rey Winners
1917–18 and1928–29: Catalan Champions
Barcelona
1920 and 1922: Copa del Rey Cup Final Winners
1919–20, 1920–21, and 1921–22: Catalan Champions
Real Madrid
1931–32 and 1932–33: La Liga Champions
1934 and 1936: Copa de España Cup Final Winners
Spain National Team
Manager Honors:
Atlético Madrid
1939–40 and 1940–41: La Liga League Champions
Individual Honors:
1934: FIFA World Cup Team Of The Tournament
1934: FIFA World Cup Best Goalkeeper Award