Amid a Peruvian golden age, one player stood out above the rest. A player so talented, the great Pelé declared him the heir apparent to his throne. Teofilo Cubillas announced himself on the global stage at the 1970 World Cup, and over the next 19 years, his star would shine bright even in the face of tragedy.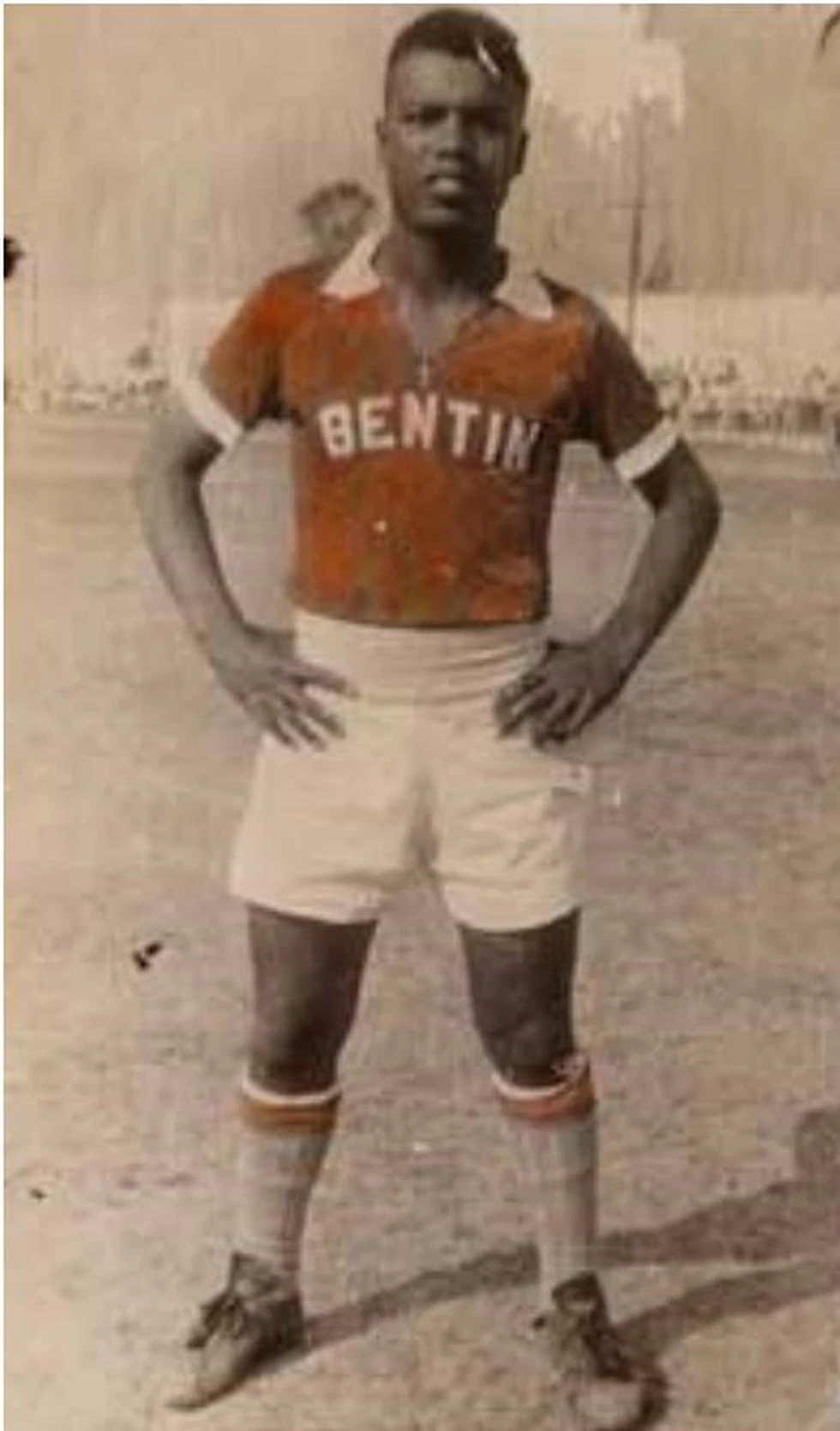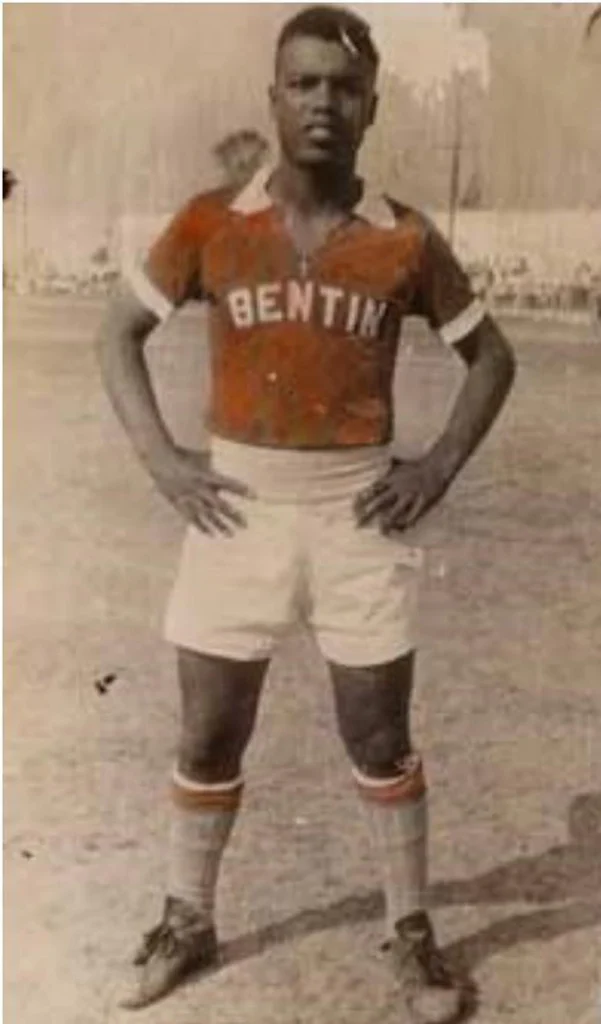 Teofilo Cubillas Was Known As The Kid
In 1949, Teofilo Juan Cubillas Arizaga was born in Lima, the Peruvian capital. He was frequently taken to a nearby soccer field by his primary school teacher and spent hours in goal as the young Teofilo tried to score past him.
Teófilo Cubillas made his debut for hometown club Alianza Lima, aged just 16. [8] His teammates fittingly nicknamed him El Nene (The Kid) because of his youthful looks and tender age. He made his debut in 1966 appearing 175 times and scoring 117 goals in his six seasons with the club. In his debut season, he scored 19 goals as a midfielder and was the top scorer in the Peruvian league.
He was not a physically big player, nor was he likely to become one, yet he possessed a great deal of mental and physical speed. [1] The youngster kept developing and made his national team debut at 18 years old.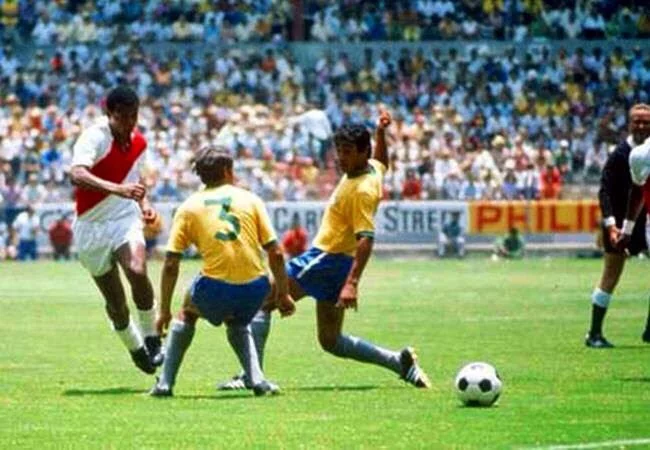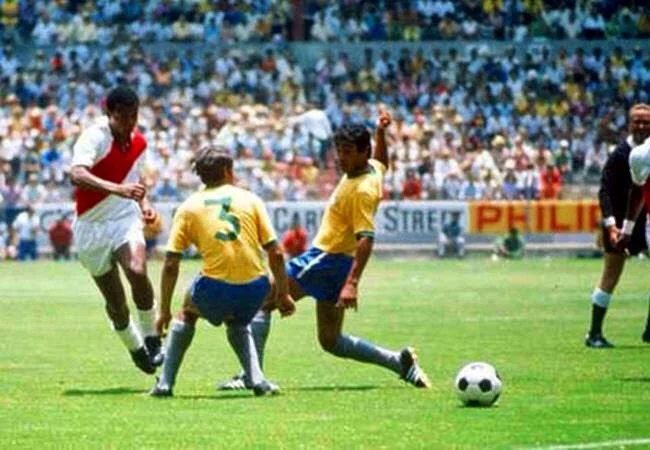 1970 World Cup
His World Cup soccer debut occurred at the famous Mexico 1970 tournament. Seemingly overnight, Teofilo Cubillas became a worldwide superstar.
With Peru entering the showpiece event after a 40-year World Cup absence, expectations were predictably low. Unfortunately, things took a sudden turn for the worse when a deadly earthquake hit Peru days before La Blanquirroja was slated to play its opening match. 70,000 had died in the earthquake and as many as half a million people were homeless.
Unsurprisingly and understandably, Peru looked desolate and fell behind in their first group stage match. However, feeling obligated to bring a sense of joy to its home country, the team clawed its way back and won both remaining games, qualifying for the knockouts.
Cubillas dazzled the spectators with his skill and unconventional habit of controlling the ball with the outside of his foot. The 21-year-old scored four goals in the group stage. Unfortunately for the Peruvians, they faced eventual winners Brazil in the quarter-finals. [9] Despite its best effort and another goal from Teófilo Cubillas, Peru exited the tournament after impressing with its free-flowing football.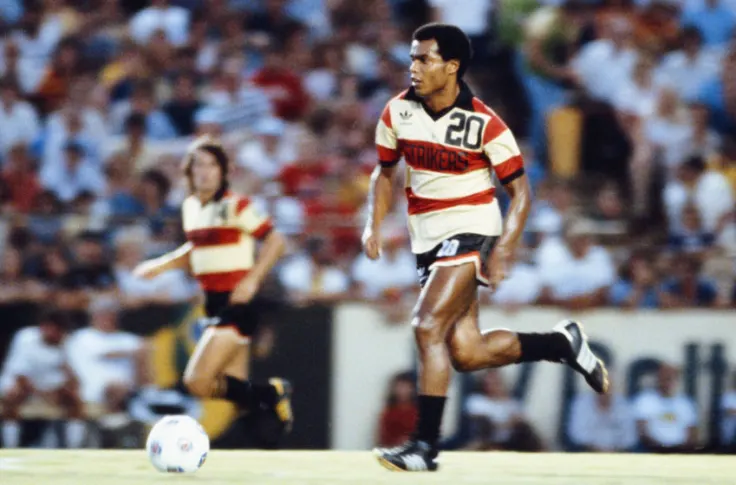 Peru's Main Man
Peruvian soccer flourished after 1970. After winning the 1972 South American Footballer of the Year award ahead of Pele, Teófilo Cubillas made the move to Europe in 1973 and played for FC Basel and Porto.
After failing to qualify for the 1974 World Cup, Peru made up for it at the 1975 Copa América. [10] Cubillas inspired Peru to victory at the Copa America. [2] As the side's crown jewel, the La Blanquirroja went on to conquer South America. Their second Copa América in the nation's history with a win over Colombia.
In addition to winning the best player award, it was Peru's first continental triumph since the 1939 South American Championship. The fact that Brazil sent a weak side and Argentina selected young, inexperienced players is largely irrelevant. [3]
Three years later, at the 1978 World Cup in Argentina, Teófilo Cubillas would again showcase his immense talent.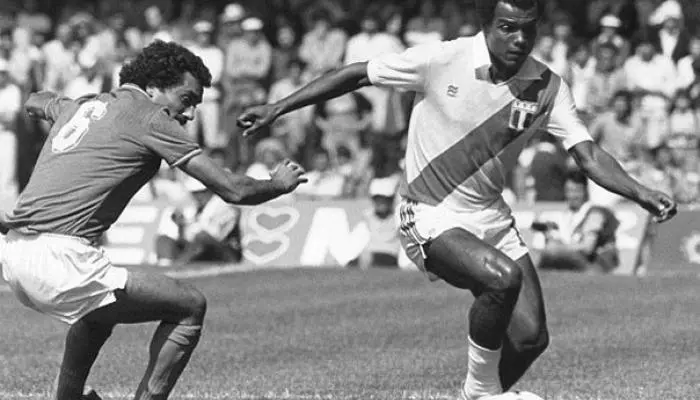 1978 World Cup
As a 29-year-old, some thought Cubillas was too old to make an impact. Cubillas tore a strong Scotland side to shreds with two goals in the first match of the group stage for Peru. [4]  Peru drew 0-0 with the Netherlands in the second group match. In their final game, they thrashed Iran 4-1.
A hat-trick scored by Teófilo Cubillas in that game against the Iranians brought his goals total to five for the tournament. His freekick will be remembered as one of the iconic goals in World Cup history. Peru stormed through the first group stage.
The 1978 World Cup differed from previous tournaments in that the final eight teams competed in a second round-robin group stage, with the winning teams contesting the final. [5] The team's momentum came to a sudden halt during the second phase.
Peru fell apart when paired with Argentina, Brazil, and Poland. Brazil defeated them 3-0, Poland 1-0, before Argentina hammered them 6-0 in the final. As Argentina had to win by four goals to advance to the final, there has always been suspicion that Peruvian players threw the final game against Argentina. The collapse is also strongly attributed to fatigue, as Teofilo Cubillas alluded to.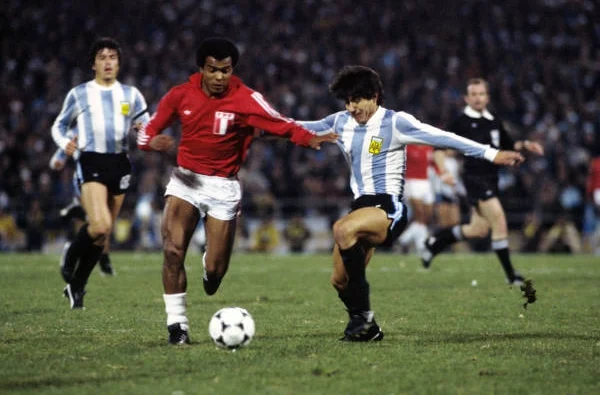 1982 World Cup
The 1982 World Cup in Mexico was Cubillas' last opportunity to play in the tournament. As a 32-year-old veteran, Teofilo Cubillas was the first-choice striker. Cubillas played in all three group matches, but the Peru national football team finished bottom of their group without Cubillas at his best.
In a 14-year international career, he scored 26 goals, 10 of them at the World Cup. He played in the Peru jersey for the very last time.
In World Cup history, he is one of only three players to score five or more goals in two different tournaments, alongside Germans Miroslav Klose (2002, 2006) and Thomas Muller (2010, 2014). [6]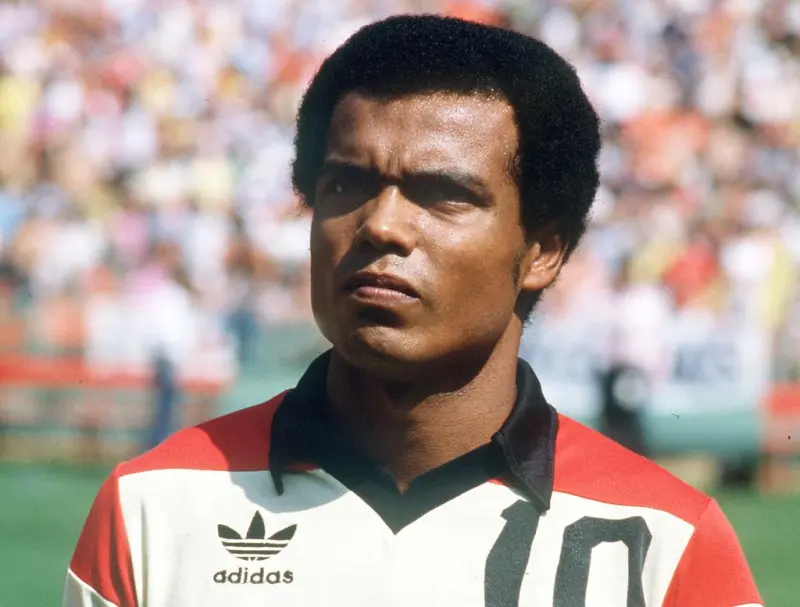 World Cup Goals Record 
Group Stage: vs Romania
Group Stage: vs Morocco (2) – brace
Group Stage: vs West Germany
Quarter-final: vs Brazil
1978 World Cup
Group Stage: vs Scotland (2) – brace
Group Stage: vs Iran (3) – hat trick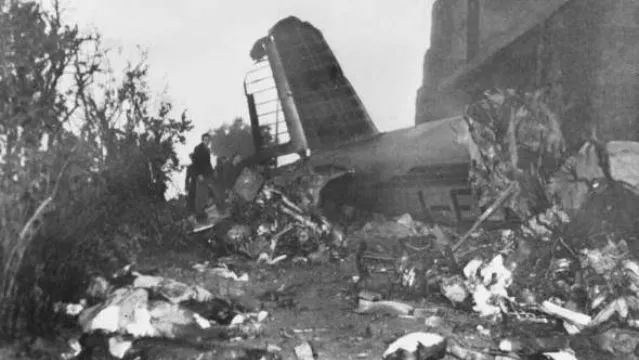 Teofilo Cubillas Club Adventures
Cubillas joined FC Basel in 1973. After only six months at the club, he was not able to demonstrate the extent of his talent. [12] Teófilo Cubillas scored eight goals in 21 games for Basel during these six months. After joining FC Porto, he played 85 games and scored 48 goals.
The Peruvian briefly returned to Alianza Lima in the late 1970s, but again left for the big lights and better wages in the North American Soccer League in the United States. He played for five seasons for the Fort Lauderdale Strikers and scored 59 goals.
Following a tragic plane crash in 1987 that killed 44 of 45 on board (the majority of the Alianza Lima team), Teofilo Cubillas answered the desperate call to return and play for his boyhood club.
In 1989, Cubillas officially retired. A national hero and World Cup legend, he is Peru's greatest player ever and record goalscorer. A record that has stood for more than three decades.
The attacking midfielder will be remembered for his excellent technique, power, change of pace, dribbling abilities, and scoring skills. In addition to the precision with which he executed his long-range free-kicks. His sportsmanship also stood out on the field of play: he was never sent off. [11]
He was regarded as one of the best players in the world in the 1970s, second only to Dutchman Johan Cruyff in his position. In Peruvian football, Teofilo Cubillas is considered the greatest player of all time. [7]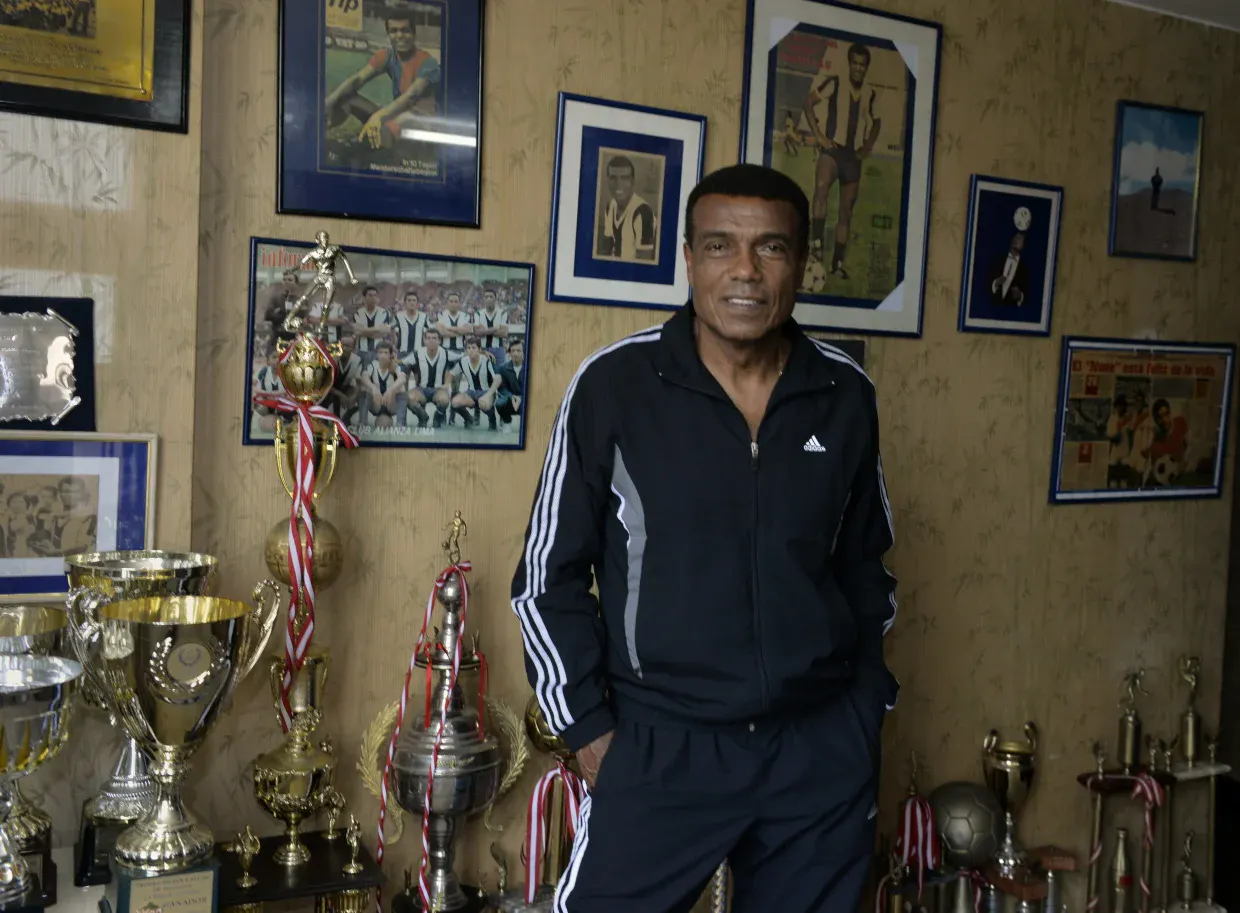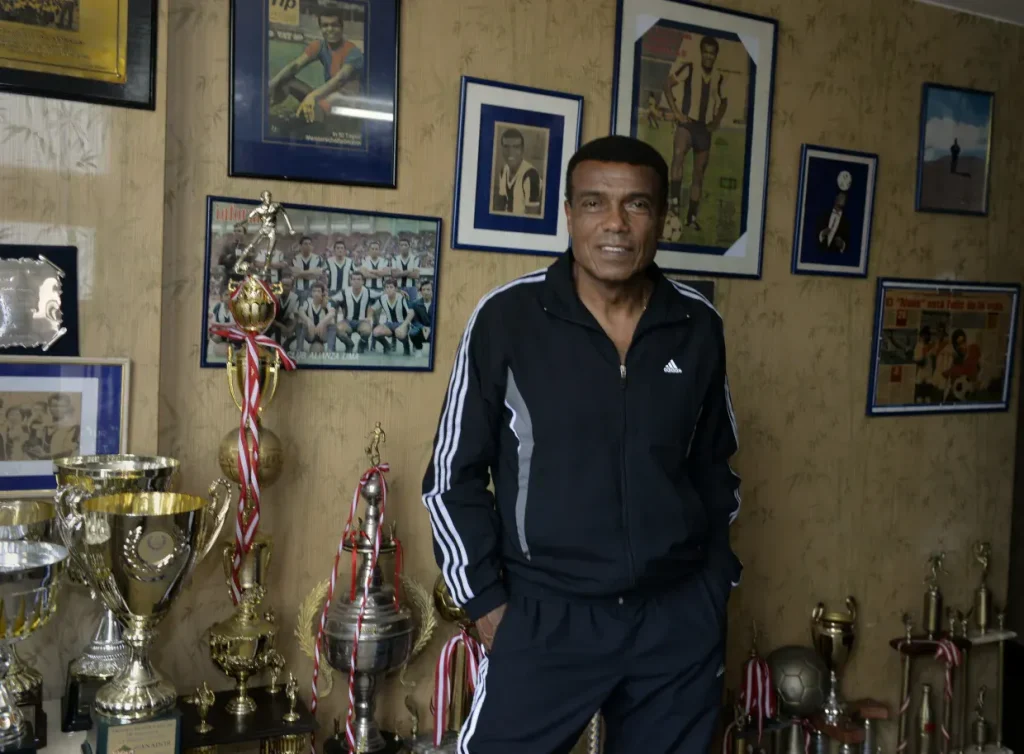 Teofilo Cubillas Facts And Figures
Full Name: Teofilo Juan Cubillas Arizaga
Birthdate: 08/03/1949
Birthplace: Lima, Peru
Playing Career:
Alianza Lima 1966–1972
FC Basel 1973
Porto 1974–1977
Alianza Lima 1977–1978
Fort Lauderdale Strikers 1979–1983
Alianza Lima 1984
South Florida Sun 1984–1985
Alianza Lima 1987–1988
Fort Lauderdale Strikers 1988
Miami Sharks 1989
Total Appearances: 506 matches, 297 goals
National Team Career:
Peru 1968–1982 (81 appearances, 26 goals) [13]
Managerial Career:
Club Honors:
Porto
1976–77: Taça de Portugal Winners
Alianza Lima
1977 and 1978:Peruvian Primera División Champions
Fort Lauderdale Sun
1984 and 1985: United Soccer League Champions
National Team Honors:
Peru
Individual Honors:
1966 and 1970: Peruvian Primera División top scorer
1970: FIFA World Cup Best Young Player
1972: South American Footballer of the Year
1975: Copa America Best Player
1978: FIFA World Cup All-Star Team [14]
References:
[1], [2], [3], [4], [5], [6], and [7]: https://www.90min.com/posts/6015990-world-cup-countdown-12-weeks-to-go-the-story-of-teofilo-cubillas-the-peruvian-pele
[8], [9], [10], and [11]: https://dbpedia.org/page/Te%C3%B3filo_Cubillas
[12] and [13]: https://kids.kiddle.co/Te%C3%B3filo_Cubillas
[14]: https://en.wikipedia.org/wiki/Te%C3%B3filo_Cubillas
Images:
https://commons.wikimedia.org/wiki/File:Te%C3%B3filo_Cubillas.JPG (main image)
https://elcomercio.pe/somos/historias/teofilo-cubillas-cinco-postales-del-futbol-peruano-que-nunca-viste-y-cuya-historia-nos-cambio-para-siempre-archivo-historico-lolo-fernandez-alianza-lima-cholo-sotil-aptz-noticia/
https://www.fifa.com/en/news/five-qualifications-that-stunned-the-sport
playingfor90.com/2018/05/30/world-cup-legends-perus-teofilo-cubillas/
ronaldo.com/football-news/remembering-the-legends-teofilo-cubillas/
www.pinterest.com/pin/132363676527808148/
thesefootballtimes.co/2016/06/02/teofilo-cubillas-the-greatest-peruvian-of-them-all/
www.pinterest.com/charlesfenech77/sport-disasters/