Pelé is widely recognized as the greatest soccer player the world has ever seen, yet he played in just a handful of games in England and never at the country's home of football, Wembley Stadium. A total of six club games for Santos and two internationals for Brazil represents his English experience. Except for an appearance at Craven Cottage, all were at provincial grounds. His only other appearance in Britain was for Scotland against Brazil in June 1966.
Santos To Sheffield
Pelé's first-ever visit to the country was for a hastily arranged friendly with Sheffield Wednesday at Hillsborough on Monday 22 October 1962. Sheffield Wednesday was not precisely high fliers at the time. A 'Top Ten' team was the phrase used to describe them by the press. So to attract the Brazilian club Santos for a friendly represented something of a coup for the club.
Santos visited Europe to play their World Club Championship tie with Benfica, which took place on 11 October. Still, they remained in Europe for two more weeks, taking in fixtures with Racing Club Paris and Hamburg before the trip to Sheffield. The game at Hillsborough came about after protracted negotiations, with Wednesday using Charlie Mitten as an intermediary. As a result, it was not announced to the Sheffield public until just a week before the fixture was due.
Technology
Today fans have saturated wall-to-wall football coverage on television, with even terrestrial channels showing club football from South American countries. As a result, it is possible to monitor the progress of almost every promising youngster from any major soccer country from the luxury of your own home.
Yet, almost 50 years ago, media coverage was somewhat different. 1962 was also a World Cup year, in which Brazil, minus an injured Pelé, had triumphed over Czechoslovakia to win the final for the second consecutive occasion. English newspapers reported the game in a moderate amount of detail. There were reports during the sports program on BBC Radio's Third Network on the day of the match (which took place on Sunday 17 June), but this had to share time with the likes of a swimming match between East Germany and Great Britain and the Tour of Britain cycling race.
Delayed World Cup Final
BBC Television covered the tournament, but the World Cup final was not shown live, and fans with access to television had to wait until 9.25 pm on Tuesday 19 June to see a film of the match. English fans would have known Pelé by reputation from newspapers rather than from television or film. This added to the mystery of the occasion and stimulated a pang of hunger for the game.
Rave Visits
Visits by South American teams were relatively rare. However, the visit of the continent's champion club side, Santos, and the great Pelé created a wave of excitement in Sheffield and across the wider region. Wednesday's directors, who were said to have paid a £10,000 fee to clinch the match, declared the game all-ticket, with substantial price increases over those for Division One fixtures. A place on the terraces would cost 4 shillings (up from the usual price of 3s) while the most expensive seats were £1 (compared to 10s on a typical Saturday afternoon).
There was a rush to buy tickets, and the club refused to televise the game. It was the only option available to those who wanted to see the world's greatest player. However, perhaps because of the short notice, or many believed tickets to have sold out, the actual attendance was just over 49,000 – well short of the stated ground capacity of 65,000.
Pele First Game
Pele's first game in England provided a great contrast in styles. Sheffield Wednesday played a traditional English game, and the Brazilians countering with a slow build-up then suddenly bursting into life. The Sheffield Telegraph reporter noted that "the vast difference between English soccer standards and those of other countries were put into such a vivid perspective that one wished earnestly that the next World Cup series was more than four years away."
The Times thought it was a challenge between the "physical" British and a Brazilian team that played with the "mind." The Wednesday center forward, Bronco Layne, was an archetypal English number 9: his headed goal drawing comparisons with the performances of all-time greats such as Dixie Dean and Tommy Lawton (The Times). Wednesday "fought like tigers against the greatest team in the world … with the fury normally reserved for something as close to an English heart as a Cup semi-final" (Daily Express), but were well short of the standards of their opponents.
Sudden Bursts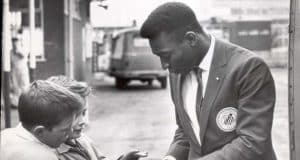 Santos "had the wonderful knack of appearing harmless, looking completely unconcerned, and then suddenly bursting into life in attacks that, in many ways, were awesome in their deadliness." (Sheffield Telegraph) Santo's style was something that impressed the reporters for The Times newspaper. They noted that Santos "did their work at a strolling pace, flicking the ball from one to another with almost careless grace.
The Daily Mirror saw the Brazilians as "artists" who "toyed" with their opponents, demonstrating "skill, control, élan, power, and speed." The view that Santos raised football to the level of art was commonplace – for the Daily Express refers to their "artistry," while The Times, in a rare emotional mood, headlined their match report "The Poetry of Football."
For Santos, football was about "joy and freedom," "when they are in full flight it is sheer poetry." (The Times) Although the final score was 4-2, Santos controlled the match, scoring in the opening minute when the 19- year-old Coutinho smashed home Pagano's cross. On 28 minutes, Pelé set up a second for the youngster. Sheffield Wednesday responded with goals from Billy Griffin and Layne, set up by winger Eddie Holliday, to draw level.
Hat-Trick
The Brazilians' final two goals were both extraordinary efforts. Firstly, Coutinho completed his hat-trick, "past one defender … two … three … four. The game seemed to stand still as this big yet graceful Brazilian finally decided he had done enough and flicked the ball past England's 'keeper Ron Springett." (Daily Mirror) The fourth and final goal, shortly before halftime, was a penalty from Pelé, one of the most remarkable penalties that those present had ever seen. "He seemed to dance, change step, and change gear" before delivering a "rocket" shot past the Wednesday goalkeeper. (The Times) "He sprinted at the ball, halted in mid-kick to change feet, and then thumped the ball like a rocket into the net." (Daily Express)
Soon afterward, Colin Dobson's penalty for Sheffield Wednesday was saved by Gylmar, and there was to be no scoring in the second half, with Santos winning 4-2.
Sheffield Wednesday 2 (Griffin, Layne),
Santos 4 (Coutinho 3, Pele, pen)
Half Time: 2-4
Att: 49,058
Sheffield Wednesday: R Springett; PJohnson, D Megson; T McAnearney, P Swan, T Kay; A Finney, C Dobson, D Layne, W Griffin, E Holliday (Sub G Young for Layne)
Santos: Gylmar; Mauro, Dalmo, Olavo, Lima, Formiga, Pagao, Mangalvio, Coutinho, Pelé, Dorval (Sub Carlos for Formiga)
Referee: M Kitabdjinn (France)
Pele Next Game In England
Pelé's next games in Britain were for the 1966 World Cup finals. On 25 June 1966, he disappointed for Brazil against Scotland at Hampden in a pre-tournament friendly, when he was marked out of the game by Billy Bremner as the teams played out a 1-1 draw.
Heavy tactics from their opponents saw Brazil hustled out of the competition, with Pelé missing the second game with Hungary due to injury. There was another magical night at Stoke-On-Trent in September 1969, then four games in 1972 and 1973 as Santos sought to cash in on their asset. By this time, the great man was in his 30s and past his best – his team even fell to defeat by a then Third Division Aston Villa in February 1972.
Nevertheless, his appearances always attracted massive crowds even if the experience was not quite what it had been at Hillsborough on that memorable night in October 1962.
A list of his games in England is provided below. In addition to this, Pelé played against four English teams on foreign soil: West Ham (New York, September 1970), Chelsea (Kingston, Jamaica, Feb 1971), Newcastle United (Hong Kong, June 1972), and Coventry City (Bangkok, also June 1972).