The 'Ballon d'Or' (French for Golden Ball) is almost unarguably the most prestigious award in world football and soccer. After being first awarded in 1956 by the magazine 'France Football', it has been the most sought after award for male and female players alike (the female Ballon d'Or was first introduced in 2018).
And whilst it has seen many great outfield players win the prize on multiple occasions (Lionel Messi, Cristiano Ronaldo and Pele to name a few) you may be wondering if any goalkeepers have ever even made the final podium (let alone win the darned thing).
Of course, it makes logical sense that a player in the position of the 'last line of defence' who doesn't enjoy the glitz and glamour of scoring goals may struggle to get recognised for his/her achievements. Real Madrid shot-stopper Thibaut Courtois even went on record recently to say it was practically impossible for players of his ilk to achieve the prize.
Therefore, with these doubts in your mind, we have made it our mission to find out whether any keepers have won the Ballon d'Or.
How the Ballon D'or works
The Ballon D'or works via a voting process, with the 'jury' a select committee of 100 of the most respected journalists from the top 30 FIFA nations. Each journalist is asked to select their top five players (from a 30 player shortlist) of the preceding year and there are three criteria used to decide their selection: Individual and collective performance from the previous season, a player's class and their career to date.
From these votes, the winner is decided via a points system whereby the player who comes first in each journalist's selections is awarded 6 points and the player who comes 2nd is awarded 5 points (and so forth).
Who has won the Ballon d'Or the most?
Below is a table of the players who have won the Golden Ball the most (at the time of writing).
| Name | Ballon d'Ors |
| --- | --- |
| Lionel Messi | 7 |
| Cristiano Ronaldo | 5 |
| Johan Cruyff | 3 |
| Michel Platini | 3 |
| Marco Van Basten | 3 |
How many goalkeepers have won the Ballon D'or?
As it stands just one goalkeeper has won the award – Lev Yashin. In 1963 Yashin, a goalkeeper for Dynamo Moscow was crowned world player of the year thanks to his legendary displays for both club and his country side, Soviet Russia.
What did Lev Yashin do to deserve the Ballon D'or award in 1963?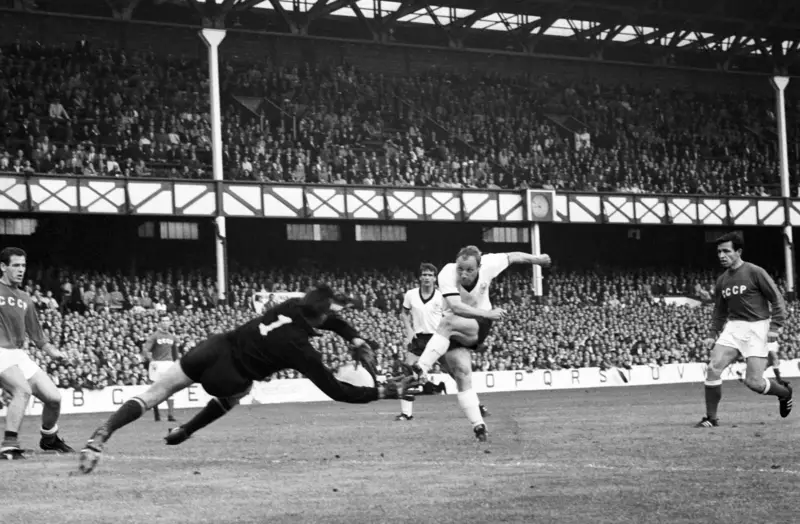 Lev Yashin is widely regarded as the greatest keeper to play the game but it was in 1963 in particular that his talent and genius was recognised.
Yashin fundamentally reinvented the goalkeeping position. He was the first to shout orders and organise his backline, which allowed for harder to beat defences. He came off his line to intercept crosses, preventing many chances that without his intervention would almost certainly be goals. Lastly, he was the first to come out to meet onrushing attackers.
At the time, goalkeepers spent the match standing on the goal line waiting for a chance to make a save, but seldom getting involved. Yashin, instead of letting the attacker get a clear strike on goal from very close range, relying on defenders to hopefully catch up, Yashin forced the issue, narrowing the angle and forcing the striker into making a decision.
Yashin was also one of the first keepers to punch balls out in difficult situations instead of trying to catch them. In the much more physical 60's game, trying to catch awkward crosses would often result in dropping the ball as multiple attackers flung themselves at the ball, often impeding the goalkeeper without punishment.  By punching the ball out, even if there was still potential danger, Yashin conceded far less.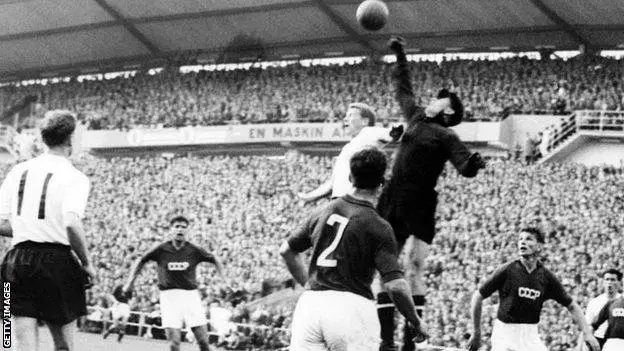 His last invention was perhaps the most ingenious, especially at the time. Goalkeepers were considered simply the last line of defence, and essentially played a different game to anyone else on the pitch. They weren't expected to find players when in possession, and the best non-defensive attribute a keeper could have was the ability to kick/throw the ball particularly far.
Yashin however, saw the potential of the goalkeeper's role as a catalyst for attacks. By looking to quickly release the ball when in his possession, he would start fast counter with quick accurate throws. This would essentially be the very first step to the ball playing goalkeepers we have today.
Before Yashin, keepers would always wait for their team to retake positions and hoof the ball hoping the striker would win the first ball. Your team staying in possession was reliant on 50/50's and second balls.
In 1963, Yashin was another level, conceding 6 goals in 27 league games. A truly terrifying record that surely kept strikers up at night as they toiled over how they might beat him.  In total he would claim 23 clean sheets out of these 27 games; a feat so incredible it was enough to earn him just enough votes for the 1963 Ballon d'Or beating AC Milan's Gianni Rivera by 18 points.
A huge part of his victory would come bizarrely through an international friendly. Playing in an exhibition match against England for a Rest of the World all stars side, he would put on a mesmerising performance, against England and some of the world's greatest players.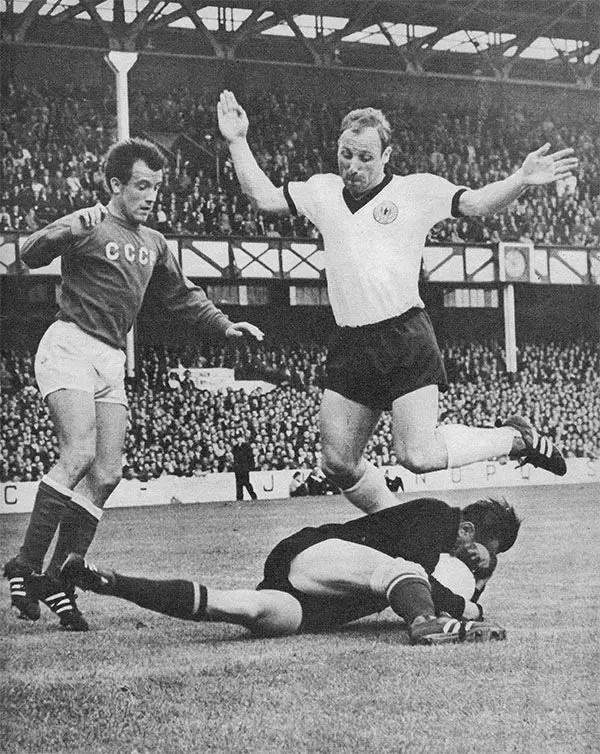 Goalkeepers so rarely win the award due to the nature of the position, in which mistakes are so impactful and more importantly noticeable, whilst even Lionel Messi plays one or two stray passes a season. If Yashin makes a mistake everyone notices, the year before at the 1962 world cup he became the first keeper to concede directly from a corner.
In 63 Yashin was simply faultless. Not only that, but with his innovations to the role and new way of playing, it was almost impossible to deny him the award, despite his place between the sticks. All in all it was a combination of flawless goalkeeping performances, the likes of which had never been seen and innovation in a role that has barely changed since his influence.
All in all, with his flawless season and incredible innovations to the role, Yashin managed to far outshine even the most ethereal outfield players, such as Eusebio. Even Gordon Banks, who was voted the 2nd greatest keeper of the 20th century behind Yashin, admitted he was hugely influenced by Yashin, bringing many of his innovations to the English game.
Have any other keepers come close to winning it?
Gigi Buffon is perhaps the famous keeper to nearly win the award in recent memory. After an instrumental string of performances that made the difference in Italy's 2006 World Cup run, Buffon came second in the Ballon d'Or votes. His country's captain Cannavaro would take home the award and become the first defender to win the award since Matthias Sammer in 1994.
Buffon is of course one of the most celebrated goalkeepers of all time, and was unfortunate to lose out to his team mate, but in truth, Cannavaro's year at club level had been much more impressive. Whilst Buffon's World Cup performance was more memorable, Buffon had spent the 2006/07 season playing in Italy's second division as a result of the Calciopoli scandal. Cannavaro had spent it with Real Madrid.
At the end of the day, the Ballon d'Or is based on popularity, and whilst Buffon was incredible at the World Cup, it's doubtful that many voters were watching Buffon play lesser opposition in the Serie B, week-in week-out. Had Juventus not cheated, It's likely Buffon would have won, but it would be his own commendable loyalty to Juventus that would stand in the way of being the second ever goal keeper to win a Ballon d'Or.
Other Keepers to come close include Oliver Kahn who understandably came third in 2002 behind Roberto Carlos and Ronaldo Nazario(R9). Czechoslovakian goalkeeper Ivo Viktor finished 3rd in 1976, losing out to Franz Beckenbauer, the first defender to win a Ballon d'Or.
Lastly in 1973, Dino Zoff would accomplish the same feat as Buffon in coming second in the voting. Unfortunately 1973 was among Johann Cruyff's greatest seasons, and he would finish a staggering 49 votes behind the Dutchmen, in spite of a second place finish.