As one of the greatest Spanish wingers of all time, Francisco Gento López is deserving of the title 'legend'. He played a prominent role in one of the most successful eras in Real Madrid's history, that of the 1950s and 1960s.
As the holder of the greatest number of European Cup trophies, he has left his legacy in the history of soccer.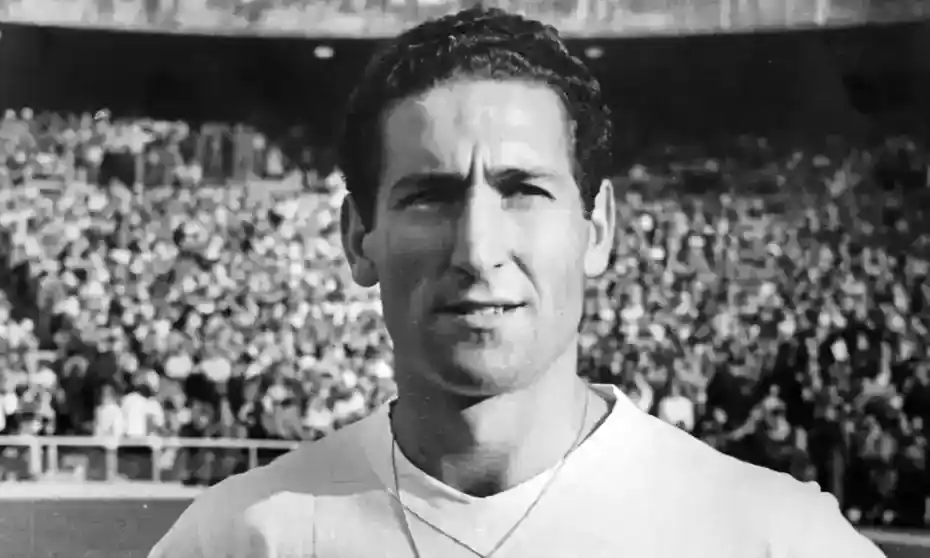 Paco's Dream
Francisco "Paco" Gento was born on 21st October 1933 in Guarnizo, in the historical Spanish community of Cantabria, Spain. Growing up in poverty, amid the Spanish Civil War that spanned from mid-1936 to April 1939, Francisco Gento was forced to leave school at the age of 14 to help on his family's farm.
As a child, he dreamed of playing football for the most famous local club, Racing de Santander. His spare time was divided between playing football and athletics, the latter being what facilitated him in perfecting his gift of having phenomenal speed.
His youth career began with a spell at S.D. Nueva Montaña, and later Union Club Astillero, where he scored 9 goals in a single regional championship match! This incredible achievement earned him a move to third division club Rayo Cantabria.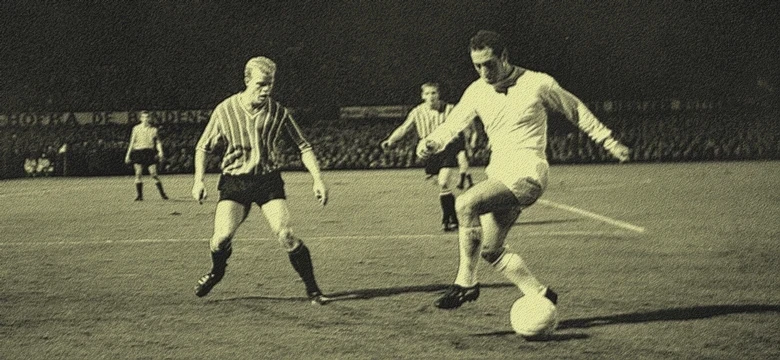 The Gale of the Cantabrian Sea
He acquired the nickname "La Galerna del Cantábrico" (The Gale of the Cantabrian Sea), due to his incredible pace – he could run 100 meters in 11 seconds and was almost as fast with the ball at his feet!
In comparison, the gold medalist at the 1948 London Summer Olympics, Harrison Dillard of the USA, ran the same distance over 10.3 seconds. But there was so much more to the young Francisco Gento than his speed – he was overflowing with talent just waiting to be unleashed!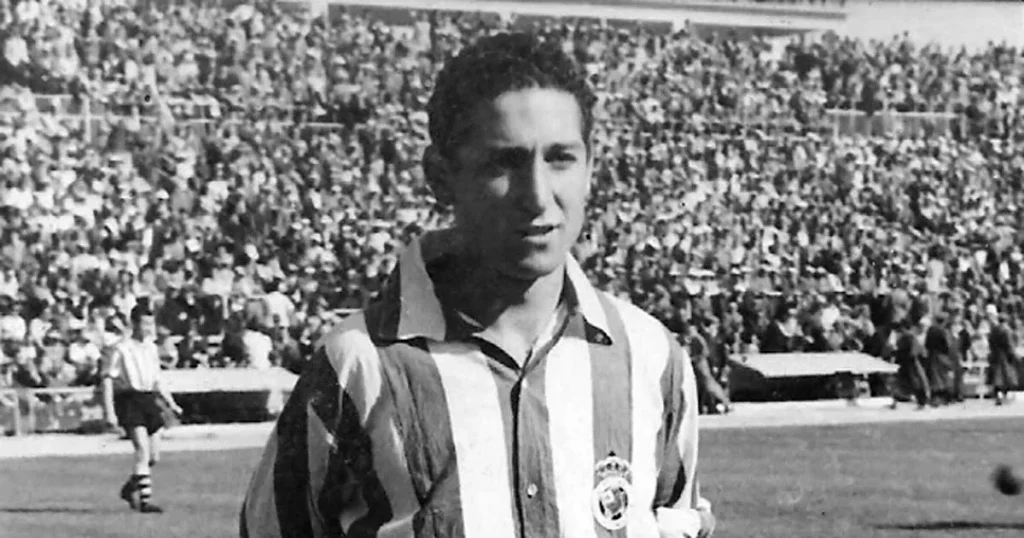 The Debut Of Francisco Gento
At 18, he finally got the opportunity to make his career début in the Primera División, signing his first contract with his dream club, Racing de Santander.
His impressive performances during his first season of 1952-1953 captured the eye of Real Madrid's vice-president Alvaro Bustamante, who was captivated by this special winger bursting with promise.
In the summer of 1953, Paco Gento signed with Real Madrid and was given the number 11 jersey. But this is not where the story ends, rather, it is where it all begins…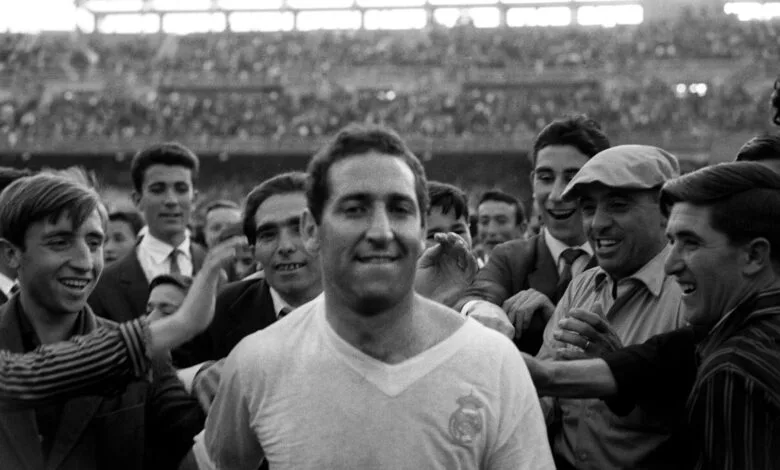 Francisco Gento The Blazing Winger
Although Real Madrid won a league title in Gento's first season, his performances were below par, and he struggled to fit into the team – he had a goal drought lasting 21 matches. Unfortunately, even with his blazing speed, he could not win over the football fans and received much criticism from journalists.
It was even suggested that his unbelievable pace masked his lack of technical ability and composure. In remembering the massive criticism he received, Gento recalled that they used to say that he'd run so fast, he'd run off the pitch, leaving the ball behind him!
With the arrival of the Uruguayan midfielder Héctor Rial in 1954, Gento transformed his game. He worked tirelessly on his technique; he learned to contain his speed and displayed superior control of the ball; he learned to better time his runs; and intensified his ability to unbalance defenses.
During his second season, Francisco Gento played a significant role in Los Blancos' title defense and made his début for Spain in a friendly match against England in May 1955. By then, Gento was integral to one of the brightest forward lines to ever adorn a team.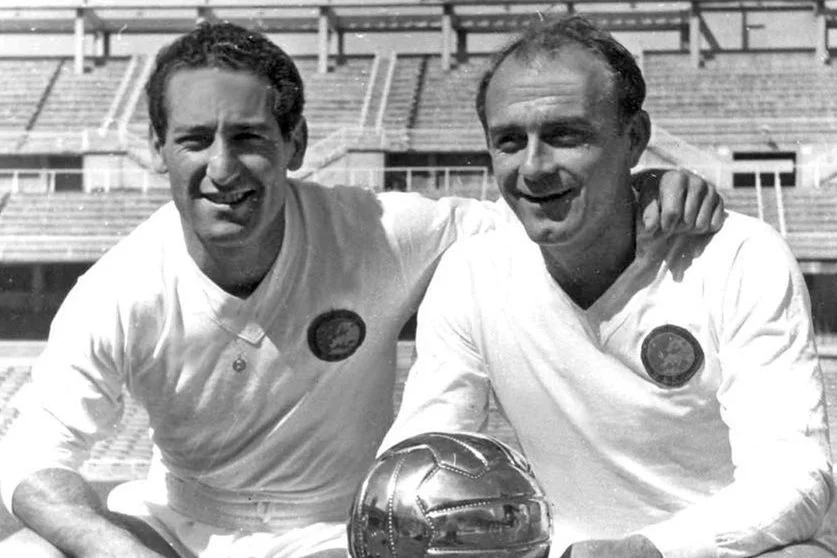 Setting Up Teammates
He was often the first player to get to the ball, and being the team player he was, he would opt to set up a teammate rather than score himself. Even Alfredo Di Stéfano, Hector Rial, and Ferenc Puskás acknowledged that most of their goals were due to this pacey left-forward.
On the other hand, his opponents believed that it was not just his speed that kept them on their toes, but when he stopped – This was when he was at his most hazardous.
Francisco Gento was not only in the process of redefining the winger's role, he was on his way to becoming the best-left winger in Spain's history.
Gento was adored by his football fans, and in reciprocating this, whenever he scored the first thing he would do was to run to the crowd. He had also become a key player in many high-profile matches.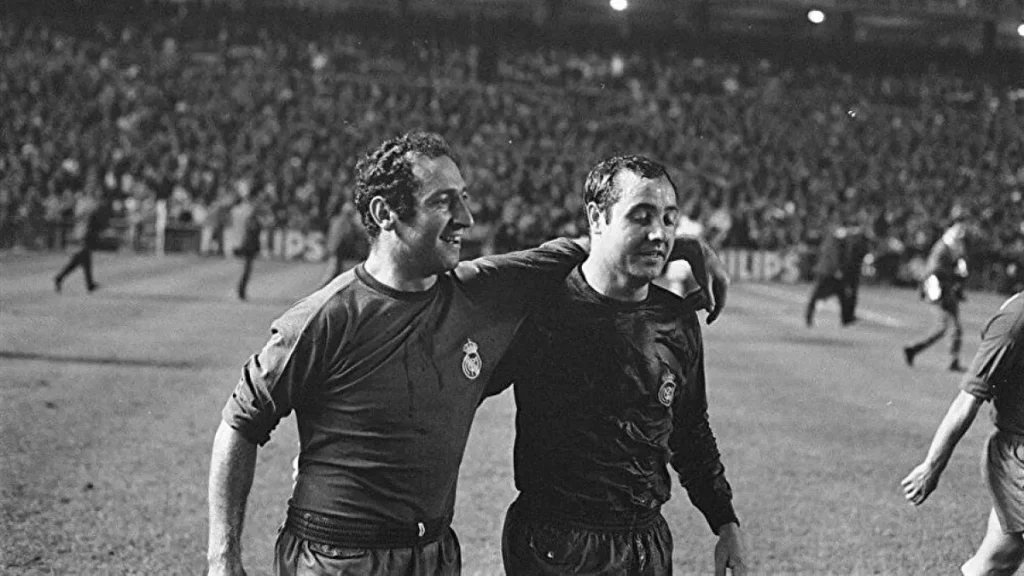 European Cup Titles
Some of the most memorable victories were: Real Madrid's first-ever European Cup (now the UEFA Champions League) title in 1956; Los Blancos 1958 final against AC Milan, where Gento scored the winning goal in extra time to make it 3-2, securing Real Madrid third consecutive European Cup titles; and Los Blancos winning the first edition of the Intercontinental Cup in 1960, beating Peñarol 5-1 on aggregate, with Gento scoring one of the goals.
Although offers flooded in for his signature, Gento and Real Madrid continued to honor their loyal relationship.
His career with Real Madrid spanned over a period of 18 years, from 1953 to 1971. As a result of competitions such as the European Champion Clubs' Cup, Gento's popularity soared, and he even acquired the nickname 'El Supersonico', which means supersonic – no guesses as to why!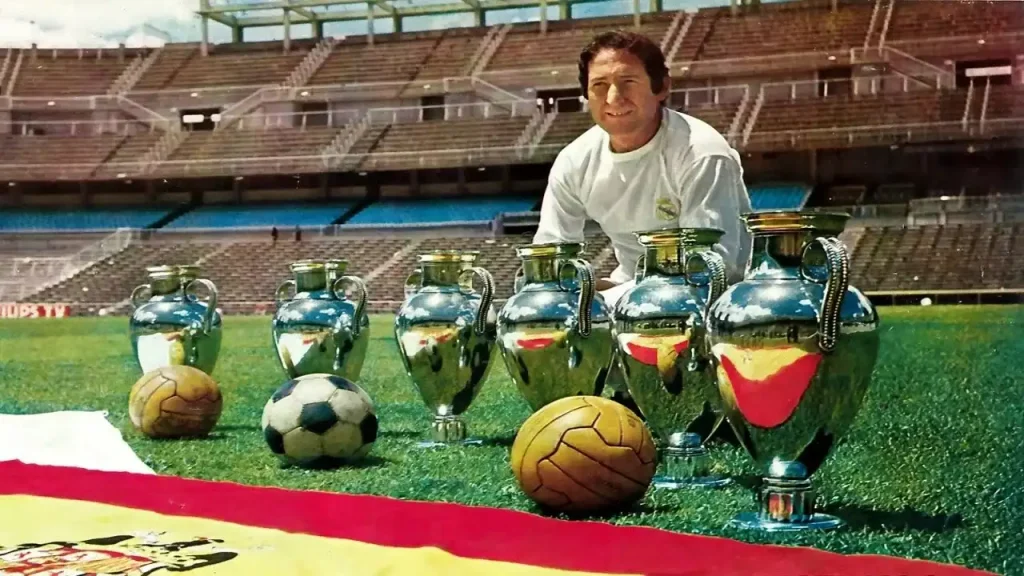 Six European Cups
Francisco Gento was the only player to ever appear in 15 consecutive seasons of the European Cup, reaching 8 finals, and was victorious in 5 consecutive finals from 1956 to 1960. His record-breaking 6th title from the eight European Cup finals in 1966 was his sweetest.
It was also his most emotional as not only was he the only remaining survivor of the first great era of the club (many of his teammates had left), but now he was also captain of a younger generation of Spanish national team players.
They were known as the 'Ye-yé' (The Yeah Yeah), a nickname which originated from the huge popularity of the lyrics of a Beatles song, "She Loves You". Gento led his team to the 1966 European Champion Clubs' Cup triumph against Partizan Belgrade by 2-1.

Legendary Status
This 6th European Cup winner's medal sealed his legendary status and made him one of the greatest Real Madrid legends of all time. And to think that Los Blancos would have to wait another 32 years to taste victory in the competition again!
As time passed, Paco Gento continued to be a huge influence on the team, guiding them to a hat-trick of La Liga titles from 1967 to 1969.
By 1970, he had participated in all 15 European Cup titles seasons. Gento's team won the Copa del Generalísimo (now the Copa del Rey) for the second time in 1970, reaching a 9th European final in the Cup Winners Cup 12 months later, which they, unfortunately, lost to the English side, Chelsea Football Club.
With a decline in his appearances for the team and nearing the age of 38, he hung up his boots and retired in 1971.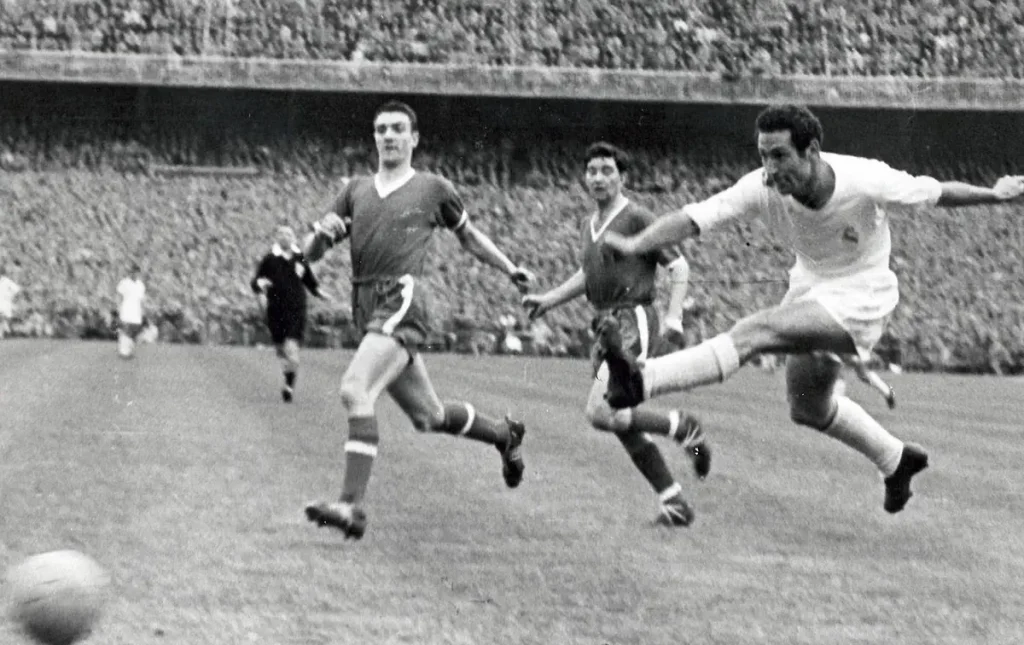 Francisco Gento Coaching Roles
Francisco Gento did thereafter take on various coaching roles – he worked with Real Madrid's reserve team, as well as with Castilla, Castellón, Palencia, and lastly Granada. Unfortunately, he was not able to replicate the exploits he achieved as a player.
During Gento's incredible 18 years at Real Madrid, he accumulated much treasure: a current record of 6 European Cup finals wins (out of 8 final appearances); scoring 30 goals in 89 European Cup matches; 12 League titles; and 2 Spanish Cups (Copa del Rey titles in 1962 and 1970); as well as 1 Intercontinental Cup, among other awards.
He scored 182 goals for Los Blancos in 605 matches, making him the 6th highest goal scorer in the club's history.
Disappointing Time For 'La Furia Roja'
Paco Gento made his international début with the Spanish national team in 1955 and represented his country until 1969. Sadly the success he experienced at the club level was not to be repeated on the international front. The only triumph which eluded him was not having won the FIFA World Cup title.
His team failed to qualify for the 1958 World Cup in Sweden. He did participate in 2 FIFA World Cup tournaments: Chile in 1962 and England in 1966. In both tournaments, the Spanish national team failed to make it past the group stages.
Paco's International History
Francisco Gento made 43 appearances and netted five goals for 'Las Furia Roja' (The Red Fury).
Their first European Championship qualification was in 1960, having to later forfeit their quarter-final tie with the Soviet Union due to political reasons. In 1964 Spain won the European Nations' Cup (their first major international trophy in their history) on home soil, beating the defending champions, the Soviet Union, 2-1. This was to be 'La Roja's only major title for 44 years.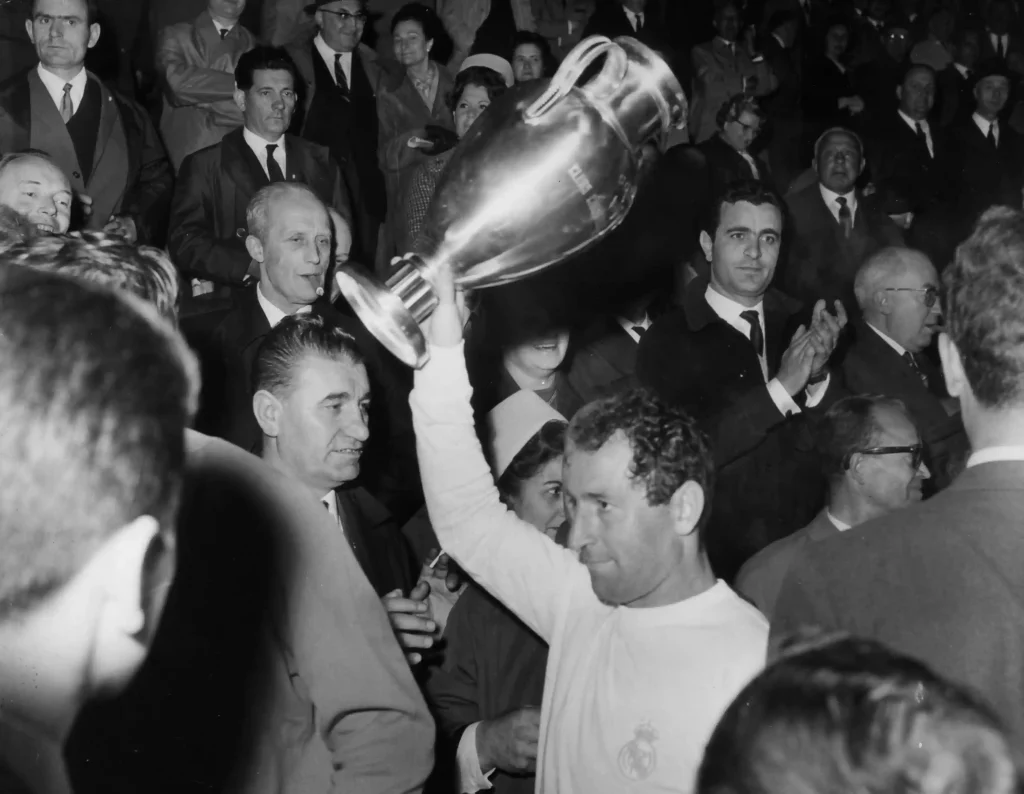 Unity In A Time Of Need
When the horrific Munich Air Disaster tragedy struck Manchester United F.C. on the 6th February 1958, it was Real Madrid who immediately lent a hand. The British European Airways flight carried the Manchester United football team, the "Busby Babes", with journalists and supporters also on board. Many lives were lost that day and others left injured.
The Real Madrid club helped to raise funds and planned a number of friendlies between the two teams, all in helping the Manchester United club rebuild its team. Paco Gento was one of those players who participated in these friendlies, the first held in October 1959.
Francisco Gento and his teammates had many overwhelming and emotional memories of those matches, and they witnessed the creation of a special relationship between both clubs over the years. Even 16 years later, when the English side celebrated their 100-year anniversary, they met again in another non-official match.
Keeping Memories Alive
What some may not realize is that Real Madrid's away kit for 2013/2014, in collaboration with Adidas, is inspired by the retro style from the most successful period in their history, the 30s to 50s.
Much thought even went into the choice of color combination, white and royal blue, which was inspired by the Los Blancos away kits during that period.
What a splendid way for the club to keep their greatest triumphs and memories from their golden era alive and to inspire their new players to future victories.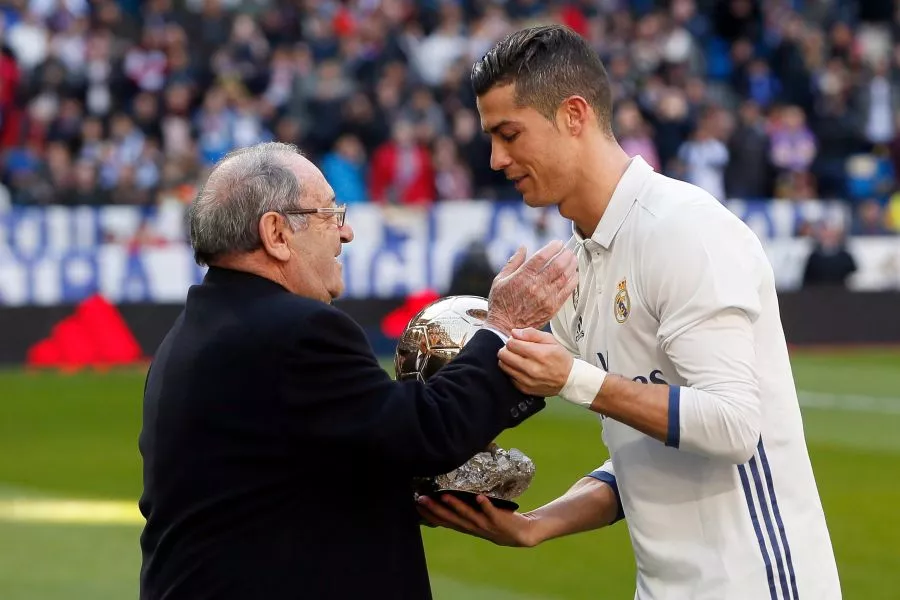 Celebrating A Spanish Legend
Paco Gento dedicated 18 years of his life to Real Madrid and was one of the greatest Spanish legends to grace the Bernabéu. He was part of the golden generation which celebrated an unrepeatable and prestigious time in Real Madrid's history.
To date, Real Madrid has held 3 testimonials in his honor: in 1965, in 1972, and lastly in 2007 against Partizan Belgrade in the Trofeo Bernabéu. In 2005, Francisco Gento was awarded the Golden Foot award for being one of the greatest champions of the game.
Even his footprints are displayed on the Champions Promenade in Monte Carlo.
Today as a Real Madrid Ambassador in Europe, Gento continues to represent his much-loved club. As a legendary footballer, his story will be passed on for many generations, keeping all his memories of the game alive.
As one of the most prestigious clubs in the sporting world, Real Madrid has been enriched by players like Paco Gento, and it's these special and unforgettable people who, while having created history, also allow us to dream a little.

The Passing Of Francisco Gento
Francisco Gento passed away on 18th January 2022 at the age of 88. His wife Mari Luz, his sons Francisco and Julio, all his relatives, and the sporting world were deeply saddened but will remember Paco's career as one of the greatest, with six European Cups and a total of 23 trophies.
Marcelo's performance as a substitute in Real Madrid's Spanish Super Cup victory a few days earlier equaled the club record of 23 trophies held for over 50 years.
Marcelo has now gone on to lift the La Liga title and the 2022 Champions League trophy and holds the club record of 25 trophies.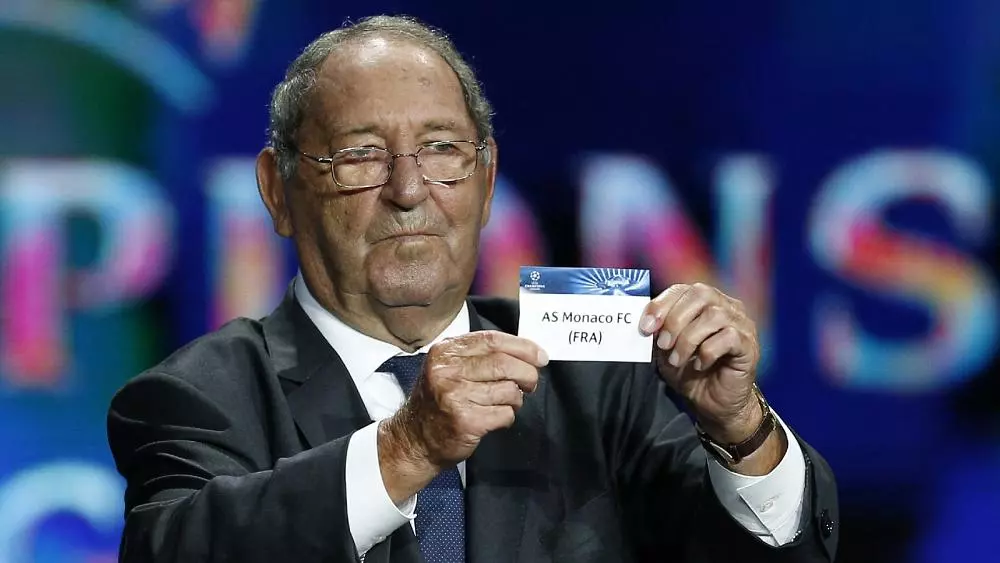 Francisco Gento Facts And Figures
Full Name: Francisco Gento López
Birthdate: 21/10/1933
Birthplace: Guarnizo, Spain
Died: 18/01/2022 (Aged 88)
Playing Career:
Racing Santander 1952–1953
Real Madrid 1953–1971
International Career:
Spanish National Team 1955–1969 (43 appearances, 5 goals)
Playing History At FIFA Tournaments:
7 Wins, 2 Draws, and 4 Loses
Managerial Career:
Castellón 1974
Palencia 1977–1980
Granada 1980–1981
Cantabria 1997–2000
Playing Honors:
Real Madrid
1953–54, 1954–55, 1956–57, 1957–58, 1960–61, 1961–62, 1962–63, 1963–64, 1964–65, 1966–67, 1967–68, and 1968–69: Twelve La Liga Titles
1961–62 and 1969–70: Copa del Rey Trophies
1955–56, 1956–57, 1957–58, 1958–59, 1959–60, and 1965–66: Six European Cups Titles
1960: Intercontinental Cup Winners
Individual Honors:
Holds records for:
Winning the most La Liga titles: 12 with Real Madrid
Winning the most European Cups titles: 6
Playing in the Most European Cups final appearances: 8 (tied with Paolo Maldini)
Played in two World Cups: 1962 and 1966