1894 FA Cup Final Score: Notts County 4 Bolton Wanderers 1
Match Venue: Goodison Park, Liverpool
Date: Saturday 31st March 1894
Notts County Scorers: James Logan 3 and Arthur Watson. Bolton Wanderers Scorer: Jim Cassidy
Notts County Team: George Toone, Fay Harper, Jack Hendry, Charlie Bramley, David Calderhead, Alf Shelton, Arthur Watson, Sam Donnelly, James Logan, Dan Bruce, Harry Daft
Bolton Wanderers Team: John Sutcliffe, John Somerville, Di Jones, Harry Gardiner, Alex Paton, Archie Hughes, Joe Dickinson, Jim Wilson, Robert Tannahill, Handel Bentley, Jim Cassidy
Referee: Charles James Hughes
Attendance: 37,000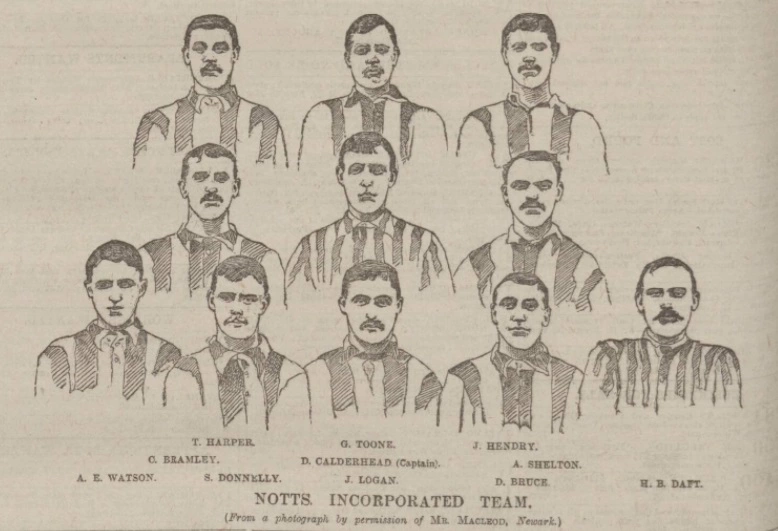 1984 FA Cup Final Match Report
The Football Association chose Goodison Park, Liverpool, as the 1894 FA Cup Final venue. Every precaution was taken to avoid a repetition of the previous year's fiasco at Fallowfield. The 37,000 crowd was smaller than anticipated, with many people fearful of being hurt in a crush.
To make it to the final, Notts County defeated three first-division clubs. Notts County ran away with the Football Association Challenge Cup, scoring four goals and becoming the first Second Division club to triumph in a final.
The score might have been worse, but for John Sutcliffe, the Bolton goalkeeper, whom the County forwards pounded the whole afternoon.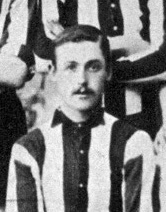 Jimmy Logan, playing a superb game at center-forward, was still able to register a hat-trick and thereby equal William Townley's feat for Blackburn Rovers in 1890. Arthur Watson was County's other scorer, and Jim Cassidy scored a consolation goal for Bolton.
Bolton tried their best but was laboring under severe disadvantages. Alex Paton was swathed in bandages, Harry Gardiner wasn't fit, Handel Bentley was ill, John Somerville was troubled with a facial injury and shouldn't have played, and Archie Hughes got hurt only five minutes after the start.
Notts County, though in the Second Division, was the best side in the country for about six weeks, which, fortunately for them, coincided with the 1894 FA Cup Final.
Their hat-trick hero Jimmy Logan scored 21 goals in 21 games during his time with County.  The Scottish International was a journeyman who played for a number of clubs.
While at Loughborough, the team forgot their playing kit so they played in their ordinary clothes.  After playing in the torrential rain and making their way home in the same attire, Jimmy Logan developed pneumonia and died at the age of 25.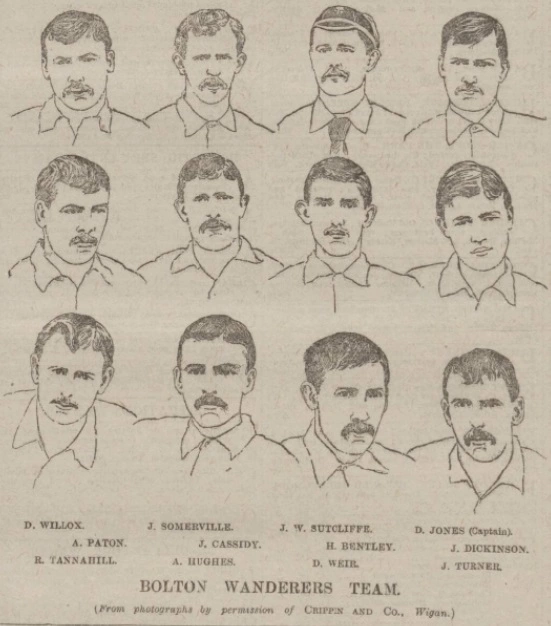 1984 FA Cup Round By Round
First Round
Middlesbrough Ir v Luton T 2-1; Nottingham Forest v Heanor T 1-0; NOTTS COUNTY v Burnley 1-0; Stockport County v Burton Wanderers 0-1; Leicester Fosse v South Shore 2-1; Derby County v Darwen 2-0; Newton Heath v Middlesbrough 4-0; West Bromwich Albion v Blackburn Rovers 2-3; Newcastle United v Sheffield United 2-0; Small Heath v BOLTON WANDERERS 3-4; Liverpool v Grimsby Town 3-0; Preston North End v Reading 18-0; Woolwich Arsenal v Sheffield Wed 1-2; Stoke v Everton 1-0; Sunderland v Accrington Stanley 3-0; Aston Villa v Wolves 4-2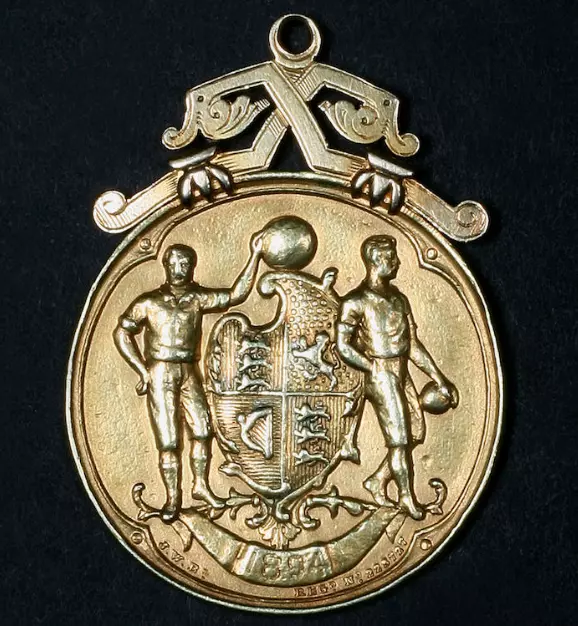 Second Round
Middlesbro Ir v Nott'm Forest 0-2; NOTTS COUNTY v Burton Wand 2-0; Leicester Fosse v Derby Co 0-0, 0-3; Newton Heath v Blackburn R 0-0. 1-5; Newcastle Utd v BOLTON WANDERERS 1-2; Liverpool v PNE 3-2; Sheff Wed v Stoke 1-0; Sunderland v Aston Villa 2-2,1-3
Third Round
Nott'm Forest v NOTTS COUNTY 1-1,1 -4; Derby Co v Blackburn R 1-4; BOLTON WANDERERS v Liverpool 3-0; Sheff Wed v Aston Villa 3-2
Semi-Finals
NOTTS COUNTY v Blackburn Rovers 1 -0; BOLTON WANDERERS v Sheffield Wednesday 2-1