1892 FA Cup Final Score: West Bromwich Albion 3 Aston Villa 0
Match Venue: Kennington Oval, London
Date: Saturday 19th March 1892
WBA Scorers: Alfred Geddes, Sammy Nicholls, and Jsck Reynolds
West Bromwich Albion Team: Joe Reader; Mark Nicholson, Thomas M'Culloch, Jack Reynolds, Charlie Perry, Willie Groves, Billy Bassett, Roddy McLeod, Sammy Nicholls, Tom Pearson, Alfred Geddes
Aston Villa Team: Jimmy Warner; Walter Evans, Gershom Cox, Harry Devey, James Cowan, John Baird, Charlie Athersmith, John Devey, Billy Dickson, Lewis Campbell, Dennis Hodgetts
Referee: Charles Clegg
Attendance: 32,810
1892 FA Cup Final Match Report
The 1892 FA Cup Final was the last FA Cup Final to be played at Kennington Oval, and the first goal nets were used. Five years earlier, the two Midland rivals, Albion and Villa, staged the first FA Cup Final with a provincial 'local derby' atmosphere, and they were together again.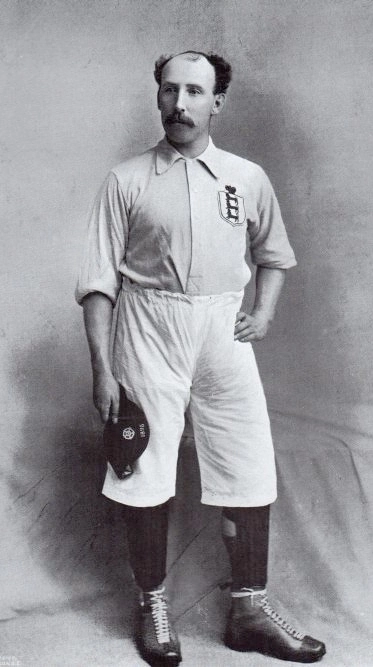 West Bromwich Albion's form throughout the season had been inconsistent. So when Aston Villa, the semi-final conquerors of the great Sunderland team of 'all the talents', began the match in such good attacking form, it looked odds-on that Villa would win the FA Cup for the second time.
But there was a surprise in store for them. A sudden break and Billy Bassett sprinted down the right wing to center perfectly for Alfred Geddes to shoot home into the goal nets. West Bromwich Albion, improbably, was in the lead. Villa fought hard to equalize, but Albion keeper Joe Reader was in top form for Albion making save after save.
Subtly, the Albion half-backs, Willie Groves, Charlie Perry, and Jack Reynolds, had been taking a grip on affairs in midfield. Before half-time, another brilliant run by Billy Bassett and another perfect center gave Sammy Nicholls the chance to send Albion in with a comfortable 2-0 lead at the interval.
The match was virtually over. However, Villa's forwards continued to be frustrated in the second half, and Jack Reynolds completed the rout near the end with a third Albion goal from a long shot. Aston Villa bought Jack Reynolds for £50 after he fell out with the WBA management committee a couple of months after this match. Jack went on to win two more FA Cup finals with Villa in 1895 and 1897.
Aston Villa fought to the end but to no avail.
Less than one month after their cup victory, West Bromwich Albion won a 12–0 league match against Darwen. This football league record still stands.
1892 FA Cup Round By Round
First Round
Old Westminsters v WEST BROMWICH ALBION 2-3; Blackburn Rovers v Derby County 4-1; Sheff Wednesday v Bolton Wanderers 4-1; Small Heath v Royal Arsenal 5-1; Sunderland Albion v Birmingham St George's 4-0; Nottingham Forest v Newcastle East End 2-1; Luton Town v Middlesbrough 0-3; Preston North End v Middlesbro Ir 6-0; Crewe Alexander v Wolves 2-2, 1 -4; Blackpool v Sheffield Utd 0-3; ASTON VILLA v Heanor T 4-1; Bootle v Darwen 0-3; Belfast v Accrington Stanley 1-4; Sunderland v Notts County 4-0; Everton v Burnley 1 -3; Stoke v Casuals 3-0
Second Round
WEST BROMWICH ALBION v Blackburn R 3-1; Sheff Wed v Small Heath 2-0; Sunderland Alb v Nott'm Forest 0-1; Middlesbro v PNE 1 -2; Wolves v Sheff Utd 3-1; ASTON VILLA v Darwen 2-0; Accrington S v Sunderland 1-3; Burnley v Stoke 1-3
Third Round
WEST BROMWICH ALBION v Sheff Wed 2-1; Nott'm Forest v PNE 2-1; Wolves v ASTON VILLA 1-3; Sunderland v Stoke 2-2, 4-0
1892 FA Cup Semi Finals
WEST BROMWICH ALBION v Nottingham Forest 1-1, 1-1, 6-2; ASTON VILLA v Sunderland 4-1