1906 FA Cup Final Score: Everton 1 Newcastle United 0
FA Cup Final Venue: Crystal Palace, London
Date: Saturday 21st April 1906
Everton Scorer: Alex Young
Everton Team: Billy Scott, William Balmer, Jack Crelly, Harry Makepeace, Jack Taylor, Walter Abbot, Jack Sharp, Hugh Bolton, Alex Young, Jimmy Settle, Harold Hardman
Newcastle United Team: Jimmy Lawrence, Andy McCombie, Jack Carr, Alex Gardner, Andy Aitken, Peter McWilliam, Jock Rutherford, James Howie, Colin Veitch, Ronald Orr, Bert Gosnell
Referee: Fredrick Kirkham
Attendance: 75,609

1906 FA Cup Final Match Report
Newcastle United had been deprived of the League and Cup double in 1905 by Aston Villa, and in the following year, they reached the FA Cup Final again, only to fail once more, this time to Everton.
The second edition of the 'team of all the talents' had a quality about their football that didn't improve Everton's chances. But the match was a dull one.
The was one outstanding player on the soccer field. On Everton's right-wing, Jack Sharp set up the only goal of the afternoon.
Veteran Jack Taylor passed the ball out to him with fifteen minutes to go when he dashed past Jack Carr, the Newcastle's left-back, and crossed from near the goal line. Alex Young, Everton's Scottish international center-forward, controlled the cross, gliding his neat, low center shot past goalkeeper Jimmy Lawrence.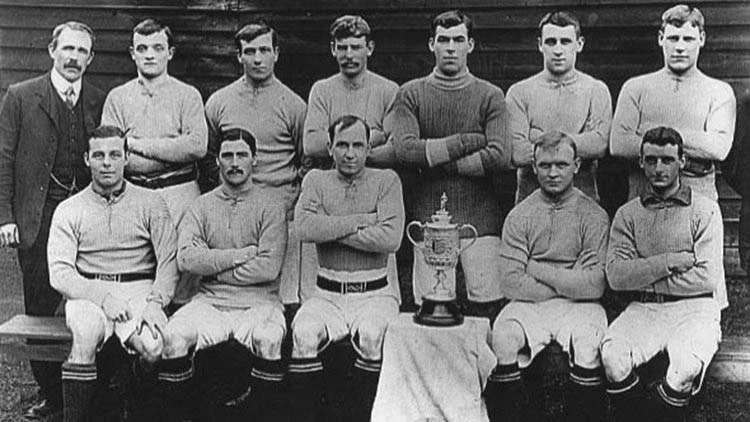 It was third time lucky for Everton, and their good fortune was to catch Newcastle United on their least favorite ground, at Crystal Palace.
The football was no more than a lottery, and the only satisfying feature of the game was that the worst side lost.
It was disappointing enough for Newcastle United, losing finalists for the second year running, but this was nothing compared to the shock of losing at home in the first round the next season – to Crystal Palace of all teams, lying near the foot of the Southern League.
Man Of The Match Jack Sharp
From 1899 to 1910, Jack Sharp played eleven seasons for Everton. He won two caps for his country, as well as played three Test matches for the England cricket team too. When Sharp finished playing, he became Everton's director, a position he held for many years. The sports store he opened in Whitechapel Liverpool survived until the 1980s
He made 300 appearances for the Toffees and scored 68 goals.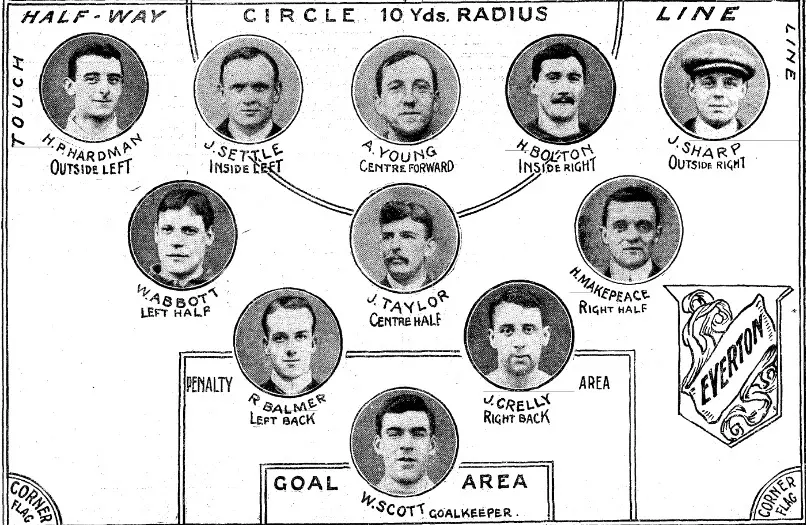 1906 FA Cup Qualifying Rounds
First Round
Woolwich Arsenal v West Ham 1 -1, 3-2; Worcester C v Watford 0-6; Sunderland v Notts County 1 -0; Burslem Port Vale v Gainsborough Trinity 0-3; Manchester United v Staple Hill 7-2; Norwich Citv Tonbridge WR 1-1, 5-0; Aston Villa v King's Lynn 11-0; New Crusaders v Plymouth Arg 3-6; NEWCASTLE UNITED v Grimsby Town 6-0; Derby County v Kettering 4-0; Blackpool v Crystal Palace 1-1,1-1,1-0; Sheffield United v Manchester City 4-1; Spurs v Burnley 2-0; Hull City v Reading 0-1; Birmingham v Preston North End 1 -0; Stoke v Blackburn Rovers 1 -0; EVERTON v West Bromwich Albion 3-1; Clapton 0 v Chesterfield 0-0, 0-3; Bradford City v Barrow 3-2; Bishop Auckland v Wolves 0-3; Sheffield Wednesday v Bristol Rovers 1 -0; Millwall v Burton Wanderers 1-0; Bury v Nottingham Forest 1-1,2-6; Fulham v Queens Park Rangers 1-0; Liverpool v Leicester Fosse 2-1; Crewe Alexander v Barnsley 1-1, 0-4; Brentford v Bristol City 2-1; Lincoln City v Stockport County 4-2; Southampton v Portsmouth 5-1; New Brompton v Northampton 2-1; Middlesbrough v Bolton Wanderers 3-0; Brighton v Swindon 3-0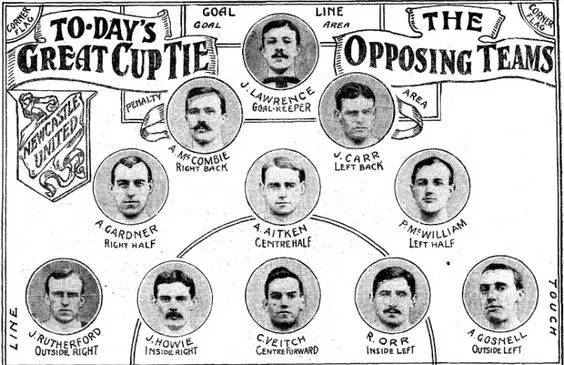 Second Round
Woolwich Arsenal v Watford 3-0; Sunderland v Gainsboro Tr 1 -1,3-0; Man Utd v Norwich C 3-0; Aston Villa v Plymouth Arg 0-0, 5-1; Derby Co v NEWCASTLE UNITED 0-0, 1 -2; Blackpool v Sheff Utd 2-1; Spurs v Reading 3-2; Stoke v Birmingham 0-1; Chesterfield v EVERTON 0-3; Bradford C v Wolves 5-0; Sheff Wed v Millwall 1-1,3-0; Fulham v Nott'm Forest 1-3; Barnsley v Liverpool 0-1; Brentford v Lincoln C 3-0; New Brompton v Southampton 0-0, 0-1; Brighton v Middlesbro 1-1, 1-1, 1-3
Third Round
Woolwich Arsenal v Sunderland 5-0; Manchester United v Aston Villa 5-1; NEWCASTLE UNITED v Blackpool 5-0; Spurs v Birmingham 1-1,0-2; EVERTON v Bradford C 1-0; Sheff Wed v Nott'm Forest 4-1; Liverpool v Brentford 2-0; Southampton v Middlesbro 6-1
Fourth Round
Man Utd v Woolwich Arsenal 2-3; Birmingham v NEWCASTLE UNITED 2-2. 0-3; EVERTON v Sheff Wed 4-3; Liverpool v Southampton 3-0
Semi Finals
Woolwich Arsenal v NEWCASTLE UNITED 0-2; EVERTON v Liverpool 2-0