1910 FA Cup Final Replay Score: Newcastle United 2 Barnsley 0
Initial Result Before Replay: Newcastle United 1 Barnsley 1
Date: Saturday 23rd April 1910. Replay: Thursday 28th April 1910
Venue: Crystal Palace, London. Replay: Goodison Park, Everton
Scorers: Harry Tufnell – Barnsley, Jock Rutherford – Newcastle United
Scorers In Replay: Albert Shepherd (2) – Newcastle United
Newcastle United Team: Jimmy Lawrence, Bill McCracken, Jack Carr, Colin Veitch, Wilf Low, Peter McWilliam, Jock Rutherford, James Howie, Albert Shepherd, Sandy Higgins, George Wilson. (Tony Whitson was injured in the first FA Cup final match, and Carr took his place in the replay)
Barnsley Team: Fred Mearns, Dickie Downs, Harry Ness, Bob Glendenning, Tommy Boyle, George Utley, Wilfred Bartrop, Ernie Gadsby, George Lilycrop, Harry Tufnell, Tom Forman
Referee: J. T. Ibbotson
Attendance: 23/04 – 77,747 28/04 Replay – 69,000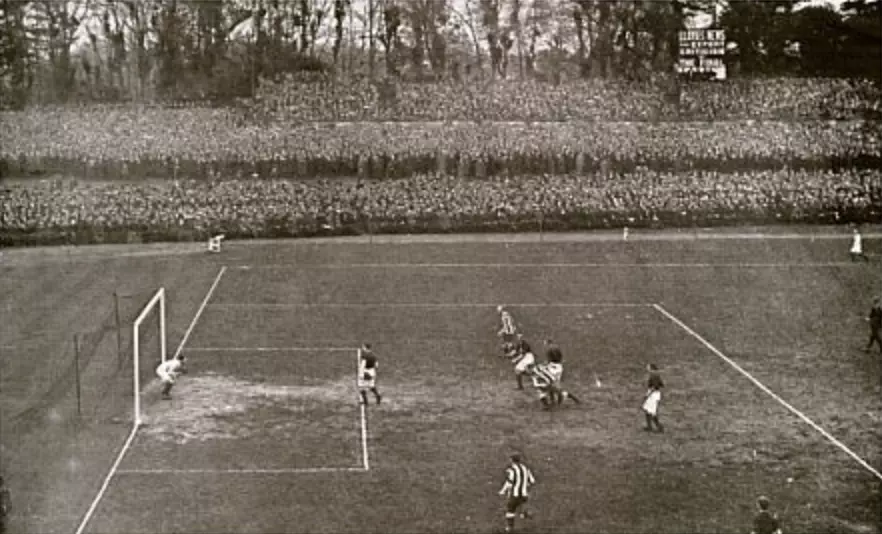 1910 FA Cup Replay Match Report
In their fourth FA Cup Final in six years, Newcastle United faced Barnsley, a Second Division club with all of Yorkshire's dour, fighting qualities.
Yet again, they failed to win at Crystal Palace. However, after a replay at Goodison Park, Everton, the FA Cup was finally taken back to Tyneside.
Barnsley's rush and bustle had overpowered the artistry of the Newcastle stars for long periods in the first encounter. Barnsley had scored in the first half through inside-left Harry Tuffnell, and it was late in the second period when Jock Rutherford forced home the equalizer.
Newcastle United won a hard-fought replay at Goodison Park on merit. They played well from the start, the forwards working better together than they had ever done in London four days before.
It was the form they had often shown in the League championship but seldom managed to reproduce in the FA Cup Final. In truth, they seemed more at home in the North.
Barnsley themselves played a dashing game, full of enterprise and hard kicking. Their defense performed admirably, particularly the full-backs, giving the opposing wingmen little room to maneuver.
Newcastle United mixed their short game with long, sweeping passes, and with the right-wing pair of Jock Rutherford and James Howie in splendid form, they won deservedly with two goals by center-forward Albert Shepherd.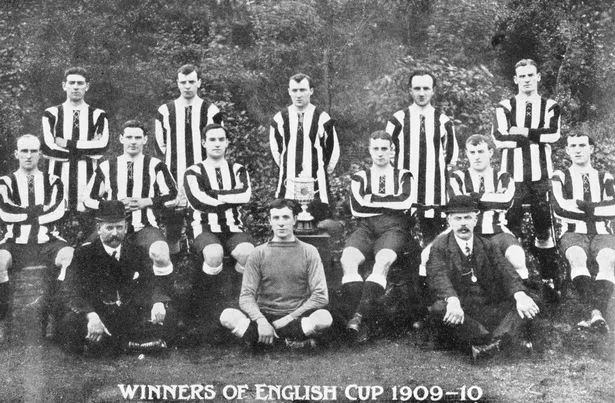 1910 FA Cup Round By Round
First Round
Stoke v NEWCASTLE UTD 1-1,1-2; Chesterfield v Fulham 0-0,1-2; Accrington Stanley v Blackburn Rovers 1-7; Notts County v Bradford City 2-4; Birmingham v Leicester Fosse 1-4; Bury v Glossop 2-1; Leyton v New Brompton 0-0, 2-2, 1 -0; Stockport County v Bolton Wanderers 4-1; Crystal Palace v Swindon 1-3; Burnley v Manchester United 2-0; Plymouth Argyle v Spurs 1-1, 1-7; Chelsea v Hull City 2-1; Workington v Manchester City 1-2; Brighton & Hove Albion v Southampton 0-1; Oldham Athletic v Aston Villa 1-2; Derby County v Millwall Athletic 5-0; Blackpool v BARNSLEY 1-1,0-6; Grimsby Town v Bristol Rovers 0-2; West Bromwich Albion v Clapton Orient 2-0; Bristol City v Liverpool 2-0; Norwich City v Queens Park Rangers 0-0,0-3; Gainsborough Trinity v Southend 1-1,0-1; West Ham v Carlisle United 1-1,5-0; Reading v Wolves 0-5; Everton v Middlesbrough 1-1.5-3; Woolwich Arsenal v Watford 3-1; Sunderland v Leeds City 1-0; Bradford PA v Bishop Auckland 8-0; Preston North End v Coventry 1-2; Portsmouth v Shrewsbury Town 3-0; Nottingham Forest v Sheffield United 3-2; Northampton v Sheffield Wednesday 0-0, 1-0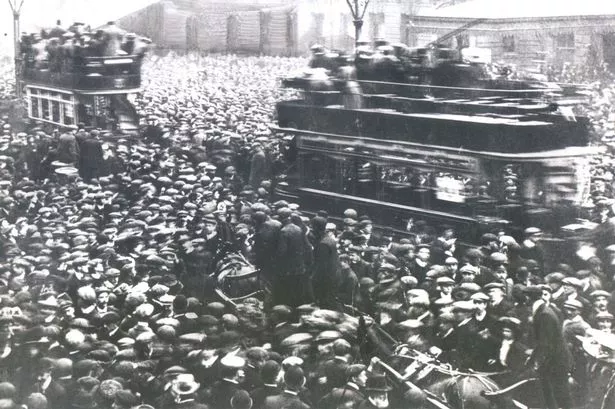 Second Round
NEWCASTLE UTD v Fulham 4-0; Bradford C v Blackburn R 1 -2; Leicester Fosse v Bury 3-2; Stockport v Leyton 0-2; Swindon v Burnley 2-0; Chelsea v Spurs 0-1; Southampton v Man C 0-5; Aston Villa v Derby Co 6-1; Bristol R v BARNSLEY 0-4; Bristol C v WBA 1-1.2-4; Southend v QPR 0-0,2-3; Wolves vW Ham 1 -5; Everton v Woolwich Arsenal 5-0; Sunderland v Bradford PA 3-1; Portsmouth v Coventry 0-1; Northampton v Nott'm Forest 0-0,0-1
NEWCASTLE UTD v Blackburn R 3-1; Leicester Fosse v Leyton 1-0; Swindon v Spurs 3-2; Aston Villa v Man C 1-2; BARNSLEY v West Bromwich Albion 1-0; QPR v WHam 1-1.1-0; Everton v Sunderland 2-0; Coventry v Nott'm Forest 3-1
Fourth Round
NEWCASTLE UTD v Leicester Fosse 3-0; Swindon v Manchester City 2-0; BARNSLEY v QPR 1 -0; Coventry v Everton 0-2
1910 FA Cup Semi-Finals
NEWCASTLE UNITED v Swindon 2-0; BARNSLEY v Everton 0-0, 3-0