A lot more talent was discovered or brought to the world's attention during 1960s football. Due to the tremendous changes in football during the 1950s, the following decades were sure to reap the rewards of the alterations in style, tactics, and appreciation.
During the 1960s football decade, the game began to grow internationally. A sport often exempted from global issues was affected by a broader shift in world culture and a social revolution during this period.
The late 50s brought us the Busby Babes, who were tragically cut short following the Munich Air Disaster, and both Northern Ireland and Wales had impressive showings at the 1958 World Cup.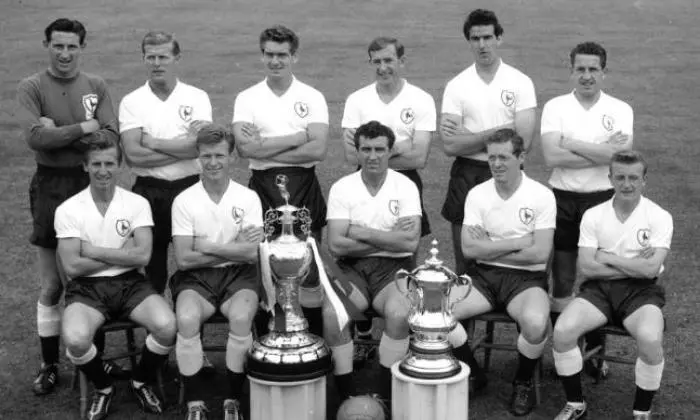 English Football Championships
In the 1960-61 season, Tottenham Hotspur won their first domestic 'double' of this century, the English football league championship and FA Cup. Ray Crawford led Ipswich Town to their first league victory the following season, during which Liverpool regained the top division under Bill Shankly.
Liverpool followed Everton and Manchester United with six league titles in the following three seasons. However, after winning the FA Cup at Wembley for the first time a year earlier, Liverpool Football Club claimed their seventh title with only a squad of fourteen players.
Manchester United gained domestic triumph a year later. Manchester City won the league by just two points from their local rivals in 1968. Don Revie's Leeds United would win the championship in the decade's final season.
Many experts of the time would say that Spurs were the English football team of the 60s decade. Tottenham Hotspur won five major trophies – three FA Cups, one First Division title, and the UEFA Cup Winners' Cup.
| Year | Champions | Runners-Up |
| --- | --- | --- |
| 1960–61 | Tottenham Hotspur | Sheffield Wednesday |
| 1961–62 | Ipswich Town | Burnley |
| 1962–63 | Everton | Tottenham Hotspur |
| 1963–64 | Liverpool | Manchester United |
| 1964–65 | Manchester United | Leeds United |
| 1965–66 | Liverpool | Leeds United |
| 1966–67 | Manchester United | Nottingham Forest |
| 1967–68 | Manchester City | Manchester United |
| 1968–69 | Manchester City | Liverpool |
| 1969–70 | Everton | Leeds United |
Over the last few months, we have asked History Of Soccer readers to vote for their team of the 1960s football era.
Our unique and massive poll caught your imagination as English football fans of all generations have been voting in their thousands, and now we have the results. Most voters were not around in this era, but with the likes of YouTube and the internet, they have been able to select their favorite team.
So here's the 1960s football dream team you selected.
1960s Football Team Of The Decade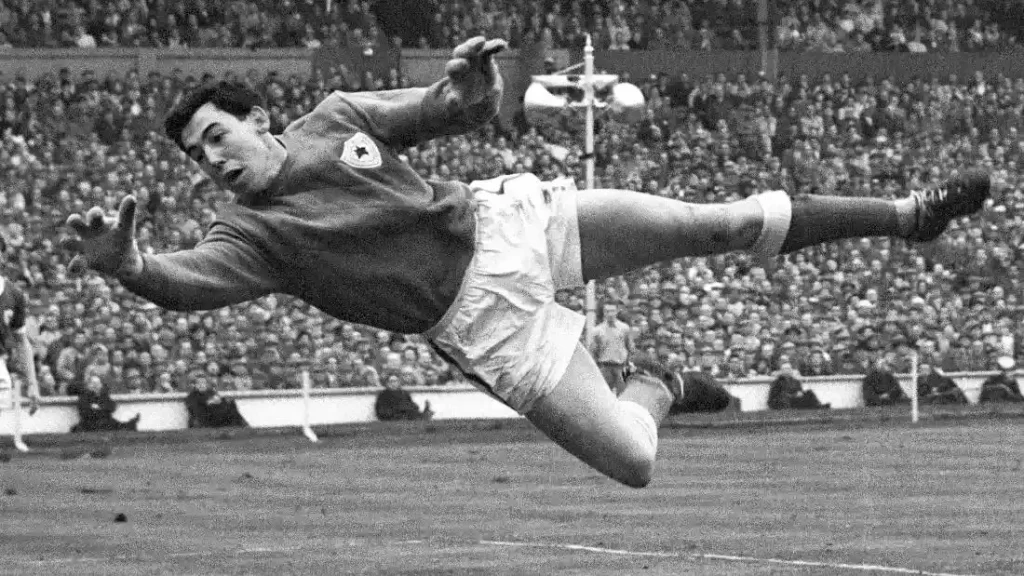 Gordon Banks
A goalkeeping legend, a World Cup winner in 1966, and voted Goalkeeper of the Tournament at the 1970 finals in Mexico, where he produced what has been described as the greatest save of all time to deny Brazil's Pele.
Gordon Banks played in four cup finals for Leicester City in the 1960s, losing the 1961 and 1963 FA Cup finals before winning the 1964 League Cup and finishing as finalists in 1965. After his World Cup victory in 1966, Banks was dropped by Leicester City and sold to Stoke City for £50,000 in April 1967.
1967–68 and 1968–69 were difficult seasons for the Potters, who finished ninth in 1969–70. The club continued to rely on Banks as a goalkeeper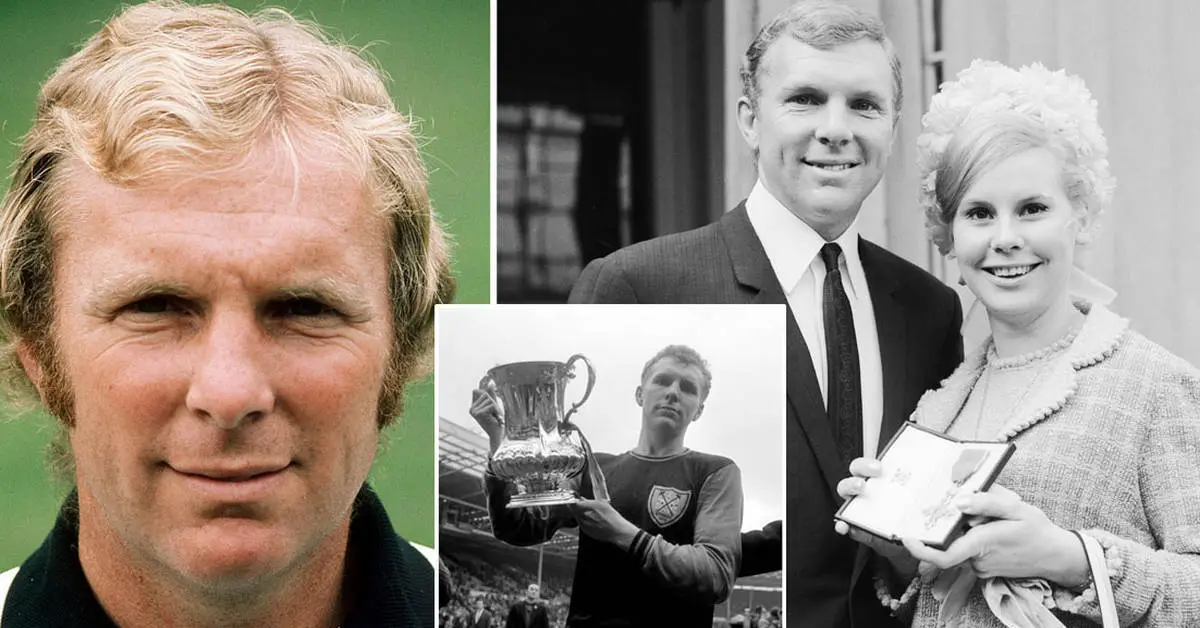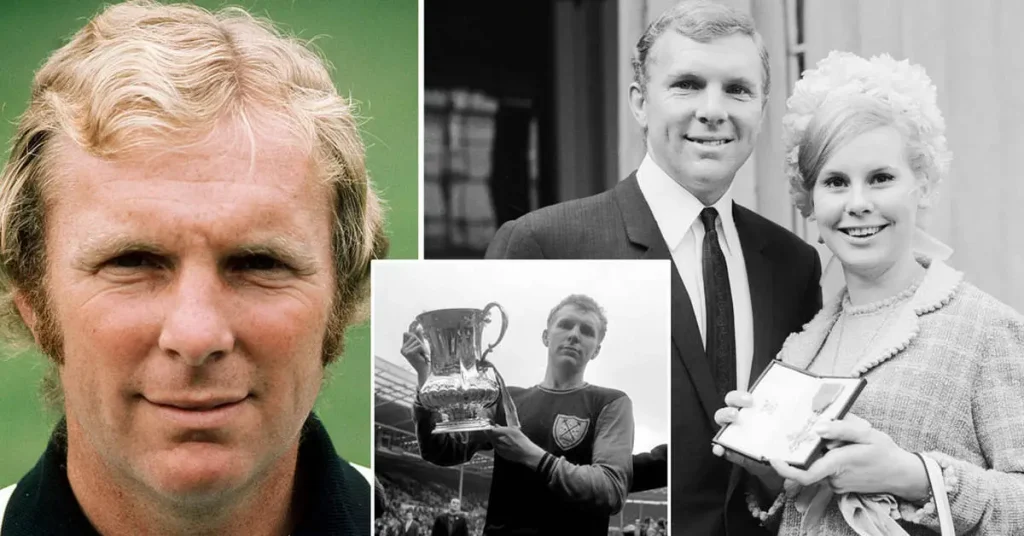 Bobby Moore
One of the finest football players ever to have graced a soccer field anywhere in the world, and not only was he the perfect pro, but he was also the perfect gentleman respected by all. And, of course, the late great Bobby is still the only Englishman to have lifted the World Cup.
In a 16-year career, Moore won the FA Cup in 1963–64 and the UEFA Cup Winners' Cup in 1964–65 and was widely considered West Ham's greatest player. In 1961, 1963, 1968, and 1970, he won the West Ham Player of the Year award and the FWA Footballer of the Year award while at the club.
Jackie Charlton
Brother of Bobby and another key member of that famous class of '66. He was a Championship, Fairs Cup and FA Cup winner with Leeds and a frightening sight for any center-forward. And, incredibly for a center-half, he scored almost 100 career goals.
While at Leeds United from 1950 to 1973, he helped the club win the Second Division title (1963–64), First Division title (1968–69), FA Cup (1972), League Cup (1968), Charity Shield (1969), and Inter-Cities Fairs Cup (1968 and 1971).
Jack Charlton finished second place five times in the First Division in the 1960s football decade, losing two FA Cup finals and one Inter-Cities Fairs Cup final while at Leeds United.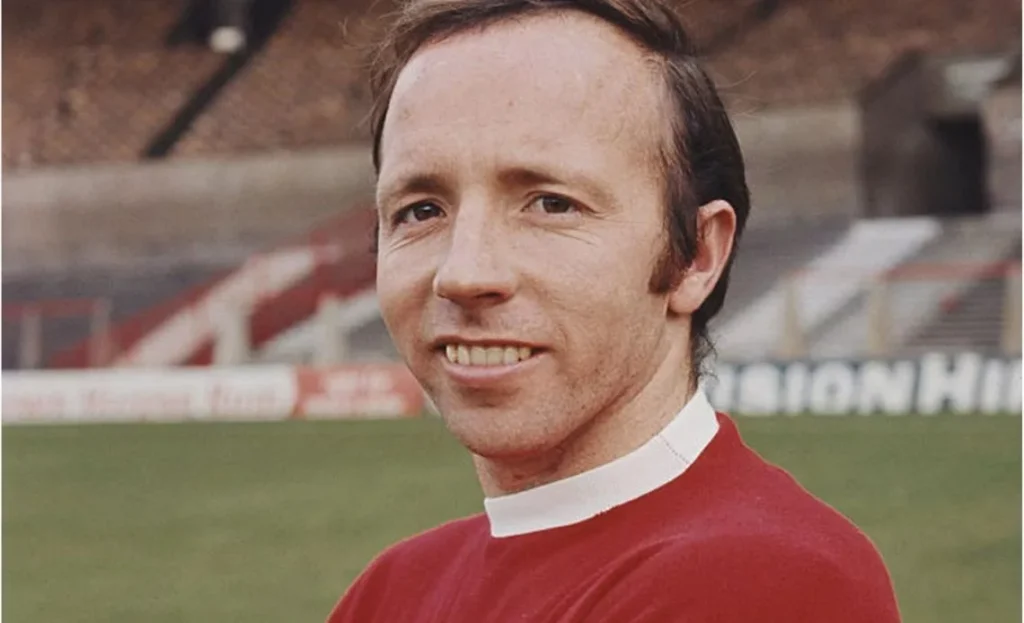 Nobby Stiles
Talking of frightening sights, there weren't any more scary prospects than a 50-50 challenge with good old Nobby, whose toothless grin and merry jig around Wembley after the World Cup triumph is part of English football folklore.
In October 1960, Nobby Stiles made his Manchester United debut at full-back against Bolton Wanderers. Using his simple passing game and fearless ball-winning skills, Stiles quickly became a "holding" midfielder, a type that is now common in top teams.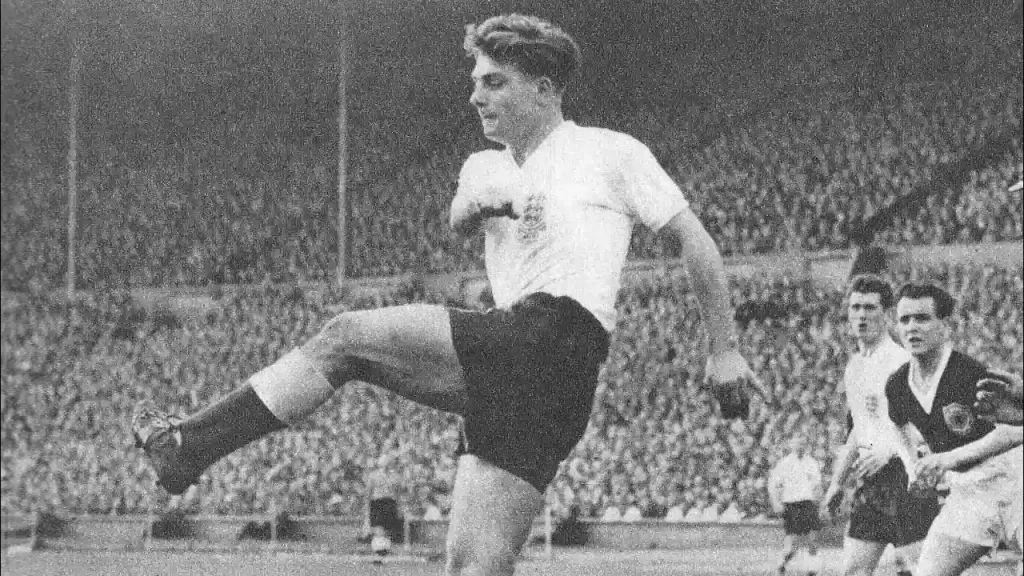 Duncan Edwards
A giant of a young man, Duncan sadly made a total of only 177 first-team appearances and scored just 21 goals before his death at Munich – yet former Manchester United boss Sir Matt Busby rated him as the most 'complete footballer in Britain, possibly the world'.
During his time at Manchester United, Duncan Edwards became the youngest player in the 1960s Football League First Division and the youngest England player since the Second World
War
. Edwards played 18 times for his country.
He was noted as one of the toughest players in history for his physical strength, toughness, and authority on the pitch.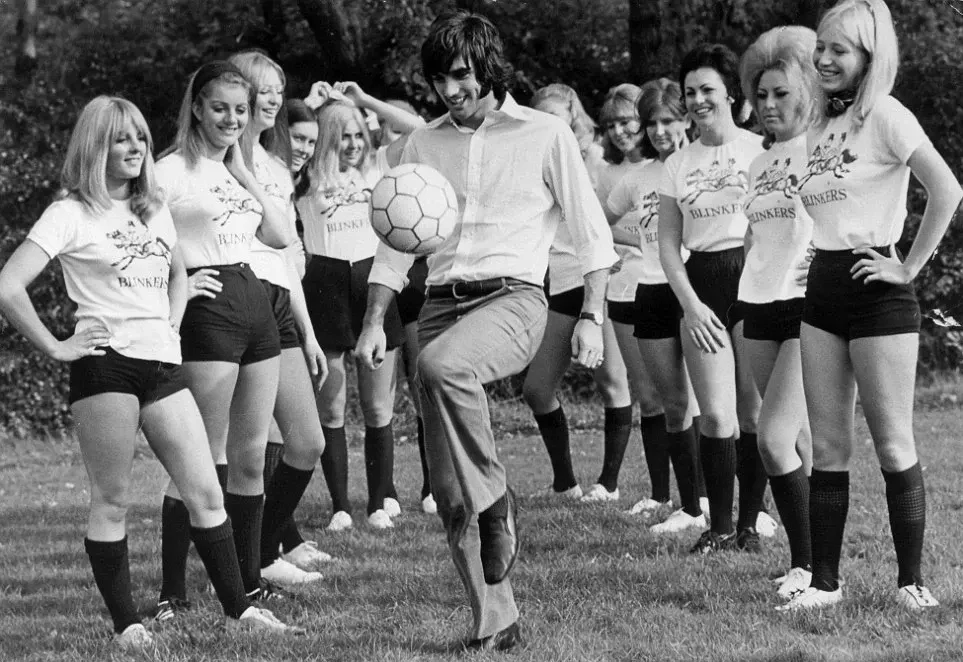 George Best
In the late 1960s and early 1970s, the mercurial Belfast Boy tormented defenders with his dazzling skills. He was widely regarded as one of the greatest players to play the game, helping Manchester United win the European Cup in 1968.
George Best is regarded as one of the best dribblers in history. In 1968, he was named European Footballer of the Year and finished sixth in FIFA's voting for Player of the Century.
Best's playing style caught the attention of critics, which combined pace, skill, balance, feints, two-footedness, goalscoring, and the ability to get past defenders.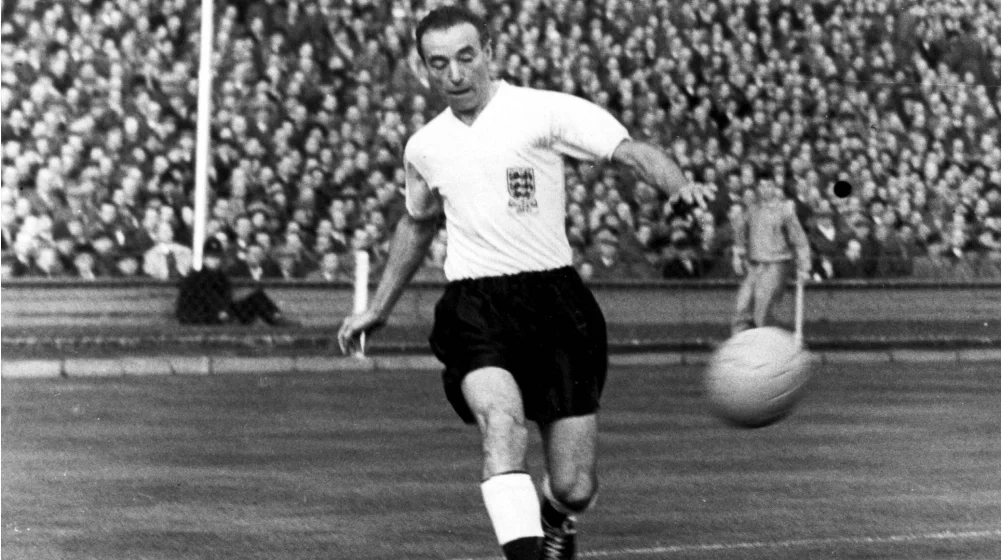 Stanley Matthews
The original wing wizard, Stanley Matthews, graced the game for over thirty years and was voted European Footballer of the Year in 1956. And, of course, he was a famous FA Cup winner (at last!) in 1953. A Blackpool and Stoke legend and an England star who won over 50 caps.
He had nicknames, including "The Wizard of the Dribble" and "The Magician." Even after he was 50 years old, Matthews was capable of playing at the highest level. (50 years and 5 days) He was also the oldest player to play in England's top division.
During his 19 years with Stoke City, Matthews played for the Potters from 1932 to 1947 and 1961 to 1965. Stoke won the Second Division title in 1932-33 and 1962-63 with his help. Although Stan was in the twilight years of this career in the 1960s football supporters, felt he deserved to be in the team of the decade.
His knighthood became a footballer's first of its kind on 1 January 1965. As a tribute to Stan's amazing career, Stoke played a testimonial game.  In addition to Stan's XI, there is an International XI consisting of Ferenc Puskas,
Alfredo Di Stefano
, Josef Masopust, and Lev Yashin. At full time, Puskas and Yashin carried Matthews shoulder-high from the soccer field.

Bobby Charlton
The perfect player for 1960s football. A gentleman with international acclaims, such as Bobby Moore. He went on to win 106 England caps following his Player of the Tournament award at the 1966 World Cup. The image above describes Sir Bobby Charlton's passion for winning the Jules Rimet trophy. A former Manchester United player who later became a director.
When Bobby Charlton retired from the England team in 1970, he had played 106 times at the highest level.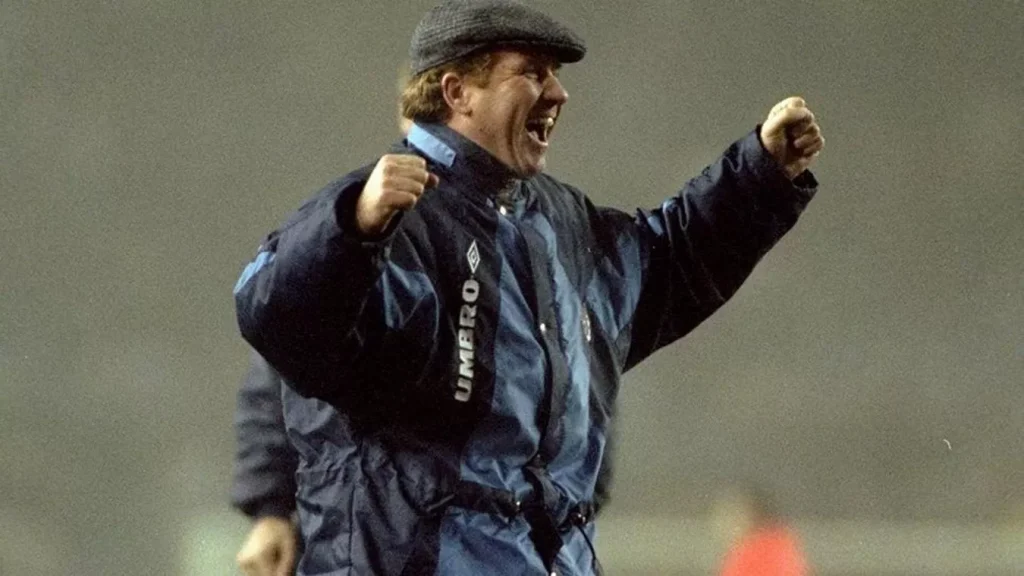 Alan Ball
While it was hat-trick hero Geoff Hurst who claimed the bulk of the headlines after the 1966 triumph, the energy and determination of little Alan Ball are widely recognized as one of the critical factors behind England's success. One of the game's great characters who we lost recently.
On 18 August 1962, at Anfield, he made his English Football League debut against Liverpool in a 2–1 win. He turned professional in May 1962. As Blackpool's youngest League debutant, Alan Ball Jnr. was 17 and 98 days old.
The youngest member of England's 1966 World Cup winning team, Alan Ball played as a midfielder for Blackpool and Everton in the 1960s, scoring over 180 league goals in 22 years.

Jimmy Greaves
One of the greatest goalscorers ever, Jimmy became the first player to score 100 goals before 21. He achieved an incredible 357 goals in 514 matches (mainly for Spurs and Chelsea)! He also scored 44 goals in 57 England appearances.
The decade began with Greaves playing with AC Milan in Italy, but he could not settle there.  He returned to England. As a Tottenham Hotspur player, he won the FA Cup twice in 1961-1962 and 1966-1967, the Charity Shield twice in 1962 and 1967, and the European Cup Winners' Cup in 1962-1963. He never won a league title as a striker, but he helped Spurs to a second-place finish in 1962–63.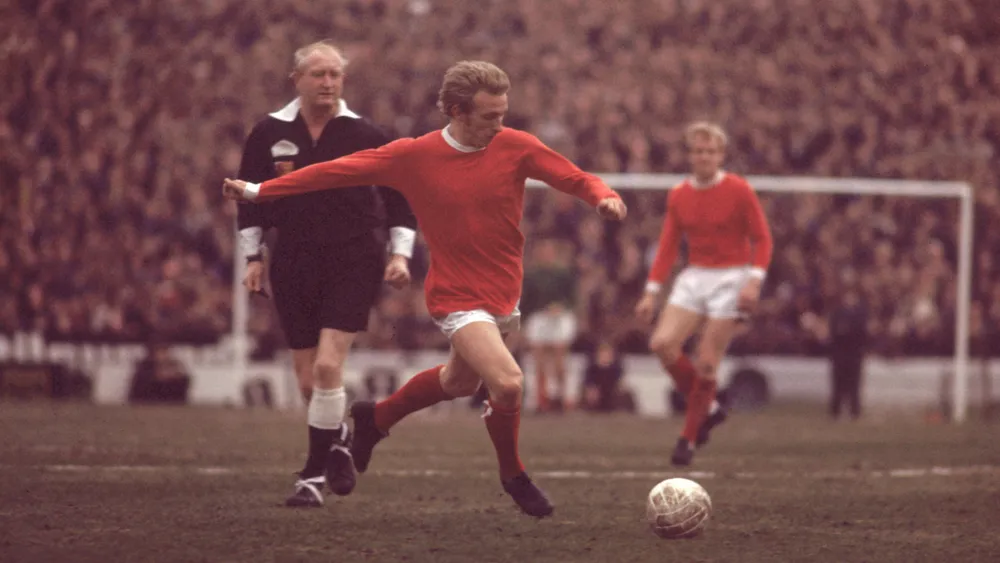 Denis Law
The 'Lawman' had a unique style and a unique goal celebration seen many times. During his 11 years with Manchester United, Denis (who also played for rivals City) made 309 league appearances and scored 168 league goals. He also scored 30 goals in 45 Scotland appearances.
Like Jimmy Greaves, Dennis Law spent the start of the 1960s football decade plying his trade in Italy.  In 1962, Manchester United paid £115,000 for him, a British record.
Law played 404 games for Manchester United over 11 years, scoring 237 goals. Astonishing reflexes and speed caused terror among defenders everywhere he played, earning him the nickname Denis the Menace.
Football In The 1960s Final Words
There you go, folks.  Thanks to everyone who voted for the British 1960s football team of the decade.  If you like this article, then make sure to read Sir Bobby Charlton's best English football team selections. You might be surprised by one of two of his team selections.