It may be an individual award, but football clubs and their respective fans take great pride in a player plying their trade at the club they support winning a Ballon d'Or. You can also check out our list of the countries with the most Ballon d'Or winning players!
Here's a list of the five clubs with the most Ballon D'or wins:
1. Real Madrid- 12 Ballon d'Or's – 8 Unique Winners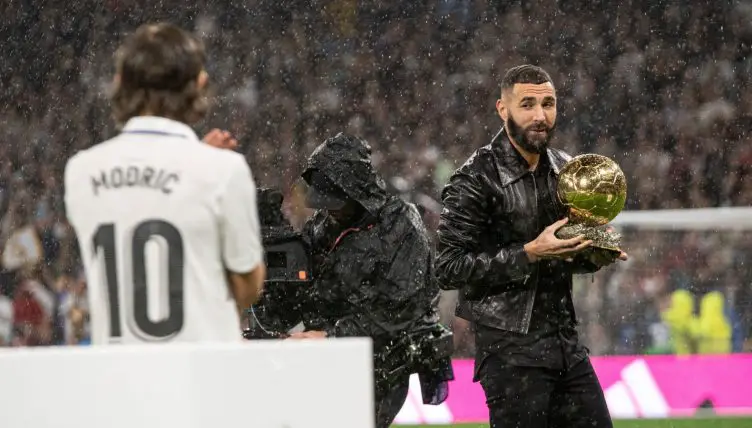 Madrid edges out Barcelona as the club with the most Ballon d'Or winners, with Madrid owing 4 in 5 years to Cristiano Ronaldo (2013, 2014, 2016, 2017).
However, surprisingly it's only over the last 4 years they equalled Barcelona, as there was a 41-year gap between 1959 and 2000 without a Madrid player winning a Ballon d'Or.
Just a year after the award's inception, Madrid recorded 3 in a row. Di Stefano winning in 1957 and 1959, with Raymond Kopa sandwiched between, winning in 58'.
The Ronaldo dynasty helped hugely but wins from Luis Figo (2000), The Brazilian Ronaldo Nazario (2002), Fabio Cannavaro (2006) and recently Modric (2018) and Karim Benzema in the last years (2022) have levelled the score with Barcelona after Messi helped Barce build a lead on them.
2. Barcelona 12 Ballon d'Or's – 6 Unique Winners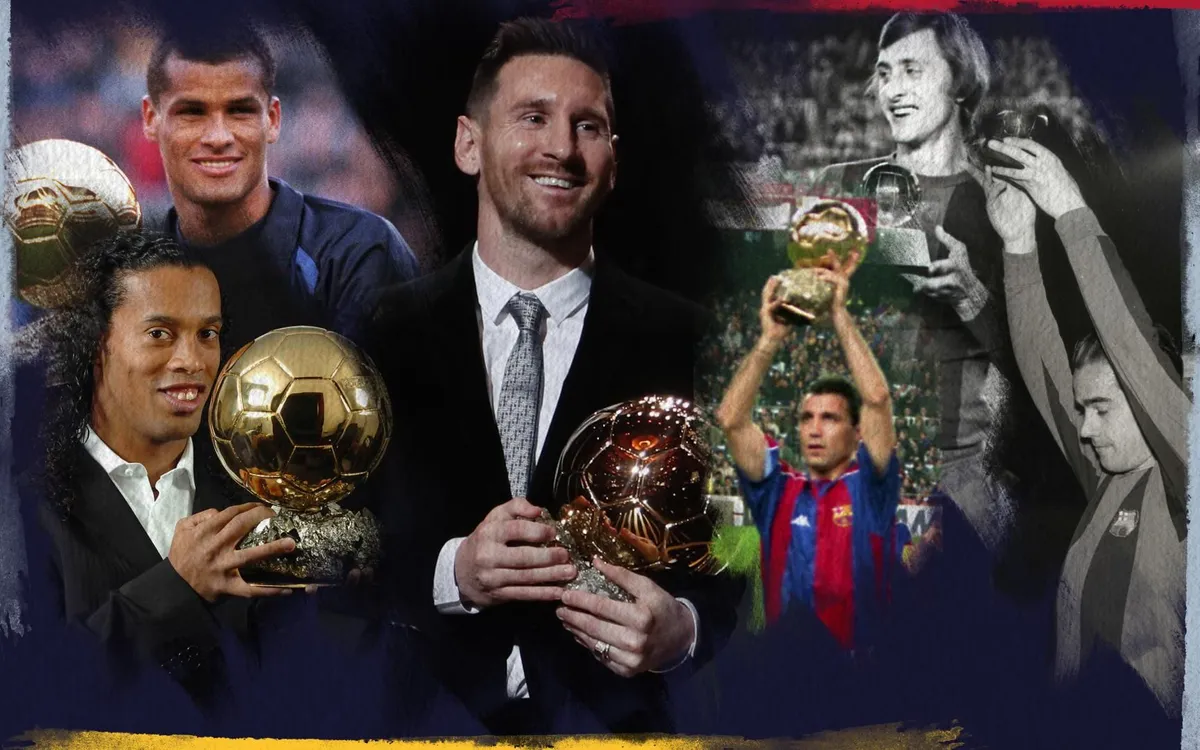 Unsurprisingly Messi's 7 Ballon d'Ors make all the difference, but 1 was awarded whilst he was playing for Paris Saint Germain in 2021, even if he started the calendar year at Barca.
There's an argument Barcelona has an extra one, but it was awarded while at PSG. For the sake of consistency, I'm going to have to consider that as PSG's one and only Ballon d'Or win, even if his performances at PSG were not behind his triumph.
Barca's first was won in 1960, by Spain's only Ballon d'Or winner, Luis Suarez. Cruyff would win two in a row while playing for the Catalan side, winning in 1973 and 1974. A 20-year wait followed before Hristo Stoichkov (1994) became the only Bulgarian to win the award, before Rivaldo won in 1999, to put Barcelona 5-3 up vs Real Madrid in Ballon d'Or winners.
Ronaldinho was the final Barcelona player to win before the Messi vs Ronaldo dichotomy, as we took home the golden ball in 2005, but soon came the era of Messi, as he won 4 in a row from 2009-2012, taking 2 more in 2015 and 2019 respectively.
3. Milan- 8 Ballon d'Or's – 6 Unique Winners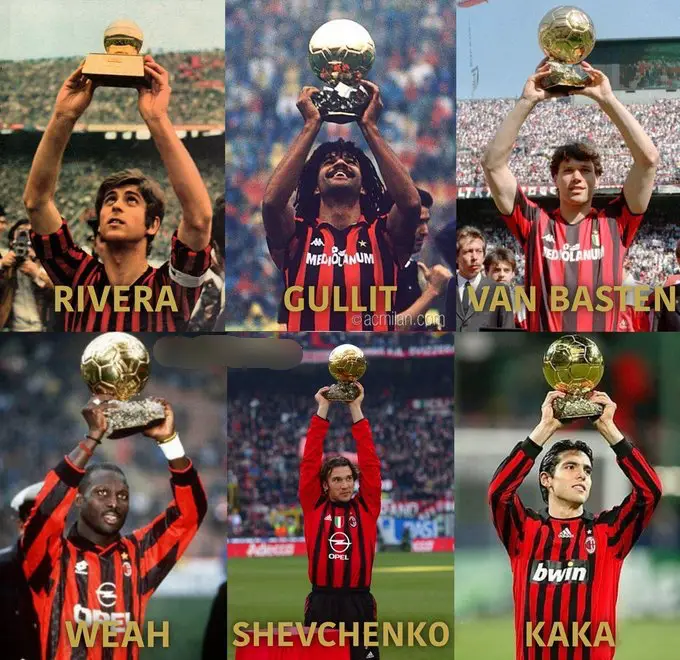 Italy was graced with a golden era in the 80s and 90s in which a variety of teams were both competitive and possessed truly world-class talent.
Milan's first player to win came as America landed on the moon, as Gianni Rivera crowned Europe's best player in 1969.
Milan then had to wait 18 years, but patience would be well rewarded, as 3 in a row came home to Milan. Ruud Gullit winning the first (1987) before Van Basten held it two years in a row in 1988 and 1989.
'The Swan of Utrecht' would add a third to his collection in 1992, before retiring.
Just 3 years later, another Milan player was crowned, as they recorded a 5th win in 8 years, as Liberian George Weah became the first African player to take home the trophy. He still remains the only African player to win the Ballon d'Or.
Their most recent victor was Kaka, who would win in 2007, the last year of a Ronaldo and Messi-free Ballon d'Or podium. Kaka would later state he was the last player "Born on planet Earth to win the Ballon d'Or" in reference to the Ronaldo-Messi duopoly that followed in 2007.
4. Juventus – 8 Ballon d'Or's – 6 Unique Winners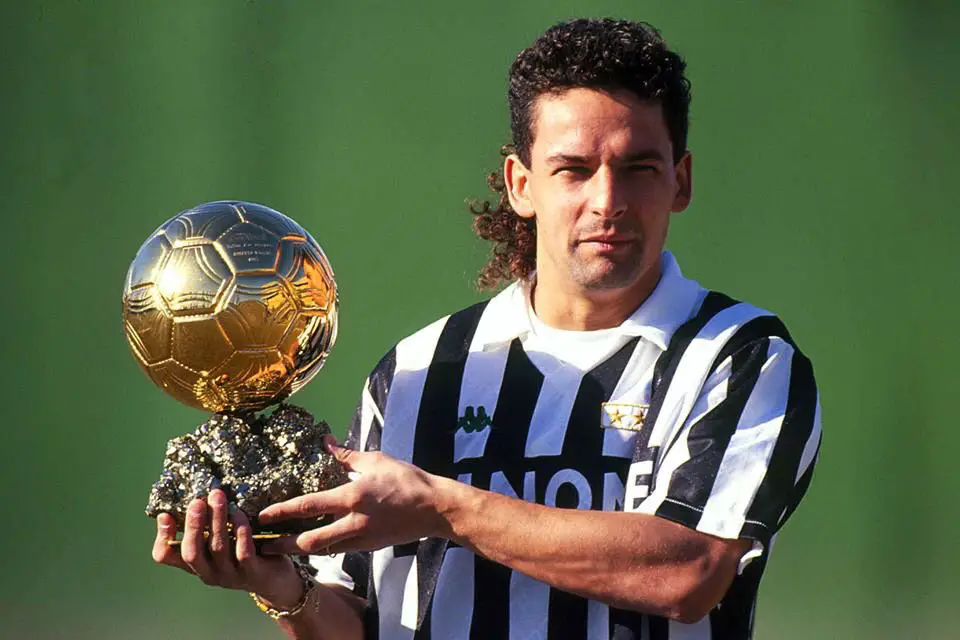 Like Milan, Juventus found a lot of Ballon d'Or success in the '80s, taking the reins from 1982-1985.  
Their first, however, came in 1961 with Argentine-born Omar Sivori. It wasn't until 1982 that a player under their employment won it again, but it brought forth 4 in a row. Paulo Rossi opened a quadruple before Michel Platini became the first 3-time winner; doing it in some style, winning 3 on the bounce and taking it home in 1983, 1984 and 1985.
The 'Divine Ponytail' was next in 1993, before Zidane's World Cup master class helped him to his first and only Ballon d'Or in 1998.
Pavel Nedved was the most recent winner, surprising many including himself in 2003. He'd be quoted on receiving the award as saying –  "I am very happy. I did not think I would beat Thierry Henry, Paolo Maldini or Zinedine Zidane and if I had voted I would have voted for Thierry and for the other players on the podium."
5. Bayern Munich- 5 Ballon d'Or's – 3 Unique Winners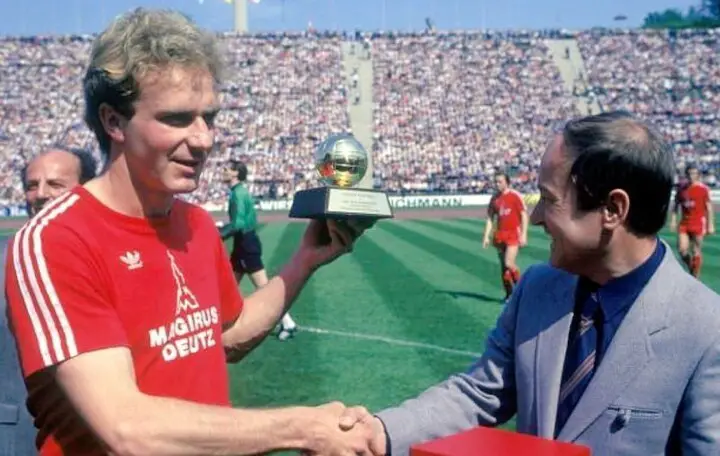 Finally, Bayern Munich has recorded 5 wins by 3 separate players in their history. The first was the prolific Gerd Müller, who'd become the first German to win the award. He preceded Franz Beckenbauer, the first defender to win the award, in 1972. Franz would become the first and still only defender to win the award twice just 4 years later.
Bayern's Ballon d'Or continued, with 2 more, this time for Karl-Heinz Rummenigge, wrapping up an impressive 5 winners in 11 years. In this period, the German league would prove particularly strong, as overall the Bundesliga would host 8 winners between 1970 and 1981, before the start of the Italian reign.
Since 1981, Bayern Munich hasn't had a player win a Ballon d'Or, though Robert Lewandowski is thought by many to be deserving of the award in the cancelled 2020 Ballon d'Or and in 2021.