In the realm of football management, certain figures stand out as revolutionaries. Pioneers who not only change the sport for good through their success and innovation but through the exquisite football they play.
With an unwavering commitment to attractive, attacking football, Zalgallo's football made a statement that swept across the sport. Football was art, and the price for playing such football needn't be results.  His mantra profoundly impacting the game, inspiring generations of talent around the furthest reaches of the Earth.
He was the first person to win the World Cup as a player and manager.
Early Life and Career
Zalgallo was Brazillian born and bred, and like any Brazillian child of the 30s and 40s was football mad even by Brazillian standards. A tough ask in a country where football is practically a way of life.
 Unlike others, however, Zalgallo took note of the tactical intricacies of football. No this is not the story of a player that was always more intent on managing, Zalgallo always dreamed of playing like any other Brazillian boy. However, even from a young age, he would demonstrate a keen interest in positioning and team play.
As a player, he was always hard-working. A diminutive Winger he was known for both his technical ability and high defensive work rate. He understood the importance of a winger's defensive duties, quickly winning the ball back and making late attacking runs from deep in order to create space in the final third.
In his youth, he was a soldier. The legendary manager once stood guard at the Maracana stadium during the 1950 World Cup.
This military background would form the basis of a work ethic that would earn him the nickname "The Little Ant" during his time as a coach.
As he stood outside he would surely dream of playing football for his country and bringing the trophy home to Brazil.
8 years later, he would appear at his first World Cup for Brazil, but before we get ahead of ourselves, he'd sign for Flamengo from America-RJ's youth setup and quickly broke into the first team. 
Between 1951-1958 he'd make 99 appearances and score 11, but most importantly,  proved himself enough to earn a call-up for the 1958 World Cup. This was the very same World Cup that a 17-year-old Pele was introduced to the world.
In truth, Brazil's 1958 squad were a much higher ability than anyone else in the competition, each game offering relatively little challenge, save for a 0-0 draw with England in the group stage, and a narrow 1-0 win over Wales of all sides in the first knockout round.
But… this isn't about Brazil, and as good as Pele was, Zalgallo had played his part, even scoring in the final, a 5-2 victory over Sweden.
In 1962, he and Brazil would do it again, this time though being tested a lot more en route to their 2nd Word Cup in a row.
Zalgallo himself by now had signed for Botafogo, and having established himself as a skillful winger, his playing days are unfairly rarely considered in the same breaths as Garrincha or Rivellino. Zalgallo was not just a player that excelled in the mental side of the game.
With Two World Cup winner's medals, he'd had a career that could top almost any footballer in history. Having achieved so much, he'd retire 3 years after the 1962 World Cup, aged 34, quickly finding himself head coach of Botafogo.
Tactical Philosophy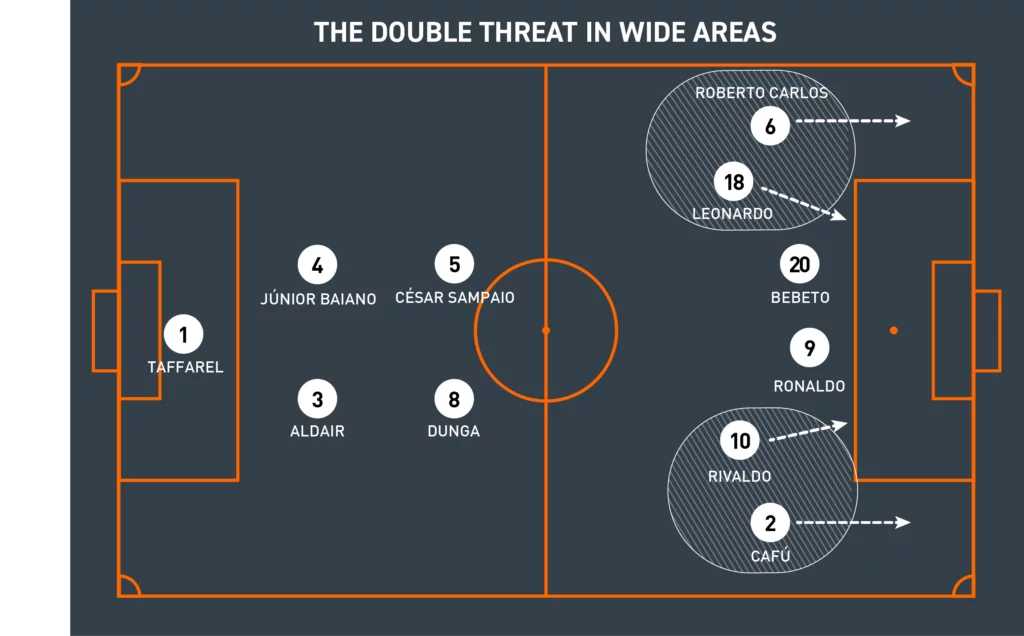 Zalgallo's tactical philosophy was centred around attractive and attacking football, often referred to as "Jogo Bonito" or the beautiful game in Brazil. He believes that football should be a spectacle, not just a competition, and his teams have always reflected this ideology on the pitch. 
His style of play is characterized by fluid passing, quick transitions, fullbacks pushing up to create overloads and an emphasis on technical ability. Zalgallo's teams are characterised by flair, breathtaking skills, and mesmerizing goal-scoring displays.
When Zagallo's tactics were working, every player on the pitch would have a chance to shine, each individual enjoying playing football.
That famous Carlos Alberto goal for Brazil in the 1970 World Cup was the very pinnacle of his playstyle. A beautiful, rapid move, finished by a full-bak galloping up the field and striking it home.
He quickly proved his managerial ability, coaching his team to a National Championship (The Campeonato Brasileiro) and 2 state championships, earning himself the Brazil national team job.
National Team Coach of Brazil and… Kuwait
Zalgallo was the mastermind behind football's most famous World Cup performance, with the legendary 1970s Brazil team taking the tournament by force and doing so playing football in a way never seen before.
This was all while being the second youngest coach ever to win a World Cup.
He boasted a 67% win rate in his first stint as Brazil coach, between 1970 and 1974, before going back to club football following a World Cup semi-final defeat to Johan Cruyff's Netherlands in 1974.
During this time, he was still managing club sides. Having left Botafogo, he'd take charge of Fluminese, taking them to a Rio de Janeiro State Championship. 
Then, he'd jump ship to fierce rivals Flamengo, with which he'd spent so much of his playing career at, beating Fluminese to win a state championship in 1972, with a Flamengo side featuring a young Zico.
But, after 1974, his career took a strange turn, as he became embroiled in the managerial wilderness that so many great managers can find themselves in. After a brief stint at Botafogo, he'd find himself the Kuwait national side manager, a role that lasted 2, probably quite long years.
In just the span of One World Cup, he'd gone from the Semi-finals with Brazil, having taken the side to a famous victory Four years before, to managing Kuwait… My word, the dip in player quality would have been jarring.
He would, however, do quite well there. Reaching the Asian Cup final in 1976,  and boasting a 58% win rate, he certainly did a good job. 
This good job was rewarded, with another short stint at Botafogo which went well enough but only spanned 29 games, with Botafogo winning 15 of them.
Surely more than good enough for a step up again, Zalgallo took to the prestigious reaches of… Al-Hilal? He would again, do a good job, despite seeming a bit too big for the job again, winning the Saudi Pro League, before leaving after a year.
A season at Vasco de Gama followed, with a 51% win rate that continued to represent a pattern of just falling short of winning anything significant in Brazillian club football.
By now, you might have picked up on a bit of a recurring theme. A good season in Brazil, a strange job in the middle-East, then back to Botafogo. Sure enough, Zagallo was appointed Saudi Arabia's national team coach, on February 1981. He'd stayed at Vasco De Gama to finish the season, before resigning to focus on his national side duties.
Fading into Obscurity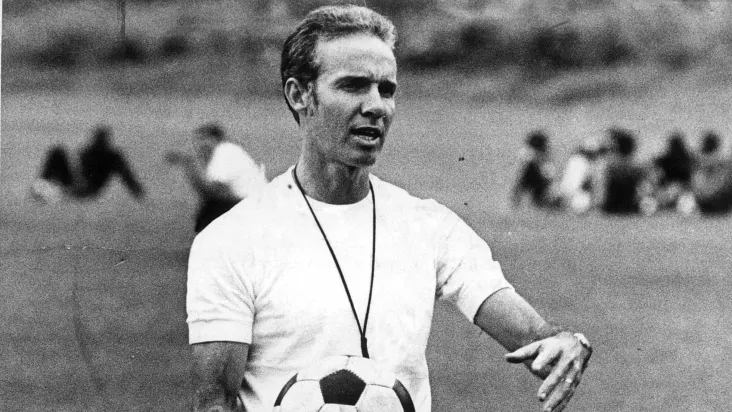 This time, even he couldn't elevate the Saudis. After 2 years, the highlight of his time was there qualification for the Asian Cup (which given an almost 30-year absence from a tournament was a significant achievement).
But, once again Zalgallo left, and this time in a deviation from the norm, moved back to Brazil. Where he managed former club Flamengo… Before once again returning to Botafogo the next season…
Zalgallo's Flamengo season was wrought with the difficulty of an ageing, once superstar squad, with Zico having just left for Udinese, Zalgallo's task was difficult, but he kept them competitive.
Botafogo on the other hand, would not be such a happy story. The side drifted to a miserly 39th in the Série A, resulting in the worst win rate of his career so far, at 31%.
Things then took an even worse turn, a season at Bangu, just 3 years after they finished runners-up in the national championships, Zagallo failing to keep them up, as they were relegated to the Série B.
Things at this point seem to have really taken a turn for the worst in Zalgallo's career.
Two disastrous spells at both Vasco De Gama and the United Arab Emirates followed before he was picked up by Brazil again.
Wait… Brazil?
In 1991, Zagallo became the Brazilian national team's assistant manager
Working alongside, Carlos Alberto Parreira they'd deliver World Cup glory to Brazil yet again. Zalgallo had still played a role in every World Cup Brazil had won. Parreira subsequently resigned, and Zalgallo was poised to take his place.
Head honcho once again, only 3 years after those 2 stints at Vasco De Gama and the national team of UAE, where he managed just 12 wins in 70 games combined, he was the Brazillian national team manager again.
His job was to prepare his side for the 1998 French World Cup, and he would surprise everyone, as he masterminded 55 wins out of 74, which is the best record for a manager in the Brazillian team's history.
Despite this, during his appointment, many Brazilians would question his coaching, many going as far as to boo and call for his head after a loss to Argentina.
The 1998 World Cup sadly culminated in a now infamous World Cup Final that was shrouded in mystery following Ronaldo Nazario having a fit and being withdrawn, and then re-instated to the team sheet.
Before the World Cup, Zalgallo appeared to have abandoned his marriage to beautiful football, his time spent in football's wilderness and failing to find results teaching him ideology is only worthwhile if it wins you football matches. 
He would go on record to say – "I would rather win playing ugly football than lose playing attractive football. Efficiency in football is based on victories. Everyone wants to win, and I'm no different."
He'd lose the final, 3-0 and was subsequently sacked.
In his usual cycle, he'd wind up back at Flamengo, after a season with Associação Portuguesa. He'd bow out of management by winning a state championship with Flamengo. 
Zalgallo will forever be remembered as one of the greatest managers of all time. Perhaps most impressive is the fact that his coaching transcended eras, as he was still competitive and relatively 30 years after that 1970 Brazil triumph.