For soccer fans, the countdown to the Qatar World Cup has already begun. Seeing the world's best soccer players live is always exciting, and that's why we cannot wait to accompany our guests to Qatar while watching the next FIFA World Cup.  To get you up to speed, we have compiled a list of World Cup facts to make you the smartest person at the next party you attend.
Below you will find 215 FIFA World Cup fun facts!  To make it easier, we have categorized them into sections.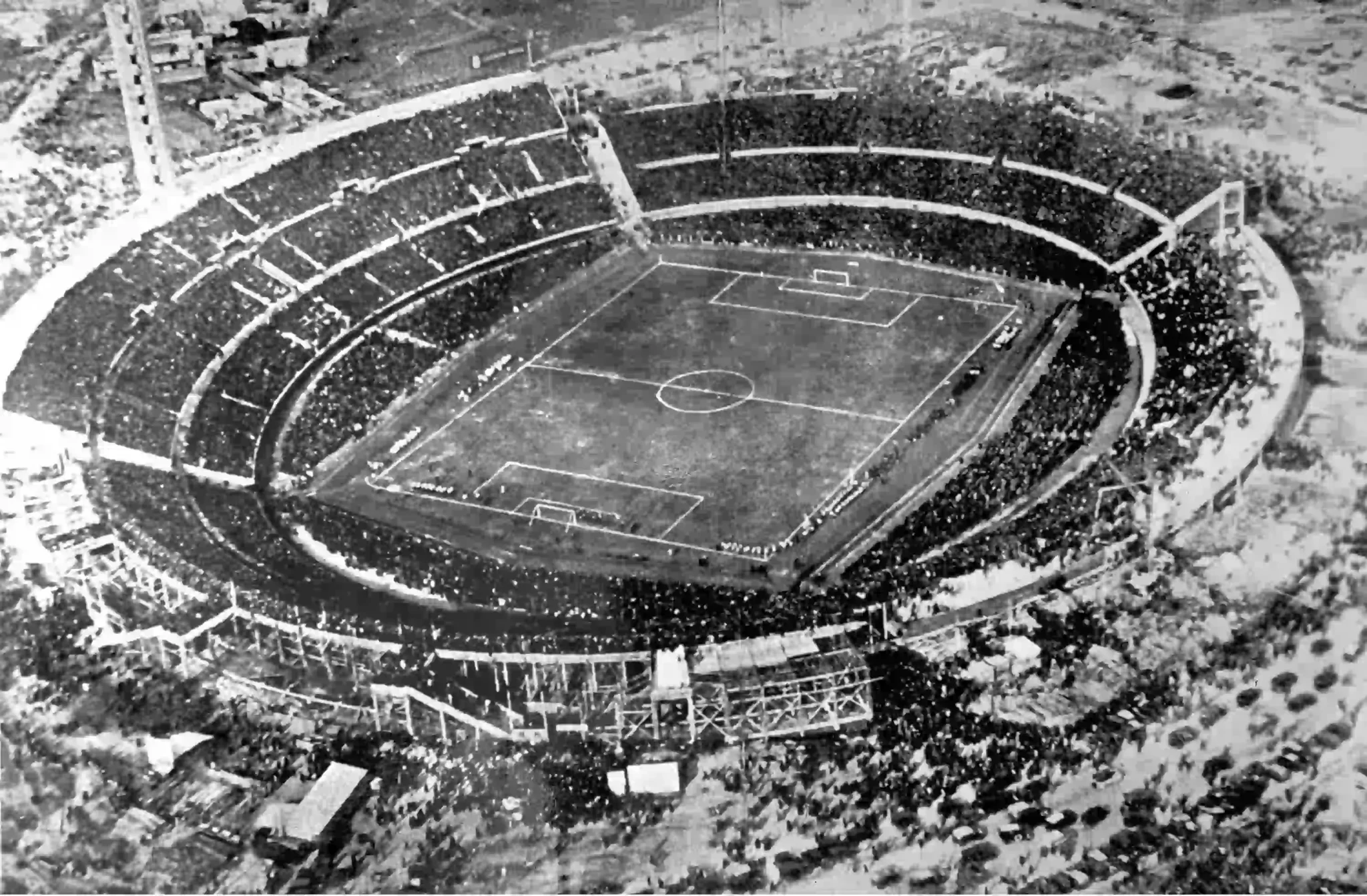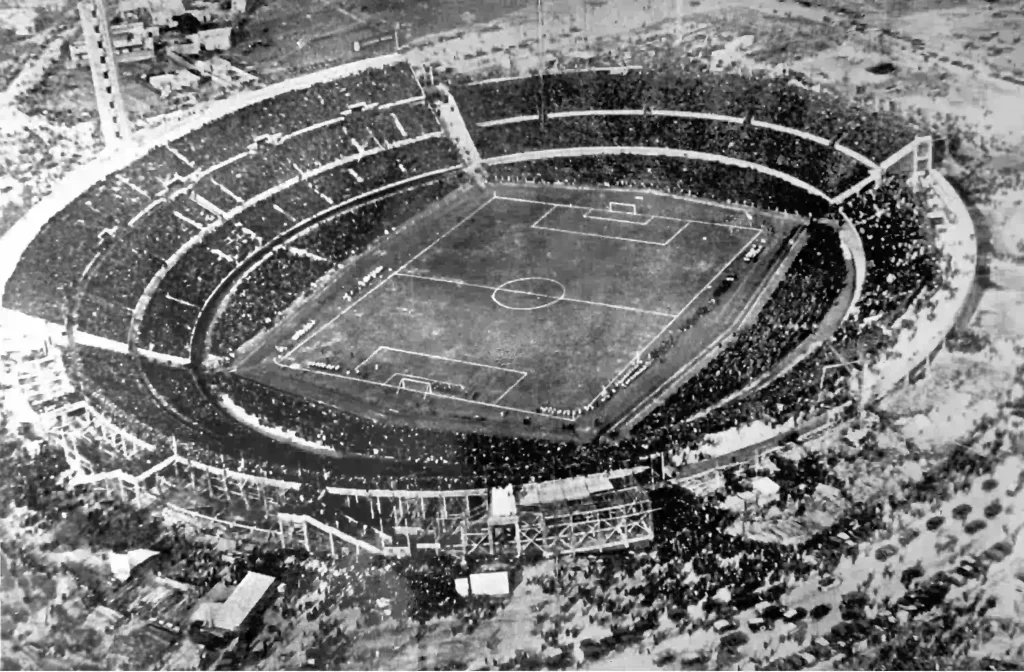 1930 World Cup Facts
The successful football tournaments at the Olympic Games in 1924 and 1928 were a prime factor in persuading FIFA to launch the FIFA World Cup in 1930. [1]
A USA physio treated an injured player on the pitch in 1930. He had a bottle of chloroform in his pocket, which he landed on before losing his footing. A stretcher was used to transport both the physiotherapist and the player once he was conscious.
In 1930, Yugoslavia started its FIFA World Cup game with the youngest starting line-up ever. Players averaged 21 years and 258 days old.
Despite being neighbors, the Argentine and Uruguayan football associations used different balls. There was a heated debate about which should be used in the 1930 FIFA World Cup final. The Belgian referee Jean Langenus decided to use the lighter Argentine ball in the first half and the heavier Uruguayan ball in the second half.
Juan Jose Tramutola, the youngest coach for a World Cup team, was 27 years and 267 days old when Argentina played France in 1930.
The first FIFA World Cup was held in three stadiums − including the purpose-built Centenario − in Montevideo, Uruguay, in 1930. [2]
On 13th July 1930, the first World Cup match took place. Montevideo, Uruguay, was the venue for France's match against Mexico. It was a 4-1 victory for France.
During the 1930 World Cup tournament, USA goalkeeper Jimmy Douglas kept the first clean sheet. They beat Belgium 3-0 on 13th July 1930.
In the 1930 tournament, Peru's Placido Galindo was the first-ever player to be expelled from a World Cup match. He was removed after 70 minutes in their game versus Romania.
An interesting World Cup fact is Manuel Rosas of Mexico has the record for converting the first-ever penalty shot on 17th June 1930.
The Romania-Peru match took place at Estadio Pocitos in Montevideo, Uruguay, on 14 July 1930, with only 300 people in attendance.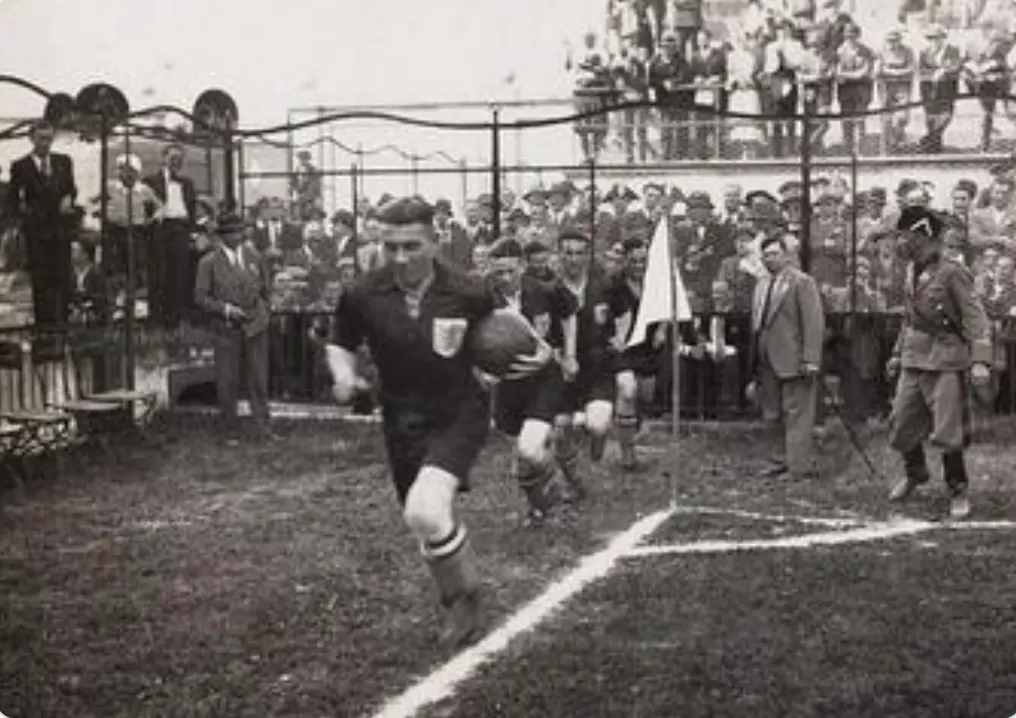 1934 World Cup Facts
In 1934, even the host nation had to qualify for the finals. Italy came through against Greece with flying colors and eventually won the first of their three World Cup titles.
The first World Cup extra-time match was on 27th May 1934. Austria beat France 3-2 after extra time in a round of 16 knockout match.
Swede Ivan Eklind became the youngest-ever referee in two World Cup tournaments. He was 28 at the 1934 World Cup and 32 years old at the 1938 tournament.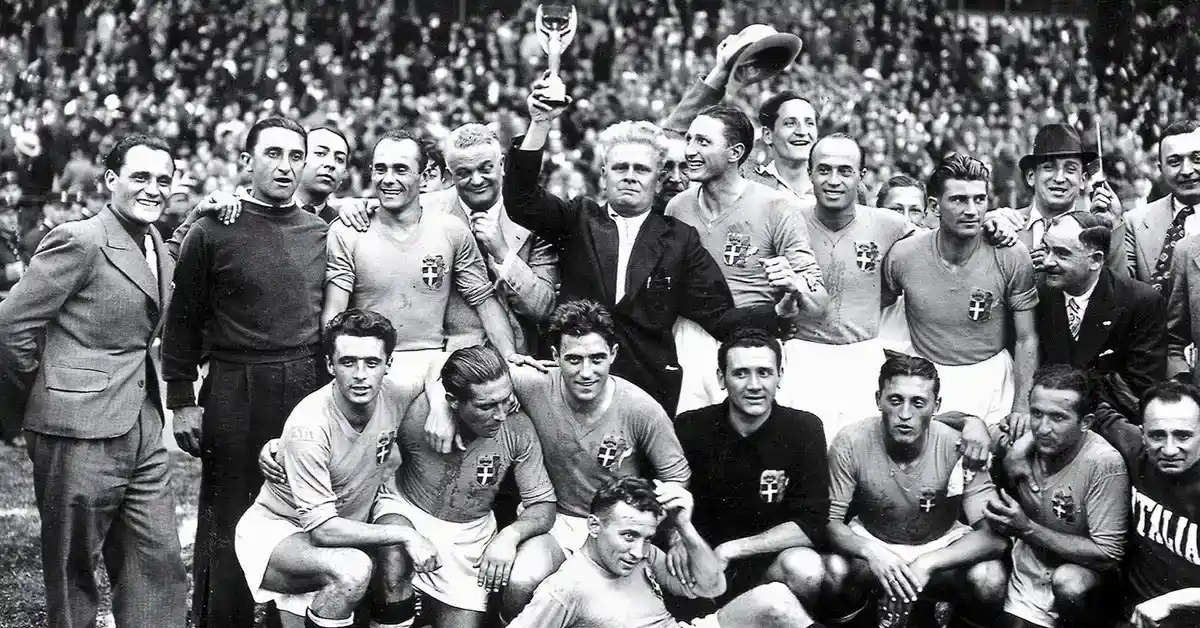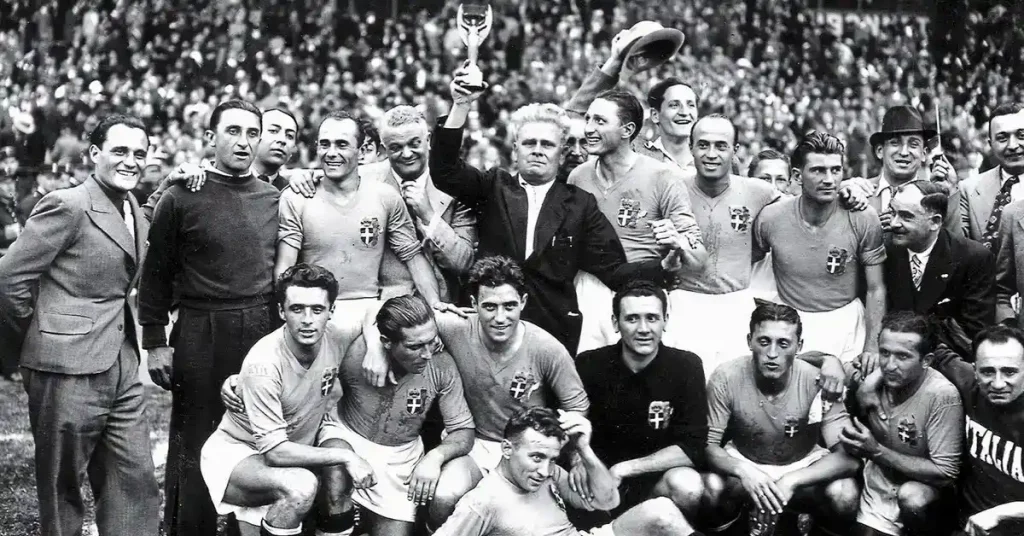 1938 World Cup Facts
The most exotic team ever to play in the World Cup was the Dutch East Indies, who featured in France in 1938 without having to play in the preliminary competition. The first country to represent the Asian confederation, they were eliminated after just one game, a 6-0 thrashing at the hands of Hungary.
Ernest Wilimowski's four goals for Poland in 1938 were not enough to beat Brazil, for whom Leonidas struck three times in a 6-5 win.
Giuseppe Meazza's penalty is one of the most interesting World Cup facts. A penalty kick opportunity presented itself to him against Brazil in 1938. His shorts fell while he was about to do so. Even with this malfunction, he managed to make the goal, beating the laughing goalkeeper. Italy reached the finals as a result of this goal.
A team has twice scored five goals in a game and still failed to win. In 1938, Poland went down 6-5 to Brazil after the match had finished 4-4 at the end of normal time.[3]
Many hat tricks are associated with great matches and great players. Ernest Wilimowski's four goals for Poland in 1938 were not enough to beat Brazil, for whom Leonidas struck three times in a 6-5 win.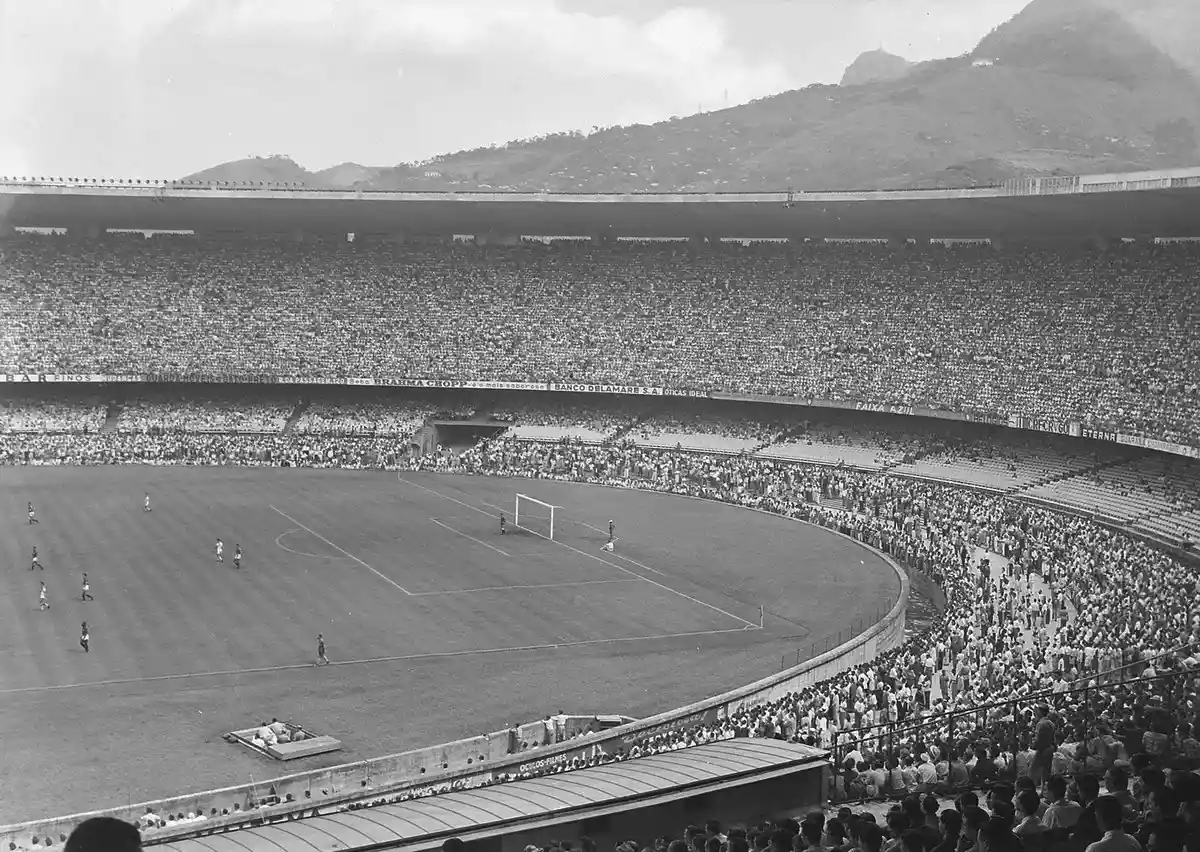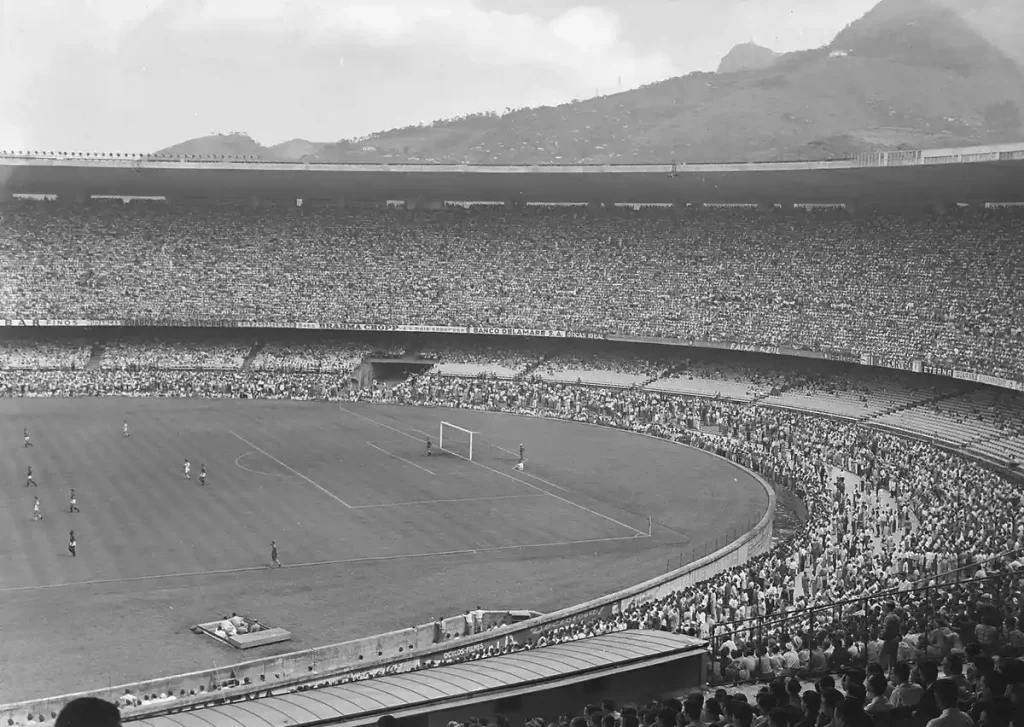 1950 World Cup Facts
Uruguay, in 1950 is the only team to have won the World Cup finals without winning the final. [4] This is because Fédération Internationale de Football Association (known as FIFA) changed the rules for that competition only. Rather than teams going from a group stage to a knockout format, the teams when into another group. It just so happened that the final match was between the only two sides that could win the competition, hosts Brazil and 1930 winners Uruguay. Despite being heavy favorites, Brazil went down 2-1.
The Indian team qualified for the 1950 World Cup in Brazil but withdrew from the competition. As well as financial concerns, FIFA's requirement for players to wear shoes during matches played a role in the team's decision since the Indian players had previously only played barefoot.
At 35, the Englishman Stanley Matthews was the oldest player at the 1950 World Cup. Yet, remarkably, Matthews carried on playing for England for another seven years and hung up his boots in 1965.
Milorad Arsenijevic, coach of Yugoslavia in 1950, was a World Cup veteran. He played in 1930 and was the first to appear in both roles.
The 1950 FIFA World Cup saw history being made as Italy, the reigning champions, were defeated by Sweden in the first round – a first for any defending champion in the tournament's history.
The largest attendance of a World Cup match is 199,854 (that's more than half the population of Iceland!). It was a match between Brazil and Uruguay in Rio de Janeiro in July 1950. [14]
The 1950 World Cup marked a deviation from the traditional format, as there was no final match held. Instead, the tournament featured four preliminary pools, with the winners advancing to a final pool. The match between Brazil and Uruguay in this final pool ultimately determined the champion, as a 1-2 result in favor of Uruguay secured them the tournament win, making it a one-of-a-kind edition in the history of the World Cup.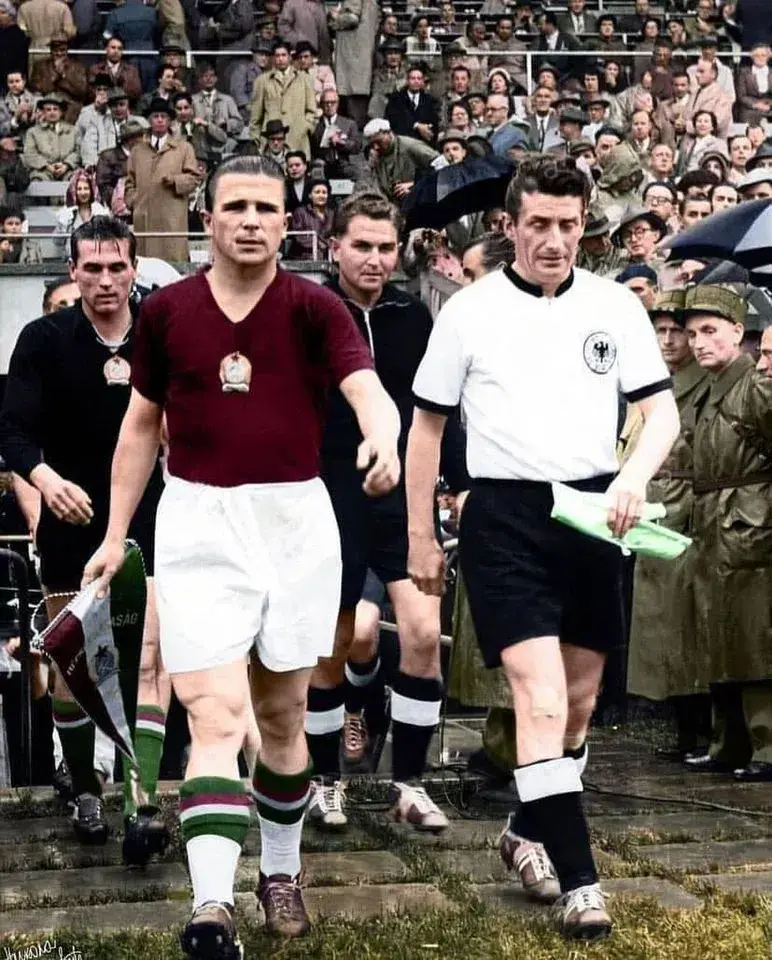 1954 World Cup Facts
Among all goalkeepers participating in one World Cup, South Korean Hong Duk-Yung conceded the most World Cup goals. In 1954, Hong Duk-Yung conceded 16 goals.
In 1954, team manager Gaston Barreau of France was 70 years and 194 days old when his country played Mexico in the World Cup.
Coach Sepp Herberger's strategy led Germany to its first World Cup title in 1954. Herberger sent a reserve team on the pitch when he faced favored Hungary in a group-stage match and received an 8-3 defeat. When the two countries faced off again in the final, with the top players on the field, the West German team achieved the "Miracle of Bern" and won 3-2.
The first live television transmission was the 1954 World Cup hosted in Switzerland. This was a significant catalyst for the growth of soccer around the world.
A wide range of tournament formats have been employed in the history of the World Cup, with probably the strangest being the one used in 1954. Although the "modern" World Cup was already taking shape (16 teams in four groups), two teams in each group were seeded but did not have to play each other – unless they had the same number of points. What made things more difficult was that these teams were seeded before they had qualified for the finals. This led to Turkey being seeded in place of their vanquished opponents Spain, whereas eventual winners, West Germany, was unseeded and had to play favorites Hungary during the group stage.
Shirt numbers were used for the first time at the World Cup in 1954. A look at which number has produced the most goals at the thirteen tournaments played since then reveals a clear picture: 9, 10, 11, 8, and 7. [5]
The highest-scoring game was also one of the most exciting: Austria's 7-5 win over Switzerland in Lausanne in 1954 has gone down in history, as have Hungary's 8-3 triumph over West Germany in Basle a week earlier and Brazil's 6-5 victory over Poland in Strasbourg in 1938.
The biggest victories are to be found in Hungarian record books. In 1954, Puskas & co. subjected the debutants from Korea Republic to a 9-0 thrashing, while El Salvador suffered a similar fate in 1982, losing 10-1. Yugoslavia also racked up a 9-0 win over Zaire in 1974.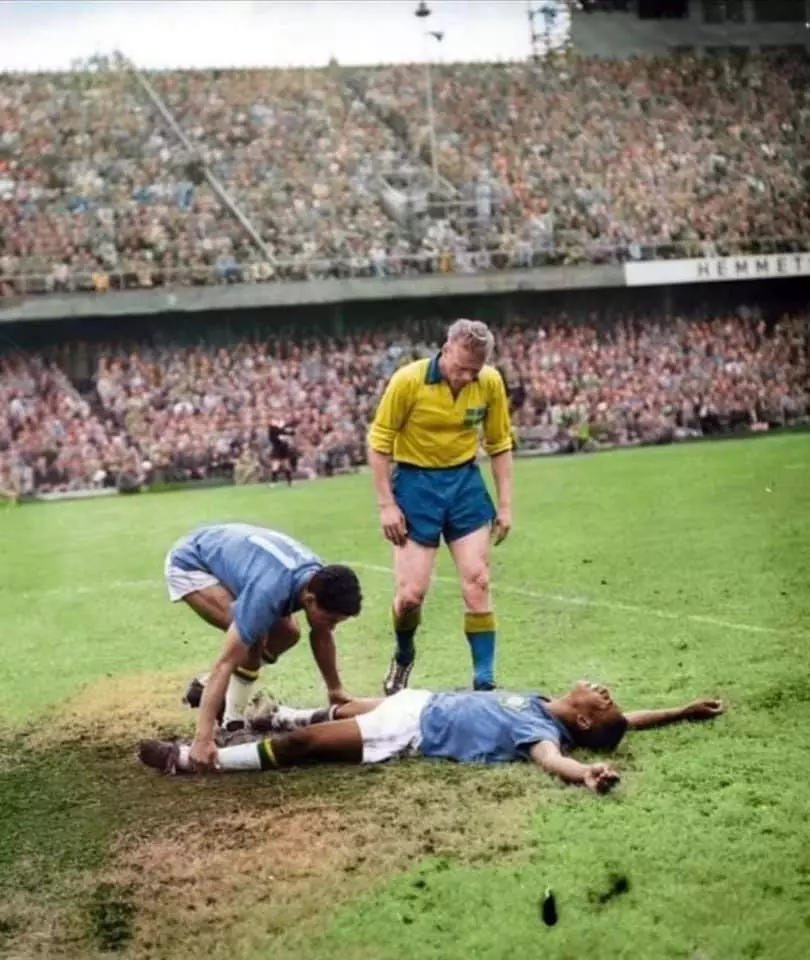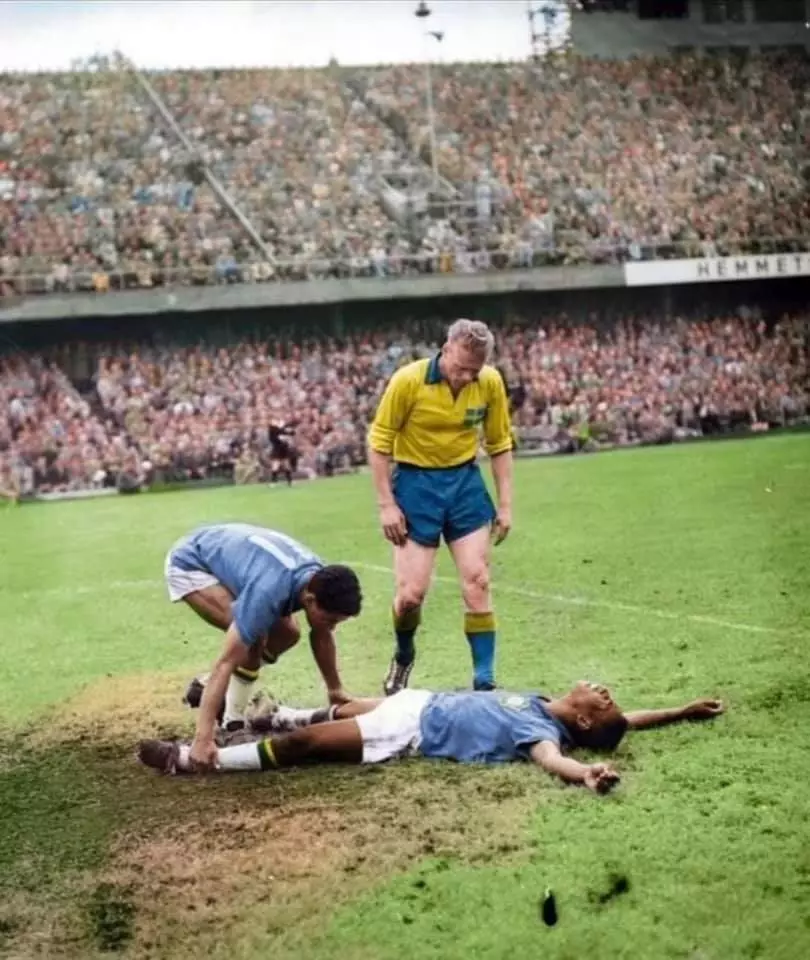 1958 World Cup Facts
France soccer player Just Fontaine holds the record for the most goals scored in a single World Cup, with his 13 goals in 1958. He is fourth on the list of the most World Cup goal scorers ever.
Seven is the greatest number of goals scored in a final. The record was set in Stockholm on Sunday, 29 June 1958, when Brazil triumphed over Sweden (5-2) to take the title.
In the 1958 quarter-finals, none of the four losing teams scored a single goal during these matches.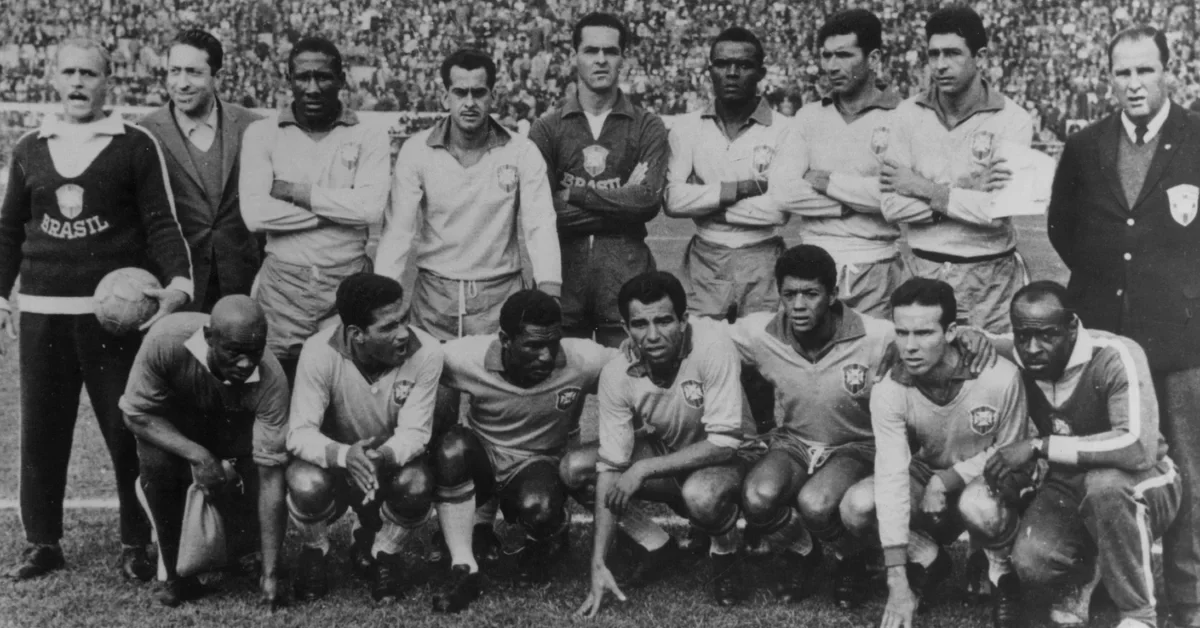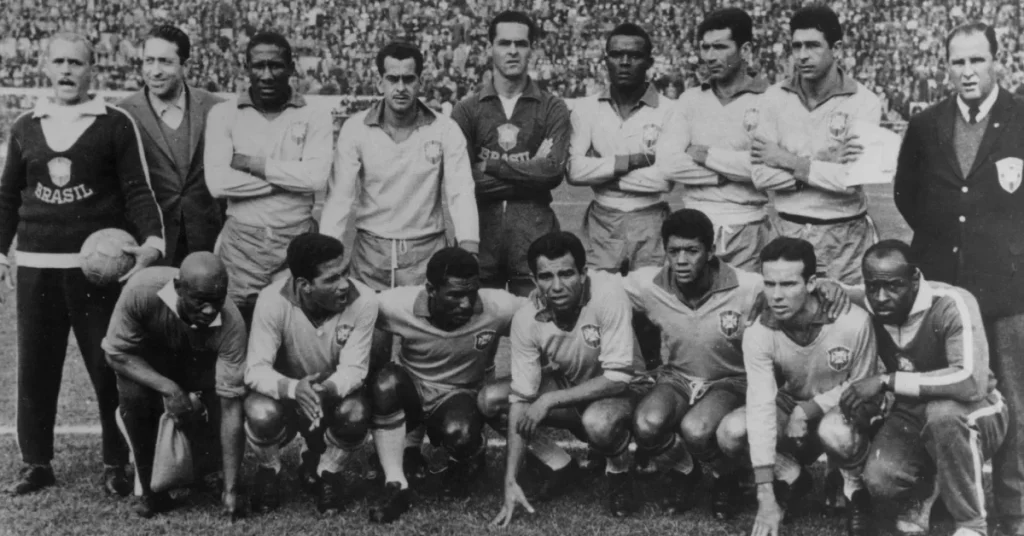 1962 World Cup Facts
The 1962-first-round match between hosts Chile and Italy has become known as the "Battle of Santiago". Two players were sent off, and two suffered fractures as violence erupted on the pitch. The bad feeling was attributed to Italian newspaper reports criticizing the standard of living in Chile.
Pele stands alone in the annals of World Cup history as the only player to have hoisted the trophy on three separate occasions (1958, 1962, and 1970). Though, it's worth noting that in 1962, a significant portion of the tournament was missed due to injury, including the final, which casts some shadow on his accomplishment.
For the first time, FIFA resisted the temptation to tinker with the WC format.
The Brazilian Prime Minister, Tancredo Neves, managed to get Garrincha's ban overturned by FIFA after he was sent off in the semifinals.
When Viliam Schrojf made a mistake in goal, Vava became the first person to score in two finals.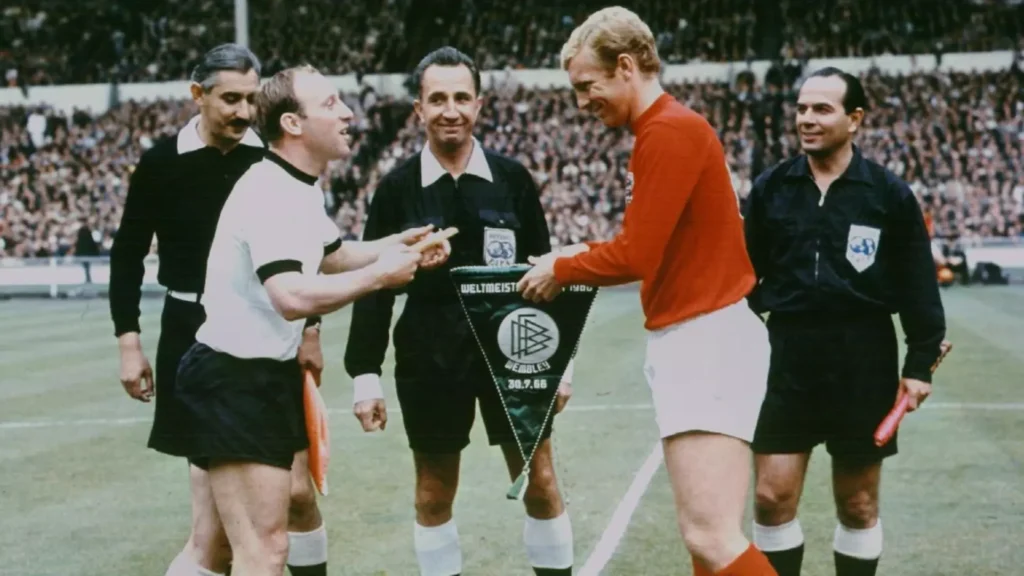 1966 World Cup Facts
In 1966, Eusebio topped his hat trick with a fourth goal to turn the game for Portugal against Korea DPR, while Geoff Hurst's second of three strikes in the 1966 final between England and West Germany is one of the most controversial moments in World Cup history.
The FIFA World Cup trophy went missing for seven days before the World Cup in 1966. Someone stole the Jules Rimet Trophy from an exhibition at the Westminster Central Hall in 1966, just four months before the FIFA World Cup was held in England. A small dog called Pickles later found it buried under a bush. His owner received a reward of 6,000 British pounds.
Football didn't matter as much as greyhound racing. All of England's games would be played at Wembley. There was a conflict with the regular Greyhound Meeting. Therefore, the World Cup game had to be moved.
There was a boycott of the 1966 World Cup by African teams.
Franz Beckenbauer was one of the breakout stars of the 1966 tournament. Beckenbauer was booked twice during West Germany's group games against Argentina and the USSR semi-final, but FIFA ignored the second and chalked it up as a mistaken identity.
Tickets for the 1966 final were available for as little as 10 shillings, 50p in today's money, or USD $11 adjusting for inflation.
During the 1966 World Cup, Cohen, who started every England game, including the final, was making around £80 a week – approximately £1,400 today.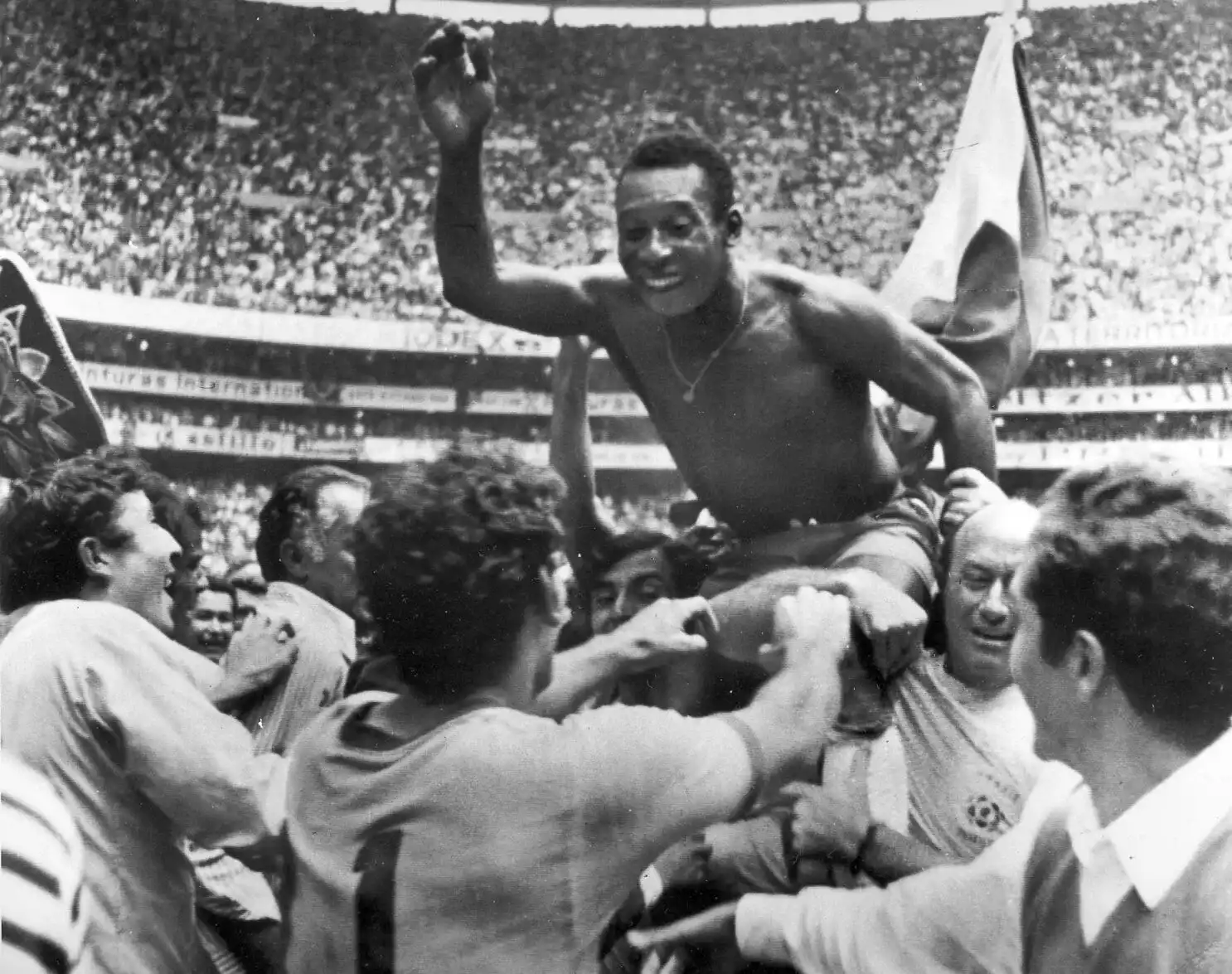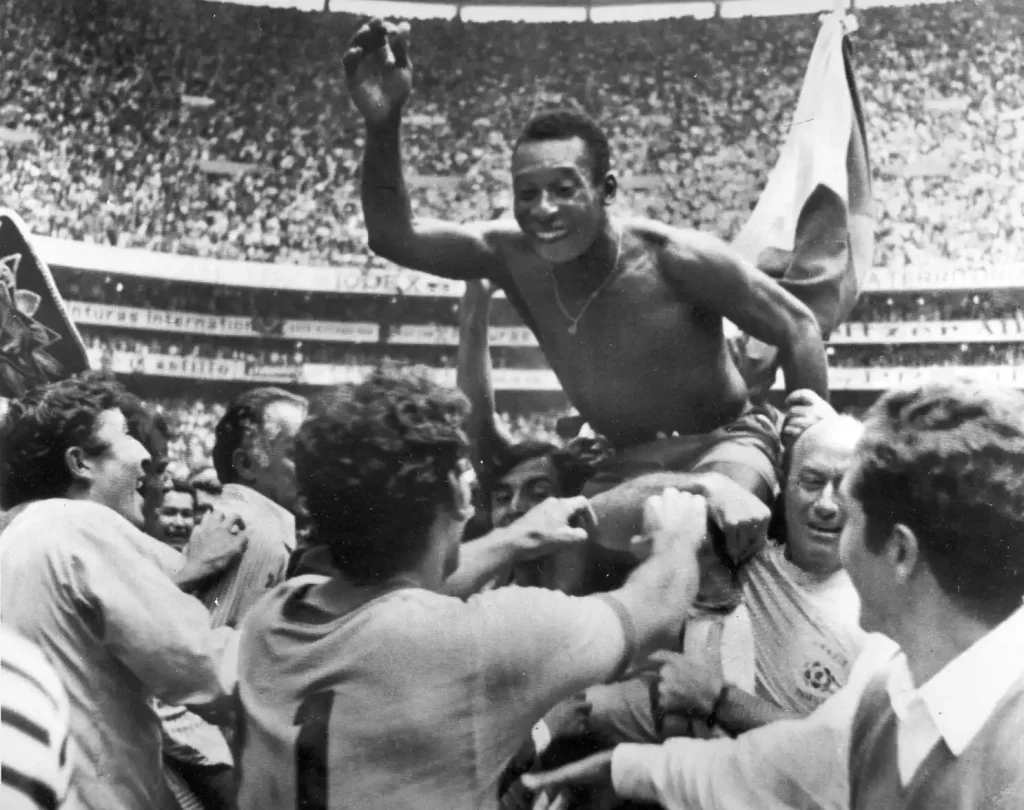 1970 World Cup Facts
The World Cup reached North America for the first time, and six continents were represented.
Official FIFA World Cup match balls were launched in 1970. The first ball, TELSTAR, had 32 black-and-white panels. The TELSTAR was more visible on black-and-white televisions (the 1970 FIFA World Cup Mexico was the first broadcast live on television). [6]
Yellow cards and substations were introduced in the 1970 World Cup. The first player to receive a yellow card caution was USSR's Kakhi Asatiani on 31st May 1970. The first player to be sent off was Peru's Placido Galindo in a match against Romania in 1930. [7]
This was the first tournament to send live pictures via satellite to television audiences worldwide in color.
Brazil kept the Jules Rimet Trophy after winning three World Cups. 1974 was the year when the golden World Cup trophy was introduced.
Peru's all white shirt, with a bright-red diagonal slash from shoulder to waist, was an instant classic.
West Germany and Italy served up a seven-goal semi-final inside the Azteca Stadium, with at five of the goals coming in the 30 minutes of extra time forced by a last-gasp German equalizer. It became known as the "Game Of The Century."
In 1970, for the first time in the history of the FIFA World Cup, all four semi-finalists – Uruguay, Brazil, Italy, and Germany – were previous winners. This has happened just once since, in 1990.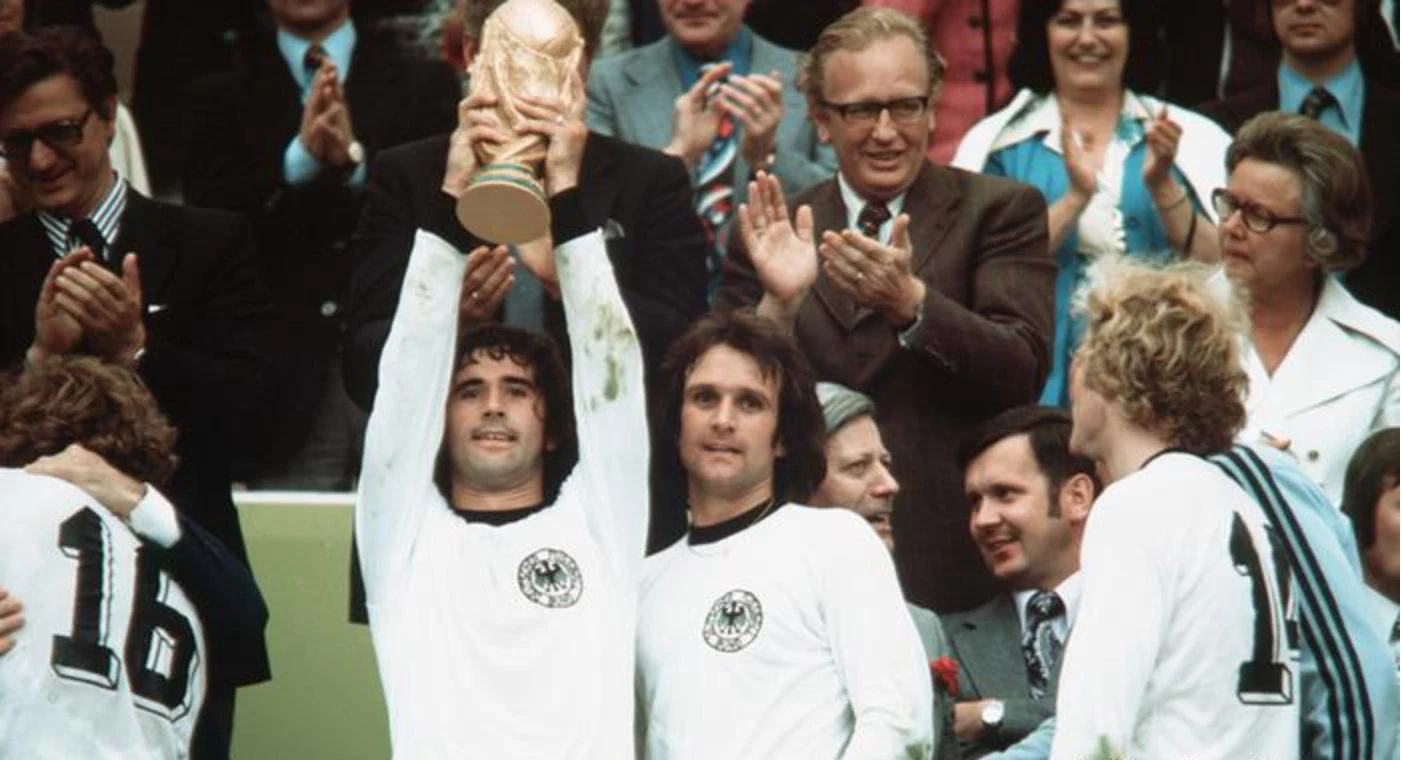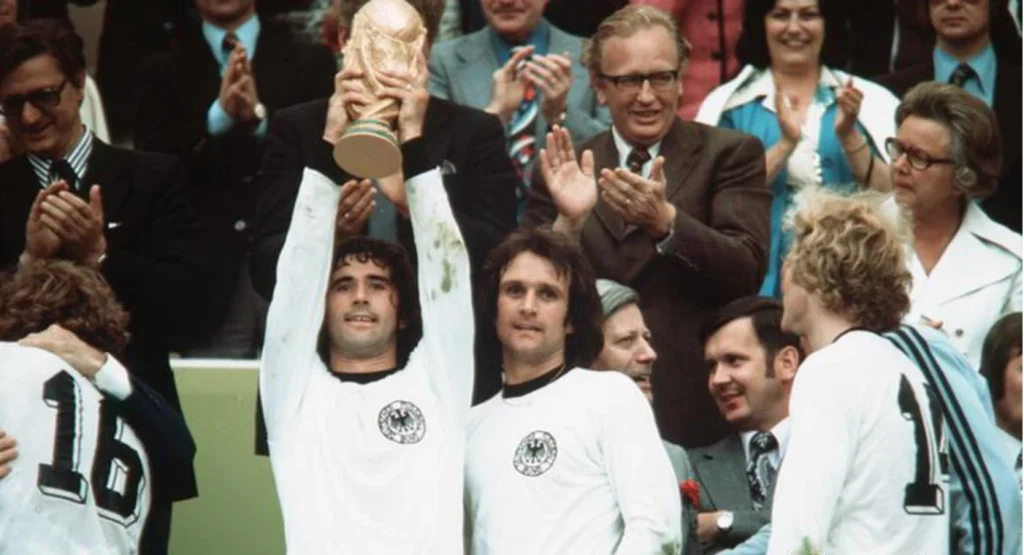 1974 World Cup Facts
Another interesting World Cup fact is that famous cricketer Sir Viv Richards is the only person to have played both World Cup Football and World Cup Cricket. In addition, he played soccer for Antigua in the 1974 World Cup qualifiers.
The first time a goalkeeper was replaced at a World Cup was for any other reason than injury when Zaire was 0-3 down versus Yugoslavia after 22 minutes in 1974. Dimbi Tubilandu, his replacement, could not block the goal rush, and their country lost the game 9-0.
Carlos Caszely from Chile became the first player to be dismissed with a red card in World Cup history. That was in 1974 when red cards and yellow cautions were introduced.
Following a military coup in Chile, in which thousands of supporters of Marxist president Salvador Allende were executed in the football stadium, the Soviet Union was knocked out in the final qualifying round. A ball was kicked into an empty net, and Chile was awarded the game.
Haitian defender Ernst Jean-Joseph failed a doping test at the World Cup for the first time.
A record was set by Leslaw Cmikiewicz, who appeared as a substitute six times.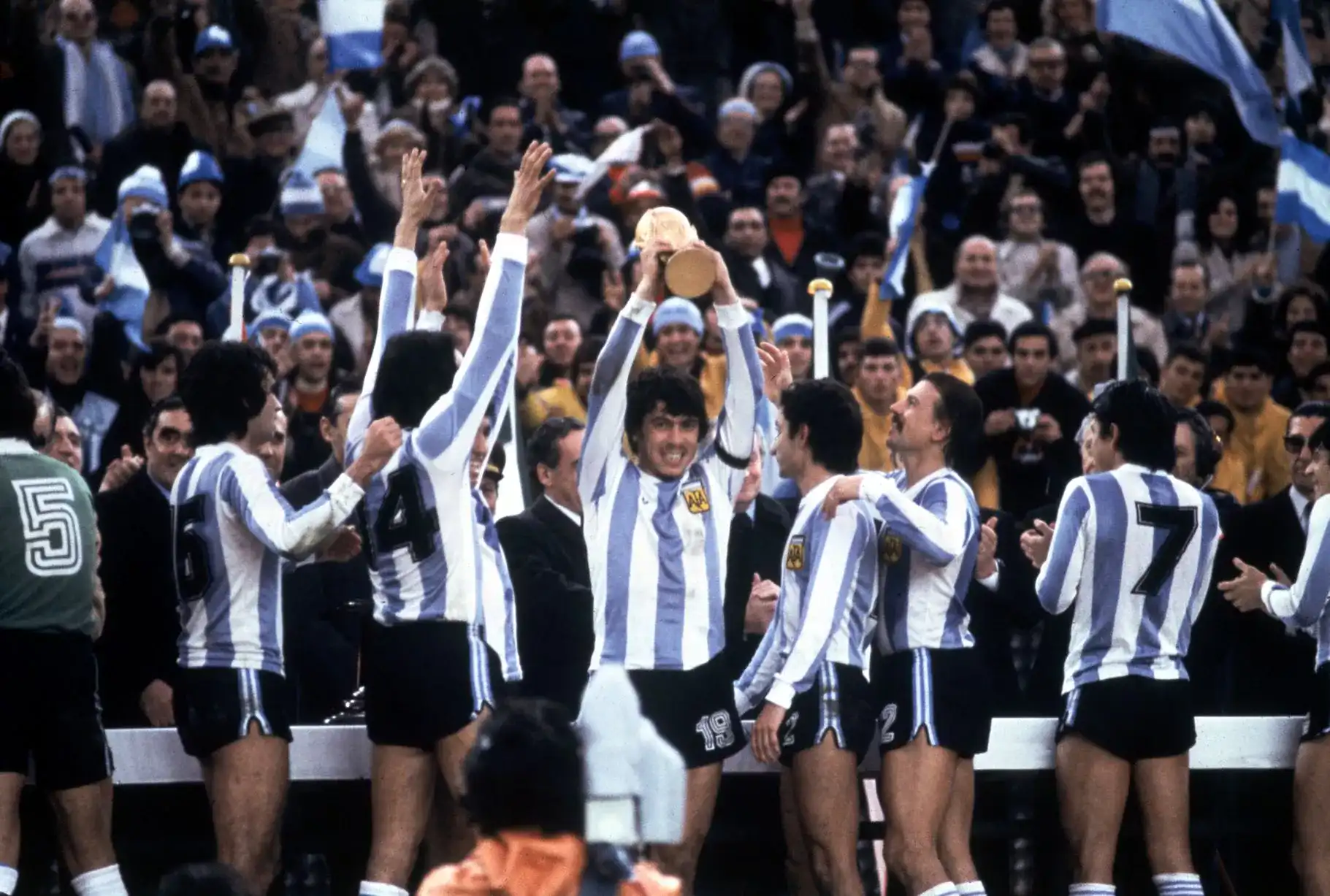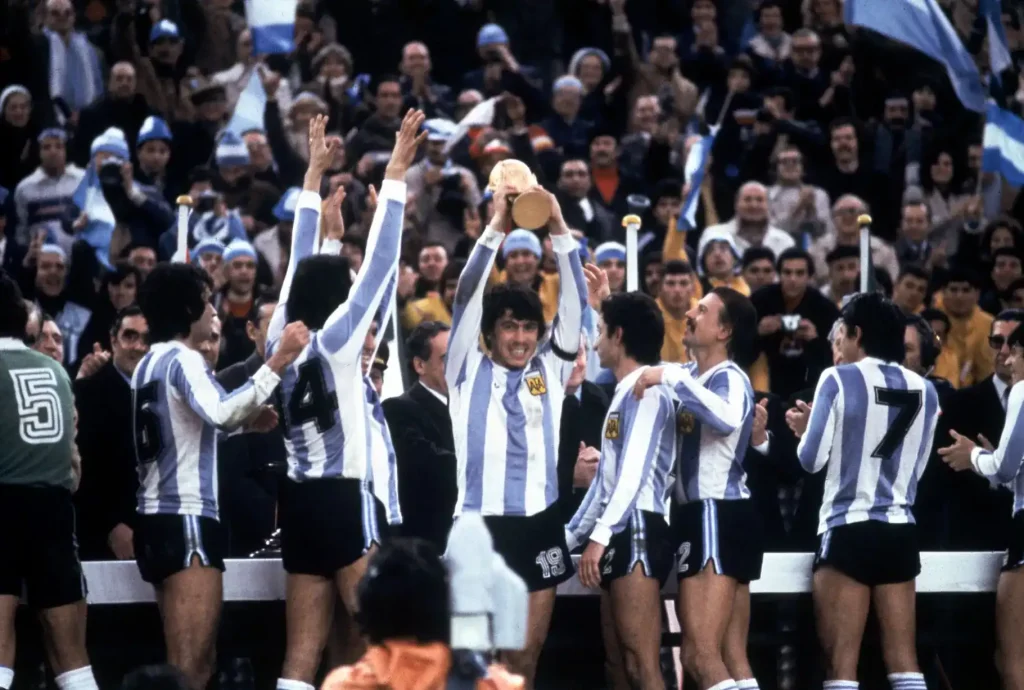 1978 World Cup Facts
In terms of minutes on the field, two players have the shortest FIFA World Cup careers. Khemais Labidi represented Tunisia against Mexico in 1978 for two minutes. 
Green-and-white striped shirts made their first – and to date last – appearance at a FIFA World Cup in the 1978 tournament. The French arrived in Mar del Plata without a change of strip for their first-round match against Hungary. Since both teams' shirts were white, the French had to find a solution: this came in the shape of a set of shirts borrowed from a local team, Atletico Kimberley, who played 2km away from the stadium. Their strip was of a quite original design – green-and-white vertical stripes – and it was, therefore, a unique sight at the FIFA World Cup finals.
Berti Vogts earned an honorary place in the chronicles of bad luck when he scored his famous own goal against Austria in Cordoba in 1978 as it came in his 96th and final international match, with West Germany losing (3-2) to their neighbors for the first time in almost 50 years.
Ernie Brandts' 1978 own goal remains the best among all own goals. The Dutchman put his side on the road to victory when he scored the equalizer to put them in the final after scoring an own goal against the Azurri. [8]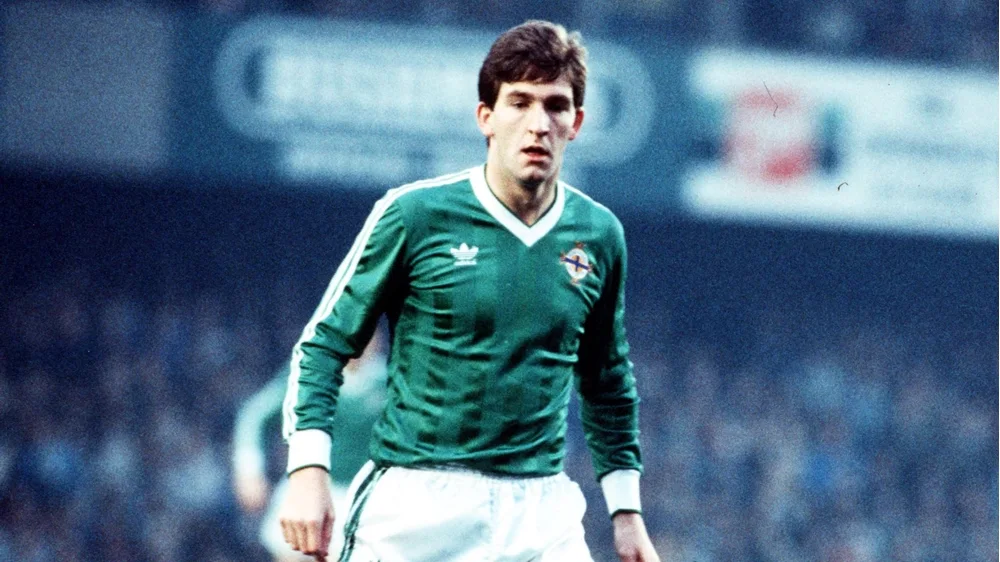 1982 World Cup Facts
Norman Whiteside from Northern Ireland was the youngest player ever to play in the FIFA World Cup. The young player had just turned 17 years and 41 days old when he played against Yugoslavia in 1982.
Hungary's Laszlo Kiss is the only substitute to score a hat-trick in the World Cup. Kiss scored the first three goals for Hungary when the score was 5-1 against El Salvador in Spain in 1982. It took him just seven minutes, four fewer than Gabriel Batistuta against Jamaica in 1998. [9]
As captain of the Italian national team in 1982, Dino Zoff was the oldest player to win the World Cup finals at 40 years, four months, and 13 days.
The first World Cup penalty shootout was between France vs. West Germany in 1982. The Germans won the semi-final penalty shootout 5-4. Horst Hrubesch converted the final penalty to give Germany the victory.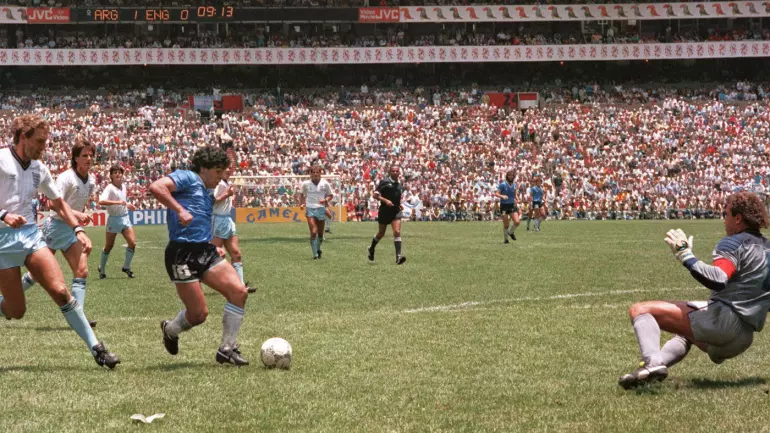 1986 World Cup Facts
It took Jose Batista of Uruguay 56 seconds to be sent off against Scotland in 1986! In World Cup history, he was the fastest player to be sent off. Having fouled Gordon Strachan, referee Joel Quiniou had to punish him.
A new format was implemented in 1986. A knockout system was employed from the round of 16 onwards. This system was retained when the tournament expanded to 32 teams for the 1998 World Cup. In 2026, the tournament will be extended to 48 teams and groups of 3.  The top two team progress to the round of 32, which will become a knockout stage.
Marcelo Trobbiani holds a distinct place in the World Cup history, as his tournament career lasted only for one minute, the shortest ever recorded in the history of the FIFA World Cup. He was brought in as an 89th-minute substitute for Argentina in their historic 3-2 victory over West Germany in the 1986 World Cup final.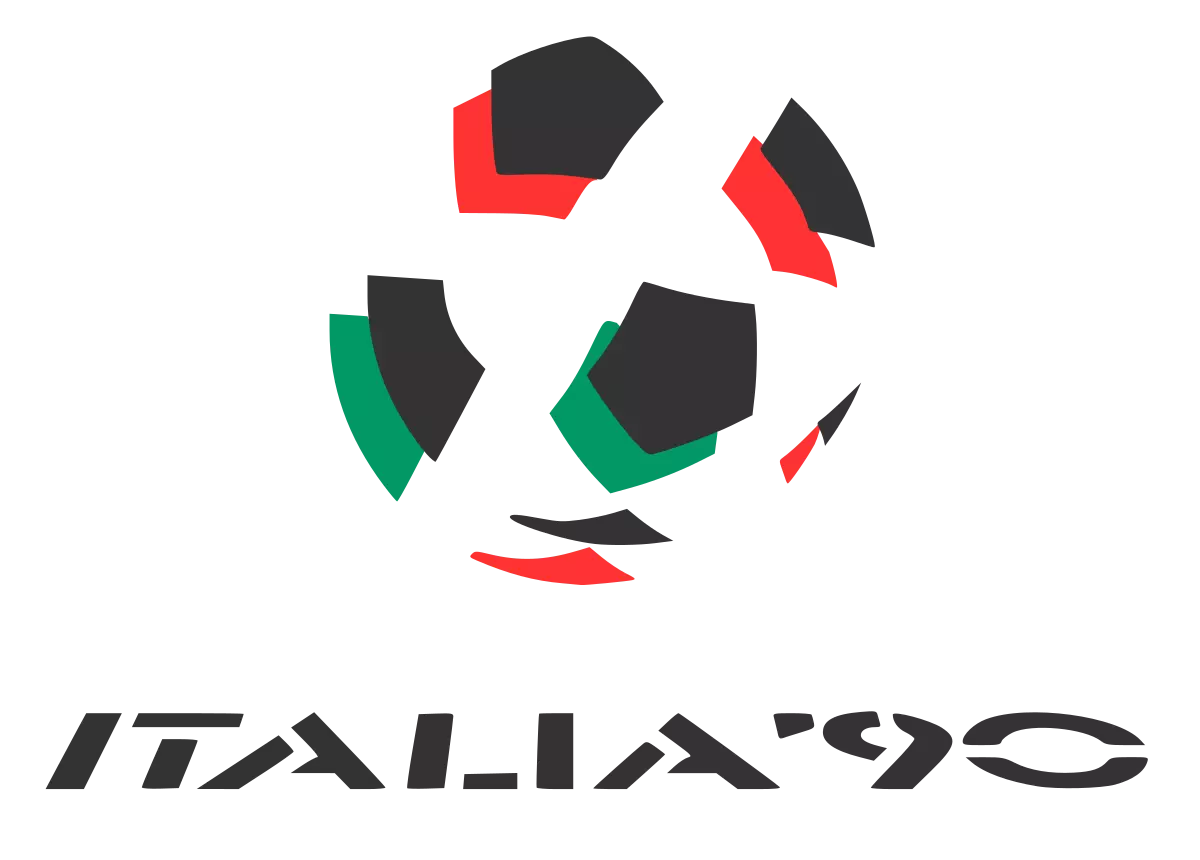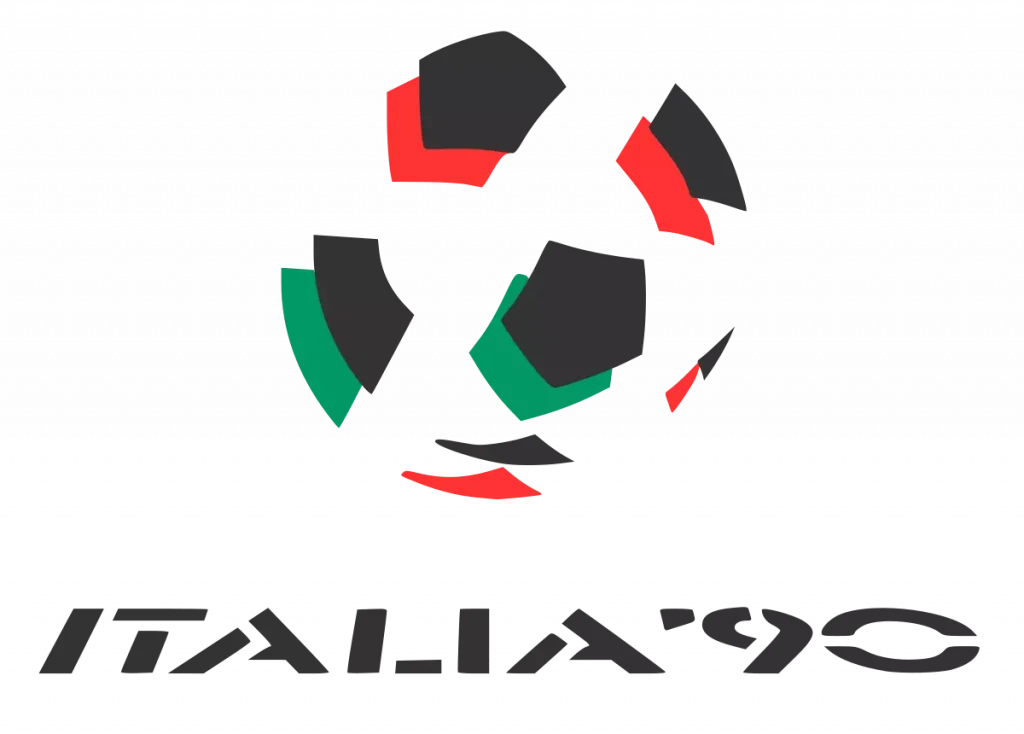 1990 World Cup Facts
Roger Milla from Cameroon is the oldest player to participate in a World Cup Match. The striker led his country into the World Cup in 1990. [10]
Referees are sometimes required to add injury time to games. However, Michel Vautrot added 8 minutes in the first period of extra time in the semi-final between Italy and Argentina in 1990! It was later revealed he forgot about the time.
The first clean sheet in the FIFA World Cup Final was kept by Bodo Illgner of West Germany.
Walter Zenga of Italy holds the record for the longest unbeaten streak in World Cup history. In 1990, he went 517 minutes without conceding a goal.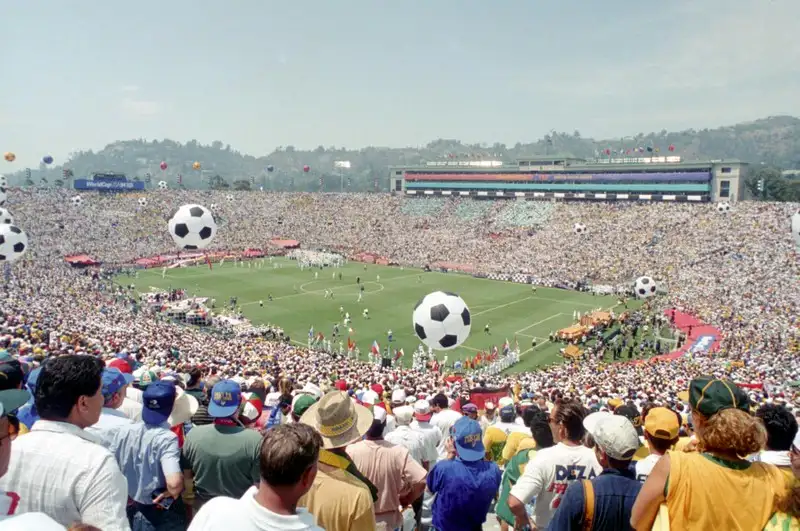 1994 World Cup Facts
A comic relief moment opened the 1994 World Cup hosted by the United States at Chicago's Soldier Field. The main performer during the introductory ceremonies was the American singer Diana Ross, who led an elaborate song-and-dance number culminating with a triumphant salute. Ross missed the net by a long shot – but still, the goal tore open on cue.
Russian Oleg Slanko set a record in 1994, scoring five goals against Cameroon.
Italy's goalkeeper Gianluca Pagliuca was the first-ever goalkeeper to be sent off in a World Cup match on 23rd June 1994. He was sent off the soccer field after 21 minutes when he handled the ball outside the penalty box in their game against Norway.
The 1994 World Cup hosted by the United States was not only played in iconic stadiums such as the Maracana and the Azteca, but it also set a new benchmark for attendance at a FIFA World Cup. To commemorate its 64th anniversary, a total of 3.5 million fans filled the stands to watch the 52 matches, resulting in an average of over 68,000 spectators per game, a record that has yet to be broken.
World Cup teams sometimes feature generation gaps. When Cameroon played Russia in 1994, the 42-year-old Roger Milla played alongside Rigobert Song, who had yet to turn eighteen.
In 1994, and for the first time since 1938, not one of the four teams from the United Kingdom – England, Northern Ireland, Scotland, and Wales – was present at the FIFA World Cup final competition.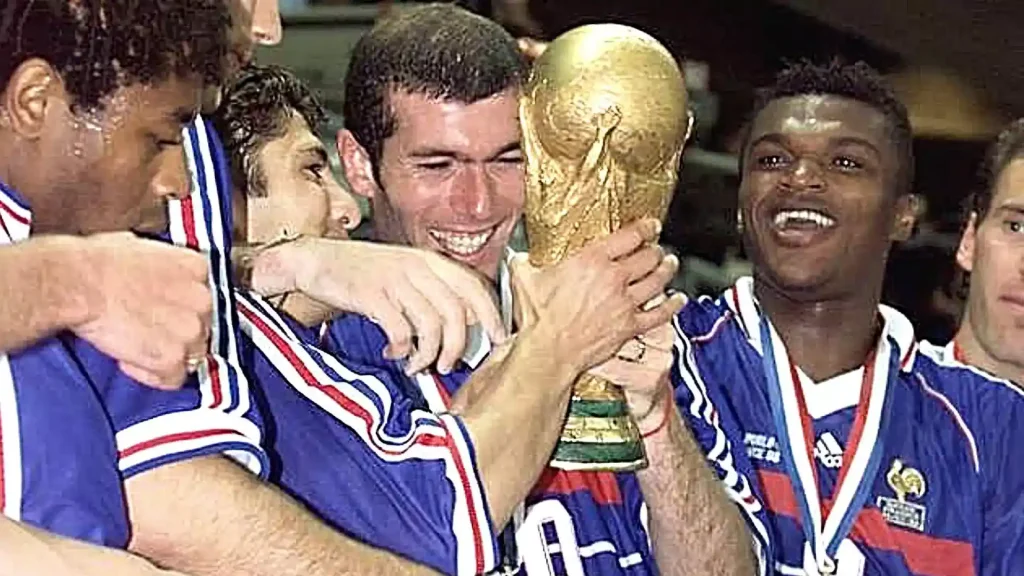 1998 World Cup Facts
The fastest substitute from the start of the game was Italian Alessandro Nesta. He was replaced by Italy's Giuseppe Bergomi after only four minutes in a match against Austria in 1998.
Germany's 1998 starting lineup versus Iran was the oldest ever fielded at a World Cup. Players were an average age of 31 years and 345 days. The next closest record is held by Belgium, whose average age against Mexico was 31 years and 304 days.
The last nation to win the FIFA World Cup as the host was France in 1998.
Laurent Blanc scored the first-ever World Cup Golden Goal as France beat Paraguay 1-0 on 28th June 1998.
South Africa's Pierre Issa will likely remember the final 15 minutes of his country's 1998 FIFA World Cup clash against eventual champions France. Having scored an own goal in the 77th minute to make it 2-0, Issa scored another just before the final whistle. FIFA later credited his second "own goal" to Thierry Henry, thereby sparing Issa the ignominy of being the first-ever player to score two own goals in one World Cup match.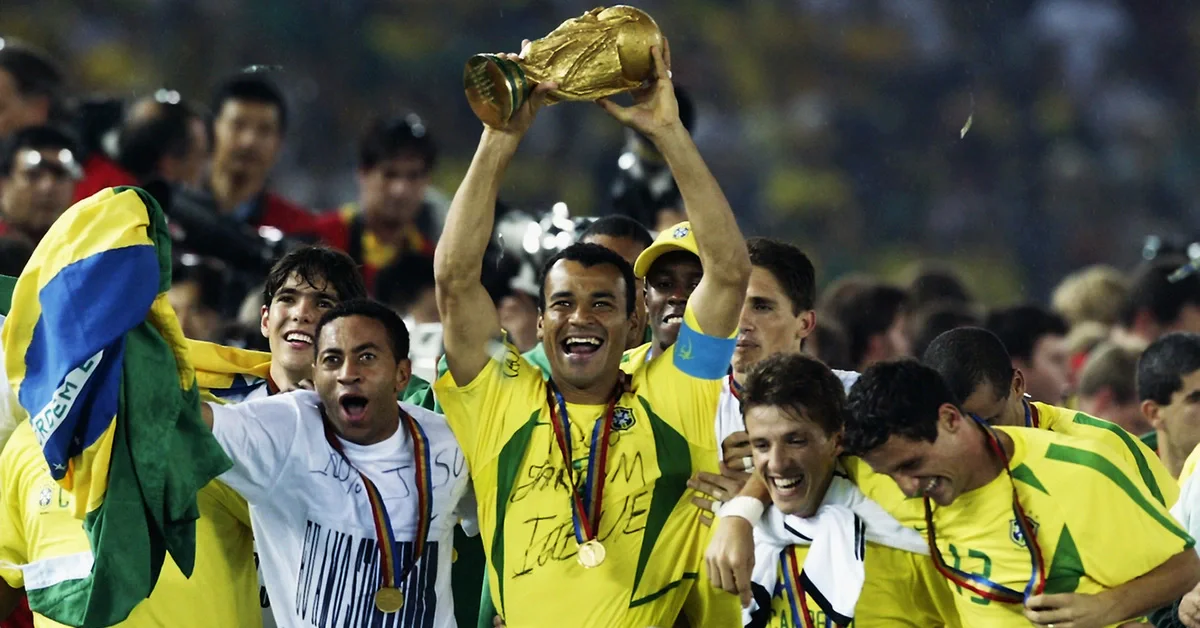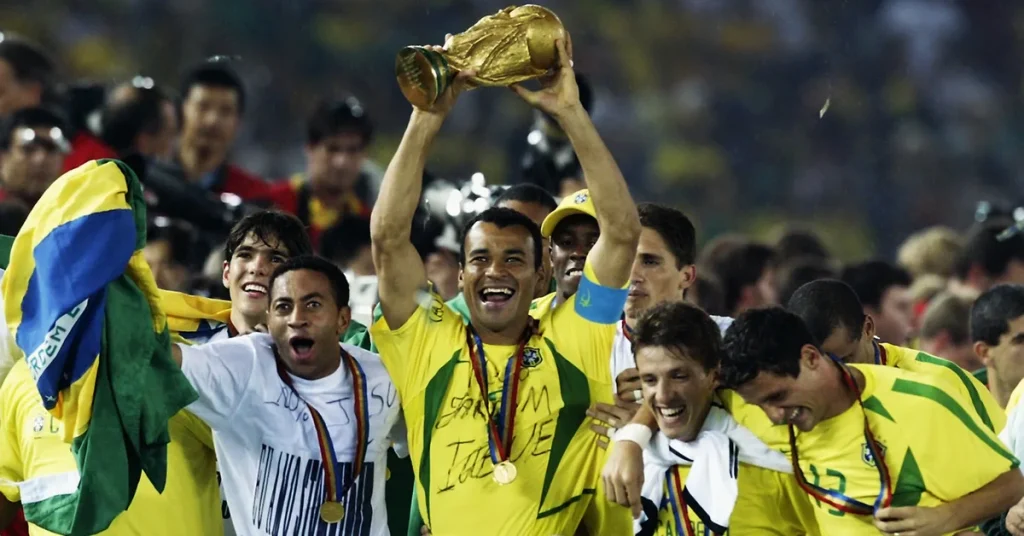 2002 World Cup Facts
In 2002, the FIFA World Cup tournament was held in two countries – South Korea and Japan.
In 2002, Oliver Kahn became the first goalkeeper to be awarded the Golden Ball as the player of the tournament.
In a 2002 group-stage match, Cameroon and Germany set an inglorious standard in disciplinary terms by totaling twelve yellow and two indirect red cards between them.
Five players have managed to score and be sent off in the same game. The last to do so was Ronaldinho, who was dismissed seven minutes after scoring what proved to be the winning goal against England in 2002.
Brazil won every single game on their way to lifting the trophy in 2002 (7 matches) and 1970 (6 matches). In 1934/38, Italy also won seven consecutive matches − and two titles.
History was made in the USA v. Portugal match in Suwon, Korea Republic, on 5 June 2002, with two own goals scored in the same game. Nearly an hour after celebrating Jorge Costa's own goal, the Americans looked on in disbelief as a stunning effort from Jeff Agoos flew into the wrong net and left the match in the balance once again. 
In the 2002 World Cup Bronze medal match, Turkish soccer legend Hakan Sukur scored just 10.8 seconds after the opening whistle to score the fastest goal in World Cup history against South Korea. [11]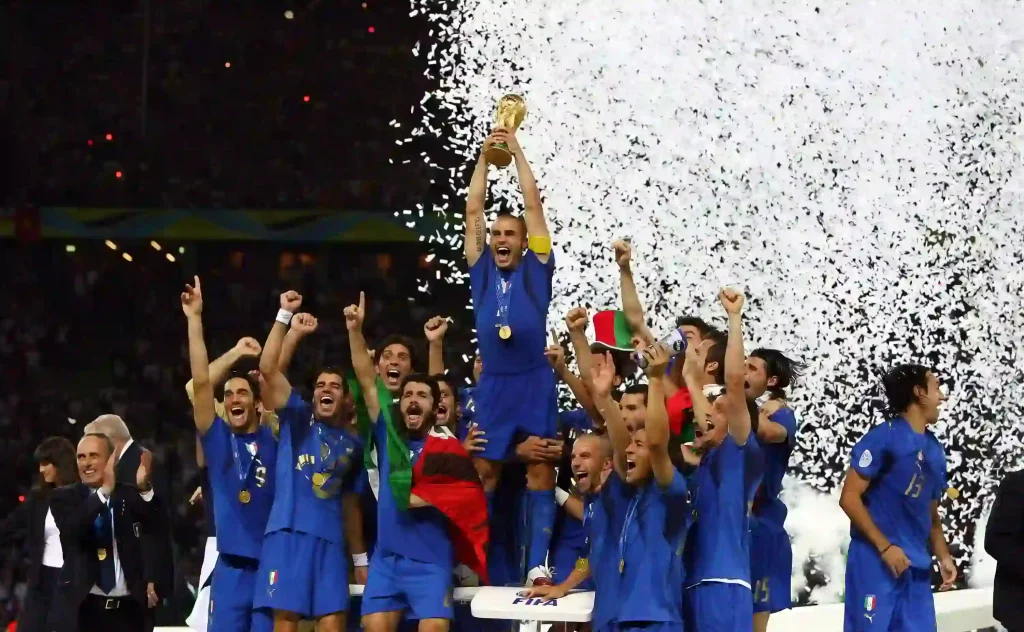 2006 World Cup Facts
Zinedine Zindane abruptly charged at the Italian defender Marco Materazzi during the final match of the 2006 World Cup tournament, striking him with his head. Zidane, who is of Algerian descent, shocked spectators and commentators with the bizarre assault, which prompted some to believe the player was responding to a racial epithet. A few days later, Matterazi admitted to insulting the Frenchman's sister.
26.29 billion people viewed all the World Cup matches in 2006. Seven and a half billion people saw the final match of the tournament, almost a ninth of all people on earth.
English referee Graham Poll booked Croatian Josip Simunic three times before sending him off in 2006. He should have been sent off after the second card. However, Poll got confused.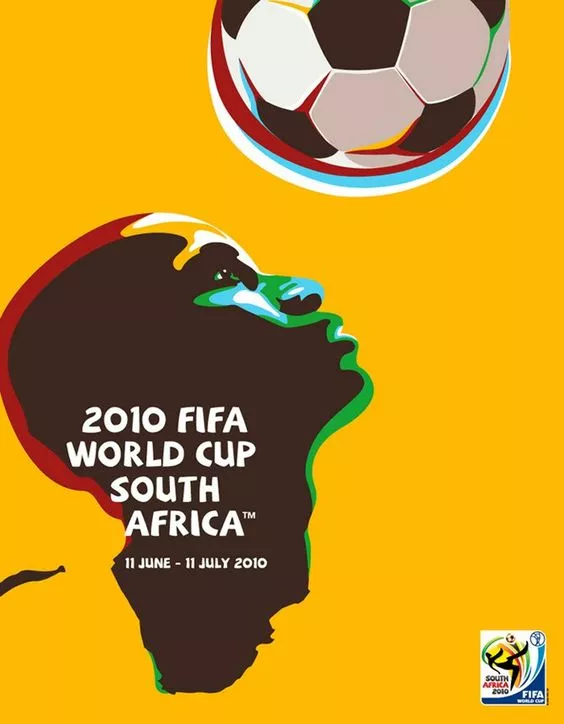 2010 World Cup Facts
An interesting World Cup fact is New Zealand is the only team to go unbeaten in the 2010 World Cup as they drew all 3 of their group stage games. The winner of the tournament, Spain, lost their first group-stage match to Switzerland.
A FIFA World Cup final has never seen more yellow cards than Spain's 1-0 win over the Netherlands in 2010. The Dutch players received nine (including two yellow cautions to John Heitinga, resulting in a red card), and the Spanish received five. The previous record was six was the 1986 World Cup final between West Germany and Argentina.
During the 2010 South Africa World Cup, over 750,000 liters of beer were sold within the stadiums. That's equivalent to 3,170,064 beers!
In 2022, Sven Goran Eriksson claimed North Korea approached him to try and influence the draw for the South Africa tournament in 2010. At the time, he was a member of the FIFA Football Committee. While in North Korea, he was approached by football officials requesting an easy group stage. After explaining this was criminal and a blatant no, they still didn't believe Sven.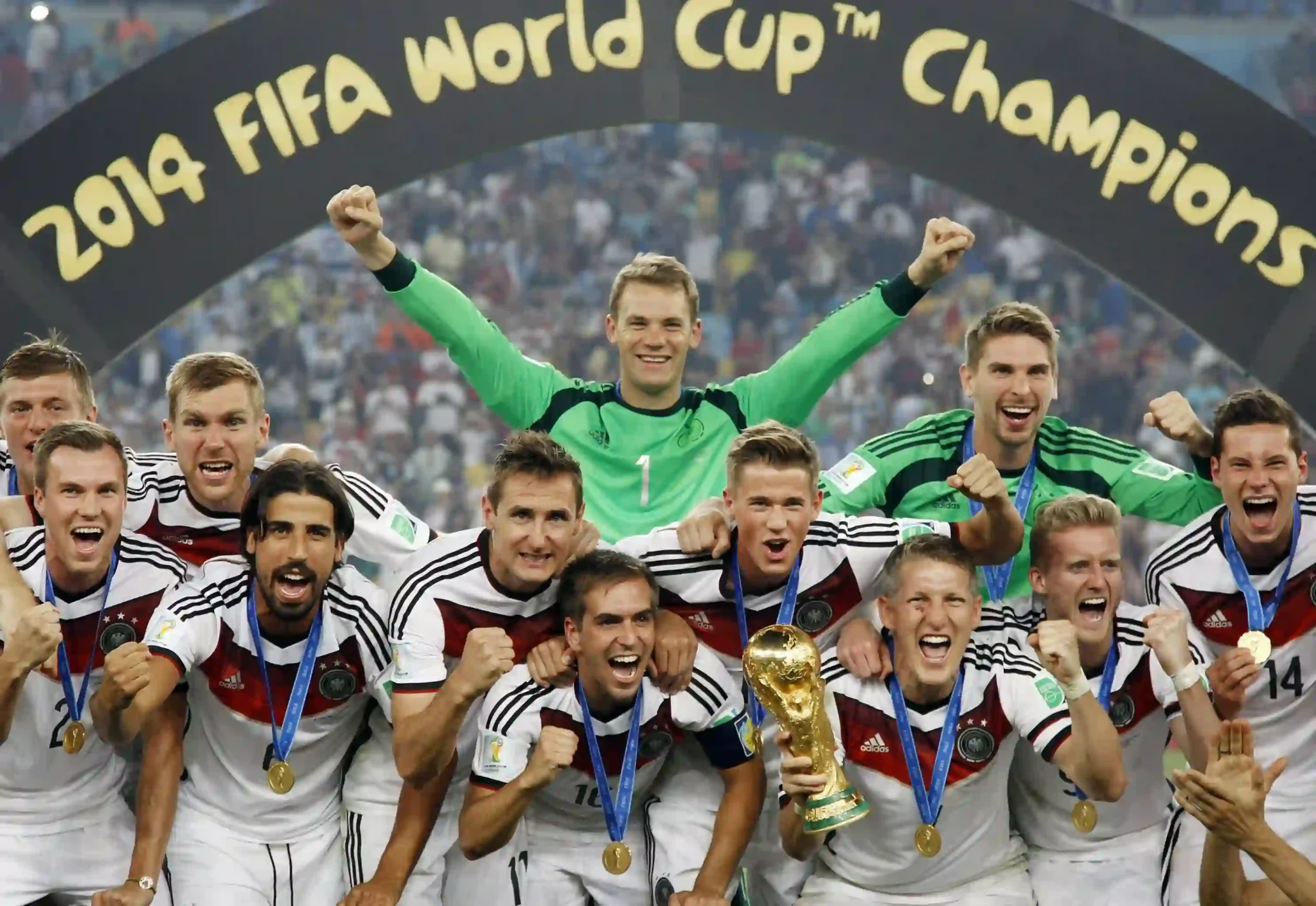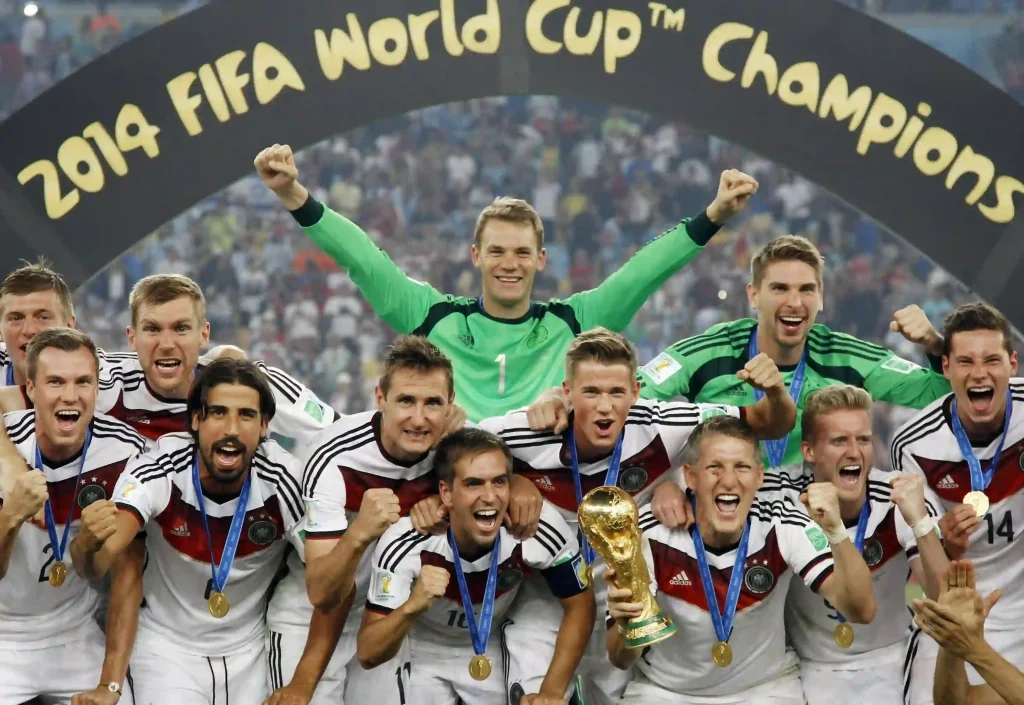 2014 World Cup Facts
Goal-line technology was first used in the 2014 World Cup.
It is the first time a European team has won the World Cup in the Americas.
For the first time since Peru's Teofilo Cubillas (during the 1970 and 1978 World Cups), James Rodriguez scored in his first five career World Cup appearances.
This World Cup saw more substitute goals than any previous edition (32).
Against South Korea, Algeria scored four goals in a World Cup game, becoming the first African team to do so.
The first-ever World Cup hat trick scored entirely with the left foot came from Xherdan Shaqiri of Switzerland.
When Faryd Mondragón came on for Colombia v Japan, he became the oldest player to appear in a World Cup Mundial.
For the first time in World Cup history, all eight group stage winners advanced to the quarterfinals.
In their last four World Cup appearances, the Netherlands have reached the semifinals three times.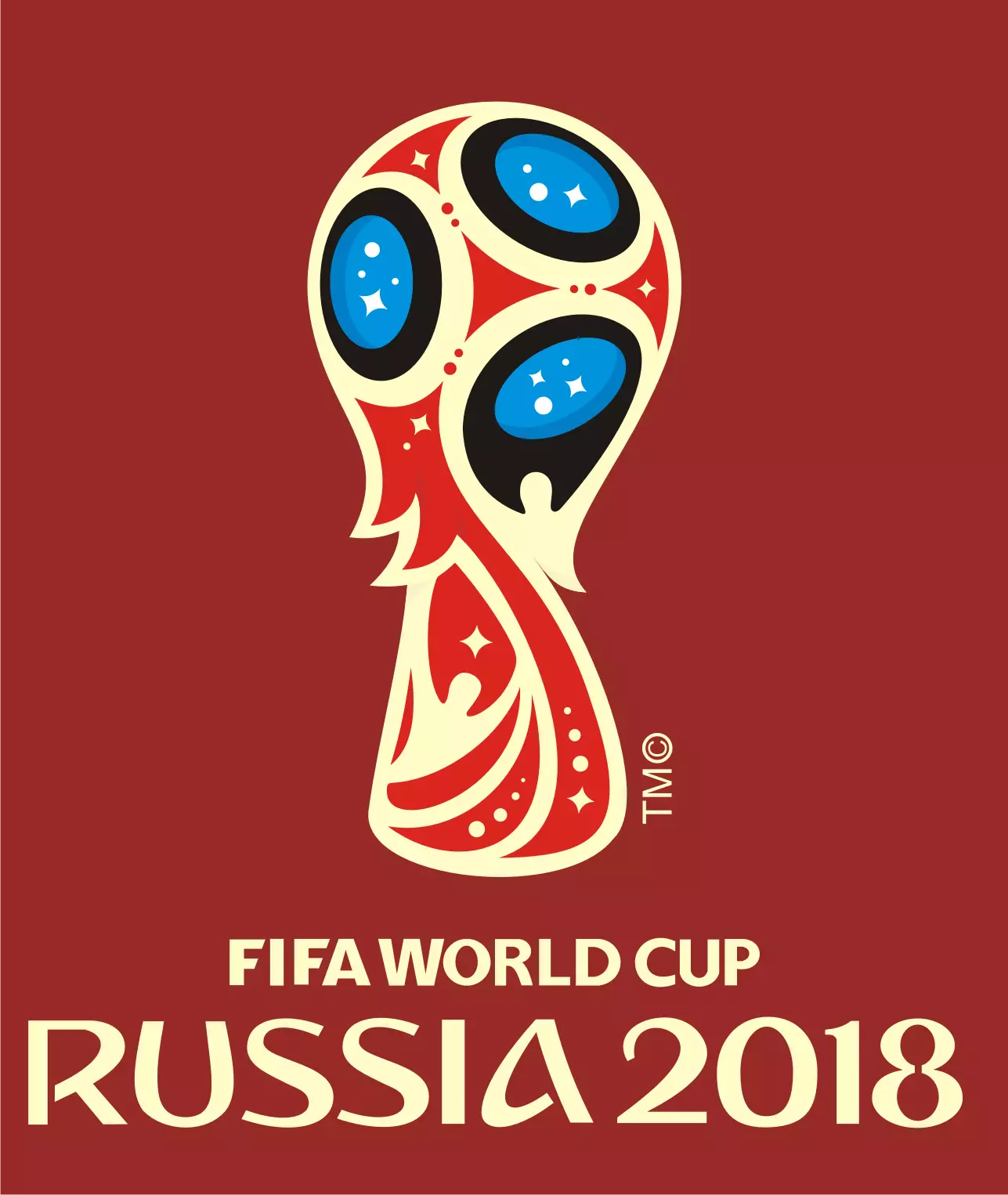 2018 World Cup Facts
In a pulsating Moscow final in which VAR was controversially used, France won the World Cup for the second time.
At least two goals were scored by all competing teams for the first time in World Cup history.
Over the course of the competition, more goals were scored from set pieces than ever before.
The 90th minute or later was the time when nine winning goals were scored.
As the oldest player to appear at a World Cup, Essam El-Hadary (45y 161d) broke the record.
In the history of the World Cup, Mexico have now been eliminated in each of their last eight knockout matches – the longest record of consecutive eliminations.
Since the Netherlands in 1974, Croatia is the first team to lose in their first World Cup final appearance.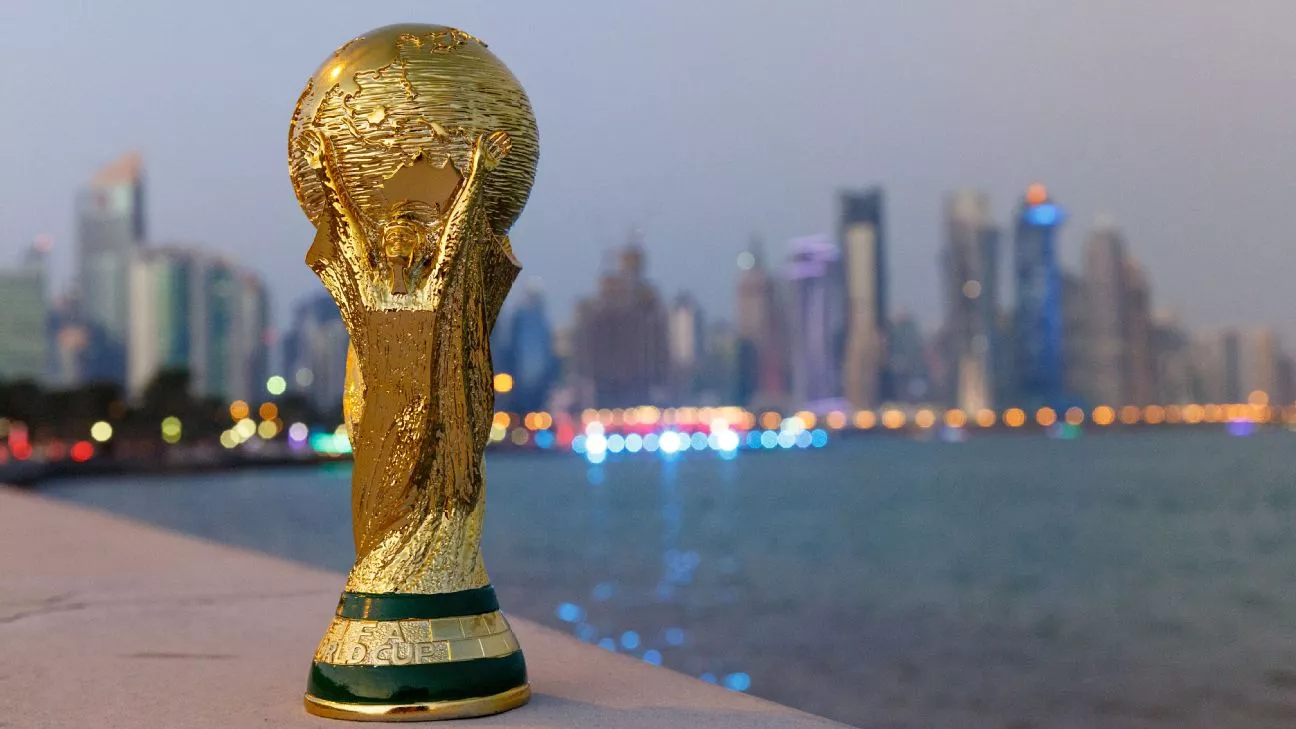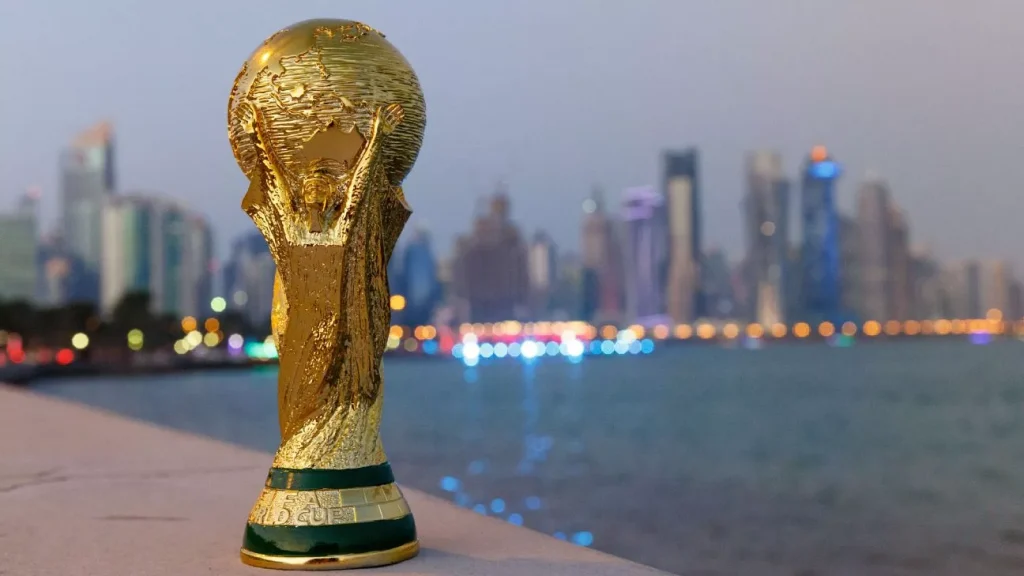 2022 World Cup Facts
Qatar is the smallest nation to host the World Cup in terms of population and land area. Qatar has a population of only 2.6 million, which makes it the smallest nation to host an event of this magnitude.
This will be the second time an Asian country has hosted the event, following South Korea & Japan in 2002. Qatar was the first Arab or Muslim country to host the FIFA World Cup. 
There was air conditioning in all eight venues, allowing fans to enjoy a comfortable viewing experience while players can play in good conditions. 
The main fan zone at the soccer World Cup in Qatar will charged 50 Qatari riyals ($13.73) for a half liter of beer.
Football players average 9.65 kilometers (5.9 miles) per game in the first 32 matches of the 2022 World Cup.
A record of 172 goals was scored at the 2022 World Cup, surpassing the 1998 and 2014 competition records.
During the 2022 World Cup, five penalty shootouts were held, the most in the competition's history.
As a result of winning the Golden Ball at two different World Cups, Lionel Messi became the first player to achieve this feat.
In a single edition of the World Cup, Lionel Messi became the first player to score in the group stage, the round of 16, quarter-final, semi-final, and final.
In the round of 16, there were teams from all continents for the first time in FIFA World Cup history.
Cristiano Ronaldo was the first player in the history of the tournament to score in five editions.
The Uruguayan and Korean fans reached a mighty 131 decibels during their match.
A FIFA World Cup match was officiated for the first time by a woman, Stéphanie Frappart.
This was the first time a UK national had not been arrested throughout the tournament.
Continents And Countries
Only two continents have succeeded as champions of the FIFA World Cup: Europe and South America. In fact, of the 22 World Cups, European countries have been finalists in 20 of them.
80 national teams have competed in the final tournaments. Qatar is the last nation to join this list. In 2026, we can expect this number to grow as FIFA adds an additional 16 teams to the finals tournament.
Only Brazil has attended all 22 tournaments, followed by Germany with 20, Italy and Argentina with 18.
Did you know only eight countries to have won the World Cup?
All five of Argentina's World Cup semi-finals have been won.
Mexico has qualified without winning the World Cup tournaments more than any other country (17 times). They've even been the host country twice in 1970 and 1986.
The country with the smallest population to ever compete in the FIFA World Cup is Iceland (population: 334,000)
Among the national teams, Brazil has played the most World Cup matches (114). Germany has appeared in the most finals (8), semi-finals (13), and quarter-finals (16).
Counting Korea Republic and Japan separately, 18 countries have organized a World Cup. After Italy (1934/90), Mexico (1970/86), and France (1938/98), Germany (1974/2006)was the fourth nation to host a second World Cup, and Brazil was the fifth (1950/2014).
France has won two of the last seven tournaments, making them the only country to win multiple World Cups finals recently. They have also been runners-up twice since 1998.  An interesting fact is that France did not qualify for the 1990 and 1994 World Cup prior to going on this amazing run of being finalist four times in the last seven editions.
Australia set the record for the highest-scoring match and largest margin of victory in a World Cup qualifying match by scoring 31 goals against American Samoa. The match came two days after Australia thumped Tonga 22–0, an international record at the time. With 13 goals, Archie Thompson broke his previous record of 10 against American Samoa.
Uruguay proudly displays four stars on their national team jerseys, each representing a significant achievement in the country's soccer history. The first two stars commemorate their World Cup victories in 1930 and 1950, while the other two stars symbolize the Olympic gold medals won by the dominant Uruguayan team of the 1920s.
Brazil (1930-58) and Germany (1934-58) scored at least one goal in 18 successive games.
Although Brazil (1978) and Italy (1990) went seven games unbeaten, both failed to make the final − losing out on goal difference and in a penalty shoot-out, respectively − and both eventually finished in third place.
World Cup Newcomers
| Year | How Many New Teams | The Newcomers | Best Newcomer Country | They Reached |
| --- | --- | --- | --- | --- |
| 1930 | ALL | Argentina, Belgium, Bolivia, Brazil, Chile, France, Mexico, Paraguay, Peru, Romania, Uruguay, USA, and Yugoslavia | Uruguay | Winner |
| 1934 | 10 | Austria, Czechoslovakia, Egypt, Germany, Hungary, Italy, Netherlands, Spain, Sweden, and Switzerland | Italy | Winner |
| 1938 | 4 | Cuba, Dutch East Indies, Norway, and Poland | Cuba | Quarter-Final |
| 1950 | 1 | England | England | Group Stage |
| 1954 | 3 | Korea Republic, Scotland, and Turkey | Turkey | Group Phase Playoff |
| 1958 | 3 | Northern Ireland, Soviet Union, Wales | All | Quarter-Final |
| 1962 | 2 | Bulgaria and Columbia | All | Group Stage |
| 1966 | 2 | North Korea and Portugal | Portugal | Third Place |
| 1970 | 3 | El Salvador, Israel, and Morocco | All | Group Stage |
| 1974 | 4 | Australia, East Germany, Haiti, and Zaire | East Germany | Second Round |
| 1978 | 2 | Iran, and Tunisia | Tunisia | Third In Group Stage |
| 1982 | 5 | Algeria, Cameroon, Honduras, Kuwait, and New Zealand | Algeria and Cameroon | Third In Group Stage |
| 1986 | 3 | Canada, Denmark, and Iraq | Denmark | Round Of 16 |
| 1990 | 3 | Costa Rica, Ireland, and United Arab Emirates | Ireland | Quarter-Final |
| 1994 | 3 | Greece, Nigeria, and Saudi Arabia | Nigeria and Saudi Arabia | Round Of 16 |
| 1998 | 4 | Croatia, Jamaica, Japan, and South Africa | Croatia | Third Place |
| 2002 | 4 | China, Ecuador, Senegal, and Slovenia | Senegal | Quarter-Final |
| 2006 | 6 | Angola, Côte d'Ivoire, Ghana, Togo, Trinidad and Tobago, and Ukraine | Ukraine | Quarter-Final |
| 2010 | 2 | Slovakia and Serbia | Slovakia | Round Of 16 |
| 2014 | 1 | Bosnia and Herzegovina | Bosnia and Herzegovina | Third In Group Stage |
| 2018 | 2 | Iceland and Panama | Iceland and Panama | Group Stage |
| 2022 | 1 | Qatar | Qater | Group Stage |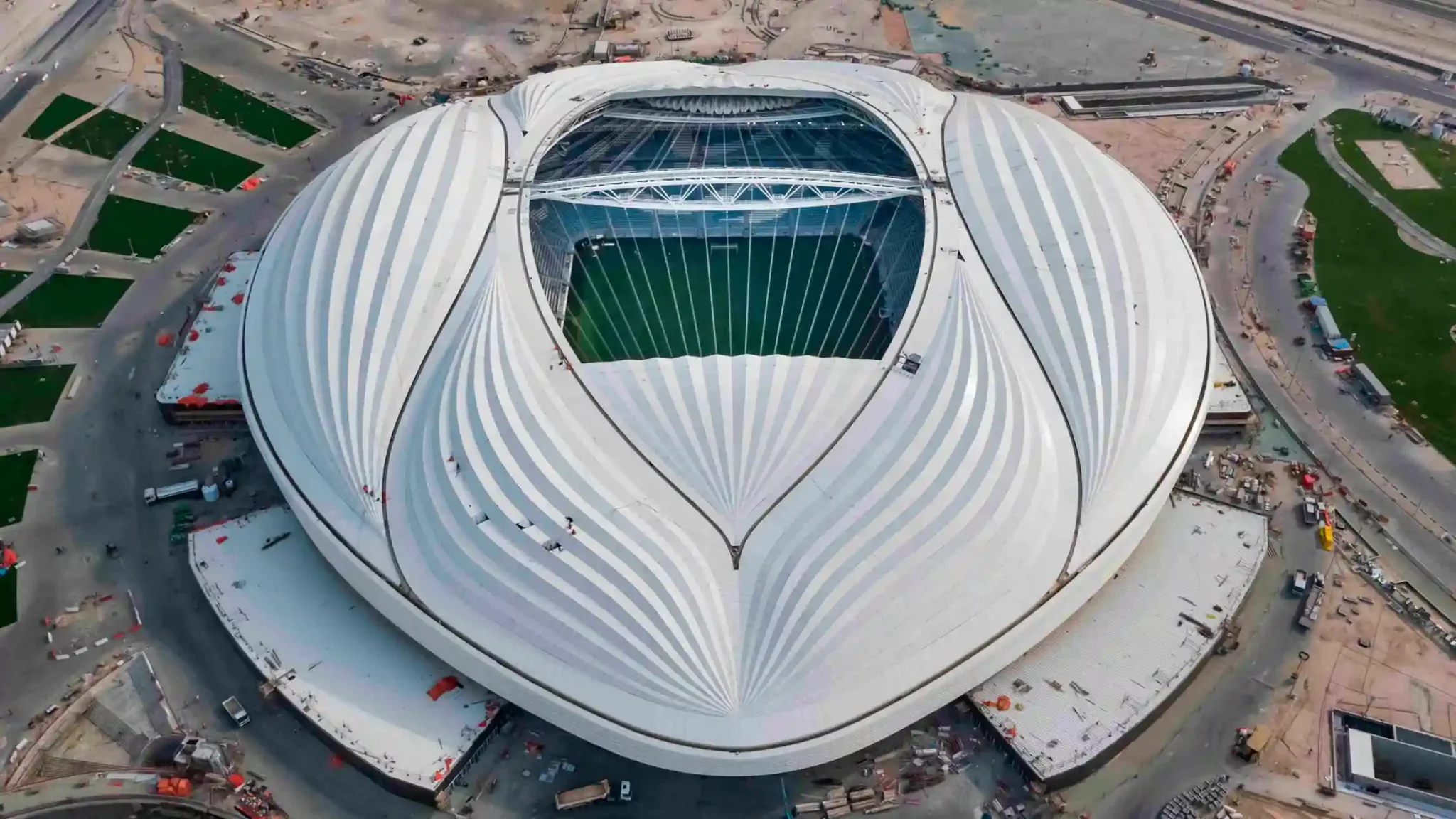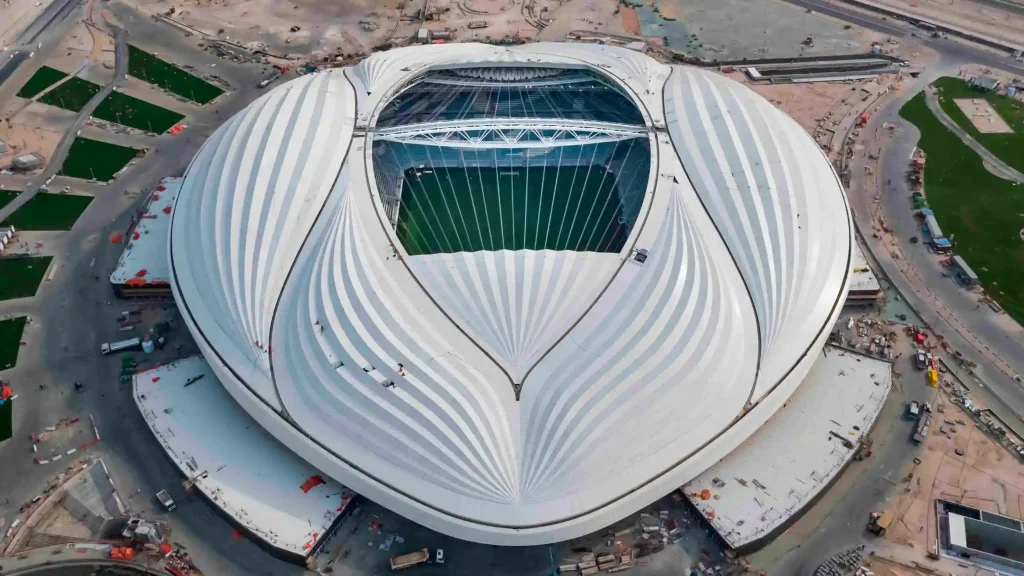 The Last Host Nation
The host country has won six of the 22 World Cups.
The only host countries not to have reached the second round is Qatar in 2022 and South Africa in 2010.
No host nation had ever lost the opening game of a FIFA World Cup in the tournament's 92-year history. The Qatar national football team made further history in the 2022 opening match, losing to Senegal.
Southeast Asia and Oceania have never hosted the tournament.
A first-winter World Cup was held for the first time in 2022 in Qatar. Every other host country has held the tournament in the summer months.
Among Qatar's infrastructure projects are the construction of stadiums, highways, and hotels. The country spent a staggering $200 billion on these projects.
Qatar is the smallest nation to host the World Cup ever, with only 4,416 square miles and 0.12 percent of the size of the United States.
There were only eight stadiums being utilized for the FIFA World Cup 2022 in Qatar. This was the lowest number of stadiums for the World Cup since the 1978 edition in the host country of Argentina. They only used six stadiums.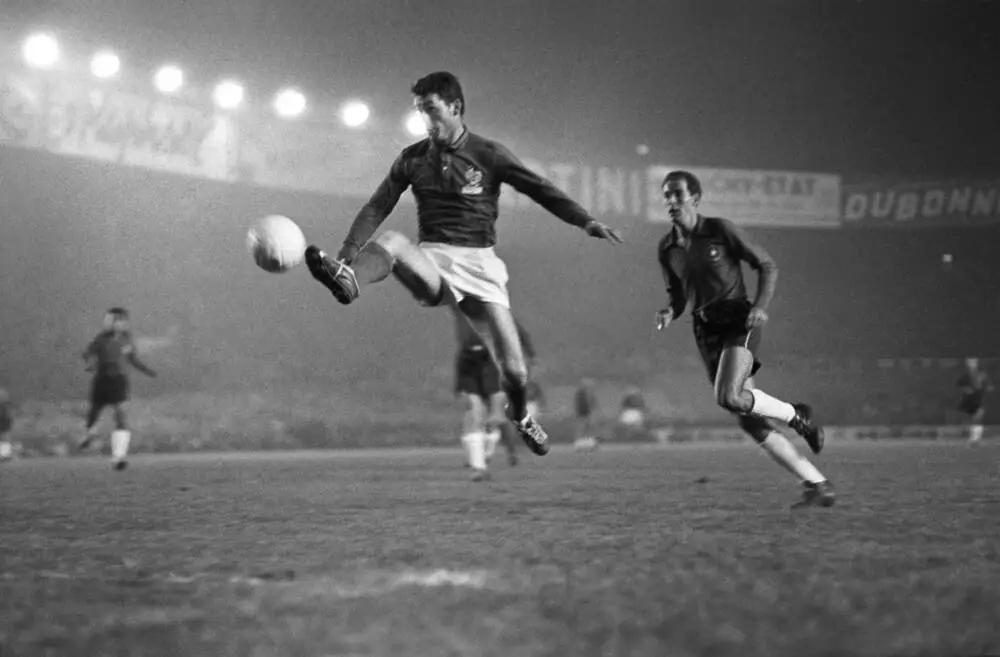 Crazy Facts About World Cup
Luis Monti was the first player to represent two different countries in World Cup history. (Argentina 1930 and Italy 1934) Five other players have followed him:
Robert Prosinecki (Yugoslavia 1990, Croatia 1998)
Robert Jarni (Yugoslavia 1990, Croatia 1998)
José Santamaria (Uruguay 1954 and Spain 1962)
Ferenc(Hungary 1954 and Spain 1962)
Mazola (Brazil 1958, Italy 1962)
French and Brazilian legends Zinedine Zidane and Cafu hold the record for most cards. They each received six cautions.
Jurgen Klinsmann became the first player to score three or more goals in three consecutive World Cups, later joined by Ronaldo of Brazil and German Miroslav Klose.
Between 2002 and 2014, Germany's Miroslav Klose set a world record for the most World Cup goals. He scored a total of 16 goals over four consecutive tournaments.
At the age of 13 years and 310 days, Souleymane Mamam of Togo became the youngest player to play in a World Cup qualifying match. The substitute came in three minutes from the end to replace Komlan Assignon.
The only two players to be sent off twice at a World Cup are Rigobert Song and Zinedine Zidane.
The only player ever to be sent off on his birthday was Italian forward Gianfranco Zola. After being sent off against Nigeria, Zola missed the two subsequent World Cup matches after being judged to have fouled Augustine Eguavoen by the referee. However, Italy won the match 2-1 and eventually made it to the World Cup final. After this suspension, Gianfranco Zola did not regain his place on the team.
The outbreak of World War II abruptly interrupted the World Cup cycle after three tournaments. Only in 1950 was it possible to stage the fourth. Fredy Bickel of Switzerland involuntarily became the player with the most extended "World Cup break" (12 years and 13 days). Sweden's Erik Nilsson also registered a twelve-year gap, as did – much later and for different reasons – Belgian pair Wilfried Van Moer and Alex Czerniatynski.

Goalkeepers
Known as the "Black Spider" for his all-black goalkeeper clothing, the great Lev Yashin played in three World Cups (1958, 1962, and 1966). "I like to have a smoke before a match to calm my nerves, then drink a strong drink to tone my muscles," he said when asked about his pre-match routine.
England's Peter Shilton kept a clean sheet in ten matches between 1982 and 1990, a record that withstood all challenges until Fabien Barthez came along.  They now share this record.
The trophy awarded to the best goalkeeper is named after Lev Yashin, who, in four appearances at the World Cup finals, never finished higher than fourth (in 1966). The Russian number one made an unforgettable impression in three successive World Cups between 1958 and 1966. In 1970, he sat on the bench at the age of 41.
Mexico's Antonio Carbajal has conceded more WC goals than any other goalkeeper. He shares this record of 25 goals with Saudi Arabia's Mohamed Al-Deayea.
America's Tim Howard once made 16 saves in a match against Belgium in 2014. The USA eventually lost 2-1 in extra time.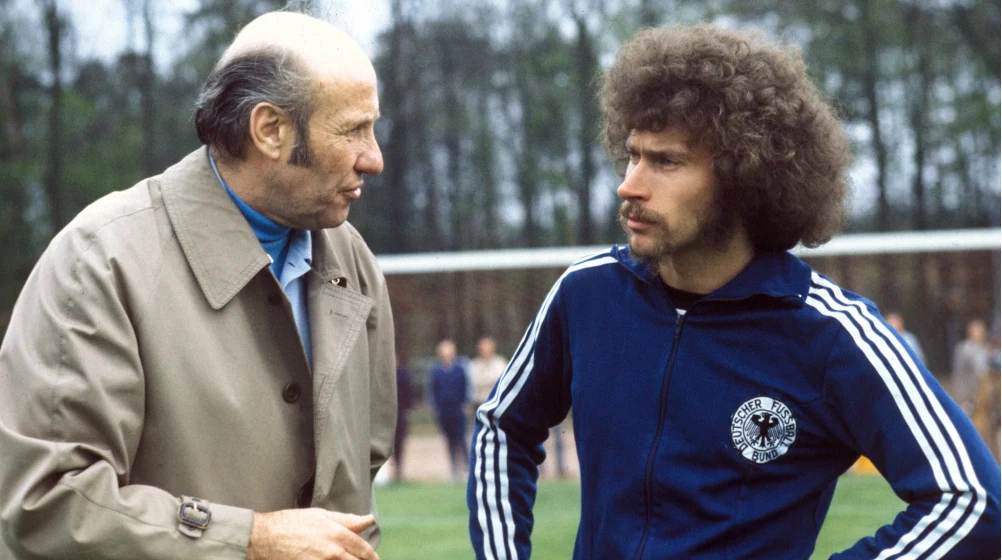 Coaches
Helmut Schon's tenure as the coach of the West German national team was marked by a string of successes in the World Cup, reaching the final in 1966 and 1974, and the semi-final in 1970. His 25 matches as coach at the World Cup, the 1978 tournament was the only one that ended in disappointment for him and the holders.
A select few individuals have managed to achieve the ultimate double in the history of the World Cup, both as a player and a coach. Mario Zagallo, Franz Beckenbauer and Didier Deschamps are among the elite group who have won the tournament both on the field and on the sidelines. Zagallo lifted the trophy as a player for Brazil in 1958 and 1962, and then led them to glory as a coach in 1970. Beckenbauer won as a player in 1974 and as coach in 1990. Deschamps was part of the winning team as a player in 1998 and later led the team to victory as coach in 2018.
Amazingly a nation with a foreign coach has never won a FIFA World Cup. They have all been the same nationally as the team that won.
The World Cup coaching record belongs to Bora Milutinovic and Carlos Alberto Parreira. Each coached five different World Cup nations.
A select few coaches have managed to lead their teams to the final of the World Cup on multiple occasions, six of them to be precise. Victor Pozzo, Helmut Schon, Mario Zagallo, Franz Beckenbauer, Carlos Bilardo and Didier Deschamps have all reached the pinnacle of the tournament twice. However, only Pozzo was successful in winning the tournament both times he reached the final, with Italy in 1934 and 1938.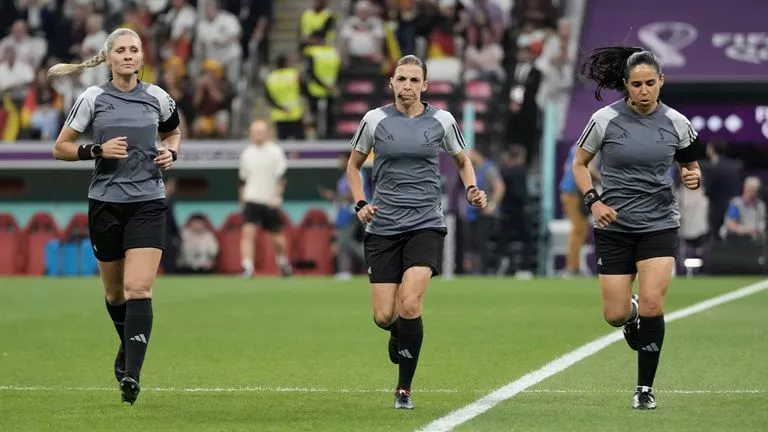 Referees
For the first time ever in 2022, women referees will referee at the FIFA men's World Cup. Stephanie Frappart, Yamashita Yoshimi, and Salima Mukansanga make up this team.
Joel Quiniou from France has refereed the most matches. He was in charge of eight matches between 1986 and 1994, including four in USA '94. Nicolaj Latychev (RUS 1962), José Ramiz Wright (BRA 1990) and Jan Langenus (BEL 1930) have all also refereed four games in one tournament – another record.
In 1930, Francisco Mateuccia of Uruguay became the youngest referee to oversee a World Cup game when he handled the Yugoslavia – Bolivia match.
The oldest referee to referee a FIFA World Cup game was George Reader of England, 53 years and 236 days old, when he officiated the 1950 Brazil-Uruguay final.

Prizemoney
The winning team at the 2022 World Cup final, Argentina, received USD $42 million in prize money. In 2018, the winner, France, received USD 38 million.
Runners up aren't disappointed, either. France received USD $30 million. In 2018, the runners-up received USD $28 million. That was Croatia.
The prize money for the 2018 World Cup in Russia came to 791 million U.S. dollars, up significantly from the 576 million U.S. dollars at the previous World Cup in Brazil in 2014.
In 2022, the prize money pot was USD $700 million. Each team that qualifies for the World Cup will receive $2 million to cover its preparation costs. The winner will receive $42 million for winning the World Cup final. Every team that gets through the group stages will receive $10 million.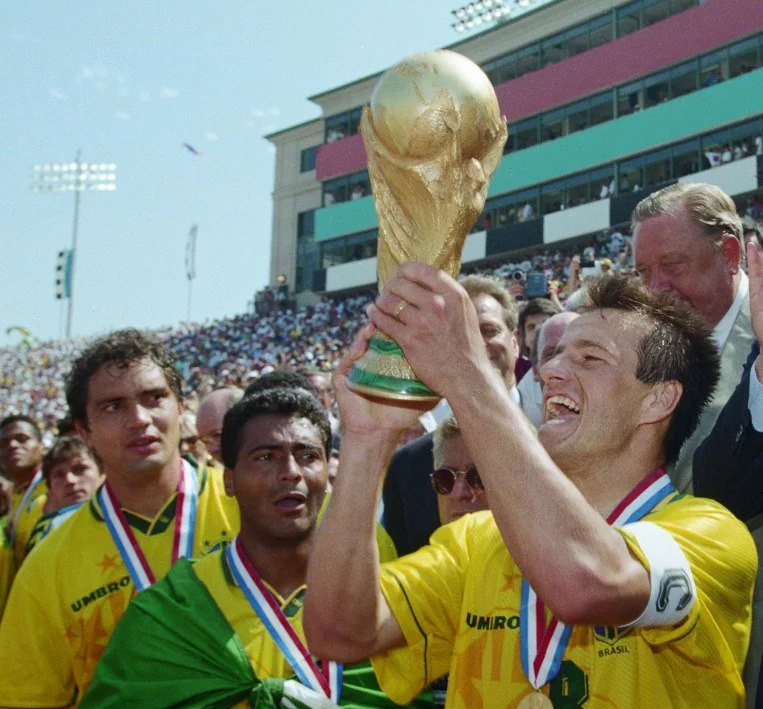 World Cup Trophy
The FIFA World Cup first ever trophy was the Coupe Jules Rimet. It was created in 1930 by Abel Lafleur, France. It was permanently given to Brazil after winning the tournament three times in 1970. [12]
Unfortunately, the Jules Rimet trophy was stolen in 1983 and has not been recovered since.
The FIFA World Cup trophy was in danger during World War II, so the Fédération Internationale de Football Association Italian Vice President Otorino Barassi moved the trophy from the vault of the bank it was kept in and placed it in a shoebox under his bed to protect it from the Nazis.
The new World Cup Trophy is permanently owned by FIFA. It was first introduced in the 1974 tournament, made of 18-carat gold, standing at 36.8cm tall and weighing 6.175kg. The base is designed to hold 17 inscriptions, enough to accommodate the winners until the 2038 World Cup. After that, the winning team will receive a replica of the trophy, which is gold-plated, to keep until the next tournament
Total Spectators For Each World Cup
| World Cup Year | Host Country | Total Spectators | Number Of Games | Ave Spectators Per Game |
| --- | --- | --- | --- | --- |
| 1930 | Uruguay | 590,549 | 18 | 32,808 |
| 1934 | Italy | 363,000 | 17 | 21,353 |
| 1938 | France | 375,700 | 18 | 20,872 |
| 1950 | Brazil | 1,045,246 | 22 | 47,511 |
| 1954 | Switzerland | 768,607 | 26 | 29.562 |
| 1958 | Sweden | 819,810 | 35 | 23,423 |
| 1962 | Chile | 893,172 | 32 | 27,912 |
| 1966 | England | 1,563,135 | 32 | 48,848 |
| 1970 | Mexico | 1,603,975 | 32 | 50,124 |
| 1974 | West Germany | 1,865,753 | 38 | 49,099 |
| 1978 | Argentina | 1,545,791 | 38 | 40,679 |
| 1982 | Spain | 2,109,723 | 52 | 40,572 |
| 1986 | Mexico | 2,394,031 | 52 | 46,039 |
| 1990 | Italy | 2,516,215 | 52 | 48,389 |
| 1994 | USA | 3,587,538 | 52 | 68,991 |
| 1998 | France | 2,785,100 | 64 | 43,517 |
| 2002 | Korea and Japan | 2,705,197 | 64 | 42.269 |
| 2006 | Germany | 3,359,439 | 64 | 52,491 |
| 2010 | South Africa | 3,178,856 | 64 | 49,670 |
| 2014 | Brazil | 3,441,450 | 64 | 53,772 |
| 2018 | Russia | 3,031,768 | 64 | 47,371 |
| 2022 | Qatar | 3,404,224 | 64 | 53,191 |
World Cup Construction Costs
Qatar hosted the biggest football party in 2022. There has never been an event as expensive as this Football World Cup. The cost of this World Cup is around 15 times higher than the previous tournament in Russia. Qatar has spent five times more than the last eight World Cups together.
The following is the cost of the last eight FIFA Football World Cups.
FIFA World Cup Qatar 2022 – $220 billion
FIFA World Cup Russia 2018 – $14.2 billion
FIFA World Cup Brazil 2014 – $11.6billion
FIFA World Cup South Africa 2010 – $3.6billion
FIFA World Cup Germany 2006 – $4.3 billion
FIFA World Cup South Korea and Japan 2002 – $7.0 billion
FIFA World Cup France 1998 – $2.3 billion
FIFA World Cup USA 1994 – $0.5 billion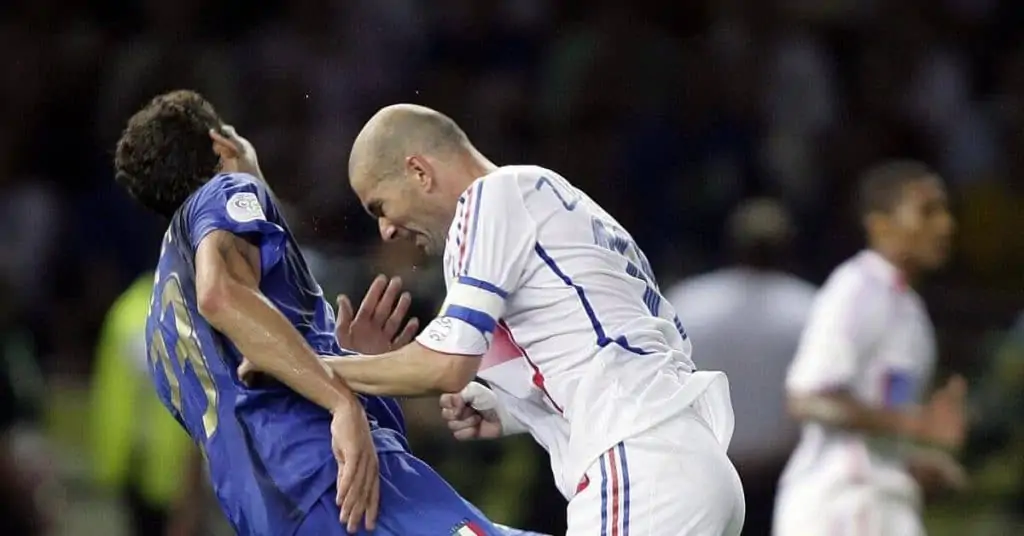 Unusual World Cup Facts
Denilson, a Brazilian player, holds the distinction of being the most successful substitute in World Cup history, coming on as a replacement 11 times, including both finals, in the 1998 and 2002 tournaments.
A common trend in World Cup matches is the scoreline, with 1-0 or 2-1 being the result in every third game, 10% ending 2-0, and another 10% ending in a 1-1 draw. Only a small percentage of matches, 8%, have ended in a goalless draw.
An interesting statistic is that 7.36% of all goals scored in World Cup history have come from the penalty spot, with 1.25% being scored as own goals.
Two players have achieved the feat of scoring in all six matches played by their respective teams, Just Fontaine in 1958 and Jairzinho in 1970. While Jairzinho's goals helped Brazil win the tournament, Fontaine's led France to the semi-finals. Salvatore "Toto" Schillaci, from Italy, came close to joining this elite group in 1990, scoring in six out of seven games, but ultimately fell short.
Only 14 players have won both the Olympic football tournament and the World Cup. Just ten Uruguayans and four Italians achieved this feat during the three World Cups in the 1930s. Ten years after winning Olympic gold, Sweden's Niels Liedholm lost in the 1958 World Cup final, while the 1954 "miracle of Berne" prevented the triumph of the marvelous Hungarian team of Puskas and Kocsis, who won the Olympic title in 1952. The Polish team captained by Kazimierz Deyna won gold at the 1972 Munich Olympics. Two years later, they returned to the Olympic Stadium in Munich during the World Cup – but for the third-place play-off.
Five pairs of brothers have played in a World Cup final, but only the Walter brothers (West Germany, 1954) and the Charltons (England, 1966) finished as champions. The Evaristo (Argentina, 1930), Van de Kerkhof (Netherlands, 1974/78), and Forster (West Germany, 1982) brothers all lost out in the final.
The World Cup has seen a significant number of matches where the attendance surpasses 100,000 spectators on 17 different occasions, all of which were held in either the iconic stadiums of Rio de Janeiro or Mexico City, cementing their reputation as some of the most iconic venues in world soccer.
There have been sixty-four goals scored in the finals' history. Twelve players scored more than one goal in the World Cup final. There have only been two men's players who have scored a hat trick: Geoff Hurst and Kylian Mbappé. The Frenchman has now scored four goals in two final appearances.
The World Cup has seen a select few players who have managed to score in multiple finals, with only three players achieving this remarkable feat: Vava and Pele from Brazil, Paul Breitner of West Germany and Kylian Mbappe. Vava scored in 1958 and 1962 for Brazil, Pele in 1958 and 1970, Paul Breitner in 1974 and 1982 and Mbappe in 2018 and 2022.
Another player who has left a lasting mark on the tournament is Cafu, the Brazilian defender, who is the only player to have played in three consecutive finals from 1994 to 2002.
Ten or more goals have been scored in just five of all the World Cup matches played to date.
The famous song entitled "Coup de Boule" ("Headbutt") was inspired by what France's Zinedine Zidane did during the World Cup final in 2006. He hit Italy's Marco Materazzi's chest with his head.
The highest-scoring World Cup game in history was played in 1954 when Austria defeated Switzerland by a score of 7-5. [13]
It wasn't just England's glory on the pitch that made the 1996 World Cup special. The union flag football shirt and lion's mop-top mane of World Cup Willie helped him set new standards for World Cup merchandise. This was the first FIFA World Cup mascot.
A foosball table measuring 138 m (452 ft) long was built by Jiujiang Jiuxing Sports Facility on 27 September 2019. China hosted the table football world championships when it was made.
The traditional sport, Speak Takraw, has its own World Cup every four years. It's part of the Southeast Asian Games held every two years and the Asian Games.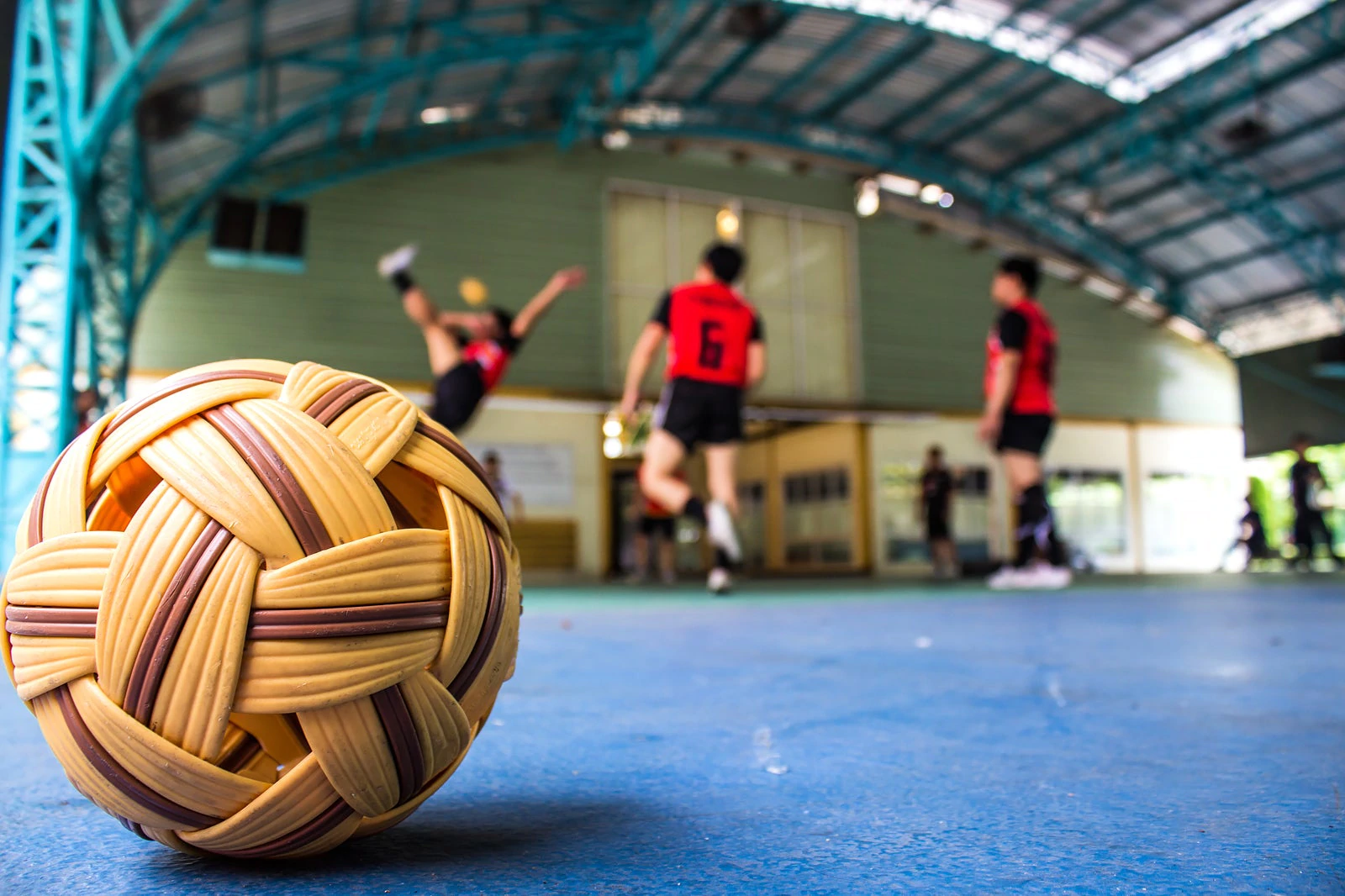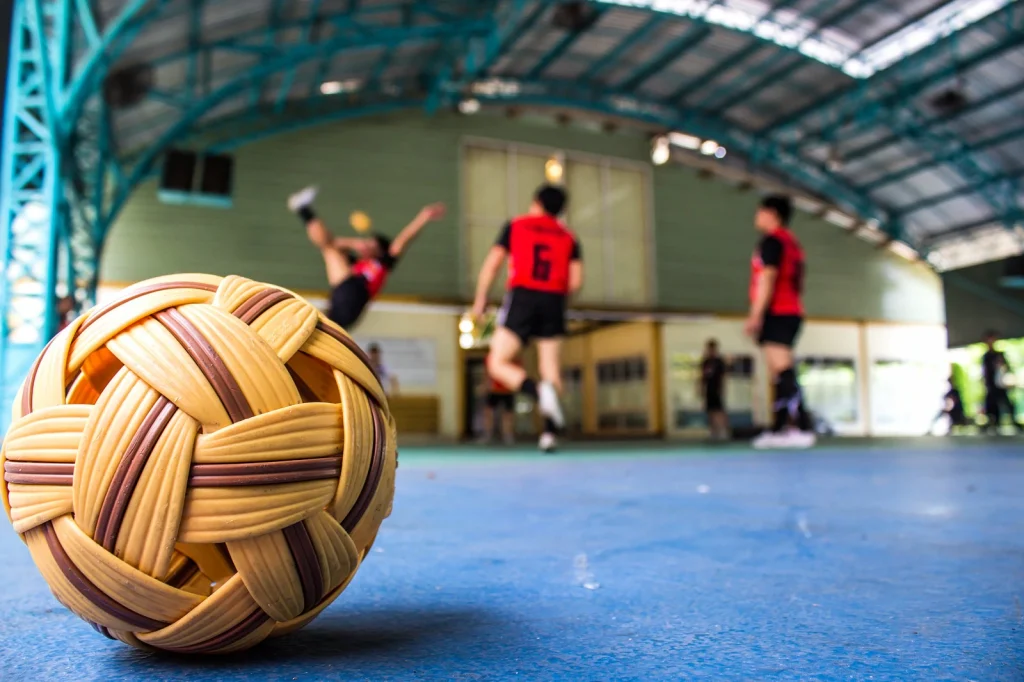 FIFA Fair Play Award
FIFA's Committee for Fair Play and Social Responsibility presents this award to the team with the best fair play record based on a points system and criteria.
| World Cup Year | Winner/s |
| --- | --- |
| 1970 | Peru |
| 1974 | West Germany |
| 1978 | Argentina |
| 1982 | Brazil |
| 1986 | Brazil |
| 1990 | England |
| 1994 | Brazil |
| 1998 | England and France |
| 2002 | Belgium |
| 2006 | Brazil and Spain |
| 2010 | Spain |
| 2014 | Colombia |
| 2018 | Spain |
| 2022 | England |
The Women's World Cup Facts
The World Cup Women's Soccer Tournament has been held 8 times. The USA has won four and Germany has won twice. The only other winners are Norway and Japan. There was an unofficial Women's World Cup held in Mexico in 1971.
The record for the most goals scored in a single World Cup match is the USA beating Thailand 13-0 in the first game of the 2019 Women's edition.
In the 1991 Women's World Cup, the matches were only 80 minutes long.
The Women's World Cup was supposed to be held in Bulgaria in 1995. It never happened. Sweden was given the honor of hosting the women's tournament after Bulgaria did not qualify.
China was supposed to host the 2003 FIFA Women's World Cup. However, SARS struck. Due to the United States' existing infrastructure, the country was able to host the Women's World Cup for the second time in a row.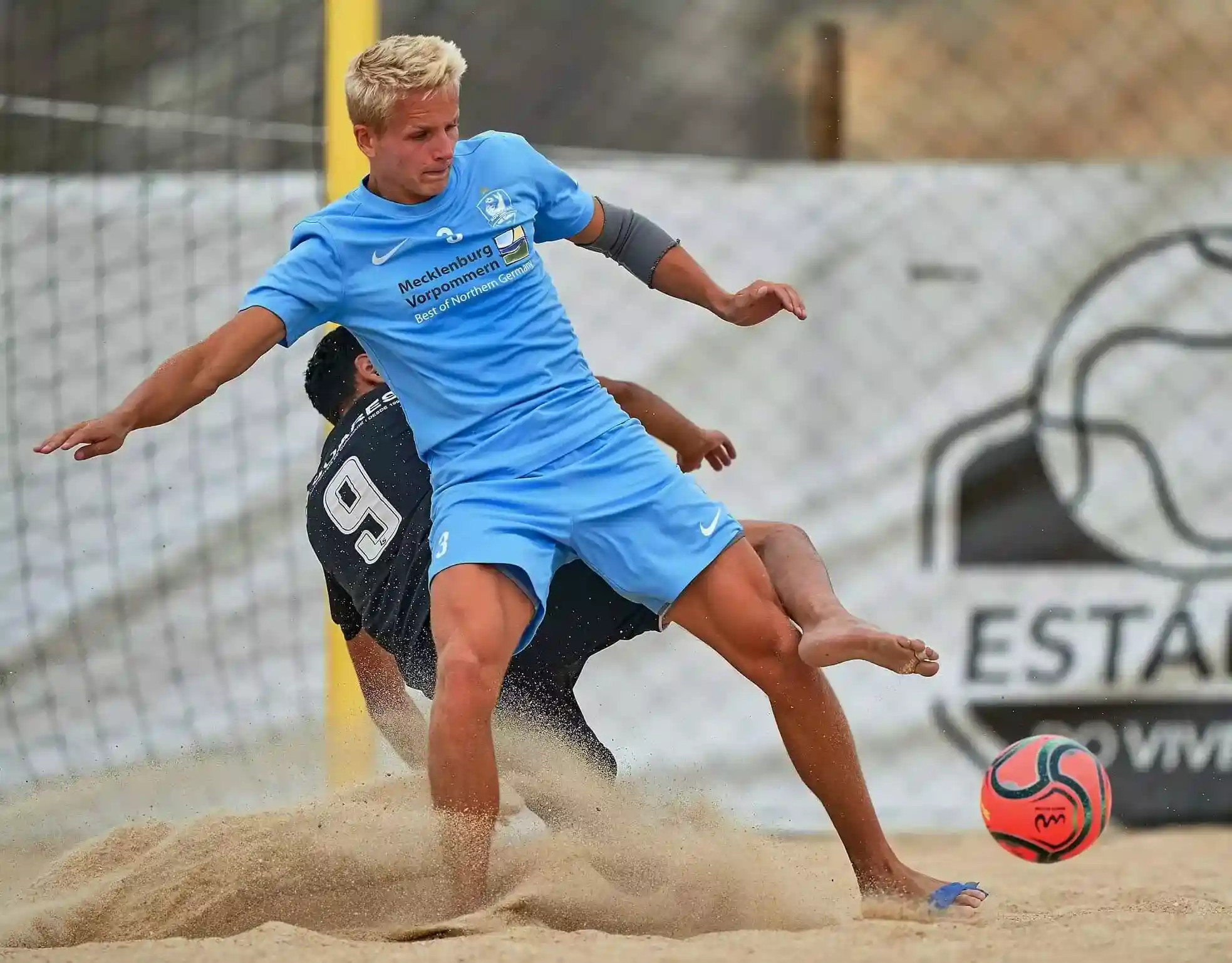 FIFA Beach Soccer World Cup
Rolf Liefden, who has played in six beach world cups, is the oldest player in the tournament's history. In 2013, the Netherlands international was 46 years and 216 days of age when he played against Argentina.
At the 2006 FIFA Beach Soccer World Cup, 286 goals were scored in total, which resulted in an average of 8.94 goals per match.
After a dominant victory over Tahiti in the 2017 final, Brazil earned their fifth Beach Soccer World Cup title overall.
There have been 37 nations that have participated in the World Cup tournament at least once.
Brazil v Portugal is the most recurring match in Beach Soccer World Cup history.
Romário Faria, the 1994 FIFA World Cup winner, played for hosts Brazil in the FIFA Beach Soccer World Cup 2005, scoring six goals in four matches.
Use these facts about the World Cup with your friends or share them on your social media profile.
References:
[1], [2], [3], [4], [5], [6], [7], [8], [9], [10], [11], [12], and [13]: https://www.sapeople.com/2010/06/11/80-pieces-of-world-cup-trivia/
[14]: https://forums.eog.com/index.php?threads/world-cup-records.25960/
Images:
AP Photos
https://en.wikipedia.org/wiki/File:Holland_-_Switzerland_-_Football_World_Cup_1934.jpg
AP Photos
https://commons.wikimedia.org/wiki/
File:Jogo_no_Est%C3%A1dio_do_Maracan%C3%A3,_antes_da_Copa_do_Mundo_de_1950.tif
www.pinterest.com/pin/609041549601559922/
@AlecCutter / Twitter
Hutton / Allsport
www.swissinfo.ch/eng/culture/goal-or-no-goal-_how-a-swiss-decision-changed-football-history/45210118
www.historyextra.com/period/victorian/brazil-where-sport-and-politics-have-always-mixed/
www.fifa.com/news/legends-lost-in-2021
www.liverpoolecho.co.uk/incoming/gallery/7225767
www.irishfa.com/news/2020/april/ni-hall-of-fame-norman-whiteside-teenage-kicks-at-the-82-world-cup
AFP
https://fr.wikipedia.org/w/index.php?title=Fichier:1990_Football_World_Cup_logo.svg&lang=fr
Action Images / Sporting Pictures
Pool/AP
www.skysports.com/football/news/11670/10577691/alexis-sanchez-picks-his-ultimate-xi-and-no-arsenal-players-feature
www.fifa.com/tournaments/mens/worldcup/2006germany/news/Italy-conquer-2006-world-cup
www.designmuseumshop.com/products/fifa-world-cup-poster-south-africa-2010-40-x-50cm
www.indiatimes.com/ampstories/news/sports/fifa-world-cup-brazil-to-spain-who-has-won-it-how-many-times-585108.html
www.timesofindia.indiatimes.com/sports/football/fifa-world-cup/sony-promises-exhaustive-comprehensive-coverage-of-world-cup/articleshow/64589088.cms
en.as.com/en/2022/03/25/videos/1648219953_481429.html
en.as.com/en/2021/05/04/soccer/1620120806_081622.html
www.iffhs.com/posts/2309
AFP / Getty Images
www.irishnews.com/sport/2019/09/05/news/on-this-day—sept-5-1951-west-germany-world-cup-winner-paul-breitner-is-born-1703863/
Hassan Amnar / AP Photos
Getty Images
Reuters
www.shutterstock.com/image-photo/close-sepak-takraw-ball-rattan-on-632878199
https://en.everybodywiki.com/File:Axel_Damm_1.jpg