Uwe Seeler is widely considered one of the greatest German soccer players of all time. Uwe was born on 5 November 1936 in Hamburg, where he subsequently joined his beloved local club Hamburger SV at just nine years of age. He was the son of Erwin, an influential soccer player from the port city.
Uwe Seeler, one of the best players in German football history, died at the age of 85. Besides being an extraordinary footballer, Uwe Seeler was also an extraordinary individual. There is no doubt that he was one of Germany's best strikers.
Early Soccer Days
As a youngster, Uwe Seeler joined Hamburg's most prominent club, HSV, at ten and made his debut in the first team at the tender age of 16. "It definitely came as a surprise to me," Seeler told the History of Soccer lead writer with a smile on his face. "I played Gottingen at Rothenbaum stadium against a man almost twice my size and weight. But, despite that, I was pretty good, winning some aerial challenges as well."
As a result, the player dubbed Uns Uwe (Our Uwe) became an iconic figure at the club, spreading far beyond the city limits.
Uwe Seeler's career progressed rapidly, and just one year later, he was called up by then-coach Sepp Herberger into the German national team squad.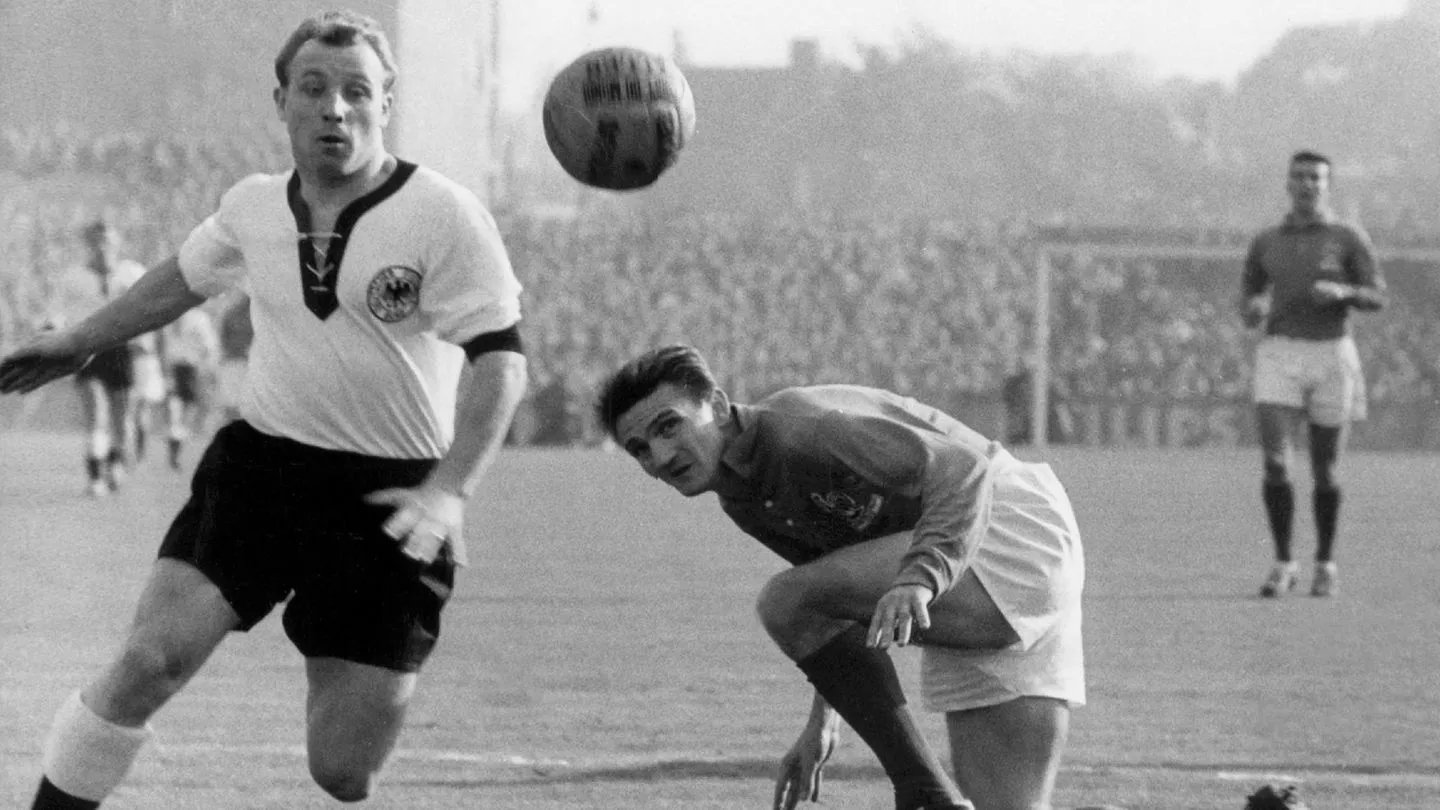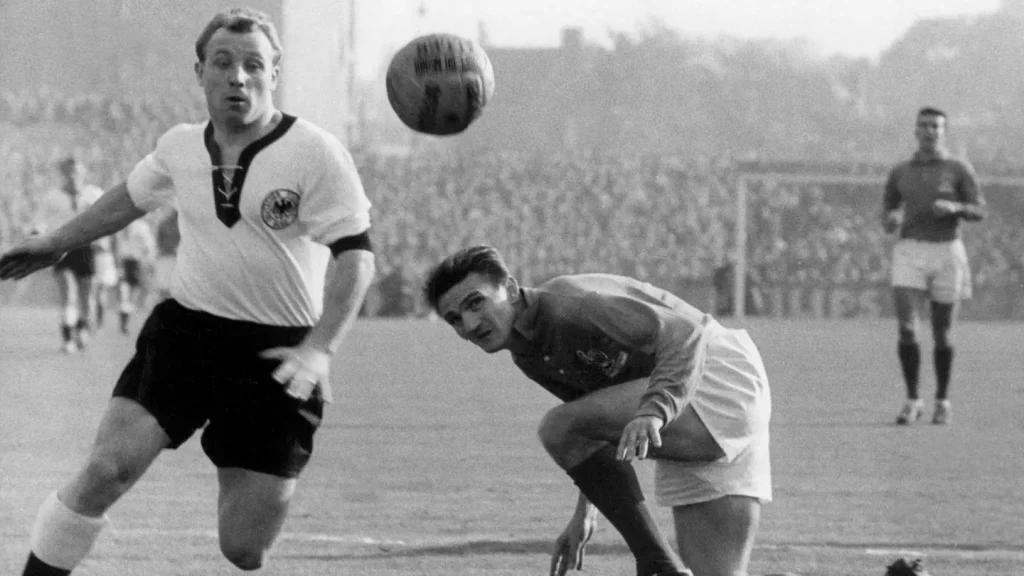 West Germany Debut
Under legendary German team coach Sepp Herberger, Uwe Seeler made his international debut in 1954, just a few months after the 'Miracle of Berne,' where West Germany won their first significant victory in history at the World Cup in Switzerland. "Our team for the 1954 Soccer World Cup had fallen ill with jaundice, and several players had dropped out. As Sepp Herberger knew me from a FIFA youth tournament the year before, he considered taking me to Switzerland,"
From then on, Uwe Seeler's career took off.
With a height of only 1.68 m, even by the standards of the day, Uwe Seeler was diminutive, but he scored 43 goals in 72 appearances for his country and became one of their best ever center-forwards. Seeler would go on to win 71 senior caps for his country, with his first appearance at a World Cup finals a particular highlight: "I will always remember my first World Cup match in Sweden in 1958. I had only been selected as a second-choice center-forward, but Herberger took me to one side at the training camp and told me I would be starting against Argentina. We won, and I scored my first World Cup goal."
An iconic figure in German soccer history thanks to his goalscoring feats, the positive-thinking Uwe Seeler is even able to look back wistfully at some of his country's most painful defeats: "Two other games which I will never forget are the 1966 World Cup Final against England and the 1970 World Cup semi-final against Italy."
Uwe Seeler Optimistic Outlook
Perhaps this optimistic outlook on life, especially on sport, made him successful. After all, he participated in four World Cups – a feat that puts Uwe Seeler on a par with legendary figures like Pele, Diego Maradona, Ronaldo, Cafu, Thierry Henry, Andres Iniesta, Miroslav Klose, Leo Messi and Oliver Kahn.
And of his four visits to world football's top table, the man named honorary captain of the German national team chose to highlight one final in particular: "Mexico 1970 was my favorite World Cup.
People were wondering what an old crock like me was doing in the heart of Mexico when I was almost 35 years old. So by playing alongside Gerd Muller, I prepared myself for this World Cup. "I think we were a well-loved team at the time, but I can't describe the emotions we experienced then."
Mexico World Cup Was The Best
"The excitement was unbelievable. Even the players who became world champions in 1974 later said that the Mexico World Cup was the best. The German team traveled around to little Mexican towns giving out presents, and the people were so gracious. It was very moving. Something odd happened too.
After the game against England, when we came back from 2-0 down to win 3-2, our evening meal was delayed because our cook from the hotel had been almost crashed during the celebrations and had to take a breather. It wasn't a major problem, though. Most of the time, we were just thirsty because the games took place at midday in 55-degree heat."

No International Trophies
The German national team would not win a single trophy during Uwe Seeler's era, but he still finished runner-up, third, and fourth at three FIFA World Cups.
Two years after Uwe Seeler stepped down from the national team, the Germans won the European Championship before claiming their second world triumph on home soil in 1974. Unusually, Seeler was still recognized with the title of honorary captain of the German national football team.
A Scorer Of Great Goals
For his beloved club team Hamburg, the striker played a starring role as HSV won the West German championship nine times in a row, winning the pre-Bundesliga German title in 1960. He was named the inaugural German Player of the Year that season, an award he would win twice more.
He earned a German Cup winner's medal in 1963 and became the first-ever top scorer in the newly-launched Bundesliga the following season.
"I scored many great and often important goals in the course of my career," Uwe Seeler told History Of Soccer. "Scissors kicks, diving headers, and even some with the back of my head. But I never cared whether it was pretty or not. For me, the finest thing was the ball just making it over the line."
"A crucial goal for me came in Sweden in 1965," he continued. "It was a game we had to win to qualify for the World Cup in England. I'd just recovered from a complicated Achilles tendon operation, and I didn't know if it would all hold together.
So the fact I scored in such an important match for the West German national team was vital for my confidence because I knew I'd be able to continue as an international."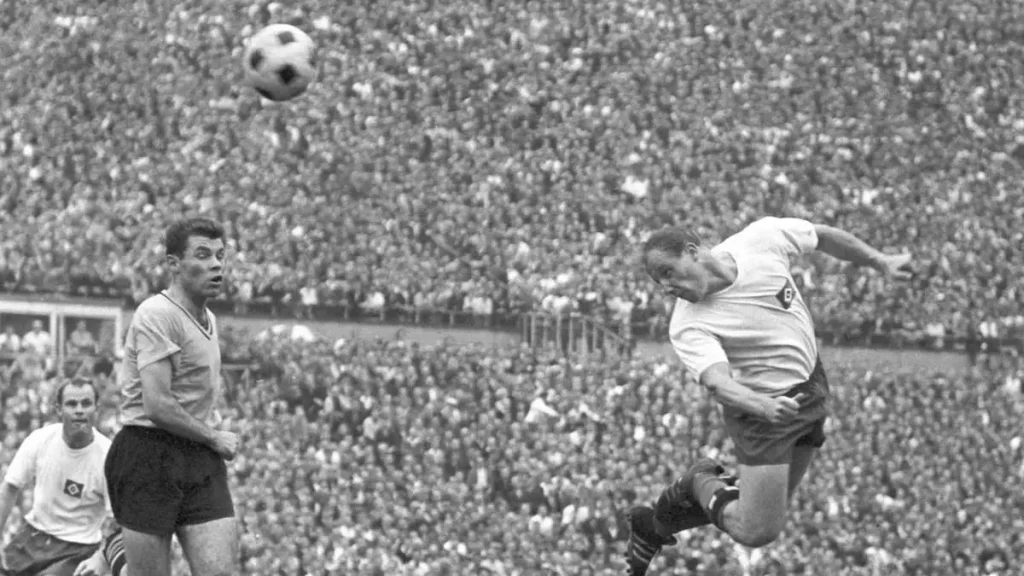 Uwe Seeler Memorable Moments
Uwe Seeler's self-assessment is spot on, as he was hailed less for his skill than for his fighting spirit and work rate. As he mentioned, one of his most memorable goals was scored with the back of his head against England in the 1970 FIFA World Cup quarter-finals for the West German national football team.
"Yes, that goal," Uwe Seeler smiled. "I don't think it's something you can train. It was more like making a virtue out of necessity. The ball was going over my head, and I was also running backwards, something which isn't easy in and of itself. S
o the ball hitting me on the back of the head and then going in isn't something you do without a bit of luck."
Upon Retirement
Uwe Seeler retired in 1972, drawing his glittering career to a close in a game pitting HSV against a World XI. However, Seeler made an unlikely comeback with Irish side Cork Celtic six years later.
"That was to do with my job. In Ireland, the Adidas representatives asked me to play in an invitation match," says the forward. "But what I didn't know was that in Ireland, you could register guest players to play in normal league matches, so that's how I made my only league appearance in Ireland.
We lost heavily, but I managed to score two goals, and the club team wanted to hang onto me. I was too old, though. Still, it was a nice experience."
After a host of benefit games with the 'Uwe Seeler Classic 11', Uwe Seeler has since been forced to hang up his soccer cleats for good. "I stopped playing at 61. The doctors wouldn't allow me to continue playing because I had suffered too many injuries and operations," he explained. "I remember once asking Fritz Walter how mad you'd have to be to keep playing at 50, but seeing as I kept going until the age of 61, I'm sure you are getting an idea of how sane I am!"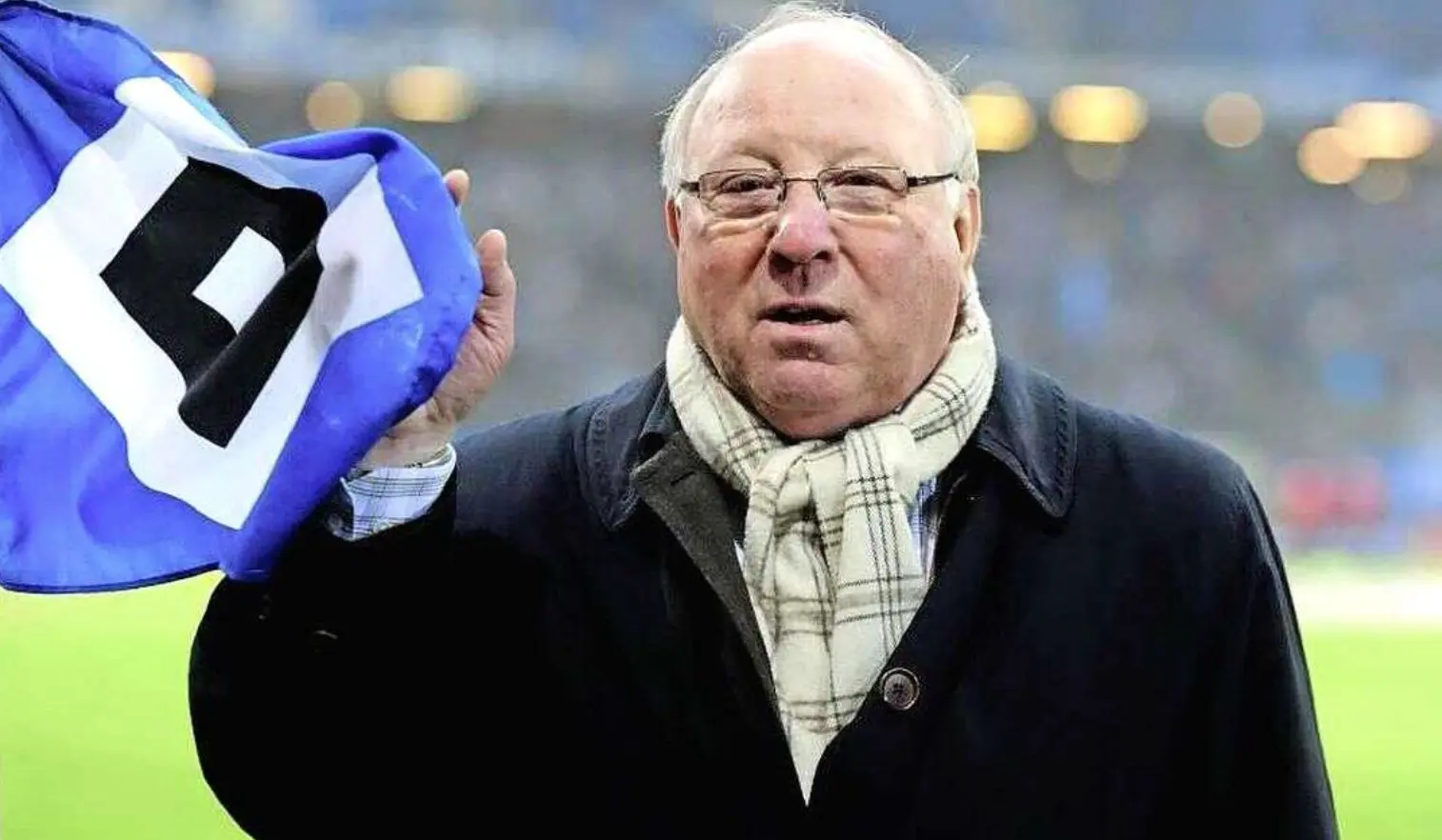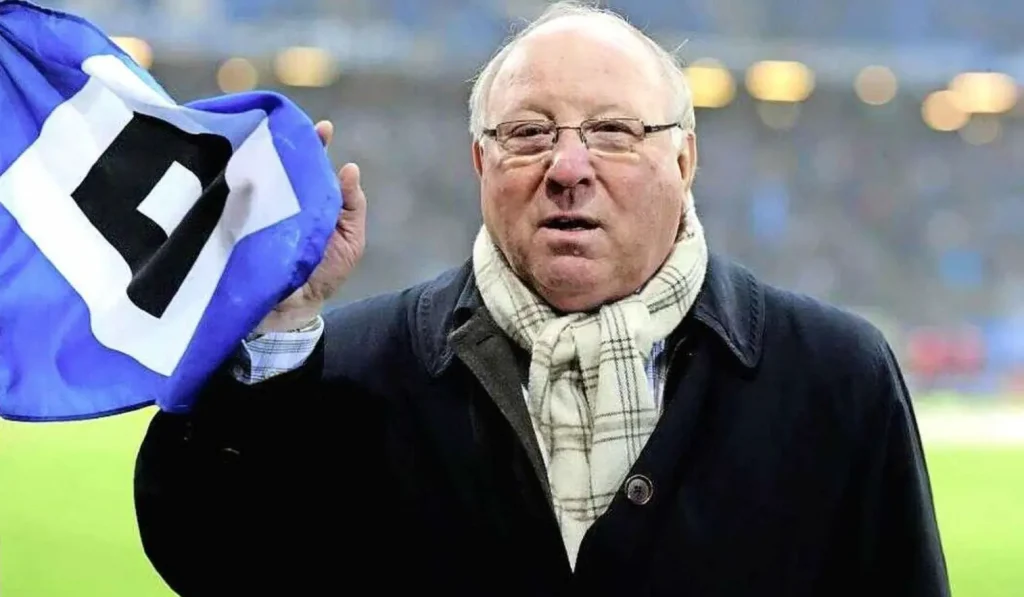 Today
The soccer legend, who passed away at 85 years old, was always an exemplary character on and off the field, collecting many civic honors to go with his footballing achievements. Uwe Seeler holds the Silver Laurel Leaf, the highest sports award in Germany; a Bambi media award; the Federal Cross of Merit, Germany's highest award for sports; and a freeman of the City of Hamburg.
Nowadays, the father of three has withdrawn from the public glare and lives – where else – in Hamburg. Uwe Seeler keeps fit by playing golf, cycling, and walking his children's dogs, his love for the beautiful game, particularly HSV.
Yet, decades after hanging up his boots, he remains one of the proud port city's best-loved characters. And just as the locals will never forget Uns Uwe, he has remained steadfastly faithful to his only soccer love: "I'm Hamburg born and bred, and the HSV emblem is on my heart. I'm a passionate soccer fan. Hamburg is my club," Uwe Seeler declared.
FIFA World Cup Records
With 21 appearances at the FIFA World Cup, Uwe Seeler became the first player to achieve that feat. He is the only player in his career to score at least two goals in every World Cup he has played.
The four World Cups he played in saw him score 9 goals for the German national team. The History Of Soccer believes Uwe Seeler is one of the greatest players in German football history.
Uwe Seeler Facts
Full Name: Uwe Seeler
Birthdate: 05/11/1932
Birthplace: Hamburg, Germany
Died: 21/07/2022
Club Career
Hamburger SV:  476 appearances, 404 goals.
National Career
West Germany: 72 appearances, 43 goals. (FIFA World Cups: 1958, 1962, 1966, 1970)
Honors:
Footballer Of The Year: 1960, 1964, 1970
FIFA World Cup All-Star Team: 1966
World Cup Runners-Up: 1966
We thank Uwe Seeler for providing the time and helping us document his extraordinary soccer career.