In the early years of Major League Soccer, some players took odd routes to the league. Tim Howard was no exception.
As a teenager, Howard was scouted by Tim Mulqueen, a former United States under-17 assistant coach. Mulqueen allowed the teenager to grow and eventually earn a spot with the US U17 squad.
In 1997, Mulqueen became the coach of the North Jersey Imperials of the United Systems of Independent Soccer League (USISL) while also joining the MetroStars as a goalkeeping coach.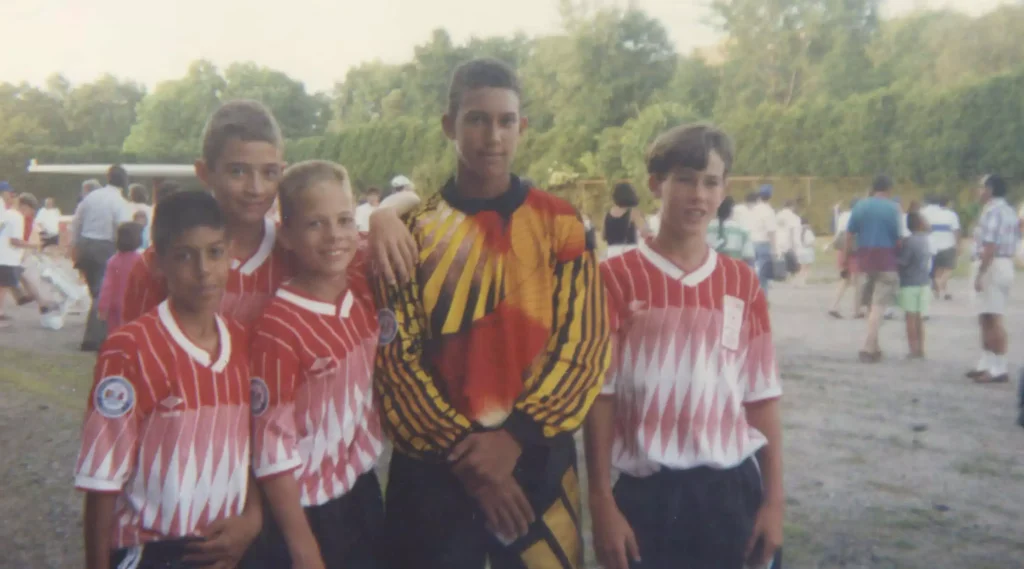 Tim Howard Joins MetroStars
As Mulqueen moved up, so did Tim Howard. After playing only six matches with the Imperials, Howard joined the MetroStars. He made his MLS debut on 18 August 1998, starting in goal against Colorado in a 4-1 victory at Giants Stadium.
After a dismal 1999 season, where the Metros won just seven games, Howard left the club to compete in the 1999 FIFA World Youth Championship and the Pan Am Games.
The following year, he split his time between the Metros and the US Olympic team, where he won all three of his US Open Cup starts and totaled 12 saves in matches against Wilmington, Columbus, and Tampa Bay.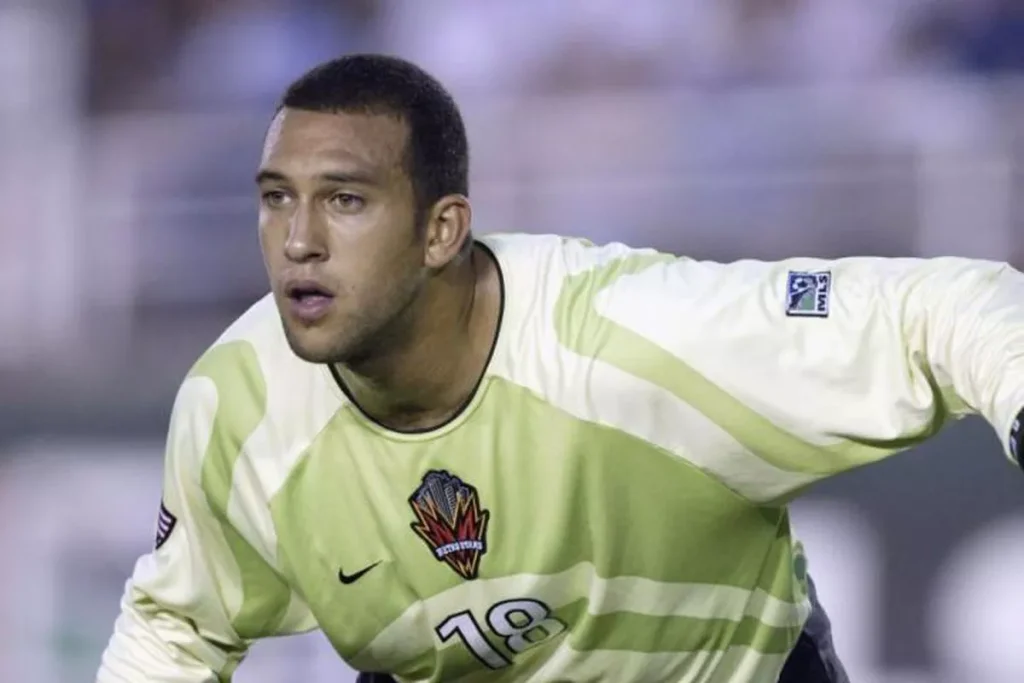 MLS Goalkeeper of the Year
In 2001, Tim Howard won the MLS Goalkeeper of the Year award and the league's Humanitarian of the Year award. The shot stopper finished with a 13-10-3 record, with 146 saves and a 1.33 GAA.
Howard became the youngest player named in the MLS Aquafina Goalkeeper of the Year, recording four shutouts and a league-leading 146 saves.
Furthermore, he was named an Major League Soccer All-Star after earning the full-time spot for the MetroStars.
It was much of the same in 2002. Howard played in 27 of 28 regular-season matches while earning a spot in the MLS Best XI for the second straight year.
In his final season with the Metro Stars, the New Jersey native appeared in 13 matches and had three shutouts.
Tim Howard left the MetroStars after playing 88 league matches and 8 cup games — but he and the club never secured silverware during his tenure.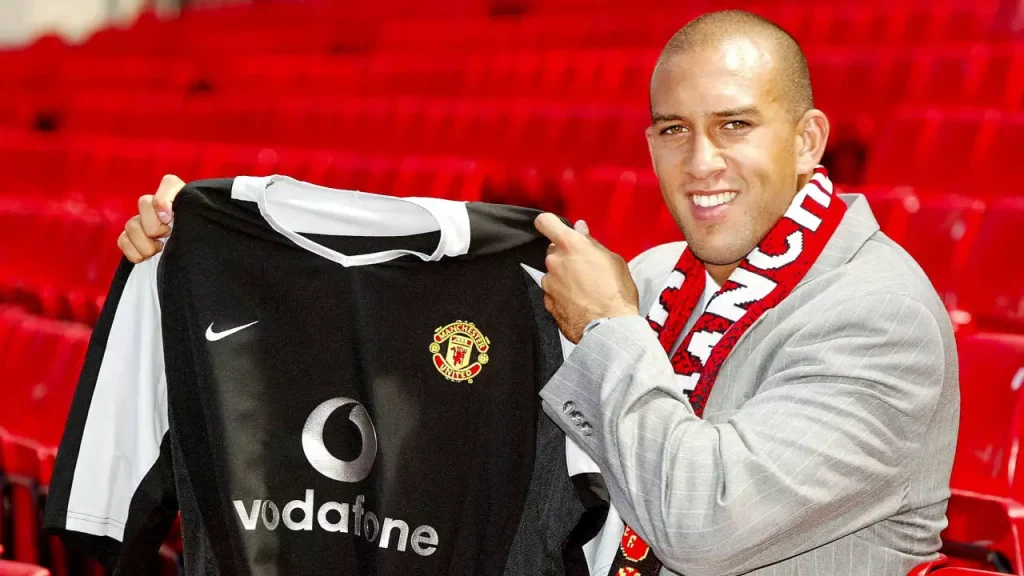 Joined Manchester United
After five seasons with the MetroStars and training stints at AC Milan and Feyenoord, Howard joined Manchester United in 2003 in the most significant transfer in American soccer history after United goalkeeping coach Tony Coton was alerted by a US contact. Howard's permanent deal to Old Trafford was confirmed while he was on duty at the 2003 Confederations Cup.
He immediately gained international recognition when he became United's starting goalkeeper, displacing French World Cup champion goalkeeper Fabian Barthez.
Howard posted 11 shutouts in 29 games in his inaugural season while maintaining a 1.00 goals-against average. He won the 2003/04 Community Shield with United and the FA Cup, becoming the first American to win football's oldest knockout trophy.
He was also voted on to the PFA Team of the Year, following in the footsteps of fellow American Brad Friedel.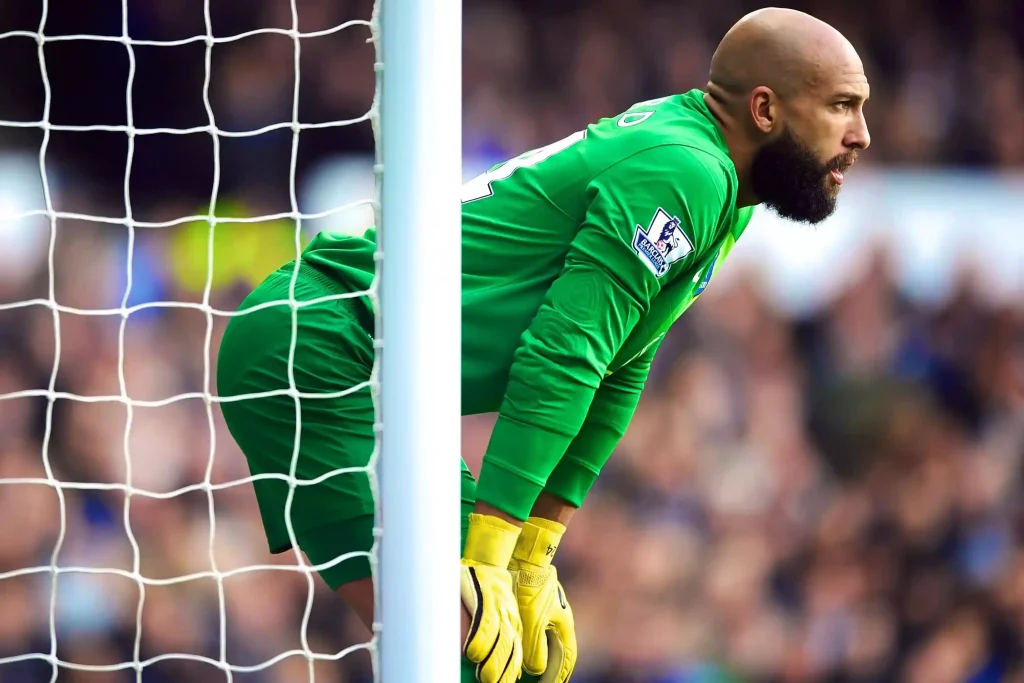 UEFA Champions League Mistake
But a last-minute howler that allowed Porto to score and eliminate United from the UEFA Champions League in March 2004 rang warning bells. Roy Carroll soon replaced Howard at the No.1 team in the English premier league.
In May 2005 a week before Carroll was released, Howard penned a new deal to keep him at the club until 2009. The following month Alex Ferguson signed Fulham's Edwin Van der Sar as his No.1, which left Howard fuming.
The Dutchman kept Howard out of the starting lineup for all but six games in the 2005/06 Premier League season, three of which were League Cup ties and two in the FA Cup.
Howard played for United in Roy Keane's testimonial on 9 May 2006, the same day a season-long loan to Everton was announced. Over three seasons with United, Tim Howard played 77 times for the first team in all competitions.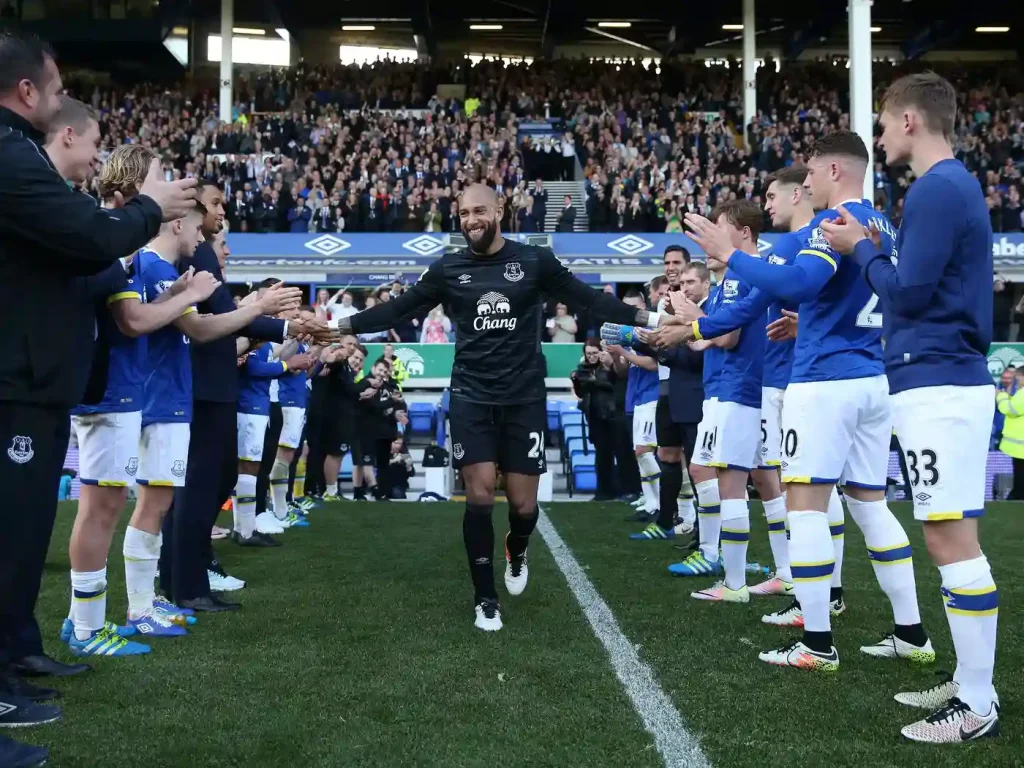 Off To Merseyside
Howard joined the Merseysiders on loan at the beginning of the season, with his long-term future at Old Trafford very doubtful.
But his form at Goodison Park even prompted United boss, Sir Alex Ferguson, to discuss bringing the USA international back to the club when his loan ended.
However, United has new England international Ben Foster and Polish youngster Tomasz Kuszczak as back-up to Edwin van der Sar.
He played 77 games for the Metrostars before Manchester United paid £2.3million for him in July 2003.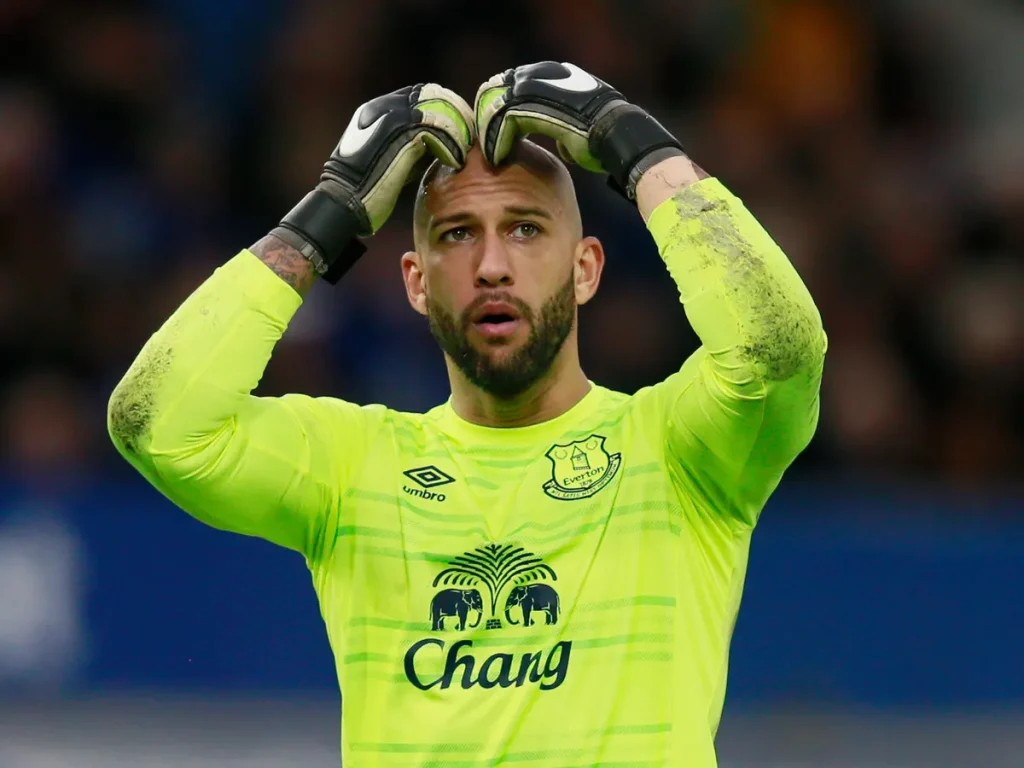 Good Early Form At Everton
Everton's good start to the 2006-07 season was largely credited to Howard's solid performances. His confidence instilled in the Everton defense soon led to calls for the loan to be made permanent.
Tim Howard signed a five-year contract with Everton for a fee believed to be in the region of £3 million from Manchester United.
The deal was reported somewhat confusingly, though. Some said it would not kick in until after the season ended, that Howard remained on loan, and would be excluded from playing against Man Utd on 28 April 2007. He did not play in that pivotal game… but the explanations turned out to be much murkier.
Tim Howard became a full and permanent Everton player, ending his loan deal on 14 February 2007. According to FAPL rules, Everton could have played him against Manchester United but agreed not to under the terms of a "gentleman's agreement" in the case that United was still in with a shout for the Premiership title! By agreeing not to play him, Everton accepted a third-party influence on team selection, which is illegal under the FAPL Rules.
FA Cup Semi Final Saves
Everton reached the FA Cup final against Chelsea after he saved two penalties against his former club Manchester United in the 2009 FA Cup semi final.
During his time at premier league club Everton, the American made 329 appearances. Howard scored his first professional goal against Bolton Wanderers during the 2011–12 Premier League season.
Howard set a club record for clean sheets during the 2008-09 Premier League season. The soccer goalie became only the fourth goalkeeper since the Premier League was formed to score in a game.
"This will always be my team, my club. I will remain an Evertonian for life," Howard said before his final match with the club.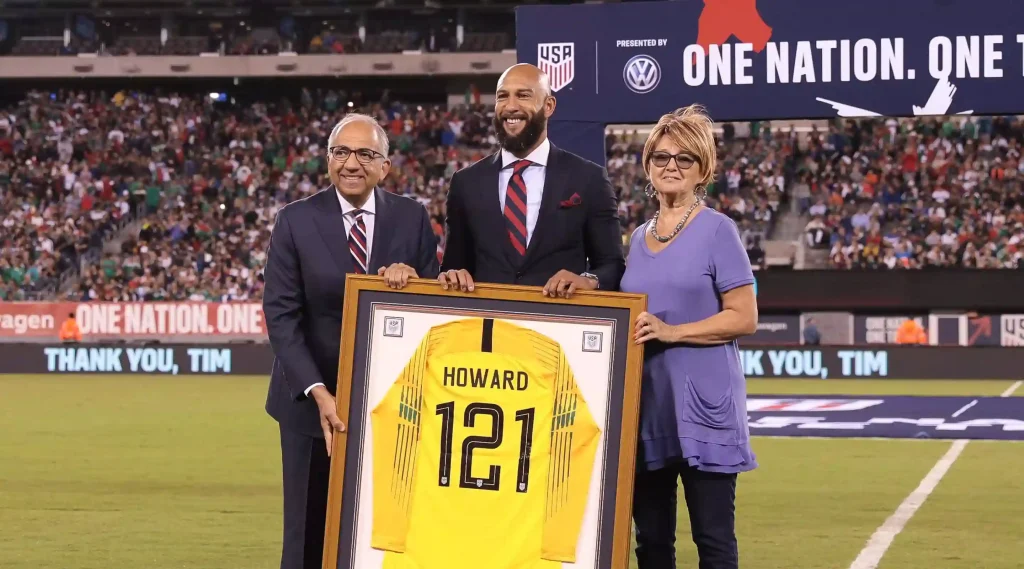 Colorado Rapids
In March 2016, it was revealed that Howard would return to Major League Soccer, signing a three-and-a-half-year contract with the Colorado Rapids and becoming available at the MLS teams transfer window.
His final season as a professional player was the 2019 Major League Soccer season after 100 appearances for the Colorado Rapids. Then, in October 2019, the shot-stopper retired.
Tim Howard Joins Memphis 901
Principal Owner Peter B. Freund and team President Craig Unger announced that Tim Howard has signed to play for Memphis 901 FC in the 2020 USL Championship Season, pending league and federation approval.
On signing his contract, Howard said, "Since my retirement in October, my football obsession has grown. However, the desire to win continues to drive me. I love to play, and I love to compete. This allows me to do both."
Howard assumed multiple roles at 901 FC, combining his position as a minority owner and sporting director with his new responsibilities as a player.
"As both an owner and our Sporting Director, Tim's deep desire to win, driven by outworking the competition, is what has come to define 901 FC's culture," said Freund. "Today's announcement that Tim Howard will represent the city of Memphis as our goalkeeper shouldn't come as a surprise to anyone who understands the fire that still burns inside him."
As Tim Mulqueen puts it, "When the ex premier league goalkeeper is on the soccer field as a player, he'll act as a player. He'll only focus on winning. There will be clear lines that the players will understand."
Howard's decision to come out of retirement comes from his passion for Memphis. He wants to represent this city and help soccer grow here. According to him, "I am committed to building a perennial playoff team for the City and people of Memphis. One that will eventually win the USL Cup at AutoZone Park."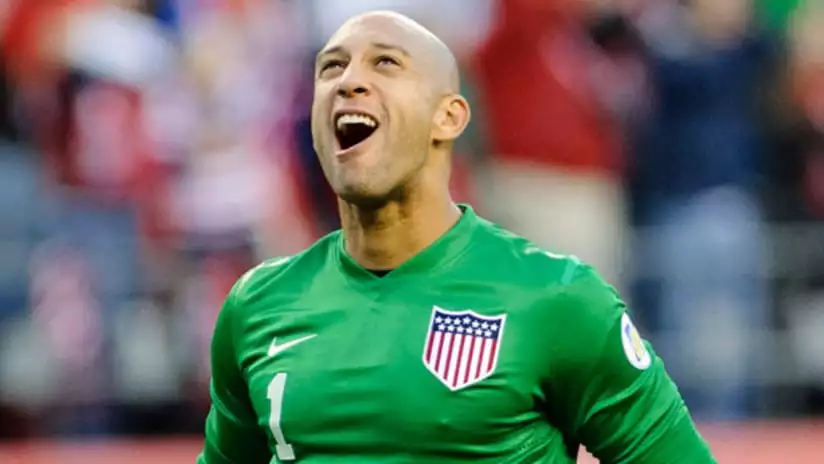 International Career Of Tim Howard
Howard made his first appearance for the national team in 2002, keeping a clean sheet against Ecuador and followed with a second shutout in the USA's final match of the year, a 2-0 win over El Salvador.
In 2003, he made seven appearances for the national team. He posted two more shutouts, including 0-0 draws against Mexico and Cameroon in the final match of the Confederations Cup. Despite the scorelines, he was named Man of the Match for his stellar performances against Turkey and Brazil in France.
Tim Howard started three World Cup 2006 qualifying games, including the clinching 3-0 victory over Panama. Then, in April of 2006, he was named to Bruce Arena's US World Cup squad but did not make it off the bench for any of the three US games in Germany.
Howard finally seemed to take the USMNT #1 shirt when he backstopped back-to-back wins over Mexico and Ecuador in early 2007. He became a 2007 CONCACAF Gold Cup winner.
An athletic and intelligent goalkeeper, Howard has rapidly asserted himself as the USA's next great goalkeeper and a vocal team leader on Bob Bradley's team bound for the World Cup. Since 2006, Howard has occupied the No. 1 position for the USA, and his ability to lead the team and his big-game credentials have continued to flourish year after year.
Nowhere was this more evident than in the 2009 FIFA Confederations Cup, where his four appearances included a shutout against top-ranked Spain and the Golden Glove award for the tournament.
Against England in his World Cup debut, Howard won man of the match honors as the starting goalkeeper for the 2010 World Cup in South Africa.
Tim Howard was named man of the match for his performance against Portugal during the 2014 World Cup. After diverting Nani's shot onto the post, his most notable save was denying Éder.
The United States lost to Belgium in the round of 16 by a score of 2–1 after extra time, but Howard was again named man of the match.
The 2017 Gold Cup winning team included Howard. He is the most capped goalkeeper in the US men's national team history with 121 appearances.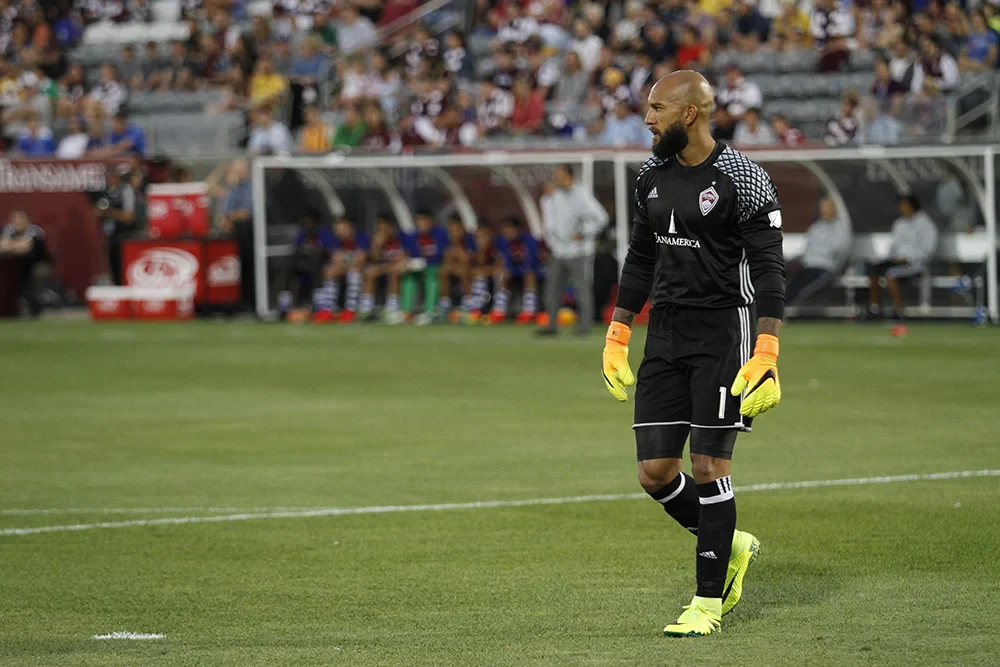 Off The Pitch
Tim is known as much for his work off the field as on it. Since going public with his Tourette's Syndrome, Howard has become a spokesman for those with the condition. In addition, he is very active in creating awareness by serving on the Board of Directors for the Tourette Syndrome Association of New Jersey.
He became a part-owner of Dagenham & Redbridge in September 2018 and Memphis 901 in September 2019. In December 2019, Howard was announced as Memphis 901's sporting director and was already managing the club's roster.
Tim Howard Stats And Facts
Full Name: Timothy Matthew Howard
Birthdate: 06/03/1979
Birthplace: North Brunswick, New Jersey
College Soccer:
1995–1997 Central Jersey Cosmos
Club Soccer Career:
North Jersey Imperials 1997
MetroStars 1998–2003
Manchester United 2003–2007
Everton (loan) 2003–2007
Everton 2007–2016
Colorado Rapids 2016–2019
Memphis 901 2020–2021
International Career:
Total Appearances: 121 matches
Club Honors:
Manchester United
United States Men's National Team
Individual Honors:
2001, 2002,and 2017: MLS All-Star
2003–04: Premier League PFA Team of the Year
2008 and 2014: US Soccer Athlete of the Year
2009: MLS All-Star MVP
2009: FIFA Confederations Cup Golden Glove