Bob Paisley was a Liverpool soccer player, manager, and administrator for almost 50 years. No football manager demonstrated the art of leading quietly and without ego more than Bob Paisley. He did not always demand the final word. He did not always expect to dictate how his club's money was spent in the transfer market.
The results were extraordinary. Unprecedented and as yet unmatched success at the top of British football. Bob Paisley won 14 trophies in nine years for Liverpool Football Club between 1974 and 1983. He is the only British manager to win the European Cup three times.
He is now regarded as one of the best soccer managers of all time.
His Early Years
In 1919, Bob Paisley was born in a small coal-mining town called Hetton-le-Hole.
Despite the town being soccer-obsessed, his parents, Sam and Emily, could never have imagined the successes their son would go on to achieve in the game – both on the field and off it. Despite his future successes, Bob Paisley's early life was far from plain sailing.
Like many working-class families at the time, there wasn't much money spare at the end of the week. So Paisley, like many other children, relied on soup kitchens to supplement his diet and provide him with the energy he needed to do what he loved – play soccer.
His talent started to shine during his time at Eppleton Primary School, where he quickly became the star of the team. Playing as a left half, Bob helped the team win 17 trophies in just four years. At fourteen years old, Bob Paisley left school to help his father in the coal mines.
However, his footballing dream never faded. Shortly after leaving school, he joined Hetton Football Club, where his performances on the field quickly got him noticed.
His childhood dream of playing for Sunderland almost became a reality when Hetton recommended him to the club. Unfortunately, they turned him down at the time for being "too small." Instead, Paisley joined Bishop Auckland, a team regarded as the "kings of amateur football."
Again, Paisley triumphed, helping the team win the league during his second season.
Success seemed to follow Bob Paisley, and again his excellent performances gained him a lot of attention. As a result, he attracted interest from George Kay, the Liverpool manager at the time. After approaching Paisley, they made a verbal agreement that he would join the Reds at the end of the season.
Despite a later approach from Sunderland, Paisley kept his promise, which would have seen his childhood dreams come true.
Becoming A Professional Soccer Player
In 1939, Paisley signed a professional contract with a depleted Liverpool team for a sign-on fee of £25 and a salary of £8 per week. Paisley played a handful of games for the reserve team before all league games were canceled at the beginning of World War II.
If you're interested in the history of how much professional soccer players earn, check out our How Much Money Do Soccer Players Make article.
At 19 years old, Paisley was sent to war with the British Army. He was initially stationed just 30 minutes from Anfield, which allowed him to have weekends off to play in friendly matches with his new club. Paisley then went on to serve in Egypt, Italy, and Africa before returning home in 1945.
It is said that Bob Paisley's football talent kept him from being stationed in the Far East, which almost certainly would have seen him fall victim to the Japanese war camps.
On January 5, 1946, a year after returning to England, Paisley finally made his debut for the Reds vs. Chester, winning 2-0. The following season, Paisley played an integral role in helping the team win the first division title for the first time in 24 years.
Bob Paisley's victories continued, and he was a key player of the starting eleven for many successive seasons at Liverpool before being named club captain in 1951.
There's no doubt that Paisley's strict upbringing and experience at war helped contribute to the grit and determination that shone through in his on-field performances.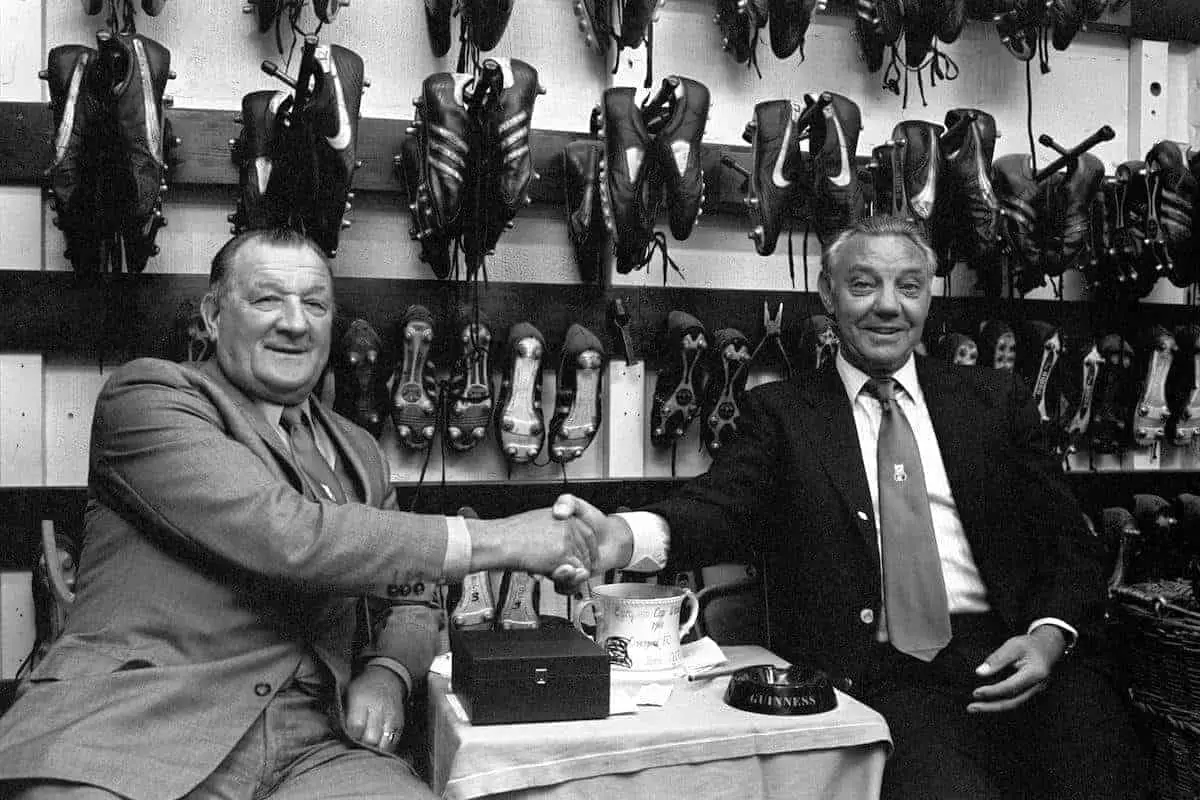 Next Phase Of Bob Paisley Career
Over his playing career, Paisley made 277 appearances for Liverpool before he eventually hung up his boots in 1954.
After retiring, the former left half then went on to join the backroom staff at the club. Working as a self-trained physio and reserve team coach, he worked his way through the ranks before being asked to work alongside the new first team manager, Bill Shankly, in 1959.
As an assistant coach, Paisley became the team's tactician, gaining credit for his tactical knowledge and valuable input. Liverpool FC was transformed into a league, FA Cup, and UEFA Cup winners while working as Bill Shankly's assistant coach.
Bill Shankly also praised him for his physiotherapist expertise. Bob Paisley implemented a 'cooling down' protocol for the players, arguing that players should cool down for 40 minutes before taking a shower or bath to reduce the occurrence of strains and chills. Incredibly, there was a significant lack of player injuries during Shankly's tenure as manager.
In 1974, Bill Shankly retired as a soccer manager following an FA Cup victory against Newcastle United. The club directors offered Bob Paisley the top role, which he hesitantly agreed to. Eventually, the Liverpool directors appointed Paisley to a two-year contract initially.
What came next is marked as one of Liverpool's most significant periods in history. Under Paisley's managerial reign, Liverpool dominated England and Europe.
He went on to accrue twenty trophies in his nine years as manager, including 3 European Cups, six League Championships (including three in a row 1981, 1982 and 1983), three League Cups, 6 Charity Shields, one UEFA Cup, and the UEFA Super Cup.
However, the European Cup wins were arguably Paisley's greatest achievements when only the first-placed team of each country made it to the tournament. He is one of only three managers to oversee a team to win 3 European Cup trophies. During his career, he was awarded 'Manager of The Year' six times.
It is impossible to overstate the impact of his achievements in such a short period of time. He is rightly regarded as one of the greatest football managers of all time.
Check out our collection of articles on great soccer managers.
Paisley made several key signings during his career as the Liverpool manager, including Kenny Dalglish (who he brought in to replace Kenny Keegan), Graeme Souness, and Alan Hansen, who went on to become the core players of the squad.
His association with Liverpool Football Club lasted for 44 years before retiring from his managerial position in 1983. He remained associated with the club as Director until he retired in 1992, after being diagnosed with Alzheimer's disease.
Sadly, Bob Paisley eventually fell victim to his debilitating disease, passing away on the 14th of February 199, at 77. After his death, the club made a touching tribute, honoring him by constructing the 'Paisley Gates', that stand at the entrance to Anfield.
Also in front of Anfield, a statue of Bob Paisley has been unveiled in 2020. The statue depicts Bob Paisley carrying Emlyn Hughes away after he is injured.
How Bob Paisley Will Be Remembered
He was always a determined fighter, from a youngster in the coal mines to the football and battlefields. His never-say-die attitude and humble nature helped him find success at every turn and gained him immense respect from all those he worked alongside.
Paisley, a Liverpool legend, is arguably one of the greatest soccer managers of all time. ESPN has ranked him as the 4th Greatest Manager of All Time behind Brian Clough, Rinus Michels, and Sir Alex Ferguson. Bob Paisley's Liverpool teams will never be forgotten by all football fans of this era, not just Liverpool fans.
Bob Paisley Facts And Figures
Born: 23/01/1919
Passed Away: 14/02/1997 (aged 77)
Birthplace: Hetton-le-Hole, County Durham, England
Playing Career:
1939 – 1954: Liverpool Football Club
Playing Honors:
First Division League Championship 1946-47
Manager Career:
1959 – 1973: Liverpool Football Club (Assistant Manager)
1974 – 1983: Liverpool Football Club (Manager)
Manager Honors:
European Cups: 1976–77, 1977–78, and 1980–81
Football League Championships: 1975–76,1976–77,1978–79, 1979–80, 1981–82, and 1982–83
UEFA Cup: 1975–76
League Cups: 1980–81, 1981–82, and 1982–83
FA Charity Shield: 1974,1976, 1977, 1979, 1980 and 1982
UEFA Super Cup: 1977
Liverpool Manager Statistics
| Competition | Total Games | Won | Draw | Lost | Goals For | Goals Against |
| --- | --- | --- | --- | --- | --- | --- |
| League | 378 | 212 | 99 | 67 | 648 | 294 |
| FA Cup | 36 | 20 | 7 | 9 | 62 | 27 |
| League Cup | 53 | 32 | 13 | 8 | 98 | 31 |
| Europe | 61 | 39 | 11 | 11 | 140 | 49 |
| Other | 7 | 5 | 1 | 1 | 7 | 5 |
| Grand Total | 535 | 308 | 131 | 96 | 955 | 406 |
It is important to note that matches that are won or lost on penalties are counted as draws in those numbers.
His All-time Liverpool XI And Timeline
In my lifetime of football experience with Liverpool, I have played with, treated, coached, and managed a host of great players and it has always been a temptation for me – and others – to choose my best all-time team. I now succumb to the temptation and commit this 4-2-4 line-up to print:
Ray Clemence
Phil Neal
Mark Lawrenson
Ron Yeats
Emlyn Hughes
Kenny Dalglish
Graeme Souness
Ian Callaghan
Kevin Keegan
Roger Hunt
Billy Liddell
Ian St John (sub)
Timeline
23.01.1919 – Robert Paisley was born in Hetton-le-Hole, England.
1939 – Bob wins the Amateur Cup Final with Bishop Auckland.
08.05.1939 – Signs professional forms for Liverpool.
16.03.1940 – Makes his wartime debut for Liverpool vs. Manchester United in the Western division.
World War II – Bob Paisley joins the 73rd Regiment of the Royal Artillery. As an anti-tank gunner, he serves with Montgomery's Eighth Army, the "Desert Rats."
05.01.1946 – Makes the first appearance for Liverpool that goes to his official total of games. The opponents are Chester in the FA Cup.
17.07.1946 – Marries Jessie.
25.03.1950 – Scores his most important goal as Liverpool beat Everton 2-0 in the FA Cup semi-final. He suffers the disappointment of his career when he is not selected in Liverpool's Cup final team that lost 0-2 to Arsenal at Wembley.
13.03.1954 – Plays his last game for Liverpool in a 3-1 loss to Sheffield United.
1954 – Bob Paisley becomes Liverpool's Central League side and physio trainer.
01.05.1957 – Paisley appointed chief coach to Phil Taylor, who had been an acting manager for one season. He takes over Taylor's duties as first-team coach.
01.12.1959 – Bill Shankly shows faith in Liverpool's coaching team when taking over.
08.07.1971 – Bob Paisley steps up to the role of assistant to manager Bill Shankly when Shanks agrees on a new three-year contract with Liverpool, which proved to be his last for Liverpool.
26.07.1974 – Takes over as manager of Liverpool.
17.08.1974 – Liverpool play their first game under their new manager vs. Luton at Kenilworth Road. Liverpool wins 2-1 with goals from Tommy Smith and John Toshack.
04.05.1976 – Liverpool wins the championship after finishing 2nd in Paisley's first season.
19.05.1976 – Liverpool wins the UEFA Cup, defeating FC Bruges 4-3 on aggregate.
1976 – Voted Soccer Manager of the Year
14.05.1977 – Liverpool seals their second championship win under Paisley.
21.05.1977 – Liverpool lost 1-2 to Manchester United at Wembley. The FA Cup is the only major cup that Bob Paisley never won.
25.05.1977 – Liverpool wins the European Cup for the first time in Rome. He said at the time: "In the 38 years I've been here, this excels everything. And of course, it's the biggest day in Liverpool Football Club's life." [1]
1977 – Voted Soccer Manager of the Year
12.11.1977 – Eamonn Andrews surprises him when he presents the famous red "This Is Your Life" book and is whisked away in front of the TV cameras in a studio where Bob's family and friends awaited. Bill Shankly, Sir Matt Busby, and Billy Liddell were guests.
29.11.1977 – Bob Paisley is presented with the OBE.
10.05.1978 – Liverpool wins the European Cup for the second consecutive year at Wembley.
08.05.1979 – After giving their opponents a one-year break in the League, Liverpool beat Aston Villa 3-0 at Anfield. Liverpool finished 8 points ahead of Nottingham Forest at the end of the season.
1979 – Voted Soccer Manager of the Year
03.05.1980 – For the second year running, Liverpool won the title by beating Aston Villa comprehensively in the season's penultimate game.
1980 – Voted Soccer Manager of the Year
31.01.1981 – A record of 85 home games unbeaten in all competitions comes to an end. Under Paisley's reign, Liverpool didn't lose at Anfield for three years from 7th February 1978 to 31st January 1981!
27.05.1981 – The European Cup treble is clinched in Paris – "I was so proud to be the manager of the first British club to win the European Cup three times."
15.05.1982 – Bob Paisley lifted his team from a disappointing 5th place in 1980-81 to win the title by four points after winning 20 of 25 matches in the second half of the season.
1982 – Voted Soccer Manager of the Year
24.08.1982 – Liverpool's chairman, Sir John Smith, reads the following statement: "I wish to announce that Mr. Paisley no longer desires to be team manager after the end of the coming season. However, I am delighted that his association with us will continue in another capacity for years to come."
26.03.1983 – Liverpool wins the League Cup for the third year running. A memorable moment for Bob was when captain Graeme Souness offered him to go up the Wembley steps and lift the cup. This shy man was very much in the spotlight for the first time and deservedly so.
1983 – Liverpool wins the League championship for the 6th time in 9 seasons under Paisley despite losing five and drawing two in their last seven games. Such was the dominance of Liverpool that the Reds finished 11 points ahead of Watford in 2nd place. Paisley was not amused: "I'm losing my memory. I can't even remember our last victory."
1983 – Voted Soccer Manager of the Year for the sixth time!
01.07.1983 – Bob's contract as manager of Liverpool expires.
1983 – Releases his autobiography.
23.07.1983 – Unveils a plaque in his honor in the town of his birth, Hetton-le-hole.
27.07.1983 – In a glittering ceremony, he was made a Freeman of Liverpool.
30.05.1985 – Bob is announced as Kenny Dalglish's right-hand man as King Kenny becomes the first player-manager in the English league.
February 1992 – After being diagnosed with Alzheimer's disease, Paisley retires from Liverpool's board of directors.
14.02.1996 – Bob Paisley passes away.
08.04.1999 – In front of the Kop stand on Walton Breck Road, Liverpool Football Club opens the "Paisley Gateway."
2002 – Awarded a place in the English Football Hall of Fame
16.08.2008 – A fantastic memorial to Bob is unveiled in his hometown, Hetton-le-Hole. The "Bob Paisley Memorial Committee", which consists of Liverpool fans, raised enough funds to make this a reality.
08.10.2008 – Chosen into The National Museum's European Hall of Fame. The Selection Panel deliberated to select the most significant players, managers, and teams in the English game based on performance in Europe.
30.01.2020 – To honor the life and legacy of Liverpool FC's most successful manager, a bronze statue was unveiled at Anfield
References:
[1]: https://www.liverpoolway.co.uk/index.php?/forums/topic/87891-bob-paisley-quotes/
Images:
https://www.bbc.co.uk/sport/football/28772320 (main image)
https://www.thisisanfield.com/2016/12/liverpool-6-0-west-ham-1984-reds-smash-hammers-fagans-historic-first-season/