As one of the greatest footballers in the world, Michael Laudrup adorned Europe in the 1980s and 1990s with his exceptional play. Best known for his time in both FC Barcelona and Real Madrid, he brought opulence to the game.
Football In the Genes
Born on the 15th June 1964, in the town of Frederiksberg, encircled by the city of Copenhagen, in Denmark, Michael and his younger brother Brian Laudrup were destined to play football – it was in their genes.
Having hailed from a successful Danish football family, their father, Finn Laudrup, had played for top Danish clubs and was a former Danish international player. Their uncle, Ebbe Skovdahl, was the former manager of Brondby and Aberdeen.
The older Laudrup began playing football in his father's childhood club Vanløse in 1973. From early on, he developed sturdy willpower to succeed. Instead of moving to play abroad, Michael opted to remain in his homeland and make the grade there first.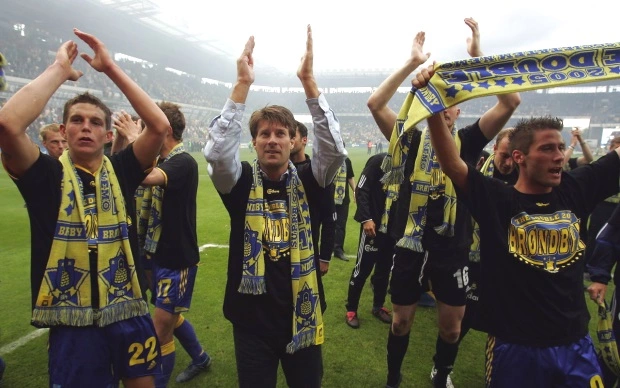 Brøndby IF
After his departure from Vanløse, he moved to Brøndby IF where he stayed for 3 years, until when in 1977, he continued his youth career playing at Københavns Boldklub (KB).
It was at Københavns Boldklub (KB) that Laudrup made his senior début in '81, which coincided with his début for the Danish Under-19 national side.
He returned to Brøndby for one more season in 1982 and contributed to the team's championship winning season and promotion to the Danish First Division. Michael Laudrup ended his season as the 3rd top scorer in the First Division.
Michael's accomplishments led to him being named the Danish Player of the Year for 1982, at 18 years of age.
Twists and Turns
Laudrup's transfer to Juventus FC was a stroke of luck for the Italian side as he was on the brink of signing for English club Liverpool in 1983 instead. A 3-year contract had been agreed upon between Liverpool's club representatives, and Laudrup and his father.
A few weeks later, the club was still offering the same package but with an alteration – it was to be extended to 4 years, as they felt that he was young and required time to develop.
Michael Laudrup was left disillusioned, and although nothing had officially been signed, an agreement was just that, an agreement. Based on this, he elected to not join Liverpool and traveled to Italy to sign with Serie A side Juventus instead.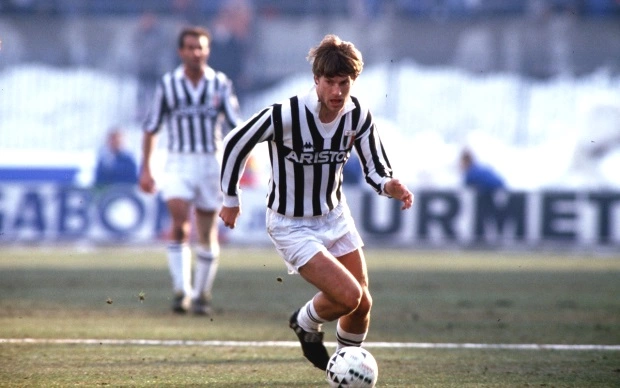 Danish Transfer Record
The transfer fee of approximately $1 million was a Danish record at the time. Undisclosed to him upon signing his contract in June 1983, was the restriction placed on foreign players – a maximum of two foreigners were allowed per team.
Juventus already had two such players – Michel Platini and Zbigniew Boniek – so Laudrup was loaned out to Rome-based club, Lazio.
The 19-year-old's time at Lazio was grueling. During his first season, the team barely sidestepped relegation. As Juventus wanted to keep Platini and Boniek, Laudrup was forced to remain at the club for another season, which proved even worse.
By the end of the 1984-'85 season, Lazio was relegated to Serie B, and Micael Laudrup scored a single goal the entire season.
Highs and Lows
The summer of '85 spelled the Dane's return to Juventus, replacing the departed Boniek and playing alongside Platini. Both Laudrup and Platini made for a fabulous partnership as they ushered in silverware during Dane's first season: the Serie A title (1985-'86), and the Intercontinental Cup ('85).
In 1985, Michael Laudrup was, for the second time, named Danish Player of the Year. Unfortunately, his second season was marred with multiple injuries, as was the case with many of his teammates.
After Platini's departure in '87, Laudrup was left with many challenges for the upcoming season, including the arrival of Ian Rush. Their partnership never reached the altitudes of his previous one, and in spite of making 30 appearances, he ended his season goalless.
After 5 years in Italy, it was time for Michael Laudrup to take on new ventures in a country he had always liked… Spain. Little did he know at the time, but there he was to become legendary.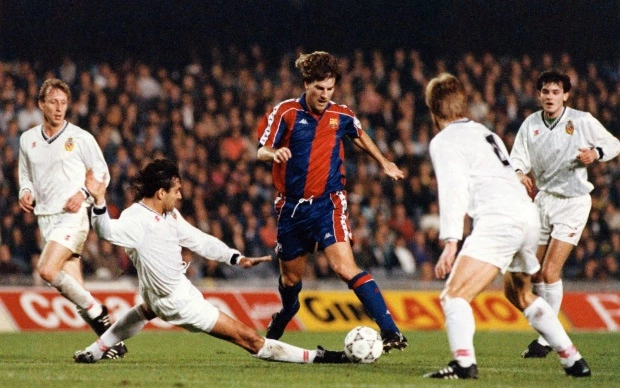 Evolution Of A Dream Team
In 1989 Laudrup signed for Spanish side FC Barcelona. At Camp Nou, he met up with his childhood idol, the legendary Johan Cruyff, who had been Barça's manager since '88. Cruyff was working wonders in assembling and revolutionizing his team, and Laudrup's acquisition was to be the final piece in completing his masterpiece.
In Michael Laudrup, Cruyff found his midfield composer to conduct his talented players. Admired for having dazzling technique, his excellence in reading the game, and his creativity, made Laudrup menacing on the pitch.
He even had his own trademark move – looking in one direction while swiftly passing in the other, deceiving countless opponents, and outplaying them with ease. As a play-maker, he created a symphony in midfield, and in stringing all his teammates' efforts together, a magnetism was created between them.
Barça played precision football and Cruyff's team became known as the 'Dream Team'.
Michael Laudrup Intuitive
Stoichkov, like so many in his position, benefited immensely from Laudrup's assists, and their relationship evolved to such an extent that they found each other through what seemed to be intuition.
Due to the Dane's ability to evolve a unique type of attacking move, leaving defenses deserted in the process, resulting in the expression 'Made in Laudrup'.
His teammates knew that all they had to do was run, and Laudrup would undoubtedly find a way of passing the ball to them. With an inch-perfect pass or a rapid dribble around a defender, all wrapped up in elegance, Michael Laudrup delivered in style in the Spanish league.
His main weakness was his volatility in wandering in and out of the game, and he did not contribute much defensively. A team player, never one to crave the spotlight, he executed what he did to perfection.
Laudrup's altruistic quality, placing his team's interests ahead of his own, bordered on denying himself the recognition he deserved. Many believe that this even cost him the Ballon d'Or, which he never won.
Michel Platini once said, "Michael Laudrup was one of the greatest talents of all time. He was the best player in the world during training, but he never exploited all his qualities in Spanish football. Michael had everything apart from one thing: he wasn't selfish enough."
As Barça was overwhelmed with talents such as Pep Guardiola, Ronald Koeman, Txiki Begiristain, Hristo Stoichkov, and Laudrup, they leaped from reigning domestically to becoming a European livewire – a title splurge was on the cards!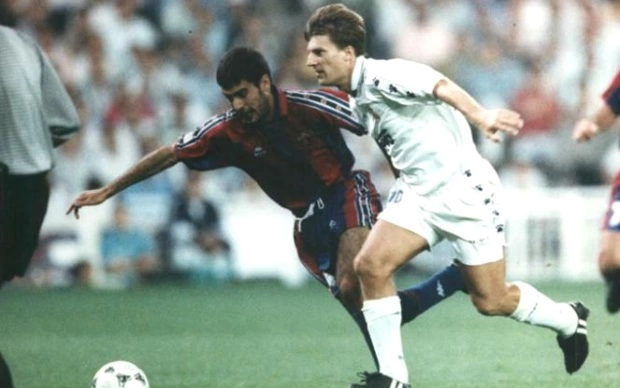 Championship Winning Season
It was a case of a multitude of titles in 4 years: 4 consecutive La Liga titles ('91 to '94); the 1992 European (UEFA) Super Cup; 1 Copa del Rey ('90), and 3 Supercopa de España ('91, '92, '94).
The crowning moment was Barcelona's first European Cup (later renamed the UEFA Champions League) in '92, scooped up in London's magnificent Wembley Stadium, beating Sampdoria by a single goal. On a personal level, Michael Laudrup was twice awarded the Best Player of the Year in Spain.
Michael Laudrup Went Missing In Action
In 1993, Barça added their fourth foreign player to the mix, Brazilian striker Romário. This rang in a system of rotation among the 4 players set up to give equal opportunity to each – only 3 foreigners could play per match.
Laudrup found himself benched in the 1994 UEFA Champions League final held in Athens' Olympic Stadium. Laudrup's absence surprised many, including AC Milan manager, Fabio Capello, who was stunned yet relieved by this incident.
The encounter turned out to be a nightmare for the Blaugrana as they were crushed 4-0 by the Italian side on the night.
Many believed that Michael Laudrup and Cruyff had fallen out, but whatever had happened behind the scenes, one thing was certain: Laudrup was on his way out. This time he did not have to travel too far to his next destination. His new home…the Santiago Bernabéu!
Fantastic Five!
Laudrup's transfer to Real Madrid in 1994 was one of the most controversial in La Liga's history. Barcelona fans left feeling disappointed and angry as a result, claiming that Laudrup acted out of revenge. For him, revenge could not have been furthest from the truth.
Michael Laudrup felt that it was the perfect time to not only acquire silverware with a hungry and determined Real Madrid team but to also remain in Spain. His decision was spot on as his first season brought the league title for his new dream team.
In the process, Laudrup became the first player in Spain's football history to win his 5th consecutive La Liga title while having played for 2 different clubs. Los Blancos's initial success did slow down though, as the 1995-'96 season was a trophy-less one.
In a fascinating turn of events, in 1993-94 Laudrup was part of the Barça team that triumphed 5-0 over Real Madrid. A while later, Laudrup now with Los Blancos, beat Barcelona by the same scoreline!
Over and above all this, to this day Laudrup is still loved by both sets of fans, and when it comes to the Dane, the feeling is more than mutual.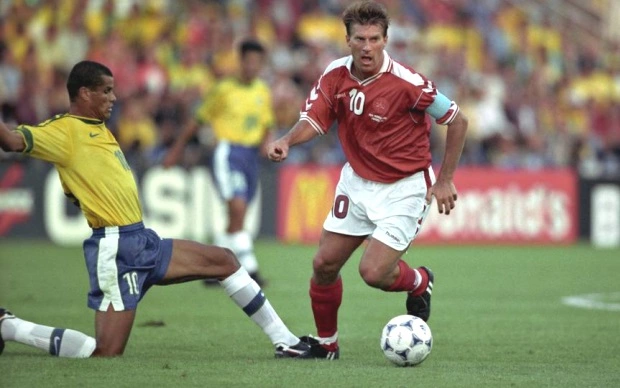 Danish Dynamite Of Michael Laudrup
On his 18th birthday in 1982, Laudrup made his début in the Denmark national football team (he became the second youngest Danish international team player) which coincided with his Brøndby début season.
It is believed that the Danish national team's nickname 'Danish Dynamite' originated during a competition for the official Danish Euro 1984 song.
In November 1990, during Denmark's qualifying campaign for Euro 1992 in Sweden, Laudrup made the decision to retire from international football, due to differences with the coach Richard Møller Nielsen.
Laudrup's impulsive decision was to have repercussions, of which he never imagined at the time.
Although Denmark had failed to qualify for the tournament, they were given Yugoslavia's spot, as they were excluded from the tournament due to the civil war raging in the country.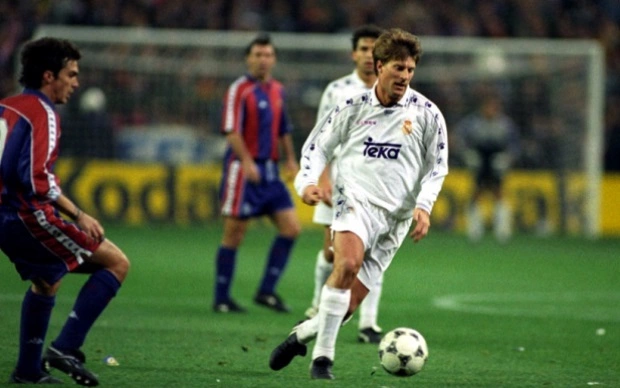 Massive Surprise
In Sweden, Denmark surprised everyone with one of the greatest events in their history. After advancing from the group stage ahead of France and England, they beat the Netherlands in the semi-finals on penalties.
In the final against Germany, the Danish stunned the world with a 2-0 win, resulting in Denmark's first international trophy!
All Michael Laudrup could do was watch from afar, as his brother Brian was part of the trophy-winning team.
Laudrup, unable to resist the intense pull he felt to return to the national side, settled his disputes with Nielsen and made a comeback in August 1993.
Disappointment ensued for Laudrup and his team, however, as they failed to qualify for the 1994 FIFA World Cup in the United States.
Danish Captain
Under the leadership of coach Johansson, Laudrup captained his team all the way to his last match in representing his country at the 1998 FIFA World Cup in France. After struggling through the group stage, Denmark now faced Nigeria in the knockout stage.
During their encounter, Denmark played some of their best football, with Michael Laudrup even making his trademark assist, finding his teammate Ebbe Sand, who then scored the 3rd goal in their 4-1 victory.
It was against Brazil in the quarter-finals that Denmark was eliminated after a 3-2 loss.
It was a special and emotional moment for both Laudrup brothers as they announced their retirement from international football. Together they completed a memorable chapter in the history of the Danish international team.
Michael Laudrup was the 5th most capped player in Danish national team history over a 16-year period (1982-'98) with 37 goals in 104 appearances.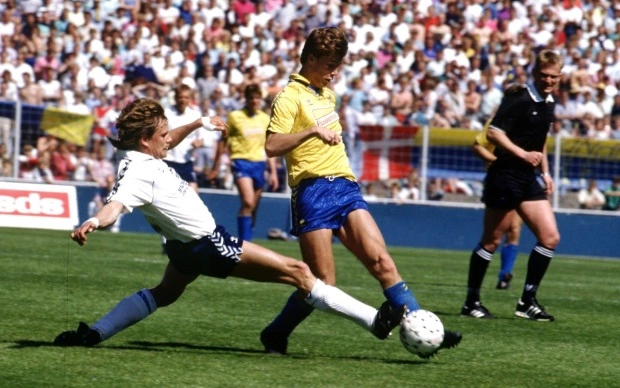 Grand Finale
In 1996, at the age of 32, Michael Laudrup left Spain to join the Japanese club, Vissel Kobe, for one season, after which he joined Ajax Amsterdam in 1997. There, Laudrup experienced a championship-winning season and won the double: the league title and the KNVB Cup.
He could not have asked for a better way of closing the chapter on his illustrious club career. And, what is admirable is that Laudrup never received a red card!
Spread Your Wings And Fly
Michael Laudrup had never considered being a manager until the last period of his playing career. When the opportunity arose for him to join Denmark's national team coach, Morten Olsen, in 2000 as assistant coach, he couldn't refuse.
His first taste of success arrived at age 36, as they led Denmark to the knock-out phase of the 2002 World Cup.
It was time for Laudrup to spread his managerial wings and fly, and he signed in 2002 with Brøndby. This was where he had played as a youngster and he felt a powerful emotional attachment to the club.
There, Laudrup revitalized the team by bringing in talent from the club's youth system. After 4 trophies in 4 seasons, and being awarded the Danish Manager of the Year on 2 occasions, he left the club in mid-2006.
The following year, in 2007, Brøndby named a new lounge at the stadium "The Michael Laudrup Lounge", with his approval.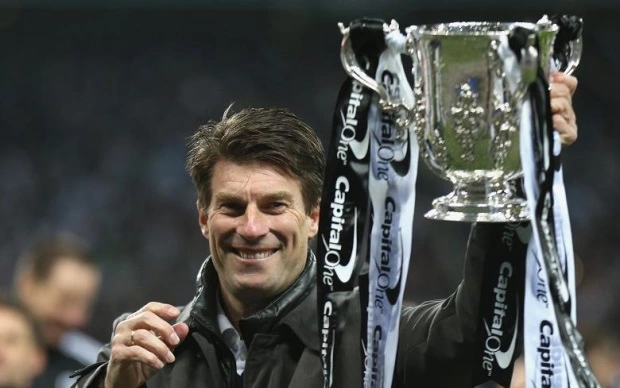 Coaching In England
After short-lived stints and limited success at Getafe CF, FC Spartak Moscow, and RCD Mallorca, Laudrup moved to England. Since June 2012, Laudrup as the manager of the English Premier League side Swansea City.
A highlight came when Swansea City thrashed Bradford City 5-0 in the Capital One Cup final at Wembley in February 2013. Laudrup had led his team to their first major title in their history.
After a "significant" slump in the English Premier League, he was sacked by Swansea in February 2014. From 2014 to 2018, Laudrup managed Qatari clubs Lekhwiya and Al Rayyan.
Knight In Shining Armour
Among many accolades in honoring this Danish legend, highlights include: In April 2000, Laudrup was knighted and received the Order of the Dannebrog; in 2000, he was awarded Spanish football's best foreign player; in November 2003, in celebrating UEFA's Jubilee, the Danish Football Association named Laudrup the Golden Player of Denmark; and the Danish Football Association (DBU) named him best Danish footballer of all time in November 2006.
Enchanting Royalty
Laudrup's displays of talent have been described as dream-like and magical. He took the game to a new dimension, into a surreal world where imagination and reality collide, and he, its emotions.
Enchanting and mesmerizing onlookers the world over, limitless in his genius and honorable in his actions, Michael Laudrup truly is Danish football royalty.
Michael Laudrup Facts And Figures
Full Name: Michael Laudrup
Birthdate: 15/06/1964
Birthplace: Frederiksberg, Denmark
Brother: Brian Laudrup
Playing Career:
Kjøbenhavns Boldklub 1981
Brøndby 1982–1983
Lazio 1983–1985
Juventus 1985–1989
Barcelona 1989–1994
Real Madrid 1994–1996
Vissel Kobe 1996–1997
Ajax 1997–1998
Total Appearances: 478 games, 119 goals
International Career:
Denmark National Team (104 appearances, 37 goals, captained Denmark 28 times)
Managerial Career:
Denmark (assistant manager) 2000–2002
Brøndby 2002–2006
Getafe 2007–2008
Spartak Moscow 2008–2009
Mallorca 2010–2011
Swansea City 2012–2014
Lekhwiya 2014–2015
Al Rayyan 2016–2018
Playing Honors:
Juventus
1985: Intercontinental Cup Winners
1985–86: Serie A Champions
Barcelona
1989–90: Copa del Rey Trophy Winners
1990–91, 1991–92, 1992–93, and 1993–94: La Liga Champions for 4 consecutive titles
1991 and 1992: Supercopa de España Winners
1991–92: European Cup Champions
1992: UEFA Super Cup
Real Madrid
1994–95: La Liga Champions
Ajax
1997–98: Eredivisie Champions
1997–98: KNVB Cup Winners
Denmark National Team
Managerial Honors:
Brøndby
2002: Danish Supercup
2002–03 and 2004–05: Danish Cup
2004–05: Danish Superliga Champions
2005: Danish League Cup
Swansea City
2012–13: Football League Cup Winners
Lekhwiya
2014–15: Qatar Stars League
2014–15: Crown Prince Cup
Personal Honors:
1982 and 1985: Laudrup Won Danish Player of the Year
1998: FIFA World Cup All-Star Team Selection
2000: Order of the Dannebrog
2000: Danish Football Hall of Fame
2003: UEFA Golden Player For Denmark